College Basketball Nation:

James Rahon
January, 14, 2012
1/14/12
8:17
PM ET
SAN DIEGO — Lying just beyond the baseline, where the court at Viejas Arena turns to concrete, San Diego State's
Jamaal Franklin
was reeling. He had suffered a "big tweak" in his ankle following a rough out-of-bounds collision.
There would have been no shame if he had hung it up for the day. There was 1 minute, 1 second left in the game and the No. 22 Aztecs had a 67-66 lead over No. 12 UNLV.
Franklin had already given his team 22 points and 10 rebounds -- more than admirable in a game that at times looked more like an MMA scrap than a college basketball game.
"We're a family," Franklin said. "If my ankle is broken, and they want me out there, I'm out there."
And it's a good thing he was. Because with less than a second left in the game, Franklin -- limping and all -- hit an awkward, leaning 5-foot jumper that sent the crowd of 12,414 into a frenzy and propelled the Aztecs to
a 69-67 victory
.
Just a minute earlier, those same fans were willing him back to his feet. They erupted when he checked back into the game with 30 seconds left.
[+] Enlarge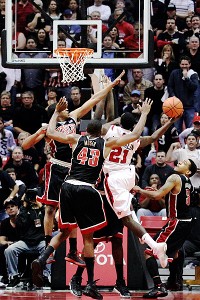 AP Photo/Gregory BullJamaal Franklin's 24 points included this layup in the waning seconds against UNLV.
"Oh yeah," Franklin said. "I heard them."
Leading up to Franklin's heroics, it was the knock-down, drag-out game that had become typical over the past few years when UNLV and San Diego State get together.
"This was a wonderful college game," SDSU head coach Steve Fisher said. "Obviously, we are the team smiling today. We have had so many games just like this with UNLV. We have been on the good side as of late. UNLV is a really exceptional team."
UNLV, which has now dropped six straight to the Aztecs, did everything a team is supposed to do to win on the road: win the rebounding battle, get more points from your bench, commit fewer turnovers. The only thing the Rebels couldn't do was shoot the ball.
Anthony Marshall
kept UNLV in the game with 26 points on 8-of-17 shooting. But no other Rebel managed double-digit scoring.
UNLV came into the game with the best scoring average in the conference at 81.3 points per game on 48 percent shooting from the field. The Aztecs didn't allow UNLV anywhere near that. The Rebs managed just 35 percent from the field, including a measly 28.6 percent in the first half.
The Aztecs shot 43.6 percent on the day, including a solid 48 in the second half.
James Rahon
provided a big boost with 22 points on 3-of-5 shooting from beyond the arc. But it was the SDSU defense that made the difference.
"We just focused on our defensive schemes," said San Diego State's
Chase Tapley
, who added 11 points and six rebounds. "They are a good pick-and-roll team ... we had to really trust our defense and follow the schemes. We did that Grade-A today."
It doesn't get any easier for the Aztecs, who travel to face preseason favorite New Mexico at "The Pit" on Wednesday.
"It's one of the top wins of my career," said Tapley, who came into the game leading the conference in scoring. "Two great teams were going at it. They were competitive … we just got the upper hand today. It felt good, it still feels good. We have to take this win and enjoy today, but we'll be back in the lab on Monday to get focused on New Mexico."
UNLV, which has lost nine of 10 to the Aztecs, is moving on and looking forward to the Feb. 11 rematch in Vegas.
"The way we look at it, we're 0-1 in the league and they've beaten us one time," UNLV first-year coach Dave Rice said. "It's different players, it's just a situation where they have a good basketball team and they held serve on their home floor. And that's to their credit."
April, 15, 2011
4/15/11
1:40
PM ET
By
Diamond Leung
| ESPN.com
Kawhi Leonard
was a game-changing player in so many ways for San Diego State.
The 6-foot-7 forward averaged a double-double over the course of his two-year Aztecs career and this season helped lead them to an unprecedented Sweet 16 appearance.
Leonard's success also sent a message to future generations of recruits that you can win at San Diego State and achieve your NBA dreams as well. That wasn't nearly as apparent when years ago, the former California Mr. Basketball spurned late advances from larger schools in favor of the Aztecs.
Leonard
leaving school for the NBA draft
was an expected move that will hurt the Aztecs in the short term as they will be missing four starters from this year's team, including seniors
D.J. Gay
,
Malcolm Thomas
and
Billy White
.
And it will also hurt that Steve Fisher has lost the assistant coach who recruited Leonard to the school. Justin Hutson, the team's recruiting coordinator, has been hired as the associate head coach at Mountain West Conference rival UNLV, giving new Rebels coach Dave Rice a key piece.
"Justin Hutson is as good of a recruiter as there is on the West Coast," Rice told reporters.
San Diego State might not be preseason favorites in the Mountain West, but the program should have enough for a legitimate defense of their regular-season title. The Aztecs return a top defender in
Chase Tapley
along with sharpshooter
James Rahon
. They have an emerging guard in
Jamaal Franklin
and also add potential impact transfers in guard Xavier Thames and forward Kevin Young.
Brian Carlwell
, the team's 6-foot-11 center, could be back if the senior pursues a medical redshirt.
Leonard's presence boosted the program's profile and raised expectations. It now falls upon a new crop of players to continue what was started, and the lifelong Aztec will be watching.
"I will follow every San Diego State basketball game," Leonard said in a statement. "I will stay in touch with all of the players and coaches and look forward to following their future successes."
February, 26, 2011
2/26/11
8:18
PM ET
SAN DIEGO -- BYU has had a history of being hated on the road in the Mountain West, and before that in the WAC, throughout the past 30 years.
Previous Cougar teams have relished playing the role of the villain. But BYU hasn't had a player so talented, so respected -- and at the same time so targeted -- since Danny Ainge.
BYU senior guard
Jimmer Fredette
embraces that role, scoring 47 at Utah, 42 at Colorado State and 39 at UNLV. But if the Cougars are going to be something special in March, he must produce like he did in Saturday's
80-67
victory at San Diego State.
Fredette had to take 23 shots to score 25 points, but it was his nine assists that set the tone for the Cougars and sent a message to the rest of the country that this team is much more than Fredette.
San Diego State rushed at Fredette plenty, frustrating him at times on the defensive end (he committed four personal fouls), and getting the ball out of his hands. But in focusing on Fredette, the Aztecs neglected to close out on the team's other shooters. BYU's
Charles Abouo
made four 3-pointers,
Jackson Emery
converted two,
Noah Hartsock
three and even seldom-used
Stephen Rogers
had one.
"I know they can make shots,'' said Fredette, who is likely one of two players who will end the season as an AP All-American after starting the season as a preseason first-team selection (the other is Purdue's
JaJuan Johnson
).
[+] Enlarge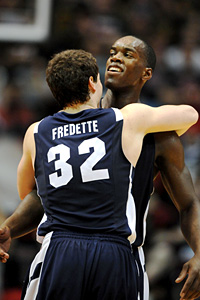 Christopher Hanewinckel/US PresswireCharles Abouo knocked down four 3s and finished the afternoon with 18 points and nine rebounds.
"They were double-teaming me to open up shots for my teammates and they are good enough to hit those shots,'' Fredette said.
San Diego State has two losses this season -- both to BYU. Brigham Young has now beaten San Diego State four times in a row, and has won six of the past seven matchups.
When Fredette lit up SDSU for 43 in January, the rest of the Cougars scored 28 points. But Saturday, Fredette scored just 25 of the Cougars' 80 points. BYU shot 14-of-24 on 3s.
"You saw that BYU is more than a one-man show,'' SDSU coach Steve Fisher said. "Fredette creates so many problems that if you give a little extra help that he can help turn a three- or four-point lead into 11 in a heartbeat.''
Fredette must have the confidence in his teammates to make shots. And he does.
"He makes the majority of our big plays, but all the attention he gets means we can be wide open,'' Abouo said. "We have to be ready to hit them. Me, Jackson, Noah and Steve have to get those shots in.''
Emery said he has such a strong relationship with Fredette that he has told him he can kick it out to others. And he has listened.
"It's overlooked how much he can find guys,'' Emery said. "If we don't make shots, it's going to make Jimmer's job a lot harder.''
The Cougars lost to UCLA in Anaheim at the Wooden Classic in December. And they did get tagged by New Mexico at The Pit after beating SDSU in late January. But those are the Cougars' only blemishes. This team has shown it can handle adverse situations.
"I don't know if we thrive on the publicity Jimmer gets, but the rest of the guys do respond well,'' Emery said.
The Cougars handled everything well Saturday, especially in trapping and wreaking havoc on the Aztecs' post players.
Malcolm Thomas
missed seven shots.
Kawhi Leonard
missed eight. Both of those guys are bigs. They did miss a combined three 3s, but it wasn't like they had easy looks in the halfcourt. SDSU got out on the break, and
James Rahon
,
D.J. Gay
and
Chase Tapley
hit 3s to keep SDSU in the game.
But San Diego State must find more consistency in the halfcourt to win in March, as well as close out better on 3-point shooting.
While the loss may have cost the Aztecs the MWC title and a possible No. 1 seed in NCAA tournament, they are still in line for a No. 2 seed and will likely open in Tucson.
But the road will get bumpier before the Dance, as SDSU will most likely play third-place UNLV in the MWC semifinals in Las Vegas.
Still, the Aztecs look to be a major factor in March.
"We've got to find a way to deal when struggles happen,'' Fisher said. "We can't succumb to fatigue. We have to tip our hat to BYU and hopefully get another chance to win.
"I think they've got a great chance to be a No. 1 seed if they continue to win,'' Fisher said. "They're a terrific basketball team.''
Fisher believes the Aztecs still have a chance to do something special.
But BYU has the momentum heading into the final week of the regular season. The Cougars finish with New Mexico and Wyoming at home.
The Aztecs put on a show this weekend, and the student section was loud, passionate and created a classic college atmosphere previously unheard of here in San Diego.
But Fredette and BYU prevailed, showing just how much this team has matured. The Cougars appear poised to handle anything March may toss their way.
"This team has a huge heart,'' BYU coach Dave Rose said. "We were the underdog and that doesn't happen too often. They enjoyed that role. You would think we deserve something really good in this [NCAA] tournament. This is a special group. We've won the East Coast, the West Coast and we've got a real special player.''
BYU has conditions for retiring numbers and being an All-American is one of them. Fredette will have his day at the Marriott Center. He will go down as one of the greatest scorers in BYU history. But he can leave an even larger imprint if he continues to distribute the ball the way he did Saturday.
February, 26, 2011
2/26/11
4:33
PM ET
SAN DIEGO -- BYU made sure the selection committee, the voters and the casual fan knows this team is more than capable of going on a deep run in March.
[+] Enlarge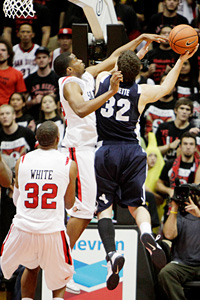 AP Photo/Lenny IgnelziBYU guard Jimmer Fredette battles San Diego State's Chase Tapley while driving to the basket in the second half.
And maybe the Cougars should start that run as a No. 1 seed.
BYU beat SDSU 80-67 Saturday at a rocking Viejas Arena for a season sweep of the series, setting itself up for a Mountain West title with two games remaining.
In their last game in San Diego as a member of the MWC before going to the West Coast Conference next season, the Cougars dominated the second half to pull away. The difference? Brigham Young finished 14-of-24 from 3 for the game. You're not going to lose many games shooting that percentage from beyond the arc.
Now BYU has a real chance to be a top seed in the NCAA tournament if it wins the MWC tourney in Las Vegas in two weeks.
As for SDSU, its only two losses this season are to BYU. San Diego State is still in contention for a No. 2 seed. The Aztecs have now lost four straight to BYU, including two in a row at home.
Meanwhile,
Jimmer Fredette
remains the front-runner for national player of the year as he scored in a variety of ways, finishing with 25 points. But his best contribution came with setting up his teammates for 3s.
Other quick thoughts from the game:
Three cheers for Aztec faithful:
San Diego State found a way to wake up a dormant program. The energy inside Viejas Arena was tremendous. Students showed creativity with their costumes and missionary attire. The crowd was jumping throughout the game and during timeouts. I never thought I'd see this here. They have made SDSU a happening place.
The Jimmer Report:
Fredette had his usual offering of deep 3s, got to the hole, and while he was off at times and got harassed on the ball, he found ways to help his team by setting up others for deep looks like
Jackson Emery.
Fredette did have four turnovers, but tied a season-high with nine assists.
BYU is no one-man team:
The Cougars did a solid job collapsing inside on the Aztecs in the post, and their defense overall was solid. They did get burned by 3s and fast break run-outs, but the half-court defense was better than advertised.
If BYU is to go deep in the tourney …:
Then Emery (13 points) and
Charles Abouo
(18 points) will have to make shots like they did Saturday.
Brandon Davies
and
Noah Hartsock
are so undervalued when discussing this team; both bigs can run and finish. Hartsock missed just one shot against the Aztecs (3-of-4 from 3, 6-of-7 overall).
Unsung hero:
The honor goes to Abouo. He continued to make some key 3s to offset any runs by SDSU in the second half.
San Diego State verdict:
Kawhi Leonard
,
Billy White
and
D.J. Gay
just weren't consistent enough. There were flashes from them but never enough consistent production. The contributions from
Brian Carlwell
inside and
Chase Tapley
and
James Rahon
outside helped, but
Malcolm Thomas
missed too many shots close to the basket.
January, 26, 2011
1/26/11
9:15
AM ET
ESPN analyst Fran Fraschilla takes a look at one of the biggest games of the season: Tonight's 10 p.m. ET matchup between No. 4 San Diego State (20-0, 5-0) and No. 9 BYU (19-1, 5-0) in Provo, Utah.
What's at stake?:
Sole possession of first place in the Mountain West Conference and a leg up on the regular-season crown, national prestige, and at least temporarily, a chance to improve NCAA seeding. A season ago, BYU beat San Diego State in both regular-season games as
Jimmer Fredette
averaged 29.5 points and 5.5 assists. This season, both teams are off to blistering starts with the Aztecs undefeated and the Cougars' only blemish to UCLA at the Wooden Classic in Anaheim.
Key matchup: BYU's Jimmer Fredette vs. San Diego State's D. J. Gay
The two seniors have gone against each other for the past few years, and while Fredette has become a well-deserved national player of the year contender, SDSU coach Steve Fisher calls Gay the most important player on his undefeated team.


Fredette, the most prolific scorer in college basketball, has already scored more than 2,000 points for the Cougs and is closing in on Danny Ainge's 2,467 career points record at BYU. He has already gone for 42 or more points four times over the past two seasons. All four of those performances came on the road or at neutral sites. The senior from Glens Falls, N.Y., is more than a great shooter. He has an uncanny ability to create space for his shot and his combination of tremendous ballhandling and strength gets him into the lane area at will. NBA scouts are finally buying into his game.
Meanwhile, Fisher's respect for Gay is for good reason. The 6-foot senior has never missed a game in four seasons and has averaged more than 34 minutes a game in the past two seasons. In fact, he has not only been the team's primary ball handler but has been a timely scorer as well. Last week, he dropped in 30 points at The Pit against New Mexico, including three huge 3-pointers to break open a close game.
X factors: San Diego State's Kawhi Leonard and BYU's Jackson Emery
Leonard was an underrated high school player who has been a revelation for the Aztecs in his first two seasons. The 6-7 sophomore, who has a Ron Artest build and the largest hands in college basketball, is a relentless offensive rebounder. In fact, when combined with seniors
Billy White
and
Malcolm Thomas
, he gives Fisher one of the country's best offensive-rebounding teams.
At Brigham Young, Emery is Robin to Fredette's Batman. The 6-3 senior is one of the most efficient offensive players in college basketball, according to kenpom.com. He is shooting 41 percent behind the 3-point line and better than 60 percent from inside the line. And, fittingly on the night that Fredette scored 47 at Utah two weeks ago, Emery scored 20 points himself and broke Ainge's all-time steals record at BYU.
Sneaky strengths: BYU's Noah Hartsock and San Diego State's Malcolm Thomas
Hartsock has been one of the Cougars' most physical players since he arrived in Provo. But the 6-8 junior spent the summer increasing his shooting range and it has paid off. He has made 15 of 25 3-point shots this season, so the Aztecs must account for him when he is on the perimeter.
While Thomas has carved out a reputation as a rugged customer at both ends of the court because of his rebounding and shot-blocking, his most underrated attribute might be his passing ability. His 14 percent assist rate is very high for a frontcourt player and he has had some great looks for his teammates this season.
Key statistics: Rebounding rate and 3-point shooting
Defensive rebounding rate is the percentage of a team's available defensive rebounds that it secures. BYU's defensive rebounding rate (71.3 percent) is in the top 10 in the country. It is critical in this game that the Cougars rebound on the defensive end at an even higher rate against the Aztecs. In order for the Cougars to effectively fast break, they will need to keep San Diego State off the offensive glass. And keeping the Aztecs from rebounding effectively on the offensive glass will eliminate a major part of their offensive attack.
BYU's ability to shoot the ball from deep has been well-chronicled this season, as Fredette, Emery and Hartsock can make that shot. But it will be the Aztecs who need to make some 3-point shots if they can't rebound effectively on the offensive end. Santa Clara transfer
James Rahon
has made 43 percent of his long balls this season and he might need to be on again for SDSU. In last season's 82-68 win in Provo, the Cougars sat in a 2-3 zone for the last 35 minutes of the game.
December, 9, 2010
12/09/10
2:23
AM ET
By
Diamond Leung
| ESPN.com
BERKELEY, Calif. -- So after thrashing California on the road, San Diego State has a clear path to a 15-0 start heading into Mountain West play.
Right, Steve Fisher?
"That's unfair to be asked," said the Aztecs coach, whose team is 9-0 after enduring the toughest part of its nonconference schedule. "Enjoy the last win."
Your thoughts on the soon-to-be 15-0 record, team captain
D.J. Gay
?
"I wouldn't say that just yet," he said with a smile.
[+] Enlarge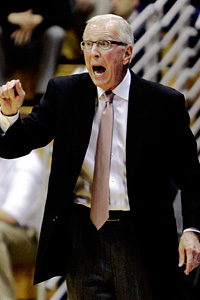 AP Photo/Ben MargotSteve Fisher and his San Diego State Aztecs have a perfect 9-0 record after winning at Cal by 20.
San Diego State's swagger on the court is unprecedented, as thus far every single attempted attack on it has been successfully parried. But the Aztecs appear dead-set on living in the moment rather than looking too far ahead to what could very well end up a dream season.
The latest résumé-builder for the Aztecs was a trouncing of a young but dangerous Cal team that saw them turn a two-point halftime advantage into a
77-57 rout
on Wednesday night.
San Diego State is not only off to the best start in school history, but has gotten battle-tested along the way.
Beating Gonzaga on the road was a program-changing event. Surviving Green Bay away from home despite trailing by 22 points showed the Aztecs could take a punch. Now wins against possible NCAA tournament teams Saint Mary's and Wichita State, followed by the snapping of a 20-game road losing streak against Pac-10 schools, means it could be smooth sailing for a while.
The possibility of a top-10 national ranking and beginning the new year undefeated has the city alive with excitement over a program that is still in search of its first NCAA tournament win.
"Our town probably is a bit unrealistic," Fisher said. "They think we can probably play the Celtics."
And to calm things down, the veteran coach has been telling his team that despite the hype, he thinks after watching UNLV play on television that the Rebels are the best in the Mountain West.
Did he make that declaration to light a fire under the preseason favorites?
Quite possibly, and against Cal, San Diego State showed that it's able to turn on the jets at any time.
Despite a sluggish first half and
Kawhi Leonard
and
Billy White
sitting with foul trouble, the Aztecs shot 70 percent after the break.
"It was a little dicey, but they're players that have been there," Fisher said of a team that returned all five starters this season.
Leonard scored 20 points, showing off his versatile game to NBA scouts in attendance by scoring inside and from beyond the arc. Gay and
James Rahon
combined to score 29 points and hit seven 3-pointers. The Aztecs' transition game appeared unstoppable at times with White getting his share of dunks.
Defensively, California's talented freshman wings,
Gary Franklin
and
Allen Crabbe
, were held to two field goals and six points combined.
"They're fast, they run, they have great length," Cal coach Mike Montgomery said. "They put a lot of pressure on us."
The onus is now on SDSU to avoid any letdowns against its underdog opponents heading into January. Before traveling to TCU for the league opener, the Aztecs have six home games in which they'll be an overwhelming favorites: San Diego, Cal Poly, UC Santa Barbara, San Francisco, IUPUI and Occidental.
So should this team be 15-0 heading into Mountain West play? Absolutely.
But according to Fisher, tuning out the hoopla and the overly excited San Diegans in their midst is important, too.
"I told our kids, 'Don't buy into that.'" he said. "The journey's the next game."