College Basketball Nation:

James Robinson
July, 10, 2014
7/10/14
10:00
AM ET
There is no one correct way to put points on the board. Basketball, and specifically college basketball offense, comes in many flavors, which is a big part of why it's so interesting in the first place.
If you have a big, physical, bruising team, one that dominates the offensive glass and gets easy putbacks around the rim, you don't necessarily need 2005-era Steve Nash running the show. Likewise, for a team full of athletic, penetration-prone wings, spacing is arguably more important than passing. If your players can get to the rim by themselves, why complicate things?
If you're neither of those things -- if your players, and thus your system, aren't the isolate-and-go types -- then you'd better make the most of Dr. Naismith's original ball-advancement mandate. You'd better be able to pass.
Below are three teams likely to be among the best passing outfits in the country in 2014-15 -- and a couple that could rank among the worst. The question is: Can they score anyway?
Teams to watch
Wisconsin
: On one level, the Badgers aren't the most obvious passing exhibition in the country. In 2013-14, for example, they recorded an assist on 50.5 percent of their made field goals. That number ranked 197th in the country. Plenty of much worse overall offenses recorded higher A/FGM stats.
In reality, that has less to do with Wisconsin than it does the way official scorekeepers keep scores. In reality, the entire core of Wisconsin's top-five efficiency offense -- and the swing-motion system Bo Ryan has perfected in more than a decade in Madison -- is defined by passing. If Wisconsin's offense was a book, passing would be its spine.
For example: Last season, 27 percent of the Badgers' possessions ended in what Synergy's scouting data defines as spot-ups. That's an overwhelming number within Wisconsin's offense -- the other leaders in the clubhouse are "isolations" (15 percent), post-ups (11.3 percent), pick-and-rolls (8.3 percent) and transition baskets (8.1 percent). Simply put, you don't create that many spot-ups, and convert them at better than a point per possession, without first creating them with pinpoint movement and timely passing. The swing offense is designed such that, even when an assist
isn't
recorded (as can often be the case on post-ups and isolations), two or three passes probably led to the opportunity in the first place.
Last season, even as Wisconsin increased its tempo, it still turned the ball over on just 12.7 percent of its possessions -- second fewest in the country. This has always been the case under Ryan at Wisconsin; the Badgers simply do not turn the ball over. The 2014-15 version of the Badgers, the one returning almost everyone (including versatile big men
Frank Kaminsky
,
Nigel Hayes
and
Sam Dekker
) from a Final Four run, will have all these characteristics and then some. It might be Ryan's best team yet.
Villanova
: To refresh oneself on the 2013-14
Villanova Wildcats
' offensive statistics is to kick yourself for missing out. For most of the season, defense was the most eye-catching part of Villanova's makeup. Save two demolitions by Creighton's Doug McDermott, the Wildcats were among the best defensive teams in the country. Less heralded was Jay Wright's offense. For whatever reason, it just didn't jump out -- even as it was playing an almost idealistically unselfish, and downright fun, brand of basketball.
Last season, the Wildcats had assists on 60.4 percent of their made field goals. They also shot a ton of 3s -- 44.8 percent of their overall field goals, in fact. This was perfect for Wright's personnel, which was short on true big men. Just one rotation player, center
Daniel Ochefu
, was listed as taller than 6-foot-7. Everyone else in the ostensible frontcourt -- especially
James Bell
,
Darrun Hilliard
and
Josh Hart
-- was carved from the "tweener swingman" mold. These guys guarded and rebounded, sure, but they were also comfortable with the ball in their hands on the perimeter. And so point guard
Ryan Arcidiacono
, the team's leading assist man, found them. The ball was always moving, the shots were always flying.
If you missed it the first time around, don't feel bad: I watched Villanova a lot last season, and I totally missed it, too. The good news is Bell is the only piece departing from a roster that should be just as good on the wing as it was a season ago -- a roster that has long since left the selfish, ugly offense of the 13-19 2011-12 season behind it.
Pittsburgh
: The Panthers are the most intriguing, and maybe the most unlikely, team of the bunch.
For starters, they're losing their best player from a season ago. Lamar Patterson wasn't just one of the nation's best and most versatile scoring threats. He was also a genuinely gifted passer. Patterson found an assist on 30 percent of his possessions, which is great in and of itself. When you consider that he also took nearly 30 percent of his team's shots, it looks genuinely crazy. Unfortunately, he couldn't pass the ball to himself.
Still, though, Jamie Dixon's team has the look.
James Robinson
,
Josh Newkirk
,
Cameron Wright
and even
Durand Johnson
all posted plus-15 percent assist rates (with Robinson at nearly 25 percent and Newkirk at 19), and Pittsburgh might have to be even more pass-reliant after losing offensive rebounding force
Talib Zanna
along the front line. Last season, Pitt ranked seventh in the nation in A/FGM at 62.9 percent. With Patterson gone, a repeat performance is almost a requirement.
Teams that could struggle
Syracuse
: In the past five seasons, the Orange's assists-to-field goals ratio has intermittently declined. In 2009-10, Syracuse baskets were the result of an assist nearly 65 percent of the time, one of the top figures in the country. A year later, that number was 60.5 percent. From there, it went to 56.1 (in 2011-12) to 55.8 (in 2012-13) to 49.1 (in 2013-14). Now the Orange are losing Tyler Ennis, the freshman point guard who accounted for a huge portion of their assists last season. It stands to reason that in 2014-15, Syracuse won't be a particularly productive passing team.
Again, the question is this: Does it matter?
The answer is some version of "probably not." After all, despite a disappointing finish to the season, Syracuse was still a very good team in 2013-14. The Dion Waiters 2011-12 team wasn't a scion of precise passing, but it won 34 games. Two seasons ago, Michael Carter-Williams was arguably the best passer in the country, but the Orange didn't really uncork their potential until they ratcheted up the pressure in their 2-3 zone and crushed otherwise stellar offensive teams.
The makeup of the 2014-15 squad, which will be without workhorse
C.J. Fair
as well as Ennis, is uncertain. But Jim Boeheim's teams are always at their best when turning defensive excellence into easy points on the offensive end, getting a handful of 3s from a lights-out shooter (in this case,
Trevor Cooney
) and pounding the ball to the rim offensively. There's no reason to expect that Syracuse can't do that in 2014-15. This could be a truly bad passing team that is nonetheless quite good at winning basketball games.
San Diego State
: The same goes for San Diego State, albeit in far more extreme fashion.
Last October, the Aztecs looked like the classic off-year reload group; they were seen as a fringe NCAA tournament team at best. Instead, they played stingy, top-10 defense while senior point Xavier Thames had a massive, sustained campaign as the lone offensive centerpiece. The combination was good enough to beat Kansas at Kansas, win 31 games and a Mountain West title and take Arizona to the wire in the NCAA tournament.
Still, what made Thames' season so impressive wasn't just his much-needed scoring. He was also the Aztecs' primary distributor. He also never turned it over; with a usage rate of nearly 29 percent, Thames assisted on 25 percent of his possessions and coughed it up on just 10 percent. (Reminder: He was
really
good.) And even then, the Aztecs got just 39 percent of their field goals via assists. They ranked 350th in Division I.
If there's one thing we learned last season, it's to never undersell a San Diego State team. It might be ugly. But if Steve Fisher's group maintains its defense, it won't have to pass the ball all that well. There's more than one way to put wins on the board.
June, 26, 2013
6/26/13
5:00
AM ET
1.
Lasan Kromah
originally told George Washington he was returning as soon as the season ended. And then in late April he met with GW coach Mike Lonergan and athletic director Patrick Nero in late April and said he was leaving (once he earned his degree). He ended up landing at UConn Tuesday, where he'll play for Kevin Ollie and former GW coach Karl Hobbs. Kromah was Hobbs' best player when he was the head coach. As a freshman Kromah averaged 11.8 points a game, led the team in 3s (48) and had 62 steals. Kromah then injured his left foot and missed his sophomore season. The Huskies expect Kromah to be that seasoned, versatile guard who can create his own shot. He's a decent 3-point shooter and has good size for a defender. Adding Kromah means the Huskies are even deeper in the backcourt with
Ryan Boatright
,
Shabazz Napier
and
Omar Calhoun
. The Huskies should be the top challenger to Louisville in the American Conference next season and a legit Top 25 contender. GW added Indiana transfer
Maurice Creek
to offset the Kromah departure.
2. Kentucky coach John Calipari said he went with a different approach since he had so many new freshmen in summer school. Instead of using the team workouts with the newcomers like he did last year, he is focusing on individual workouts to improve the skill level before the team starts to learn the dribble-drive offense. "It may hurt us early in the season but it will help us later,'' said Calipari. Kentucky will play Michigan State in the Champions Classic on Nov. 12 in a matchup between two of the top 5 teams in the country. The Wildcats have eight newcomers next season.
3. Pitt guard
James Robinson
was a surprise cut of the final U-19 FIBA USA roster after winning gold in Brazil last year under Florida coach Billy Donovan. But he was a late add to the roster and flown to Prague to replace Syracuse's
Jerami Grant
, who was suffering from mono. This could turn out to be a critical three weeks for Robinson heading into the season. Pitt will need Robinson to be an anchor for the Panthers, who join the ACC. Having the experience of competing against some of the best players in the world in his age group should be immeasurable for Robinson.
June, 19, 2013
6/19/13
9:12
AM ET
1. Miami had to go the transfer route to catch up in the ACC and continue the momentum. Adding Kansas State's
Angel Rodriguez
and now Texas'
Sheldon McClellan
does give the the Hurricanes two experienced players coming into the program. McClellan was hardly the picture of consistency for the Longhorns, but he's given himself new life with the 'Canes. Miami had a historical season, but ran the risk of dropping significantly without beefing up and balancing the classes. This is not a band-aid fix, but more of a necessity to ensure they remain competitive without being too young.
2. The more NBA decision makers lament about the frustrations of this draft and the indecisions of what lies ahead next week, the more it proves what a unique decision Oklahoma State's
Marcus Smart
made in staying in school. Smart would have been the No. 1 draft pick had he decided to come out this season. I don't think it's a reach to say he would be a lock based on how hard it has been for teams to fall for someone in the top four. Smart showed yet again how much loyalty he has by returning to play for another gold with the FIBA U-19 USA team off to Prague next week. Now, Smart won't be the No. 1 pick next season, assuming Andrew Wiggins of Kansas declares. And Smart had to know this, making his move even more of a rare treat.
3. Expect the four players cut Monday by USA basketball to use that as a motivational factor next season. Pitt's
James Robinson
was probably the most curious of the players trimmed, because he was on the team a year ago that won gold in Brazil. Oregon's
Damyean Dotson
was kept initially for his shooting. But the squad has gone for more defensive quickness and pressure. Villanova's
Ryan Arcidiacono
and Georgia Tech's
Marcus Georges-Hunt
were also left off the final 12-man roster. But you'll hear from these four quite a bit next season, with Pitt, Oregon and Villanova all expected to be tournament-type teams.
December, 20, 2012
12/20/12
1:10
PM ET
By
Jeremy Lundblad, ESPN Stats & Info
| ESPN.com
Every other week in these parts, we'll unveil our list of the nation's top 10 freshmen. As with first-year players, this list is bound to be fluid throughout the season. So if you don't see your favorite player on these initial rankings today, check back with us for later editions. Or you can just leave us an angry comment in this one.
Without further ado, here are the choices (followed by a notable player from the past who put up similar numbers as a freshman):
[+] Enlarge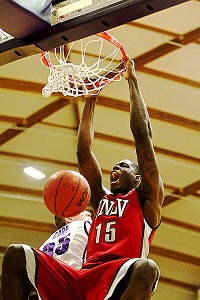 Jaime Valdez/USA TODAY SportsAnthony Bennett's size and perimeter ability break the mold of the traditional power forward.
1. Anthony Bennett, UNLV --
19.4 PPG, 8.6 RPG, 54.7 FG pct
Freshman Statistical Comparison: Tyler Hansbrough, North Carolina (2005-06)
As the most consistent and most prolific freshman in the nation, Bennett has distanced himself from the pack. He's the top freshman scorer (19.4) and ranks fifth in rebounds (8.6). His 19-8 averages were achieved by only four freshmen over the previous 10 seasons: Kevin Durant, Michael Beasley, Kris Humphries and Carmelo Anthony. Pretty good company. Forget freshman honors, Bennett's in the conversation for national player of the year.
2. Marcus Smart, Oklahoma State --
12.7 PPG, 6.6 RPG, 5.2 APG, 2.6 SPG
Freshman Statistical Comparison: Jason Kidd, California (1992-93)
Statistically, the last freshmen to fill up the score sheet like Smart were Jason Kidd and Penny Hardaway. On top of lockdown defense, he's averaging 12.7 points, 6.6 rebounds, 5.2 assists and 2.6 steals. Arguably the top freshman in November, Smart's production has waned a bit this month. His turnovers are high and he's shooting only 35 percent from the field on the season. With those caveats aside, there's really no one like him.
3. Jahii Carson, Arizona State --
17.9 PPG, 5.3 APG
Freshman Statistical Comparison: Jerryd Bayless, Arizona (2007-08)
Three of the top 20 recruits in the nation enrolled at Arizona this year, but there's little question that the most impressive freshman in the state plays in Tempe. Carson (17.9 ppg) trails only Bennett is scoring, while also ranking in the top five in assists (5.3). It has been 16 years since a freshman averaged 17 and 5 (Seton Hall's Shaheen Holloway in 1996-97). On a team picked to finish 11th in the Pac-12, it's no surprise that the Sun Devils are leaning heavily on Carson. If he turns ASU into a conference contender, he might lock up this award. But keep in mind that the last USBWA Freshman of the Year to miss the NCAA tournament was Eddie Griffin in 2000-01.
4. Ben McLemore, Kansas --
15.9 PPG, 5.7 RPG, 2.3 APG
Freshman Statistical Comparison: Courtney Lee, Western Kentucky (2004-05)
Kansas is the only team in the top 20 with a freshman leading the team in scoring. McLemore (15.9 PPG) is on track to break Danny Manning's freshman scoring record, while joining Brandon Rush as the only freshmen to lead the Jayhawks in scoring over the past 30 years. An interesting side note: Both McLemore and Carson are redshirt freshmen, who were ineligible last season. They were ranked back-to-back (at 49th and 50th, respectively) in the ESPN 100 for the Class of 2011.
5. Archie Goodwin, Kentucky --
15.8 PPG, 5.4 RPG, 4.4 APG
Freshman Statistical Comparison: Tyreke Evans, Memphis (2008-09)
Goodwin is putting up numbers eerily similar to another John Calipari freshman sensation, albeit from his pre-Kentucky days. Like Goodwin, Tyreke Evans was pressed into point guard duty for Memphis in 2009, finishing the season at 17.1 PPG, 5.4 RPG and 3.9 APG. Through 10 games, Goodwin is averaging 15.8 PPG, 5.4 RPG and 4.4 APG. Just like John Wall and Brandon Knight did as freshmen, he leads the Wildcats in points and assists.
6. Nerlens Noel, Kentucky –
10.7 PPG, 9.0 RPG, 3.9 BPG, 2.8 SPG
Freshman Statistical Comparison: Tyrus Thomas, LSU (2005-06)
In the span of a month, Noel went from overrated to overlooked. That's what expectations will do for you. Maybe he won't be the next Anthony Davis, but his numbers on the defensive end are worthy of praise. Noel leads all freshmen in steals (2.8), ranks second in blocks (3.9) and fourth in rebounds (9.0). He's the only player, regardless of class, ranked in the top 50 in steals and blocks. Even if his offense doesn't come around, Noel will remain among the most impactful freshmen.
[+] Enlarge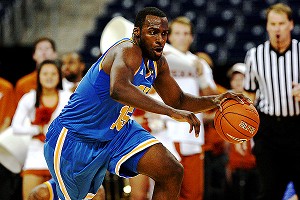 Troy Taormina/USA TODAY SportsUCLA's Shabazz Muhammad has been stellar since becoming eligible this season.
7. Shabazz Muhammad, UCLA --
17.8 PPG, 4.8 RPG
Freshman Statistical Comparison: Rashad McCants, UNC (2002-03)
While Muhammad missed the first three games of the season,
Jordan Adams
exploded out of the gate. But Muhammad has been the Bruins' most consistent player since becoming eligible. He's up to 17.8 ppg, the fifth-highest scoring average among freshmen. A week ago, he wouldn't have been on this list. But after totaling 46 points over the past two games, Muhammad is coming on strong. Apart from Kevin Love, no one has been a bigger threat to Don MacLean's school freshman scoring record (18.6 ppg).
8. Semaj Christon, Xavier --
14.7 PPG, 5.2 APG
Freshman Statistical Comparison: Dominic James, Marquette (2005-06)
Cramps limited Christon to 23 minutes against Cincinnati, blocking him from a potential statement game. On a team that lost its top six scorers, he has thrown the Musketeers on his back with the fifth-highest usage percentage of any freshman. He's on track to be Xavier's second-leading freshman scorer of all time behind Byron Larkin (17.0 in 1984-85). All that's missing is the deep threat. Christon is 2-for-11 from 3-point range.
9. Rasheed Sulaimon, Duke --
12.7 PPG, 2.7 APG, 3.6 RPG
Freshman Statistical Comparison: E'Twaun Moore, Purdue (2007-08)
While most of his brethren dominate lesser competition, Sulaimon is getting it done against the nation's elite. With 17 points against Ohio State and 14 against Louisville, he's a big reason that the Blue Devils are unbeaten and No. 1 in the nation. He doesn't have the flashiest numbers, but Sulaimon is third on Duke in points, rebounds, assists and steals.
10. Nik Stauskas, Michigan --
13.2 PPG, 54.7 3-pt FG pct
Freshman Statistical Comparison: John Jenkins, Vanderbilt (2009-10)
The least heralded recruit on this list, Stauskas was ranked 76th in the ESPN 100 coming out of St. Mark's in Southborough, Mass. But the Canadian has been just the deep threat that John Beilein needed at Michigan, shooting 54.7 percent from 3-point range. That puts him on pace to break Jay Edwards' 25-year-old record for 3-point percentage by a freshman (53.6).
Just Missed:
T.J. Warren
(NC State),
Isaiah Austin
(Baylor), Jordan Adams (UCLA)
Rising:
James Robinson
(Pittsburgh),
Jakarr Sampson
(St. John's),
John Brown
(High Point)
Falling:
Brandon Ashley
(Arizona),
James Woodard
(Tulsa),
Dewayne Russell
(Northern Arizona)
September, 18, 2012
9/18/12
5:00
AM ET
1. Pitt coach Jamie Dixon said upperclassmen
Lamar Patterson
and
Talib Zanna
have proven to be leaders early in the first few weeks of workouts. The freshmen --
Steven Adams
,
James Robinson
and
Chris Jones
-- have stood out as being physically and mentally mature to contribute at the beginning of the season. Pitt has had a history of developing its players and not getting the maximum from the freshmen. But this program will need, and now it looks like it will get, immediate production from the freshmen class. This is a must that will likely lead to quite a turnaround from a 22-17 CBI champ (5-13 Big East) season.
2. Our ESPN.com recruiting analyst Dave Telep made a terrific point in his
Chris Jones to Louisville column
Monday that the last Tennessee recruiting class under Bruce Pearl has ended up at Louisville. Jones, who played for former Pearl assistant Steve Forbes at NW Florida JC, joins
Kevin Ware
from the 2011 Vols' class. But the Vols shouldn't fret. Cuonzo Martin is doing a tremendous job of increasing the talent and perception of Tennessee basketball. Martin secured another commitment Monday for 2013 in landing 6-5 shooting guard
Robert Hubbs
. The Vols will be just fine going forward in the SEC under Martin.
3. While Kevin Ollie has to defend his hire -- even in the short term -- it made me wonder why is there no issue that Mike Hopkins is already the coach-in-waiting at Syracuse for whenever Jim Boeheim retires? Why doesn't Syracuse have to do a national search whenever Boeheim retires? The answer is the Orange don't. Last time I checked Jamie Dixon was an assistant at Pitt and Tom Izzo was an assistant at Michigan State before being bumped up to head coach. Izzo is a future Hall of Fame coach. Dixon is having a stellar career. Oh, Brad Stevens was an assistant too at Butler. I could go on (Frank Martin took over for Bob Huggins at Kansas State and was originally ripped for getting the gig and now look at him). Ollie doesn't have as much experience as the assistants mentioned. But he deserves a real chance -- not seven months -- just like the previous coaches and Hopkins will get when it's his time at Syracuse.
June, 8, 2012
6/08/12
5:00
AM ET
1. The USA men's U18 national team that will play in the FIBA Americas championship in Brazil later this month cut its roster down from 23 to 14 Thursday and there are a few names that fans will come to know next season. The incoming freshmen who will be instant hits on this roster -- so far -- are:
Rodney Purvis
(NC State),
Sam Dekker
(Wisconsin),
Shaq Goodwin
(Memphis),
Jerami Grant
(Syracuse),
James Robinson
(Pitt),
Marcus Smart
(Oklahoma State),
Rasheed Sulaimon
(Duke),
Montrezl Harrell
(Louisville),
Jake Layman
(Maryland) and
Joel James
(North Carolina). The coaching staff was most wowed by Smart, but the most memorable name when this tournament ends could be Tennessee's
Jarnell Stokes
. Stokes should star for this team -- and for the Vols next season. He's the only player
on the squad
who is currently in college.
2. The early departure of Butler to the Atlantic 10 has forced teams in the Horizon League to scramble in non-conference scheduling. Illinois-Chicago coach Howard Moore said Thursday that the Flames and other teams are searching for two more games at this late date. The Flames actually need four more games. One of the games the Flames had already secured is the opener against UC Riverside. Why is this significant? The Flames have
Joey Miller
-- who transferred from Eastern Illinois after his father, Mike Miller, was fired as head coach -- eligible immediately. Well, Mike Miller has now joined the Riverside staff and will be in Chicago for the opener, coaching against his son.
3. Former UConn wing
Jeremy Lamb
said he has been in touch with
Ryan Boatright
since his departure and that he has no doubt the perimeter of Boatright,
Shabazz Napier
and
Omar Calhoun
, with whom Lamb said he has played, will shine next season. Lamb also said he anticipates that
Tyler Olander
will be the anchor inside and can handle the chore of being the focal point in the post. No one should expect Lamb to trash his former team, but he was overly confident about the Huskies surviving the attrition that has hit the team since it was handed a postseason ban.