College Basketball Nation:

James Young
November, 9, 2013
Nov 9
12:32
AM ET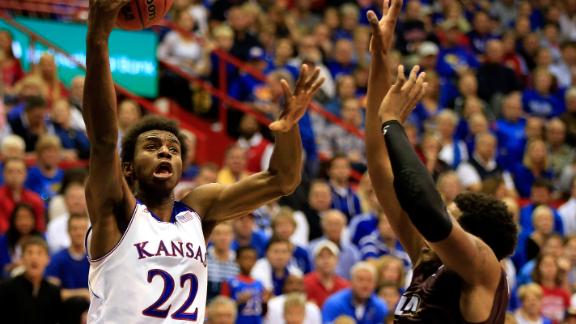 Before the whole thing devolved into a hilarious game of expectations limbo, Tom Izzo kind of had a point.
"[Kentucky coach John Calipari's] lucky,"
Izzo said last week
. "Everybody says, 'Have you studied Kentucky?' What the hell are you going to study? I said, 'I've got to go back and look at high school film, and then they run different things than he's going to run, so he's got a big advantage.' You can tell him I said that. It'll probably make the news."
Surprise, surprise: It made the news.
Calipari insisted that no
,
his
team's perennial youth gave more experienced teams like Michigan State the early-season advantage; on Friday Izzo joked that Cal and his already-legendary recruiting class
should just go ahead and forfeit
.
With all this comedy gold flying about, it would be easy to lose sight of Izzo's original point. But it's valid, and can be applied to
every
highly touted freshman we've spent all offseason eagerly anticipating: Until each plays some real, recorded college basketball, we don't really know anything.
[+] Enlarge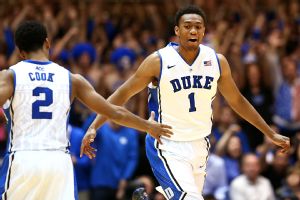 Streeter Lecka/Getty ImagesWith 22 points and six rebounds Friday, it's safe to say that Jabari Parker's college debut went well.
Now they have, and now we do, and you know what? That high school tape might have been pretty valuable after all.
Kansas'
Andrew Wiggins
, the undisputed cross-cultural star of this thrilling 2013 class, made his much-anticipated debut in Lawrence, Kan., Friday night. He finished with 16 points on 5-of-9 from the field, 2-of-4 from 3-point range, and 4-of-6 from the free-throw line, with three rebounds, two assists, and three steals. In other words, he didn't disappoint -- provided you knew what to expect.
If you need Wiggins to score 35 points a game to "validate" his hype, you're on the wrong track. Instead, what every coach has said about Wiggins -- that his greatest asset, perhaps aside from his athleticism, is that there are no real weaknesses in any aspect of his game -- is precisely what he displayed Friday night. He flies around the court but also handles the ball well, has soft perimeter touch (and
excellent
mechanics), and is already one of the best on-ball defenders in the college game. Yes, OK, it was Louisiana-Monroe, but still: Wiggins' game is obscenely well-rounded, and he showed as much in his first game as a Jayhawk.
Kentucky freshman
Julius Randle
performed similarly in that he did the things every scout and recruiting guru said he was going to do when he arrived in Lexington this summer: He beasted dudes. Randle finished with 23 points (on 50 percent shooting) and 15 rebounds. That's a nice line for a 38-minute outing. Randle did in 26. And Calipari already has developed a devastating wrinkle for his best player. Rather than start Randle on the low block, he has him playing at the top of the key, where Randle can build a sufficient head of steam before flying unstoppably through the lane. Think of the sets Michael Kidd-Gilchrist saw in 2011-12, and then picture a 6-foot-9, 225-pound left-handed freight train in his place. You get the picture.
The rest of UK's freshmen were more of a mixed bag.
James Young
-- who has drawn as many, if not more, NBA raves this fall -- finished just 3-of-10 from the field.
Aaron Harrison
and
Andrew Harrison
combined to go 4-of-11, though Aaron added four steals and five rebounds and Andrew five assists. But
Marcus Lee
's 17 points on 7-of-8 shooting speaks to the depth Calipari could unleash on the sport this season; Lee played exactly 15 minutes off the bench.
There were other noteworthy frosh in action: Florida's
Kasey Hill
helped lead a depleted Gators team past a frisky North Florida 77-69, and his 15-point/four-assist/two-steal night doesn't quite speak to the speed and command he displayed offensively, particularly on the break. Kansas'
Joel Embiid
attempted just two field goals but went 7-of-10 from the stripe, and Indiana's
Noah Vonleh
struggled from the field but pulled down 14 rebounds in 22 minutes against Chicago State. Indiana blocked 13 shots, six more than their 2013 season high.
And then there was Duke's
Jabari Parker
, whom our own
C.L. Brown saw first-hand
. Parker scored 22 points, grabbed six rebounds, looked every bit as natural a scorer as he'd been sold as, and led Duke to a 111-points-in-68-possessions (yes, you read that right) win over Davidson. And let's not overlook
Aaron Gordon
's 13 points, 10 rebounds and four blocked shots in a win for Arizona.
All of which is ... kind of a relief! After all, we've spent the last six months telling you a number of things: That this was the best incoming group of freshmen in memory; that Kentucky's class was the greatest of
all-time
; that Wiggins and Parker were generational talents and future NBA All-Stars; that this was going to be an exciting, freewheeling, freshman-dominated season of college hoops. But there were no guarantees. Not when high school tape is the only point of reference. There never are.
Now, those days are officially over. The college data sets have received their first inputs. Izzo will be thankful; his tapes just got a little bit better. The rest of us can settle for "stoked."
November, 5, 2013
Nov 5
3:55
PM ET
A funny thing happened in Lexington, Ky., these last few months. To most of the outside world,
Julius Randle
, the gem of coach John Calipari's probably-best-ever recruiting class, has been the chief Wildcat to watch. He was named preseason SEC player of the year on the strength of that reputation; if Kansas'
Andrew Wiggins
and Duke's
Jabari Parker
aren't chosen No. 1 overall in next June's NBA draft, it will be because Randle stole the show.

That may all be true, but inside Kentucky's practices, a different narrative has emerged. Calipari has tasked Randle with playing higher in the key than he ever had to in high school, and the adjustment period has caused some struggles. Meanwhile, pretty much every media member or NBA scout who was visited UK in the past four weeks has come away far more impressed by 6-foot-7 wing
James Young
.
This is not exactly the upset of the century. Young might not have been the No. 3-ranked player in the loaded 2014 class, but he was No. 8. At almost any other program, he'd be the big man on campus; we're not exactly talking (with all due respect) about
Jarrod Polson
here. Young is tall, athletic and, unlike most such players, possessed of reliable shooting touch. He is an NBA scout's dream.
Or at least he was, before
the play above happened
.
That's a clip from Kentucky's humdrum exhibition win over Montevallo Monday night, and yes, that's Young racing to the sideline in an attempt to save the ball -- which he does, directly into his own hoop.
There are two ways to look at this. The glass-half-full version is that Young is "so locked in," as one Kentucky radio announcer put it, that he can't help but throw the ball in the net even when he doesn't mean to. The glass-half-empty version is that Young
callously
and
egregiously
hurt his own team, and by golly, I just don't know if NBA scouts can trust a player with that much disregard for the entire object of the game.
The less-silly version of this dichotomy is that Young made a great hustle play that he immediately undermined by throwing the ball at his own rim. If there is a teachable moment here, that's probably it. When you save the ball back under your own rim, bad things tend to happen. Just usually not this quickly.
In any case, we now have our first crazy Kentucky highlight of the season. Expect many more to come.
May, 15, 2013
May 15
10:00
AM ET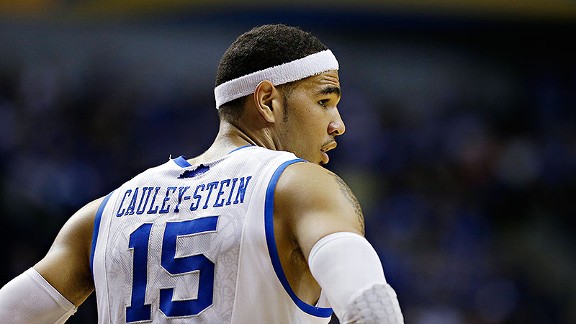 AP Photo/Dave MartinFor Kentucky to achieve championship-level defensive stinginess, Willie Cauley-Stein must shine.
Editor's Note: This month, ESPN Insider's college basketball and recruiting experts are teaming up to examine how 15 of the nation's best recruiting classes will fit in with their teams in the 2013-14 season. Today's featured program: Kentucky

. Check out the Nation blog each morning for a corresponding post on the key returnee for each of the 15 teams.
Remember when Kentucky
freaked everyone out
?
It wasn't hard to figure out why. To the untrained eye, Kentucky's 2011-12 national title was the product of nothing more than John Calipari's immense recruiting advantage over everyone else in the sport. To many, the dominant triumph of Anthony Davis and Michael Kidd-Gilchrist proved that all Calipari had to do every year was get the best players, coax them into playing his typically stifling defense and let the talent do the rest. He had cracked the code. The sport would never be the same.
A year later, as the Wildcats
ended their season in Moon, Pa., in the first round of the NIT
, losing to a Northeast Conference team (Robert Morris) that has lost more games in its history than it has won, the noise diverged. Suddenly, Kentucky couldn't recruit; it had missed on
Alex Poythress
and
Archie Goodwin
; only pre-ACL tear
Nerlens Noel
panned out as planned. Or: Maybe you can't win a national title relying on talented freshmen after all! Maybe 2012 was just luck! Ha!
All of this stuff misses the point.
Kentucky 2011-12 wasn't the best team in the country
because it comprised only talented freshmen
. The freshmen UK did have were special, but just as important were Terrence Jones, Doron Lamb and Darius Miller. None was a freshmen. Jones would have been a lottery pick had he left during the lockout uncertainty. Miller was a fourth-year senior who came off the bench.
The 2012-13 team didn't have any of these things. The freshmen, particularly Poythress and Goodwin, disappointed. But save the inconsistent
Kyle Wiltjer
, there were no veterans, let alone veteran
leaders
, to provide any semblance of core consistency, confidence or backbone. When Noel tore his ACL at Florida and UK lost 88-58 at Tennessee, you could just see it. There was nothing there, particularly on the defensive end, where a team's cohesion and heart shine brightest. And the Wildcats were hardly impenetrable with Noel in the lineup, either.
The lesson in all this exists on neither extreme of the rhetorical continuum. Calipari didn't lose his touch or totally whiff on recruits last season any more than his 2011-12 team changed college basketball forever.
The lesson here is something more fundamental about the game itself, and it's true whether you're playing in your pickup game or in the NBA: Talent isn't everything. Championships don't just happen. Personalities matter. Intelligence matters. Defense matters.
Veterans
matter.
That's why, even as Calipari
prepares to bring the best recruiting class in college hoops history into the fold
, Kentucky can't merely hope to glide by on glimmering talent. If UK is going to upend the reigning national champs at Louisville and avoid challenges from every corner, the Wildcats will need the scattered returners to step up, too.
None will be more important than
Willie Cauley-Stein
.
With Goodwin and Noel off to the NBA and
Ryan Harrow
having transferred to Georgia State, Cauley-Stein, Poythress and Wiltjer were the only three candidates for this prestigious position. I was actually torn about this Tuesday night, so I ran an informal poll among Kentucky fans on Twitter. Dozens of replies later, the consensus was overwhelmingly in favor of Cauley-Stein. Some made the case for Poythress, particularly in light of
Andrew Wiggins
' decision to play at Kansas (thus preserving Poythress plenty of minutes and possibly a starting spot). Few made the case for Wiltjer, even though I would contend his length and shooting -- he finished at 36.7 percent from 3 last season, which isn't bad for a 6-foot-10 guy -- could still be crucial in 2013-14.
But Cauley-Stein's case really is the most convincing. You won't find many 7-footers as athletic as Cauley-Stein at any level, full stop, and the big man already demonstrated solid rebounding on both ends of the floor and competent finishing ability around the rim. He ended the season having shot 62.1 percent from the field, which is great pretty much any way you slice it. Despite that output, though, Cauley-Stein couldn't be relied on to score over a competent defender. According to Synergy scouting data, Cauley-Stein scored 1.55 points per possession when he cut to the rim and 1.05 on offensive rebound putbacks but just .067 points per trip the 75 times he was put in a legitimate post-up opportunity.
This is rawness personified. A little more touch and one or two reliable moves, and there's no reason an athletic 7-footer can't score over even the best collegiate post defenders.
[+] Enlarge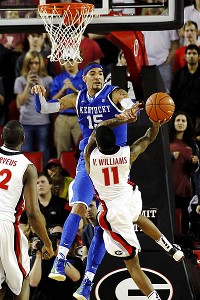 Zuma Press/Icon SMIWith Cauley-Stein defending the rim, Kentucky's talented offensive players can get to work.
But that would be a bonus. After all, Kentucky shouldn't have much trouble scoring the basketball next season. The Harrison twins (
Andrew
and
Aaron
) will be deadly on the perimeter, and power forward
Julius Randle
-- the No. 3-ranked player in the class, behind only Wiggins and Duke's
Jabari Parker
-- will be the go-to post force. Also, Kentucky has the No. 2 center in the class,
Dakari Johnson
, whose chief strength is his offensive polish.
No, what Kentucky needs -- what has made Calipari such a consistently successful coach in the past decade -- is defense. Last season's Wildcats finished ranked No. 77 in KenPom.com's adjusted efficiency rankings. That was the first time since the 2004-05
Memphis Tigers
that a Calipari-coached defense wasn't among the 15 stingiest in the country. In five of those years, it ranked in the top 10. This is Calipari's formula: His offenses are usually excellent, but sometimes they're merely good. What sets his teams apart is his ability to meld young players into a lockdown defensive group.
Cauley-Stein will be massive in this effort. He
blocked a shot on 8.4 percent of his available possessions last season
, which is a totally respectable rate on its own and especially impressive given that he was playing on the same team as human block-sponge Noel. Johnson is not known as an elite athlete or defender, beyond his ability to clog the lane. Cauley-Stein, on the other hand, has a chance to be a dominant defensive presence. He could be the prohibitive force that makes interior penetration against Kentucky impossible, the player who lets the rest of the team's talent press out on shooters, unafraid of either (A) inefficient midrange shots or (B) deep drives. Cauley-Stein can be on that wall. He should be on that wall.
The great luxury of Calipari's signing five of the best nine players in recent history's most loaded incoming class is that none of his three returners will be seen as the team's most important player. That title likely will go to either Aaron or Andrew Harrison, or Randle. Neither Poythress nor Cauley-Stein is guaranteed a starting spot; Wiltjer, veteran of a national title team, is practically guaranteed to come off the bench. And we haven't even talked about
James Young
(a 6-foot-6 lefty scorer ranked eighth overall in the class) or
Marcus Lee
(the best oh-yeah-they-have-that-guy in recruiting history).
Conceivably, UK could start five freshmen -- the Harrisons, Young, Randle and Johnson -- and still be a legitimate national title threat, if not the favorite. But it is hard to imagine Kentucky approaching its incredibly lofty ceiling if Cauley-Stein isn't contributing in big ways to that effort. The Wildcats need his size, his shot-blocking, his rebounding. They need the size and strength borne of a full offseason spent in an elite training and conditioning program.
They also need his anger. Few players were more vocal about the frustration of last season, how embarrassing getting walked off in Moon, Pa., really was.
"I feel like something's empty, and I want to fill it," Cauley-Stein
told the Courier-Journal's Kyle Tucker in April
. Kentucky needs Cauley-Stein to be that guy -- the guy who has been through it before, who knows it isn't easy, that no matter how bad it gets in practice, he has seen worse. On every rotation and every box-out, Kentucky needs someone who feels an emptiness that can be filled only by winning.
In short, Kentucky needs a veteran. Poythress or Wiltjer might be that guy. Maybe all three are. Maybe there's an MKG in the freshman mix. Someone must embrace the role, tangible or otherwise. Kentucky will be very good the minute it begins the season. Whether it will be great is another matter entirely, one up to Cauley-Stein and, to a lesser extent, Poythress and Wiltjer.
Because that is the real lesson of the past two seasons of Kentucky basketball. Talent is great, but greatness is about so much more than talent. Sometimes we need a reminder, you know?
April, 16, 2013
Apr 16
9:23
AM ET
We won't see another college basketball game for about seven months. That's a long time.
But the players in the highly touted 2013 recruiting class will reach their respective campuses soon.
Future Arizona forward
Aaron Gordon
(No. 4 in the 2013 class per RecruitingNation) could be a game-changer who morphs Sean Miller's squad into a Final Four-caliber program. He's Blake Griffin Lite.
Indiana's
Noah Vonleh
(No. 8), a 6-foot-8 five-star forward, could make folks in Bloomington forget about the loss of
Victor Oladipo
and
Cody Zeller
.
Former
Nerlens Noel
teammate
Wayne Selden
(No. 12) is a stocky 6-foot-5 guard with swagger. He's going to Kansas and, yes, he'll log minutes for Bill Self.
Florida's Billy Donovan will have a good rotation problem when McDonald's All Americans
Kasey Hill
(No. 9) and
Chris Walker
(No. 14) enter the mix in Gainesville.
Locals are at the center of Memphis' nationally ranked recruiting class, which includes PF
Austin Nichols
(No. 15), SF
Kuran Iverson
(No. 31) and SF
Nick King
(No. 33).
[+] Enlarge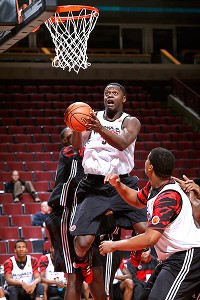 Courtesy of McDonald'sJulius Randle highlights a Kentucky recruiting some have touted as being the best of all-time.
Duke's
Jabari Parker
(No. 2) plays like a pro. He'll be ready to star in Mike Krzyzewski's system in Year 1.
And then there's the young NBA franchise that John Calipari signed. The "greatest recruiting class of all time" is a legitimate label for the top-rated bunch in the field.
Julius Randle
(No. 3),
Andrew Harrison
(No. 5),
James Young
(No. 6),
Aaron Harrison
(No. 7) and
Dakari Johnson
(No. 11) are all potential pros.
Here's what some of the coaches who'll have to deal with those young studs in conference play next season had to say (anonymously) about the impact they might have on their programs as freshmen.
Aaron Gordon (Arizona)
"Arizona will be very tough adding Gordon. He's versatile and athletic and could probably play three to four positions." --
Pac-12 head coach
.
Noah Vonleh (Indiana)
"Noah is as talented as any 2013 recruit. He has the total package. Should be an impact player from day one. He's very skilled for his size and also has a college-ready body." –--
Big Ten assistant
.
Wayne Selden (Kansas)
"He's a big-time athlete and very talented, I know that." --
Big 12 head coach
.
Kasey Hill and Chris Walker (Florida)
"Hill is a special talent and will play, but he is not beating out [
Scottie Wilbekin
]. He is too tough and the best defender in our league. I worry about Walker. Will Walker accept his role? Because he is not a better basketball player than [
Dorian Finney-Smith
] or [Damontre Harris]. He is a better athletic talent but not a better basketball player." --
SEC head coach
.
Austin Nichols, Kuran Iverson and Nick King (Memphis)
"I think from what I saw, Kuran Iverson has the intangibles to make an impact. Nick King has good length and size. He has the best chance to make an impact. Austin Nichols is going to need a year to develop his body." --
American Athletic Conference/Big East assistant
.
Jabari Parker (Duke)
"Jabari has the ability to impact the game in so many ways. He's versatile, knows how to win, and will fit in very well in Duke's style." --
ACC assistant
.
Aaron Harrison, Andrew Harrison, Julius Randle and Dakari Johnson (Kentucky)
"I think they're all very talented. When you're talking about this class, they all have the mentality of one-and-done. Now you have to make it work. Two years ago, they had some experienced guys with a seven-man rotation. Now, they'll have a nine- or 10-man rotation." --
SEC head coach
.
October, 12, 2012
10/12/12
12:40
PM ET
When Chicago native
Jabari Parker
, the top player in the class of 2013 and already a Sports Illustrated cover boy, announced his list of five remaining potential collegiate destinations, Kentucky wasn't on that list.
That was surprising to me
, if only because these days, top players like Parker seem to consider UK coach John Calipari almost as a reflex. That's how dominant the Wildcats' yearly search for talent has become: That when a top player doesn't put Kentucky in his final list, the immediate reaction is surprise.

But fear not, Kentucky basketball fans. You guys are still going to be plenty loaded in 2013 anyway.
A mere week after landing Aaron and
Andrew Harrison
, twin brothers and the top shooting guard and point guard in the class of 2013, respectively, Calipari added another top-five player to his team -- No. 2-ranked shooting guard
James Young
. Young is 6-foot-6 and can play at the small forward position as well as in the backcourt, which sounds like an ideal fit alongside the versatile, athletic Harrisons. However the talent fits, it also gives Calipari three of the top five players in the class, a feat rarely seen in any class. From
Dave Telep's story on Young's commitment
:
John Calipari's Wildcats are treading in historic water. Few times in the history of recruiting has a program landed three top-five players. Those pledges alone give UK ammunition in the conversation as one of the top recruiting classes of all time.

To polish off the claim and potentially end any arguments, Calipari would need a pledge from either elite power forward the Wildcats are still in the mix with -- No. 3 recruit Julius Randle of Dallas or No. 6 prospect Aaron Gordon of San Jose, Calif.

The Wildcats also have scholarships out to top-30 recruits Kennedy Meeks, a center out of Charlotte, N.C., and Marcus Lee, a power forward from Antioch, Calif.
To recap: Calipari already has the top class in the country, and arguably one of the top classes all time, and he still has much more than a puncher's chance of landing Julius Randle or Aaron Gordon, both of whom fall in the top six in the class of 2013.
Kentucky's level of recruiting success would be remarkable and mind-blowing if it weren't, at this point, so very routine. Jabari who?
October, 11, 2012
10/11/12
5:56
PM ET
By
ESPN.com staff
| ESPN.com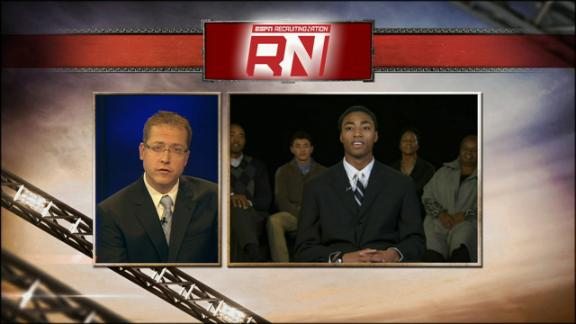 James Young, the No. 5 player in the Class of 2013, announces his college decision. The senior at Rochester (Mich.) chose Kentucky over Kansas, Michigan State and Syracuse.