College Basketball Nation:

Jaquon Parker
March, 14, 2013
3/14/13
2:32
PM ET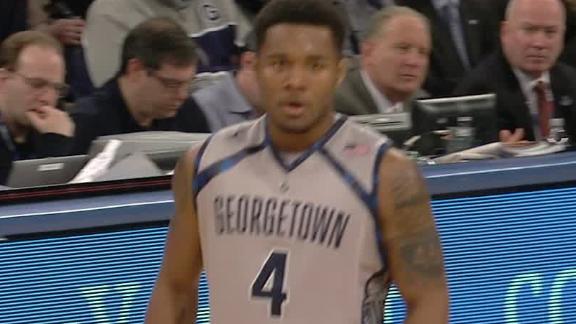 NEW YORK --
What it means:
Georgetown moves on to the Big East semifinals, and remains in play for a No. 1 seed in the NCAA tournament. Cincinnati is currently projected to receive an at-large berth, but it's no lock.


The Bearcats rallied after falling behind big in the first half (see below), but the Hoyas ultimately cruised to victory in the first of four quarterfinals at Madison Square Garden on Thursday,
winning 62-43
.
Georgetown (25-5, 14-4), ranked No. 5 in the country, has now won 13 of its past 14 games. Cincinnati (22-11, 9-9) is listed as a No. 11 seed in the latest edition of ESPN.com's Bracketology, but will have to sweat it out until Selection Sunday.
The turning point:
Georgetown jumped out to a 16-point lead, 24-8, with 5:37 remaining in the first half, after back-to-back 3-pointers by Big East Player of the Year
Otto Porter Jr.
and freshman
D'Vauntes Smith-Rivera
. Cincinnati went more than seven minutes without scoring a single point. But then the Bearcats got hot from deep, making four treys in the closing minutes -- three by
Cashmere Wright
-- to draw within five, 29-24, at intermission.
Cincinnati opened the second half on a 9-2 run, taking a two-point lead, 33-31, on another Wright jumper with 16:22 to play. But then Georgetown scored seven points in a row to re-take control of the game -- five by Smith-Rivera. The Bearcats never got closer than five points again. A putback, again by Smith-Rivera, pushed the lead to 12, 51-39, with 5:14 left. The Hoyas put them away from there.
Star watch:
It was a true team effort by Georgetown. The Hoyas had three players in double figures -- Porter (18 points, 11-for-11 from foul line),
Markel Starks
(14) and Smith-Rivera (13).
Jabril Trawick
chipped in nine points.
Wright led Cincinnati with 14 points, and
JaQuon Parker
added 12.
Sean Kilpatrick
-- the fourth-leading scorer in the Big East this season (17.3 ppg) -- scored just four points, shooting 2-for-12 from the field and 0-for-8 from beyond the arc. It was a day to forget for the Yonkers, N.Y., native, playing very close to home.
Number crunch:
The shooting percentages of the two teams were strikingly similar, until the final few minutes, when Cincinnati was hoisting up quick shots and Georgetown was cleaning up at the foul line. The difference? Georgetown had 10 more attempts from the field, thanks to an 11-7 advantage on the offensive glass, and 15 turnovers by the Bearcats. The Hoyas gave the ball away just nine times.
What's next:
Georgetown, the No. 1 seed, will play the winner of No. 4 Pittsburgh versus No. 5 Syracuse, on Friday at 7 p.m. ET.
Cincinnati returns home to await its postseason fate.
November, 21, 2012
11/21/12
10:30
AM ET
An intriguing doubleheader between four teams that aren't headline-grabbers yet but soon could be. Iowa State's reclamation project of transferring players continues to work well for Fred Hoiberg, though this will be the Cyclones' first real test. Cincinnati, a national sleeper team, has done nothing to discredit itself while Oregon has done plenty to turn heads, destroying Vanderbilt. And UNLV started the season with a scare, nearly losing an exhibition game to Dixie State, but has rebounded nicely.
The basics:
Nov. 23-24, Thomas and Mack Center, Las Vegas
The set matchups:
Iowa State vs. Cincinnati, 6:30 p.m.; Oregon vs. UNLV, 9 p.m.
[+] Enlarge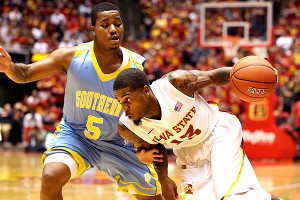 AP Photo/Charlie NeibergallIowa State needs Korie Lucious to get on track shooting the ball.
FIVE PLAYERS TO WATCH
Korie Lucious, Iowa State
The Michigan State transfer is playing well for Hoiberg, using his playmaking skills to dish out an impressive 6.7 assists per game. The catch: He giveth and taketh, coughing up 4.3 turnovers. His consistency is huge for the Cyclones this year.
Sean Kilpatrick, Cincinnati
The undeniable leader of Mick Cronin's tripe-threat backcourt, Kilpatrick has stormed out of the gate. He's averaging 21 points, but the sharpshooter has been especially sharp, blistering the nets on 55 percent of his 3-pointers.
Arsalan Kazemi, Oregon
Granted his hardship waiver just last week, the Rice transfer is a huge boost for the Ducks. He's got size and strength, both on display in his brief season debut where he picked up seven rebounds. They need them all. Oregon is averaging only 35 boards a game.
Mike Moser, UNLV
Thanks to a strong cast of very good freshmen around him, Moser doesn't have to do nearly as much for the Rebels. That doesn't mean he can't. He's still averaging a double-double 10.5 points and boards.
Anthony Bennett, UNLV
The freshman has been as good, if not better than advertised. He leads the Runnin' Rebels in scoring -- 17 points per game, with eight rebounds to boot.
FIVE BIG QUESTIONS
Will anyone play defense?
All four of these teams are scoring like gangbusters -- Oregon is the slacker, chipping in 79 points per game. But if a doubleheader track meet breaks out, who has the defensive stamina to seal the victory? It may not matter. It may be a who-has-the-ball-last-wins sort of tourney.
How good are UNLV's freshmen?
So far, so very good for
Anthony Bennett
,
Katin Reinhardt
and
Savon Goodman
, but the quality of competition jumps considerably here. There's no doubt this team is going to be something special, but this will be a critical two nights for the Rebels' learning curve.
Are the Ducks for real?
That's pretty much the crux of it. Oregon's 26-point win over Vanderbilt was a huge eye-opener to the potential of this team, but is there something there that can be sustained? Can Oregon really factor into the Pac-12 race? Against the caliber of teams here, the Ducks will at least get a better understanding if not an altogether solid answer.
How solid are the Cincinnati bigs?
We know how good the backcourt is; that was obvious a year ago and the trio of
Cashmere Wright
,
JaQuon Parker
and
Sean Kilpatrick
continues to lead the way for the Bearcats. But Cincinnati also is going to need some reliable production out of its new cast of big men at some point. A potential matchup against UNLV could give them ample opportunity.
What's up with Korie Lucious' shooting touch?
Lucious has been terrific as a playmaker for Iowa State, dishing out 6.7 assists per game much to the delight of Hoiberg. But if the Cyclones are going to be a factor in Vegas and especially in the Big 12, he needs to score. He started the season in a terrific slump, 7-of-29.
THE PICKS
Friday: Cincinnati over Iowa State; UNLV over Oregon
Saturday's title game: Cincinnati over UNLV
September, 27, 2012
9/27/12
5:00
AM ET
1. A few weeks out from practice and a potential top-10/top-five team that isn't being given its due is Kansas. KU coach Bill Self said a few weeks ago that he thinks he has an extremely deep team, and one that might be able to score in more ways than last season. Canvass the country and the Jayhawks stack up against as well as any team in the country if newcomers like
Ben McLemore
and
Perry Ellis
are as impactful as expected.
Jeff Withey
will be as talented a big man as any other in the nation and the rotation players are more than serviceable. This is a perfect setup for Self. KU isn't getting the early-season love -- but Kansas has more experience returning than Kentucky and probably has a better preseason chance of getting back to the Final Four.
2. My second team that should be ranked higher in any poll, let alone in conference projections, is Cincinnati. The Bearcats seem to be lost amid the Louisville hype in the Big East. But Cincinnati's roster is loaded with returning upperclassmen like
Cashmere Wright
,
Sean Kilpatrick
,
JaQuon Parker
and
Justin Jackson
. The problem is that the schedule doesn't provide many early-season highlight games to get the Bearcats noticed. The best chance for a statement win would come if UC plays, and then beats, UNLV in Las Vegas on Nov. 24.
3. I'm not for labor unrest in college basketball but I would like to see one union of officials. I've covered the sport for 22 years (26 if you count college) and I'm still baffled by the perception of a lack of consistency in officiating from one league to the next. And the fact that coaches request their league officials for road non-conference games essentially hints that if they were from the home conference, that team would be at a disadvantage. The rules don't change, so how the game is officiated shouldn't be altered either. There are plenty of quality officials in every league who take their jobs very seriously. Their ethics shouldn't be questioned. So having them all work for under one roof makes sense.
March, 10, 2012
3/10/12
11:23
PM ET
Some quick thoughts from Louisville's
50-44 victory
over Cincinnati in the Big East tournament final:
Overview:
Louisville is your Big East tournament champion, for the second time in four years.


The No. 7-seeded Cardinals, who won the title in 2009 and lost in the championship game to UConn last year, defeated No. 4 seed Cincinnati on Saturday night -- the Cardinals' fourth win in four days here in New York.
Cincinnati (24-10), playing in its first-ever Big East championship game, falls short, but should still feel very confident heading into next week's NCAA tournament after defeating Georgetown and Syracuse the past two days here.
Louisville (26-9), after a lackluster finish to the regular season, with three losses in its final four games, now enters the Big Dance with a world of momentum.
Turning point:
The first half of this game wasn't pretty, to say the least. Louisville led 24-14 at intermission. Against Syracuse on Friday night, Cincinnati shot 8-for-13 from 3-point range in the first half. Tonight? The Bearcats were 0-for-9.
Cincinnati had a chance to cut the deficit to four with 12:12 left in the game, but
Dion Dixon
missed a pair of free throws. Louisville swiped the momentum right back when
Kyle Kuric
was fouled by
Sean Kilpatrick
on a 3-point attempt -- Kuric made all three free throws to make it 37-28. That was the beginning of a 10-0 run to give the Cardinals their largest lead, 44-28 with 8:28 remaining.
Just when the Bearcats looked all but dead, they rallied down the home stretch. Cincinnati cut it to 48-44, and
Jaquon Parker
had two free throws with 28.7 seconds left to make it 48-46 -- but he missed both. Louisville closed it out from there.
Key player:
Chris Smith
had a game-high 15 points for Louisville, and Kuric added 13. But
Peyton Siva
was Louisville's most valuable player this week, and that continued on Saturday. Siva's numbers were a little more modest against Cincinnati -- 10 points, five assists, four rebounds -- but he was the co-pilot of this championship ship, along with coach Rick Pitino.
Cashmere Wright
led the Bearcats with 16 points.
Key stat:
Cincinnati has been a poor free throw-shooting team this season, and it was costly in a big way tonight. The Bearcats made just 1 of 7 attempts, including those misses at crucial times mentioned above.
Miscellaneous:
This is the first time in Big East tournament history that the championship game did not feature at least one founding member. The times, they are a-changin'. ... This was the fourth time in the past seven years that a team seeded No. 7 or lower has won the event.
What's next:
Selection Sunday -- both these teams will hear their names called tomorrow.