College Basketball Nation:

Jared Swopshire
February, 13, 2013
2/13/13
5:00
AM ET
1. Duke coach Mike Kryzewski was informative in an interview during "Katz Korner" on Tuesday. The highlights were: Senior forward
Ryan Kelly
is just now getting off crutches, is a month removed from suffering the right-foot injury -- and it doesn't sound like he's returning any time soon; Duke will not schedule Maryland in a non-conference game once the Terps move to the Big Ten in 2014, essentially ending the rivalry; the 2013 Duke team isn't close to being as good as the 2010 national title contender;
Shane Larkin
has been a difference-maker for Miami, and the Hurricanes' run to the top of the ACC has been extremely impressive; there is still no change in Coach K's decision on whether to coach the USA senior national team.
2. Northwestern athletic director Jim Phillips will, instead of wins and losses, have to use a different way to review the Wildcats and coach Bill Carmody in the offseason after yet another injury. Carmody simply cannot catch a break at Northwestern. The latest setback was the season-ending knee injury to
Jared Swopshire
. The Wildcats had a real shot at an NCAA tournament bid this season but losing
Drew Crawford
and
JerShon Cobb
took away any realistic chance. If everyone comes back healthy and some of the schools ahead of Northwestern in the Big Ten standings lose players early to the NBA draft, as expected, the Wildcats should be an upper-half team next season in their quest for a first-ever NCAA berth.
3. Here is a question to digest and one we talked about on "The Experts" on Tuesday: Are all conference road losses created equal? Should Kansas be disciplined in the NCAA seeding process for losing at TCU as much as Indiana State should be for losing at Missouri State? These are the type of nuance questions the committee will have to ask itself during a mock selection process this weekend -- and again when they meet to fill the field in mid-March.
February, 12, 2013
2/12/13
6:50
PM ET
In recent seasons, it's been pretty easy to diss Northwestern. In 2010, 2011, and 2012, the Wildcats have consistently flirted with an NCAA tournament selection, teasing their miserable fans with the prospect of salvation -- of ending their painfully pathetic all-time tourney drought -- only to flail in big moments, lose close games at home, and fall short in the Big Ten tournament.
Oh, Northwestern
, we say, faux-pitifully.
Will you never change?

Not this season. This season, you should feel genuinely bad for Northwestern, and for entirely different reasons. Its best players keep getting hurt.
The latest injury was suffered by senior forward
Jared Swopshire
, whom
Northwestern announced will miss the rest of the season
-- his last as a college basketball player -- after undergoing arthroscopic knee surgery following Saturday's game at Iowa. A former Louisville transfer (who got minutes during the Cardinals' Final Four run last season), Swopshire was pursuing a graduate degree in sports administration, and was able to play right away under the NCAA's graduate transfer exemption.
Swopshire is only the latest injury: First was senior guard
Drew Crawford
, whose long-ailing right shoulder -- Crawford first dislocated it as a sophomore -- betrayed him with a torn labrum in mid-December. This was after Northwestern had gone on the road and beaten Baylor, a game which provided some hope the Wildcats didn't have to be one of the three or four worst teams in the country this season. Next up was
Reggie Hearn
with a more minor ankle sprain that cost him a few games in December (including the start of the Big Ten season).
Both of those injuries at least had a sunny side. In Crawford's case, the injury happened early enough in the season that he can medically redshirt and return in 2013-14. In Hearn's case, a minor knock didn't keep him from having his otherwise excellent season. But for Swopshire, this is it -- no chance to return this season, no chance for a medical redshirt. And he was just starting to play some of his best basketball, too.
Northwestern is 13-11 and safely out of the NCAA tournament conversation, so there is no other angle here. It's just a kid who had another month and change of college hoops left in his career, who won't get to play those games because of injury. It's just kind of sad.
September, 25, 2012
9/25/12
5:00
AM ET
1. Northwestern is fairly confident that it has the depth to absorb the loss of season-long suspended junior guard
JerShon Cobb
. NU coach Bill Carmody said he will lean on Louisville transfer
Jared Swopshire
,
Nikola Cerina
and freshmen
Sanjay Lumpkin
and
Kale Abrahamson
to fill the void left by Cobb. "All must guard and make shots,'' said Carmody. The Wildcats are still projected as a possible bubble team, even with the loss of Cobb.
2. Washington State's decision to dismiss
Reggie Moore
from the team Monday was yet another example of a player blowing an opportunity to finish up a career. Last spring, Maryland did the same to Terrell Stoglin. The Cougars, who played in the CBI final series against Pitt in the spring, couldn't afford to have any more distractions as they try to stay with the upper half of the Pac-12. Moore's dismissal for the season is on the heels of a number of notable players who won't be able to participate this season (Cobb, Harvard's
Brandyn Curry
and
Kyle Casey
, Xavier's Dez Wells before transferring to Maryland, likely indefinitely suspended
Bubu Palo
of Iowa State and possibly four players at LIU-Brooklyn).
3. The recruitment of the Harrison twins should be one of the more intriguing to watch in the coming weeks or months. Aaron and Andrew Harrison are down to Maryland, Kentucky and SMU. The likely choice would be for the Richmond, Texas, twins to decide between Maryland and Kentucky. The decision for the pair of perimeter players, though, would likely alter the fortunes of two programs -- Maryland and for sure SMU -- while simply enhancing a machine in Kentucky. The Harrison twins apparently aren't going to go to a Midnight Madness event after conflicting reports arose that they were going to Maryland at one point and then Kentucky. They don't have to show up at a show. They know they are the coveted pair in this class. Picking Kentucky means the Wildcats continue to stock pile. Choosing Maryland would be a way to elevate Mark Turgeon's program. Selecting SMU would be a program-changing moment.
April, 25, 2012
4/25/12
4:55
PM ET
You already know about the first. It's Louisville forward Jared Swopshire,
who transferred out of Rick Pitino's program this spring in search of more playing time
-- a scarce quantity in a frontcourt that already includes Chane Behanan, Gorgui Dieng, Wayne Blackshear, and a mix of talented reserves.
Swopshire found that playing time at Northwestern, where he'll immediately raise the level of athleticism in the Wildcats' program. And his transfer comes at a perfect time, as coach Bill Carmody searches for frontcourt talent to replace leading scorer John Shurna.
Northwestern also announced the signing of 7-foot center Alex Olah Wednesday. Olah originally hails from Romania, and
though he isn't an ESPN top 100 talent by any stretch
, his CV does come with some rather impressive notches: He averaged 18.5 points, 13.1 rebounds and 4.6 blocked shots per game as a senior at Traders Point Christian Academy in Zionsville, Ind., and he put up 16.7 points, 14.0 rebounds and 2.9 blocks per game in the 2011 FIBA U18 European Championships.
Those numbers are almost surely inflated by the competition -- you can watch (
hilariously edited
) YouTube videos and decide for yourself -- but there's at least an outside chance Olah can enter Evanston, Ill. and contribute immediately. At the very least, he has size. If there's any quality the Wildcats need, it's size. Northwestern was one of the worst rebounding teams in the country in 2012;
per KenPom.com
, they ranked No. 319 in offensive rebounding rate and No. 327 on the defensive end. Time and again, the Wildcats -- who started John Shurna at forward and the let's-be-polite-and-say-not-very-good Luka Mirkovic at center -- were manhandled in the paint by bigger, stronger, and just plain taller Big Ten foes.
Shurna was an excellent player, an efficient, lanky shooter perfect for Carmody's Princeton style. But he simply couldn't compete on the boards. Swopshire can. Olah is a mystery, but at least he stands 7-feet (and appears, judging by the videos, to have some ball skills to go with the size). And at least the Wildcats, forever in pursuit of that elusive first tournament berth, will bring
something
on the interior.
So: Is 2013 the year? In this Big Ten, probably not. But the Wildcats' chances look considerably better today than they did just a few weeks ago.
April, 12, 2012
4/12/12
7:05
PM ET
The 2012–13 Louisville frontcourt is pretty much set.
At center, there is ever-developing block specialist
Gorgui Dieng
. At power forward, there is
Chane Behanan
, an adept post scorer who could be the nation's likeliest big-time breakout candidate. At small fowrard, there is sophomore
Wayne Blackshear
, a top 2011 recruit who missed much of the season thanks to shoulder surgeries, and backing this group up is forward Stephen Van Treese, a talent who likewise missed 2011 with injuries.
Where, you may ask, does forward
Jared Swopshire
fit into all this? Turns out, he doesn't.
Per
ESPN Chicago's Scott Powers
and
Louisville Courier-Journal reporter C.L. Brown
, Swopshire took a look at that Cardinals frontcourt, realized playing time would be scant and decided to transfer to Northwestern. Because Swopshire will be pursuing a graduate degree not offered at Louisville, he will be eligible to play immediately.
That is excellent news for both parties. Swopshire was stuck in a lurch at Louisville; he has a worthwhile outside-in skill set for a 6-foot–9 forward, but isn't nearly good enough to warrant many minutes with Dieng, Behanan, Van Treese and Blackshear crowding the frontcourt. But he could be a very good fit at Northwestern, which not only has to replace the scoring chops of departing senior
John Shurna
, but which desperately needs a legitimate interior presence – something,
anything
– to keep pace in a bruising Big Ten. Swopshire offers the immediate promise of both.
And so the big Northwestern question looms large yet again: Is this the year Bill Carmody finally, mercifully gets the Wildcats to the NCAA tournament? The jury is still (obviously) very much out. But alongside returning guards like
Drew Crawford
,
JerShon Cobb
and
Reggie Hearn
, Swopshire will give the Wildcats a brand of athleticism they've rarely fielded in the Carmody era, and which they demonstrably lacked in crucial moments in 2012's disappointing tourney-bereft finish.
At the very least, Swopshire's transfer choice offers that promise. Win-win, this one.
March, 27, 2012
3/27/12
11:05
AM ET
Editor's note: Kentucky and Louisville are ready for an epic battle in the Final Four. But before they get started, Eamonn Brennan and Myron Medcalf discuss the rivalry, the matchup and the coaches.
Myron Medcalf
: Eamonn, I'm ready for this Watercooler now that I have my beads for New Orleans. What an epic Final Four … potentially. Question: Will the state of Kentucky explode Saturday? I mean, it's time for the citizens of that state to stock up on water, canned goods and batteries, right? No telling what will happen after Louisville-Kentucky …
Eamonn Brennan
: It will be impossible for the state to explode, because I'm pretty sure literally every Commonwealth citizen with a driver's license will be on Bourbon Street on Saturday. This both terrifies and excites me. One thing's for sure: It's going to be a fantastic atmosphere for a game -- and it provides storylines and a coaching rivalry that couldn't have lined up better if the basketball gods had deigned it themselves. I'm stoked.
EB
: The only problem, of course, is whether the game can live up to the lead-in. I have promised myself I won't be disappointed, no matter what. But that might be a lofty promise. I think Louisville has a chance, sure … but it's a slim one.
MM
: I agree. The buildup will be nuts. Pitino versus Calipari. In-state rivals. … But at some point, we have to look at this game on paper. I admire Louisville's man-to-man D. Dominating in the NCAA tournament thus far. But this is a special Kentucky team. Better than the team that beat Louisville by seven points in December. Indiana scored 90 points (in the Sweet 16) -- and lost by 12. It seems that everything opponents try, Kentucky can top it. Louisville has a chance. Baylor had a chance. Indiana had a chance. Iowa State had a chance. Not sure that will be enough Saturday. How can Louisville beat Kentucky?
[+] Enlarge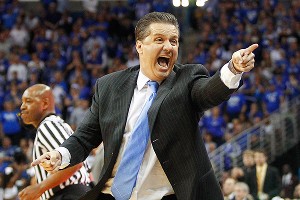 Crystal LoGiudice/US PresswireKentucky coach John Calipari is searching for his first NCAA championship.
EB
: Well, it should be noted that this Louisville team boasts the best defense Kentucky has faced in the tournament, and maybe all season. It, too, has improved by leaps and bounds since the first meeting, and even since the Big East tournament. Indiana and Baylor and Iowa State all had talent, and Indiana had an elite offense all season, so Tom Crean decided, Hey, we can't stop them, there's no chance, let's get out and run and see if we can make something happen. And it did, but Kentucky was just too good on the other end of the floor.
C'est la vie
.
EB
: That won't be the case for Louisville. I think it has one key trait that makes it a credible threat to the Wildcats: versatile defense. On Thursday, I saw Michigan State stumped by the Cardinals' zone, and by the pressure, and by a general weakening throughout the game as Louisville's conditioning dialed up the heat in the second half. On Saturday, I saw it open up in that same zone, realize it wasn't working, switch to man-to-man (or as my favorite human being Bill Raftery spells it, "mandaman" and totally throw Florida out of whack. It was a really impressive display. That versatility means Rick Pitino will be able to pick his defensive game plan and go with it, knowing his players will at least be capable of executing whatever he comes up with.
EB:
So Louisville has that going for it … which is nice.
MM
: True. Louisville has been the top defensive team in the field. And the Cardinals have shown a lot of heart. They were baffled by the Gators, and then they adjusted and turned the game. They also have familiarity on their side. Looking at the way the Wildcats have crushed teams in the NCAA tournament, holding Kentucky to 69 points in December seems like a noteworthy accomplishment. But Louisville is playing a team that has recognized its potential and has the swagger to match it. To me, Louisville has to send a message in the post early. That's why
Gorgui Dieng
is the most important player in this matchup, in my opinion. Can Louisville win without a monster performance from the big man?
EB
: No, I think you're right: Dieng is their most important player in this game, and probably in general, simply because he brings an interior defensive presence to match what the Cardinals do to guards out on the perimeter. Without him,
Chane Behanan
and
Jared Swopshire
have to man the middle, and as good as Behanan has been (and he will have to be legitimately great against Kentucky), neither of them can replace Dieng's rebounding and shot-blocking. Plus, there's this dude named
Anthony Davis
, and he's really good at basketball and happens to play the same position as Dieng. Some measure of competitive balance in that matchup is an absolute must.
MM
: Exactly. Davis will impact the game. Louisville needs Dieng to offer a similar level of intimidation on the other end of the floor. But you mentioned a guy who's probably No. 2 on Louisville's most important player list. Which Chane Behanan will show up?
Quincy Acy
had some success against Kentucky. And Behanan is bigger and stronger. He's had moments in the NCAA tournament that made you think, "Wow, kid could be a star." Other times this season, he's looked like a solid freshman. Nothing more. His bulk could be an X factor, too. But it seems we're searching for ways/reasons/theories for Louisville to topple Kentucky. And as much as this is about the guys on the floor, this is also about the personalities, uh, coaches on the sidelines. Who would you rather have leading your team in the Final Four, Calipari or Pitino?
[+] Enlarge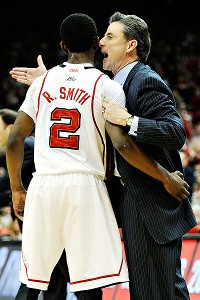 Jamie Rhodes/US PresswireWhen it comes to the Final Four, Louisville coach Rick Pitinio has a big edge in experience over Kentucky's John Calipari.
EB
: I think you have to go with Pitino, if only because he's been there six times and taken home a title, something Calipari hasn't yet accomplished. To me, it's not a knock on Calipari to say Pitino is a better game coach -- he's a better game coach than just about anyone in the sport, save Coach K. The knocks on Calipari's X's and O's ability are overblown at this point, no question. But Pitino is a Hall of Famer, a master in many ways. I'd take him. But I'll take Kentucky's lineup -- and Calipari's direction of it -- any day. And twice on Saturday.
MM
: I'm with you. Calipari is the one facing the bulk of the pressure. Pitino could retire now. A legend. No arguments against it. He's just putting icing on his career at this point. Calipari
needs
this win, this title. To lose to a Kentucky legend like Pitino at this stage would be a crushing blow to his legacy, especially considering the team that he has right now. Kentucky should win the national title. We will be shocked if the Wildcats lose. One scenario, involving a Kentucky loss, really intrigues me. We just watched North Carolina crumble without
Kendall Marshall
.
Marquis Teague
had four turnovers against Baylor. Louisville will apply twice the perimeter pressure. The freshman point guard, who's been questioned all season, has to be more than a distributor in New Orleans. His ballhandling could protect or ruin Kentucky's title hopes. Do you trust Teague to get the job done for the Wildcats?
EB
: I think he can handle it, and I think Calipari will spend much of this week figuring out a plan, so that whatever pressure Louisville brings can be equally distributed up the floor. That's easier said than done. I also think Calipari will be eager, as he was for much of the latter part of the season -- when Teague's turnover levels markedly dropped -- to slow the game down and keep it a half-court affair. The Cardinals will be eager to speed it up. Pitino has used his pressure in fits and starts in the tournament thus far; I'd be fascinated to see whether he just decides to go all-out with
Peyton Siva
and
Russ Smith
on the ball at 94 feet. A little mid-'90s UK pressure style, perhaps?
MM
: I wouldn't put anything past Pitino. So many defensive options. And I agree, Teague has proved himself. But as you've noted, the significance of that position seems to grow with each stage. If Siva and Smith attack early, how will the young guard respond? Key question for this matchup. But it's worth recognizing that Kentucky is a very good defensive unit, too. Louisville finished the Florida win on a 23-8 run. It seems highly unlikely to rally that way against Kentucky. The bottom line is that I'm pumped to see this. Kentucky seems unbeatable, but Louisville's D is so tough. Pitino won't go down without a fight against Calipari, and there's state pride on the line. And we'll be courtside.
EB
: Let's invent a time machine so we can go do this right now. We'll just swoop in right before the game. I don't want to wait.
I'm not sure who writes our assigned stuff the next few days … but that's a minor detail. We'll figure it out.
MM
: Very minor detail. We have to get to New Orleans. Now.
March, 11, 2012
3/11/12
1:28
AM ET
NEW YORK – Rick Pitino grew up on the East Side -- 26
th
Street, to be exact -- and like all boys who grew up with basketball visions dancing in their heads, Madison Square Garden was the Holy Land, the hallowed hardwoods for the gods.
He watched games there as a boy, even signed his scholarship papers to the University of Massachusetts on the Garden court.
When he coached there for the first time, as head coach at Providence, Pitino cried, overcome with emotion at what he had achieved.
And when he became the court's primary caretaker as the head coach of the New York Knicks, those were pinch-yourself days.
Pitino is 59 now. He's logged more of his professional career in the Commonwealth of Kentucky than the streets of Manhattan, but in his gut he remains the little kid who stared adoringly at the Garden.
This place still means something to him, and in an age of fraying conference loyalties and the death of collegiality, somehow it seemed fitting that at the last Big East tournament as we know it, the Garden King stood victorious.
Pitino and Louisville, a team even the hometown crowd had written off after a 33-point loss to Providence in January, topped Cincinnati
50-44
to win the Big East tournament title.
"I've had a lot of good memories in this place,'' Pitino said amid the celebration on the court, "and this is one of them.''
In recent years, plenty of people have argued the merits of conference tournaments. Outside of the one-bid-league fray, some say they are little more than annoying stopgaps to survive en route to the NCAA tournament.
After Syracuse was ousted by Cincinnati in the semifinals, the Orange said as much.
"As much as we want to win this tournament, the only one that matters is the one that starts next week,'' coach Jim Boeheim said.
"Everyone says that,'' Cincinnati coach Mick Cronin countered, "after they lose.''
No one will question whether it matters to Pitino. Through a tumultuous year in the Big East, Pitino has emerged as the league's primary politician and loudest cheerleader. He stumped for Memphis and Temple, practically begging his longtime friend and league commissioner John Marinatto to extend an invitation to the basketball-friendly schools.
And when Marinatto did, no one crowed more about what a fantastic job Marinatto had done, insisting that though the Big East will be different it will remain every bit as good, than Pitino.
Cynics might say he's merely protecting his own brand. Louisville is here and no one left in the Big East wants anyone to think the conference is anything less than the power it always has been.
But to Pitino, it's more than that. He holds the conference close to his heart, and while he accepts the changes he remains a traditionalist at heart, one who deeply believes in honoring the vision of league founder Dave Gavitt.
So to take home the crown, his second since Louisville joined in 2005, and the last in the league's most powerful alignment, matters.
"This is the last time the Big East will be together like it was,'' Cardinals guard
Chris Smith
said. "To win it, it means a lot to us. I know it means a lot to Coach P.''
Pitino won the 10th conference title in his career (five SEC, two Big East, two Conference USA, and one North Atlantic) in vintage fashion, rebuilding another Humpty Dumpty of a team.
Along with massaging
Gorgui Dieng
into productivity, educating the enigmatic
Russ Smith
on the fine line of shot selection and riding the roller-coaster tendencies of point guard
Peyton Siva
, only three players have participated in all of the Cardinals' games this year. The rest have helped construct an injury report that would make an NFL team blush:
[+] Enlarge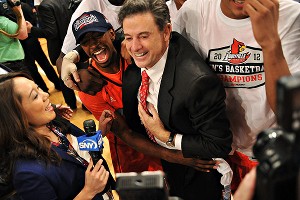 Tony Spinelli/ESPN.comWinning another Big East title at Madison Square Garden after a tough season for Louisville was all the sweeter for New Yorker Rick Pitino.
Mike Marra, torn ACL, out all year; Rakeem Buckles, torn ACL, out since January;
Stephan Van Treese
, patellar injury, out all year;
Wayne Blackshear
, shoulder surgery, out 25 games; Siva, sprained ankle and concussion, missed three games;
Kyle Kuric
, sprained ankle, missed three games;
Jared Swopshire
, recovering from groin injury, missed two games.
It forced Pitino completely out of his comfort zone. He had to put the brakes on the fast-tempo style he's always loved and felt this team was best suited for, and turned the Cardinals into a wildly unpredictable outfit.
"It was really hard,'' Pitino's son and assistant coach Richard said. "In a lot of ways, this team overachieved, but then again he's done that his whole career.''
There is no secret to Pitino's methods other than consistency.
Cronin spent two seasons working under Pitino at Louisville, taking a lifetime of learning in that short span.
"The most important thing he taught me is that you have to coach like you coach,'' Cronin said. "You can't let outside people define who you are. You can't let the kids splinter. You have to make sure they keep in mind who they are as people and who they are as a team.''
It was a valuable lesson for Cronin this year as he shepherded Cincinnati from the black eye of the December brawl with Xavier to the brink of its first Big East crown -- and an equally crucial tool for the Cardinals.
The ante has been upped in Kentucky these days. Down the road in Lexington, John Calipari is busy collecting talent like a hoarder. His Wildcats will be announced as the overall No. 1 seed on Sunday evening and will head into the NCAA tournament as the favorite to win the title.
Louisville, in the meantime, has swung and missed on some recruits and entered the season on the heels of an NCAA tournament upset at the hands of Morehead State in the same year that Kentucky went to the Final Four.
"I know a lot of people back home doubted us,'' Chris Smith said. "That's OK. They'll love us now.''
Louisville did not win style points in this victory against Cincinnati. It was hard to watch, a slugfest where points were at a premium and the scoreboard had trouble nudging itself forward.
The Cards won because of their defense. Pitino challenged them to guard the arc like soldiers against the league's leader in 3-pointers made per game -- "I told them I don't care if they go by you; you have to guard them from the NBA line,'' Pitino said.
It made all the difference. The same Cincinnati team that had 10 3-pointers by the half against Syracuse's zone finished the game 3-of-14 against the Cardinals.
When the buzzer sounded, the players erupted, a mosh pit of infra-red jerseys celebrating in front of the court. Pitino, all business, walked to shake Cronin's hand before finally breaking in to a wide grin as he hugged his assistants, wife and son, celebrating once more time on his own personal home court.
When he was walking in to work on Saturday night, a construction worker spied Pitino and yelled out, "Hey coach, you shoulda never left the Knicks!''
"I looked up. He couldn't have been more than 26 or 27,'' Pitino said. "I yelled back, 'You were in diapers.'''
Perhaps, but New Yorkers never forget. Not when it comes to the Garden.
March, 2, 2011
3/02/11
12:39
PM ET
A quick look at the player and coach of the year races in the Big East:
Player of the Year
[+] Enlarge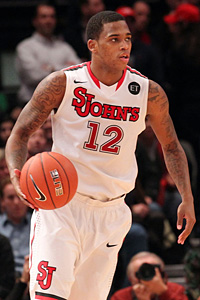 Anthony Gruppuso/US PresswireSt. John's guard Dwight Hardy is averaging 17.9 points per game.
Of course there is no runaway favorite for Big East Player of the Year honors. This topsy-turvy, brutal league has been too wildly entertaining for that. I'd argue there are three front-runners and two darkhorses who are likely to split up the votes.
For much of the season, Connecticut's
Kemba Walker
was (and perhaps still is) on everyone's short list for
national
player of the year. While he might have been Jimmered from that trophy, he remains very much in play for Big East honors. In conference games, he's second in the league at 20.9 ppg (22.8 overall), and perhaps more impressive in the brutal league, he's slogging 38.8 minutes per game and has carried a team with zero expectations into a near-season-long spot in the rankings.
Once Tyler's little brother,
Ben Hansbrough
has morphed into his own phenomenon. In the past 11 games, of which the Irish have won 10, Psycho B is averaging 22.5 points per game, including a 30-point, 10-assist show against Villanova. I like Hansbrough for his intangibles as much as his scoring. He's brought a snarly edge to the Irish.
And then there is the Johnny-come-lately,
Dwight Hardy
of St. John's. During the Red Storm's surge to the top 15 and into the national conscience for the first time in more than a decade, Hardy has been unstoppable. Since the Duke game, the line of demarcation for the Storm, Hardy is averaging 25.1 points per game. He dropped 33 on Connecticut, and 34 on Villanova.
Two others who could get consideration: Scoring machine
Marshon Brooks
of Providence, who averaged 30.9 points in February and is at 26.8 in Big East play. Oh, and the nation's second-leading scorer also set a conference record with 52 points against Notre Dame. And don't forget about preseason POY
Austin Freeman
, who has been a savvy leader for a thriving Georgetown team. His scoring, rebounding and assist numbers are all higher than last season.
I won't be upset if any of the guys listed here take the honor, but my pick is Hardy, who has resurrected a dormant program and turned it into a force to be reckoned with.
Coach of the Year
The Big East has brought us four of the biggest surprise teams nationally, and those four coaches -- Rick Pitino, Steve Lavin, Jim Calhoun and Mike Brey -- headline the candidates for coach of the year.
When Louisville trounced Butler to open the season, most everyone interpreted it as a fluke, a feed off the frenzy of the brand new arena, a one-time rush. Well, we're still waiting for the Cards to crash. Louisville is 22-7, 11-5 in the Big East. Pitino's lone returning starter,
Jared Swopshire
, hasn't played a game because of a groin injury, and nine others have missed at least one game with an injury. Yet the coach has pushed all of the right buttons to keep the Cardinals, picked eighth in the preseason, in the top 25 and among the league's top four.
Lavin had a nice roster to work with -- nine seniors returned to the Red Storm -- but that roster was more or less the same roster that barely scratched .500 last season. Now the Johnnies are ranked 15th in the country and have a mind-boggling six wins against top-15 teams. With a much-heralded recruiting class coming, next season was supposed to be the start of something big for St. John's. Lavin instead fast-tracked the plan.
The sight of Connecticut sitting at the No. 10 spot in the Big East preseason poll, barely ahead of Seton Hall, was pretty stunning. But where else to put a team that had lost three of its top four scorers and would rely heavily on its freshmen to win? How about among the most surprising teams of the season? Certainly Walker has a lot to do with the Huskies' success, but it is Calhoun who has guided UConn's young roster to success. Three of the Huskies' top five scorers are rookies, yet Connecticut has 21 wins and is ranked No. 16 in the country.
Brey has done the impossible, making his team better after losing a three-time All-Big East player and one-time player of the year in Luke Harangody. The Fighting Irish are 13-4 in the Big East (compared to 10-8 last season), and the team that could never win a road game won the ultimate road game, at Pittsburgh. Notre Dame is No. 7 (and rising) in the country? No one saw that coming.
My vote? I'd go with Pitino. Nobody has started with less and done as much.
Click here
to find out who our panel of 15 experts picked in each of the nation's 10 best conferences.
February, 27, 2011
2/27/11
7:49
PM ET
LOUISVILLE, Ky. -- Overachievement has been a group effort this season at Louisville.
There have been contributions from everyone, and I do mean everyone. That includes a male cheerleader who got into the act Sunday against No. 6 Pittsburgh.
With near-infamous results.
When
Kyle Kuric
got loose for a late dunk that made the score 62-57, cheerleader Jordan Alcazar was so thrilled that he bounded onto the court, grabbed the basketball and threw it toward the ceiling of a delirious KFC Yum! Center.
Just one problem: there was still half a second to play in overtime, so that was a technical foul on Alcazar for imitating Steve Bartman. After making the two technical free throws, Pitt had a final heave from near midcourt at a tie.
It barely missed,
Louisville won 62-59
, and Alcazar's life was spared.
The first comment from Cardinals coach Rick Pitino after the game: "All good things have to come to an end, and the male cheerleader has come to an end."
[+] Enlarge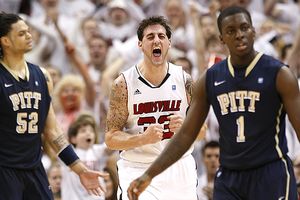 AP Photo/Ed ReinkeWith his career likely over, Louisville's Mike Marra appears to be handling his situation with maturity.
One good thing that won't end anytime soon is this remarkable Louisville season. Neither low expectations nor brutal conference competition nor a plague of injuries nor a trespassing cheerleader has derailed the surprising 22-7 Cardinals, who are close to clinching a double-bye in the Lollapalooza of a Big East tournament.
Pitino himself said he thought this would be "a .500 team," and that was before Louisville began living in the training room. Ten players have missed at least one game with an injury, and only two (
Peyton Siva
and
Chris Smith
) have answered the bell all 29 times.
The only returning starter from last season, forward
Jared Swopshire
, has missed all season with a groin injury that required surgery. Center
Gorgui Dieng
missed six games with a concussion. Forward
Rakeem Buckles
has missed 13 games with a broken finger, then sprained his knee Sunday against Pitt.
Louisville has played through it all, and won through it all. In a league where two-game losing streaks can happen to the best of teams, it hasn't happened to the cohesive Cardinals all season.
Nobody is touting a single Louisville player for first-team all-Big East honors. Nobody is averaging 15 points or playing more than 30 minutes per game. But by sheer collective will, they're 11-5 and tied for third in America's toughest league.
"No ego, no anything," explained senior guard and leading scorer
Preston Knowles
. "I think it starts from the head down. The coaches are doing a great job getting us prepared, I'm doing a great job of leading this team, and everyone is buying in."
Part of Knowles' leadership was telling his teammates earlier in the year that he didn't want to see them scrutinizing the stat sheet in the locker room after the game. The only stat he wanted anyone focusing on was the team record.
Knowles embodied that philosophy Sunday. His biggest play in overtime was nowhere to be found on the stat sheet.
Sixty-five seconds into a scoreless overtime, Knowles positioned himself on the right wing, caught Kuric's eye and mouthed, "Fade." Kuric raised his eyebrows in silent acknowledgement.
This was a play Knowles himself devised earlier this season, to be used specifically when Kuric -- his roommate on the road -- is in the game at the power forward spot. And Kuric was at that point.
In fact, Kuric spent most of the afternoon playing the 4 -- a daunting assignment for a 6-foot-4 wing player against a rugged Pitt team that ranks second in the nation in rebounding margin. But Kuric battled his way to seven rebounds, an effort Pitino described as "awesome," and exploited the mismatch at the offensive end on this key possession.
Knowles positioned himself in front of Kuric's defender to set a screen on the wing. Kuric popped free and took a pass from Siva. He drained the open 3-point shot for a 59-56 lead, and the Cardinals controlled the game the rest of the way.
"That's why I love Kyle Kuric playing the 4," Knowles chirped.
[+] Enlarge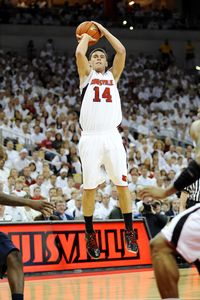 Jamie Rhodes/US PresswireKyle Kuric nailed two crucial buckets in overtime.
Kuric himself is less fond of it in games like this, when he's giving away several inches and plenty of pounds. But that's been what Louisville has thrived on this season -- someone stepping up to do whatever it takes.
"You've just got to come up with the ball," Kuric said.
The Cards came up with the ball just often enough Sunday. They battled the Panthers to a near-draw on the boards (39 for Pitt, 38 for Louisville). They gouged out 16 turnovers while committing only nine. And they defended tenaciously enough to win despite shooting just 34 percent themselves, 27 percent from the 3-point line.
Louisville's matchup zone defense will be difficult to decipher for every March opponent. It's been especially sticky in the Cardinals' past three games.
Connecticut is a 47 percent 2-point shooting team, but shot 36 percent from that range in the Yum! Center. Rutgers shoots 44 percent from the floor, but made just 29 percent of its shots against Louisville at home. And Pitt was held six percentage points beneath its season average in this game.
"We're trying to get totally into the mentality of thinking defense every single time down the floor," Pitino said.
Despite that defense, Pitt's
Brad Wanamaker
nearly willed the Panthers to victory. The most valuable Panther (13 points, 12 rebounds, 6 assists, 3 steals) made two clutch jump shots in the final minute to force overtime.
"I thought hands down he was their best player," Knowles said. "[Ashton] Gibbs gets the publicity, but he makes them go."
But Wanamaker made a curious decision at the end of OT that helped swing the game to Louisville once and for all. Trailing by three in the final seconds, he rose for a 3 at the top of the key but inexplicably passed it inside to
Gilbert Brown
, who blew a layup with seven seconds left.
"We can't get a better look than that," said Pitt coach Jamie Dixon.
Simple arithmetic suggests that Pitt could have gotten a whole lot better look than that. But that wasn't the only eyebrow-raising commentary from the Panthers after this game.
There was this from Ashton Gibbs' Twitter feed: "No way we shouldve lost to them bums smh [shaking my head]."
Interesting take, considering the Panthers didn't lead them bums at any point over the final 38 minutes of play. And they only had a chance for double OT because of a near-epic cheerleader trespassing.
Pitino called Alcazar about an hour after the game and, with magnanimity afforded by victory, told him not to worry about his brush with infamy.
It's been a cast-of-thousands success story for Louisville this season -- but they'll decline any additional help from the cheerleaders from now on.
December, 30, 2010
12/30/10
7:34
PM ET
By
Diamond Leung
| ESPN.com
Louisville forward
Rakeem Buckles
suffered a spiral fracture in his finger this morning and is expected to miss "a couple weeks" after undergoing surgery,
coach Rick Pitino told reporters
.
Buckles, who was averaging 8.2 points and a team-leading 7.5 rebounds, will miss the rivalry game with Kentucky tomorrow at the KFC Yum! Center, where he was to be the guy to have defended Wildcats freshman sensation
Terrence Jones
.
"It affects [the rotation] signifcantly," Pitino said, adding that
Stephan Van Treese
would have to step up.
"It doesn't affect us mentally because we're used to all these injuries we've been having."
The Cardinals are also missing guard
Mike Marra
(ankle) and
Elisha Justice
(concussion), and Pitino said forward
Jared Swopshire
would "probably" miss the entire season with a groin injury.
Not that Kentucky will feel sorry for Louisville, but coach John Calipari feels his counterpart has been doing "a great job" with the personnel he has.
"Typically what (Coach Pitino) does is he gets his team, he figures them out, they play to their strengths, and that's what they are doing," he said. "They are playing to their strengths. They do it very well, and they are doing it as well as anybody in the country."
February, 14, 2010
2/14/10
4:33
PM ET
SYRACUSE, N.Y. -- Since the New Year, the University of Louisville has played the part of Job with a Sisyphus complex.
The Cardinals dropped five of their eight games in January, including decisions made on questionable calls at both Seton Hall and West Virginia, to land themselves squarely on a very thin bubble.
Their response? A week into February they headed to New York with their coach, embattled in the summer after his indiscretion, now dodging rampant rumors that he would bolt the school for a job in the NBA at season's end -- and get promptly humiliated by Big East underling St. John's in what appeared to be a bubble-bursting loss.
[+] Enlarge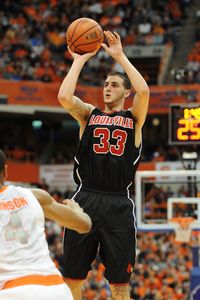 Don McPeak/US PresswireMike Marra came off the bench to score 12 points for the Cardinals.
But the thing about Job and Sisyphus: they never quit. Job took on his suffering and Sisyphus stubbornly kept pushing that boulder up the hill.
Louisville finally inched the boulder in the right direction when the
Cardinals stunned No. 3 Syracuse
and 31,053 of its orange-loving Valentine's Day fans, 66-60.
"We didn't play well at St. John's but they played great,'' UL coach Rick Pitino said. "We thought we were going to win one or two of these road games. After we lost to St. John's, I told the guys, 'Which one would you rather have: St. John's or Syracuse?' Here's your chance to beat a team that is top three in the nation and could win a national championship.''
Telling and doing, however, are two different things. Yet the same Louisville team that has been equal parts perplexing and vexing played an intelligent and steady game from the opening tip.
The Cardinals, who have had a season-long case of the yips, didn't blink when
Andy Rautins
nailed back-to-back 3-pointers to retake the lead late in the second half. They didn't wilt when
Jared Swopshire
and
Edgar Sosa
both missed the front end of one-and-ones in the final minute, and they didn't cave when, up just two,
Rakeem Buckles
turned the ball over under the Syracuse hoop, passing the ball out of bounds with 32 seconds left.
"We played a very intelligent game,'' Pitino said.
Louisville also handed Syracuse a dose of its own medicine, going zone much of the game. And a team that is so good in its own zone was completely stymied at how to attack one.
Unable or unwilling to penetrate, the Orange instead jacked 19 3-pointers and made just five of them.
Player of the year candidate
Wes Johnson
had 14 points, but shot only 5-of-20 from the floor; Rautins managed just three 3-pointers
"We weren't really aggressive until the end of the game,'' Syracuse coach Jim Boeheim said. "The last few games, it's been like that. We've managed to be tough and hang on to win the game, but you can't be in all of these situations at the end of the game and think you're going to win them all.''
In the grand scheme of things, this shouldn't affect Syracuse much at all. The Orange are 24-2 and would need a flat-out disaster to slide out of a No. 1 seed.
Still, around here there will be some serious hand-wringing, no doubt. Asked about the fretful fans, Pitino -- who has handled that sort of thing once or twice in his career -- chuckled.
"What is this, the Kentucky of the North?" he said. "We played a great team, and please remind your fans, the University of Louisville isn't exactly chopped liver. There's no reason to go jumping in the snow. Have a little vino and relax because Syracuse is a great, great team.''
What will be interesting is what this does for Louisville. Long term, what's most important is that the Cardinals' young players performed particularly well.
Mike Marra
, who Pitino said is the best pure shooter he's ever coached -- and that includes the likes of Travis Ford and Tony Delk -- nailed four 3-pointers off the bench, including a dagger trey with 1:28 left. Buckles chipped in a critical eight points and four rebounds, spelling
Samardo Samuels
when he got in foul trouble. And Samuels, inactive for much of the game, came on late with six critical points in the final three minutes.
But in the immediate future, what matters is Louisville's NCAA outlook. It still isn't entirely clear. The Cards are 16-9 and 7-5 in the Big East, maybe with a huge win like this putting a little separation between themselves and Cincinnati and Marquette.
They have exactly zero wiggle room, though. Louisville should not lose to Notre Dame, DePaul, Connecticut or Marquette, and would help its cause tremendously if it could steal a home victory against either Georgetown or Syracuse.
"We know we are a good team,'' Marra said. "We haven't really caught a break all season, but this is exactly what we needed. Hopefully it will get the ball rolling.''
Rolling uphill, that is.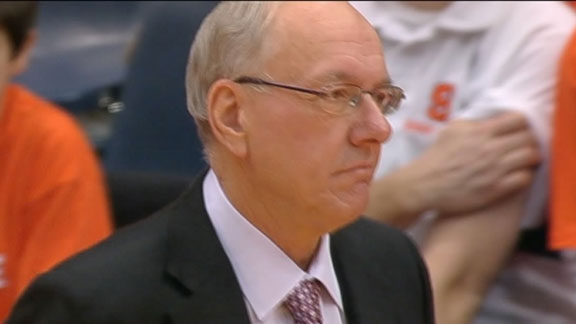 January, 2, 2010
1/02/10
6:09
PM ET
LEXINGTON, Ky. -- Texas-Kansas on Feb. 8 should live up to the hype as the most anticipated game of the season.
Let's hope so.
Louisville at Kentucky was supposed to be 1A to Texas-Kansas, but the game was hardly memorable beyond the first 45 seconds.
Kentucky's 71-62 victory
Saturday at Rupp Arena had its moments of angst, anger and exhilaration -- because the crowd generated so much enthusiasm. But there was something missing -- like quality play, for one -- for most of the afternoon.
The game started with jawing from
Edgar Sosa
and
Eric Bledsoe
, a scrum with
DeMarcus Cousins
that involved an elbow that could have been deemed flagrant but wasn't, and technical fouls for Cousins,
Reginald Delk
and
Jared Swopshire
.
But the chippy play subsided and when it was time to actually attempt to put the ball in the basket in the first half, both teams were off, with Louisville 1-of-20 at one point. Kentucky struggled as well, shooting just 30 percent.
Louisville forced tempo, and while
John Wall
was once again nursing cramps that kept him out of the game, the Wildcats were out of sync. Louisville made quite a comeback to take a one-point lead at 42-41 with just under 10 to play.
The Wildcats had a bit more stamina and size with Cousins and
Patrick Patterson
too tough to handle inside. Wall made some cameos getting to the basket, but on the whole this wasn't his best effort.
The game was hyped as Rick Pitino's return to Kentucky for the first time since admitting he was being extorted by a woman he had had an affair with six years earlier. But the crowd was well-behaved and only booed Pitino upon his entrance.
The game lasted into a third hour and was painfully slow at times. What was learned is that Louisville will be a pest in the Big East, but not a title contender. Meanwhile, Kentucky could be extremely vulnerable to a zone and careless play on the road.
This was hardly the crowning Kentucky thought it was going to be heading into next week's SEC opener. The Wildcats are still a national title contender, but there is still much to be done for this largely inexperienced squad.
January, 2, 2010
1/02/10
4:50
PM ET
LEXINGTON, Ky. -- Well, that was eventful.
The first 45 seconds of the Louisville-Kentucky game included
Edgar Sosa
jawing at the Wildcats' bench and a rugby-like scrum with Kentucky's
DeMarcus Cousins
and Louisville's
Jared Swopshire
and
Reginald Delk
, resulting in technical fouls for all three.
Through the first 45 seconds neither team had attempted a shot and the game was scoreless.
The rest of the half looked like it was going to belong to Kentucky, even with the Wildcats unable to put together any sort of shooting spree. There was a point when Kentucky was 6 of 17 while the Cardinals were 1 of 17. Louisville missed its first 12 field goal attempts.
As you can see, there wasn't much offense. The only consistent presence was Cousins diving on the floor, creating shots for his team and putting forth his best effort.
Patrick Patterson
deserved a nod as well as he finished the half with a dozen points and was 5 of 7 from the field. While Wall did breeze through the lane for a layup at one point, the Wildcats could never get their mojo going and clung to a 27-19 lead at the half as Louisville got hot at the end. I say that liberally as they made four more field goals, including a 3-pointer to finish 5 of 29 for the half. The two teams could not have played worse and the dozen Cardinals' turnovers didn't help their cause.
The intensity of the jawing from the first few minutes and the booing of Louisville coach Rick Pitino had subsided. So now its time to actually play the game in which neither team was doing well for the first 20 minutes.