College Basketball Nation:

Jaren Sina
March, 13, 2014
Mar 13
4:15
PM ET
NEW YORK -- New Big East, same old Madness.
Less than 24 hours into the
2014 Big East tournament
, we've already had two stunning upsets and lost the top seed.
On Wednesday night,
Georgetown was defeated by DePaul
for the first time in 20 years. On Thursday afternoon,
No. 3-ranked Villanova fell to Seton Hall 64-63
on a buzzer-beater by sophomore guard
Sterling Gibbs
.
For
Seton Hall
, it's the first win in school history against a team ranked in the top three in the Associated Press poll. The Pirates had been 0-30 against such teams.
[+] Enlarge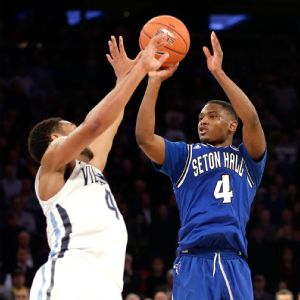 AP Photo/Seth WenigSeton Hall guard Sterling Gibbs proved the new Big East still has the same old flair for the dramatic with his game-winning shot against Villanova.
"It was a great college basketball game," said
Villanova
coach Jay Wright. "They played better. They made the plays at the end."
Seton Hall had just 15 hours to rest and prepare for Villanova following its 51-50 victory over Butler on Wednesday night.
Perhaps the short turnaround helped. Villanova trailed by as many as 15 points in the first half before scoring the final six to make it 34-26 at intermission. The Wildcats shot 7-for-26 (26.9 percent) and missed seven free throws in the first half.
A 16-0 Villanova run fueled by several open-court steals and scores put the Wildcats back in front with just more than eight minutes remaining. But the Pirates did not fold. The game came down to the final minute, when the lead changed hands four times.
Josh Hart
's layup with 41 seconds to play put Villanova up 61-59. Freshman
Jaren Sina
buried a 3-pointer from the corner 20 seconds later to give Seton Hall a 62-61 lead.
Darrun Hilliard
's floater in the lane rolled in with 11 seconds left, pushing the Wildcats back ahead 63-62. And then Gibbs hit the biggest shot of them all -- a step-back jumper from the top of the key as time expired.
"It was supposed to get in my hands, and I was supposed to create a shot for my teammates or create a shot for myself," Gibbs said. "I just stepped back and hit the jumper."
Seton Hall finished the regular season in eighth place in the 10-team Big East but has played nine games decided by a single point this season, going 4-5. The Pirates also have two three-point losses, one in overtime and the other in double overtime.
"One of the referees told me the other night, he said he's never seen a team go through what we've gone through and still come back and play hard every night," said Seton Hall coach Kevin Willard. "I just think it's the character of these guys."
The new Big East now has its first signature moment, and Seton Hall has a berth in the Big East tourney semifinals for the first time since 2001. The Pirates will play either No. 4 seed Providence or No. 5 seed St. John's on Friday.
Seton Hall was swept by St. John's in the regular season, but both losses were by -- you guessed it! -- one point. The Pirates split with the Friars, winning by one in double overtime and then losing by five.
"I really thought if we could get past Butler, we could beat anybody," Willard said. "I was really scared about getting past Butler. It's a tough matchup for us. They defend really well on us, and I thought if we could get past them, we could get some momentum and just keep going."
Villanova, whose three previous losses this season came against ranked teams Syracuse and Creighton (twice), is still
projected to be a No. 1 seed
by ESPN's Joe Lunardi -- as of now. But that could change as the rest of Championship Week unfolds.
"This was not about 1-seeds, 2-seeds," Wright said. "This was about we wanted to come to Madison Square Garden and win the Big East tournament. Winning the Big East tournament would mean much more to us than a 1-seed.
"This is a great tournament. We want to be here until Saturday. I think we're more disappointed about that. The NCAA tournament seedings? My belief is 1, 2, 3 -- it doesn't matter that much. You're going to play great teams."
March, 19, 2013
3/19/13
5:00
AM ET
1. Jaren Sina, a top recruit out of New Jersey for Northwestern, was granted a release by NU AD Jim Phillips Monday, according to the Chicago Tribune. Sina may still go to Northwestern, his father was quoted by the Trib. But the actions of Phillips should be applauded. He took the time to fly out to New Jersey Monday upon making the decision of firing Bill Carmody. He wanted to talk to the prospective recruit and make an attempt to keep him but at the same time honor the family's request. There is no reason to turn this into some protracted fight when a player may not want to attend the school. The genuine gesture by Phillips would likely be respected by the Sina family if they connect with the new hire. Northwestern could easily play hard ball and not release Sina. But what would that prove? Phillips is being a hands-on athletic director, trying to get this hire right with the correct fit and at the same time ensuring there is a comfort level with the incoming players. More ADs should take note.
2. Arizona coach Sean Miller was fined $25,000 by the Pac-12 for his postgame behavior during the conference tournament in questioning the officiating. Rutgers fined Mike Rice $50,000 during the season and suspended him for three games for his behavior in practice in the previous year. The NCAA committee on infractions suspended Saint Mary's coach Randy Bennett for the first five games of the WCC season in 2013-14 for a failure to monitor violations. This is no longer a trend. This is the new normal for coaches. They are being singled out and, in some cases, being held accountable and, in other cases, being held responsible for the actions of their subordinates. This is a new era and coaches now have to be on guard and on edge for the way they are being watched -- and ultimately punished -- for actions by schools, conferences and the NCAA.
3. I'd love to say more players will stay but the draft may be the weakest in years, which means spots are available. That's why it should come as no surprise that
Tony Mitchell
of North Texas will declare for the draft Wednesday, as first reported by CBSSports.com. North Texas coach Tony Benford said Monday night Mitchell still has to make it official but this is not a shock. UNT struggled through an injury-riddled season and went 12-20. Mitchell is still a potential lottery pick, assuming he comes out, according to Benford due to his skill set. Mitchell will be one of the first to declare but he likely will lead another exodus.
July, 3, 2012
7/03/12
9:30
AM ET
There's a reason the best programs in the country compete for national titles every year, and a reason the
Northwestern Wildcats
are still (still!) looking for their first NCAA tournament berth of all-time: recruiting.

The North Carolina's and Kentucky's and Duke's of the world land the elite recruits most every season. The mediocre programs often recruit the guys bigger programs
would
recruit if something else fell through.
Northwestern hasn't even had that luxury. Thanks to its academic rigor and a dash of self-imposed failures, the program has traditionally found itself confined to "Moneyball"-style market inefficiencies -- an undersized but effective point guard (Juice Thompson) here, a forward with a funky but deadly shooting motion (John Schurna) here. Northwestern coach Bill Carmody has gotten awfully close to cracking that NCAA tournament barrier with these kinds of players in his tricky Princeton system, and it's hard not to admire the program's pluck. But at some point, over the course of a 30-game season, you have to have to talent. It's the incontrovertible law of the sport.
Which is why long-suffering Northwestern fans should be so excited about Monday night's news out of Lake Hopatcong, N.J.
ESPN Chicago's Scott Powers has the story
:
ESPNU 100 point guard Jaren Sina committed to Northwestern on Monday.

Sina, who is 6-foot–2, 175-pounds, is from Lake Hopatcong, N.J. and attends Gill St. Bernard's School. He chose Northwestern over Alabama, which he had previously committed to.

Sina is ranked No. 75 overall in the Class of 2013 and No. 13 at point guard by ESPN Recruiting. He is Northwestern's most highly-rated recruit since ESPN began its rankings in 2007.
Yes, you read that correctly: In the five years since ESPN has been tracking and ranking collegiate hoops prospects, Sina, the No. 72-ranked player in the class of 2013, is the highest-ranked recruit Northwestern has landed.
Does that mean Sina will be a program-changing player? Not so fast.
As we discussed about a month ago
, we as fans (and writers) tend to overrate top–100 prospects, because the shorthand is easy to use and the expectations easy to slip into. As
Basketball Prospectus's Drew Cannon revealead in his postseason rankings of last year's top 100 players
, many players ranked near the bottom of the list take a year or even two to make major impacts on the college level. Not everyone is one-and-done, that's for sure, and few -- 30 or 40 players a year, give or take -- are ready to make the transition right away.
That said, there are some good signs that Northwestern will be able to integrate Sina right away. His father Mergin Sina (I don't know, but I love that name) is the head coach at Gill St. Bernard's, the high school where Sina plies his trade. And Northwestern's style -- cut-heavy Princeton offense, stretchy 1–3–1 zone defense -- is similar to what Mergin Sina's teams already play:
"There was obviously location; it's a great place," said Sina's father Mergin, who coaches Gill St. Bernard's. "Academically, it's one of the top programs, and the kids can play at a high level. Coach (Bill) Carmody and (assistant Fred) Hill and staff, we've been attracted to the way they played all year. It's a similar style we play in high school. I think it's a great transition for Jaren."
So … how did a program that so rarely lands notable recruits land the No. 13-ranked point guard in the class of 2013? The presence of former Rutgers coach Fred Hill, who began recruiting Sina three years ago, when he was still the head coach at Rutgers. Hill was the first to offer Sina a scholarship during Sina's freshman year, and the connection carried over to Hill's new job as an assistant under Carmody:
"Coach Hill is a great guy," Mergin said. "Northwestern is very lucky to have coach Hill. The tie was there with Coach Hill. Once we knew he was at Northwestern, we knew he would follow Jaren and do a great job of recruiting him."
Anyway, big, big news for the Wildcats. It should be tempered with realistic expectations; this doesn't mean Northwestern is suddenly going to dominate the Big Ten, nor does it mean it will suddenly start recruiting like Ohio State. But it does mean Northwestern landed one of, if not the, most talented players in the recent history of the program, a 6-foot–2 point guard who pretty much everyone agrees can really play.
With all due respect to the solid players that have come through Welsh-Ryan Arena in recent years, there is no misfit aspect here, no Scott Hatteberg-playing-first-base quality to the commitment. Sina's just …
good
. Like any other program, those are the kinds of players Northwestern needs to win – good ones.
It really is just that simple.