College Basketball Nation:

Jarred DuBois
March, 15, 2013
3/15/13
1:15
AM ET
LAS VEGAS -- Utah coach Larry Krystkowiak says he's a firm believer in "the basketball gods." So time and time again this season, whenever he'd pass through the gym an hour or so after practice and see
Jarred DuBois
still on the court, taking shot after shot, Krystkowiak knew the grad-year transfer from Loyola Marymount would eventually be rewarded. He had faith the extra work would eventually pay off.
On Thursday, it finally did.
DuBois' guarded 3-pointer with four seconds remaining forced overtime against Cal and provided the Utes all the momentum they would need in a
79-69 victory
in a Pac-12 tournament quarterfinal at MGM Grand Garden Arena.
The win propels No. 10 seed Utah into Friday's semifinal against the winner of Thursday's late game between Oregon and Washington. It also provided yet another illustration of the improvement the Utes continue to experience under second-year coach Krystkowiak, whose team is riding a four-game winning streak.
One season after finishing 6-25, Utah is now 15-17. Also worth noting is that eight of the Utes' losses have come by five points or fewer, including three setbacks to open Pac-12 play by a combined eight points.
Krystkowiak did an excellent job of keeping his players' spirits high and their minds focused on improving. It's clear Utah's program is headed in the right direction under Krystkowiak.
"We're pleased with where we are, obviously," Krystkowiak said. "I think the credit needs to go to our team. A lot of times it's just coach-talk about how a team sticks together. But it was unbelievable to be able to withstand some of those losses early."
Krystkowiak said there were times he'd arrive at practice after a tough loss, prepared to give a pep talk. But he'd look out onto the court and see his players in high spirits, with veterans such as DuBois and
Jason Washburn
setting the tone.
"They actually gave
me
a boost," Krystkowiak said.
Utah's resiliency was on full display in the second half Thursday, when it trailed by as many as eight points. Cal, the No. 2 seed, went up 59-56 on a pair of foul shots by
Allen Crabbe
with 17 seconds left in regulation before DuBois made his heroic 3-pointer from the left wing on the next possession.
The Utes scored the first five points of overtime and never looked back.
"I felt like we just needed to turn it on right there," freshman
Jordan Loveridge
said. "As a team, we huddled up and decided we're here already, so we might as well go and get it."
A victory against Oregon or Washington on Friday -- the Utes own regular-season wins against each -- would catapult Krystkowiak's squad into Saturday's title game against either Arizona or UCLA for an automatic berth in the NCAA tournament. DuBois was asked about the Utes being "halfway there" in terms of a postseason bid.
"I don't think we're halfway there," he said. "It's a one-game season. You win one night, you play the next. Plain and simple."
December, 21, 2012
12/21/12
9:40
AM ET
Is there any league in the country where the drop-off from No. 1 to No. 2 is so significant? At least the Big 12 has a ranked team (Oklahoma State) chasing Kansas. In the Pac-12 it's Arizona and then, well ... no one. Here are this week's power rankings.
1. Arizona.
The Wildcats open play against East Tennessee State in the Diamond Head Classic in Honolulu on Saturday and could face a tough test against an underrated Miami squad in the second round. If the bracket holds form, Arizona would play San Diego State in the title game on Christmas Day.

2. Colorado.
UCLA, Oregon and Cal have all been in the No. 2 slot at some point this season -- and so has Colorado, which is making its return despite a 36-point loss to Kansas on Dec. 8.
Spencer Dinwiddie
is a finalist for the Cousy Award.
Andre Roberson
averages 12.3 rebounds, which ranks third nationally.
3. Oregon.
The Ducks lost at UTEP on Wednesday in three overtimes, but Dana Altman still has to be encouraged with the direction of this team -- and this program.
Arsalan Kazemi
has three double-doubles in his past five games.
4. UCLA.
There is too much talent in Westwood to write off the Bruins this early. UCLA has won four of its past five games, with the only setback coming against San Diego State. A victory over Fresno State on Saturday seems likely.
Shabazz Muhammad
(17.8 points) and
Jordan Adams
(17.5) are both putting up impressive offensive numbers.
5. Oregon State.
What has happened to
Ahmad Starks
? The point guard who had 25 points in a single-digit loss to Kansas on Nov. 30 is averaging just 7.5 points in his past four contests. Oregon State should beat its next three opponents (San Diego, Towson and Texas-Pan American) before opening Pac-12 play at home against Oregon on Jan. 6.
6. Cal.
Last weekend's loss to Creighton marked the third loss in a three-game skid (since snapped with a win over UC Santa Barbara) for Mike Montgomery's Golden Bears, whose best victory is against Georgia Tech at the DIRECTV Classic.
7. Stanford.
The Cardinal have played four upper-level teams (Missouri, Minnesota, Belmont and North Carolina State) and lost each time. In other words, unless you count Northern Iowa, Johnny Dawkins' squad has yet to win a game that will impress the NCAA tournament committee.
8. Washington.
The Huskies have won five of their past six games thanks, in large part, to
C.J. Wilcox
. Washington's leading scorer averages 19.2 points. Even more impressive are his figures from the Huskies' last two games: 21 points, 4.5 assists, 2.5 blocks and 2 steals.
9. Arizona State.
I still can't shake the image of the Sun Devils getting destroyed at home by DePaul. But hey, everyone has a bad night, right? There is still plenty to like about this team -- mainly point guard
Jahii Carson
(17.9 points, 5.3 assists), forward
Jordan Bachynski
(4.8 blocks) and small forward
Carrick Felix
(15.1 points, 7.5 rebounds).
10. Utah.
The Utes avenged an early-season loss to SMU by defeating the Mustangs 62-53 Tuesday in Salt Lake City.
Jarred DuBois
averages team-highs in points (13.8) and assists (3.2).
Jordan Loveridge
averages 11.7 points and 7.2 rebounds.
11. Washington State.
The Cougars have won five of their past six games.
Brock Motum
(20.4 points) and
DaVonte Lacy
(10.1) form a nice 1-2 punch. Going .500 in Pac-12 play might be enough to save Ken Bone's job.
12. USC.
The Trojans have way too much talent to be playing as poorly as they did in Thursday's home loss to UC Irvine. Wake Forest transfer
J.T. Terrell
, who was supposed to be USC's savior, has been benched for his poor defensive effort.
July, 25, 2012
7/25/12
12:22
PM ET
Editor's note: ESPN.com's Summer Shootaround series catches up on the offseason storylines for each conference. For more on the WCC, click here.
The most important player for each team in the conference ...
BYU:
Matt Carlino
The former UCLA transfer showed flashes of a bright future in his partial first season with the Cougars. But as BYU's lead guard in 2012-13, he'll need to raise his own offensive game another step, while working in plenty of touches for forward
Brandon Davies
and bound-to-be-rusty Tyler Haws.
[+] Enlarge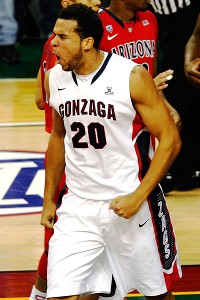 AP Photo/Kevin P. CaseyThis is the year for Elias Harris to live up definitively to the recruiting hype at Gonzaga.
Gonzaga:
Elias Harris
With emerging junior
Sam Dower
and highly touted freshman
Przemek Karnowski
, the Zags are at no loss for frontcourt talent in 2012-13. So why is Harris their most important player? Because this is -- or at least should be -- his team, the last chance for one of Gonzaga's biggest-ever recruits to punctuate a hot-and-cold career.
Loyola Marymount:
Anthony Ireland
Ireland is without question LMU's best player, and he's also its most important, a point guard who averaged 16.1 points and 4.9 assists per game last season. After the unexpected loss of would-be senior
Jarred DuBois
to transfer (Utah), Ireland will have to do even more.
Pepperdine:
Jordan Baker
Baker, whose freshman season was full of promise and frustration, is important both now and in the future as Pepperdine -- which finished just 4-12 in the WCC last season in the first place -- looks to recover from the losses of leading scorers Taylor Darby and Corbin Moore.
Portland:
Ryan Nicholas
Portland won just seven games last season and then lost its point guard, Tim Douglas, who led the team in usage rate before transferring. That means even more will be expected from Nicholas. The 6-7 forward led the Pilots with 11.5 ppg and 7.6 rpg last season and might need to up those totals even more as a junior.
Saint Mary's:
Brad Waldow
We know what we're going to get from this team's best player, guard
Matthew Dellavadova
, but we don't know what to expect from his supporting cast now that seniors Rob Jones and Clint Steindl have graduated. Waldow averaged 8.1 points and 4.4 rebounds in 18.2 minutes per game as a freshman, with an offensive rating of 121.8. More minutes and touches should lead to more production, particularly on the boards, something the Gaels will desperately need.
San Diego:
Johnny Dee
Dee showcased huge potential in 2011-12, including (but not limited to) his 30-point outburst against Pepperdine in the WCC tournament. Fellow sophomore guard
Christopher Anderson
will be crucial too, but Dee has the makings of a star.
San Francisco:
Cody Doolin
When you lose this many players (nine) in one offseason, your most important player becomes anyone with a warm body. But Doolin and fellow junior
Cole Dickerson
stuck around, and both will have to take on major roles in the wake of all those defections.
Santa Clara:
Kevin Foster
Foster was en route to a solid if unspectacular individual 2011-12 before being suspended for the final 12 games of the season. But the 3-point gunner is back for his senior year and should be the focus of the Santa Clara attack.
February, 19, 2010
2/19/10
5:57
PM ET
By
Diamond Leung
| ESPN.com
To get into the NCAA tournament, most if not all teams in the West Coast Conference not named Gonzaga are going to have to win the conference tournament and earn an automatic bid.
Mark Few's team must fall for that to happen, and for opponents to take their best shot at the Zags, it'd help to have a healthy squad as Loyola Marymount showed last night in its upset win.
Larry Davis
,
Jarred DuBois
and
Ashley Hamilton
were out for the Lions with injuries in a 16-point loss to Gonzaga last month, and last night, they combined for 39 points. Davis, a Seton Hall transfer, had missed the previous six games with a stress reaction in his foot.
Here's some injury updates on players around the WCC that could have an impact on their team's chances if they should run into Gonzaga:
Portland:
Nik Raivio
, the team's leading scorer, has been out with an Achilles strain since suffering the injury in practice Jan. 19, but the Pilots are hoping to have the senior guard available for the conference tournament, according to a team spokesman.
Pepperdine:
Sophomore
Dane Suttle Jr.
, who averages 7.7 points per game, was scheduled to undergo season-ending surgery on his left ankle, the school announced.
San Diego:
De'Jon Jackson
, famous for hitting the game-winning
shot that sank No. 4-seeded UConn
in the first round of the 2008 NCAA tournament, suffered a torn ACL against San Francisco on Feb. 4 that ended the senior's career. He was the second-leading scorer for the Toreros, who upset Gonzaga in the WCC tournament final to get into the NCAAs in 2008.
San Francisco:
Freshman
Perris Blackwell
has missed the past four games due to injury, but could be available as early as tomorrow against Santa Clara, according to a team spokesman. The forward who averages 6.6 points per game played crucial minutes in an upset of Gonzaga last month.