College Basketball Nation:

Jarrod Uthoff
January, 6, 2014
Jan 6
1:31
AM ET
MADISON, Wis. -- He defended the costly, ill-timed tirade. That's what players do.
The leader knew what he was doing, he said.
The coach just wanted to change the vibe, he said.
The man on our sideline is always right, he said.
"It got us riled up," Iowa point guard
Mike Gesell
said. "Got us excited as a team. I wouldn't say it was a negative thing or anything like that. We all trust in Fran. We all trust in what he's doing. And we know that everything he does is for the best."
He's wrong. That wasn't best for the team.
Fran McCaffery's outburst and subsequent ejection in No. 22 Iowa's 75-71 loss at No. 4 Wisconsin on Sunday night disrupted the Hawkeyes as they pursued the best win of their head coach's tenure.
After the game, McCaffery implied that the first technical foul was a deliberate attempt to jolt his program. But his team had the lead against an undefeated Badgers team when he decided to lose it.
He could've used that energy to outcoach Bo Ryan -- he did that in a first half that ended with Iowa leading by 11 -- down the stretch. Instead, McCaffery unleashed a soon-to-be-viral wrath of anger that led to a pair of technical fouls and an ejection midway through the second half.
Wisconsin made five of its six free throws -- four attempts for the two technical fouls, two for a foul against
Gabriel Olaseni
-- and seized an advantage that it never relinquished.
McCaffery denied that he had made contact with an official and did not expound on the incident in his postgame news conference. But Big Ten officials in Chicago will have the final word on that.
The tantrum after the tantrum was even worse than the initial eruption. Earning the first technical foul might have been a scripted attempt to energize his team. But the display that resulted in the second technical foul was an exorcism.
An uncontrollable McCaffery had to be restrained by assistant Andrew Francis as he charged toward officials multiple times before he ultimately left the floor.
After the game, McCaffery expressed some remorse, although he refused to discuss specifics.
"I can't address that, as much as I would like to," he said.
"I think what I feel bad about is getting a second one. I think the first one, I think it's safe to say that I kind of went after that one a little bit. The second one, I'm not so sure about that."
Iowa didn't need that.
McCaffery has worked hard to mold this program since his arrival in 2010. The Hawkeyes have the pieces to contend for the program's first NCAA tournament berth in years. He has an 11-man rotation.
Former Wisconsin forward
Jarrod Uthoff
, a double-digit scorer most nights, comes off his bench.
Peter Jok
, the top recruit in the state of Iowa last year per RecruitingNation, didn't even play against the Badgers.
There were no guarantees that Iowa would have left Madison with a win if McCaffery had managed to avoid an ejection. But we'll never know.
And that's not fair to Iowa or Wisconsin.
The Badgers deserve praise for their second-half turnaround. The same team that registered 24 points in the first half and began the game with a 1-for-13 clip, somehow outscored the Hawkeyes 51-36 after halftime. The Badgers won by four, even though they were outscored 36-12 in the paint. They went 6-for-9 from the 3-point line in the second half. And Iowa couldn't stop
Ben Brust
, who scored all 19 of his points after halftime.
This resilient bunch might be the best squad in the Big Ten.
But McCaffery's temper wouldn't allow the Hawkeyes to prove that they're contenders, too.
It was not the first time that McCaffery's emotions had been problematic. He
slammed a chair during a loss to Michigan State
in 2012. As Siena's coach, he was ejected from a game against Hofstra in 2006. His wife, Margaret, was kicked out of the game, too.
If 100 is the emotional threshold that warrants a technical foul, McCaffery certainly coaches in the 90s most games. And he's not alone in that.
Fiery coaches are plentiful throughout college basketball. And sometimes the nose-to-nose, technical-foul worthy productions are viewed as necessary tactics that inspire players.
That's part of the problem.
Coaches are called strategic when they draw technical fouls. Players are immature when they do the same thing.
If McCaffery were a significant Iowa player who'd been ejected with his team holding the lead in a crucial Big Ten road game, he'd be called a hothead. He'd be blamed. And probably disciplined.
Maybe he'd be benched by his head coach. Maybe he'd have to wake up early and run laps.
But what recourse does a player have when his coach deserves the scolding and punishment?
"It helped us out, so I'm not complaining," guard
Josh Gasser
said after the game.
In the final seconds, Gesell dribbled into Wisconsin's web and nearly lost the ball.
He seemed rushed and uncertain. But he recovered.
The Hawkeyes were down by four points then. And Gesell missed an unnecessary 3-pointer from the corner with 1:15 to play.
Sam Dekker
drew a foul and scored -- Iowa failed to sprint to the other side of the floor -- and stretched Wisconsin's lead to seven points.
Somewhere in the bowels of the Kohl Center, McCaffery found a TV and watched his best Iowa team fall short on the road.
He had coached his players to play smart basketball.
He had instructed them to stay tough on the road against a talented, relentless team.
They had obviously listened. They had the unblemished Badgers on the ropes. They had won the first nine rounds of this Big Ten bout.
But then, McCaffery left the floor.
He didn't invigorate the Hawkeyes, though.
He abandoned them.
December, 14, 2013
12/14/13
2:14
AM ET
Iowa State's 85-82 victory over Iowa on Friday night was many things.
It was a seminal moment, a truly great game, and a line of demarcation for two basketball programs that haven't had a truly marquee rivalry game since 1987, in a state that really does love basketball -- if you give it a little nudge.
Iowa State 85, Iowa 82 was also a thrilling, high-speed affair. It was 40 minutes of sheer, evenly matched entertainment. It was a clear indication that, in their twin streaks to national prominence, both the Cyclones and the Hawkeyes have not only become good but somehow become have done so at exactly the same time. It was a gigantic vibrating cardinal-and-gold love-in, or a high-decibel world-record attempt, or both.
It was, more than anything, a great win for Iowa State and coach Fred Hoiberg, which is starting to become a habit.
And it was a brutal, heartbreaking, kick-in-the-teeth kind of loss for Iowa -- a glaring, gobstopping missed opportunity for a team that was sure it kicked that tic in 2012-13.
Perhaps the most frustrating part for Iowa fans is the inability to direct frustration. Viewed from a more remote, detached perspective, Friday night's loss was less a breakdown than a very good 40-minute effort in a difficult road environment that came down to 13 seconds and two statistically advantageous circumstances, all of which went Iowa State's way.
[+] Enlarge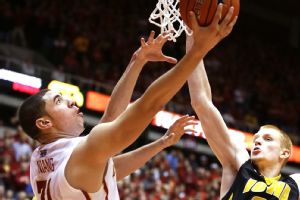 AP Photo/Charlie NeibergallGeorges Niang scored 24 points as Iowa State pulled out a tense 85-82 win over in-state rival Iowa on Friday.
The first, with 13 seconds left, is sure to live in Cy-Hawk lore for years to come. After Iowa State's
Georges Niang
made a baseline reverse layup (one of his apparently endless supply of post moves) to put the Cyclones up a point, Iowa point guard
Mike Gesell
pushed the right side of Iowa State's defense and got a shockingly quick foul call to put him on the line. It was a heady play, and a mental error by the Cyclones; it put an 80 percent free throw shooter on the line with a chance to reclaim the lead.
Instead, Gesell -- facing a storm of noise at Hilton Coliseum; "You could feel the vibrations in the building again," Hoiberg said -- missed the first. He rimmed out the second.
Iowa still had a chance. After the Cyclones' Dustin Hogue made two foul shots to put the Cyclones up by three, Gesell advanced again. The Hawkeyes ran a pretty simple wing-screen set and got a shockingly open look for guard Zach McCabe. Down three, with overtime on the line, it was the kind of look college basketball teams never, ever get. Iowa got it, and got it for one of the best shooters in the country to date this season -- a 48.5 percent 3-point shooter. McCabe was lined up. He was square. His shot rimmed out, too.
How do you even get mad about that? Where do you direct your anger? The gulf between process and outcome can be vast. Even with Iowa's issues down the stretch in the second half, it got the shots it needed to get to win the game. They didn't go in. What are you going to do?
All of which takes nothing away from Iowa State. The Cyclones trailed for longer during the game than Iowa did, but not by much; in any case, you knew the run would come. That is the chief strength of Hoiberg's program: The Cyclones have become so skilled and versatile on the offensive end that no gap seems too large for them to close before the end of regulation. The ensemble setup also allows them to cover for sudden productivity dips.
Friday was a perfect example. Guard DeAndre Kane, Iowa State's best player to date, shot just 1-of-6 (albeit with nine assists). But Niang and Melvin Ejim combined for 46 points, 7 assists and 9 rebounds. No worries, right? Meanwhile, Hogue -- a junior college transfer grabbing 26.4 percent of available defensive rebounds, and shooting 67 percent inside the arc -- added 16 boards and 12 points. And while all of the Cylcones have slightly different strengths, they are thrillingly non-traditional: Kane is a big, versatile ballhandler who can hold his own in the lane; Ejim is an undersized forward who uses his quickness to his advantage; Hogue might be one of the best rebounders in the country at 6-foot-6; and Niang is one of the quirkiest and most unclassifiable stretch-point-forward players in recent college hoops memory.
The combination works. With a road win at BYU and a home win over Michigan under its belt, Iowa State's win over the Hawkeyes was its third genuinely impressive victory of the season.
Iowa, despite all available evidence of its quality, can not say the same.
Friday night's three-point loss is unlikely to hurt this Iowa team the same way last season's series of close losses did down the stretch. The Hawkeyes were much younger and on the bubble then, fighting a desperate uphill battle against their own soft RPI. This year's team is older, deeper, stronger, and more balanced, especially with the addition of Wisconsin transfer Jarrod Uthoff. Iowa should be fine.
Even so: Iowa's two best chances for nonconference plaudits this season were an overtime loss to Villanova, 88-83, in the Bahamas, and Friday night. The Hawkeyes played good basketball; they are good. But they still missed on both.
So you can excuse Iowa fans if they don't quite feel up to the spirit of the occasion. Iowa State 85, Iowa 82 was a lot of things Friday night, from the basketball to the atmosphere to the symbolism of both programs' recent history. But for Iowa fans, it was another missed opportunity -- another instance of a bad habit everyone involved would be more than happy to correct.
July, 1, 2013
7/01/13
3:30
PM ET
Prepare yourself: In the next five months, you are going to hear a lot about the
Iowa Hawkeyes
.
This is for good reason. Iowa was a bubble team in 2012-13, which in itself was a drastic improvement over the post-Todd Lickliter rebuilding years, but "bubble team" sells the Hawkeyes short. Iowa didn't make the tournament largely thanks to its ugly schedule and its lack of marquee wins. But the Hawkeyes' failures in attention-grabbing bubble games were usually of the heartbreakingly close variety, the bane of a good young team that couldn't quite get over the hump. An even cursory glance at Iowa's advanced analytics -- where it finished
No. 22 in adjusted defensive efficiency
, and No. 24 overall -- revealed an underrated group that did battle with the best conference in the country and survived to tell the tale. Now, with basically everyone back, the Hawkeyes look like a lock to finish in the top half of the Big Ten. Title contention is not out of the question.
[+] Enlarge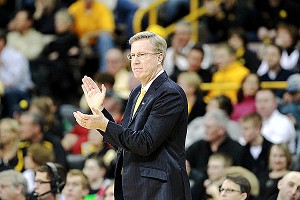 Reese Strickland/USA TODAY SportsIowa coach Fran McCaffery knows that his team won't be short on talent next season.
There's just one thing missing: Three-point shooting! The Hawkeyes shot just 30.5 percent overall from 3 last season, and were dead last in the Big Ten at 28.5. Shooting accuracy was a general issue -- Iowa finished at 47.0 percent from inside the arc, which is hardly burning up the gym -- but nowhere were the Hawkeyes worse than when they launched from behind the arc (which they did on 31.5 percent of their field goals).
As you might imagine, coach Fran McCaffery and his staff just so happened to notice the wall of bricks lining the Carver-Hawkeye Arena floor, and they're going to go ahead and ask that everyone shoot a little bit better this time around. From the
Iowa City Press Citizen
(hat tip:
Eric Angevine
):
"I would be surprised if we didn't shoot better from 3 (in 2013-14)," Iowa coach Fran McCaffery said. "Because we have multiple guys who can shoot 3s. It starts with Mike Gesell and Josh Oglesby. And guys like Zach McCabe, Peter Jok, Jarrod Uthoff and Anthony Clemmons. We've had so many games where there are multiple guys making 3s. I think Aaron White is going to be better. He'll get to where he's above 33 percent. Now that changes everything. Now you have seven guys that make 30 or more 3s in a season."
(That sound you hear is Iowa fans groaning at McCaffery's nod to Oglesby. My Hawkeyes-obsessed buddy has told me once a week how important it is that Oglseby's minutes are limited. The collective angst
isn't quite at
Russell Byrd
levels
, but it's closing in.)
Anyway, even with all of those returning players -- rising sophomore center
Adam Woodbury
might be the most promising, but White is still a bit underrated, and
Roy Devyn Marble
is a unique scoring talent -- the biggest cogs in the long-range effort might well be newcomers.
Jok was not a highly touted recruit
(he's the No. 41-ranked small forward in the 2013 class), but he will arrive as a lights-out shooter whom opposing defenses should have to track right away.
And then there's Uthoff. You remember Jarrod Uthoff, right? The former Wisconsin player whose bumbled transfer process made Bo Ryan the unlikely target of antipathy toward the inherent balance of power between players and schools? Right. With the whole "being a symbol of a larger philosophical debate about the inequity of amateurism" behind him, Uthoff has been, you know,
playing basketball --
and impressively so, apparently:
Uthoff can stretch the floor as a big man with a mid to long-range jump shot and improved ball-handling skills. Uthoff also has the size and athleticism to score from the blocks through tip-ins or dunks, and he can defend multiple positions.

"Jarrod has been playing really well this summer. He can hit outside shots, and obviously he creates matchup problems for those post guys inside,'' Iowa senior forward Zach McCabe said. "He was always working on his game, just getting ready. Just talking to him, he's sick of sitting out. He wants to play.''
With Woodbury, White and senior forward/rebounding specialist
Melsahn Basabe
, Iowa suddenly has a glut of forwards capable of competing in the Big Ten. Uthoff will be a factor in that mix, too, particularly as the Hawkeyes look to maintain the defensive excellence that served them so well in 2012-13 and, when possible, make a few 3s, too.
Even if the "let's shoot better" plan doesn't come to fruition, Iowa is almost certainly going to be a tournament team. But if deep range becomes a part of the arsenal, a tourney berth will soon seem like a quaint afterthought.
June, 7, 2012
6/07/12
5:20
PM ET
The verdict is in. Jarrod Uthoff,
the centerpiece of a firestorm
over Wisconsin coach Bo Ryan's -- and by extension all of college basketball's -- transfer policies, has made his decision. It's Iowa. From
ESPN's "Outside The Lines
":

Uthoff told "Outside The Lines" reporter Steve Delsohn on Wednesday night that he will be attending Iowa even though Badgers coach Bo Ryan put severe limitations on his request to transfer.

Uthoff said he'll have to pay his own way next year at Iowa and also will have to sit out the 2012-13 season per NCAA transfer rules. But that's not an issue for Uthoff, who hails from nearby Cedar Rapids, Iowa. Uthoff said he didn't want money to be a factor in his decision.

"We can afford to pay for my education for a year," said Uthoff, 19.
And to think the whole mess could have been avoided in the first place.
When the Uthoff-Ryan transfer mess kicked off, it was in large part thanks to Ryan's overzealous limitations on Uthoff's list of potential destinations. (A
massive communications blunder also played a role
.) Ryan blocked a whole score of schools -- all of the Big Ten, all of the ACC, as well as Marquette, Florida, and Iowa State -- in an effort to keep the 6-foot-8 Uthoff from transferring to any school that might possibly play Ryan's Badgers in the remaining three years of Uthoff's eligibility.
What Ryan did wasn't all that much worse than what many coaches have done in recent years, but it was slightly extreme, and more than anything it highlighted the essential problems with the balance of power between college programs and the players they recruit.
By the time the storms calmed, Ryan relented, allowing Uthoff unrestricted permission to contact any school outside the Big Ten. As it turns out, Uthoff eventually found his way back home, and is eager enough to play for Iowa that he is willing to abide
by the Big Ten's new intra-conference transfer rule
and pay his own tuition -- in his case, the more affordable in-state resident tuition -- as well as sit out another season even after redshirting as a freshman at Wisconsin.
Uthoff was a low top-100 recruit when he arrived in Madison, so his impact on the Hawkeyes two years after the fact remains an open question we won't be able to answer for some time. But the impact on the awkwardness level between Iowa and Wisconsin, which will meet each other at least once a season, and often twice, in Big Ten play, can't possibly be overstated. At the very least, here's hoping for a new, totally incongruous Iowa-Wisconsin basketball rivalry. Should be fun!
April, 19, 2012
4/19/12
4:50
PM ET
Boy, that escalated quickly. I mean, that really got out of hand fast.
This morning,
I thought we were done with the Bo Ryan-Jarrod Uthoff transfer saga
. Uthoff's long-lost appeal papers had been found in Wisconsin assistant athletic director Justin Doherty's mailbox, the he-said-he-said appeal question was answered, Uthoff's transfer process could begin in earnest, and the rest of us could all move on to other things.
Not so much.
On Thursday morning, Ryan
appeared on "Mike and Mike in the Morning,"
where he found himself in a heated, and not particularly flattering, debate about transfer restrictions and Ryan's apparently draconian usage thereof. The backlash began in earnest. The backlash to the backlash -- in which at least one college hoops columnist derided the media for "villainizing" Ryan -- soon followed. In the immortal words of Champ Kind: It jumped up a notch.
[+] Enlarge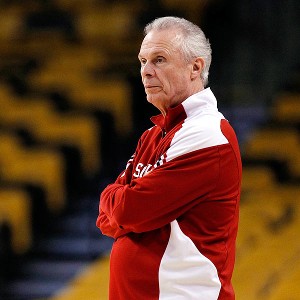 Greg M. Cooper/US PresswireThe Bo Ryan-Jarrod Uthoff spat may have cast the coach in an unfavorable light, but the real issue is the rule allowing coaches to restrict transfers.
And so the final news update came this afternoon. From
ESPN.com news services
:
Wisconsin athletic officials, after meeting Thursday with basketball player Jarrod Uthoff, have agreed to lift all transfer restrictions except for Big Ten schools for the redshirt freshman.

The university said in a statement that Uthoff met Thursday with associate athletic director Justin Doherty and athletic director Barry Alvarez, as part of the appeal process.

Doherty, Alvarez and basketball coach Bo Ryan then met and decided to lift "permission to contact" restrictions on any school outside of the Big Ten Conference, the school said. Ryan supported lifting the restrictions outside of the Big Ten, according to the university.
In short, Ryan and the school have decided to let Uthoff transfer anywhere he wants, provided that school is not in the Big Ten.
Why the sudden reversal? Wisconsin would no doubt argue that this was the process all along, the give and take between schools and players on restrictions, appeals, permissions and so on. This is how it goes. This is how it can be resolved. Nothing to see here.
The more obvious and more likely explanation is that the "media won." Those aren't my words, mind you. They're the words of various folks on Twitter, many of whom crowed at Ryan's acquiescence following what is now the third day of nearly relentless negative press.
That's one theory, and it's probably pretty close to the truth. When your otherwise sterling reputation is being tarnished over something that (to any outsider, at least) appears rather petty and small, it's best to just let it go and move on. Wisconsin did here, the firestorm loses oxygen, and we all find another argument to entertain us. After all, there's always someone, somewhere,
who's wrong on the Internet
.
But before you go back to getting mad at people for spoiling "Game of Thrones" with book references, let's circle back on a few final things about the great Wisconsin transfer adventure of April 2012:
No one should think Bo Ryan is a bad dude. If that's your takeaway from all this, you're missing the point. Ryan is a great coach and one who genuinely does things the right way, and his reasoning for this isn't as simple as "Oh, he's just being vindictive." That may be the case. It also may not. Either way, it's beside the point.

The geographic circumstances of the transfer are beside the point, too. Uthoff said he wanted to transfer while Ryan was away with his wife. This has been cited as a reason why Ryan would feel antipathy toward his player, as an example of Uthoff's supposed shadiness in dealing with his move. Would it have been better to handle face to face? Probably. Should it really matter all that much? No.

There are instances in which a coach could reasonably decide to keep a player from transferring to a certain school. One example is transfers between conference opponents. The other is if a coach knows a school was tampering with his player -- nudging him toward a transfer before permission-to-contact is granted -- and he wants to close ranks, to make sure the rest of the nation's coaches know that kind of behavior will only ensure the player doesn't transfer to your school. That seems less than ideal on all fronts, but at least it makes some sense. Like Nos. 1 and 2 above, though, this is beside the point.

Here's the point: This is a bad rule that allows coaches to do things they shouldn't be able to do when their players decide to transfer, one that speaks to the deep imbalance of personal efficacy in collegiate athletics. That's what this is about.
Transfers must already sit out a year before they can play at another school. They sign one-year scholarships renewable by the school alone. They play for tuition and room and board, but nothing near the seven-figure sums their coaches make. And those coaches, practically speaking -- despite what Ryan has attempted to argue about buyouts -- can leave for new jobs almost whenever they want. (When's the last time a coach wanted to leave a school but wasn't allowed? Can you even remember?)
All of those factors contribute to this imbalance. That's the problem -- it's the rule.
Ryan didn't have to exploit this rule so dramatically. The rule allows him to do so, but it doesn't require him to. Crucial distinction. In many cases, coaches place few restrictions on players who decide to transfer. But just as often, they do set these restrictions.
For example, while we were all arguing about Jarrod Uthoff, Tulsa all-conference guard
Jordan Clarkson
has had his approved transfer choices narrowed to just three schools out of the eight he requested by Golden Hurricane brass. This is not a new, or particularly rare, occurrence. It's happening elsewhere even as we speak.
Ryan handled this situation poorly, from his ballooning restricted list to the "I didn't make the rule" copout to the unfortunate Mike & Mike call-in Thursday morning. But he's relented now. The drama is over. What remains is this rule -- and how coaches and athletic directors use it to exert a level of control over players that players themselves don't even have. A coach shouldn't, and many don't. But some do. The root problem is that they can.
No one is demonizing Ryan. Or at least they shouldn't be. The rule -- and what it does to make college basketball a system in which players are commodities to be controlled -- that's the bad guy here. Let's not forget it.
April, 19, 2012
4/19/12
4:28
PM ET
The Big Ten altered its transfer rule within the conference for the 2011-12 season and beyond -- and long before this week's Bo Ryan-Jarrod Uthoff controversy.
The league is allowing players to receive grant-in-aid, but it is also putting a harsher eligibility penalty in place that takes away a year of play from the transfer.
Chad Hawley, the Big Ten's associate commissioner of compliance, said Thursday that the rule change was created to prevent penalizing players from receiving scholarship money. But the conference wanted to add a penalty if the player transferred within the conference.
[+] Enlarge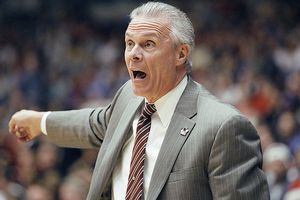 AP Photo/Chris CarlsonThe list of schools Wisconsin coach Bo Ryan banned Jarrod Uthoff from transferring to includes the ACC, Iowa State, Florida and Marquette.
The old rule stated that once a player signed a grant-in-aid agreement at one Big Ten school, he could transfer to a second Big Ten school but would not be allowed to receive any financial aid.
The new rule, adopted for this current academic year, allows a player to receive the aid, but he would have to sit out the NCAA-required one-year in residence and lose a season of eligibility.
So in the case of Wisconsin's Jarrod Uthoff, he would be allowed under Big Ten rules -- if Wisconsin didn't block him -- to transfer to the University of Iowa (his home state school). However, he'd have only three seasons of eligibility left, not four. And Uthoff would have to sit again after redshirting this past season. Uthoff hasn't publicly expressed an interest of going to Iowa or another Big Ten school.
The Big Ten does allow for an exception if there is a complete release by the original institution that signed the player.
Hawley said the Big Ten has had only one in-conference request this past year, and it was for the sport of wrestling.
Michigan coach John Beilein has a long-standing policy in which he doesn't allow transfers to go to a conference-member school or to a school that's on the team's schedule over a two-year period.
Evan Smotrycz
transferred to Maryland, an ACC member, without any issues since the Terps were where he wanted to go and wasn't on Beilein's banned list, according to a school spokesperson.
Ohio State only blocked sophomores
J.D. Weatherspoon
and
Jordan Sibert
from transferring within the Big Ten, according to a school spokesperson.
Uthoff's case drew national attention because Badgers coach Bo Ryan's banned list included the ACC (due to the ACC-Big Ten Challenge), Iowa State, Florida and Marquette, the latter two because both schools are on Wisconsin's schedule.
"It's fairly common practice to have conference to conference transfer policies,'' Hawley said. "We wanted to get away from the financial aid penalty but keep something in place, and this is the model we settled on.
"In a sport like basketball, you have to sit a year and what our rule does is charge a season of competition, too,'' Hawley said.
Here is the specific Big Ten intraconference transfer rules from the conference:
Intraconference Transfer Rules.
1. Pre-Matriculation. A prospective student-athlete who has signed a tender from a Conference institution and has not yet triggered transfer status per NCAA Bylaw 14.5.2 (conditions affecting transfer status), is subject to the following intraconference transfer requirements:
a. Signed National Letter of Intent. A prospective student-athlete who signs a valid National Letter of Intent (NLI) with a Conference institution but subsequently enrolls at an alternate Big Ten institution shall be required to complete one (1) full year of residence at the alternate (i.e., certifying) Big Ten institution and shall be charged with the loss of one (1) season of eligibility in all sports. These penalties shall be applied regardless of any decision made by the NLI Steering Committee on behalf of the prospective student-athlete.
1. Exception - Complete Release by Signing Institution. If the Big Ten institution at which the prospective student-athlete originally signed the NLI grants a "Complete Release" from the NLI, the prospect shall be permitted to enroll at any other Conference institution without penalty.
2. Exception - NLI Declared Null and Void. Should the NLI become null and void prior to the prospective student-athlete's matriculation, the prospective student-athlete shall be free to enroll at any other Conference institution without penalty.
b. Signed Tender without National Letter of Intent. A prospective student-athlete that signs a valid tender with a Conference institution but subsequently enrolls at an alternate Big Ten institution shall be required to complete one (1) full academic year of residence at the alternate (i.e.,
certifying) Big Ten institution and shall be charged with the loss of one
(1) season of eligibility in all sports. Upon mutual agreement of the two involved Conference institutions, this penalty shall be waived by the Chair of the Academics and Eligibility Subcommittee.
80
2. Post Matriculation. A student-athlete that has signed a tender from a Conference institution and has triggered transfer status per NCAA Bylaw 14.5.2 (conditions affecting transfer status), may not represent an alternate Big Ten institution in intercollegiate athletics competition until the individual has completed one (1) full academic year of residence at the alternate (i.e.,
certifying) Big Ten institution and shall be charged with the loss of one (1) season of eligibility in all sports.
3. Pre- and Post-Matriculation Exceptions
a. Cancellation of Tender Due to Inadmissibility. When a prospective student-athlete is inadmissible to the institution for which a tender has been accepted, the tender shall be considered null and void and the intraconference transfer penalty does not apply.
b. Dropped Sport. When a Conference institution drops the student-athlete's sport in which the student-athlete has participated, the intraconference penalty does not apply.
April, 19, 2012
4/19/12
9:31
AM ET
Editor's Note: In a heated exchange on Mike & Mike Thursday morning, Wisconsin coach Bo Ryan weighed in on Jarrod Uthoff's appeal to transfer, why he is barring Uthoff from moving to certain schools and more. Ryan says his actions are within the rules and common in college basketball. Listen to the full interview here.
One last post about the Jarrod Uthoff transfer saga, and that's it. No more. Never again. I promise. Probably, anyway.
But come on: I couldn't not blog about this. From
ESPN's Andy Katz and the Associated Press in this ESPN.com news report
:
Ryan said he was told that Uthoff didn't hand in his appeal. He later learned that the appeal was put in assistant athletic director Justin Doherty's mailbox in an envelope without a stamp. Ryan disputed a report that Uthoff dropped off the appeal and said a woman did in his place.

Uthoff told the AP that he had a friend deliver the letter to the office of Doherty before the deadline and a secretary put it in his mailbox.

"Apparently, he didn't check his mailbox," Uthoff said.
After three days of confusion and recrimination and diatribes from all sides -- from Wisconsin coach Bo Ryan disallowing every ACC school, Marquette and Iowa State (in addition to the Big Ten, which is common practice) to Uthoff saying he would appeal with the school, to a
source telling me
no appeal was received as of Tuesday night -- there's your answer for why this transfer situation has become so MUBAR'd (messed up beyond all recognition; it's my family-friendly variation): Because the mail got mixed up.
Seriously. A stampless letter that went unnoticed. That's all it was. That's kind of amazing, right?
Now that the letter has been recovered and everybody is on the same page -- or at least
aware
of the same page, in said aforementioned envelope -- Wisconsin and Uthoff can leave the logistical messiness behind and get down to the real, live transfer and appeal process. Per the report linked above, "Jarrod is going to be afforded the normal, NCAA-described appeal process," Doherty said.
That's good news. But it doesn't get to the heart of the situation, which is summed up rather nicely by these two points from Ryan:
"There are rules of a scholarship," Ryan said. "I didn't make them up. […] Coaches told me they can appeal and win but there is a process. I haven't lied. I'm on the [coaches] board and have taken stands on unpopular things. But this is something that all coaches do. I didn't make the rules. I'm just following them."
That is, I'm sorry to say, a copout.
There is a crucial distinction between what the rules
allow
Ryan to do and what they
require
him to do. The rules allow him to place schools on a banned list. They don't require him to carve out entire swaths of the college hoops map -- the Atlantic Coast Conference, to be exact -- because of the slight chance that the school Uthoff transfers to will play Wisconsin in the ACC/Big Ten Challenge one day. Ryan could have left every school in the country (save the Big Ten) on Uthoff's potential permission-to-contact list and still have been following the rules. He isn't merely following the rules -- he's proactively working within them. There's a difference.
Because the rules allow this, coaches are safely ensconced behind the "I didn't make the rules!" gambit your least favorite teacher so frequently called up. But that doesn't mean they should. They shouldn't. Far as I can tell, few disagree.
In the end, it's not like this is the crime of the century. Uthoff still has quality possibilities out there, including a possible move to Creighton. But every offseason, we have at least one of these kinds of scenarios -- wherein a player is restricted from transferring to a school he wants to attend because a coach has disallowed him from doing so. Railing against this gets tiring! I'm not having fun! Are you? But here we are, every offseason,
because the rule needs to change
.
College basketball players already have to burn a year on the bench if they want to change schools. We're still waiting on mass adoption of four-year scholarship agreements, to say nothing of a cost-of-attendance stipend. There's so much about the NCAA's amateur model that is outdated, wrongheaded or just plain wrong.
We can argue about many of those things. But the ability of a coach to control his transferring player's career in such authoritarian fashion -- it seems like a small thing, compared to the capital-Q amateurism Questions, but it's little things like this that slowly and subtly grate at the public perception of the NCAA's legitimately virtuous core mission. This is one we can all agree on.
Coaches: Let players go. Just …
let them go
.
NCAA committees: Change these rules.
Mr. Uthoff: Make sure your crucial, life-saving paperwork gets where it needs to be. Hire a bicycle messenger, if necessary. Those guys are good.
Wisconsin brass: Check your mail!
With our powers combined, we can avoid these kinds of exasperating, confusing, grating transfer debates in the future. Do we have a deal?
April, 18, 2012
4/18/12
12:58
PM ET
On Tuesday, Wisconsin redshirt freshman Jordan Uthoff's story --
in which Uthoff told coach Bo Ryan he wanted to transfer
and watched as Ryan subsequently added 25 schools (all of the Big Ten and ACC, plus Iowa State and Marquette) to Uthoff's banned list -- became just the latest example of the drastic lack of equality between college basketball coaches and their amateur players.
It is also, apparently, an example of mutually shared confusion.
On Monday,
Uthoff told the Metro Sports Report in its original story
that he was appealing the banned list to Wisconsin's athletics compliance department:
Uthoff has appealed the restrictions to the University of Wisconsin's compliance office, which is the office that informed him of the bans in the first place.

"I have not heard back from them," he said. "The next step would be the NCAA."
On Tuesday night, a source close to the Wisconsin program told ESPN.com that wasn't the case.
"We have not received any appeals," the source said.
When Division I men's basketball players wish to transfer, they follow a typical process. First, they speak to their coach. Then, they formally submit a transfer request, which includes permission-to-contact letters for schools players wish to speak with about a possible move. The school can approve or deny permission to any of these schools.
Depending on the results, players have up two business days to submit a written appeal of the school's/coach's banned list.
According to the above source, Uthoff did not appeal any of the schools that were originally banned by Ryan. According to Uthoff, he did.
Ryan declined to comment when reached for comment by ESPN.com's Andy Katz Tuesday night.
Uthoff's situation is not the only transfer matter up for scrutiny in recent days. At Tulsa,
according to the Tulsa World
, all-conference sophomore
Jordan Clarkson
requested permission to contact eight other schools in his transfer matter. He was released to talk to three, according to the World, potentially because of allegations of premature contact with other schools during the season. Clarkson's father adamantly denied these claims.
Both Uthoff and Clarkson's transfer sagas are emblematic of outsized coaching power, true, but they are also,
as some have argued
, emblematic of the behind-the-scenes confusion that makes it difficult to understand transfer situations in the first place, particularly for outsiders. Thanks to privacy laws and intentional obfuscation, schools typically don't release their reasons for restricting players' transfer options. Saint Joe's coach Phil Martelli was hammered relentlessly for refusing to release Todd O'Brien to play for UAB this season. As O'Brien languished on the bench at UAB, and the media murmured "there's got to be more to this story," Martelli constantly refused comment. As such, O'Brien's account reigned, and Martelli's once-sterling reputation was at least somewhat tainted.
Without some process of disclosure, the reasons coaches have for not allowing a player to transfer to a different school -- beyond the obvious competitive aspects -- rarely, if ever, see the light of day. And so confusion reigns.
Of course, that assumes there are valid reasons to block a player from transferring to a different school in the first place. I would argue there is never a particularly good reason, but even allowing shades of gray -- same-conference transfer bans seem at least somewhat understandable, as is the desire to prevent tampering -- the power coaches can wield over where their player finishes his or her career seems as unnecessarily outsized as the process is cumbersome.
The lesson, as always: Nine times out of 10, just let the kid transfer. The bad press isn't worth it. Neither is the headache.
April, 17, 2012
4/17/12
12:37
PM ET
Getting to Madison is easy. It's the leaving that's hard.
It sounds like a cheesy slasher-flick movie poster, or some lame facsimile thereof. But it's become true for Wisconsin forward Jarrod Uthoff, a redshirt freshman who last week told Wisconsin coach Bo Ryan he wanted to leave the program to find a better offensive fit. Ryan, as per NCAA rules, outlined a list of schools to which Uthoff would not be allowed to decamp. Ryan put the entire Big Ten, Iowa State (Uthoff is an Iowa native), Marquette --
and, now, according to the Metro Sports Report
--
the entire Atlantic Coast Conference
on Uthoff's apparently-still-growing list of banned schools:
"I just got an email about it today from Wisconsin's compliance office," Uthoff told the Metro Sports Report Monday night. "I didn't see it coming." Uthoff said the University of Virginia (an ACC school coached by former Wisconsin assistant Tony Bennett) sought permission from Wisconsin to contact him. As a result, Ryan added Virginia and all the other ACC schools to the no-contact list. Uthoff said he doesn't know why Ryan has placed so many schools on the restricted list. "You have a better guess than I do," he said. "I'm not really sure."
It's a valid question. If I had to take a guess, I'd wager Ryan really doesn't want Uthoff's departure to come back and hurt him somewhere down the line. He doesn't want to play him at a Big Ten school, or at Marquette, or even in the ACC/Big Ten Challenge, apparently. (And the Iowa State thing? I'm wagering Ryan is no fan of the budding transfer landing zone under Fred Hoiberg. But again, that's just a guess.)
But whatever answers you want to come up with, they don't really matter. Know why? Because if Ryan wanted to leave Wisconsin to take a job in the ACC, he could. If he wanted to take a job at Iowa State or Marquette or in the Big Ten, he could. There are no restrictions on where and when he can coach, provided he and a school reach an agreement on a contract. But for players, a coach merely needs to add 30 or so schools to a ban list, and that's that.
Just let the kid go, coaches. Maybe he'll come back to haunt you somewhere down the line. Maybe there are personnel issues the public doesn't know about. Honestly, none of that stuff really matters. All that matters is how bad this looks, how petty it feels, how silly the rule and any coach who chooses to take advantage of it really is.
It's far worse than Uthoff hitting a jumper for Virginia in two years, that's for sure.