College Basketball Nation:

Jason Calliste
February, 17, 2013
2/17/13
1:17
AM ET
A few observations from another exciting Saturday evening in college basketball ...

Let's talk about Alex Len
: The 7-foot-1 sophomore from Ukraine got paid Saturday. Settle down, NCAA. No runners were involved. But the young man clearly elevated his NBA draft stock with his grown-man performance in Maryland's
83-81 victory
over No. 2 Duke, a crucial victory for the Terrapins' at-large résumé.
Seth Allen
's late free throws sealed the win after a furious late push by the Blue Devils turned Maryland's 80-72 lead into an 81-all tie in the final seconds. But Len's performance was the difference. He was a star (19 points, 9 rebounds, 3 blocks), while Duke counterpart
Mason Plumlee
(4 points, 2-for-7) struggled.
The Terrapins don't have any postseason guarantees right now. It's a soft bubble but they're still on it. Right now, the Terps are on Joe Lunardi's "First Four Out" list, but every game on their remaining ACC slate is winnable. Maryland, however, needs
this
Len every night. He had failed to crack double figures in three previous losses. But on Saturday, he showcased the talent that has fueled the NBA lottery buzz that currently surrounds him. If he gives the Terps that juice over the next six games, they might not lose again in the regular season.
[+] Enlarge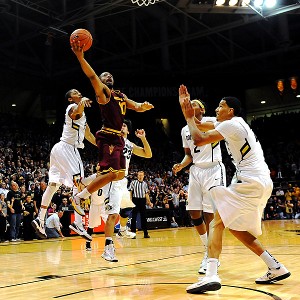 Ron Chenoy/USA TODAY SportsEvan Gordon knifes in to give Arizona State the OT win at Colorado with this buzzer-beater.
Arizona State stays in the Pac-12 race with crazy win
: The Pac-12 has given college basketball fans multiple exciting finishes this season. And the conference did not disappoint Saturday, when both Oregon-Washington State and Arizona State-Colorado were decided in overtime. The latter matchup ended on
Evan Gordon
's buzzer-beating layup. The Sun Devils'
63-62 road win
was significant in their pursuit of the Pac-12 crown.
Freshman
Jahii Carson
(18 points, 4 assists) can take Herb Sendek's program there. It won't be easy, especially since the Sun Devils have road games against UCLA and Arizona in the coming weeks. But at least they'll face two of the Pac-12 teams slotted ahead of them in the standings. Arizona State just made the Pac-12 race more interesting.
UNLV needed this one
: The Runnin' Rebels were desperate Saturday. They're now 6-5 in the Mountain West, three games behind first-place New Mexico. But a lot can happen over the next five games, especially in a volatile league such as the MWC. A loss Saturday, however, would have certainly removed the Runnin' Rebels from the conversation. And their so-so at-large résumé would have taken another hit, too.

They played like a team that understood the stakes in the
72-70 victory
over San Diego State.
Khem Birch
blocked
Jamaal Franklin
's shot in the final seconds as UNLV preserved the win, completed a sweep of the Aztecs and maintained a place in the Mountain West race.
Anthony Bennett
(21 points, 12 rebounds) and Birch (16 points) could lead the Rebels to a strong finish and help the team solidify a bid. The latter seems far more reasonable and feasible. I don't think I would have felt that way about either if UNLV had lost.

Kansas State recovers:
On Monday, the Wildcats went to the Phog and suffered a 21-point loss to archrival Kansas. On Saturday, they beat Baylor by 20 points. No better way for a team to clear its head after a tough loss. I think the
81-61 win
says a lot about Kansas State's mental makeup.
Sure, Baylor has been inconsistent all season. But the Bears also are one of the Big 12's top defensive teams. The 81 points they surrendered to Kansas State were the most they'd given up in Big 12 play this season.
Angel Rodriguez
led the Wildcats with 22 points and 10 assists. Four Wildcats recorded double figures in a game that helped K-State remain in the Big 12's three-way tie for first place (Kansas and Oklahoma State both won Saturday, too). And it helped the program move past Monday's lopsided loss to the Jayhawks.

Memphis?
I think the Tigers have the athleticism and talent to compete with other top-25 teams at neutral sites. Their problem is they don't have many opportunities to show it right now due to the limited competition in Conference USA. Much like Gonzaga or Florida, the only way for the Tigers to prove their value nationally is to stomp opponents in league play.
To their credit, they've won three games by 13 or more in February. They returned to the national rankings last week based on that dominance. They beat Marshall (
71-59
) on Saturday. There were highlights for the Tigers. But there also were a few confusing moments.
Like the fact that Memphis scored 43 points in the first half but just three points in the first 10 minutes of the second half in a matchup against a Marshall squad that is at the bottom of C-USA and had lost five of its previous seven entering the game.
The Tigers might have the skill to make noise in March. That ugly second half, however, didn't convert anyone.
On the Horizon:
Detroit and Valparaiso might have played the best game of the night. Detroit was down by 15 points with 10 minutes remaining in its road game against the Crusaders. But the Titans launched a 17-2 run over the next
five
minutes. They eventually won by 10 points,
84-74
, and now they're a half-game behind Valpo in the Horizon League standings.
Nick Minnerath
and
Jason Calliste
scored 21 points apiece, while
Ray McCallum Jr.
added 15 points, 5 rebounds, 6 assists and 3 steals. In the first meeting between the two teams, Detroit led by 18 at halftime and 11 with three minutes to play -- but lost by one. Sweet revenge tonight.
March, 7, 2012
3/07/12
1:45
AM ET
The
Butler Bulldogs
won't be participating in this year's NCAA tournament, but the Horizon League is sending a more-than-capable replacement.
Ray McCallum
Jr. scored 21 points and
Jason Calliste
added 17 to lead Detroit to a
70-50
victory over regular-season champion Valparaiso in the championship game of the Horizon League Tournament.
The victory gives the Titans a berth in the NCAA tournament for the first time since 1999. Head coach Ray McCallum -- the father of the Titans' star player -- said five busloads of students made the 250-mile trip for Tuesday's game.
[+] Enlarge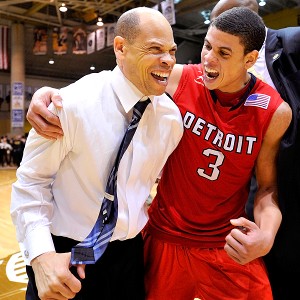 Nelson Chenault/US PresswireRay McCallum, Jr. and his coach and dad, Ray McCallum, are heading to next week's NCAA tournament after beating Valparaiso.
"I'm happy for the city of Detroit," said McCallum, the former Ball State and Houston head coach. "We're Detroit's team. This gives the city a program to follow in the tournament with its name on it."
Coaches of teams predicted to be seeded No. 2 or No. 3 probably grew nervous as they watched Detroit dismantle Valparaiso. The Titans, who will likely be a No. 14 or a No. 15 seed, played with the kind of confidence and swagger that is imperative for a team seeking a first-round upset next week.
Detroit trailed by three points at halftime before erupting after intermission. The Titans shot 58 percent in the second half to stun Valparaiso on its home court. The Crusaders had defeated Detroit twice this season by a combined seven points.
"We just played with a lot of emotion, a lot of intensity," McCallum said. "We got stronger as the game went on."
Resilience has been a theme for Detroit all season.
Some preseason publications picked the Titans to win the Horizon League title, but things turned sour when star center
Eli Holman
-- one of the best players in the country at his position -- was suspended before the start of the season for a violation of team rules.
Detroit lost six of the 10 games that Holman missed (including two league contests). Even after Holman returned, it took McCallum's squad a while to find its groove. Detroit certainly has it now, though. It will enter the tournament having won 10 of its past 11 games.
"These guys have hung together," McCallum said. "We're playing our best basketball at just the right time."
Detroit may compete in a small conference, but there is nothing "mid-major" about many of its players.
Holman began his career at Indiana before transferring after head coach Kelvin Sampson was fired. McCallum was on Sampson's Indiana staff and had helped recruit Holman, so the switch to Detroit made perfect sense for the 6-foot-10, 270-pound senior. Holman averages 11.1 points, 7.0 rebounds and 1.4. blocks. Impressive numbers, considering he plays just 23 minutes a game. Holman only had five points Tuesday.
"Still," McCallum said, "with that size ... he's just a presence."
Forward
LaMarcus Lowe
, who is also 6-10, had 14 points and 10 rebounds against Valparaiso, but it's no secret that the biggest strength of this team is its guards.
Chase Simon
, a 6-7 senior, struggled Tuesday but is averaging 13.7 points on the season. Calliste is the Titans' top threat from 3-point range.
Neither player, however, is as highly-medaled as McCallum Jr., who spurned offers from schools such as Kansas and UCLA to play for his father at Detroit.
"It was a big decision for him," the elder McCallum said. "A lot of people said, 'Why do you want to go to Detroit? They're not going to go to the tournament. At our school you'll go every year.'
"I said, 'If you come here, you'll have to do more.' He embraced that."
McCallum Jr.'s 21-point performance against Valpairso -- which came on 10-of-16 shooting -- was the perfect birthday present for his father, who turned 51 on Tuesday.
McCallum deserves just as much credit as his son for Detroit's turnaround. The Titans went just 7-23 in McCallum's first season in 2008-09, but they haven't had a losing season since. The current team is 22-13.
Detroit has just four NCAA tournament appearances in school history.
"In our meeting last night, all we talked about was winning a league [tournament] championship," McCallum said. "We've got guys on this team that have been around for four years, guys that can appreciate how far we've come.
"This is what it's all about. Hopefully there are even better things to come."
Butler advanced to the NCAA title game as the Horizon League's representative the last two seasons. The Bulldogs lost to Duke in 2010 and Connecticut in 2011.