College Basketball Nation:

Javan Felix
March, 21, 2014
Mar 21
2:10
AM ET
MILWAUKEE -- Many teams create watchwords before the season or the NCAA tournament, corny but commendable slogans that look good on dry-erase boards or in Twitter hashtags.
Few teams follow through on them. Even fewer do so the way
Texas
did Thursday night.
Three days earlier, Longhorns players and coaches had brainstormed three guiding principles for their tournament quest: fundamentals, team and win. The fundamentals lacked at times against
Arizona State
, as Texas committed 24 fouls and allowed too many open looks for the Sun Devils in the second half. But the Longhorns were the ultimate team, especially down the stretch, and they prevailed with
an 87-85 win.
Cameron Ridley
's acrobatic putback a flicker before the horn punctuated the victory and led off the highlights, as it should, but Texas' final four baskets all came on second-chance efforts, as Ridley and forward
Jonathan Holmes
combined for 10 offensive rebounds. There were fortunate bounces, but Texas repeatedly capitalized on them.
The Longhorns had six players score in double figures -- all five starters and freshman guard
Martez Walker
, who had a career-high 16. There are no
Kevin Durant
s or
T.J. Ford
s on the team that brought back Texas basketball and rescued coach Rick Barnes. Texas has many contributors, and it needed them all against an Arizona State team that controlled play after falling behind by 14 with 12:11 to play.
"We know we need everybody," guard
Isaiah Taylor
said. "Other teams, they always have two leading scorers. We know that anybody on our team can lead us in scoring on any given night. You can rely on everybody for confidence. All five of us can score, so we can pass it to anybody and everybody can create for themselves."
Thursday marked the sixth game this season in which Texas had at least five players score in double figures. The Longhorns adhere to the motto INAM -- It's Not About Me -- but as guard
Javan Felix
notes, it means to "selfishly attack your role."
[+] Enlarge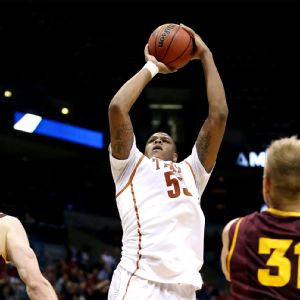 Jonathan Daniel/Getty ImagesCameron Ridley, who made the game-winning shot for Texas, goes on the offensive in the second half.
"Before the game, we just talked about fighting," Felix said. "On those two plays, you just saw how hard we fought."
Arizona State led 83-82 with 35 seconds left when Felix fired a 3-pointer from the corner. The problem: it only went about 19 feet. As soon as he released it, he started shouting, "Short! Short!"
Fortunately, Holmes heard him, caught the air ball, scored and drew a foul.
"That's my assist," Felix said, smiling.
Another wayward 3-point attempt, this time by Holmes, appeared to send the game to overtime. But the 285-pound Ridley cut through the lane, caught the ball near his ankles and banked it in with his left hand, just outside the reach of Arizona State center
Jordan Bachynski
.
Ridley's first buzzer-beater at any level -- "The ball was never in my hands for that situation," he said -- came on the biggest stage.
"Arizona State players were crashing the boards, and I saw a small opening, so I took it," Ridley said. "The ball just happened to bounce my way, and I got the shot up as quick as possible."
Officials reviewed the play to make sure Ridley got the shot off in time. He had no doubt.
"Positive," he said. "Right when I released it, I started screaming. I knew I took the team to the next round."
A top-10 recruit with superb shot-blocking ability and touch around the basket, Ridley could be Texas' next megastar. Thursday night, he was simply one of several capable options who came through.
"Six people in double figures," Felix said. "That's the pure example of team."
The seventh-seeded Longhorns advance to face No. 2 Michigan on Saturday. A win will put them past the tournament's first weekend for the first time since an Elite Eight run in 2008.
Taylor joked in the locker room that it was the first time he had seen Barnes happy after a victory this season.
"Great team win," Barnes said. "Really a great team win."
At Texas, there's no other way.
February, 11, 2014
Feb 11
11:04
PM ET
AUSTIN, Texas -- With less than three minutes left, the taunting was brief and almost merciful.
"Where is Marcus?"
The chant came from a small contingent of Texas fans standing under the basket, and lasted no more than one Oklahoma State possession. In this Frank Erwin Center crowd more than half-gone amid a blowout, everyone could hear it.
"Where is Marcus?"
Marcus Smart
wasn't in the building. As mandated by his three-game suspension, he couldn't travel with his Cowboys to Austin. And without their star, an Oklahoma State team whose season is spiraling looked even more lost.
[+] Enlarge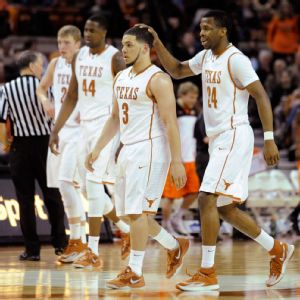 Brendan Maloney/USA TODAY SportsThe Longhorns had plenty to celebrate in their win over the struggling Cowboys.
The Cowboys took their fifth straight loss, this one a 87-68 road beatdown from No. 19 Texas. With or without its star player, this team has now lost six of its last seven games.
"This has nothing to do with Marcus Smart. He wasn't here tonight," Oklahoma State coach Travis Ford said. "So we had to play with what we've got. We can't get caught up in any of that, to be honest with you. I don't even really want to talk about it. Doesn't do us any good. This team has to form its own identity and get out there and play."
The result might've been no different had the Pokes had Smart on the court. Texas (19-5, 8-3 Big 12) came out firing and stayed hot throughout, draining 11 3-pointers on the night and leading by as much as 29 at one point.
This one fell apart quickly on Oklahoma State, (16-8, 4-7), which gave up 54 first-half points to a team that had scored a total of 57 and 59 in its previous two games and was missing its top scorer,
Jonathan Holmes
, to a knee injury.
Going in, Oklahoma State liked its defensive plan in theory. Open up in the zone, defend
Cameron Ridley
,
Connor Lammert
and
Prince Ibeh
inside and dare Texas to make tough shots from long range.
The result: The Longhorns ran off to leads as big as 36-14, 49-25 and 54-28 en route to a season-best half.
Javan Felix
answered the challenge, dropping 17 of his game-high 27 in the first half and hitting a career-high six 3-pointers.
"Give Texas credit. They're a team that's last in the Big 12 in 3-pointers made and they go out and make 11 threes," Ford said. "So they played well, they made shots, they did a great job moving the ball."
Ford liked how his team responded in the second half, with more physical defense and better aggression on both ends, but there was no chipping away at a 21-point halftime deficit.
"We just waited until the second half to start playing how we know how to play," OSU center
Kamari Murphy
said. "It was too late by then."
In three weeks, Oklahoma State has gone from No. 9 in the nation to unranked and eighth place in the Big 12, a staggering slide that got worse Saturday when Smart shoved Texas Tech fan Jeff Orr at the end of a 65-61 loss in Lubbock and received a three-game ban as punishment.
"There was no way I would've thought we would've won the game the way we did. They've got a good team and it's a tough situation for them," Texas coach Rick Barnes said. "I really feel for Travis and their team. This is a team that, you talk about Murphy's Law, what can go wrong has. But there's still a lot of basketball left to play."
Ford isn't making excuses, but the days following that incident haven't been easy. The Cowboys didn't practice on Sunday and arrived in Austin late on Monday after a flight delay. They got in just one practice, around 6 p.m. Monday, to prepare for their stint without Smart.
Add up the loss of Smart, starting center
Michael Cobbins
(ruptured Achilles) and guard Stevie Clark, who was dismissed from the program last week, and you're left with a brutally thin team in need of help.
OSU had no bench players averaging more than 1 point per game available on Tuesday, and just six players who averaged more than 5 minutes per game in Big 12 play.
"I hope we will be better Saturday as far as comfortability," Ford said. "We had guys out there who hadn't played very much."
Added Murphy: "We knew that we would have to get extreme effort from other players that we aren't used to."
And now Oklahoma State is staring down a fate the program can't get used to: Missing the NCAA tournament for a third time in four years. The road ahead doesn't look any easier and it starts with a meeting with rival Oklahoma on Saturday.
"We're going through a tough time right now," Murphy said. "I think everybody in the locker room still has their head in winning. We're not down, not blaming nobody else, not making excuses. We just have to find some way on the team, somewhere in our heart, to win a game."
The question after Tuesday isn't really, "Where is Marcus?" No, the better question is: Who are these Cowboys without him? They received a brutal and honest answer on Tuesday.
August, 21, 2013
8/21/13
5:00
AM ET
1. The easy thing to do is pile on Texas and coach Rick Barnes for
Ioannis Papapetrou
's decision to
sign with Olympiacos BC
, a professional team in his native Greece. This departure is completely different than the decisions made by
Jaylen Bond
,
Julien Lewis
and
Sheldon McClellan
. Papapetrou got a multi-year, multi-million-dollar deal. He was already in Greece, ripe to be convinced to stay. From all accounts, Papapetrou was happy with his situation in Austin -- and the Longhorns loved having him. This was not a planned departure, nor one that was pushed by the Texas staff. And that's why it stings more than the traditional transfers or
Myck Kabongo
's decision to leave early for the NBA draft. Texas needed a player who could produce, was experienced and wanted to be there. Losing someone like Papapetrou -- the top returning scorer once those players above bolted -- in late August is a crushing blow because he cannot be replaced. This puts even more pressure on returnees
Javan Felix
,
Jonathan Holmes
and
Demarcus Holland
to not only lead, but also to score and defend at a higher clip to avoid a second consecutive losing season.
2. Baylor senior guard
Brady Heslip
made the 14-man Canadian national team that will compete in the Continental Cup in Puerto Rico as a precursor to the FIBA Americas tournament in Venezuela. Heslip was the only collegian who made the team. Contacted late Tuesday, Heslip was obviously thrilled. So, too, was Baylor coach Scott Drew. If Heslip returns from these tournaments as a stronger shooter, defender and all-around player, the Bears will benefit greatly. Baylor is/should be a top-three team in the Big 12, behind Kansas and Oklahoma State. The Bears have the bigs with
Isaiah Austin
and
Cory Jefferson
but are green at the point. If Heslip can produce and create an inside-outside threat again, Baylor will be a real contender.
3. The NCAA can't have it both ways on preseason scrimmages. If the NCAA wants these scrimmages to be played, but not seen or heard from by the media or the public, then they can't be deemed some sort of official competition. Yet Old Dominion's
Donte Hill
has been ruled ineligible for what would have been his final season because he played in a scrimmage before transferring from Clemson to ODU. He played as a freshman at Clemson and then the past two years at ODU, redshirting the season in between. Hill's appeal was denied. He should try again and again. And if he's rejected, then these scrimmages -- especially the ones between two schools that travel to a neutral site to play -- need to be viewed as real exhibition games with countable stats, media and an opportunity for fans to watch.
May, 28, 2013
5/28/13
10:00
AM ET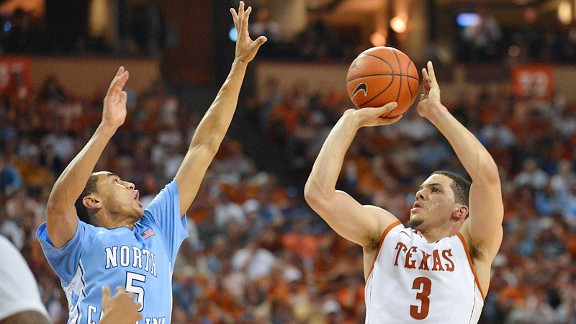 Brendan Maloney/USA TODAY SportsThrust into a leadership role as a freshman, Javan Felix will carry a bigger load for Texas next season.
In five months, the 2013-14 college basketball season will begin.
It's always tough to make projections in the weeks following any season. But the dust has settled.
The following list highlights sophomores who will be asked to carry more weight next season. Some of these young men might have to carry an entire team.
May, 15, 2013
5/15/13
5:00
AM ET
1. Texas lost 18 games last season. The Longhorns won seven in the Big 12 and were shut out of the NCAA tournament for the first time since head coach Rick Barnes arrived in 1998.
Sheldon McClellan
and
Julien Lewis
were third and fourth, respectively, on the team last season in turnovers with a combined 112 and are both transferring. Jaylen Bond, who battled a foot problem for most of the season, also left. According to a source, the decisions weren't solely the players'. Should Texas be worried that these three, as well as NBA-draft-bound guard
Myck Kabongo
(23-game amateurism suspension), are out of the program? If last season's freshmen class is on board with the way Barnes wants to play, the answer is no.
Ioannis Papapetrou
,
Javan Felix
,
Connor Lammert
,
Demarcus Holland
,
Prince Ibeh
and
Jonathan Holmes
will be the core of next season's team. Holland clearly likes the idea of what remains in Austin. He
tweeted
after a workout on April 30: "Honestly never loved a team like I do now. Feels great when you can get it in, say family on three, and really feel like brothers. #Horns.'' At the time, Bond, McClellan and Kabongo were all gone. Barnes told his staff that he wants to get back to the teams he has had in the past, with players who will play with toughness and display the passion for winning. According to someone close to the program, despite the defections, the staff has looked at this spring as one of its best in terms of player development. The Longhorns also brought in four newcomers for next season. Texas will be picked in the lower half of the league, below Kansas, Oklahoma State, Baylor, Iowa State and Kansas State. The onus is on this crew, led by someone like Holland, to propel Texas back to its rightful place in the Big 12, in competition behind Kansas. If these departures are addition by subtraction, Barnes will know early on. If not, next season could seem like a dog year.
2. Michigan State athletic director Mark Hollis said there were logistical issues that could not be worked out for the proposed Dec. 7 game against Gonzaga in Spokane, Wash., to honor former Spartans coach and Spokane resident Jud Heathcote. So the game is off -- along with the proposed undercard of Washington State versus Montana. Wazzu coach Ken Bone said Idaho had been willing to move a date for the Cougars, but now that is unnecessary. Meanwhile, an SEC official said the league didn't have criteria for not including Georgia, LSU, Arkansas and Tennessee in the inaugural SEC/Big 12 Challenge. Scheduling conflicts and the need to balance the series were why those four schools were omitted in a challenge between a 14-team SEC and a 10-team Big 12. Still, organizers probably could have tried to get star-laden Oklahoma State a higher-profile game than hosting rebuilding South Carolina.
3. Gonzaga coach Mark Few said being away from his family was the reason he is stepping aside from coaching the U.S. under-19 team with Florida's Billy Donovan and Virginia Commonwealth's Shaka Smart in the world championships June 27-July 7 in Prague. Along with the practice sessions, it becomes nearly a month's commitment. The three coaches won gold a year ago in Brazil with the under-18 squad. Virginia coach Tony Bennett will take Few's spot on the staff. In an event taking place July 6-17 in Kazan, Russia, Davidson's Bob McKillop, Michigan's John Beilein and South Carolina's Frank Martin will coach the U.S. team at the World University Games. Meanwhile, Iowa State's
Melvin Ejim
is diversifying his international basketball career. Cyclones coach Fred Hoiberg said Ejim will play for Canada this summer after playing for Nigeria a year ago. Hoiberg said Ejim has dual citizenship from the two nations.
January, 19, 2013
1/19/13
4:39
PM ET
AUSTIN, Texas -- A few quick thoughts from Kansas'
64-59
rally at Texas …


Overview:
Kansas has rarely been tested this season. And when the Jayhawks have been, much more often than not they have proven to be up to the challenge. Saturday presented another of those challenges as No. 4 Kansas had to rally from 10-points down in the second half to beat lowly Texas at the Frank Erwin Center.
Kansas' win streak has been extended to 15. The Jayhawks are atop the Big 12 with a 3-0 record and are 16-1. Texas (8-9) has started the Big 12 with four straight conference losses for the first time in Rick Barnes' 15 seasons.
Turning point:
For most of the game
Naadir Tharpe
remained silent. But he picked the right time to make some noise. The sophomore guard hit a crucial 3-pointer to pull Kansas within one, 53-52 with 4:35 left in the game. Feeding off that emotion, Kansas picked it up on the defensive end as
Jeff Withey
swatted away
Javan Felix
's next attempt. That led to a dunk by
Ben McLemore
and to a lead for the Jayhawks. Texas briefly regained that lead, but KU proved to have too much momentum and talent down the stretch.
Kansas key player:
As he has done almost all season (save for the Michigan State game) McLemore provided a consistent scoring punch for the Jayhawks. The freshman, who is on pace to become to the highest scoring KU freshman, had 16 points. He averages 16.4 points per game.
Texas key player:
When the Longhorns got on a roll, it was largely because of
Jonathan Holmes
. The sophomore forward was saddled with two early fouls, but he came back in the second half to key an 11-0 run. In that run, Holmes had seven points and created a steal that led to another Texas bucket. Holmes fouled out with 2 minutes to go and finished with 10 points.
Noteworthy number:
Kansas did not climb to better than 40 percent shooting until there was 1:15 remaining in the game. The Jayhawks shot 28 percent in the first half. That's two straight games now for KU that the shooting percentage has been questionable. The Jayhawks shot 38 percent in a win against Baylor.
Etc...:
Kansas game into the game leading the Big 12 in scoring margin at 17.4 per game. The Jayhaws didn't take more than a two-possession lead against Texas until there was 1:16 remaining.
Next up:
The biggest game of the Big 12 season is next for Kansas. The Jayhawks, who have won 15 straight, will head to No. 16 Kansas State on Tuesday. Texas, 0-4 in the conference, will be at Oklahoma on Monday.
January, 7, 2013
1/07/13
12:52
PM ET
Player of the Weekend – Trey Burke, Michigan

Burke scored 19 points to go with a career-high 12 assists in the
Wolverines'
95-67 win over
Iowa
. He became the first Big Ten player with 12 assists and one turnover or fewer in a conference game since Drew Neitzel in 2006. Over the past seven seasons, the only other players with 19 points, 12 assists and one turnover or fewer in a conference game were Kendall Marshall and Acie Law IV.
Scorer of the Weekend – Kelly Olynyk, Gonzaga

Olynyk scored a career-high 33 points to go with 10 rebounds in
Gonzaga's
81-74 win at
Santa Clara
. He became the first Gonzaga player to reach both of those totals in a game since Ronny Turiaf in 2004. Coming off a redshirt season, Olynyk has been a breakout player for the Bulldogs, scoring in double figures in 12 of his 13 games. Olynyk went 12-for-15 from the field in this one, and currently ranks third in the nation with a 67.5 field goal percentage.
Stat Sheet Stuffer – D.J. Cooper, Ohio

Cooper handed out a career-high 17 assists in
Ohio's
94-57 win over
Marshall
on Saturday. He also added 12 points, six rebounds and four steals. Cooper joins Courtney Pigram (2007) as the only players to reach those totals in a game in the past 15 seasons. Cooper now has 811 career assists, which puts him on track for a top-10 all-time total.
Matthew Dellavedova
(645) is the only other active player with 600.
Strange Stat Line – Quinn Cook, Duke

Cook went scoreless on 0-for-11 shooting from the field, but managed 14 assists in
Duke's
80-62 win over
Wake Forest
. The last player with more assists in a scoreless game was
Charlotte's
DiJuan Harris (15) in 2009. Cook came two assists shy of Bobby Hurley's school record. But he also became the first Blue Devil to go 0-for-11 or worse from the field since Dahntay Jones in 2003.
Bench Player of the Weekend – Rion Brown, Miami (FL)

Brown scored a career-high 22 points off the bench in
Miami's
62-49 win at
Georgia Tech
. That's more than he'd scored in the previous four games combined. It's the most points for a Hurricane off the bench against a Division I opponent since Marcus Barnes had 24 against
Connecticut
in 2001.
Freshman of the Weekend – Javan Felix, Texas

The
Longhorns
came up short in overtime against
Baylor
, but that shouldn't diminish Felix's performance. He finished with 26 points, nine assists and only one turnover. The last freshman to do that in a game was Chris Paul in 2004.
January, 4, 2013
1/04/13
9:00
AM ET
As conference play begins this week, it has become pretty obvious that Kansas is best team in the Big 12. Again.
But who comes next?
Baylor, Oklahoma State, Kansas State and Iowa State all have solid squads with somewhat similar resumes. Ranking those four schools -- and the rest of the league -- isn't easy, but here's how I see things as we near the season's midway point.

1. Kansas.
While most other schools open Big 12 play this week, the Jayhawks will host a Temple squad on Sunday that defeated previously unbeaten Syracuse last month. Point guards
Elijah Johnson
and
Naadir Tharpe
combine to average 8.1 assists.
2. Oklahoma State.
The Cowboys appeared to have Gonzaga beaten on New Year's Eve in Stillwater before the Zags battled back for a 69-68 victory. Still, the Cowboys -- who got 23 points from
Marcus Smart
-- should be encouraged by their gutsy performance.
3. Baylor.
The Bears have looked much better their past two outings, drubbing BYU at home before falling by seven points against a very strong Gonzaga squad in Spokane, Wash. They can't afford to lose home games against lesser foes. That includes Texas, which visits Waco on Saturday still without point guard Myck Kabongo.
4. Iowa State.
The Cyclones are off until their Big 12 opener at Kansas on Jan. 9.
Will Clyburn
and
Tyrus McGee
are averaging a combined 27.5 points.
Melvin Ejim
leads the team with 9.2 rebounds. It's not absurd to say that Iowa State could finish as high as second in this league.
5. Kansas State.
The Wildcats are playing hard for their new coach, Bruce Weber. But it's not always pretty. K-State has looked mediocre since it defeated Florida Dec. 22 in Kansas City. Weber's squad is good defensively while ranking 21st in the country in rebounds per game. But K-State has trouble scoring.
6. Texas.
Freshman point guard
Javan Felix
hasn't been all that bad in replacement of suspended sophomore Kabongo. Felix averages 6.5 assists. The Longhorns (8-5) have some serious work to do in conference play if they hope to keep their streak of 14 consecutive NCAA appearances alive.
7. Oklahoma.
The Sooners are good enough to sneak up and beat anyone in this conference. But to contend for a postseason berth, Oklahoma needs to win some games on the road. It all starts Saturday with a tilt against West Virginia in Morgantown.
8. West Virginia.
The Big 12's most disappointing team can't afford to lose Saturday's home game against Oklahoma. Transfers
Juwan Staten
and
Aaric Murray
combine to average only 21.8 points.
9. Texas Tech.
The Red Raiders will hit the road for the first time this season for Saturday's game against TCU in Fort Worth. Texas Tech (7-4) is getting 15.2 points per game from
Jaye Crockett
.
10. TCU.
Saturday's home game against Texas Tech may be the best chance TCU will have at a conference win all season. Sophomore guard
Kyan Anderson
has been the Horned Frogs' steadiest player, with 13 points per game.
December, 20, 2012
12/20/12
1:01
AM ET
AUSTIN, Texas -- Texas suffered its biggest loss of the season on the night it pulled off its biggest win.
Prior to the Longhorns'
85-67 victory
over No. 23 North Carolina at the Frank Erwin Center, point guard
Myck Kabongo
was ruled ineligible for the season by the NCAA, barring an appeal, according to sources from within the Texas athletics department. The story was first reported by Yahoo! Sports on Wednesday night.
The loss of Kabongo put a serious dent in this young Texas team's chances of making a 16th consecutive NCAA tournament. But the win against the Tar Heels at least gives the 7-4 Longhorns some hope.
Playing with a true freshman point guard in
Javan Felix
and only freshmen and sophomores on the court, UT played the role of the aggressor, pushed the more talented and savvy Heels around, built a big lead and -- for the first time this season -- didn't crumble.
"There is process that every student-athlete goes through, and I can only tell you that process is not done. We are in the middle of that process," said Texas coach Rick Barnes of the Kabongo situation. "Every student-athlete is entitled to a process if something comes up, and that process is ongoing."
Kabongo has been under investigation for impermissible benefits concerning a workout that involved agent Rich Paul. According to sources, the penalty was so severe because Kabongo had been less than straightforward when the NCAA initially questioned him.
While Barnes refused to take further questions on Kabongo, North Carolina coach Roy Williams now has plenty of them about his team.
"It was like comedy of errors, except it wasn't very blankety-blank funny," Williams said.
The Tar Heels' defense refused to extend in the first half and allowed Texas to build a 19-point lead. That lead was aided by two straight surprising 3-pointers from Texas forward
Jonathan Holmes
. The sophomore had made only three shots from beyond the arc in his 10 previous games.
[+] Enlarge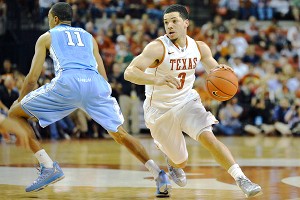 Brendan Maloney/USA TODAY SportsFreshman point guard Javan Felix effectively piloted Texas, scoring 8 points with 8 assists.
"We backed off him," Williams said.
And North Carolina continued to back down for most of the night.
"They did a better job of pushing the pace and getting us back on our heels," Williams said. "It seems like they got every loose ball."
There were plenty of those to go around, as Carolina turned it over 18 times. Texas, typically not a solid transition team, scored 14 points off those turnovers.
"Coming into the game, coach Barnes preached to us to getting the ball out and getting back in transition, and that was our game plan along with rebounding -- and that was what we tried to do," Felix said.
"They outran a running team," is how Williams put it.
In fact, Texas struggled only when it went into half-court sets. Starting the second half, North Carolina started to value the basketball more and made more of an effort to keep the Texas offense in front of it. That, coupled with the aggressiveness of
James Michael McAdoo
(14 points, 9 rebounds) and
Reggie Bullock
(a career-high 13 rebounds), allowed UNC to cut the lead to four.
Given that Texas has been a team that has struggled down the stretch -- the Longhorns were outscored 13-2 down the stretch in a 65-63 loss to UCLA -- it appeared as if the tide had started to turn.
Until, that is, North Carolina neglected to communicate on defense and allowed
Cameron Ridley
to throw down an uncontested dunk to push the lead back to seven with 6 minutes, 35 seconds remaining.
"We were aggressive and moved the ball pretty well, and some guys knocked some shots down," Barnes said. "But this was a game we thought would be won in transition and on the boards."
Texas didn't win on the boards in the box score (North Carolina had 43 to the Horns' 40). But UT did win in second-chance points with 18, and in fast-break points with 14.
"We have had a couple of tough losses because we had not played as hard as we should," said Holmes, who finished with 15 points and 8 boards. "[Wednesday night], we came out and did what we had to do. We definitely set the bar high for the rest of the season."
Regardless of who might be with Texas for the rest of the season.
--HornsNation writer Max Olson contributed to this report
October, 11, 2012
10/11/12
12:13
PM ET
AUSTIN, Texas -- All of this could have been avoided.
Myck Kabongo
could be taking part in his first NBA training camp right now and not be the subject of an
NCAA investigation into his relationship with a professional agent
, which Yahoo! Sports first reported late Wednesday night.
But the Longhorns sophomore point guard didn't want his last game in a Texas uniform to be a 65-59 loss to Cincinnati in the first round of the NCAA tournament. He wanted his legacy in Austin to be much more memorable than that and figured he could make that happen with at least one more season as a Longhorn.
[+] Enlarge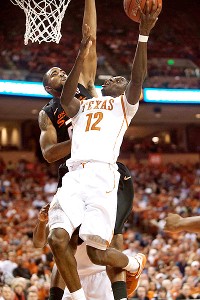 Brendan Maloney/US PresswireAs a freshman, Myck Kabongo averaged 9.6 points per game last season for the Longhorns.
"Personally for me I didn't want to go out without winning," Kabongo said recently. "This program deserves to win. They've done everything possible from a Sweet 16, Elite 8, Final Four. They just haven't gotten to that big stage yet. I just think with the big pieces that we have coming back we could do that."
The Big 12's head coaches reminded everyone last week of the expectations he brings with him into the season by naming him to the Preseason All-Big 12 Team. But if the findings in the NCAA investigation cause him to miss time this season, those expectations could be tempered a bit.
Kabongo, a 2011-12 All-Big 12 honorable mention, started all 34 games last season as a true freshman. A pass-first point guard, he finished fourth in the league in assists per game (5.2), second on the team in steals (38) and third on the team in scoring (9.8 ppg).
He was expected to be the face of a program whose roster features just two seniors (both walk-ons) and no juniors. He is up to 180 pounds after adding 10 pounds of muscle this summer, and said he felt much better about being able to handle the rigors of an NCAA season.
"I thought I could use another year of college to get stronger," he said. "Talent-wise I think I was ready to go. But physically and mentally it was a good thing for me to come back, get bigger and stronger, and build a bond with my teammates."