College Basketball Nation:

Jay Bilas
February, 13, 2014
Feb 13
12:30
PM ET
By
ESPN.com staff
| ESPN.com

In his weekly report, Jay Bilas takes a look at some of the best performances in the last week of college basketball, as well as the current state of the race for the Wooden Award.
May, 30, 2013
5/30/13
12:00
PM ET
By
ESPN.com staff
| ESPN.com
ESPN college basketball analyst
Jay Bilas shares his thoughts

on the latest controversy at Rutgers, the conduct of coaches, why athletes have changed, and more.
February, 19, 2013
2/19/13
8:40
AM ET
By
ESPN.com staff
| ESPN.com
ESPN CBB analyst Jay Bilas
dishes on the mistakes that the NCAA made

in its investigation of Nevin Shapiro and Miami, Mark Emmert's future and more.
December, 28, 2012
12/28/12
11:05
AM ET
Editor's note: Each Friday morning, Jay Bilas will break down the weekend's top game. This week it's the commonwealth showdown between Kentucky (8-3) and Louisville (11-1) at 4 p.m. ET on Saturday.
Kentucky outlook
: Kentucky is perhaps the most overanalyzed team in the country. Most coaches, if they had nothing but freshmen and first-year players, would be pleased with an 8-3 record and a team that has a positive assist-turnover ratio, is shooting 49 percent from the field and outrebounding its opponents.
[+] Enlarge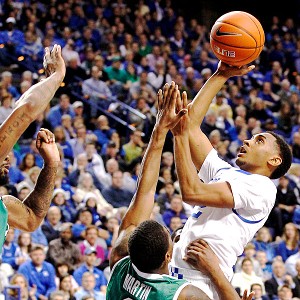 ZUMA Press/Icon SMIMuch of Kentucky's success depends on the play of point guard Ryan Harrow.
Not Kentucky.
Although the Wildcats are rated in the top 10 in defensive efficiency and in the top 30 in offensive efficiency, John Calipari is not happy because UK has been inconsistent and, at times, rudderless in difficult situations. Still, this team is good and getting better.
On the offensive end, much depends upon the point guard position. When
Ryan Harrow
is in control and plays in a mentally tough fashion, others are freed up to do what they do best without concern. When Harrow is scattered, it affects everyone.
Archie Goodwin
is the best scorer;
Alex Poythress
is the best wing offensive rebounder and most ferocious in attacking the rim; and
Nerlens Noel
is the best interior offensive rebounder and shot-blocker and is most active on both ends.
Kentucky does not have many perimeter threats, with only
Julius Mays
(16) and
Kyle Wiltjer
(26) hitting more than seven 3-point field goals on the season. Louisville has four players who have hit 15 or more 3s.
One issue that has plagued the Wildcats is that they don't get to the free throw line enough, which means they settle too often. On the defensive end, Kentucky plays hard and can block shots. For the most part, the Cats have limited their lesser opponents to one shot, but there have been times when Kentucky has been beaten up on the offensive glass.
The best defense against Louisville is solid offense by Kentucky. If the Wildcats can take care of the ball and force UL to inbound it (by scoring, or at least giving it back to the Cardinals with a dead-ball turnover), Kentucky can be in a position to win. If they turn it over and allow UL to score in advantageous situations, it will be advantage Louisville.
Louisville outlook
: The Cardinals are all about defense and the ability to disrupt an opponent's offensive rhythm and take the other team completely out of its normal pace. Coaches talk all the time about simulating an opponent in practice. There is no way to simulate the quickness of UL's guards, which is one of the keys to the Cards being the best defensive team in the nation.
Peyton Siva
(2.3 steals per game) and
Russ Smith
(2.8 spg) are incredibly quick and fast, both with the ball and on defense. Louisville leads the nation in turnover margin, forcing over 21 miscues per game, 12 of those being steals, and scoring 35 percent of its total points -- or 27 points per game -- off its defense.
Louisville also leads the nation in turnover percentage, forcing even more turnovers than VCU's vaunted "havoc" defense. The Cardinals will press full-court, limiting the touches of primary handlers and making non-handlers bring it up and have to make decisions they're not accustomed to making.
[+] Enlarge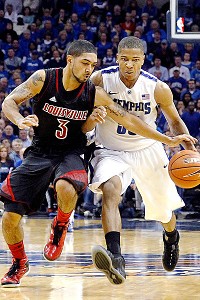 AP Photo/Lance MurpheyPeyton Siva's speed is one of the reasons Louisville has one of the best defenses in the nation.
Rick Pitino also makes use of a confusing and tough half-court matchup zone defense that takes away many of the man-offensive sets most teams run and forces them to run zone offense. Kentucky has been a team that hasn't shot the ball well from the perimeter (neither team shoots the ball particularly well from deep). Louisville's defense will test that as well as the Wildcats' ability to drive gaps and get the ball in the middle of the defense and make a play.
On the offensive end, Louisville has weapons and depth, but the Cardinals are not a great shooting team. If you can limit Louisville in two areas -- turnovers and offensive rebounds -- you have a shot to win. The Cards generate a lot of offense off opponents' miscues and second shots.
Kentucky's go-to player
: Archie Goodwin
The super-athletic wing leads the Wildcats in scoring and free throws made and attempted. Goodwin is terrific in the open floor and has a knack for scoring. He averages 16 points, 5.5 rebounds, 4.2 assists and a steal per game and has the ability to be the best player on the floor. If he is in attack mode and is able to get into gaps and be strong with the ball, Goodwin can have a big game.
Louisville's go-to player
: Russ Smith
The ultra-quick shot-maker has required a lot of shots lately. He's averaging almost 20 points per game (the best average for a Cardinal since Reece Gaines) but in his last three games, Smith has made 13 of his last 37 attempts from the floor and just 4 of his last 19 from deep. A key with Smith is keeping him out of the lane and keeping him off the free throw line. Over the last three games, Smith has shot 25 free throws, making 23. Smith had 30 points in the first meeting between Kentucky and Louisville last year, but UK limited him to 4-of-15 shooting in their Final Four matchup. He can impact the game on both ends of the floor and requires a dedicated defender that does not leave him.
Kentucky's X factor
: Ryan Harrow
It has become almost cliched to put UK's troubles on the shoulders of Harrow and blame him for the Wildcats' shortcomings. When he plays strong, Kentucky can be very good; when he does not, the Wildcats are less than their talent suggests they should be. Harrow is in a good place right now, coming off of a 23-point game against Marshall. Against Louisville, Harrow will face two outstanding defensive guards in Siva and Smith, both of whom will be out to test him at every turn. Louisville's pressure is like consistent body shots in a boxing match. It is cumulative and wears you down, paying dividends in the latter stages of the game. How Harrow handles the pressure will be a big factor in the outcome of this game.
Louisville X factor
:
Gorgui Dieng
Talk about a true X factor. Pitino has said he'll play, but we don't know how effective he can be. The big man has been out of the lineup since the Cardinals played in the Battle for Atlantis in late November. He was averaging 8.2 points, 8 rebounds and 2 blocks per game. Last year, Dieng blocked 10 shots in two games versus the Wildcats and can be a threatening interior presence against the likes of Noel and Poythress around the goal. With him, Louisville is formidable in the middle; without him, Kentucky will be more aggressive attacking the rim.
Key stats
: Points off turnovers and offensive rebounds
In many respects, basketball is about generating easy baskets, and Louisville is a good example of that. Against good teams, no coach is going to diagram anything to "outsmart" or "fool" the other guy. It rarely happens like that, because good teams are usually very well-prepared. In order to generate "easy baskets" you have to do really difficult and tough things, like defend intelligently and patiently, get loose balls and generate second opportunities on the offensive glass. For Kentucky to win, the Cats cannot simply expect to outshoot or outscore the Cardinals. Kentucky has to starve the Louisville offense by limiting its easy transition baskets, opportunistic 3s in transition and offensive rebounds, while at the same time generating some of its own.
Who wins
: For the first time in several years, Louisville is the better team. If Dieng is able to provide meaningful minutes, the Cardinals win. I'll go 67-62, Louisville.
July, 27, 2012
7/27/12
9:48
AM ET
By
ESPN.com staff
| ESPN.com


Louisville head coach Rick Pitino sits down with Andy Katz to talk about the massive changes in the Big East and one more he would like to see for the future: Jay Bilas as conference commissioner.

Tune in Friday night at 11 and 11:30 p.m. ET as a dozen more coaches join Katz Korner on ESPNU. The lineup: Bill Self (Kansas), Rick Barnes (Texas), Dave Rose (BYU), Rick Ray (Mississippi State), Richard Pitino (FIU), Scott Drew (Baylor), Jay Wright (Villanova), Billy Donovan (Florida), Johnny Jones (LSU), Brad Brownell (Clemson), Frank Martin (South Carolina) and Cuonzo Martin (Tennessee).
May, 28, 2010
5/28/10
3:30
PM ET
By
Diamond Leung
| ESPN.com
Jay Bilas
dismissed the idea last week

that playing in an opening-round game in the NCAA tournament could be a "stigma" to the team and conference involved.
But the
Washington Post's Eric Prisbell
uses "stigma" again in describing the tournament's play-in games and points out that three more opening-round matches could be added to the new 68-team format.
And according to the report, coaches who have gone through the round before are concerned.
"They can say what they want, that it is not a play-in game, and they can count the win, which they did, but the perception is that it's a play-in game," (Oakland coach Greg) Kampe said. "The perception is that if you're in that game, you really don't belong in the tournament, you're not in. Even when you win it, you had to win the play-in game to get in."
Morehead State Coach Donnie Tyndall recalled meeting with staff before the tournament selection show to plan how to accentuate the positives if his team was placed in the 2009 opening-round game. Once Morehead State earned the berth, Tyndall saw some disappointment on the faces of players, so he gathered them and said he sort of "brainwashed" them, telling them they get to be on national TV and play before a strong fan contingent. Tyndall attributed the victory in part to the positive attitude.
December, 30, 2009
12/30/09
4:17
PM ET
Plenty of good linkage today. Still no good name. New Year's resolution: Name the afternoon linkage post something better than "afternoon linkage." Anyway, right to it:
December, 22, 2009
12/22/09
5:53
PM ET
Late December is usually a weird part of the college hoops season. Most schools' students are on break, and a lot of times programs use that opportunity to schedule a few cupcake games before the conference season begins in January. And understandably so.
But not tonight.
Tonight features
No. 9 Michigan State at No. 2 Texas followed by California (who, after a slow start, could sneak back into the top 25 soon) at No. 1 Kansas. Tonight tops
that
delicious feast of hoops with a thick gravy dollop of watchable games like Bucknell at Notre Dame, Cleveland State at No. 15 Ohio State, and No. 16 Butler at UAB. Yes, tonight is decidedly awesome.
To the links, then, shall we?