College Basketball Nation:

JayVaughn Pinkston
March, 22, 2013
3/22/13
9:30
PM ET
KANSAS CITY, Mo. --
P.J. Hairston
scored 23 points and
James Michael McAdoo
added 17 to propel North Carolina to a
78-71 victory
over Villanova in the second round of the NCAA tournament at the Sprint Center. Friday's victory marked the 700th career win for Tar Heels coach Roy Williams, whose team advances to play either Kansas or Western Kentucky on Sunday for a berth in the Sweet 16.


North Carolina led by as many as 20 points in the first half, but let Villanova back into the game. The Wildcats took a 45-44 lead on a foul shot by
JayVaughn Pinkston
with 13:40 remaining, but
Reggie Bullock
responded with a 3-pointer on North Carolina's next possession. UNC would never trail again.
It took awhile for North Carolina to close out the game.
Villanova shaved the Tar Heels' lead to 54-50 on a layup by
Mouphtaou Yarou
with 8:31 left, but Hairston responded with a 3-pointer on the other end. Wildcats forward
Darrun Hilliard
countered with a basket to make it 57-52, but another 3-pointer by Bullock extended UNC's lead to 60-52.
Still, Villanova refused to go away. With 2:14 left, Pinkston pulled the Wildcats within a point, 67-66. A 3-pointer from
Marcus Paige
gave UNC a 70-66 advantage before Yarou struck back with a layup to make it a two-point game.
North Carolina refused to fold, however. The Tar Heels made their final seven field goal attempts en route to the victory.
Bullock added 15 points for the Tar Heels. Pinkston scored a team-high 20 for Villanova.
Turning point:
UNC jumped out to a 72-68 lead on a pair of foul shots by Paige with 1:36 left. Villanova then missed its next three field goal attempts, and eventually the Tar Heels made the Wildcats pay. Hairston split a pair of free throws and then scored on a traditional three-point play to make it 76-68 with 42 ticks remaining. Ballgame.
Key player:
North Carolina continues to get solid production from Hairston since the sophomore moved into the starting lineup. His 23 points came on 7-of-11 shooting, and he was 5-of-8 from 3-point range.
Key stat:
North Carolina won despite being out-rebounded 35-23.
Next:
North Carolina will play the Western Kentucky-Kansas winner Sunday. Williams coached at Kansas for 15 years before leaving after the 2002-03 season for North Carolina, his alma mater. He is 0-2 against Kansas, with both losses coming in the NCAA tournament.
March, 17, 2013
3/17/13
10:25
PM ET
We've had a few hours to analyze the bracket. So many tough calls to make. No need to waste time, though. Here are a few bold predictions for the 2013 installment of the NCAA tournament.
Kansas will not reach Atlanta -- The Jayhawks are certainly a No. 1 seed. I'm not sure they're the second overall No. 1 after Louisville, but they've earned that slot. Their path to Atlanta is not that imposing. But I have bad news for Kansas fans: Don't book those trips for the Final Four because the Jayhawks will not be there. I have the Jayhawks losing to a Georgetown team that will wear them down in the Elite Eight. But they could fall earlier to either VCU or Michigan. Florida might be the most complete team in the South Region, and they could give Kansas a fight, too. KU is hot right now. But at some point in the Big Dance, the Jayhawks will need their star, Ben McLemore, to shine in a big moment. And I'm not sure the redshirt freshman is ready for that. The bottom line is that KU's NCAA tourney experience will end prior to the festivities in the Peach State.

Big Ten national title drought will continue -- To date, the Big Ten has won the "best conference in America" argument. That league was a gauntlet in the regular season. Proof? Indiana, Ohio State, Wisconsin, Michigan, Illinois, Minnesota and Michigan State are all in the field. That's seven of 12 teams. The volume, however, puts more pressure on the league's participants to win their first national title since 2000. Won't happen. I think three or four Big Ten squads in the field could make a run to the Final Four. Indiana will probably be listed as the national champion in many brackets. The Hoosiers are certainly capable of that, but Louisville is so strong right now. Georgetown, Miami, Duke and Kansas are, too. The Atlantic 10's best are also tough. The Big Ten's physicality will prove beneficial when its members face squads from leagues that don't play that rugged style. But they're also going to encounter teams with more athleticism, speed and star power, too. The drought will continue.

[+] Enlarge

Don McPeak/USA TODAY SportsOle Miss' Marshall Henderson is a charismatic guard who isn't afraid to show his emotions.

Marshall Henderson's performance won't match his mouth -- In the days leading up to Ole Miss' opening-round matchup against Wisconsin, Rebels star Henderson will be the subject of TV packages, front-page stories and web columns. He's going to be who he is, and that's great for the media. I can't wait for the quotes and sound bites. Wisconsin will say little because that's just not the Badgers' style. Their "style" involves quieting critics and silencing playmakers. They're not only equipped to beat Ole Miss, they'll pressure Henderson (20.0 PPG) into one of the worst performances of his career. Henderson's theatrics will be the story as the matchup approaches, but don't believe the hype. That talk won't lead to much action against the Badgers.

Middle Tennessee will prove that it's the best team in Tennessee, reach Sweet 16 -- The Blue Raiders remind me of the VCU team that made a run to the Final Four in 2011. Their inclusion in the field of 68 has been questioned by some, mostly because of their conference (Sun Belt) and lack of big wins. But they'll be prepared for March Madness because they played one of the toughest nonconference slates in America (sixth in nonconference SOS, per Daily RPI on ESPN.com). The Blue Raiders are a veteran group that crashes the glass (30th in offensive rebounding rate, per Ken Pomeroy) and defends for 40 minutes (21st in adjusted defensive efficiency). I think MTSU will beat Saint Mary's in the First Four to set up a meeting with Memphis in the next round. Vandy and Tennessee missed the tournament and I think Belmont has a tough draw in Salt Lake City. So bragging rights will be on the line when the Tigers and Blue Raiders meet. And with wins over Saint Mary's, Memphis and the Michigan State/Valpo winner in the round of 32, the Blue Raiders will not only prove that they belong, they'll also earn "best in the state of Tennessee" honors and a trip to the Sweet 16.

Bill Self versus Roy Williams won't happen -- The second-round matchup possibility between North Carolina and Kansas is intriguing. Williams against his former team. Again. I'm sure TV execs are salivating over the possibility. But I think Villanova will spoil those blue-blood plans with a round of 64 win over the Tar Heels. The Wildcats have defeated better teams within the past month (Georgetown, Marquette). Plus, they have a 6-foot-7, 260-pound bruiser named JayVaughn Pinkston who could be a problem for North Carolina's small (quick) lineup. It's a great storyline, Williams versus Self, given the history. Too bad we won't see it.

The Pac-12 will go 0-5 in the first (second) round -- Immediately after the 68 teams were announced, the Twitterverse was filled with chatter about the Pac-12's seeding. Oregon's slot as a 12-seed, despite its second-place finish in the Pac-12 and a tourney title, was the most puzzling placement. The league can prove its worth with a strong showing in the NCAA tournament. But I think it'll do the opposite and struggle throughout its brief stay in March Madness. I could see the Pac-12 losing its five first-round matchups. Yep. Sounds crazy, I know. But Minnesota has the athleticism and strength inside to upset UCLA. I don't think Oregon is better than Oklahoma State. I think Anthony Bennett will lead UNLV to a win over Cal, even though the game will be played in San Jose. Illinois will get hot and torch Colorado. And Belmont is a tough mid-major that won't be intimidated in its upset over Arizona. That's an 0-5 tally for that league.

[+] Enlarge

Jerry Lai/USA TODAY SportsJohn Beilein, guard Trey Burke and the rest of the Wolverines will have their hands full in the South.

Michigan won't reach the Sweet 16 -- What a daunting path for the Wolverines. They open the NCAA tournament with a matchup against a dangerous South Dakota State squad that's led by NBA prospect Nate Wolters. And then they have to go against a VCU team (assuming the Rams beat Akron) that forces turnovers on 28.7 percent of its opponents' possessions (first in the nation, per Pomeroy). That's a rough path for the Wolverines. Trey Burke is a very talented athlete. And he's surrounded by young standouts. But that Michigan defense has been a concern all season. It's going to be magnified as the Wolverines struggle in the opening weekend.

Florida Gulf Coast will push Georgetown to the brink of an upset -- I'm not saying the Eagles will win the game. Save the emails. But they'll come close. I think the Eagles have the talent, including guard Sherwood Brown, to contend with the Hoyas in the first round. They've played some of the top teams in the country, so they won't be concerned with Georgetown's seeding or the NBA scouts tracking Otto Porter Jr. They have a win over Miami, too. Again, the Eagles won't win. Georgetown, however, should be very concerned about this game.

Indiana will win every game, prior to the Final Four, by double digits -- I think the Hoosiers are a Final Four team. I also think they deserved the second No. 1 seed. But they were rewarded with a favorable path, in my opinion, to the national championship. Miami, Syracuse and Marquette could be their toughest tests in the East Region. But I think the Hoosiers will have few problems with their opposition. They're talented enough to beat every team in the East Region by double digits. The Final Four will not be as easy, but I think Indiana will breeze through its region on its way to Atlanta.

We'll see multiple 40-point performances in the opening rounds -- We have so many players who are capable of just "going off" in the first two rounds. Doug McDermott, Wolters, James Southerland, Porter, Shane Larkin, Ryan Kelly, McLemore and more. Usually, the game slows down in the NCAA tournament because possessions are so precious. So teams are more cautious. But there's so much parity that star power could be the separator in the early matchups. Get your popcorn ready. I think we'll see multiple 40-point individual performances in the first weekend.
March, 14, 2013
3/14/13
9:28
PM ET
NEW YORK - A quick look at Louisville's
74-55 victory
Thursday over Villanova in the quarterfinals of the Big East tournament at Madison Square Garden:


What it means:
Louisville is heating up at the right time, and moving closer to securing a No. 1 seed in the NCAA tournament. Villanova exits in the quarterfinals, but should hear its name called on Selection Sunday nonetheless.
The No. 4-ranked Cardinals (27-5) have now won eight games in a row; the defending Big East tournament champs advance to the semifinals.
The Wildcats (20-13) still had a productive trip to New York, picking up their 20th victory of the season against St. John's in the second round. And Villanova's three wins against top-five opponents this season -- Georgetown, Syracuse and Louisville -- should put the Cats over the hump with the selection committee.
The turning point:
Villanova took an early 4-0 lead, but Louisville answered with a 15-2 run to take control of the game. The Wildcats closed the gap to 22-19 with 3:35 remaining in the half, on a
Tony Chennault
jumper. The Cardinals responded with eight consecutive points, including 3-pointers by
Russ Smith
and
Peyton Siva
, to take their largest lead to that point, 30-19. Louisville was up 30-21 at intermission.
The margin was still nine (36-27) when Louisville went on a 10-1 spurt to go up 46-28 with 12:36 to play. Smith scored eight of those 10 points, including two more 3-pointers. Yet another Smith triple pushed the lead to 20, 51-31, two minutes later, and the rout was on.
Star watch:
Smith, the second-leading scorer in the Big East this season (17.9 points per game), scored a game-high 28 -- 21 in the second half. Smith shot 7-for-12 from the field, 4-for-6 from beyond the arc and 10-for-11 from the foul line.
Luke Hancock
chipped in 12 points off the bench, and Siva added 10.
JayVaughn Pinkston
scored 21 points to lead Villanova.
Mouphtaou Yarou
had 13 points and 11 rebounds.
Number crunch:
Villanova committed 25 turnovers -- with 18 coming in the first half. Not a huge surprise, though, when you consider that the Cardinals were second in the nation in steals per game (10.7) and the Wildcats were 318th in Division I (out of 347) in turnovers per game (15.4).
Also, Louisville shot 10-for-24 from downtown in the game (41.7 percent). Villanova was just 2-for-12 (16.7 percent).
What's next:
Louisville, the No. 2 seed, will play No. 6 Notre Dame on Friday night at approximately 9:30 p.m.
Villanova heads home and starts prepping for the Big Dance.
March, 13, 2013
3/13/13
9:46
PM ET
NEW YORK -- A quick look at Villanova's
66-53 victory
Wednesday night over St. John's in the Big East tournament at Madison Square Garden:


What it means:
Villanova is headed to the Big East quarterfinals -- and the NCAA tournament. St. John's is headed to the NIT at best.
Villanova (20-12) might not have needed this win, but it should seal an at-large bid to the Big Dance. St. John's (16-15), which was an NCAA bubble team until late February, has now lost five games in a row and is 0-4 since the suspension of leading scorer D'Angelo Harrison.
The turning point:
You can divide the first half in two. Villanova jumped out to an 18-6 lead on a
JayVaughn Pinkston
layup with 9:37 remaining. But St. John's outscored the Wildcats 18-6 the rest of the half, capped off by a
Christian Jones
lay-in with 32 seconds left. The game was tied at 24 at intermission.
The game remained tight early in the second half. St. John's was still within five, 50-45 with just under seven minutes remaining, after five straight points by
Phil Greene
. But Villanova responded with seven consecutive points to match its largest lead, 57-45, and put the game away from there. The Red Storm played well defensively, but they just couldn't match the Wildcats at the other end.
Star watch:
Mouphtaou Yarou
had a big game for Villanova with 18 points, shooting 9-for-10 from the field. Freshman point guard
Ryan Arcidiacono
scored 15 points but committed eight turnovers. Pinkston had 12 points and nine rebounds.
Greene had 16 points to lead St. John's.
Jakarr Sampson
, named the Big East Rookie of the Year on Tuesday, had 13 points and nine rebounds but shot just 5-for-18 from the field.
Number crunch:
St. John's struggled in the shooting department without Harrison, yet again. The Red Storm were 21-for-59 from the field (35.6 percent), 2-for-11 from deep (18.2 percent) and 9-for-14 from the foul line (64.3 percent). They also uncharacteristically committed 17 turnovers.
What's next:
Villanova will play No. 2 seed Louisville on Thursday at 7 p.m.
St. John's goes home and waits to see if it gets invited to the NIT, CBI or CIT.
March, 6, 2013
3/06/13
9:10
PM ET
PHILADELPHIA -- A quick look at Villanova's
67-57
win over Georgetown.
Overview:
Opposite ends of the spectrum here. Villanova came into the game fighting for its tournament life, while Georgetown is trying to lock up a No. 1 seed and a Big East regular-season title.


Advantage: Villanova.
The Wildcats might finally be off the roller coaster and onto the bracket permanently. Strange résumé notwithstanding, they have three wins against top-5 teams -- Syracuse, Louisville and now Georgetown -- plus are 4-1 against Top 25 teams. That will be hard to discount, especially in a season when everyone's résumé has a blemish or two.
Count the Wildcats in.
The loss certainly doesn't destroy the Hoyas. They still have a big regular-season finale against Syracuse plus the Big East tournament to cement their seed and aren't done in the league race, either. They're now tied in the win-loss column with surging Louisville and Marquette.
Turning point:
This was taut and tight throughout, but the real crunch time came late. With Villanova up 56-52, Georgetown got three good looks at the basket, including an Otto Porter 3-pointer, but
Nate Lubick
couldn't hold on to the rebound.
JayVaughn Pinkston
sank two free throws on the ensuing possession and the Wildcats hung on for the win.
Key player:
JayVaughn Pinkston. The Wildcats sophomore scored 20 points, and on a night when his team threatened to lose the game at the free throw line, he helped to win it. Pinkston made 11 of 14 from the charity stripe.
Key stat:
23. That's how many turnovers Georgetown committed, not just a season high but a debacle. The Hoyas tossed the ball over and even if the Wildcats didn't score, they got the possession. Against Georgetown's tight defense, getting a mere chance to score is key.
Miscellaneous:
This marked the first time since the 1985 national championship run that Villanova hosted three top-5 teams in one season. ... Plenty of Georgetown fans will look at the foul disparity in this game and think, "Hmm..." The Hoyas were whistled for 26 personals to Villanova's 12.
Next game:
The Wildcats will wait to see whom and when they play in the Big East tournament, while Georgetown closes out the season and its rivalry with Syracuse on Saturday. The Hoyas host the Orange in the final regular-season Big East game between the two.
February, 27, 2012
2/27/12
10:00
AM ET
Syracuse put a bow on its nearly perfect Big East run, sewing up the conference's regular-season honors. But there's still much jockeying to be done in the final week -- for bubble positions and, more immediately, for seeding positions for the Big East tournament. The top four earn the double bye.
1. Syracuse:
The Orange clinched the regular-season crown with a win that might have been more impressive than the other 15. Syracuse needed to stave off UConn for a victory that made up in grit what it lacked in style points.

2. Marquette:
Not even the absence of four starters for a half could keep the Golden Eagles down or Buzz Williams from dancing. Marquette's rally from an 11-point halftime deficit at West Virginia proved this is a very good team.
3. Georgetown:
You almost had to feel for Villanova. The Hoyas went and got inexplicably clobbered by Seton Hall. Someone was going to pay. The Wildcats were the victim, sliced and diced by 21.
4. Notre Dame:
Nothing lasts forever, not even the Irish's luck. Notre Dame's nine-game streak ended at the hands of St. John's and an awful 4-of-31 performance from beyond the arc. The Irish need to fix that or their Big East tournament visit won't last long, either.
5. Louisville:
The Cardinals are among the teams pushing to grab that last top-seed position. To get it, they'll need to win two tough ones -- against equally hungry South Florida and at Syracuse.
6. South Florida:
The Bulls will be among the most watched teams all the way through Selection Sunday. South Florida is 11-5 in the league after beating Cincinnati but still needs a signature win. The Bulls have a chance at Louisville and then with a home game against fellow bubble resident West Virginia.
7. Cincinnati:
Most folks believe the Bearcats are in the Dance. But they certainly don't want to make it easy. Cincinnati scored 45 points against South Florida's defense and now has to finish up against Marquette and Villanova. A loss to the Wildcats isn't how Cincinnati wants to finish the season.
8. Seton Hall:
The Pirates giveth; the Pirates taketh away. A hugely impressive win against Georgetown proved why Seton Hall deserves NCAA consideration. A home overtime loss to Rutgers negated some of the good. How the Hall finishes will be critical.
9. Connecticut:
The Huskies showed more in defeat than they have all season, finally displaying some energy, hustle and feistiness in their loss to Syracuse. The question is: Was it too late? UConn absolutely cannot lose to Providence or Pitt to finish the season.
10. West Virginia:
Kevin Jones
might be the best player in the conference, but his team is trying to dull his star and keep him out of the NCAA tournament. The Mountaineers are fading, losing four of their past five. Jones struggled with foul trouble against Marquette, and no one picked up the slack.
11. St. John's:
Technically, Madison Square Garden is a home-court advantage for the Red Storm. The way this young team is playing, it just might take advantage of it.
Moe Harkless
and
D'Angelo Harrison
, perhaps as good a one-two punch as there is in the league, led St. John's to its upset of Notre Dame, its third win in a row.
12. Rutgers:
There's nothing like a win against your rival to cure what ails you. And we'll see whether that's the case for the Scarlet Knights, who ended a six-game skid by upsetting Seton Hall. Now it's up to Rutgers to use the momentum well against Villanova and St. John's.
13. Pittsburgh:
Saddled with injury and illness, the Panthers came up short on an upset bid against Louisville. That's five losses in a row, a streak the Panthers need to end to gain some confidence heading into New York.
14. Villanova:
Maalik Wayns
returned.
JayVaughn Pinkston
turned his ankle during pregame warm-ups. That about sums up the Wildcats' season, which is limping -- quite literally -- to a merciful finish.
15. Providence:
At this point of the season, the Friars are latching onto any good news: Blowing a 17-point lead yet still beating DePaul thanks to
Vincent Council
's late heroics qualifies.
16. DePaul:
The promise of a new beginning for the Blue Demons in the Big East has faded to the same result. DePaul will need to beat both West Virginia and Seton Hall to crawl out of their regular conference-basement seat for the Big East tournament.
January, 28, 2012
1/28/12
4:59
PM ET
PHILADELPHIA -- The game lasted 2 hours and 30 minutes.
Jay Wright was hit with a technical before halftime. Buzz Williams earned one, he says, for not saying a word. "I never got a 'T' for not saying anything. I guess you can get T's now for body language.''
Maalik Wayns
screeched a playground curse word that wouldn't earn a pre-teen a date with a bar of soap, racking up technical No. 3 of the day.
And not even Twitter can claim as many tweets per hour as Pat Driscoll, James Breeding and Tim Clougherty made on their whistles -- 45 in all.
After surviving all of that, not to mention a game that offered a rhythm only Elaine Benes could dance to,
Junior Cadougan
emerged from his locker room thoroughly nonplussed.
"Ah, this is nothing,'' the Marquette guard said. "You should see our practices.''
This was a game that only the winner could love, a Bataan Death March up and down the court to the free throw line 57 times.
Make no mistake. Marquette did indeed love it, loved it a bunch. The Golden Eagles claimed their sixth win in a row the hardest way possible, surviving not only the aforementioned but also a one-time 18-point deficit for the
82-78
win against Villanova.
The difference between spots No. 2 and No. 16 in the Big East (and perhaps even spot No. 1 if
Fab Melo
isn't cleared soon) is about as thin as a supermodel. Too many inexperienced teams, too few superstars have collided to make this one of the most unpredictable league seasons in recent memory.
The most talented team may not win the whole thing. The toughest very well could.
[+] Enlarge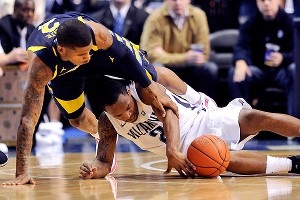 AP Photo/Michael PerezVander Blue and Marquette made things tough on Villanova's Maalik Wayns, the Big East's No. 2 scorer.
Right now Marquette, holding steady in second place, is making a bid to be that team. Buoyed by practices that Cadougan said almost always include scuffles, the Golden Eagles make up in attitude what they may sometimes lack in size.
"It's how we work. It's what we believe in,'' Williams said. "I don't say that to be arrogant, but you can't go on the road, playing against any team in this league and go through what we did and have a chance to win unless you're extremely tough. But you can't just be tough on game day. You have to be tough all the time.''
This one required every ounce of tough for Marquette, especially after a Villanova team that is fighting to avoid its worst season under Wright since 2003-04 streaked to a surprising 28-10 lead.
Fortunately for Williams, he has toughness personified in the form of
Darius Johnson-Odom
. The senior, who doesn't crack so much as the hint of a smile during a game, scored 10 of MU's next 12 points, singlehandedly bringing down the deficit from insurmountable to manageable, 33-21.
Johnson-Odom is more lunch pail than flashy, the sort of player who quietly dominates a game, dominates the statistics but doesn't draw a lot of attention in the process.
He's also the guy, Williams said, who dominates a huddle. More vocal than his head coach, DJO kept his team organized in the first half, not with firebrand and preaching but with a casual calm that delivered just as much of an impact.
"I think we were a little too confident early, not because we'd beaten them before or anything but because we'd won five straight,'' said Johnson-Odom, who finished with a season-high 26 points. "We had a little too much swagger. That was out of character for us in the first half.''
Marquette's true character returned in the second half, that endless scrappiness that frustrates opponents. Cadougan draped himself all over Wayns, the league's second-leading scorer. Wayns, who dropped 39 on Cincinnati two weeks ago, finished with 12 points, hitting only 3-of-10 from the floor. Cadougan also pressured him into six turnovers.
Cadougan and Wayns have been going at it for years, back when both were starring on the high school and summer-league circuit.
"I tried to contain him, keep him out of the paint and just make him feel uncomfortable,'' Cadougan said. ""He's tough, one of the best guards in the Big East. They win games when he gets hot.''
Wayns never did, but Villanova, a young team struggling to find itself this season, hung around anyway. The Cats, in fact, led by four with just a little more than six minutes to play when Wayns was whistled for the technical.
Wayns screamed his frustration at Breeding after the official called a touch out of bounds play out on Nova. He cursed but most would agree it was a mild-mannered expletive on the scale of one to offensive.
Wayns may have been the victim of bad timing. Or cursing. The call came in the wake of a strong-worded edict from NCAA national coordinator of officials
John Adams
.
"You should have a very low tolerance for players who use profanity towards officials or who 'wave you off' after a call, etc.,'' Adams wrote. "These type of actions call for Technical fouls. Call them!''
Johnson-Odom made the two free throws and
Jae Crowder
scored on the ensuing possession, putting in a reverse layup to tie it.
The Wildcats, already down two big men in
Mouphtaou Yarou
and
Markus Kennedy
, never recovered.
If there is solace for Villanova it is that the Cats are clearly taking baby steps toward improvement. It's likely too late to resurrect this season. This team seems predestined for a date with the NIT, missing out on an NCAA invite for the first time in eight years.
But in recent weeks the Wildcats are showing more life and, more critically, showing that folks other than Wayns can score.
Maurice Sutton
, pressed into action, had the best game of his career with 11 points, 10 rebounds, three steals and two blocks.
Dominic Cheek
, the potential second scorer Nova needs desperately, had 16 and
JayVaughn Pinkston
17.
And Villanova is playing harder, diving for loose balls against Marquette and forcing 16 turnovers.
Marquette, however, played tougher.
And in the Big East, especially this season, toughness wins the day.
January, 19, 2012
1/19/12
2:36
AM ET
By
ESPN Stats & Information
| ESPN.com
A scan of the college basketball box scores each night guarantees all kinds of fun oddities and standout performances. Here are a few we found from Wednesday:
Creighton 66, Missouri State 65
For the second time in three games, Creighton's opponent committed three turnovers and still lost. On Friday night, it was Illinois State. Wednesday it was Missouri State.
Eastern Michigan 62, Western Michigan 59 (OT)
Western Michigan's
Mike Douglas
played 40 minutes and attempted two shots. The only other player to play 40 or more minutes and attempt two shots or fewer this season is
Steve Tchiengang
of Vanderbilt.
Villanova 84, Seton Hall 76
JayVaughn Pinkston
and
Maalik Wayns
of Villanova attempted 17 and 16 free throws, respectively. It's the second time this season two players on the same team have attempted 16 or more free throws (the other being Gonzaga's
Robert Sacre
and
Marquise Carter
, who each attempted 18 against Eastern Washington).
Duquesne 80, Massachusetts 69
UMass became the second team this season to commit at least 29 turnovers and 28 personal fouls in one game. Norfolk State is the other.
Trillion of the night
:
Davante Drinkard
, Southern Illinois -- Played 11 minutes and did not record a single stat in a
75-68 overtime loss
to Drake.
October, 31, 2011
10/31/11
2:35
PM ET
By
Diamond Leung
| ESPN.com
Villanova freshman JayVaughn Pinkston has waited a year to make his debut, and coach Jay Wright is making it clear that the former McDonald's All-American will need to be patient as far as making a significant impact.
Wright said Monday that while Pinkston had been projected to start, a year away from the game due to a violation of the university's code of conduct has left the 6-foot-7 forward needing some time to adjust.
"I think he's going to be a real significant player for us," Wright said. "But I can see he's rusty. He's just a step behind sometimes. He'll get it all back. Hopefully by the time we get to the [76] Classic [around Thanksgiving], he's going to be a real factor for us."
Pinkston was reinstated to the team in the offseason after
serving a season-long suspension
while facing an assault charge related to a fight at an off-campus apartment. According to the
Philadelphia Inquirer
, Pinkston was far removed from college basketball while sitting out the year.
While Pinkston sat out last season, he worked in a warehouse and coached a team of 10-year-olds, which he called "a fun experience helping out, giving back to the kids."

However, he called much of the year "a bad experience."

"It was not being able to play, not being able to be around my teammates," he said. "You realize everything can be taken away within a second.

"It was bad, but then again, it was a learning experience, maturity. I've matured a lot. Now I'm more focused on what I want to accomplish."
Wright also said Pinkston appears to have a new perspective on the game, noting that a long practice to him might no longer be seen as being a difficult one. Of course, he'll need to make use of that time on the court to help a Villanova team that is in transition.
"He just has a great opportunity," Wright said. "I think he appreciates everything now that he gets to do."
August, 5, 2011
8/05/11
3:27
PM ET
VILLANOVA, Pa. -- The game will be played in Paris, not Philadelphia. The opponent will be a to be determined European team, not a Big East rival.
JayVaughn Pinkston doesn't care.
On Tuesday, he will slide into his Villanova basketball uniform for the first time, a year late and a lifetime wiser.
In December, Pinkston was suspended by the university after he was charged with two counts of simple assault and harassment following a fight at an off-campus apartment. Expected to be a critical piece in the Wildcats' puzzle, the McDonald's All-American instead could only watch from the stands as his team rode a rollercoaster year to a late-season plummet.
[+] Enlarge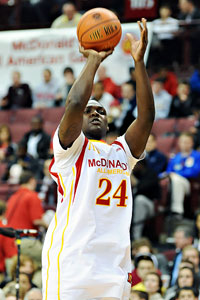 Jim Rinaldi/Icon SMIFormer McDonald's All-American JayVaughn Pinkston is finally a Villanova Wildcat.
Now it is time for his second chance.
On Sunday, Villanova departs for a nine-day trip to Paris and Amsterdam. Pinkston, who retained his eligibility because his was a university and not NCAA suspension, will join them as a redshirt freshman.
"I'm nervous and excited,'' Pinkston said about the trip. "It just feels so good to be back, playing with my teammates again.''
Because the case against him is still pending, Pinkston couldn't talk specifically about the incident, but there is little doubt the legal run-in has left an impression.
But this is more than just the run of the mill learning-from-mistakes lesson. Pinkston has learned the value of loyalty as well.
Under the suspension, he wasn't allowed on campus nor could he have any official contact with his teammates. Yet he said he never felt ostracized.
"My teammates still made me a part of everything they could,'' Pinkston said. "We'd meet up at local spots off campus or wherever. They went out of their way to make sure I was included.''
Pinkston returned the loyalty in kind.
Plenty of people -- especially Nova fans who saw how desperately the Wildcats needed Pinkston as the season fell apart -- thought the punishment harsh when compared to how other schools handled similar disciplinary actions.
The university, however, said Pinkston's punishment was no different than any Villanova student would receive under similar circumstances. And Pinkston never argued.
He could have asked for a release from his letter of intent and transferred, but he didn't.
"I was upset when I first heard the outcome, but I brought it upon myself,'' he said. "The Villanova family helped me get through everything and I wasn't going to not be a man of my word. I had the option to leave, but it never really crossed my mind.''
Officially back in the fold since June -- he enrolled in the school's two summer sessions -- Pinkston is ready to get his basketball life back on track.
The Wildcats will no doubt welcome him with open arms. The New York product was considered a big cog in Jay Wright's 2010 recruiting class, rated 62nd in the ESPNU 100.
A power player in the paint who can also score from the perimeter, Pinkston's offense would have been a much-needed shot in the arm last season as the Cats went 5-11 after a 16-1 start and finished a once-promising season with a opening-round NCAA tourney loss to George Mason.
Now with
Corey Stokes
,
Corey Fisher
and
Antonio Pena
gone, the young Wildcats need Pinkston even more.
"It was really hard sitting out and watching my teammates play, not being able to help them when they might have needed it,'' Pinkston said. "Now it's just so great to be back with them, playing.''
And for Pinkston, that's all that matters -- not the place, not the opponent. Just the opportunity to play college basketball.
November, 25, 2010
11/25/10
2:07
AM ET
NEW YORK -- Scottie Reynolds got Villanova back to a Final Four with an epic, game-ending layup to beat Pitt in the 2009 Elite Eight.
The shot will forever be etched in Nova lore.
But Reynolds' influence on the Wildcats is now gone and it shows.
A trio of Villanova guards --
Corey Fisher
,
Corey Stokes
and
Maalik Wayns
-- don't mean any disrespect by this, but they feel they leaned too much on Reynolds last season. They looked for him to constantly bail them out of a bad situation.
Now they've all moved on.
"Ever since Scotty's freshman year, he had the ball in his hands,'' Stokes said. "The team relied on Scotty. He was one of the greatest players in Villanova history. I don't want to take anything away from him, but we can all score. It doesn't matter who has the ball. Coach [Jay Wright] feels comfortable with either me, Maalik or Fish with the ball in his hands.''
[+] Enlarge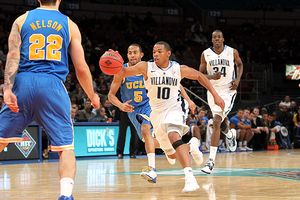 Nick Laham/Getty ImagesCorey Fisher scored 26 points in the win over UCLA.
And so the baton has been passed from Reynolds to the trio of Stokes, Fisher and Wayns. The Villanova guards dominated the ball in an
82-70
NIT Season Tip-Off semifinal victory over UCLA Wednesday night at Madison Square Garden. The Wildcats will play Tennessee in Friday's championship. The three guards combined for 45 of the Wildcats' 62 shots. They made 17. And didn't hurt that they were a combined 22-of-24 at the free throw line. Fisher finished with 26 points, Wayns with 19 and Stokes with 16.
Nova has
Mouphtaou Yarou
inside (13 points and 16 boards vs. UCLA) and if a Villanova student code of conduct committee gives suspended freshman forward
JayVaughn Pinkston
a chance to play sometime this season (he's facing simple assault charges for a punch on another Villanova student at a party earlier this month), then there will be even more balance. Wright said earlier Wednesday that the committee could hear Pinkston's case next week. He is allowed to practice with the team but can't represent the university and sit on the bench.
Seeing Pinkston in practice Wednesday, it was clear that he would have a major impact on this squad at both ends of the court. But instead of waiting on the legal case, the team will wait on the school's verdict since this was a student-on-student crime.
For now and the foreseeable future, Nova will be driven by its guards, much like it was on that 2006 Elite Eight team led by Randy Foye, Allan Ray and Kyle Lowry.
"That's our offense,'' Wayns said. "That's the way coach Wright tells us to play. We're not where those guys were [Foye, Ray and Lowry] since they're all pros. But we're aggressive and we're giving our team the best chance to win. Last year, if things got bad we turned to Scottie. We leaned on Scottie. Now it doesn't matter since any of us can make a play.''
UCLA's trio of
Malcolm Lee
,
Lazeric Jones
and
Jerime Anderson
had their moments, but weren't in the same level on a consistent basis as Nova's guards.
The Wildcats don't have the one star like Connecticut's
Kemba Walker
. A more appropriate comparison might be the tandem of
Brad Wanamaker
and
Ashton Gibbs
of Pitt or Georgetown's
Austin Freeman
,
Chris Wright
and
Jason Clark
.
"We've had more time together,'' Fisher said of his senior classmate Stokes. "Maalik played with us last year too. We had time to watch Scottie and learn from him and we've had time to gel.''
What Villanova has this season -- something that was lost at times last season in falling flat against Saint Mary's in the second round of the NCAA tournament -- is a cohesion among the guards.
"We've got great chemistry,'' Stokes said. "We're always together off the court and it translates on the court. It should be like this the whole year.''