College Basketball Nation:

Jean Lenti Ponsetto
May, 31, 2013
5/31/13
3:20
PM ET
The minute the plan was announced, you could already see the furor coming. Here was Chicago -- a city with longstanding budget woes, an even longer-standing reputation for corrupting taxpayer money in the face of urban decay, comprising a provincial citizenry reflexively (
even annoyingly
) skeptical of development -- ponying up $100 million of said taxpayer money for a new basketball arena for a private school whose basketball team happens to have won seven Big East games in the past five seasons.
The notable flaws are legion: DePaul turned down a widely reported rent free offer to play at the United Center. The arena would be a 30-minute train ride from campus. Neighborhood residents were preemptively planning protests.
Of course
this was going to be a thing.
Early messaging
[+] Enlarge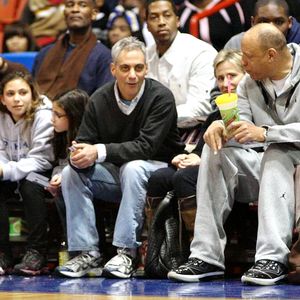 Scott Powers/ESPNChicago.comChicago Mayor Rahm Emanuel asserts the planned DePaul arena project would make Chicago second to none in attracting business conventions, large events and other forms of tourism.
When Chicago Mayor Rahm Emanuel announced the planned DePaul arena project near the city's south loop McCormick Place convention property, a
proposed part of a $1.1 billion tourism and trade show revitalization effort
, the city's messaging broke through: That night, most every local television news broadcast led with Emanuel's assertion that the construction would create 10,000 construction jobs and 3,700 accessible permanent occupations in the city and would make Chicago second to none in attracting business conventions, large events and other forms of tourism. Emanuel even called Navy Pier, Chicago's top tourist destination, "cheesy," and no one disagreed because he's right.
DePaul officials were likewise prepared for the scrutiny. University president Father Dennis Holtschneider answered sharp questions about the use of public funds for a private school's basketball arena with a convincing framing: DePaul is paying $70 million of the roughly $170 million allocated for the arena, an arena in which it will pay rent and will use about 30 times a year, for men's and women's basketball games and convocation and graduation ceremonies. It will receive naming and ad rights for the arena, sure, but the building will be owned and operated by the Metropolitan Pier and Exposition Authority (McPier), a public corporation created in 1989 by the Illinois General Assembly, which already manages McCormick Place and Navy Pier.
In Holtschneider's view, DePaul was contributing more than its fair share to ensure a publicly owned centerpiece of a planned convention and hotel development -- one that will ostensibly host concerts, comedy shows, trade events, and other random McCormick-adjacent events -- broke ground. He wasn't wrong.
Projections under question
Convincing as that argument might be, "taxpayer money" gets the public's blood boiling, and not without reason; public stadium financing in the name of development and economic growth almost always
ends up like the Springfield monorail
. The optics are tough. They're even tougher when the program everyone is focusing on fudges its attendance numbers at its current home.
On Wednesday afternoon,
Crain's Chicago Business revealed DePaul did exactly that
. Last season, DePaul announced average attendance of 7,938 over 16 home games, or 127,020; the real attendance numbers, recorded by Ticketmaster's scanners, was 41,771, or just 2,610 people per game. As Crain's points out, the discrepancy lies in the difference between the number of tickets the Blue Demons' sold (including ones the program purchases for students, who don't go to games) and the number of people who actually showed up in Rosemont.
This is not particularly surprising. Many college and professional teams hurting for engagement do the same thing. But it does raise a valid question: What if those numbers carry over to the new building? McPier's case that the arena will eventually be profitable relies on an average attendance projection of 9,500; what if those projections are off not by a couple thousand fans, but by $7,000? What if no one shows up, buys food and drink, or visits the surrounding area? What then?
As SI's
Andy Glockner wrote this week
:
If very few actual people are coming to the games, there's no way for these projections of additional spend to come good. With the actual attendance figures in place, there's no way DePaul basketball will hold up its share of the projection, meaning the arena will lose money unless it can significantly overshoot projections for other events in the building.

[...] So what's going on here? Why would a city drowning in budget debt think tossing in $100 million to finance a new arena with a private school as the lead tenant would be a good idea? Why would DePaul, even with the ability to recoup some of its expenditure through a naming-rights deal, want to become a rent-payer in an arena far from campus when the United Center, with its pro amenities, was offered for free? Can DePaul, with its recent basketball track record, correctly rationalize a deal with more risk but more upside, even if the city is helping subsidize that gamble?
Explanation
Despite the plan's flaws, there are a few answers.
For one, while $33 million of the $100 million comes from tax increment financing, a shady way to siphon taxes from various Chicago property taxpayers --
that's the part people should be angry about, by the way
-- $70 million of the tax money comes directly from the McPier bond fund, which is supported by hotel taxes, which Chicago residents (mostly) don't pay. Even were that the case, McPier is not a strict government agency; the city can't take that bond fund and use it to build more parking meters, thank heavens. One way or the other, McPier will spend that fund on bricks and mortar. "Taxpayer funds" is the fingers on a chalkboard of modern political discourse, but not all taxpayer money is created equal. Nowhere is that more true than in Chicago.
Second, the United Center deal was not as good as it sounds. Though DePaul wouldn't have had to pay rent to play at the UC, it would still have had to pay for operating costs on a building which packs in 22,000 people for sold-out events and is the largest indoor arena in physical size in the United States. It already plays host to two professional teams and scores of other events, including a circus that forces both the Blackhawks and the Bulls on the road for two weeks every fall. (The "circus trip" is practically a local sports tradition). And if you're a program that barely manages to get 3,000 people to your games in the suburbs as it is, do you really feel great about the optics of playing in front of a cavernous 20,000-seat gym? I'm sure that would do wonders for recruiting.
Third, though the arena might not be walkable from campus, the location isn't as bad as you might think. A
10-stop trip on the Red Line
-- which sits right on DePaul's campus and close to the proposed building location -- is handier than it might seem from the outside; I'd argue it's actually easier to get to by public transport than the United Center. (White Sox fans take the Red Line both ways to Sox-35th all the time).
Also, the majority of Chicago's most talented college prospects originate on the south side. The new arena is much more accessible for their families and friends. In that way, it's actually a good geographic compromise -- halfway between campus and the deep reservoir of talent the program needs to finally improve.
Two final points stand out:
1. The Chicago plan
might or might not eventually lead
to a much-discussed city-owned casino being built adjacent to McCormick Place. If that happens, all budget projections for the current plan are bunk, because casino arena events (see: MMA and boxing) mean big money. But even if that doesn't happen, with a new arena near the world's largest convention center, there's no reason the city shouldn't be able to maximize the 300-some days in the calendar in which DePaul won't be playing a men's or women's home basketball game. DePaul gets to pay rent and avoid raising tuition in the trade, but this is the city's building.
2. Success is a self-fulfilling prophecy. Has DePaul won seven Big East games in five seasons because the program is destined to be bad? Or is it because DePaul played its home games in a decrepit suburban arena that, as one person close to the program told me recently,
it sometimes doesn't even show to recruits
? If DePaul's new home can boost recruiting to the point that even a small fraction of local talent begins to consider the Blue Demons, the Blue Demons will improve. If they improve, more people will come to games.
Using Allstate Arena ticket data to dismiss the new project is reductive.
The best of all available options
The bottom line: DePaul's flagship athletics entity is its basketball team. That team is not competitive. It is borderline anti-competitive. It desperately needs to change that narrative. That would never happen in Allstate.
There are no guarantees on the new building. But the set of compromises it entails -- between public and private funding, between an arena on campus or in the suburbs, between rent and naming rights -- was the best deal it was going to get. Why wouldn't DePaul leap at the offer? There's no guarantee it
won't
be a loss-leading boondoggle at best, but if it is, that's on the city. Criticisms of the plan are legitimate. But they should focus on the right things.
In any case, this is, if you can't already tell, going to be a fascinating few years for DePaul hoops. Before May 16, the Blue Demons were little more than a lamentable losing program with crushingly apathetic fans. Now, for better or worse, they're inextricably tied to the vagaries of Chicago politics and public outrage over budget shortfalls and private subsidies.
On May 16, a reporter asked athletic director Jean Lenti Ponsetto what would happen on the off chance that state or local outrage at public spending prevented Emanuel's project from moving forward.
"Candidly," Ponsetto said, "we would go back to the drawing board."
That's probably not going to happen. But whatever does follow from here, DePaul, a private university, has cast its lot in with the most byzantine municipal government in recorded human history. In other words: stay tuned.
June, 3, 2010
6/03/10
10:19
AM ET
Yours truly has spent a decent portion of this offseason
having a good whinge
about college basketball's inherent inequalities. Those complaints have been spurred on by the transfer stories of
Justin Knox
and
Murphy Holloway
, players who had their No. 1 transfer destinations blocked by their current institutions for slightly arbitrary reasons.
There's
also the practice of oversigning and running off
, wherein coaches effectively revoke benchwarmers' scholarships in order to make way for more skilled incoming recruits.
To be fair, there have also been super happy fun time stories to be found in the past few months too, whether it's Rhode Island
freeing Kyle Cain from his commitment
or the NCAA allowing former Binghamton transfer Kraidon Woods to
forgo his transfer eligibility year
this season.
But the overriding principle still stands: Once players sign a national letter of intent to play basketball at a collegiate institution, they forgo any semblance of efficacy they had in the route their careers will take throughout college. If they want to leave, the school can say no. If the school says yes, it can put conditions on the agreement. If players want to stay, their coach can run them off.
Those coaches, meanwhile, are free to take as many jobs -- and make as much money, which, let's not even go down that road -- as they like. Nothing about this system seems particularly fair.
Which brings us to our latest, and perhaps most egregious, example: The
story of DePaul recruit Walter Pitchford
, which ESPNChicago's Scott Powers reported last night. Pitchford is a 6-foot-10 recruit who signed with former DePaul coach Jerry Wainwright, who has since resigned. He was eventually replaced by former Clemson coach Oliver Purnell. Pitchford decided that he didn't want to stick with his NLI and play for the new coach, which is something a decent portion of players caught in coaching transitions tend to decide.
DePaul's response? Not so fast, son. You're going to stay:
"Despite recent media reports of Walter Pitchford being released from the National Letter of Intent he signed in November 2009, DePaul University is committed to Walter and is looking forward to him joining the program for the 2010-11 season," the statement said. "Walter showed nothing but enthusiasm to attend DePaul University throughout the recruiting process and since he signed the NLI to join the men's basketball program. At this time, the athletics department does not intend to grant the release, and has notified the NLI Steering Committee as its provisions require."
Um ... OK? The reasons for keeping Pritchford in a commitment he doesn't want to be a part of are that he showed enthusiasm during the recruiting process -- when he was being recruited by a coach who no longer works at the school -- and because ... actually, I think that's it. That's the only reason DePaul's giving here. That is, other than "because we need the players," and "because we can," which are the real reasons for the decision.
Naturally, the Pritchford family is less than pleased:
"I called the athletic director [Jean Lenti Ponsetto] and told her we wanted our release," Walter Pitchford, Sr. said on Wednesday. "She said, 'We want to release him, but we want to recruit someone to take his place at the same time.' I said, 'Fine.' She also indicated to me that she had talked to the president, Father Dennis [Holtschneider], and he was in agreement in relation with Walter. I felt comfortable that at least we'll get Walter his release even if it takes 30 days. Then today, I hear he's been denied.

"When the president of the school and athletic director say he should get his release and something else happens, that concerns me a great deal. That's where I want to start -- right there with Father Dennis. Because she clearly relayed to me that she had talked to Father Dennis about Walter's situation, and that both of them agreed he should get his release. Now, we're looking at something different."
Ponsetto denies that there was ever any such agreement with Pritchford Sr. A spokesperson for DePaul said Ponsetto told the Pritchfords Walter would be released if the school found another recruit, and that no promises were made.
But that distinction shouldn't matter anyway! Pritchford signed his NLI with Jerry Wainwright. Wainwright is no longer DePaul's coach. Whether DePaul landed another recruit to replace Pritchford is completely beside the point -- the right thing to do is to let him out of his letter of intent.
And it's especially galling to have an athletic director essentially admit that she told a player he couldn't leave unless they could find a replacement, which they couldn't, so sorry, you're stuck. Who does that? And who admits to it?
Athletic directors and fans like to use the "you signed with the school, not with the coach" argument, but anyone remotely familiar with college basketball knows that reasoning to be utter garbage, a lame justification for a selfish choice. Players sign with coaches. When that coach leaves, the player should have a chance to leave too. It's really that simple.
To the credit of most schools, that's usually what happens. But not here. DePaul is going to keep a player that doesn't want to come to DePaul for two reasons: 1) Because it desperately needs players, and 2) Because it can.
"Wrong" doesn't begin to describe what this is.