College Basketball Nation:

Jeff Hathaway
April, 11, 2013
4/11/13
5:00
AM ET
1. Creighton's
Doug McDermott
is nowhere near close to making a decision on whether to declare for the NBA or return to the Bluejays, his father and coach Greg McDermott said. Greg McDermott said Doug will take this call down to the NBA's April 28 deadline -- the only one that really matters. Doug McDermott isn't feeling any pressure about the April 16 NCAA deadline -- and that's good, because that one means nothing. The NCAA doesn't put out a list on that date and neither does the NBA. The only deadline that produces an early-entry list is the April 28 deadline. A player could say he's returning to school next week and then declare 12 days later without any issue. Doug McDermott has one of the toughest decisions of any player, because if he decides to leave his dad will face a difficult season in the Bluejays' first season in the new Big East. If Doug stays, Creighton has a chance to contend for the new league's title.
2. New Hofstra coach Joe Mihalich said Wednesday that the timing was right and he just had a feeling that he needed to move after 15 years at Niagara. Mihalich is trading one set of problems for another. Niagara, north of Buffalo, N.Y., isn't exactly in fertile recruiting territory, but Mihalich has made it work and competed for league titles in the Metro Atlantic Athletic Conference. Hofstra, on Long Island, is in a fertile recruiting area but is in rebuilding mode. The MAAC and the Colonial Athletic Association are typically one-bid leagues at this juncture. Mihalich has had other opportunities to leave but chose to stay. He said every time he considers one, the same two questions come to mind: Who is the president and who is the athletic director? Mihalich felt comfortable with current AD Jeff Hathaway, who previously held the same position at Connecticut, and president Stuart Rabinovitz. Hathaway wanted a sitting head coach and stayed true to his goal in the search.
3. Cincinnati coach Mick Cronin praised the "mature decision" by junior
Sean Kilpatrick
to return for his senior season. Cronin is convinced Kilpatrick will work on his game enough to be a draft pick next year. Kilpatrick will have a new backcourt mate with
Cashmere Wright
gone; those in the running to replace Wright will include freshmen
Kevin Johnson
and
Troy Caupain
and junior
Ge'Lawn Guyn
.
March, 28, 2013
3/28/13
5:00
AM ET
1. Minnesota coveted VCU's Shaka Smart, but his former boss, current Golden Gophers athletic director Norwood Teague, couldn't convince Smart to come to the Twin Cities (he should know Smart is loyal to VCU) for the head-coaching job from which Tubby Smith was just fired. According to sources, the Gophers have now turned their attention to Iowa State's Fred Hoiberg and Butler's Brad Stevens. We'll see, but I'll be shocked if either were to go to Minnesota. Hoiberg is the Mayor in Ames (it's his alma mater) and has Iowa State in a good place after back-to-back NCAA tournament appearances. If Hoiberg were to leave for Minnesota, the NBA's Timberwolves, not the Gophers, would make more sense. I can't see Stevens bolting, either, with how much he loves the Butler way and working for AD Barry Collier. Stevens can have a lifetime contract at Butler, much like Mark Few has at Gonzaga. If they can't convince either of these two, the Gophers may make a play for Cincinnati's Mick Cronin. But Cronin is from Cincinnati and loves his gig, too. The only reason he might listen is if he sees the need to go to a school in a more stable conference.

2. NC State has made it clear that coach Mark Gottfried hasn't heard anything from UCLA. Athletic director Debbie Yow also is quick to remind everyone of the $3.75 million buyout in Gottfried's contract, which she terms non-negotiable. Much as he got many in the Research Triangle to warm to NC State, Gottfried would fit at UCLA. But it would be too hard for UCLA to pry him out of Raleigh. Multiple sources continue to think the Bruins may have to go with an NBA coach. But there are other options out there -- Washington's Lorenzo Romar, a former UCLA assistant, hasn't been contacted; apparently neither has Colorado's Tad Boyle, who has recruited Los Angeles well. USC, meanwhile, might end up going with a quality coach, albeit not a huge name. Remember, Oregon didn't get its first choice, but did land a big-time talent in Dana Altman. It can be done.

3. Hofstra athletic director Jeff Hathaway has made it clear he wants a current head coach for its vacancy, according to sources, making it seem more realistic he would lean toward coaches like Iona's Tim Cluess and/or Tom Moore of Quinnipiac. Quality openings like Old Dominion and Siena remain. Meanwhile, sources close to former UCLA coach Ben Howland anticipate he'll sit out next season rather than take a job.
May, 18, 2012
5/18/12
5:00
AM ET
1. Being on the NCAA tournament selection committee has become a bad omen for athletic directors or commissioners keeping their jobs, with a third member losing his day job while on the committee. Last year, Big 12 commissioner Dan Beebe was fired and had to step away from the committee; he was ultimately replaced by Oklahoma AD Joe Castiglione. Then, UConn athletic director and chair Jeff Hathaway was forced to "retire." He had to take a faux consultant job with the Big East to stay on the committee. Hathaway is now the athletic director at Hofstra. The latest to lose his job is SMU AD Steve Orsini, abruptly fired Thursday. Chair Mike Bobinski of Xavier and new NCAA vice president Mark Lewis will now have to huddle to find a replacement for Orsini on the committee. If they stay in the Big East/Conference USA area, they should look at USF AD Doug Woolard, Big East associate commissioner Dan Gavitt or East Carolina AD Terry Holland.
2. Duke coach Mike Krzyzewski said Kentucky's
Anthony Davis
-- the consensus No. 1 pick in the upcoming NBA draft -- brings shot-blocking, something the U.S. Olympic team may need this summer in London. Davis' chances have risen due to the injury to Orlando's
Dwight Howard
. Krzyzewski said Davis isn't "trying out" for the team; rather, Davis is now in the pool of players who may be selected. Krzyzewski said it would be good to get Davis indoctrinated right away into USA Basketball. "He's a great talent and a good kid," Krzyzewski said. "Hopefully we don't get any more guys hurt."
3. Organizers for the Battle 4 Atlantis -- the top non-conference tournament -- won't decide on the bracket until August for the November event. The event, at the Atlantis Hotel on Paradise Island in the Bahamas, could put all eight teams in the NCAA tournament. They are: Louisville, Duke, Stanford, Missouri, Minnesota, Memphis, VCU and Northern Iowa.
February, 15, 2012
2/15/12
6:18
PM ET
South Florida has eight Big East wins heading into Wednesday night's game against Villanova. At 8-4, the Bulls are in fifth place and one spot ahead of Louisville in the Big East standings.
If USF stays in that position and reaches double-figure league wins, that'll mean an at-large invite to the NCAA tournament, right?
Not so fast.
NCAA tournament selection committee chair Jeff Hathaway reiterated during a conference call Wednesday that the committee doesn't look at conference standings or a conference record.
[+] Enlarge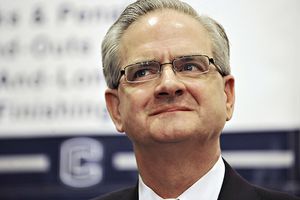 AP Photo/Jessica Hill"We don't look at conference RPI. We don't look at what conference teams are affiliated with. We're looking at the team's individual merit,'' said Jeff Hathaway.
"The bottom line is we review each individual team sheet and each team is an independent,'' Hathaway said. "We don't look at conference RPI. We don't look at what conference teams are affiliated with. We're looking at the team's individual merit.''
That doesn't bode well for South Florida unless the Bulls get some work done going forward. USF has one win against the top 50 (Seton Hall) and three against the top 100 (Cleveland State and Villanova). That means six of the Bulls' eight Big East wins so far came against conference teams ranked outside the top 100.
South Florida, which is No. 63 in the NCAA's official RPI, has plenty of upcoming opportunities to improve its top 100 win total at Pitt (76), at Syracuse (1), Cincinnati (92), at Louisville (20) and West Virginia (41).
"There is no magic number on conference wins, no magic number in any way, shape or form,'' Hathaway said. "We sit down and evaluate each team sheet and see if they pass the eye-ball test.''
When asked for his version of the eye-ball test, Hathaway said, "I watch how good teams are and how they compare to another team and look at the statistical indicators and how well they played and execute. The question is, are they a quality team and are they one of the 37 best teams.''
Hathaway also hit on a number of other issues:
He will have to leave the room when Big East teams are discussed because he's now a Big East consultant after being fired as Connecticut's athletic director.

Injuries, suspensions and illnesses will all be taken into consideration, but "it's pretty cut and dry. We look at how [the teams] performed.'' That means Alabama, Connecticut and others will be judged by the wins and losses and will not be given special consideration due to suspended players.

Wins in November mean as much as wins in February. "A big win is a big win. It's the total body of work. We're looking at the entire body of work. The season starts in November and goes all way through the conference tournaments.''

Hathaway said the Saint Mary's-Murray State BracketBuster game Saturday is important for both squads. It could be a big win on the road for the Gaels or a quality win for the Racers. "Murray State beating Saint Mary's isn't weighted more than Murray State beating Memphis. It's the full body of work.''

Hathaway said that the committee continues to be transparent in the process by putting the team sheets online at the NCAA website.

Hathaway said the pool of teams is strong for at-large candidates: "There are more better teams than ever before. It doesn't mean there is more parity. Frankly, there are a lot of very good basketball teams. And that's a challenge for the 10 committee members.''
October, 11, 2011
10/11/11
9:31
AM ET
1. The NCAA is waiting for the Big East to decide if it will hire former UConn AD Jeff Hathaway either to its staff or as a paid consultant so that he can continue as chair of the men's basketball selection committee. Two weeks ago, the NCAA's administrative cabinet denied a request from outgoing chair Gene Smith to let Hathaway serve out his term. The league -- preoccupied as it is with expansion dealings -- hasn't moved on the matter. NCAA executive vice president Greg Shaheen said he is hopeful the Big East will alert the committee as to its decision by the end of the week.
2. No one is trying to save former Big 12 commissioner Dan Beebe's spot on the 10-member selection committee. His replacement has to be from the Midwest or South as well as from a FBS conference (the Big Ten, Big 12, MAC and Sun Belt, specifically -- the SEC and ACC already have members on the committee). Oklahoma AD Joe Castiglione is a candidate to replace Beebe for a full term. The committee should also consider Michigan State AD Mark Hollis; he's exceedingly well-respected and created the Carrier Classic game on 11-11-11. The Big Ten should nominate him.
3. Indiana coach Tom Crean needed to catch a break in his tireless efforts to resuscitate the Hoosier program. He didn't get one with the news that
Maurice Creek
is likely out for the season after undergoing surgery to repair a torn Achilles tendon. Crean has improved the talent level at Indiana and finally brought in a top in-state player in Cody Zeller, but he needs a veteran presence to take pressure off the newcomers. College basketball needs this historic program to be relevant. Let's see how much the Hoosiers will matter this season.
July, 29, 2011
7/29/11
7:35
PM ET
By
Diamond Leung
| ESPN.com
The way the NCAA tournament selection committee operates is still misunderstood. So much so that the committee annually conducts a
mock selection
for media and other officials to try to make the process more transparent.
Memphis coach Josh Pastner went straight to the source to get his information, picking the brain of Division I men's basketball committee chair Jeff Hathaway [the
embattled UConn athletic director
] and to gain the knowledge he needed to possibly put the Tigers in a better position to make the tournament.
"I talked to him about what is the committee going to look at as you go into next year for the '11-'12 year, and he talked about non-conference strength of schedule -- who you play, where you play and how you did," a smiling Pastner told the
team's website
. "So we really upped our non-conference strength of schedule. The fans wanted that. And even our buy games or guarantee games where we're not returning it to somewhere, we got good teams. So it's going to be a really, really tough non-conference schedule. We'll be tested early and often."
Non-conference strength of schedule
, of course, is an important factor because its one that coaches actually have some control over while choosing which teams to schedule. It's information that's readily available at the selection committee table. And with Pastner getting it out of Hathaway that it's a criterion that could very well be emphasized, Memphis responded.
Memphis announced in June it would play at Louisville this season, with the Cardinals making a return trip the following season. It added onto a challenging schedule that also included entry into the loaded filed at the Maui Invitationals. According to
The Commercial Appeal
, the Tigers also scheduled Belmont, Tennessee and Xavier at home and Georgetown and Miami on the road.
Teams that want to stand a better chance of getting off the bubble should take note. Pastner has already done something about it.
July, 26, 2011
7/26/11
5:37
PM ET
Depending on which way you read the tea leaves, the decision by new Connecticut president Susan Herbst to assess the athletic department is either just another day at the office or a tempest in a teapot.
It is, according to Jim Calhoun, the former.
[+] Enlarge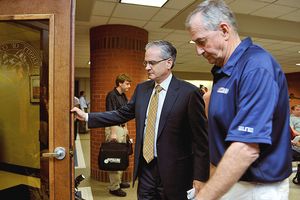 AP Photo/Jessica HillIt's safe to say Jim Calhoun and Jeff Hathaway haven't had a very cozy working relationship.
Little happens on the Storrs campus that doesn't involve Calhoun. He is bigger than life in college basketball and even bigger than that in his corner of New England. And so it is no surprise, really, that the coach is at the center of what is becoming a she said/he implied argument.
On the one side is Herbst, who announced her evaluation of the athletic department not long after a report said she was trying to buy out the contract of athletic director Jeff Hathaway. The president insisted through a statement that, "I will be reviewing all divisions of the university over time, but with great urgency, to make sure that we are serving this state in the best way possible.''
On the other is Hartford Courant columnist Jeff Jacobs, long a thorn in Calhoun's side, who
wrote Tuesday
that, '"This is a story about money and reprisal,'' giving voice to what plenty of others are thinking. Namely, that his review is really about the future of Hathaway, long Calhoun's foil.
The two have had, at best, a contentious relationship. This is not necessarily unusual among bosses and their employees, especially in the high-powered, big-ego world of college athletics. The simmering pot boiled over during the recent NCAA investigation of UConn. Hathaway did little to bolster his coach's position, saying that he had never seen Calhoun push so hard for a recruit as he did for Nate Miles, the player in the middle of the NCAA mess.
But Calhoun insists that anyone who believes he is pulling Herbst's puppet strings, hoping to get Hathaway ousted, is reading things all wrong.
"I do. I 100 percent do think that's unfair,'' the coach said before heading into the Milk House to watch recruits in Orlando. "I have nothing against anybody. Jeff and I, our relationship hasn't always been all that it should have been. When he came back [in 2003], he seemed to have changed somewhat and they say when you move over six inches to the head coach's chair, things change. But I don't want to see anybody lose a job.''
Calhoun said that he believes Herbst when she says athletics is simply the next department in line to be evaluated. Already, he pointed out, the medical center has undergone significant changes -- long-time dean Dr. Cato Laurencin has stepped down and moved back to research.
Of course, what happens at the medical center may not be as interesting or as newsworthy as what happens in the athletics department, especially not one coming off a national title.
The Huskies were dogged by questions about the NCAA investigation during their improbable NCAA title run -- forced to face the music from the very first day of practice until they cut the nets down in Houston. The issue seemed to be officially put to bed when the NCAA levied its penalties, including a three-game Big East suspension of Calhoun, and the usually combative coach chose not to appeal.
But with this latest brouhaha, the cloud of turmoil threatens again. If Hathaway is ousted following a season where his men's basketball team won a title, his women's basketball team was the best in the country (NCAA tourney results notwithstanding), his football team played in its first BCS game, and its baseball team rolled to a super regional, plenty will believe Calhoun pulled the plug.
And more, some will wonder if the powerful coach isn't
too
powerful.
It's an untenable situation for Calhoun. No matter what he says, people will believe what they believe.
"Professionally you're not always going to get along with people, but I don't want to see anyone out of work,'' Calhoun said. "I believe in Susan Herbst and what she's doing. She's young, energetic. She has great ideas. She gets it. She wants to make sure why we've had problems in the past, fiscally and otherwise, and point us to the future. That's all I'm focusing on.''
May, 24, 2011
5/24/11
5:36
PM ET
So
let's dive right in
.
The NCAA released its Academic Progress Rates Tuesday afternoon
, and while the overall verdict was rosy -- the average APR for all athletes in all sports jumped three points to 970, well above the penalty cutline of 925 -- more than a few schools felt the APR's famous sting.
Most notable among them? Your 2011 men's basketball national champions, the
Connecticut Huskies
.
Yes,
just seven days removed from a triumphant trip to the White House
, Jim Calhoun's team was one of six BCS teams sanctioned by the NCAA for low APR scores. The Huskies will lose two scholarships in the upcoming season to serve the penalty. That's in addition to the scholarship Connecticut lost as part of the
NCAA Committee on Infractions's ruling in the Nate Miles case last fall
. The 2011-12 Huskies will have only 10 scholarships in 2011, down from the usual number of 13.
[+] Enlarge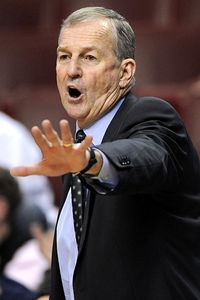 Howard Smith/US Presswire"We are all disappointed in our academic performance and going forward we are going to attack this the only way I know how and that is to work as hard as possible to get better every day," Jim Calhoun said.
Prompted by the departures of two players,
Darius Smith
and Jonathan Mandeldove, in poor academic standing after the 2009-10 season, the Huskies' overall four-year APR figure
dropped to 893
. That not only falls below the "immediate penalties" cutline of 925, it also falls below the "historical penalties" line of 900. It was the second lowest score among BCS schools in all of football and men's and women's basketball. It is, shall we say, not very good, and it prompted the NCAA to "notify" the school that it was in danger of receiving harsher penalties next year if the score does not improve.
Granted, the APR is an arguably imperfect mechanism. Syracuse's Jim Boeheim suffered the two-scholarship hit last summer, and in
doing so publicly upbraided the APR
for taking into account the departures of Eric Devendorf, Jonny Flynn and Paul Harris for the NBA draft, all three of whom left campus to prepare for the NBA event without fulfilling their spring semester requirements. Boeheim had a point; the APR does have its flaws.
That said, it also leaves room for nuance -- it analyzes transfers based on GPA and awards players leaving for the draft for doing so in good academic standing -- and in all, it's a much better, more useful academic tool than anything that came before it. It's certainly better than graduation rate, which is a little like the RBI in baseball. It has some tenuous connection to performance, but not much. The APR, though imperfect, is far more complex and therefore far more telling.
For their part, Calhoun and Connecticut AD Jeff Hathaway are taking the
APR hit not with brash disapproval but with humility and a pledge for future success
:
"We are all disappointed in our academic performance and going forward we are going to attack this the only way I know how and that is to work as hard as possible to get better every day," Calhoun said.

"Everyone associated with the program recognizes that the team's APR results are not acceptable and is committed to improving the scores," Hathaway said. "This is a serious matter for the men's basketball program and the Division of Athletics. We had already made this a primary concern during the recently completed 2010-11 academic year. The academic performance of our men's basketball team remains a focus of attention this summer and will continue to be a top priority when the new academic year begins."
The brilliant thing about the APR is that those last two things -- "men's basketball team" and "academic year" -- can have direct, immediate and serious impacts on each other. If you want your hoops team to be good, you need scholarships. If you want scholarships, your players have to maintain good academic standing. If you don't, it doesn't take long to upend your program.
If the NCAA's overall numbers are any indication, this system has already begun to change behavior. This year, five percent of the NCAA's 6,410 programs registered scores below 925. In 2010, that figure was 6.7%. The percentage of teams that received penalties also fell this year, down 2010's mark of 2.2% to 1.6%. This year, 103 teams were penalized this, down from 137 last year and 177 in the year before that.
That has caused the NCAA to consider changes in the way it structures the APR cutlines. In short,
the NCAA is considering getting rid of the 900 cutline and moving to a single-line format
that would increase -- and thus force teams to consistently improve -- over time:
Looking to the future, the Division I membership is examining how to further strengthen academics in a number of ways, said Walter Harrison, president of the University of Hartford and chair of the Division I Committee on Academic Performance.

Harrison noted that CAP is recommending moving to a single penalty structure to streamline the process and lead to more improvement from the bottom up. The proposal would set a single benchmark for penalties that correlates to a Graduation Success Rate of at least 50 percent, with the long-term expectation that the rate would increase in the future.
And yes, while the NCAA has plenty of progress to cite, its most high-profile sports remain the ones most frequently lagging behind. According to the report, football and men's basketball are the only sports with four-year APR averages below 950.
Likewise, the NCAA banned Southern University from postseason play in both men's basketball and football -- the first decision of its kind -- and handed out 29 of the 58 harshest penalties to historically black colleges and universities. The NCAA says it will "work closely" with
resource-challenged
HBCUs as they "seek to improve the academic performance of their student-athletes." Five men's basketball teams -- Cal State-Northridge, Chicago State, Grambling, Southern University, and Louisiana-Monroe -- received postseason bans this year. (Chicago State's four-year APR?
823
. Yeah. Yikes.)
In other words, there are lots of improvements to be made. Schools with minimal resources need help. Ditto for many HBCUs. And while academic performance is sound in most of the non-revenue sports, the big-time games still have more than their fair share of academic issues.
That said, fewer penalties do tell a tale. The
APR does seem to be changing teams' academic behavior
. Now, as in any large, data-driven bureaucratic measure, the process of fine-tuning that behavior -- and the penalties that go along with it -- marches on.
July, 20, 2010
7/20/10
9:40
AM ET
It's a question to perplex the greatest minds of our generation. And no, I'm not talking about "What should I have for lunch today?" That's good one, to be sure, and I always struggle with it. But this is something different.
The question is: Why did the
NCAA appoint Connecticut athletic director Jeff Hathaway to chair the Division I men's basketball committee
beginning in 2012? Or, at least, why did it appoint him now?
Make no mistake, Hathaway is qualified. He was former UConn athletic director Lew Perkins' top lieutenant for years before taking his own head AD position at Colorado State. In 2003, he returned to the Huskies to command an athletics department with 200 employees and a $55 million annual budget,
according to the Sports Business Journal
. Those are the sorts of credentials you're (presumably) looking for when you're trying to find someone to chair your men's basketball committee.
The only problem with this is that Hathaway has another responsibility at present: Preparing a response to allegations of eight major rules infractions in the Huskies men's hoops program, due next month. Hathaway and company will appear before the NCAA committee on infractions on Oct. 15 and 16. That means Hathaway could be the chair-elect (or whatever) of the men's basketball committee
while
he is appearing before -- and potentially receiving punishment from -- the committee on infractions.
Awk. Ward.
Except it's more than just that. Besides being a strange and no doubt surreal moment for Hathaway, such a circumstance would also make the NCAA look downright silly. It's possible Hathaway had nothing to do with the alleged recruiting violations that took place on his and Jim Calhoun's watch at UConn; Calhoun got an extension amidst the turmoil of the announcement, and if the coach himself isn't likely to be punished, the athletic director has probably kept a safe distance, too.
There's also the potential, cited by many, that Hathaway leaves UConn to take the open Maryland athletic director's position. Hathaway graduated from Maryland and has long been mentioned in connection with the job. If he did leave Connecticut after his appointment to the men's basketball committee, the Big East would appoint its own new representative and the committee would select a chair from the new pool of candidates. This whole conversation would be moot.
Still, the point remains. According to the NCAA, Connecticut incurred eight major violations under Jeff Hathaway. And now it wants that same man to chair its men's basketball committee.
Maybe there's nothing wrong with that. I don't know. But it does seem awfully weird.
January, 20, 2010
1/20/10
11:04
PM ET
HARTFORD, Conn. – Connecticut was prepped in advance for St. John's initially by Hall of Fame coach Jim Calhoun on Monday.
Now comes the hard part.
[+] Enlarge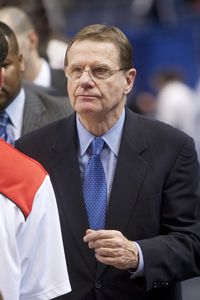 AP Photo/Thomas CainAssociate head coach George Blaney filled in for Jim Calhoun against St. John's.
The Huskies are on their own as they prepare for top-ranked Texas on Saturday in Storrs, a game that could be a season-changing event for Connecticut if it could pull off the upset.
Connecticut raced past St. John's
75-59
to end a three-game losing streak Wednesday night at the XL Center in Hartford. But that was almost expected, even with the distraction of Calhoun on an indefinite medical leave.
"I don't think it was different at all,'' said Connecticut's
Kemba Walker
of playing for associate head coach George Blaney instead of Calhoun. "Texas is going to be huge for us. We've got coach Blaney on our side. I wish Calhoun was better, but we've got coach and he'll do a great job and get us prepared.''
Blaney was adamant prior to the game, as was Connecticut athletic director Jeff Hathaway, that Calhoun was taking his doctor's advice to stay away from the team and rest at home. Hathaway said that Calhoun's medical condition wasn't career-ending, but that he wouldn't return until he was completely healthy or rather cleared by his physician.
Yet, this is still his team, and Blaney made sure to let everyone know that he's the caretaker. Blaney said that he will communicate with Calhoun in preparation for Texas.
"It'll go either way, we'll talk every day,'' Blaney said. "Either he'll call me or I'll call him, but we'll talk.''
But that doesn't mean Blaney doesn't already have ideas of how to compete against Texas' size and depth up front. Blaney went with three guards – Walker,
Jerome Dyson
and
Donnell Beverly
– with
Stanley Robinson
at the four and
Gavin Edwards
at the five. It's a smaller, quicker lineup.
"I'm not afraid to play teams with three guards and I'm not afraid to put Stanley at the four,'' Blaney said. "He can get nine rebounds against anybody. We'll mix and match.''
Blaney and the players were quick to point out how much they needed this win to stop the bleeding of the losing streak. Had they fallen to St. John's with Texas pending, the Huskies' season could have spun out of control. Blaney cited Georgetown and Notre Dame of a year ago, teams that got on a losing skid and couldn't recover. The Huskies could easily be 5-1 in the Big East had the last call not gone against them in the loss to Cincinnati, or had they not given up a monster-double digit lead (19 in the first half, 15 at halftime) at Georgetown.
"I told the team before the game that coach Calhoun is the best in the country at preparing you to face this kind of adversity,'' Blaney said. "We had to get ourselves off the floor after three straight losses (at Georgetown, Pitt, at Michigan). We had to come out fighting and punch someone in the face.''
That's why Calhoun's absence wasn't the deciding factor Wednesday. This was not a Huskies' team that was winning this game for Calhoun. They had to win this for themselves to grab their season back and ensure relevance from this point forward.
"We had to stop it, to have a good feeling,'' Dyson said. "We've still got to take all the things (Calhoun) has told us in the past and bring it into this game (against Texas). Our focus won't be any different.''
January, 20, 2010
1/20/10
6:41
PM ET
HARTFORD, Conn. – Jim Calhoun's latest medical condition isn't going to end his career at Connecticut.
[+] Enlarge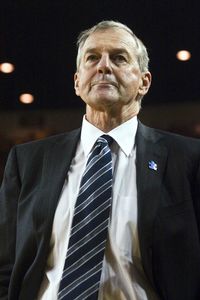 AP Photo/Tony DingUConn officials did not divulge the medical reason for coach Jim Calhoun's absence.
That's how emphatic UConn athletic director Jeff Hathaway was about Calhoun's abrupt departure from coaching the Huskies. Hathaway said during a pregame news conference Wednesday at the XL Center that Calhoun's condition wasn't career ending. Later, Hathaway confirmed that Calhoun's leave of absence has nothing to do with his current contract negotiations and will not affect the agreement that is in place.
The two sides have agreed in principle on a new four-year contract. Neither side has signed the contract but that isn't abnormal in negotiations with an existing coach, certainly one that is a Hall of Famer and two-time national champion. The two sides have been working on the final wording of the deal. His current contract ends on June 30.
Throughout Wednesday's walkup to the game against St. John's, the staff seemed confident that Calhoun would return to the team in due course. But Hathaway said that Calhoun wouldn't return until he had been given the clearance by his personal physician, Dr. Peter Schulman of the University of Connecticut Health Center. Hathaway indicated that Calhoun wouldn't return with conditions. Once he's ready to return in full he will be back. Whether that takes days, weeks or months is unknown.
Outside of saying that Calhoun didn't have a recurring cancer issue (he has had three bouts) or cardiac problem, UConn didn't divulge Calhoun's condition. Hathaway said that would be up to Calhoun. Associate head coach George Blaney, who will coach the team in Calhoun's absence, said that Calhoun, 67, told him that he needed to listen to his doctor on this one.
For those that know Calhoun, a driven, intense and at times admittedly stubborn man, this was a clear indication that he had to heed his physician's advice.
The timeline for Calhoun's absence moved rather quickly. Neither Hathaway nor Blaney said Calhoun had showed any signs of needing to take a break prior to his regularly scheduled doctor appointment Tuesday. Blaney said that Calhoun called him from the hospital Tuesday afternoon and told him he wasn't going to be attending practice and that he needed a break. Blaney said he hadn't spoken to Calhoun since then, while Hathaway said he did speak with Calhoun early Wednesday. He said he also spoke with Schulman.
Blaney characterized Calhoun as his usual "cantankerous self" while Hathaway said he sounded like a man who wanted to coach his team. Blaney said he wasn't sure if Calhoun would watch Wednesday's game, but that it seemed that would be against the doctor's orders. Blaney said earlier Wednesday that he was told he had to stay away from the team and his job, meaning that he wouldn't be checking in at his office until he was cleared. He wasn't hospitalized and is believed to be resting at home.
Once it was apparent that Calhoun was going to take a break, Blaney called into his UConn office
Kemba Walker
,
Stanley Robinson
,
Gavin Edwards
and
Jerome Dyson
, the four most integral players on the team. He said he told them that he needed their help with the younger players because they had gone through this before last March when dehydration forced Calhoun to miss the NCAA tournament first-round win over Chattanooga. Blaney said those players know how to deal with adversity.
During Wednesday's shootaround the Huskies were upbeat, but they did hear from various voices, unlike normal practices where Calhoun is the dominant presence. UConn moved Beau Archibald from director of basketball operations up to assistant coach once it got approval from the NCAA to do so during Calhoun's absence.
Blaney said that he considered making a starting lineup change in Calhoun's absence with Gavin Edwards in place of
Charles Okwandu
, but instead decided against it and said he would keep bringing in Edwards off the bench. He said he might make more substitutions than Calhoun early in the game.
Meanwhile, the St. John's game has become a critical one for the Huskies after losing three straight and with top-ranked Texas coming to Storrs Saturday. The Huskies, 11-6, 2-3 in the Big East, lost at Georgetown, to Pitt and at Michigan in their past three games.