College Basketball Nation:

Jerai Grant
March, 16, 2011
3/16/11
1:19
AM ET
DAYTON, Ohio -- Ohio State athletic director Gene Smith was spotted wearing headphones on press row during the second half of Tuesday's Clemson-UAB game.
Perhaps Smith wanted to shield his ears from further howling about the NCAA tournament selection committee that he chaired this year. Those who had already shouted that UAB didn't belong in this year's field -- which includes virtually everybody outside of the committee -- had all their talking points accurately documented in a
70-52 loss
to Clemson in the First Four.
Clemson players yelled "Let's get 'em from the jump!" as they huddled in the tunnel before the game. And it seemed just that easy as they rolled out to a 25-7 lead, then stayed ahead by double digits most of the game. Hopefully for his own well-being, Virginia Tech coach Seth Greenberg couldn't find truTV on his satellite or cable provider.
The first-round game clearly and quickly exposed UAB as an impostor better suited for the NIT. Let's not forget, though, that Clemson came here with some gaps in its résumé as well. The only NCAA tournament teams the Tigers beat all year were Wofford and Florida State, at home.
"We definitely had some doubters," senior forward
Jerai Grant
said.
[+] Enlarge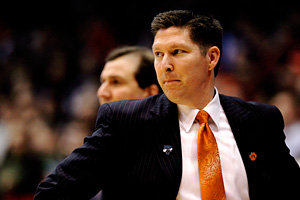 Gregory Shamus/Getty ImagesFirst-year Clemson coach Brad Brownell's Tigers appeared to have everything clicking against UAB.
First-round asterisk or not, the fact remains that Clemson just won its first tournament game since 1997. And maybe that's not all because of the opponent.
The Tigers ended their season strong, beating fellow bubble team Virginia Tech and then wiping out Boston College by 23 points in their first ACC tournament game. They led North Carolina by 10 at halftime before falling in overtime in the ACC semis.
This is a team that plays solid defense and knows where its strength lies -- inside the 3-point arc. Grant continued his senior renaissance with a career-high 22 points, while forwards
Devin Booker
and
Milton Jennings
combined for another 21 points. Clemson outscored UAB 40-12 in the paint.
"That was our game plan offensively," guard
Tanner Smith
said. "Our post guys did a great job of taking their time and controlling the paint."
This is also a team playing for a first-year head coach in Brad Brownell, who installed a new motion offense. It shouldn't be too surprising that things seem to be coming together at the end of the season.
"I think we're playing the best basketball we've played all season, and that's how it's supposed to be right here toward the end," guard
Andre Young
said.
The end might not have arrived yet. The Tigers have a favorable draw in Round 2 against East Regional No. 5 seed West Virginia. Like them, the Mountaineers are a defensive-minded team with versatile big guys that doesn't shoot well from the outside.
But as with all First Four winners, Clemson faces a difficult travel turnaround. Tuesday's game didn't end until after midnight, and the second-round game in Tampa loomed about 36 hours later Thursday afternoon. At least the Tigers should have worked any tournament nerves out of their system.
"We can't have the excuse of having to play [Tuesday]," Tanner Smith said. "We can ride momentum into a game like that. I'm sure West Virginia and teams that haven't played feel like the tournament hasn't really started yet. For us, we're in the tournament grind already."
It's a grind made easier by a questionable opponent in the first round. We can pile on UAB, but all the team did was get on the charter plane that the NCAA provided. Head coach Mike Davis described it as "heartbreaking" when his players heard all the criticism immediately following their selection. And with star senior guard
Aaron Johnson
breaking his leg in the final minutes and limping out of University of Dayton Arena on crutches, it was hard not to feel a little sorry for the Blazers.
As for the selection committee, that's another story. Gene Smith might want to have those headphones ready again for Wednesday night. That's when VCU plays.
March, 15, 2011
3/15/11
11:58
PM ET
DAYTON, Ohio -- The first half of the First Four has wrapped up. Here's a quick recap of Clemson's
70-52 win
over UAB in Tuesday's nightcap at University of Dayton Arena.


Turning point:
Probably the moment the NCAA selection committee decided to put UAB in the field. Seriously, the Blazers were outmatched from the start against a Clemson team that didn't boast a glittering résumé either. Clemson jumped out to a 25-7 lead, grew the edge to 20 points in the second half and never let UAB get closer than eight points after the opening five minutes.
Key stat:
Clemson completely owned the paint, with a 24-point edge in that area in the first half alone. It finished with a 40-12 advantage. The Tigers shot 58 percent on 2-point field goals for the game. UAB, meanwhile, had little else going for it except the 3-point shot. The Blazers hit 12 3s, which was more than the rest of their made field goals (six) and free throws (four) combined.
Star player:
Jerai Grant
. The son of Harvey and nephew of Horace did his family proud by scoring 22 points and grabbing eight rebounds. He was 10-of-16 from the field, and UAB had no answer for the Clemson big man.
What's next:
The Tigers advanced to play East Regional No. 5 seed West Virginia in Tampa on Thursday. That's not a bad matchup for Clemson, which will look to be the first team to win a second game after starting the opening round in Dayton.
March, 19, 2010
3/19/10
5:05
PM ET


BUFFALO -- A few quick impressions after Missouri's upset of Clemson.
For starters, this isn't an upset. Yes, Mizzou was a No. 10 seed Clemson a 7, but anyone who has been paying attention all season knows that the (gold) Tigers are a very good team. Mix in the Susan Lucci curse on Oliver Purnell -- 0-for-6 in the NCAA tournament with three different schools now -- and this cannot in good conscience be called an upset.
Mizzou could give West Virginia absolute fits. The speed of the game and the Tigers gnat-like peskiness will certainly disrupt the Mountaineers. Joe Mazzulla is going to have to steer a steady ship.
Tons of credit to the undermanned Mizzou frontcourt. Without Justin Safford (ACL) and with Laurence Bowers playing with a club on his injured left wrist, they still managed to contain Trevor Booker and Jerai Grant (11 and 12 points respectively). Keith Ramsey was a monster with 20 points and seven rebounds and Bowers was equally tough with 15.
And if there is a bigger pain in the posterior (and I mean that in the best sense of the word) in college basketball than J.T. Tiller I'd like to meet him. The senior runs around like his shorts are on fire and is absolutely everywhere. He sets the tone for this 40 minutes of speed that is Mizzou basketball. He finished with 10 points, four assists and five steals.