College Basketball Nation:

Jerain Grant
March, 9, 2012
3/09/12
1:15
AM ET
NEW YORK – Somewhere in Philadelphia, Bruiser Flint should be crafting his argument:
"The Top 100 Reasons Why My Team Deserves To Be in the NCAA Tournament."
South Florida provided 99 for the Drexel coach.
The Bulls, fighting to prove why they belonged in the bracket, instead gave the selection committee a litany of reasons for why they didn't.
Forget the RPI and the 1-9 record against RPI top-50 teams. Forget the unbalanced schedule that worked against the Bulls in terms of SOS.
Just go to the eye test and watch the final few minutes of regulation and the extra period in their
57-53 overtime loss
to Notre Dame. The federal government could put it on a loop to force bad guys to confess.
It was equal parts painful and foolish, a one-two self-inflicted punch that could prove to be a knockout.
Missed layups, missed front ends of one-and-ones, turnovers, dribbling aimlessly for 23 of the final 25 seconds with a four-point deficit and throwing the ball out of bounds on a last-ditch attempt to win it.
How did USF blow it? Let us count the ways.
And the Bulls blew it on a bubblicious night when Texas and Cal likely played their way in with wins and North Carolina State and Colorado State at least played their way into the discussion.
Instead, USF joined Washington, Northwestern and Mississippi State in the losers' bracket of teams that will spend an uncomfortable Sunday evening.
[+] Enlarge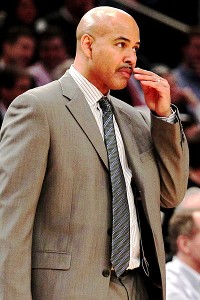 Anthony Gruppuso/US PresswireStan Heath's USF squad will be biting its nails ahead of Selection Sunday after an ugly loss.
Of course, beauty or ugliness, as Stan Heath said, is in the eye of the beholder -- and when the USF coach gazed upon the mess, he saw a masterpiece.
"Hopefully we erased any doubt of what kind of basketball team we are,'' he said. "We belong. We definitely belong. Giving that kind of effort on the defensive end, you have to really appreciate when you have teams that sacrifice themselves on the defensive end. People on the outside, the casual observer, don't know how difficult that is, don't understand that. Teams like us not only get in, they win and advance.''
Heath's assessment of his defense is fair. The Bulls do play hard and they challenge shots, using their size inside to make everything difficult. In one ridiculous effort,
Gus Gilchrist
managed to block
Jerian Grant
despite falling backward and out of bounds.
But this wasn't about the defense making things ugly. Good defense should be lauded.
This is about the offense making things uglier.
As active and disruptive as the Bulls' defense is, their offense is that lackluster. It is like watching chess, with players just standing around like statues.
South Florida led by three with 2:45 to play in a game when three points might as well have been 300, and lost. Frankly, it lost multiple times.
First, when with 33 seconds to play and USF up 45-44,
Jawanza Poland
got out on the break with absolutely no one but a row of cheerleaders near him and the basket ... and missed a layup.
"He should have finished that layup,'' Heath said. "He's point-blank, all by himself. He makes it and the game is over. It's done.''
Second, when Poland, strangely fouled by
Scott Martin
after that miss, clanked the front end of a one-and-one.
Third, when Poland made the worst 33 seconds of his life even worse, fouled
Pat Connaughton
.
Because the Irish were every bit as culpable in this disaster, Connaughton naturally missed one of two free throws to tie it with 26 seconds left.
"That was unusual,'' Notre Dame coach Mike Brey said with a chuckle. "We threw a bomb to Pat and he got fouled. I thought, this is getting wild.''
Ah, but there were five more minutes of wild to come. Notre Dame edged out to a four-point lead when
Eric Atkins
, without a field goal in the entire game, drained a 3-pointer with 30 seconds to play.
USF got the ball back and point guard
Anthony Collins
showed all the urgency of a senior citizen on a freeway.
It would have been a comedy of errors if weren't so hard to understand and if the potential ramifications weren't so bad.
"I'll be honest, I won't sleep,'' Heath said. "You want to hear your name called on Sunday at 6 o'clock. I think we've done a great job by putting ourselves in a great position. I think our team is worthy. But there's some people that have a lot of information that make wise decisions and we'll let our case rest with them.''
There is no shame in losing to Notre Dame. The Irish are a very good team, owners of a 22-10 record now and a legit top Big East squad.
And Heath should be commended for what he's done. He has retooled a team that won 10 games all of last season into one that won 12 in the Big East alone this season.
But at this time of year it is not enough to talk about what you've done. You have to compare your results and your game to others.
You have to look like an NCAA tournament team -- and in its last game before Selection Sunday, USF didn't.
February, 29, 2012
2/29/12
10:15
AM ET
Editor's Note: To see our expert picks for each of the nation's 12 top conferences, click here. To cast your vote in these races, visit SportsNation.
A quick look at the player and coach of the year races in the Big East:
Player of the year
Syracuse is far and away the best team in the Big East Conference.
Which is great when it comes to winning games, but a real problem when you're trying to sort out player of the year trophies.
Usually you can at least find one obvious candidate from the best team in the conference. With the Orange, that's impossible. Together they are unbeatable, but individually they almost cancel one another out. Is
Scoop Jardine
more valuable than
Kris Joseph
? Does Joseph do more than
Fab Melo
? How about
Dion Waiters
, the guy who comes off the bench to rank second on the team in scoring?
[+] Enlarge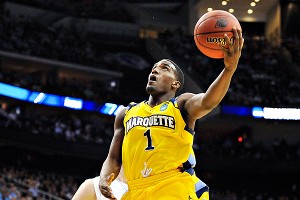 Howard Smith/US PresswireMarquette's Darius Johnson-Odom's 18.4 points per game could earn him player of the year honors in the Big East.
All four will get and deserve votes but Syracuse is truly a sum-of-its-parts squad, one where every piece is critical but none more than the others. Someone on this team could win Big East POY -- and if we were voting, we'd lean Waiters -- but it's not likely.
So who are the obvious candidates? There are two front-runners – Marquette's
Darius Johnson-Odom
and West Virginia's
Kevin Jones
.
Johnson-Odom has been terrific for a team that has been rock steady all year. Second in the Big East (behind Jones) in scoring, he averages 18.4 points per game. He's scored in double figures in every game he's played in save one -- suspended for the first half against West Virginia, he had nine.
Jones, in the meantime, had to be great for coach Bob Huggins' young team to survive -- and the senior forward has been great. Along with leading the league in scoring and rebounding (20 points and 11 boards), he's put up 18 double-doubles this season.
Some other long shots to consider: Marquette's
Jae Crowder
, Notre Dame's
Jack Cooley
, Georgetown's
Jason Clark
and Seton Hall's
Herb Pope
. St. John's freshmen D'Angelo Harrison and
Moe Harkless
have been terrific but there's another newcomer award for them.
It's a tough pick between the two favorites and I waffle daily but I'd probably lean Johnson-Odom because he has not only been sensational, his team has been, too.
Coach of the year
Interesting test case here -- do you reward the guy who has steered the loaded roster to near perfection or do you celebrate coaches who have had surprising success?
[+] Enlarge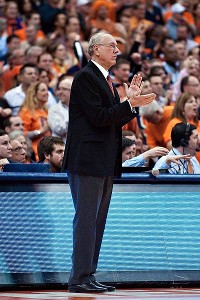 Mark Konezny/US PresswireJim Boeheim has coached Syracuse to near perfection. But does he deserve to be the Big East coach of the year?
Jim Boeheim is one trip to South Bend away from perfection, achieving such rarefied air despite dealing with the fallout from the Bernie Fine scandal in December. Outsiders might argue that a kindergartener could coach a team with so much depth and talent. What looks easy, though, isn't always. Managing a team -- especially in this day and age, when premier players come in with premier egos -- is not easy.
And Boeheim hasn't steered a team to near perfection in any old league. He's done it in the Big East.
Mike Brey and John Thompson III, meantime, took the opposite run to success. Neither is supposed to be here.
The Irish were picked ninth in the league, and that was before Tim Abromaitis blew out his knee. After that? No one figured Brey's team to be of any consequence.
But Brey, who memorably retooled his team two years ago after Luke Harangody's injury, has done it again. Notre Dame is 12-5 in the league, vying for a top-four finish. Brey, who won coach of the year honors last year, has imbued his team with confidence, handing over the keys to the sophomore backcourt of
Eric Atkins
and Jerian Grant, and letting them run the show.
Thompson's year at Georgetown has been equally impressive and equally surprising. The Hoyas were picked 10th in the preseason coaches' poll after losing Chris Wright and Austin Freeman to graduation.
Instead, Georgetown is knotted with Notre Dame at 12-5.
Henry Sims
has been an eye-opener, the ideal point-center for the Hoyas' Princeton style, and
Otto Porter
is arguably among the top freshmen in the conference.
Outsider choices: Mike Dunlap and Stan Heath. Dunlap is supposed to be an assistant, helping Steve Lavin. Instead, while Lavin recuperates from prostate cancer surgery, Dunlap has been running the show at St. John's, and running it with a roster stuffed to the gills with freshmen. Heath, meantime, has pulled himself off the hot seat and the Bulls into the conversation, taking South Florida to its best finish since joining the Big East.
This is another can't-go-wrong choice. And hey, could you argue with Marquette's Buzz Williams winning it too? Not me.
My pick: Boeheim. The name of the game is winning, and no one in the league has done that better this year than the Syracuse coach.