College Basketball Nation:

Jeremiah Rivers
March, 10, 2011
3/10/11
10:01
PM ET
INDIANAPOLIS -- Penn State kept its outside hopes of an NCAA tournament berth alive with a must-win game against reeling Indiana. The Nittany Lions got balanced scoring instead of relying on star guard
Talor Battle
, played solid defense and avoided foul trouble in the
61-55 win
, sending the Hoosiers into the offseason with their ninth straight defeat.


Turning point:
In a consistently close game with few prolonged runs, Penn State pieced together a 17-8 push that started late in the first half and extended 5 1/2 minutes into the second half for a seven-point lead. From that point on the Nittany Lions led by at least three points the rest of the way.
Key player:
With star guard Battle largely kept under wraps by Indiana defensive ace
Jeremiah Rivers
, senior forward
Jeff Brooks
stepped forward with 15 points and seven rebounds for Penn State. Brooks had a pair of difficult bank shots in the latter stages of the second half to help hold off the Hoosiers.
Key stat:
Penn State was not whistled for a single foul in the second half until 2:36 remained, which might be the longest I've ever seen a team go without a foul. When the Nittanies finally did get called for one, the response was a half-sarcastic, half-outraged standing ovation from the IU fans.
Miscellaneous:
Penn State basketball is the neglected stepchild of Penn State football, and it showed in the Conseco Fieldhouse stands. In the upper deck end zone, a hardy band of roughly 20 Nittany Lions fans stood the whole game and did their limited version of a white-out -- they whited out a couple of rows. They also had cards that spelled out "B-E-L-I-E-V-E." They'll be back to believe again Friday.
What's next:
The Nittany Lions get a rubber game with Wisconsin, a team it split with during the regular season. Indiana's season is over.
December, 31, 2009
12/31/09
5:33
PM ET
Tom Crean was heading into the locker room for his pregame talk when he heard that Pam Morgan, Maurice Creek's mother, had just walked into the building.
[+] Enlarge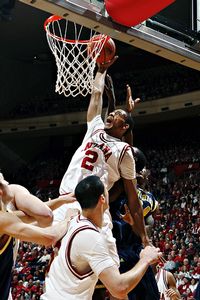 Brian Spurlock/US PresswireChristian Watford scored 19 for the Hoosiers.
Without thinking, Crean asked Morgan to come speak to his team, her son's teammates.
"It could have gone a lot of different ways,'' Crean said. "As it turned out, you could have heard a pin drop while she spoke and you couldn't hold the guys back when she was done.''
Spurred by Morgan's speech and sensing a moment that was bigger than them, the Hoosiers
stunned Michigan
, 71-65, in their Big 10 opener.
Indiana as a program has had plenty of bigger wins but it may never have scored a more critical victory, at least not recently. As Crean tries to raise the Hoosiers from the ashes wrought by Kelvin Sampson's scorched Earth, this goes down as more than a W.
It's a character-marker for a young team trying to simultaneously establish its own identity and rebuild the program's identity as well.
Two days ago the Hoosiers were reeling. Creek, the top scoring freshman in the country and arguably the best player in pinstripes this year, went down with a fractured kneecap. The injury was so gruesome, his teammates looked away.
But the real effects of Creek's injury didn't hit home until after the rookie was carted off on a stretcher. There in the locker room after the game against Bryant, the Hoosiers came to grips with their new reality: They would be going forward without the player averaging 17.6 points per game. Crean admitted his players were stung and stunned and worried how they'd react.
He needn't.
The Hoosiers not only played well, they played smart. No one tried to do more than he was capable of and no one got rattled when the game got close.
Verdell Jones III
scored 20,
Christian Watford
19,
Devan Dumes
and
Jordan Hulls
each had 11 while
Jeremiah Rivers
corralled nine rebounds and despite scoring just four points, hit a critical 3-point play for the victory.
"No question this is a sign of the maturity of our program,'' Crean said. "This is exactly how we have to progress.''
It has been an especially difficult few days for Crean. The emotional coach said he hit more than a few low points with Creek when he walked into the training room and his player broke down in tears, when he saw him after surgery on Tuesday and when Morgan spoke to the team.
"She didn't talk about Maurice, didn't give us a medical update,'' Crean said. "She talked about how happy she was that Maurice was around all of them and how lucky he was. She spoke from the heart. It was really strong. I had to walk out.''
Crean was quick to point out that this was but one win and that the only reward the Hoosiers will receive is a delay in the start of practice on Friday: from 11:30 a.m. to noon.
But he also recognizes just how critical it was. He asked former players to come to this game and come to the locker room. He wanted his players to understand that going forward without Creek wasn't just required, it was expected and that how they played wouldn't just represent their own spirit but the spirit of the program.
"We can't ever lose sight that Indiana always has been a program of great traditions,'' he said. "It's our job to enhance that.''
December, 9, 2009
12/09/09
1:45
AM ET
NEW YORK -- The team won't come right out and say it, but it's hard to dispute the notion that Indiana would have no chance to beat No. 4 Kentucky on Saturday if the Hoosiers had not beaten Pitt on Tuesday night.
The Hoosiers still are looking at a monumental challenge Saturday at Assembly Hall in Bloomington. But to pull off a major upset in UK's first true road game of the season, the Hoosiers had to enter the game with some sort of confidence.
They have plenty now after
holding off the Panthers 74-64
in the nightcap of the Jimmy V Classic at Madison Square Garden.
[+] Enlarge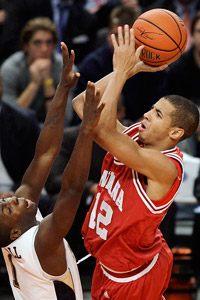 AP Photo/Julie JacobsonVerdell Jones III led the Hoosiers with 20 points Tuesday night.
The young Hoosiers whiffed on all three games in the Puerto Rico Tip-Off Classic, including losses to Boston University of the America East and a George Mason team that is currently 4-5. The other loss was to a likely NCAA tournament team in Ole Miss, and falling to Maryland at home in the Big Ten/ACC Challenge wasn't a confidence killer, either. But the Hoosiers had to beat someone from a power six conference before Kentucky comes calling this weekend.
"Oh man, we were begging for it,'' IU point guard
Jeremiah Rivers
said. "We've been working so hard to get a win. We needed this win so badly. We needed it for our confidence, for our sanity.''
Indiana coach Tom Crean looked like he was running for the Senate after the game, shaking hands with the Hoosier fans, who were clearly louder than their Pitt counterparts at MSG. He brought in his fellow politician/brother-in-law Jim Harbaugh. The Stanford football coach delivered, according to Crean, an unbelievable halftime speech that had the Hoosiers as energized for a half as they've been this season.
Crean even said No. 2 Kentucky was calling Saturday. It's actually No. 4.
"I lied, but by Friday night, they may be No. 1,'' Crean said. "They're the real deal; as much talent on the floor as anybody we'll see.''
Crean said Saturday's game against the Wildcats isn't the Hoosiers' season. And it's not. No one expects the game to be close, let alone a win. What Crean needs to see from this crew -- what he saw Tuesday from
Verdell Jones III
(7-of-13 for 20 points),
Christian Watford
(18 points) and Rivers (a solid floor game) -- is progress.
The Hoosiers defended the Panthers well as
Nasir Robinson
went 0-for-7 inside and Pitt shot just 32.3 percent for the game.
As for Rivers, who was nursing a pinched nerve in his back, Crean isn't concerned about him hanging with Kentucky point guard
John Wall
.
"If he's healthy, he'll do fine,'' Crean said. "Jeremiah is one of the fastest guys in the country. But you're not guarding John Wall with one person. You need team defense, transition defense and it has to be as good as it has been. We're going to have to have a Michigan State times two effort on Saturday.''
Rivers said he'll be ready to play Saturday and that he and Wall will be going up and down the court in a "track meet" since they're both "speedy and athletic.''
What the Hoosiers need more than anything, though, is a rocking Assembly Hall. Crean said he expects it to be as loud as it has ever been.
* Pitt's
Ashton Gibbs
took 25 shots to score 25 points.
Jermaine Dixon
, the only starter back from last year's Elite Eight team, played in his first game of the season after sitting out with a broken foot that was surgically repaired twice in the offseason. Dixon was limited to 13 minutes and missed both shots he attempted.
Gilbert Brown
, who should be a solid scorer for the Panthers, will return from academic suspension on Dec. 19. Pitt coach Jamie Dixon said Brown hasn't been able to practice during his academic suspension. Clearly, though, the Panthers will be better once Brown and Dixon are at full strength.
Pitt now has three straight home games against Kent State, Mount Saint Mary's and Ohio before opening Big East play against DePaul on Dec. 28.
"I think we're going to be good,'' Gibbs said. "Gil can knock down shots. Jermaine is a great penetrator and playmaker for this team. If we start to defend and get stops, the offense will come.''
Still, the Panthers will have to get more inside, something that was a given for them in previous years with DeJuan Blair. Robinson and
Gary McGhee
combined to shoot 10 percent (1-of-10). Freshman
Dante Taylor
came off the bench and was 4-of-4.