College Basketball Nation:

Jeremy Hazell
January, 13, 2011
1/13/11
5:04
PM ET
Have you ever had shin splints? I have. They're the worst. They totally ache when you try to play basketball, and they cause you to quit earlier than you would have liked, and they screw with your footwork (and thus screw with your jump shot, thus making people think you're worse than you are), and you have to ice your shins and stretch your legs all the time, and none of that stuff is even remotely fun.
Dear shin splints: I hate you. Go away forever. Your friend, Eamonn.
So here I am, feeling all sorry for myself because my shins ache, when I come across the information that yes, in fact,
Seton Hall guard
Jeremy Hazell
did
play a game of organized basketball last night. Hazell scored 23 in the Pirates' 78-67 victory against DePaul Wednesday night. Fifteen of those points came in the second half, and two of them came on a alley-oop dunk that gave Seton Hall a 17-point lead with 2:17 left in the second half.
Why is this notable? Because on Christmas Day -- just about three weeks ago, now --
a bullet entered Hazell's midsection
as he fled from four armed robbers in Harlem. The robbery attempt nearly cost him his life; Hazell was forced to flag down an NYPD ambulance from a street corner to make it to the hospital in time to get the medical attention he obviously required.
Oh, and there was the matter of the wrist injury that was keeping Hazell out of the Pirates' lineup in the first place. Hazell's healed as speedily as possible from that injury, which was supposed to keep him out from two to six weeks.
CBS blogger Eric Angevine summed the whole thing up pretty perfectly this afternoon
:
Just to recap, Hazell came back from his wrist injury in the absolute minimum time his doctor would allow. He was also shot -- SHOT -- by a gunman just eighteen days ago, and he came back playing out-of-his-mind, not tentative or ginger on the ol' wings at all. As the Associated Press reported, "Hazell, a first-team preseason All-Big East selection, had an alley-oop dunk to make it 77-60 with 2:17 left. He scored 15 points in the second half. Hazell said he never doubted that he would return to the court even after being shot." [...] It also shows loyalty to his teammates, who will have absolutely no excuses for slacking off in practice any more this season. Turf toe? Man up. Broken ribs? Get in the gym, jackwagon. Hazell here was SHOT a couple of weeks ago, and do you hear him whining? No, you don't.
It really is remarkable. Not only did Hazell do something so many athletes struggle with -- overlooking the stiffness and pain of a still-healing broken bone in favor of a return to the court -- but he did so just three weeks
after he got shot
. With a bullet. From a gun. And when he did return, it was like he was never gone in the first place. This might just be
the
story of the 2010-11 college hoops season. Incredible.
I'll never apologize to my shin splints, and I will always hate them, but you know what? Maybe they're not so bad after all.
December, 28, 2010
12/28/10
12:17
PM ET
This was not a Merry Christmas for Seton Hall guard
Jeremy Hazell
.
Hazell, a senior who was Seton Hall's leading scorer last season and was averaging 24 points per game this season before a broken wrist sidelined him in November, was walking home from a Christmas party at a friend's house in Harlem, New York,
when four men attempted to rob him
. Hazell was shot under his right arm, was treated at a Manhattan hospital Saturday night, and was subsequently released.
[+] Enlarge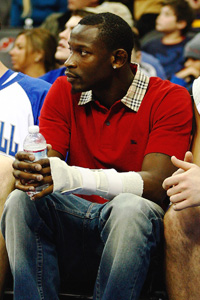 Chris Chambers/Getty ImagesJeremy Hazell has been sidelined by a wrist injury since November.
That's about all we knew about Hazell's injury. That is,
until Hazell spoke to the New York Daily News Monday night and discussed the details of his ordeal.
From that interview:
"I knew I got shot," he told the Daily News Monday. "I felt it, but I just kept running."

"I just got to the front door of my building when these four dudes came up to me," said Hazell, who has been sidelined since breaking a bone in his left wrist in a game last month. "One of them had a hand in his pocket and told me to sit down on this bench. I didn't want to, and he said if I didn't he was going to shoot me."
Hazell said he pushed the robber in the chest - and made a real-life fast break. He said he heard the thug squeeze off four shots as he bolted toward E. 105th St. One of the slugs penetrated his side, just below his armpit, and then exited his body. Hazell said that when he got to the corner of E. 105th St. and Park Ave., he flagged down a passing FDNY ambulance.
All things considered, Hazell probably should have just sat down and let the robbers take what he had. That's the typical New York mugger protocol, anyway. But no one would dare criticize Hazell for his actions; no one has that right unless they've faced the exact same situation. Even if Hazell didn't run, there's no guarantee he wouldn't have been hurt, perhaps even fatally.
Hazell may miss the rest of his senior season -- which he was considering redshirting anyway, given his prior wrist injury -- but that's the least of his concerns. He was shot, but he's alive, and he should make a full recovery. Considering the terrifying circumstances, maybe this was a Merry Christmas after all.
May, 6, 2010
5/06/10
10:30
AM ET
It's been a rough offseason around the Seton Hall basketball community.
First there was the firing of tyrannical former coach Bobby Gonzalez, which threw the program into minor turmoil (though, to be fair to the post-Gonzo turmoil, it never seemed like Seton Hall existed in anything
other
than "minor turmoil" for most of Gonzo's tenure). Then there was the
horrifying collapse and hospitalization
of forward
Herb Pope
during a workout at the Seton Hall Recreation Center. And, lastly and more trivially, there was the possibility that leading scorer
Jeremy Hazell
and small forward
Jeff Robinson
would stay in the NBA draft, leaving new Pirates coach Kevin Willard's cupboard all but bare.
There is some good news on both fronts today. For one,
Pope's condition has stabilized and is improving, according to a report by Adam Zagoria
. Little is known about the causes of Pope's collapse, and Seton Hall officials aren't disclosing medical details over privacy concerns (nor should they), but for now, the news is decidedly positive.
And as for the basketball team? It turns out both
Hazell and Robinson will return to the Pirates next season
. That's a major boost for Willard, who now has a solid base of talent already in place and won't have to do a complete from-scratch rebuild of the rough and tumble program he inherited. Hazell and Robinson don't make Seton Hall a lock to make the NCAA tournament, but they do make the Pirates' chances of getting there much, much better.
So, hey, Seton Hall fans, turn those frowns upside down. A bad offseason is, if only gradually, getting better.
March, 10, 2010
3/10/10
9:03
PM ET
NEW YORK – Pop.


The extremely diaphanous bubble holding Seton Hall's NCAA tournament hopes officially burst here in the Big East tournament. The Pirates absolutely had to beat Notre Dame to have an outside chance of getting a ticket.
Instead the high-scoring Pirates – the same ones who dropped 109 against Providence a night earlier –
could barely get over 50 against the Irish
, and all but sealed their NIT fate.
But instead of pummeling the losers here, it's time to salute the winners. Notre Dame moved into the quarterfinals and squarely and finitely into the NCAA tournament field with their fifth consecutive win. A team that less than a month ago looked way out of the NCAA tournament instead played its way in with its best player on the bench with an injury.
The Irish's stunning
Luke Harangody
-less rally may be the most surprising event in a very surprising Big East season.
There is no one hotter in the league right now and no one playing with more confidence.
How did this one go down? A few ideas:
The Irish might have played gamely without Harangody, but they play better with him. Notre Dame looked tentative and tight early in the game. Enter Harangody. The senior ignited the Irish in the first half, scoring 15 points and adding nine rebounds before the break. He finished with 20 points and 10 boards and looked about as healthy as a body can look. He spun around flat-footed Seton Hall post players, hit the sky for rebounds and hustled down the court.
While Harangody provided an off-the-bench spark, the Pirates' reserves didn't have a pulse. Jamel Jackson's late, banked-in 3-pointer represented the Pirates' bench scoring in its entirely. Eugene Harvey, Jeremy Hazell and Herb Pope did all the hevy lifting, scoring 39 of the Pirates' paltry 56 points.
The Irish will play Pittsburgh in the quarterfinals. Ordinarily I'd say that's a tough matchup for Notre Dame. The Panthers play scrappy, in your face defense, something the high-flying Irish aren't terribly comfortable with. Except ND started its improbable run with a 68-53 pummeling of the Panthers, so who's to say that the team riding some sort of early St. Patty's Day Luck of the Irish can't duplicate the miracle?
March, 10, 2010
3/10/10
11:30
AM ET
NEW YORK -- Rise and shine, hoops heads. Time for the official tip of college basketball. The mid-majors are fun and the Tuesday warm-up at the Garden is a good appetizer but today it's officially on as the Big East revs up with its four-game platter of hoops.
At least three teams are playing for their NCAA Tournament lives today, two more are working to remove any gray area from their own status and one is trying to secure its head coach's future.
Game 1: South Florida vs. Georgetown
What's at stake:
The Bulls are in the conversation but a long way from in the tourney. A win here won't put them in but will put them in the conversation.
What has to happen:
Dominique Jones
dropped 29 on the Hoyas in a February upset. He'll need to do the same for the Bulls to have a chance plus negate Georgetown's guard tandem of
Austin Freeman
and
Chris Wright
.
Something else to watch for:
The play of Austin Freeman. Diagnosed last week with diabetes, the guard didn't seem fazed in his first game back. He had 24 points in 30 minutes of an emotional senior night.
Game 2: St. John's vs. Marquette
What's at stake:
For the Red Storm, it could be Norm Roberts' job. The coach said he's not concerned and the university hasn't offered any indication but certainly after another disappointing season in the Big Apple, he's at least on the hot seat. For the Golden Eagles, their NCAA spot would appear secure thanks to nine wins in their last 11 games.
What has to happen:
Another breakout game for
Sean Evans
would be helpful. The junior had 19 points and 10 rebounds against Connecticut in the opening round, giving the Red Storm a needed and somewhat unexpected injection of offense.
Something else to watch for:
The Red Storm again will be without
Dwight Hardy
. The junior has a sprained left knee. That's 10 points that St. John's needs to make up.
Game 3: Seton Hall vs. Notre Dame
What's at stake:
The Pirates are on the very soft bubble but not in the tournament. A win against the surprise Irish could be enough to push them among the last four in. Notre Dame's stunning Harangody-less rally has put them in the bracket but another win would only make their spot more secure.
What has to happen:
The Pirates need
Jeremy Hazell
to play within the context of the game and not take foolish shots.
Something else to watch for:
Points and lots of 'em. Both teams like to score and neither is a fan of defense. The Pirates average 81 points per game, the Irish 77.9.
Game 4: Cincinnati vs. Louisville
What's at stake:
Interstate bragging rights for starters. The two schools are only separated by 90 minutes of highway. Cincinnati is a long way from in the NCAA field, but after a dismal finish to the regular season (losing five of their final six) a strong finish would be good. Louisville secured its spot with a victory over Syracuse to close out Freedom Hall. Wouldn't be a bad idea for the roller-coaster Cards to get some momentum going.
What has to happen:
Edgar Sosa
has to play smart. The point guard can giveth and taketh away. Sometimes he's brilliant. Sometimes he's awful. The Cards need his A game to stave off an upset.
Something else to watch for:
Lance Stephenson
's return to the Big Apple. The Big East's rookie of the year didn't fare so well in his first visit, with just seven points against the Red Storm.
January, 25, 2010
1/25/10
11:07
AM ET
Five things to know from Sunday's action:
1. Seton Hall's defense was the story in its 64-61 upset of Pittsburgh. The Panthers lost their second straight game, committing 20 turnovers and shooting just 35.4 percent from the floor. After starting 1-4 in Big East play, Seton Hall has now defeated Louisville and Pittsburgh in back-to-back games. The story of those two wins has been their success despite the quiet play of
Jeremy Hazell
. Over the first five conference games, Hazell was averaging 28.4 ppg on 24 shots per game. After 9 points in 16 foul-plagued minutes on Sunday, Hazell is averaging 17.0 ppg on just 10 shots over the last two games.
2. Wisconsin's 11-game win streak against Penn State appeared headed for an end on Sunday with the Nittany Lions up 16 midway through the second half. But then the Badgers went on a 15-0 run to get right back in the game. However, with two minutes to play, PSU had rallied back to an eight-point lead. That's when
Jordan Taylor
arrived. Taylor, who had two points up until that point, scored 18 of his 20 points in the final two minutes of regulation and then in overtime to lead the Badgers to the win. Wisconsin is now 51-0 against unranked Big Ten foes at home under Bo Ryan.
3. Iowa had lost 15 straight road games and was winless in Big Ten road games since the 2007-08 season. But on Sunday, the Hawkeyes went into Assembly Hall and held the Hoosiers to 43 points and outrebounded them by 16. It marked the fewest points scored by IU at home against Iowa since 1945. Adding even more insult, Indiana was 0-of-9 from 3-point range, snapping a streak of 277 straight games with a trey.
4. The nation's top freshman scorer isn't in Lexington or Lawrence. He's in Kennesaw, Georgia.
Markeith Cummings
, a redshirt freshman, had quite a weekend in leading Kennesaw State to its first back-to-back conference road wins since 2005-06. He scored 30 in Friday's win over Florida Gulf Coast and then posted a double-double Sunday over Stetson. Cummings has scored in double figures in every game for the Owls, who, with three Atlantic Sun wins, have equaled their total from last season.
5.
Greer Wright
scored a career-high 30 points in Binghamton's win over Vermont on Sunday. He shot 10-fo-15 from the floor, including 5-for-6 from 3-point range. After starting the season 4-10, Binghamton has won four of their last seven games thanks in large part to the improved play of Wright. In those seven games, Wright is averaging 19.3 ppg while shooting 43.1 percent. During the 4-10 start, he was putting up just 12.6 ppg for a team that was starving for a scoring punch.
January, 24, 2010
1/24/10
4:46
PM ET
Crawling out of the Big East cellar is about as easy as climbing Mt. Everest without a sherpa -- it's nearly impossible.
Yet, Seton Hall appears to be surfacing from the basement. After an 0-3 start in the league that appeared to signal bad business as usual, the Pirates have won three of their last four, including
Sunday's 64-61 upset of No. 11 Pittsburgh
. Partner that victory with a win against Louisville -- both games that Seton Hall survived charges from the visitors -- and the Pirates may actually be playing like the team many expected to see in October.
Transfer
Herb Pope
is giving the Hall something it hasn't had in a long time -- a scoring threat not named
Jeremy Hazell
. Pope, who grew up 25 miles from downtown Pittsburgh and whose original plans to play at Pitt changed after he was shot outside a party in his hometown of Aliquippa, scored 19 and pulled down nine boards against the Panthers. Every point was critical as Hazell, saddled with early foul trouble, only had nine. Pope is averaging a double-double and with him, plus
Jeff Robinson
(a Memphis transfer) in the mix, Hazell finally has help.
The Pirates are hardly out of the woods -- or the basement -- yet. They are just 3-4 in the league and have visits to Pittsburgh, Villanova and West Virginia remaining on the schedule. But the schedule breaks more favorably than unfavorably. Seven of the Pirates' final 11 games are against the bottom half of the Big East, giving Seton Hall more than ample opportunity to finally climb out of the cellar.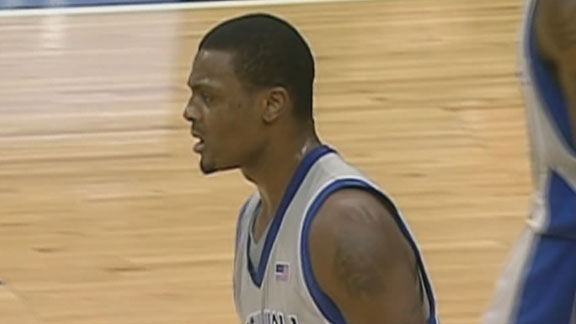 December, 30, 2009
12/30/09
12:53
PM ET
1. Kentucky's
John Wall
set a school record with 16 assists in the Wildcats' win over Hartford. He broke Travis Ford's record of 15 set in 1993 against Eastern Kentucky. Wall's 16 assists are the most by a Division-I player this season, and the most since Pittsburgh's Levance Fields also had 16 last February. Wall is now averaging 7.5 APG, second in the nation to Siena's
Ronald Moore
(who had a mere 12 assists on Tuesday). In addition to the huge assist total, Wall tied a career-low with just one turnover. He also failed to score in double figures for the first time in his career, a minor footnote on a historic night.
2.
Ryan Wittman
and Cornell are making a lot of noise in the Ivy League. Wittman, the son of former NBA player and coach Randy Wittman, scored a career-high 34 points Tuesday in Cornell's 78-75 win at La Salle. Wittman also set Cornell's all-time scoring record in the game, surpassing John Bajusz's 1,663 points. The Big Red won their eighth straight despite missing a pair of starters. Cornell is 10-2 despite having only played two home games. It is now 6-1 in true road games, including wins at St. John's, Massachusetts and Alabama.
3. Wall may be getting the majority of the press, but what
DeMarcus Cousins
is doing is fairly astonishing. The freshman big man scored 19 points and added 12 rebounds on Tuesday for his seventh double-double this season. He did so in just 19 minutes. In fact, he has played fewer than 20 minutes in each of his last three games, all double-doubles. While battling foul trouble (though he had no fouls Tuesday), Cousins is averaging only 18.7 minutes per game this season. But in that time, he is also averaging 15.2 PPG and 9.0 RPG. That makes him the most efficient scorer and rebounder in the nation. Cousins is averaging 32.5 points per 40 minutes, first in the nation ahead of Seattle's
Charles Garcia
, and 19.2 rebounds per 40 minutes, first in the nation ahead of Duke's
Brian Zoubek
.
4. Seton Hall suffered its second tough conference loss in four days when it fell to Syracuse 80-73. But no one can blame those losses on not getting the ball in the hands of its superstar. Days after scoring a career-high 41 points against West Virginia,
Jeremy Hazell
poured in 38 on Tuesday. Hazell has attempted 64 shots (including 34 treys) in those two Big East games. His 33 attempts on Saturday were the most by a player this season. Tuesday's 31 attempts are tied for the second most in a game. There were 26 teams that attempted fewer 3s than Hazell's 15 on Tuesday.
5. Louisiana Tech improved to 12-2 with a 99-94 win at Houston on Tuesday. Rebounding was the story of the game, as the Bulldogs held a 55-32 edge on the boards.
Olu Ashaolu
had a career-high 21 rebounds, the fifth most in Division-I this season, to go with 17 points. Louisiana Tech got 98 of its 99 points from its starters, the third most points in a game for a starting lineup this season. Former LSU big man
Magnum Rolle
scored a career-high 29 points on 13-for-15 from the field.