College Basketball Nation:

Jermaine Marshall
March, 6, 2014
Mar 6
11:20
PM ET
It's March. Championship Week begins Friday, and we're less than two weeks away from the Big Dance.
We'll probably see a multitude of thrillers, overtime games and clutch performances in the coming weeks. At least, we hope we will.
With the game on the line, these players should have the ball in their hands.
Here's a list of America's most clutch performers:
Sean Kilpatrick: Cincinnati's defense has been critical in the Bearcats' rise to the top of the American Athletic Conference. But Kilpatrick has been the offensive catalyst for a team that's struggled from the field this season. He's arguably the top shooting guard in America, and his 34-point effort in Thursday's 97-84 win over Memphis was his 17th performance this season with 20 points or more.
Shabazz Napier: This list wouldn't be valid without Napier. The senior guard has been clutch throughout his career at UConn. He's always confident with the ball in his hands during big games. The legend continued when he hit the game-winning shot over Florida in December. He's averaging 18.1 PPG, 5.3 APG and 1.9 SPG, along with shooting 43 percent from beyond the arc. He's always ready to show up down the stretch.
Russ Smith: He's still "Russdiculous." Sometimes Smith can lose control and force shots, but he rarely shrinks under the spotlight. The senior star just keeps rolling, even on his worst nights. Against Cincy on Feb. 22, he'd missed seven of nine field goals when he caught the rock in the final seconds. He hit the shot, beat the buzzer and won the game for Louisville. The shot alone was impressive, but Smith's ability to move on to the next play and help his team is rare.
Tyler Ennis: Yep, Syracuse is struggling. But prior to this 1-4 stretch, Ennis was probably the most dependable player in America in the final minutes of a game. Through Feb. 12, he was 8-for-9 from the field and 14-for-14 from the charity stripe with a 6-to-0 assist-to-turnover ratio in the final five minutes of the second half and overtime, according to ESPN Stats & Info. That's a ridiculous stat line that illustrates Ennis' reliability in crucial moments for the Orange this season.
Doug McDermott: Perhaps a list like this has to feature a senior who is on the verge of scoring 3,000 points for his career and earning his third consecutive Associated Press first-team All-America honors (he'll be the first player since Wayman Tisdale and Patrick Ewing in the 1980s to complete that feat). McDermott is also shooting 44 percent from the 3-point line this season and averaging 25.9 PPG.
Traevon Jackson: Wisconsin's veteran guard can't match the accolades that other players on this list boast. But whenever the Badgers are in a tight spot toward the end of a game, Bo Ryan usually turns to Jackson, the son of former Ohio State and NBA standout Jim Jackson. Sure, Jackson has missed a few late, but he's also nailed clutch shots during his time in Madison. He beat Minnesota and Penn State last season with shots in the closing seconds. And his most recent heartbreaker was a last-second dagger that finished Michigan State last month.
T.J. Warren: His blood type? Ice. The 6-foot-8 sophomore plays on a Wolfpack squad that won't crack the NCAA tournament field without an ACC tourney championship. But he has put together some of the season's most magnificent performances. His 41 points (16-for-22) in a 74-67 victory at Pittsburgh Monday probably opened some eyes, but he has scored 30 or more eight times this season.
Billy Baron: There is only one player with a higher offensive rating (125.2) than Doug McDermott, per Ken Pomeroy. That's Baron. But Canisius fans knew that already. Last season, Baron hit a 3-pointer toward the end of regulation to force overtime in a win at Youngstown State in the CIT, capping a comeback from a 45-28 halftime deficit. This season, Baron put together a late barrage during a 40-point night that lifted Canisius to a triple-overtime win versus Siena.
Jermaine Marshall: Arizona State wouldn't be in the NCAA tourney conversation without the Penn State transfer. He hit big shots in overtime during ASU's win over rival Arizona last month. In January, Arizona State beat California in overtime after Marshall's 3-pointer forced the extra period. He hit clutch free throws in a win over Oregon a few days later, too. The senior doesn't have much time left and is playing with a sense of urgency, an attitude that has helped the Sun Devils compete for an at-large bid.
Nik Stauskas: The versatile sophomore has fueled Michigan's run to the Big Ten title. He's averaging 17.3 PPG in a season that could end with All-America and Big Ten Player of the Year honors. His teammates can trust him with the game on the line. In January, two clutch performances stood out. Stauskas helped the Wolverines secure a road win over Minnesota Jan. 2 after Glenn Robinson III missed the second half with an ankle injury. Two weeks later, he knocked down a 3-pointer in the final minutes to help the Wolverines hold on to their lead in a win at Wisconsin.
February, 17, 2014
Feb 17
9:30
AM ET
Herb Sendek entered the season hoping to lead his Arizona State squad to its first NCAA appearance since 2009 and second since 2003. With Jahii Carson returning and Penn State transfer Jermaine Marshall in the mix, it seemed feasible. An early Pac-12 slide, however, fostered doubts about that potential. But the Sun Devils have won six of their past seven games, including Friday's 69-66 double-overtime win over No. 2 Arizona in Tempe on Friday. Sendek recently spoke with ESPN.com about his team's recent surge.
Now that you've had a few hours to breathe and think about it, how did your program pull off that upset win over your archrivals on Friday?
Sendek:
It was a very entertaining college basketball game. Over the course of 50 minutes, I don't think either team had more than a six-point lead. The game was hard-fought. Obviously, the game could've gone either way. We were fortunate in the end for [
Jordan Bachynski
] to come up with the blocked shot and seal the win for us.
[+] Enlarge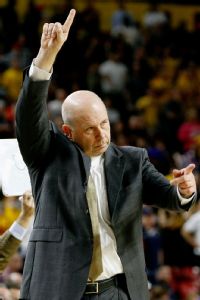 Ralph Freso/Getty ImagesA big win Friday over No. 2 Arizona puts Herb Sendek in good position to lead Arizona State into the NCAA tournament.
What does a win like that say about your program and its resilience?
Sendek:
We've had a string of games like this lately. We've now played three overtime games. Even some of our other games that didn't go into overtime were close and hard-fought. I think it's just very reflective of how strong the conference is right now. It's very competitive. On most nights, there's not a lot of separation between teams.
How worried were you at the end of Friday's game, when Carson hung on the rim and the crowd rushed the court before the game was over?
Sendek:
To be honest with you, I didn't know what had happened because I thought time had expired. ... I started to wonder, 'Why isn't Arizona leaving the court?' Then the official finally grabbed me and told me what the situation was. It all happened in a matter of seconds. It just was like a blur. Before you knew it, there was [time] put back on the clock and we had to finish the game again.
You lost three of your first five Pac-12 games but you've won six of your past seven. What has been the key to this run?
Sendek:
I think sometimes too much is made of those kinds of runs. Three of five we lost. ... Two of those were at UCLA and at Arizona. This time we played Arizona at home. I don't get too caught up in stretches and the runs each game. ... I do think our team has continued to get better, and I would say everybody in our league has done the same.
How important is an NCAA tournament bid to this team?
Sendek:
It's important to our team. I think it's the No. 1 goal that we have as players and coaches. We'll give it our best shot for sure. Compared to other challenges that people have around the world, other sufferings that take place every day, I don't know how important it is. But in the world of sports, our world, it's our No. 1 goal right now.
How much pressure do you feel to add an NCAA tournament appearance to your resume?
Sendek:
I guess it depends on how much control you want to give other people over your own feelings. I think a certain amount of pressure can be a good thing if it's self-imposed. But to the extent that others apply pressure to you, I don't know that that has any great value.
What has Marshall added to your program?
Sendek:
He's been terrific. Jermaine has made one big shot after another for us. He's just brilliant down the home stretch of games, and I think he's really added a level of maturity and bestowed great confidence on his teammates. He's just been a phenomenal teammate for us -- certainly down the stretch of the Arizona game ... he made one big shot after another.
October, 17, 2013
10/17/13
7:30
PM ET
SAN FRANCISCO -- The fireworks fizzled here before they really even had a chance to light up the sky.
Bummer. It might have been fun.
USC and UCLA have a terrific rivalry when it comes to the football teams. Which team is better? Which campus is prettier? Which cheerleaders are prettier?
But a rivalry in basketball?
[+] Enlarge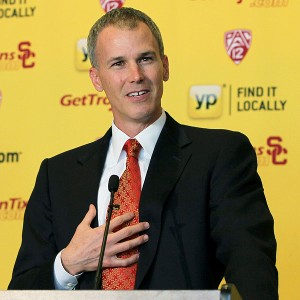 Victor Decolongon/Getty ImagesAndy Enfield appeared to spark a rivalry with UCLA, but he and Bruins coach Steve Alford brushed it off.
Yeah, not so much.
How could they?
Here's the short conversation.
UCLA fan:
We have 11 national championships. What you got?
USC fan, meekly shuffling away:
Um, 11 NCAA tournament wins?
So when new USC coach Andy Enfield appeared to take a shot across the bow and aimed it directly at Westwood, well, finally there was something to talk about.
"We play up-tempo basketball here," Enfield was quoted as saying in the San Jose Mercury News. "If you want to play slow, go to UCLA."
Alrighty then, game on.
And then in the span of two hours on a lounge-lit stage at Pac 12 media day, Enfield and Steve Alford doused the fire with a bucketful of cold water.
Enfield didn't say he didn't say it -- he did -- but he said it in the middle of a practice, meant it for his players' ears only and laced the comment with a heavy dose of sarcasm, all of which got lost in translation from practice court to newsprint.
"I have a sarcastic personality," Enfield said. "I don't use a lot of profanity to motivate my players, but I do use sarcasm. I was very upset with my team in that particular moment in practice. I blew my whistle and that came out of my mouth. It was meant to make a point of how we want to play and to use some sarcasm. It certainly was not meant to disrespect Steve or what he's doing."
If Alford was ticked, he surely wasn't saying.
The disciple of Bob Knight did not go Bob Knight when asked about Enfield's comments.
Instead, he went Gandhi.
"I've got great respect for Andy," Alford said. "He had a very good season last year, and I respect what he's done. I wish him all the best. It's UCLA. We're concerned about building a model program."
The truth is, this is fun fodder but really much ado about nothing.
Coaches say all sorts of things in practice -- some even unprintable -- and usually the comments float and dissipate in the rafters, where they belong.
Still, it would be fun if somehow the blood could get boiling between the two basketball programs.
It also would be good for the Pac-12.
Here at media day, the theme of the day was how much better the league is. And it is.
Once derided for having little meat on the bone, the Pac-12 finally is getting its mojo back. Five teams earned NCAA Tournament bids a year ago, and of those five, two -- Oregon and Arizona -- went to the Sweet 16.
It's not going to be compared to the ACC or the Big Ten anytime soon, but it is no longer the game's punching bag, either.
Arizona is firmly back among the nation's best; Oregon and Colorado are on a steady rise; Lorenzo Romar has a potential sleeper at Washington; and
Jahii Carson
could help Arizona State turn heads.
"Maybe we deserved to take a little bit of a beating [as a league] a few years ago," Washington State coach Ken Bone said. "But those years are gone. Those are definitely behind us."
But nothing stokes the fires for a conference like a good crosstown rivalry, and nothing adds oomph like good basketball in a league's epicenter.
For the Pac-12, that's Los Angeles. If Enfield and Alford can get things going, preferably on the court as opposed to over the airwaves, the entire conference would benefit.
Other notes:
• Like everyone else in the country, coaches here were concerned and curious about how the new hand-checking rules will impact the game. "The way it was presented this morning, it could really have a revolutionary effect on the game, if they take it to the extreme as it was described today," Arizona State coach Herb Sendek said. Romar admitted he's concerned how his team, which likes to pressure defensively, will adjust. "We have to be smart in how we pressure," he said.
• Asked to name the top new players in the conference, virtually every coach got to one name --
Aaron Gordon
-- and stopped. The Arizona freshman is drawing high praise across the league. "Aaron is a special player," Romar said. "He's one of the rare young kids that come into college that is extremely talented but yet has a motor, and he has his goals, but at the same time he's very unselfish. I just don't know if that combination is out there much these days."
• Some player notes: Arizona State transfer
Jermaine Marshall
(from Penn State), who is expected to be a nice sidekick for Jahii Carson, is not practicing, sidelined with pneumonia-like symptoms. He should be back next week. ... Cal's
Justin Cobbs
, who had surgery on his foot in August, said he is about "80 percent" and expects to be ready to play when the Bears travel to Maui. ... Oregon is still awaiting word on Joseph Young's hardship appeal to the NCAA. The former Houston product transferred to the Ducks after his father, Michael Young, was reassigned by Houston coach James Dickey.
August, 29, 2013
8/29/13
5:00
AM ET
Following up on more August trips, here is what three teams learned.
1. Arizona State:
The Sun Devils went to China and according to the staff had a tremendous cultural bonding experience. The post-trip buzz was about how well the three freshmen played, according to associate head coach Eric Musselman. That means ASU expects to get production out of wing
Egor Koulechov
,
Chance Murray
and
Calaen Robinson
, who is listed as a sophomore but didn't play last season. The Sun Devils were in search of a backup point guard on the trip and likely found two in Murray and Robinson. ASU desperately needs more options and depth to be an NCAA tournament team. The Sun Devils figured out they've got to incorporate more touches for JC transfer Shaquielle McKissic and Penn State transfer
Jermaine Marshall
. They will be led by point guard
Jahii Carson
(with an assist from forward
Jordan Bachynski
), but Carson can't do it alone. Musselman said the staff was impressed by the young core, but "Carson has stepped up his game both on and off the court skill-wise and with leadership.''
2. Wisconsin:
Coach Bo Ryan said he realized "Canadian basketball is much better than people realized, better than it's been.'' He said the Badgers learned how to play with more tempo and movement. The freshmen picked up the drills and the style in which the Badgers will play. He said the management of Josh Gasser's minutes was critical, since the point guard who sat out last season with a torn ACL must be ready to go for the start of the season. Gasser will share the position with
Traevon Jackson
. "Josh is still tentative and that's to be understood. He's not quite there yet,'' said Ryan. "But he shot it pretty well. This trip gave him a chance to do a lot of shooting.'' Ryan said the Badgers showed they have more depth on the perimeter. He said working with a 24-second shot clock was beneficial to handle late-game situations. The Badgers definitely played to the fast-paced game, giving up 95 points in a loss to Carleton to start the trip and 92 in a win over Ottawa. Expect those defensive scoring numbers to be much lower once the Badgers get into the season with a traditional 35-second shot clock. Wisconsin has to get the defensive numbers down with a brutal nonconference schedule with games against St. John's in South Dakota, Florida, at Green Bay, Saint Louis (and then ODU or West Virginia) in Cancun, at Virginia and Marquette. The Badgers did get a Big Ten "break" with three of the first five conference games at home.
3. Clemson:
Coach Brad Brownell said the Tigers will shoot much better this season than last after the 10-day trip to Italy. Clemson averaged 95 points on the four-game trip. "We still don't know how our young post players will react under real pressure,'' said Brownell. The only two posts who played on the trip were
Landry Nnoko
(11 blocks and 11.5 rebounds) and Josh Smith (13 boards a game).
Jaron Blossomgame
still wasn't healthy enough to play after offseason surgery and JC transfer Ibrahim Djambo and freshman big man Sidy Djitte of Senegal didn't go on the trip. "Everyone on the perimeter is a year older and just better than last year,'' said Brownell. That helps. This team will still rely heavily on
K.J. McDaniels
, who was scoring at a clip of 15 points, grabbing nine boards and blocking a total of 12 shots. McDaniels had to play more because of the thinning forward crew. Spokesperson Philip Sikes had a complete report on the trip and noted the improved play of
Damarcus Harrison
, who was in shape,
Jordan Roper
for his consistency and
Devin Coleman
for getting through the games and travel after returning from a torn Achilles.
July, 9, 2013
7/09/13
9:51
AM ET
1. Arizona State needs to get
Jahii Carson
to the NCAA tournament. The Sun Devils got him for a third season in school, which is remarkable, after he was ineligible his first year, played as a freshman and then decided to come back for his sophomore year. The addition of Penn State transfer
Jermaine Marshall
gives the Sun Devils another scoring wing and a place for Carson to deposit his passes. The experience now in the backcourt pushes ASU up a notch in the Pac-12, which is looking deeper every week. Carson and Marshall can create their own shot and give the Sun Devils another ball handler, according to ASU associate head coach Eric Musselman. Musselman said Marshall can post up, stretch the floor with 3s and allow the dribble-drives for Carson to be freed up a bit more. The Sun Devils will need to get off to a good start with games at UNLV, a revenge game at DePaul (odd home loss last season) and a monster home game against Marquette, in addition to playing in the Wooden Legacy in Fullerton and Anaheim with headline teams Creighton, Marquette (opposite bracket) and San Diego State.
2. Former UCLA coach Ben Howland would have been a unique choice for Butler if the Bulldogs had opted to go outside the family. Howland coached against many of those same Big East teams while he was at Pitt. But Howland wasn't a consideration. He is sitting out the year and wants to be back in head coaching in 2014. Howland will end up being one of the more intriguing candidates on the open market. But he must get back sooner than later. Tubby Smith may have chosen quickly in going to Texas Tech, but he was smart to get back as soon as possible. One of the hardest thing for coaches who get fired is to get back in after a hiatus. Dino Gaudio and Al Skinner both were winners but now have been out for three-plus years, making it harder to get back into the conscious of athletic directors, even though they are more qualified than a number of the candidates who are getting some of these jobs.
3. Michigan avoided a coaching staff change when LaVall Jordan didn't get the Butler job to replace Brad Stevens. Instead, it went to Brandon Miller. Jordan has been one of the key staff members in the Michigan resurgence. John Beilein is the master of the program, orchestrating the operation and coordinating all decisions. But the addition of Jordan, and along with one of the top assistants in the game in Bacari Alexander, have given Beilein his strongest staff during his tenure. Jordan and Alexander will become candidates for other gigs, but this late potential loss would have hurt the Wolverines' timing in a year when they should still be on track to challenge in the Big Ten.
April, 16, 2013
4/16/13
1:55
PM ET
On Sunday, Big Ten and consensus national player of the year
Trey Burke
made
official his entrance into the NBA draft
. There was basically nothing surprising about this decision, save maybe one thing -- the conference Burke left behind.
Now that the POY is gone, and taking other top scorers
Deshaun Thomas
,
Cody Zeller
and
Brandon Paul
to the NBA draft with him, the top two returning points-per-game scorers in the Big Ten will both play for the same team. Ah, but which team? Burke's own
Michigan Wolverines
, which shot their way to the national title game? Similarly efficient Indiana? League powers Michigan State or Ohio State? Emerging Iowa? No, no, no, no and no.
[+] Enlarge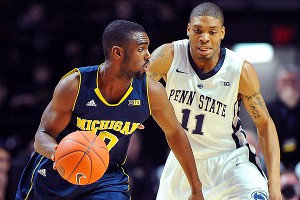 Rich Barnes/US PresswirePenn State's Jermaine Marshall will be among the Big Ten's top returning scorer's next season.
At the start of the 2013-14 season,
the Big Ten's top two returning scorers will be
D.J. Newbill
and
Jermaine Marshall
, both
of whom play for ... Penn State
. Penn State? Penn State!
It's a true story
, and one that probably says more about Pat Chambers' team than the Big Ten, when you really think about it.
First of all, as anyone even remotely into efficiency statistics would recognize, points per game is not the greatest statistic in the world. It's pretty simple stuff: Taking a larger number of shots to score a certain number of points doesn't always mean you're helping your team. Both Newbill and Marshall, despite finishing fifth and sixth in Big Ten scoring last season, failed to post an offensive rating higher than 100.0 last season. Penn State simply wasn't very good, and definitely wasn't deep, because star guard Tim Frazier -- who was a preseason conference POY sleeper pick who finished the 2011-12 year second in the conference in scoring with 18.8 points, 6.2 assists and 4.7 rebounds per game -- was lost to a season-ending an Achilles rupture in the Puerto Rico Tip-Off in November. Newbill and Marshall were asked to do a lot more than they probably bargained for, and while it didn't always result in efficiency, it did result in points.
In other words, it's not like saying Newbill and Marshall are the best returning players in the Big Ten. Obviously not. Michigan State will have
Keith Appling
and some combination of
Gary Harris
,
Adreian Payne
,
Branden Dawson
and
Denzel Valentine
; Indiana has point guard
Yogi Ferrell
; Michigan could have
Mitch McGary
or
Glenn Robinson III
; Ohio State has
Aaron Craft
and a March-emergent
LaQuinton Ross
; Wisconsin has
Sam Dekker
; Iowa has a score of interesting players, particularly center
Adam Woodbury
; Purdue has
A.J. Hammons
, who could be a beast; new Minnesota coach Richard Pitino has a really good returning backcourt (
Andre Hollins
,
Austin Hollins
;
Joe Coleman
), provided it can figure out how to stop turning the ball over.
You get the point: There are still going to be a lot of good players in the Big Ten. Rest assured, the Nittany Lions will not come off a 10-21 season with a monopoly on college hoops talent.
Even so, Penn State will be intriguing. The Nittany Lions have been the victims of some really awful luck in the past two seasons, the first of it minor (when Big Ten teams hit the lottery from beyond the arc against them,
a bit of production not entirely related to defense
) the latter of it Frazier's injury, which came just six weeks ahead of the start of one of the more brutal Big Ten conference seasons in memory.
But Frazier will be back next season. Newbill and Marshall will still be around. Penn State will have more depth, more skill, more issues being guarded on the perimeter. Don't expect the Nittany Lions to compete for a conference title, because that would be even crazier than saying Penn State has the top two returning scorers from the best Big Ten season in recent memory. But they will be very intriguing.
February, 28, 2013
2/28/13
11:30
AM ET
By
Jeremy Lundblad, ESPN Stats & Info
| ESPN.com
Player of the Night – Jermaine Marshall, Penn State
Penn State entered Wednesday mired in a 14-game losing streak that had left them winless in Big Ten play. The Nittany Lions went on a 33-12 run to overcome a 15-point second half deficit and beat Michigan 84-78. It's the fifth win over a top-five team in school history, and first since 2001. Marshall was the key to Penn State's comeback, scoring 19 of his 25 points in the second half.
Scorer of the Night – Myck Kabongo, Texas
Highlighted by an off-balance heave to send the game to overtime, Kabongo scored a career-high 31 points to lift Texas over Oklahoma. That includes 24 points in the final eight minutes of regulation and overtime, as the Longhorns completed a 22-point comeback. To go with the 31 points, he added eight rebounds, six assists and four steals. Kabongo is the only player in Big 12 history to reach all four of those totals in a game.
Bench Player of the Night – Jake Kretzer, Akron
Akron won its 19th straight game and improved to 13-0 in the MAC, as the Zips approach the first unbeaten MAC season in 54 years. Kretzer went 6-for-6 the field, including five threes, on his way to a career-high 19 points in the win over Ohio. He's the first MAC player in at least 15 years to go 5-for-5 from three-point range off the bench.
Freshman of the Night – Kyle Anderson, UCLA
Anderson,
Shabazz Muhammad
and
Jordan Adams
all topped 21 points in UCLA's overtime win over Arizona State, so all three are deserving of recognition. But Anderson added 15 rebounds, three assists and four blocks to his 21 points. The last two Pac-12 players to reach those totals were Curtis Borchardt (2002) and Ike Diogu (2004).
Stat Sheet Stuffer – Javon McCrea, Buffalo
The most impressive statistical performance of the night came in a losing effort. McCrea had 32 points, 15 rebounds and eight blocks in an overtime loss to Kent State. The only player to reach those totals in the past 15 seasons was a future lottery pick: Fresno State's Melvin Ely in 2002.
February, 27, 2013
2/27/13
9:17
PM ET
By
ESPN.com staff
| ESPN.com
Behind 25 points from
Jermaine Marshall
, host Penn State came back from a 15-point deficit to upset No. 4 Michigan,
84-78
, and record its first Big Ten win this season.