College Basketball Nation:

Jerod Haase
December, 1, 2012
12/01/12
10:39
PM ET
CHAPEL HILL, N.C. -- North Carolina senior
Dexter Strickland
has witnessed coach Roy Williams' jacket-shedding, clipboard-spiking, marker-obliterating sideline meltdowns before. But, he said, he just didn't know it was going to happen this time.
With 13 minutes, 16 seconds left Saturday at the Smith Center, Williams got livid when the combo guard -- making his first start at point guard for injured freshman
Marcus Paige
-- failed to pick up UAB ball handler
Terence Jones
and the Tar Heels' defense failed once again, allowing Jones to bury a 3-pointer to cut UNC's lead to seven points.
Strickland and his teammates responded well, using the fire lit under them to attack the basket, swish 3-pointers and shoot a sizzling 71.9 percent in the second half en route to a
102-84 victory
.
But it was another sign that the 14th-ranked Tar Heels, which will likely fall out of the polls Monday after being blown out by No. 1 Indiana earlier this week, are still a work in progress.
"If I say pick up the other team's point guard at the 10-second line, that's what I mean," Williams said. "It's an easy deal. If I tell my 3-year-old grandson to pick that cup up, my guess is he'll probably pick it up. And that's all the crap it is -- do what I tell you to do. And besides, I was really hot."
He was joking about the temperature. But he was rather heated in other ways.
This wasn't supposed to be a tough test for a team whose intestinal fortitude was questioned after falling behind by as many as 29 points during a loss to Butler a week ago then getting smashed by the Hoosiers on Tuesday night. But the Tar Heels made it one.
It didn't help that Paige jammed his left shoulder in practice Friday, limiting him to sitting on the bench in his uniform, or that UAB was so familiar with UNC's offense, because first-year coach Jerod Haase spent the previous nine seasons as a Tar Heels assistant.
But it didn't excuse the fact that UNC was so discombobulated early, allowing the Blazers to come back seemingly every time the Tar Heels got a bit of a cushion. UNC took a 35-21 lead with 2:01 left in the first half, for instance, only watch UAB whittle it down with an 8-0 run end the half and a 4-0 run to open the second half, cutting the advantage to 35-33.
[+] Enlarge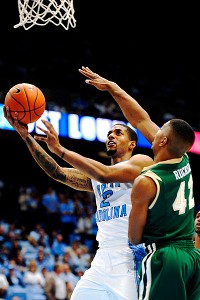 Curtis Wilson/US PresswireLeslie McDonald, who had a career-high 24 points, felt he "couldn't miss" during UNC's victory.
"I can't make any excuses," Strickland said. "We just have to do better and work as a team. All five guys have to get back and play good team basketball."
The Tar Heels made up for their defensive lapses with offensive cohesion in the second half. Forward
James Michael McAdoo
(15 points, 12 rebounds) started working the lane; Strickland (11 points, career-high nine assists) -- particularly after Williams' jacket toss -- started attacking the basket; guard
P.J. Hairston
(16 points), who was 0-for-5 in the first half, started connecting.
But most impressive was junior
Leslie McDonald
, who scored 18 of his career-high 24 points after the break.
"In my head, honestly, I couldn't miss," said McDonald, who finished 7-for-11 overall and 5-for-8 from 3-point land. "Every shot I thought was going in."
Forward
Jordan Swing
led UAB with 21 points as his team shot 47.7 percent in the second half. The Tar Heels countered with a 23-for-32 second half that marked their highest shooting percentage in a half since making 73.5 percent of their shots versus Arkansas in the second round of the NCAA tournament in 2008.
In many ways, and despite his "wacko" moment, Williams said he was pleased with the way his team responded to its 24-point loss to Indiana.
"Except for the defensive end of the floor," he said. "The fans are even wondering why they're getting six shots, that kind of stuff. We've got to get better."
Or else Strickland & Co. may just see that jacket fly a bit more.
"I did not see it coming," Strickland said about his coach's meltdown, "but I've seen it before. I definitely saw it my freshman year when we had that horrible season.
"We definitely have to do better as a team as far as -- he gets mad at the little mistakes we go over in practice, and when he has to repeat himself, that's when he's at his [angriest]. We've just got to get better as a team, get back on defense, just do a better job overall."
December, 1, 2012
12/01/12
8:15
PM ET
CHAPEL HILL, N.C. -- With all due respect to UAB, this isn't usually the type of game during which North Carolina coach Roy Williams has to strip off his jacket, yell at his team in the huddle and spike a clipboard. But it was that type of game Saturday at the Smith Center.
The 14
th
-ranked Tar Heels, who will probably fall out of the polls Monday after last Tuesday's blowout loss at top-ranked Indiana, beat the Blazers
102-84
. But Williams' meltdown with 13:16 left, after his team failed to get back on defense, was indicative of a frustrating outing, at least early-on, for the Tar Heels.


UNC starting point guard
Marcus Paige
was sidelined for this game after jamming his left shoulder in Friday's practice. Junior guard
Leslie McDonald
and freshman big man
Joel James
made their first official starts, and usual starting shooting guard
Dexter Strickland
made his first start at point guard
Turning point:
After UAB closed the first half with an 8-0 run, then opened the second half with two straight buckets to cut its deficit to 35-33, UNC forward
James Michael McAdoo
scored three of the Tar Heels' next four buckets to give his team a 43-36 lead. The Tar Heels still had their problems in the second half -- thus, the jacket toss and clipboard spike -- but the Blazers never really threatened again. UNC pulled away for good in the final 10 minutes.
Key player
s: McDonald led the Tar Heels with a career-high 24 points, all but six coming in the second half. Strickland finished with a career-high nine assists. ...
Jordan Swing
led the Blazers with 21 points.
Key stat
: UNC shot a sizzling 71.9 percent in the second half -- including 7-for-11 from 3-point land. The Tar Heels scored 67 points after halftime.
Etc.:
First-year UAB coach Jerod Haase and his director of basketball operations, Bobby Frasor, received a nice "welcome back" ovation from the Smith Center crowd after their team's starting lineup was announced. Haase played for Roy Williams at Kansas, then served as an assistant there before moving with Williams to UNC in 2003. Frasor is a former UNC point guard. This was the first game in a three-year series with UAB. … UNC junior wing
Reggie Bullock
, who was questionable to play after bruising two fingers during Tuesday loss at Indiana, started.
P.J. Hairston
, who missed the Indiana game with a mildly sprained left knee, came off the bench.
What's next:
UNC plays East Tennessee State at 7:30 p.m. next Saturday. UAB plays at Middle Tennessee State on Wednesday at 7 p.m.
July, 11, 2012
7/11/12
5:00
AM ET
1. Cal coach Mike Montgomery's decision to extend his contract through the 2015-16 season is a good sign for the game. Montgomery is a cancer survivor and it was fair to speculate how much longer he wanted to coach. But Montgomery, who did Hall of Fame work in resurrecting Stanford basketball, has been rejuvenated and wants to continue to coach and keep Cal in the chase in the Pac-12. College basketball has been driven by the coaches and there is no need to chase out some of the top names anytime soon. Having coaches in their 60s or even 70s who are polarizing -- depending on the fan base -- like Jim Calhoun, Jim Boeheim, Roy Williams, Mike Krzyzewski, Steve Fisher and Montgomery only helps to strengthen the name recognition, let alone the quality of coaching, in the game. There will be a time, probably sooner than later, when a few start to retire. Possibly starting within two years when Calhoun's contract runs out, or three years when Fisher's is over, or with Montgomery in 2016. But there is no rush to push them out. No need for that type of change just yet in an era when the players aren't in school long enough to become familiar to the mainstream fan.

2. Some coaches commit to playing a game in or near a player's hometown when he signs. Roy Williams tends to take care of former assistants or friends by playing games in their building. Williams didn't hesitate to play at UNC Asheville to create a frenzied atmosphere in a new arena. Williams was willing to take North Carolina to open up Auburn's new building when Jeff Lebo was coach. But when Lebo was fired, the deal was off. Now Williams is playing at UAB, as part of a two-for-one deal, with former assistant Jerod Haase as head coach. The Tar Heels will play at UAB in 2013. UAB's decision to fire Mike Davis was highly questionable after Davis consistently kept the Blazers in the mix in Conference USA, save last season's fifth-place finish (still ended up 9-7), and they were in the NCAAs in 2011. But landing Haase has at least paid off in scheduling, since UNC would never have played in Birmingham had it not been for him. Now the onus is on Haase to make sure that's not the only highlight.

3. Steve Fisher has two games left to schedule next season. And he's trying to see if he can jam in one of them prior to the Diamond Head Classic in Honolulu on Dec. 22-25 after grades are posted in the first semester on Dec. 17. Fisher is hoping that Virginia transfer James Johnson can get a game in before the trip to Hawaii. Arizona and San Diego State are the teams to beat in Hawaii (the others are Hawaii, Miami, Ole Miss, San Francisco, Indiana State and East Tennessee State). The Aztecs already have a formidable, at-large type schedule with Syracuse in San Diego on a navy base, UCLA in Anaheim, at USC and a road game at Missouri State.
January, 24, 2012
1/24/12
7:24
PM ET
CHAPEL HILL, N.C. – As he helped injured shooting guard
Dexter Strickland
off the court Thursday night, it didn't take long for North Carolina freshman
Stilman White
to realize the potential ramifications.
One of the reasons he was signed last spring was for insurance, to give the Tar Heels an extra ballhandler in case sophomore starter
Kendall Marshall
, or backup Strickland, got hurt.
Now that Strickland is out for the season with a torn ACL in his right knee, it's time to see how that insurance will pay off.
"I have confidence in myself; I know I can get the job done,'' White said Tuesday. "It's not like they're asking too much of me, to play most of the game. I just need to give Kendall some relief, and hopefully I can do that and do a good job."
Strickland, the starting shooting guard, was playing only about three minutes a half at point guard – but they were important minutes, enough to re-energize Marshall, who is already averaging more than 31 minutes per game. (And enough to give the team confidence that it had an experienced backup point guard should Marshall get hurt or into foul trouble.)
Marshall can (and probably will) play more, and coach Roy Williams said the team may try running the offense in stretches without a natural ballhandler on the floor.
But White, Williams said, "is going to be given the chance to get into the game, and we'll see. Nobody's got a magic wand; we'll see what happens."
A 6-foot, 160-pounder from Wilmington, N.C., White averaged 20.5 points and 3.0 assists as a senior at Hoggard High, where he even occasionally jumped center. A Mormon, he originally planned to begin a two-year mission this season before eventually playing basketball at Utah, BYU or UNC Wilmington.
[+] Enlarge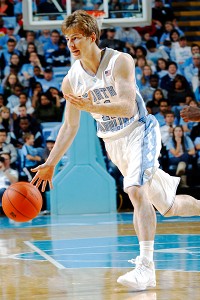 AP Photo/Jim R. BoundsFreshman Stilman White will be called on to handle the ball more often with Dexter Strickland out.
That is, until UNC, in need of another point guard after
Larry Drew II
transferred near mid-season last year, came calling. (White will go on his mission next season, and return to UNC in 2014.)
"I never really even thought I'd end up somewhere like here, but it was definitely an exciting moment in my life to have the option to come here,'' said White, ranked a two-star recruit by Scout.com.
And since coming here, he's worked. Although he's played in only 15 games, averaging 4.3 minutes mostly when the outcome is already sealed, White has spent plenty of time guarding Marshall in practice. He said that's helped him learn, improve and prepare, just in case.
"Just going against a quality point guard every day like Kendall, who I think is the best in the country, has definitely got me ready,'' he said. "Because I know every day in practice that I go up against the best, so anyone I go out and play against is probably not as good as Kendall. So that gives me a lot of confidence that if I can do stuff against him, I can do it against other people."
It will be a challenge, though, even in short spurts.
Although "he's really been doing a nice job," in practice, Williams said, being a freshman point guard at UNC "is just overwhelming sometimes."
During the 2004-05 national championship season, for example, rookie ballhandler Quentin Thomas was so inconsistent that shooting guard Melvin Scott ended up trying to spell starter Raymond Felton for stretches. In the end, Felton ended up playing more minutes – even when it meant the Tar Heels had to play zone to protect him from picking up too many fouls.
"Quentin Thomas' freshman year, he really couldn't handle it,'' Williams said. "But Kendall Marshall, his freshman year [last season], was off the charts. And my guess is that Stilman will be somewhere in there."
The question is: where?
Since learning that Strickland would be sidelined for the rest of the season, White said he's gotten plenty of advice.
UNC assistant coach Jerod Haase has reminded him that this is an opportunity of a lifetime, and to do his best to take advantage. Marshall has stressed that the entire team has faith in him, and to play with confidence.
White's high school coach has insisted that this situation is why he was recruited, and to never doubt his ability.
Thus, entering Thursday's game against N.C. State, White is anxious -- but in a good way.
"I think just being nervous comes with it, and I hope I'm a little nervous going into it, because I think that always makes people play better,'' he said. "So I've just got to make sure I come in, I stay on edge, and play with some edge and play hard, and just kind of be a scrappy kid. And see what happens out there."
Follow Robbi Pickeral on Twitter at @bylinerp.