College Basketball Nation:

Jerome Seagears
September, 27, 2013
Sep 27
5:30
AM ET
1. UCLA made it official with a press release on Thursday that former UTEP signee
Isaac Hamilton
is on scholarship and enrolled for fall classes. But the release wasn't clear about if he was going to play this season. There was a reason for that omission. According to multiple sources, UCLA has moved on a waiver for Hamilton to play this season. The Miners didn't release Hamilton from his National Letter of Intent and his appeal to the NLI was denied. UCLA is still holding out hope Hamilton could be cleared. The 6-foot-5 Hamilton is prepared to sit and the stated purpose of leaving UTEP for UCLA was to be close to his ailing grandmother. UCLA coach Steve Alford said the versatile guard would fit in well with the Bruins. He would. UCLA needs another potential scorer and someone with length on the perimeter. Hamilton averaged 23.5 points last season for St. John Bosco High in Bellflower, Calif. If Hamilton were to get eligible, then the Bruins would add depth in October to a position that desperately needs it.
2. Memphis doesn't open the season until Nov. 14, which means the Tigers can't start practicing Friday like many of the schools that open the season Nov. 8. That's fine with coach Josh Pastner. He wants to manage the preseason grind while pushing his guys, but knows he needs to preserve them some for later in the year. He said the Tigers will start practicing Oct. 3 and within the first week he will give the Tigers a three-day weekend off. He said he remembered his former coach, Arizona's Lute Olson, building in a three-day break for the Wildcats to avoid preseason burnout. The Tigers will have a veteran team entering the American Conference, especially on the perimeter, and the maturity with the team should lend itself well to handling a spread out practice schedule early in the preseason.
3. Credit new Rutgers coach Eddie Jordan for his patience. He didn't overreact to the potential thin roster when he took over. He collected some transfers, but all with a story to tell, and waited out the waiver process. And it worked. Rutgers found out Thursday Pitt transfer
J.J. Moore
was eligible immediately. That came on the heels of Iowa State transfer Kerwin Okoro getting his waiver.
Jerome Seagears
was allowed to come back to Rutgers after a brief spring stint at Auburn without any penalty. The Scarlet Knights now have the depth to be competitive and an intriguing team in the American Conference before moving to the Big Ten.
August, 22, 2013
Aug 22
5:00
AM ET
1. The NCAA has lacked consistency on granting waivers, whether for an ill relative, in the wake of a coaching firing, following an NCAA violation or any other issue. But the national office cannot, rationally, be inconsistent on waivers when it deals with the same case. If a former Rutgers player is eligible immediately at a new school (
Mike Poole
at Iona and
Vincent Garrett
at Green Bay) because he fled the reign of former coach Mike Rice, then a new player (Kerwin Okoro or
J.J. Moore
) should be granted the same treatment and be allowed to play at Rutgers immediately. Okoro's case, involving the loss of his brother and father, has been well documented -- he clearly has a sympathetic reason to be granted a waiver. But there is a fairness issue for Rutgers that should come into play if departed players are getting a better deal. Two more --
Derrick Randall
at Pitt and
Eli Carter
at Florida -- may also get immediate eligibility. The only break the Scarlet Knights got was when
Jerome Seagears
was not penalized after he came back to Rutgers from Auburn two months after announcing he would transfer. New Rutgers coach Eddie Jordan said Wednesday there is another appeal coming for Okoro, with a different set of eyes and ears to evaluate the grievances. He said he's hopeful there will be a sensible conclusion.
2. Connecticut announced its schedule but not locations for all home games. That's because the Huskies still don't have a deal with their Hartford home, the XL Center. But, UConn athletic director Warde Manuel said, "because of timing of transition of management of XL, we are finalizing terms for this year and we will talk long-term arrangement in the near future. We will continue to play games at XL.'' The Huskies have a strong home schedule. UConn hosts headline teams Florida (Dec. 2), Stanford (Dec. 18), Harvard (Jan. 8), Louisville (Jan. 18), Temple (Jan. 21), Memphis (Feb. 15) and Cincinnati (March 1). The only home game on this list that has a designated home court is the Louisville game, at Gampel Pavilion in Storrs, because it has been tabbed for ESPN's "College GameDay" and the Saturday prime-time slot.
3. With teams returning from their foreign excursions, follow-up reports are trickling in. Vanderbilt, during its time in Greece and Italy, found out just how much it will rely on guard
Dai-Jon Parker
; the Commodores were also able to reinforce a pre-trip theory that Tulsa transfer Eric McClellan will be the primary point guard. The staff was also high on the impact of 6-foot-10 center
Damian Jones
and expects him to be one of the better first-year posts in the SEC (he'll need to be, with players like Kentucky's
Julius Randle
coming into the league). There is now a chance
James Siakam
can play power forward, allowing
Rod Odom
to play his more natural small forward. The hope is that Odom can take care of mismatches at power forward.; Siakam will need to be the glue guy, and can provide the necessary energy. The Commodores have only nine players on scholarship, so this trip was a must to create bonds and give them a head start on what could be a challenging season. Expectations are low, giving Vandy and coach Kevin Stallings plenty of head room to be a surprise in what is a wide-open SEC beyond Kentucky and Florida.
June, 17, 2013
Jun 17
7:33
AM ET
1.
Marcus Georges-Hunt
led Georgia Tech in scoring last season as the only player in double figures. The Yellow Jackets, on a long climb back to relevance, finished 6-12 in the ACC, 16-15 overall. But Georgia Tech, along with Arizona, had multiple players trying out for the U-19 USA team that will play for gold in the Czech Republic next week at the FIBA Championships. Georges-Hunt made the cut list of 16, down from 26 (Tech's
Robert Carter
didn't make the first trim). He's trying to stay on the roster before the team leaves when it is trimmed to 12. The significance for Tech to have the 6-foot-6 Georges-Hunt this far is not lost on the Yellow Jackets. "This is great for our rebuilding process that we had two freshmen from our first recruiting class invited," said Georgia Tech coach Brian Gregory. "If Marcus could make the team, I think it could act as a spring board to a tremendous sophomore year. He is a very unselfish and team-oriented player, which is great. But we need him to be more aggressive and more assertive. Making the team would give him the confidence to do that. Finally, it would be big in our recruiting. Marcus was not a top-25 recruit, so his development at Georgia Tech in one year would be a selling point in our recruiting."
2. Oregon guard
Damyean Dotson
also made the list of 16 (see here for the
roster information
). Dotson is one of the main reasons there is a slew of optimism with the Ducks heading into next season. "Dot is so talented, works hard and competes so our expectations are high," said Oregon coach Dana Altman. "He is coachable and it would be a great experience for him to make the team. Sure hope it works out for him." The team will practice this week in Colorado Springs before a weekend of playing in Washington, D.C., in advance of the departure for Prague.
3. A few quick things from the past couple of days: As soon as
Jerome Seagears
told Auburn he wasn't going to stay after transferring, the odds-on favorite destination was a return to Rutgers. Auburn coach Tony Barbee said Seagears told him he needed to be closer to home. Well, Seagears' return is yet another sign the healing has begun at Rutgers with alumnus Eddie Jordan. The Scarlet Knights had their share of defections. To bring back a player who originally left after the Mike Rice debacle is symbolic of the potential return to normalcy for the Scarlet Knights. ... Oregon State unveiled its men's and women's practice facility last week. The cost was $15 million (of which $11 million was fund-raised). These facilities are a must to advance at the high level of recruiting in basketball. The majority of schools already have a separate area to practice. Oregon State, which is clearly the understudy to Oregon in the Nike chain in the state, has had to scrap for everything. This is a significant move forward for the two Beavers' programs.
June, 11, 2013
Jun 11
5:00
AM ET
1.
Jerome Seagears
' decision to leave Auburn after a few weeks leaves the Tigers in a tough spot. The divorce from
Rutgers took its toll on Seagears
and he and wants to return closer to home. Auburn isn't going to get someone comparable at this 11th hour. Seagears had spent a lot of time on the decision to leave Rutgers and after a few months chose the Tigers. He lasted two weeks. But there is optimism at Auburn with the hope that the freshmen class can turn the program around (3-15 in the SEC and 9-23 overall last season). Auburn coach Tony Barbee is high on 5-9 freshman Tahj Shamsid-Deen. "He's a big-time winner,'' said Barbee. "A lot of people passed on him. We've got a chance to have a fantastic player who will turn heads.'' Shamsid-Deen is one of six newcomers for the Tigers.
2. UConn and Florida have locked in a home-and-home series that will start at UConn on Dec. 2 and end with the Huskies returning the game during the 2014-15 season. The Huskies have one of the best nonconference schedules and adding the Gators makes it even tougher. The Huskies could end up playing brand names from the SEC, Pac-12 (Stanford), ACC (Maryland) and possibly the Big Ten (Indiana). Meanwhile, the Gators have a stellar slate too with a road game at Wisconsin (Nov. 12), Florida State (Nov. 29), at UConn (Dec. 2), Kansas in the Big 12/SEC Challenge (Dec. 10) and against Memphis in the Jimmy V Classic (Dec. 17).
3. San Diego coach Bill Grier had told his staff he was thrilled that he did not have to coach against Tulane's
Josh Davis
anymore after facing him in consecutive seasons. But then Davis transferred to San Diego State, and the Aztecs plays USD every year. Davis will be immediately eligible and Grier said Monday he couldn't believe he will have to face him again. San Diego State also plays host to Arizona, Washington, plays at Kansas and goes to the new Wooden Legacy tournament in Fullerton and Anaheim. SDSU coach Steve Fisher said he put off playing a game at Cincinnati for next season to the following season in 2014-15.
December, 29, 2011
12/29/11
11:42
PM ET
PISCATAWAY, N.J. -- Before his team faced No. 10 Florida, Rutgers coach Mike Rice sat the Scarlet Knights down for a home movie, hoping that celluloid evidence of what a team could accomplish with a little faith might somehow spawn some belief in their skeptical minds.
The video was less than 12 months old, made on Feb. 9 of this year, when Rutgers upset then-No. 10 Villanova.
It might as well have been the Zapruder film.
Films of victories over top-10 programs are rare, grainy artifacts in the Rutgers archive room. There were, in fact, just seven lonely -- and mostly dusty -- videos in the library.
Now there are eight.
The Scarlet Knights, a team parked in the outliers' version of relevant, upset the Gators on Thursday
in double overtime, 85-83
.
That the Knights, who previously this season hadn't beaten a team with a winning record or an RPI better than 224, were able to pull off the stunner was only slightly more stunning than how they did it.
Rutgers rode the backs of a trio of backcourt freshmen who managed to play with more skill and poise than Florida's dynamic duo of
Kenny Boynton
(a junior) and
Erving Walker
(a senior).
Eli Carter
, who exploded for a career-high 31 points,
Myles Mack
(14) and
Jerome Seagears
(13) did more than just outplay Boynton and Walker for the game; they skewered them in the extra periods. The freshman trio scored 17 of the Scarlet Knights' 19 overtime points to just five from Florida's pair.
"Our freshmen's faces lit up,'' Rice said of watching the Villanova video. "I just said, 'This is what happens when you believe. This is what happens when you don't think impossible is impossible. This is what happens when young men are determined to follow the formula and play for one another.' It's a process.''
That's the same term Billy Donovan used in discussing his team's loss, a process.
His "team didn't play the right way,'' the coach said, citing not just the Gators' 18 turnovers but foolish decisions in various offensive sets and an inability hold on to what looked like a reliable 9-point first-half lead.
But neither coach was willing to make wholesale trades on his team's fortunes based on this one game in December.
Nor, history says, should they.
A season ago, the Gators lost to Jacksonville at home. And went to the Elite Eight.
A season ago, Rutgers beat Villanova. And promptly lost its next four and six of its final eight.
The result, both coaches know well, doesn't matter nearly so much as what you do with it.
"What we need to do is see how self-reflective we're willing to be,'' Donovan said. "What do we need to do differently as coaches and as players? How you handle situations like this is a big part of any young player's development. It's a matter of what comes out of this. That's why I say it's bigger than this game.''
What comes next is truly the question.
This could be a huge first step for Rutgers, a program that has been locked in an abysmal purgatory for years.
In his second season at RU, Rice now has two wins against top-10 teams. Only the legendary Tom Young has more (four) in school history.
That tells you all you need to know about Rutgers' run of irrelevance. That and the 20-year chasm between NCAA tournament berths.
[+] Enlarge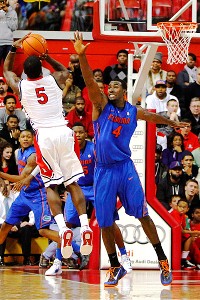 Jim O'Connor/US PresswireRutgers freshman Eli Carter pulls up for the jumper that sent the game into double overtime.
Rice, most would agree, has the Knights headed in the right direction. It's just taken them a little time this season to find the map. Rutgers beat up on an unappetizing menu of walkovers -- an RPI doesn't reflect everything, but when your team RPI is 256 and you have seven wins, it tells you plenty -- and lost to anyone with a pulse. That included Miami, Illinois State, Richmond, LSU and Princeton.
Rice knew things could get better because he had talent. A year ago he was getting by on smoke and mirrors, fully aware he didn't have the sort of transcendent player you need to survive in the Big East. He has that guy now in the form of Carter, but he needed Carter to recognize it, too.
Finally -- or suddenly -- this week, he got a glimmer of hope, sensing in practice that his team was finally buying into the lessons he was preaching, maybe even ready to take a big step.
And then there were the steps, in living color, on the court, against, of all teams, Florida.
Carter hit a dead-eye, fearless 3 to force the second overtime and swished a driving leaner to score the go-ahead bucket in that frame. Mack then sealed the deal with his own 3 with under a minute to play.
Those were just three of a highlight package of clutch shots those two and Seagears hit during the game.
"The guys really got after it this week in practice,'' said Carter, who logged 46 of the 50 minutes. "Not just the starting five, but everyone, down to the walk-ons. We knew we were better than we were playing. We never put our heads down.''
Now the Knights need to make sure their heads don't get in the clouds.
Florida, meantime, has nothing to be ashamed of. The Gators have lost three games this season -- at Syracuse and at Ohio State, the No. 1 and No. 2 teams in the nation -- and on the road here.
But how UF processes this one is what people will be looking at.
Brad Beal
finally looked like a freshman, with seven turnovers, and
Patric Young
disappeared until the overtime periods. Neither can afford too many repeat performances.
More crucially, Walker and Boynton need to be more dynamic and less enigmatic. They can be a duo you love for their fearlessness and detest for their carelessness, sometimes in the span of two possessions.
If Florida is to be as good as advertised, the Gators need to find a rhythm with one another and within the game.
"We didn't maximize each other,'' Donovan said. "There were too many guys standing around and watching, but I think this is something we have to go through, as much as you may not like it, to reach our full potential.''