College Basketball Nation:

Jerrell Wright
March, 29, 2013
3/29/13
3:43
AM ET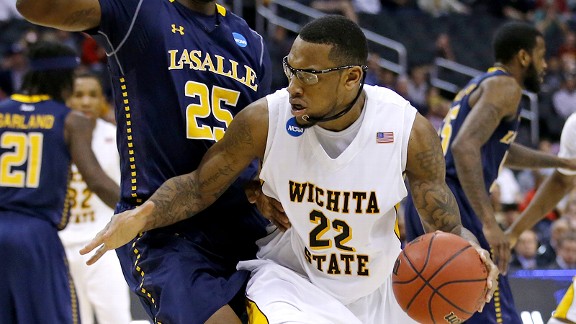 AP Photo/Jae C. HongCarl Hall's 16-point, 8-rebound, 3-block night powered Wichita State into the Elite Eight.
LOS ANGELES -- A few years ago,
Carl Hall
told his mother that he was willing to risk his life to play basketball.
Jackie Fields was understandably disturbed by the idea, because her son's heart condition, which prompted fainting spells, had disrupted his career shortly after high school.
"I was willing to live with the situation I put myself in," Hall said Thursday night after guiding Wichita State to a
72-58 victory
over La Salle in the Sweet 16 at Staples Center. "If anything happened, like if I possibly died or something on the court, I told her I would've died happy because I would have died doing something that I loved to do."
On Thursday, the Shockers toyed with the Explorers to reach the Elite Eight for the first time since 1981.
On film, Hall had noticed that La Salle's
Jerrell Wright
-- the only big man in his team's starting rotation -- encountered problems whenever he tried to run with agile post players. At Staples Center, Hall pushed the pace.
He made his first six shots. By the time he missed, Wichita State had a 25-14 advantage.
The Shockers led 38-22 after outscoring the Explorers 24-10 in the paint before halftime. Nearly a minute into the second half, they were ahead by 22 points (44-22 with 18:48 to play).
La Salle played hard but couldn't cut its deficit to single digits. From 9:03 to 6:40,
Malcolm Armstead
recorded nine of his 18 points. The 13th-seeded Explorers didn't rally again.
Wichita State went 4-for-7 from the 3-point line in the second half. Four Shockers scored eight points or more. And they frustrated La Salle star
Ramon Galloway
(4-for-15, 11 points).
The victory began with Hall's effort inside.
"Carl Hall set the tone with just outrunning their bigs, and then we got some good stops," Shockers coach Gregg Marshall said. "We had a commanding lead early, and just were able to play with that cushion throughout. So congratulations to them, and we're really excited to be moving on to the Elite Eight."
Neurocardiogenic syncope is defined by the National Center for Biotechnology Information as "a transient loss of consciousness."
Hall said he fainted for the first time while in high school. Doctors told him he was dehydrated. And then it happened again. And again.
He was finally diagnosed with the condition, which temporarily derailed his career. He was playing for Middle Georgia College at the time.
And then, suddenly, he was working at a factory.
"It was hard for him," Marshall said. "[Doctors] shut him down. The one thing that he loved in life was playing basketball. And they said 'You can't play.'"
So he spent two years painting fluorescent lights for a local business.
He stayed in school, though. Hall worked the graveyard shift, then attended morning classes.
In the meantime, he stayed close to basketball by competing on playgrounds. As the desire to return to the organized game grew and his reservations subsided -- months after doctors had given him medical clearance to compete -- he spoke to the staff at Middle Georgia and asked for another chance.
He returned to that team for the 2009-10 season and transferred to Northwest Florida State for the 2010-11 campaign.
That's where Marshall saw him.
"I said to my staff, 'I want that guy right there. The guy with the hair,'" Marshall said about Hall, who cut off his dreadlocks before the NCAA tournament.
But Marshall was also fearful.
[+] Enlarge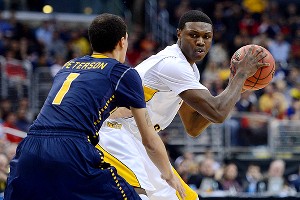 Harry How/Getty ImagesCleanthony Early (8 points, 7 rebounds) was one of five Shockers with at least 7 points Thursday.
Shortly after he accepted the Wichita State job in 2007, he witnessed a high school player collapse and die on the floor. Guy Alang-Ntang, a prospect from Cameroon competing at a New Hampshire prep school,
had just re-affirmed his commitment to Wichita State
before the tragedy.
"He says, 'I want to come. I'm going to re-affirm my national letter of intent,'" Marshall said. "So I'm watching him play pickup and 15 minutes later he just lurches back and it's over. That was my second day on the job."
Although Hall hasn't fainted since he played for Northwest Florida State, Marshall didn't want that to happen to Hall when he arrived last season. But he also wanted the forward to be in playing shape.
It was a difficult task, however, because Hall was so nervous about strenuous drills. When he felt tired, he would just sit down while the rest of his teammates continued to run. He didn't want to take the risk. Neither did Marshall.
"I didn't want to be the coach who made him pass out or worse," Marshall said.
So he told Hall that he had to push himself. Alone. And that's what he did in the offseason. He rode his bike. He ran laps on the school's track. And he conditioned his body so that it would allow him to race up the floor at Staples Center on Thursday.
The man who helped Wichita State reach the Elite Eight for the first time in more than 30 years is the product off a work ethic that defines Marshall's entire program.
The Shockers have a blue-collar vibe that's driven their unlikely success. This is a squad that will compete against Ohio State on Saturday for a shot at the Final Four, despite losing six Missouri Valley Conference regular-season games.
Injuries have been an issue all season, though. Hall (thumb),
Ron Baker
(foot),
Evan Wessel
(finger) and
Ehimen Orukpe
(ankle) all missed time with injuries.
But the ninth-seeded Shockers (29-8) are jelling at the right time now that most of the team is healthy.
And they're winning with a tenacity, edginess and grit that Hall displays each night. It's a spirit that the program has showcased throughout this run.
"We've had our share of adversity this year and these guys just keep finding a way," Marshall said.
As he walked off the court Thursday, Hall looked toward the Shockers fans in the stands and smiled. When he waved his arms, they all rose and cheered.
It was a blissful ending for Hall and his teammates -- but definitely not one that the senior envisioned when his medical condition halted his career.
"It's like I'm in a dream right now, you know, and I'm just trying to take advantage of this whole opportunity," he said.
March, 29, 2013
3/29/13
12:40
AM ET
LOS ANGELES -- A quick look at Wichita State's
72-58 victory
over La Salle in the Sweet 16 at Staples Center on Thursday night:


Overview:
Wichita State reached Los Angeles after uprooting No. 1 seed Gonzaga last weekend. The Shockers lost six regular-season Missouri Valley Conference games. They lost to Creighton in the MVC tournament title game.
So there were no real indications that they would make it out west for a shot at the Elite Eight.
But the No. 9 seed certainly proved that it belonged by its furious start against La Salle. The Shockers (29-8) led by 10 points with 8:53 remaining in the first half.
They were just too strong for 13-seed La Salle (24-10) from tipoff.
The Shockers shot 44.8 percent from the field and 41.7 percent from beyond the arc.
Malcolm Armstead
led all scorers with 18 points.
Turning point:
Jerrell Wright
's layup 55 seconds in tied the game 2-2. Then the Shockers launched a 12-0 run.
Carl Hall
fueled the barrage on his way to making his first six shots. But they didn't stop there. They entered halftime with a 38-22 advantage after outscoring La Salle 24-10 in the paint.
Star of the game:
A few years ago, Hall was just another junior-college player. On Thursday, however, he led the Shockers to the Elite Eight. He finished with 16 points, 8 rebounds, 4 blocks and an assist.
Stat of the game:
La Salle star
Ramon Galloway
went 4-for-15 from the field.
Next:
Wichita State will face Ohio State in the Elite Eight on Saturday.
March, 26, 2013
3/26/13
1:30
PM ET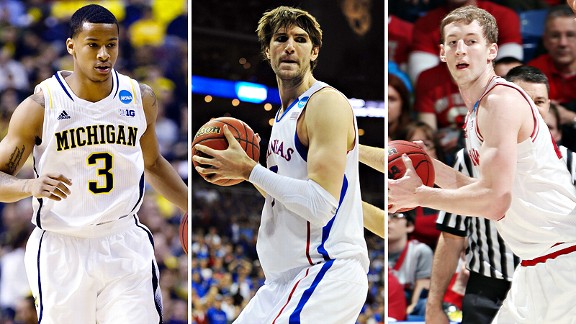 USA TODAY SportsTrey Burke, Jeff Withey and Cody Zeller are big reasons their teams are in the Sweet 16.
College basketball differs from the pro game in innumerable ways, so for now let's just focus on one: the importance of stars.
In the NBA, especially in the postseason, star power is everything; you can't win a title without at least two All-Stars, preferably three, and hopefully one of them is the world-eating monolith named LeBron James.
The college game is a totally different beast. Sure, having future pros on your team is a good indication of postseason success, but rare is the modern college player so purely talented and savvy and dominant that he can single-handedly carry a team to a title, even against a field comparably depleted of talent. The last time we got close -- when Carmelo Anthony led Syracuse to the title in 2003 -- came before the one-and-done rule (essentially) forced prep stars to spend a year in college. The most talented player of the one-and-done era thus far was Kevin Durant, a 6-foot-9 guard who shot 41 percent from 3, averaged 25.8 points and 11.1 rebounds per game, swept the relevant national player of the year awards and made everyone wonder which tier in space and time had been ripped open to allow a clearly inhuman species the opportunity to play basketball that well. Durant's Longhorns lost to USC in the second round of the 2007 NCAA tournament.
The 2012
Kentucky Wildcats
don't apply. Sure, they were highlighted by freshmen, but they were buffeted by sophomores and led by an unselfish senior who willingly came off the bench. They were incredible, but not as revolutionary as you might think
Anyway, this is not a value judgment; it's just how things work. Having savvy seniors who'll never sniff the NBA can change the nature of the postseason just as much as a singular All-Star Weekend-bound talent. It's just where we are in the sport right now.
But that doesn't mean every college player is
replaceable
. Quite the opposite. In many cases, a handful of this year's Sweet 16 participants rely on players who are utterly indispensable.
Let's look at just five:

1. Trey Burke, Michigan Wolverines:
To say Michigan wouldn't be where it is without Burke is like saying you wouldn't be able to read this pixelated text without your eyes, or that I wouldn't have been able to write it without caffeine. He is the computing platform on which the Wolverines run, and without him they would be little more than a Big Blue
Screen of Death
. It's all pretty obvious stuff, but just in case you need a bit of hard evidence: Burke uses 29.1 percent of the Wolverines' possessions but scores efficiently (51.4 percent from 2, 38.7 percent from 3) all while assisting on 37.1 percent of the possessions he uses. Your average college guard is good at one of these things -- he scores in volume, but not efficiently, or he runs his team's offense but can't shoot, or any combination therein -- but Burke has managed to master it all, keying the second-most-efficient offense in the country and one that turns it over less frequently than any other.
Or, if you're a visual learner, go watch Michigan shred VCU -- a defense that existed and succeeded solely based on its ability to force turnovers -- one more time. Or type "Trey Burke step-back jumper" into your search engine of choice (mine's Altavista). If the Wolverines are going to knock off No. 1-seeded Kansas on Friday night, here's your reason why.

2. Jeff Withey, Kansas.
If you took Withey away from Kansas, what would you have? You would have a couple of really good senior guards (
Elijah Johnson
,
Travis Releford
), a lottery-pick-level scorer on the wing (
Ben McLemore
) and a handful of 6-foot-8 or smaller forwards. That's a pretty good team. It is not a national title contender. Here's what you wouldn't have: defense. The Jayhawks ranked among the best defenses in the country this season because they allowed the lowest effective field goal percentage, because they in turn allowed the lowest 2-point field goal percentage, because (deep breath) Withey is an
incredible
shot-blocker. Kansas opponents shoot 38.7 percent from inside the arc against the Jayhawks. Withey's roving rim protection allows the Jayhawks to get up and into their assignments on the perimeter, safe in the knowledge that even if they get beat, their opponent will usually pull up for the most inefficient shot in basketball: the midrange jumper. That shot-blocking also allowed Kansas to wield the fourth-ranked offense in its own league and still end up with a No. 1 seed. Not too shabby, eh?

3. Cody Zeller, Indiana.
Victor Oladipo
has long since begun to garner more of the headlines, and not undeservedly so, and that isn't about to change just a few days after Oladipo's late 3-pointer sealed IU's squeaky second-round win. But if you really dig into what the Hoosiers do, it's not hard to see why Zeller is the player they could least afford to lose: their No. 1-ranked offense basically depends on him. It may not always look like it, but Zeller leads the Hoosiers in usage and does so efficiently, and his production this season -- 185-of-245 from the free throw line, 192-of-333 from the field, 12.5 percent offensive rebounding rate, seven fouls drawn per 40 minutes -- just so happen to be all of the areas (shooting, offensive rebounding, free throw attempts) that power the Hoosiers' offensive attack. It's not often a preseason player of the year ends the season underappreciated, but it appears to be happening here.

4. Brett Comer, Florida Gulf Coast.
You can accuse me of getting caught up in FGCU fever if you want to, and hey -- guilty as charged! Everything about FGCU is incredible, right down to the student managers. Oh, but guess what? Comer is actually an
incredible
passer. You can see evidence of this in any of the dozens of highlights FGCU has created during its postseason run, almost all of which begin with Comer throwing passes with Larry Bird-level intuition and style. You can also see it in the numbers: Comer's assist rate -- the percentage of his possessions that wind up as assists -- is 43.9 percent, third highest in the country. That's higher than any player left in the tournament, including Burke and Syracuse guard
Michael Carter-Williams
. There's a reason Comer ended up at FGCU: He can't shoot. But what he can do -- find guys on the break, trick defenders into overcommitting, hit lobs with pinpoint accuracy -- is where this whole Dunk City thing gets its start. Recognize.

5. Deshaun Thomas, Ohio State.
Ohio State's 10-game winning streak since mid-February has been powered by two things: (A) an improvement from "very good" to "downright horrifying" team defense, and (B) a marked increase in secondary scoring contributions from
Sam Thompson
,
Lenzelle Smith
,
LaQuinton Ross
and
Aaron Craft
. But let's not forget that "secondary" infers a primary, in this case Thomas. For most of the season, Thomas did almost all of the Buckeyes' offensive work (my personal favorite was a loss at Michigan State, when he scored 28 points and no other Buckeye scored more than six), and usually excelled no matter what kind of defensive pressure opposing defenses applied. He took 32.3 percent of his team's shots this season, went 50 percent from inside the arc and 35 percent outside it (and 83.6 percent from the free throw line) and, despite all of those possessions, almost never turns the ball over. Even now, as Ross flashes his immense potential and Thompson goes hunting dunks and Craft pulls last-second 3s out of whatever place Craft comes up with those sorts of things, trying to imagine the Buckeyes without Thomas is difficult. He's a baseline need. Without him, they'd be lost.
Honorable mentions: Mason Plumlee, Russ Smith, Oladipo, Patric Young, Craft, Carter-Williams, Jerrell Wright, Ryan Kelly, Vander Blue, Shane Larkin, Mark Lyons, Cleanthony Early, Gary Harris, Arsalan Kazemi.
March, 21, 2013
3/21/13
1:39
AM ET
DAYTON, Ohio -- True story: The
La Salle Explorers
used to be a basketball power.
You probably weren't born yet, and even if you were you might not be able to remember it, but in 1954 -- the same year Edward Murrow began investigating Joe McCarthy and Bill Haley & His Comets recorded "Rock Around The Clock," and one year before the Philadelphia Big 5 series, the sport's most unique old-school city competition, staged its first meeting -- the Explorers won the national title.
With that most cherished of college hoops qualities -- tradition -- established, La Salle maintained an off-but-mostly-on relationship with basketball success throughout the next four decades. It participated in NCAA tournaments in the 1960s, 70s and 80s, and in 1989-90, went 30-2 thanks in large part to national player of the year Lionel Simmons -- the third-leading scorer in NCAA history.
Simmons and Michael Brooks, the 1980 player of the year, are both among the top 30 scorers of all time, and La Salle is one of only two programs (along with Houston) to boast such a circumstance. Duke and Ohio State are the only schools to field more national players of the year in college hoops history. Joe "Jellybean" Bryant, NBA Hall of Famer Tom Gola, Tim Legler, Rasual Butler and Gary Neal are alumni.
[+] Enlarge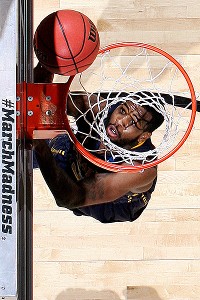 Brian Spurlock/USA TODAY SportsRamon Galloway's 21 points against Boise State helped 13 seed La Salle earn a shot at No. 4 Kansas State.
This knowledge is likely news to most college hoops fans, casual or otherwise, not to mention pretty much anyone born after 1980. And it is useful in understanding why La Salle's players talk -- as they did after Wednesday night's
80-71
First Four victory over Boise State -- about their first NCAA tournament berth in 21 years as not as the consummation of their efforts, but the start of something bigger.
"We're actually making a statement," senior guard
Ramon Galloway
, who finished with 21 points, 4 rebounds and 4 assists on 8-of-13 shooting. "We didn't just get selected. We want to make a run. We want to show everybody La Salle can play with the best teams in the country."
They'll have the chance Friday. Wednesday night's win put La Salle in the bracket proper and headlong into a matchup with No. 4 seed Kansas State, which enters the tournament 27-7 with a Big 12 title share to its name.
And yet, there are reasons to expect the Explorers can make a push. La Salle's strength -- its four-guard lineup, its floor spacing, its penetration and deep shooting -- are what helped it finish 31-for-49 in a commanding offensive performance against Boise State, and it is not unreasonable to think Galloway and company could at least approximate that effort against a Wildcats defense that allowed a lenient 1.02 points per trip in conference play, fifth among Big 12 teams. Nor will the Wildcats have an obvious height advantage over a team whose "center," forward
Jerrell Wright
, is just 6-foot-8. K-State coach Bruce Weber has height on his bench, but has given the most minutes to
Rodney McGruder
,
Angel Rodriguez
,
Will Spradling
,
Martavious Irving
and
Shane Southwell
. The tallest, Southwell, is 6-foot-6.
Win or lose Friday -- and as much as they might deny it -- the mere appearance (and through at-large bid at that) in the NCAA tournament marks a return to some form of past relevance La Salle and its fans have been desperate to reclaim for decades.
On Wednesday night (the 59th anniversary of the school's national title victory by the way), La Salle coach John Giannini told reporters he had received texts from Legler, Butler, and former star Doug Overton. And the legendary Simmons watched the win in person. There will be much more attention if the No. 13 seed knocks off the No. 4 Friday. But for now, it's a start.
"People have tended to forget what a basketball power La Salle was for over four decades," Giannini said. "It's a big deal to re-establish that. It's a big deal for people who attended La Salle and love La Salle, who had great basketball, and certainly they've longed for that. So it's big."
March, 20, 2013
3/20/13
11:16
PM ET
DAYTON, Ohio -- Quick reaction to La Salle's
80-71 victory
over Boise State on Wednesday:
Overview
: If the logistics of La Salle's first NCAA tournament berth in 21 years felt a little bit like an audition for the big show, its fans can rest easy. La Salle may be sticking around awhile.


Thanks to a balanced and efficient effort -- including a combined 20-of-25 shooting from supporting players
Jerrell Wright
,
Sam Mills
and
Tyrone Garland
, and an anchor performance from star senior guard
Ramon Galloway
-- La Salle closed the 2013 First Four by bouncing the fellow 13th-seeded Broncos.
The difference between the two teams wasn't hard to notice: La Salle did what it wanted to on the offensive end, got to the spots it wished to obtain, and knocked down the shots once there. All told, the Explorers finished 31-of-49 from the field; Boise State couldn't find a stop to save its (tournament) life.
Turning point
: In a season that has in many ways been defined by tidal comebacks -- in a sport that makes its bacon on insanity -- perhaps the most striking thing about La Salle's win was how ho-hum it felt throughout. The Explorers controlled the game early, and fended off most Boise mini runs, including a late 90-second stretch that saw them increase their lead from 62-54 to 70-58 with two quick 3-pointers and a Wright dunk.
Boise State didn't go down without a scrap: Guard
Derrick Marks
cut the La Salle lead to just six with 1:51 remaining, and
D.J. Peterson
's push-off loose-ball foul on the ensuing offensive possession put Boise center
Kenny Buckner
on the line to shoot a one-and-one. But Buckner missed, Garland hit two, and when a full-court pass to Galloway broke Boise's press, that was that.
Key player
: There wasn't an Explorer on the floor who played poorly, at least on the offensive end, but Garland's 22 points on 9-of-11 shooting was not only a huge boost but a huge surprise. Garland has always looked talented this season -- there aren't many defenders he can't break down off the dribble -- but he has been maddeningly inconsistent. On Wednesday night, he was peerless.
Key stat
: Let's keep it simple: The Explorers finished 63.3 percent from the field overall and 52.4 percent on their 21 3-point shots, and when a team plays that well on offense -- or, conversely, when a team plays that poorly on defense -- little further explanation is required.
What's next
: La Salle (22-9) moves on to Friday's brutally tough "second round" game against No. 4 seed Kansas State in Kansas City, Mo. Boise State finishes a good season -- which included a victory at Creighton and a creditable performance in a very good Mountain West -- 21-11.