College Basketball Nation:

Jim Les
December, 14, 2011
12/14/11
7:00
PM ET
By
Diamond Leung
| ESPN.com
The week before Jim Les made his coaching debut at UC Davis last month, he took time away from the Aggies to return to the Midwest for his father's funeral.
Richard Les had battled Parkinson's disease leading up to his passing.
"My biggest frustration was just watching what he had to deal with on a daily basis," Les said. "He was a fighter, and his kids have that fight and work ethic and that personality. He wasn't going to be able to overcome. That was tough for us to see."
Les' final season at Bradley wasn't an easy one, as his father's health was a concern and his Braves roster was plagued by injury. Following a 12-20 season, Les was fired by his alma mater. He later notified the school of a potential lawsuit regarding money owed to him, but has since settled the matter.
Les, 48, can now concentrate on building a fledgling Division I program at UC Davis. It might be a low-profile job, but for Les it represents meaningful opportunity. Coaching his son, sophomore guard
Tyler Les
, for the first time is special -- even if Jim is occasionally reminded that accepting the job comes with a hit to the pocketbook.
"I told him, 'I know [predecessor]
Gary Stewart
wasn't giving you 20 dollars every time you walk into his office,'" Jim Les said of his son with a laugh. "I think that's a violation."
Three weeks after Les' firing, Stewart stepped down following a last-place finish in the Big West and seventh straight losing season. Les became interested in the UCD job because of his ties to the area as a former Sacramento Kings player and Sacramento Monarchs assistant. The school had a good academic reputation, and he knew it because his son was there. So he asked Tyler for permission to apply.
[+] Enlarge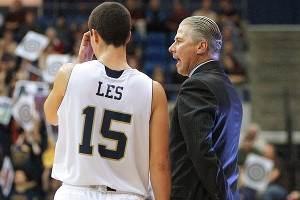 AP Photo/Rich PedroncelliJim Les now gets to coach his son Tyler at UC Davis.
"I told him 'absolutely,'" Tyler said. "I thought he was exactly what our program needed. He's a proven winner."
It was only 2006 when Les led Bradley to the Sweet 16 with a future NBA draft pick in Patrick O'Bryant. But despite three more 20-win seasons, the Braves haven't gone back to The Dance since and didn't finish higher than fourth in the Missouri Valley Conference during Les' nine seasons.
It became an emotional breakup for Les, who was Valley player of the year at Bradley in 1986 before going on to have a seven-year NBA career. Eventually, he came to a financial settlement with the school.
"I wanted to move on," Les said. "I was urgent to. I just wanted what was fair and what was right. I wanted to be able to focus 110 percent on my new opportunity and new responsibility, and I knew I wouldn't be able to do that as long as that was hanging over."
Said Tyler: "We felt like Bradley was a part of us and a part of our family. It was a little disheartening to hear after everything we had been through with the university that they decided to go a different way. It was a chance to have a new chapter in our lives."
Tyler grew up around the Bradley program and modeled his game after his father, developing into a 3-point shooter. He decided during the recruiting process that rather than go to Bradley, he would earn his scholarship to play elsewhere.
So when UC Davis needed a coach and contacted Les, he made sure Tyler was OK with it. Tyler was adamant about his father pursuing the job.
"One of the reasons we have such a good father-son relationship is our dual love for basketball," Les said. "Thus far, it's been great. We've had this going throughout his life and me trying to mentor him individually as a player. Now I get to officially mentor him as a part of the team.
"Last year was one of the hardest years not being able to watch him play, and I'm making up for lost time."
With Tyler having joined the team a year before his father did, Les is able to go into living rooms and tell parents that he isn't asking them to do anything he didn't do himself when he let his own son go to UC Davis.
The Aggies have struggled in the years after they captured the Division II national championship in 1998 and moved into Division I, but the school has a top academic reputation -- so much so that head coaches teach classes as well. During the course of the year, Les will lead a class on coaching effectiveness and also teach two racquetball classes. "My father taught me, and I'm proud to say a student hasn't beaten me yet," Les said.
On the basketball court, UC Davis has struggled this season after losing its top two scorers from last season and fighting through injuries. Tyler is one of the top players off the bench, averaging 8.7 points per game. Les also has freshman
Tyrell Corbin
, a former Mr. Basketball in Utah who is the son of his former teammate and current Jazz coach Tyrone Corbin.
Les said he doesn't think turning things around at UC Davis will take very long.
"The culture at Davis is progressing toward a true Division I athletic environment," Les said. "With that being said, these kids are competitive, they want to have success, they understand you have to put in the hours and the work and pay their dues. They've shown a willingness to do that.
"UC Davis has an unbelievable brand in terms of the academic environment and the people. It's about time we got athletics up to that same standard."
September, 21, 2011
9/21/11
6:48
PM ET
By
Diamond Leung
| ESPN.com
Bradley forward Taylor Brown has been cleared to participate in all team activities after sitting out all of last season while undergoing months of medical evaluations, the school announced Wednesday.
Brown's return gives first-year coach Geno Ford a player who as a sophomore in 2009-10 averaged 13.5 points and 6.9 rebounds. Brown would have entered last season as the team's top rebounder, but it was announced last November that he would miss the season and need cardiac testing that would require a three-month rest period for proper evaluation.
Brown had been cleared for light workouts in June after a seven months of inactivity, and now he is able to prepare for the season.
"We welcome Taylor back to the court," Ford said in a statement. "He has been through a difficult experience and we are happy that he is able to rejoin his teammates on the floor and compete for Bradley."
Brown has worked with a Bradley professor to produce a documentary entitled "90 Days," which will chronicle his year away from the game.
It was an uncertain time because last October, the
death of Bradley baseball player Phil Kaiser
due to an undiagnosed heart condition caused the school to review the heath statuses of all of its athletes. Doctors determined that Brown needed additional evaluation before he was cleared.
Without one of its best players, Bradley won only 12 games and tied for last in the Missouri Valley Conference. Coach Jim Les was fired following the season, and point guard
Sam Maniscalco
decided to transfer to Illinois for his senior season.
That left Ford with only one of the Braves' top four scorers returning, but now after Brown sits out the team's Oct. 18 scrimmage due to a violation of team rules, he'll have the 6-foot-6 senior back in the fold.