College Basketball Nation:

Jim Phillips
March, 19, 2013
3/19/13
5:00
AM ET
1. Jaren Sina, a top recruit out of New Jersey for Northwestern, was granted a release by NU AD Jim Phillips Monday, according to the Chicago Tribune. Sina may still go to Northwestern, his father was quoted by the Trib. But the actions of Phillips should be applauded. He took the time to fly out to New Jersey Monday upon making the decision of firing Bill Carmody. He wanted to talk to the prospective recruit and make an attempt to keep him but at the same time honor the family's request. There is no reason to turn this into some protracted fight when a player may not want to attend the school. The genuine gesture by Phillips would likely be respected by the Sina family if they connect with the new hire. Northwestern could easily play hard ball and not release Sina. But what would that prove? Phillips is being a hands-on athletic director, trying to get this hire right with the correct fit and at the same time ensuring there is a comfort level with the incoming players. More ADs should take note.
2. Arizona coach Sean Miller was fined $25,000 by the Pac-12 for his postgame behavior during the conference tournament in questioning the officiating. Rutgers fined Mike Rice $50,000 during the season and suspended him for three games for his behavior in practice in the previous year. The NCAA committee on infractions suspended Saint Mary's coach Randy Bennett for the first five games of the WCC season in 2013-14 for a failure to monitor violations. This is no longer a trend. This is the new normal for coaches. They are being singled out and, in some cases, being held accountable and, in other cases, being held responsible for the actions of their subordinates. This is a new era and coaches now have to be on guard and on edge for the way they are being watched -- and ultimately punished -- for actions by schools, conferences and the NCAA.
3. I'd love to say more players will stay but the draft may be the weakest in years, which means spots are available. That's why it should come as no surprise that
Tony Mitchell
of North Texas will declare for the draft Wednesday, as first reported by CBSSports.com. North Texas coach Tony Benford said Monday night Mitchell still has to make it official but this is not a shock. UNT struggled through an injury-riddled season and went 12-20. Mitchell is still a potential lottery pick, assuming he comes out, according to Benford due to his skill set. Mitchell will be one of the first to declare but he likely will lead another exodus.
March, 15, 2013
3/15/13
5:00
AM ET
1. Oregon's Dana Altman got the Pac-12 coach-of-the-year award, but the honor should have gone to UCLA's Ben Howland. Howland has done his best coaching job since he has been at UCLA -- and that includes the three consecutive Final Four runs. Consider this: UCLA won the Pac-12 outright despite losing two rotation players, had to deal with eligibility and injury issues with
Shabazz Muhammad
and pieced together a team that had a mix of transfers and freshmen to win the conference. Howland was able to get
Larry Drew II
to play to his potential in his last season in college. Howland had to alter the way he coached. And he did all of this under the pressure and scrutiny that accompanied a perception that his job was in jeopardy. The Bruins had their moments of hard-to-fathom losses like Cal Poly early and at Washington State late -- but they still found a way to win the conference and are a real threat to make a run in March.
2. The reason the new Big East might not start out with 12 schools in the fall instead of 10 is the lack of consensus among the seven schools forming the new league. The best-case scenario would be for the new Big East to start fresh with a dozen. But if there isn't agreement on the schools beyond 10, they will wait for another year. Butler and Xavier are the locks to get first invites, with a debate raging among different factions over Creighton and Dayton for No. 10. Saint Louis is the other school that could ultimately be in the group. Having a primarily basketball-driven conference isn't a new concept. It's called the Atlantic 10. Georgetown coach John Thompson III wasn't being sentimental about the end of the Big East on Thursday. He said the Big East isn't going anywhere and neither is the tournament. He's technically right.
3. Northwestern athletic director Jim Phillips has to make a decision on the fate of coach Bill Carmody in the coming week. Carmody hasn't been able to get Northwestern in the NCAA tournament, but then no one has in Evanston. Carmody has had tremendously bad luck and is a well-respected coach for a reason. He has poured all his energy into trying to get the Wildcats into the NCAA tournament. Northwestern should be able to make a cameo every so often, like Stanford. The Wildcats are always going to be in a better position than most to earn quality wins due to the strength of the Big Ten, and probably just have to finish sixth to be in the chase for a bid. That will become more difficult with 14 teams, but still doable. If Northwestern were to go in another direction, I don't see how how Duke associate head coach Chris Collins, a native of the northern Chicago suburbs, doesn't get the first call. Carmody deserves a chance to state his case for what he has done to make the Wildcats competitive and what he can still achieve.
March, 14, 2013
3/14/13
11:18
PM ET
CHICAGO - Here's a quick look at Iowa's
73-59
Big Ten tournament win over Northwestern at the United Center on Thursday night.


How it happened:
The undermanned, 11th-seeded Wildcats didn't have a chance. Northwestern went scoreless for the first 7 1/2 minutes, going down 11-0, and never got closer than within six points after that. Northwestern shot 32 percent from the field in the first half and 36.7 percent for the game. The Wildcats kept it interesting in the second half, trimming the deficit to single digits several times, but couldn't save their season. Iowa (21-11), the sixth seed, plays No. 3 seed Michigan State on Friday.
Player of the game:
Reggie Hearn
, a former walk-on, scored 19 points and added 10 rebounds and 3 blocks for the Wildcats.
What it means:
Northwestern coach Bill Carmody might be fired after 13 seasons, none of which resulted in an NCAA tournament berth, and the school would immediately look for his replacement. This team was promising before
JerShon Cobb
was suspended in September and
Drew Crawford
under shoulder surgery in December. The Wildcats finished 13-19 with a 4-14 record in the Big Ten regular season, their first losing season since 2007-08.
What's next:
Northwestern athletic director Jim Phillips likely fires Carmody and begins a "national search" for his replacement. Whether that hire works out is anybody's guess.
February, 13, 2013
2/13/13
5:00
AM ET
1. Duke coach Mike Kryzewski was informative in an interview during "Katz Korner" on Tuesday. The highlights were: Senior forward
Ryan Kelly
is just now getting off crutches, is a month removed from suffering the right-foot injury -- and it doesn't sound like he's returning any time soon; Duke will not schedule Maryland in a non-conference game once the Terps move to the Big Ten in 2014, essentially ending the rivalry; the 2013 Duke team isn't close to being as good as the 2010 national title contender;
Shane Larkin
has been a difference-maker for Miami, and the Hurricanes' run to the top of the ACC has been extremely impressive; there is still no change in Coach K's decision on whether to coach the USA senior national team.
2. Northwestern athletic director Jim Phillips will, instead of wins and losses, have to use a different way to review the Wildcats and coach Bill Carmody in the offseason after yet another injury. Carmody simply cannot catch a break at Northwestern. The latest setback was the season-ending knee injury to
Jared Swopshire
. The Wildcats had a real shot at an NCAA tournament bid this season but losing
Drew Crawford
and
JerShon Cobb
took away any realistic chance. If everyone comes back healthy and some of the schools ahead of Northwestern in the Big Ten standings lose players early to the NBA draft, as expected, the Wildcats should be an upper-half team next season in their quest for a first-ever NCAA berth.
3. Here is a question to digest and one we talked about on "The Experts" on Tuesday: Are all conference road losses created equal? Should Kansas be disciplined in the NCAA seeding process for losing at TCU as much as Indiana State should be for losing at Missouri State? These are the type of nuance questions the committee will have to ask itself during a mock selection process this weekend -- and again when they meet to fill the field in mid-March.
November, 7, 2012
11/07/12
10:40
AM ET
College basketball is a multibillion-dollar sport. With so much money at stake -- along with the prestige and exposure that comes with consistent success -- there's always pressure on coaches to win.
The following list doesn't necessarily include coaches who are on the "hot seat." Only the athletic directors and insiders privy to the true statuses of these coaches know what's necessary for each to maintain his current position. From the outside, however, they all appear to be coaches who need to win. Now.
Another lukewarm season might not cost them their jobs. But it certainly won't help their respective causes.
Here's my list of 10 coaches who need to win now:
[+] Enlarge

Bruce Thorson/US PresswireTubby Smith has yet to lead Minnesota to an NCAA tournament victory in five seasons on the job.

Tubby Smith (Minnesota) -- Smith has reached the NCAA tournament twice in five seasons since he left Kentucky to take the Minnesota gig in 2007. But he hasn't won a game in the Big Dance during his time with the Gophers. The extension he signed in the offseason will mean little if the Gophers miss the NCAA tournament again. New athletic director Norwood Teague came from Virginia Commonwealth, where Shaka Smart helped that program attain national relevancy. Teague expects the same in Minneapolis. So the pressure continues to rise for Smith, who's endured multiple off-court incidents during his term. Proof that he's seeking public support: Smith now allows media in the locker room after games, a first in his tenure.

Ben Howland (UCLA) -- Accomplishments in college basketball are quickly forgotten. That's why Howland's back-to-back-to-back run to the Final Four from 2006 to 2008 seems like an ancient feat. Howland's recent years have been plagued by personnel issues and underachievement. But there's a strong buzz surrounding his 2012 recruiting class. Howland, once again, has a roster than can make a run in March, assuming Shabazz Muhammad is cleared by the NCAA. The flip side of the hoopla is that UCLA's fan base will likely bemoan anything less. So the Bruins must reach their potential, it seems, to keep Howland's seat cool.

Bill Carmody (Northwestern) -- Northwestern is not a football school or a basketball school. It's a school school, one that places a great emphasis on its broad academic imprint. But there is discontent with the men's basketball team's inability to reach the NCAA tournament. It has never happened. The Wildcats have come close in the past three years -- the most fruitful stretch in the program's history -- but those seasons all ended without a bid. The swell of disappointment has grown with each close call. Athletic director Jim Phillips reportedly considered a change but ultimately gave Carmody, who is entering his 13th season, a vote of confidence after another possible berth slipped away last season. He might not receive the same support in a similar scenario this season.

Travis Ford (Oklahoma State) -- In his first two seasons, Ford led the Cowboys to the NCAA tournament. But the program hasn't met that bar since 2010. Last year, Ford had an NBA prospect (Le'Bryan Nash) and multiple high-level athletes but still struggled in the Big 12 due to a subpar defense (the Cowboys' 70.8 points per game allowed was the second-highest tally in the league). Oklahoma State continues to invest in basketball. Its latest project, a multimillion-dollar upgrade of the program's locker room, illustrated its commitment to the sport. But it's equally interested in winning. And Ford has missed the mark in recent years. He had a young team a year ago, but this season's group is so talented -- enter Marcus Smart -- that youth won't be a valid excuse again.

Herb Sendek (Arizona State) -- Few programs endured Arizona State's offseason shift. Sendek added assistants Eric Musselman and Larry Greer, two men who've coached in the NBA, to his staff after finishing with a 10-21 record in 2011-12. Sendek also lost top scorer Trent Lockett (13.0 ppg), who transferred to Marquette to be closer to an ailing mother in Minnesota. The good news: Talented point guard Jahii Carson is eligible. But Carson's presence and the additions to his staff won't guarantee additional years for Sendek, who was the Pac-12's coach of the year in 2010. He has to find a way to climb out of the league's basement in 2012-13.

Craig Robinson (Oregon State) -- President Barack Obama's brother-in-law has gradually upgraded the talent in Corvallis in his first four years. His best player last year, Jared Cunningham, was a first-round pick in the 2012 NBA draft. But Robinson is still trying to prove that the Beavers are on the rise after finishing seven games under .500 in his first four years (64-71). Last year's 21-win season was both promising and disappointing. Oregon State had its chances but ultimately finished with a 7-11 mark in Pac-12 play. The loss of Cunningham was a tough one for the program. But its greatest problem last season -- a defense that was ranked 154th in defensive efficiency -- was a collective issue. It's something Robinson must address in 2012-13.

Kevin Ollie (Connecticut)/Chris Walker (Texas Tech) -- Both Ollie and Walker were placed in similarly uninspiring situations during the offseason. After Jim Calhoun retired, Ollie signed a one-year contract to coach a Huskies team that lost top talents Jeremy Lamb, Andre Drummond, Roscoe Smith and Alex Oriakhi and will not compete in the postseason due to a subpar Academic Progress Rate score. After former head coach Billy Gillispie's messy offseason exit, Walker inherited a Texas Tech squad that earned one Big 12 victory last season (1-17). Neither Ollie nor Walker is promised anything beyond this season. And their circumstances will limit their abilities to turn their "temporary" tags into permanent ones.

[+] Enlarge

Kevin C. Cox/Getty ImagesJeff Bzdelik enters his third year at Wake Forest with just five total ACC victories to his credit.

Jeff Bzdelik (Wake Forest) -- From 2001 to 2005, the Demon Deacons reached the NCAA tournament. They also secured back-to-back trips in 2009 and 2010. But Bzdelik's first two seasons were rocky. Under his watch, Wake Forest achieved one ACC victory in 2010-11 and four last year. That's progress. But is it enough to satisfy a fan base that will watch the neighbors on Tobacco Road (North Carolina State, North Carolina and Duke) enter the season as potential national championship contenders? Bzdelik is on the right track, and Travis McKie and C.J. Harris should help the program move forward in his third season, too. Any movement in the other direction, however, will encourage more scrutiny of Bzdelik's job status.

Andy Kennedy (Ole Miss) -- Kennedy averaged more than 20 wins in his first six seasons, but his program's name was never called on Selection Sunday. And close never suffices in college basketball. Kennedy's legacy won't be defined by his consistency as much it will be marked by the program's ongoing NCAA tournament drought and his efforts to end it in 2012-13. That's crucial for Kennedy, who might have a tough time convincing his superiors to keep him with another respectable finish that doesn't involve a trip to the Big Dance.

Ken Bone (Washington State) -- Bone's program returns the Pac-12's leading scorer, Brock Motum (18.0 ppg last season). But Motum's presence only intensifies the expectations for the Cougars. Bone hasn't led the team to the NCAA tournament since replacing Tony Bennett in 2009. The Cougars have been inconsistent. A suspect defense (141st in defensive efficiency last year) hasn't helped. But this season's Pac-12 is filled with unknowns. Washington State can rise in the standings if it's tough on both ends of the floor. Another mediocre year sans an NCAA tournament berth, however, will not help Bone extend his time in Pullman.
February, 15, 2011
2/15/11
2:57
PM ET
On Jan. 11, Northwestern was 10-4 overall and 1-3 in the Big Ten. It wasn't yet clear where this Northwestern season -- which, after last year's 20-win campaign, began with unusually high hopes -- was headed. Could the Wildcats finally, mercifully make their way to an NCAA tournament?
The answer, as we know now, was a resounding "no." Barring a miracle run through the Big Ten tournament, this Northwestern season is likely to end the way all Northwestern seasons end: without an NCAA tournament appearance. In fact, after Sunday's grotesque 65-41 loss at Penn State, NU is 14-10 and 4-9 in the Big Ten, and is a plausible risk to miss the NIT.
[+] Enlarge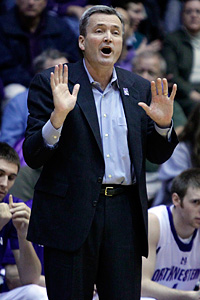 AP Photo/Nam Y. HuhBill Carmody received a contract extension last month and now some are wondering if it was too soon.
But on Jan. 11, Northwestern gave coach Bill Carmody a contract extension. Not only did the decision seem oddly timed -- why not wait until the season was over? -- it tweaked some Northwestern fans, who, after 11 years of marginal progress under Carmody,
have begun rumbling about a change
.
It's probably no surprise, then, that a month later many Northwestern fans haven't changed their minds. The most notable post to this effect '' titled "Time For A Change" --
came from popular Northwestern blog Lake The Posts Monday
:
So much for holding out until the end of the season. After numbly watching the NU hoops version of Groundhog Day in another loss at Penn State yesterday I'm only printing what nearly every one of you now realizes – it is time to replace Bill Carmody. This plea is not full of venom or disdain, but rather objective and calculated. One that says now is the time. [...]

It is challenging at NU. But, in our lifetime someone will get us over the hump. I refuse to buy in to the fact it can't be done in Evanston. I will continue to point 30 yards south of Welsh-Ryan as the proof point. But, the key is to kick-start our coach to be and leverage the level that Carmody has gotten our program to. To start over by waiting another year will make it that much more challenging and as my age continues to go up, my patience and tolerance for accepting NU hoops' streak to continue goes down.

I respect Coach Carmody's basketball knowledge. He's the kind of guy I'd love having a beer with to go over chalk talk. I think he has done many good things at NU as our players graduate, they've got good character and he's made us competitive night in and night out. After 11 seasons that simply isn't enough. It's time for a change. Let the discourse begin.
If you're interested in a look at the mind of a Northwestern fan, the whole post is worth a read. Just as in January, Northwestern fans aren't angrily mobbing together. They're not carrying pitchforks. They like Bill Carmody. They like his style, they think he's smart and they appreciate that he runs a clean program. They're reasonable and intelligent themselves, and they give credit where credit is due. (Smart fan bases are the best, aren't they?)
But they are tired of losing. Any fan base would be. Fans see NU's football success under Pat Fitzgerald, and
the planned improvements to Northwestern's athletics facilities
, and they argue that Northwestern doesn't
have
to be a loser. It doesn't have to celebrate NIT appearances. It doesn't have to accept its traditional status.
So is Carmody feeling the heat? Do the rumblings of fans reach the inner recesses of Welsh-Ryan Arena? Do NU administrators agree? Lake The Posts', um, post
inspired Chicago Tribune reporter Teddy Greenstein to assess the situation at close range
, and the results were inconclusive.
Asked by the Tribune whether he believes he's on solid footing with [NU athletic director Jim] Phillips and school president Morton Schapiro, Carmody said: "You get evaluated at the end of each year. That's the standard line, and it's certainly true here." Phillips, who coached basketball at Arizona State while earning a master's degree, spoke glowingly of Carmody last season. But he takes losses terribly and can't be satisfied with the team's slide — five losses in six games, the one win coming on their home court against Illinois.
It's never fun to debate whether a coach should be fired. It's especially not fun when that coach is Carmody, a smart, intelligent, hard-working guy who
has
had some success in his tenure, especially when viewed in relation to Northwestern's inept history. And a pro-Carmody supporter could argue that John Shurna's injury, and not Carmody's incompetence or lack of talent, is what really derailed this season.
But if Northwestern basketball has reached a ceiling -- and that ceiling is just below the words "NCAA tournament" -- then, yes, it might be time for a change. We'll see if NU officials agree. They didn't seem to in January, but it's not January in Evanston any more.