College Basketball Nation:

Jimmy Williams
March, 26, 2011
3/26/11
2:29
AM ET
NEWARK, N.J. -- The whippersnappers steal the limelight. It's what kids do. They come in all shiny and pretty like a new penny, and everybody pays attention to them.
Even here, they surrounded the freshman after the game, the whiz kid who struggled again all night only to make the impossible shot, the game winner.
It's not that
Brandon Knight
didn't deserve the attention. His leaner, a rise-out-of-the-ashes, over-a-defender shot that deserved extra points for difficulty, once again saved the day for Kentucky.
Twice now in the tournament he has struggled for 39 minutes only to make up for it in a flick of a wrist, beating Princeton on a drive to the hoop in the opening game and now ousting No. 1 seed Ohio State
62-60
on a jumper with five seconds remaining.
[+] Enlarge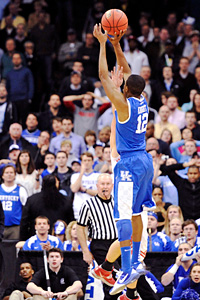 Howard Smith/US PresswireFor the second time in this NCAA tourney, Brandon Knight made the game-winning shot for Kentucky.
"Brandon does that on purpose,'' teammate
Doron Lamb
deadpanned. "He misses them all in the first half and the second, and then makes it at the end. We call it the okie-doke.''
The okie-doke technically decided the game, but this game wasn't really won by Knight.
It was won by three upperclassmen, a commodity as rare as "I Love Louisville" T-shirts in the city of Lexington.
Josh Harrellson
,
DeAndre Liggins
and
Darius Miller
put Kentucky into an Elite Eight blue-blood battle against North Carolina.
Ohio State brought five seniors to the floor to the Wildcats' one (Harrellson). The powerful Buckeyes, with longtime starters
William Buford
,
David Lighty
,
Dallas Lauderdale
and
Jon Diebler
, owned a depth and breadth of experience Kentucky simply doesn't have.
Sure, the UK players have logged plenty of time on campus, but not quite so much on the floor.
Yet together the trio scored 39 of the Cats' 62 points and had 19 of their 32 rebounds.
And as good as those statistics are, they alone don't tell all of what those three did. It was their ferociousness, their attitude that changed this game in Kentucky's favor.
"Our freshmen were OK today,'' coach John Calipari said. "Our veteran players who were not significant a year ago, who have now taken over this team, that's why we're still playing. It's because of those guys.''
Frankly, Ohio State is not playing anymore because its guys didn't deliver. The Buckeyes, a team that looked absolutely unstoppable a weekend ago against George Mason, looked overwhelmed.
OSU shot just 33 percent for the game and was 7-of-27 outside the paint. Buford, who missed a jumper as the buzzer sounded, was only 2-of-16; Diebler drained four 3-pointers, but besides the final one, which would have sent it to overtime were it not for Knight, they were largely unimportant; Lauderdale didn't take a single shot; and Lighty was only 5-of-12 from the floor.
"It hurts because we felt like we could make a run at the championship,'' Diebler said. "Obviously every team wants to finish in Houston. You can't take away what we did this year in the regular season, but it does kind of hurt to end like this.''
Kentucky knows the pain of finishing before you're supposed to. A year ago, the Wildcats -- with more NBA talent than the current Cleveland Cavaliers roster -- were predestined to a weekend in Indianapolis. West Virginia halted those plans a game early, upsetting UK in the Elite Eight.
Most of that roster pocketed that bad memory in their suitcases on the way to the NBA, leaving only Harrellson, Miller and Liggins to remember it.
"You can't rely on freshmen in games like this,'' Liggins said. "This was on us. We were the guys who knew what it felt like to play in a game like this and lose.''
Still, these three aren't supposed to do this. Harrellson dominated the conversation at the start of the season because of who he is not -- namely Enes Kanter. When the Turkish player was declared ineligible by the NCAA, it was practically a statewide day of mourning in Kentucky.
[+] Enlarge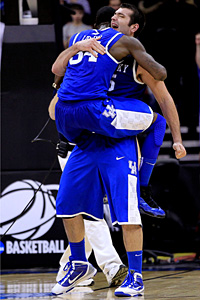 Chris Trotman/Getty ImagesKentucky veterans DeAndre Liggins (34) and Josh Harrellson celebrate a last-minute victory over No. 1 seed Ohio State.
There is no longer mourning. Instead, Harrellson has more than ably filled the void, bolstering his numbers from 1.3 points per game last season to 7.3 this season.
Against Ohio State, in a matchup in which he was supposed to lose his lunch, he stood toe to toe with
Jared Sullinger
, putting up 17 points and 10 rebounds to Sullinger's 21 and 16. It was the big man's third double-double in his past five games.
And then there is Liggins.
When Calipari took the job at Kentucky, he said, everyone told him to get rid of Liggins, that he wasn't good enough or worth the effort to keep around. Instead, Calipari elected to keep him, reaping the rewards for the decision Friday night.
Liggins spent the night before the game unable to sleep. He was anxious, not anxious as in nervous, but anxious as in ready -- ready to silence the doubters and ready to prove that this Kentucky team, far more a work in progress than the last, was every bit as good as the last.
"I knew everybody was picking us to lose,'' Liggins said.
And probably even those picking UK to win didn't figure Liggins for the hero. He had 11 points combined in the first two games of the NCAA tournament and had been good defensively but forgettable offensively for much of the past few weeks.
Against the Buckeyes, he either scored or assisted on 12 of the Wildcats' final 18 points.
"DeAndre carried us,'' Miller said. "If he wasn't scoring, he was creating for someone else. We would have gotten blown out if it wasn't for him.''
Instead, the Wildcats stayed neck and neck with a team that looked like an offensive juggernaut only a weekend ago. Kentucky completely forced Ohio State out of its comfort zone, using its speed to fly to the ball and its length to contest every shot. By halftime, virtually the entire UK roster had two fouls, yet the Wildcats kept coming, blocking 11 shots and forcing OSU into just 6-of-17 shooting from beyond the arc.
Which was why when Diebler drained a 3-pointer with 21 seconds to play, there was a momentary sense of dread.
"I was so down on myself,'' said Liggins, who was defending Diebler.
And then along came the kid, the one who doesn't know any better, doesn't realize how rare it is to make a game-winning shot in the NCAA tournament, let alone two -- who doesn't understand that when you're two of your previous nine, the likelihood that you end up the hero is rare.
"It was like in the Princeton game; Coach just had faith in me,'' Knight said. "I had a lot of confidence. It felt good when it left my hands.''
The ignorance of innocence and the value of experience.
Perhaps Kentucky has found the combination to success.
May, 27, 2010
5/27/10
10:04
AM ET
On the face of it, Minnesota coach Tubby Smith
lost his lawsuit against would-be assistant coach Jimmy Williams Wednesday
. The jury found that Smith misrepresented himself to Williams, claiming he had the authority to hire or fire an assistant coach when, in fact, he didn't. Williams alleged that Smith offered him an assistant coaching position at Minnesota in 2007, and thanks to that offer, Williams quit his job at Oklahoma State, where he was making $200,000 a year.
Then athletic director Joel Maturi pointed out something about Jimmy Williams that Tubby Smith probably ought to have known: The assistant was hit with NCAA violations -- at Minnesota, of all places -- under former Gophers coach Eric Musselman. Maturi apparently decided that he didn't want to revisit that legacy and so by most accounts rejected the Williams idea. Williams quit his job, sued, and voila. Here we are.
So, yeah, it looks like Minnesota lost. After all, it had to pay more than a million dollars to someone who never actually worked for any of that money.
But Rush The Court makes a rather excellent point on the matter today
. If you think about it, Williams is the one who lost:
Tubby Smith is widely known as one of the great men in the game, a man who values his integrity and that of the program of which he's at the helm far more than any dollar amount. If he (and his AD) felt that not hiring Williams -- a man who has been slapped by the NCAA while working for the very school to which he's re-applying -- was the best thing for the UM program…well, that just might be worth $1.25 million. [...] Williams may have won his lawsuit, but in addition to the question of impropriety he carries with him, he now has the reputation of a guy who sues coaches and schools for which he's worked in the past. By not settling, Minnesota has told him, "Based on information we have, we'd rather risk losing a lawsuit and paying you over a million dollars than actually hire you."
In a way, the entire case is more vindication for Tubby Smith and Joel Maturi than it is for Jimmy Williams. Smith and Maturi got to make a moral stand here. They got to say, hey, you know what? We're not going to do things that way. In fact, we're so committed to not doing things that way that we're going to take this lawsuit to court and fight it there, in the public eye. I'm not sure this was the smartest financial decision. But if there was any doubt as to the Gophers' commitment to avoiding NCAA penalties, it should pretty much die out today. Minnesota wants to stay so far away from NCAA sanctions it's willing -- sort of, anyway -- to pay $1.25 million to do so. That's the outward appearance here, which is why sometimes a loss is not actually a loss.