College Basketball Nation:

Jio Fontan
November, 9, 2012
11/09/12
1:03
AM ET
Finally, some good fortune is starting to fall on the USC basketball team.
The Trojans were informed Thursday that
Omar Oraby
-- a 7-foot-2, 265-pound transfer from Rice -- has been cleared by the NCAA to compete this season. Oraby broke Rice's single-season blocks record last year, but, strangely, played just 11 minutes per game and averaged only six points.
USC coach Kevin O'Neill said Oraby will play a major role for the Trojans.
"The sky is the limit for this guy," O'Neill told ESPN.com Thursday. "He can catch, he can shoot, he can pass and block shots and rebound. He's still developing, but he's a legit player."
USC finished 6-26 last season and set a school record for losses. But that was mainly because the Trojans lost four starters to season-ending injuries.
[+] Enlarge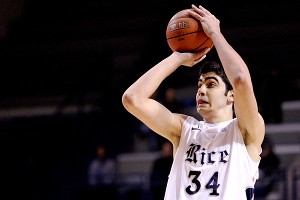 Thomas Campbell/US PresswireRice transfer Omar Oraby should provide USC with another inside presence. Oraby blocked 54 shots for the Owls last season.
This year's team will look completely different. All of the players who were hurt last season are healthy again, and O'Neill signed a handful of transfers who are expected to catapult the Trojans from one of the league's worst teams to one of its best.
No one is ready to say that USC will challenge Arizona and UCLA for the Pac-12 title. But finishing in the upper half of the conference and earning an NCAA tournament berth are realistic goals.
Especially with the addition of Oraby.
"Our team was ecstatic when we gave them the news," O'Neill said. "We've all seen how good he can be at practice. There are times when he's been dominant."
O'Neill said he'll go with a starting frontcourt of
DeWayne Dedmon
and UC-Irvine transfer
Eric Wise
in Friday's season-opener against Coppin State. But he said Oraby will definitely see action.
"He's been working out with us," O'Neill said. "He's up to speed. He could end up starting for us in the near future."
If anything, Oraby provides even more depth to a frontcourt that wasn't hurting for bodies. Besides Oraby, Dedmon and Wise, USC is expected to get major contributions from veterans
Aaron Fuller
and
James Blasczyk
, who is nicked up and probably won't play against Coppin State.
O'Neill said sophomore
Byron Wesley
will be the team's starting small forward Friday while former Wake Forest starter
J.T. Terrell
gets the nod at shooting guard.
Jio Fontan
, who missed all of last season with a torn anterior cruciate ligament, will be the Trojans' point guard and will be backed up by freshman walk-on
Chass Bryan
, who has been the team's biggest surprise during preseason workouts.
"We knew he was coming, but we didn't know how good he was," O'Neill said of the 5-9, 165-pound Bryan. "He didn't have a great senior year of high school, but he's shown us something. We think he's really good."
Bryan's emergence couldn't have come at a better time. Maurice Jones, USC's starting point guard the past two seasons, was declared academically ineligible and transferred to Iowa State. The Trojans are confident in Fontan, but depth was an issue before Bryan became a factor.
After experiencing so much adversity last season, O'Neill was asked if the "basketball Gods" were finally showing some compassion for USC.
"You never want to think that because you don't know what can happen," he said. "But to get two guys late like this that are going to be high in our rotation, we feel pretty lucky."
November, 2, 2012
11/02/12
9:00
AM ET
As an overall league, the Pac-12 was really,
really
bad last season. But, in its badness, it was also profoundly weird.

To wit: The 2012 Pac-12 regular-season champion, Washington, didn't go to the NCAA tournament, the first power-six team to accomplish that feat since the tournament expanded to 64 teams. (It's still pretty mind-blowing, honestly.) Cal, the league's most efficient team overall, never distinguished itself during the conference season.
With the exception of Utah and USC, who were just, I don't know, let's not talk about it, most of the teams in the league weren't individually awful. They were just ...
blah
: Stanford started strong but faded fast before eventually winning the NIT (of course); Colorado got hot late at the right time, won the conference tournament, and looked great in March; Oregon appeared promising but never got over the hump; Arizona, arguably the league's most enticing team, ended up being wholly mediocre. UCLA was, well, UCLA.
The Wildcats and Bruins have since reloaded with the No. 3- and No. 1-ranked recruiting classes, respectively, and so
the rebirth of the Pac-12 after a deathly 2012 is on the tip of everyone's tongues
. But how, exactly, will the league shake out? I don't know, which is why I was especially interested to see how the media would vote in the league's preseason media poll.
At Pac-12 Media Day on Thursday, all precincts reported
:
So, to recap, Arizona was picked to win the conference in aggregate, if only barely ... even though more voters picked UCLA to actually win the conference. Go figure.
Washington received two first-place votes, somehow,
and
was picked to finish higher than Colorado, which seems criminally underrated at No. 6. (
Andre Roberson
, anyone?) USC revamped its whole team, loaded up with a brutal schedule, returned its best player from injury (
Jio Fontan
) and is talking NCAA tournament, but couldn't get more than a passing glance at No. 9.
It would be easy to dismiss this as an uninformed media poll (those darn media members!), but more than anything, I just think people are confused about the 2012 Pac-12. The league's clear top two -- UCLA and Arizona -- are the best primarily thanks to the arrival of talented freshman, which none of us has seen on the collegiate level and one of which, UCLA's
Shabazz Muhammad
, is still not eligible. And I'll be honest: I don't think Washington is better than Colorado, but am I willing to bet my breakfast bagel on it? No! Not a chance. And not just because I really want to eat this bagel. I just don't know.
I think the Pac-12 is due for a recovery this season. The infusion of talent and increase in coaching continuity are indicators of a move in a decidedly positive direction. But until everybody gets back out on the court, and we get to see some of these teams in action, I'll forgive anyone who says they have no idea what to expect. Because neither do I.
July, 17, 2012
7/17/12
10:00
AM ET
Editor's note: ESPN.com's Summer Shootaround series catches up on the offseason storylines for each conference. For more on the Pac-12, click here.
1.
UCLA's late recruiting surge
: Less than two months after a Sports Illustrated story threatened to damage the reputation of coach Ben Howland and his program, the Bruins added a pair of standout freshmen who could make UCLA a top-10 staple this season. Shooting guard
Shabazz Muhammad
-- the No. 2-ranked prospect in the class of 2012 -- announced his intentions during a live telecast on ESPNU in May. Center
Tony Parker
, who is ranked No. 26, followed suit soon after. Mix in fifth-ranked
Kyle Anderson
, a small forward who signed in the fall, and it's easy to see why UCLA's haul was ranked No. 1 in the country by ESPN.
2.
Mark Lyons transfers to Arizona
: The Wildcats' list of newcomers became even more impressive with the addition Lyons, who scored nearly 1,200 points in three seasons at Xavier. Arizona coach Sean Miller signed Lyons when he coached the Musketeers and had a chance to reconnect with him when Lyons decided to transfer for his final season. Lyons will provide a huge boost to a squad that also welcomes the country's third-ranked recruiting class. Mix in returnees such as
Solomon Hill
and
Nick Johnson
and there will be no excuses for the Wildcats missing the NCAA tournament, which they've done two of the past three seasons.
3.
USC's bounce back
: Could a team that finished 6-26 overall and 1-17 in Pac-12 play last season actually make the NCAA tournament in 2013? Trojans coach Kevin O'Neill says yes, and there appears to be validity to his optimism. Last year's squad lost four starters to season-ending injuries and was down to six scholarship players by the end of the season. Now USC is preparing to welcome back team captain
Jio Fontan
and NBA prospect Dewayne Dedmon along with newcomers such as Wake Forest transfers J.T. Terrell and Ari Stewart. Tissue-thin a year ago, the 2012-13 Trojans will be the deepest team of O'Neill's tenure.
4.
Washington hurt by NBA draft
: The Huskies' chances of repeating as Pac-12 champions took a major hit when sophomore small forward
Terrence Ross
and freshman point guard
Tony Wroten
left school early to turn pro. Both players became instant millionaires when they were selected in the first round. Ross was picked eighth by Toronto; Memphis nabbed Wroten with the 25th selection. The early departures will put additional pressure on players such as
C.J. Wilcox
,
Abdul Gaddy
and
Aziz N'Diaye
. Even with Ross and Wroten in the lineup, Washington missed the NCAA tournament last spring. Can they make it this season without them?
5.
Can Jahii Carson make Arizona State relevant again?
: The Sun Devils experienced their worst season under Herb Sendek when they went 10-21 last season. But let's face it: Arizona State hasn't had a quality point guard since Derek Glasser graduated two years ago. Carson was supposed to fill that void as a freshman last season, but he was ruled academically ineligible and never played a game. Luckily, he was able to practice with his teammates, which should help him adapt to the college game more quickly when he takes the court for the first time this fall. Arizona State has missed the NCAA tournament the past three seasons.
June, 15, 2012
6/15/12
11:00
AM ET
His team finished just 6-26 last season, but that isn't stopping USC guard
Jio Fontan
from making a bold prediction about next season's Pac-12 title race.
"To pick us outside of the top four or five would be a mistake," Fontan told ESPN.com Wednesday.
Truth be told, Fontan's statement isn't all that outlandish.
USC, after all, will have a totally different look than it did last season, when it lost four projected starters (including team captain Fontan, who tore his ACL in August) to season-ending injuries. By the time the league tournament rolled around the Trojans were down to six scholarship players.
[+] Enlarge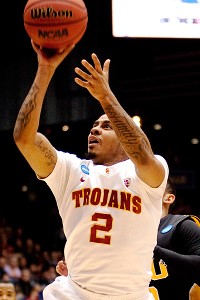 Greg Bartram/US PRESSWIREJio Fontan missed all of last season with an injury.
When USC opens practice this fall, it'll welcome two transfers from Wake Forest, another from UC-Irvine and one from Tennessee. Couple that with the return of players such as Fontan,
Maurice Jones
, Dewayne Dedmon, Byron Wesley and
Aaron Fuller
, and it's easy to see why the Trojans are confident the upcoming season will be nothing like the last one.
Fontan, who transferred from Fordham and averaged 10.5 points and 3.9 assists for USC's NCAA tournament team in 2011, discussed a variety of topics about himself and the Trojans' program during an interview with ESPN.com Wednesday.
What has the past year been like for you?
Jio Fontan:
It's been stressful, I'm not going to lie. This is the first time I've ever been injured to the point where I missed actual games within a season. I've missed games in the summer back in high school, but never in-season games. It's been a learning experience. I've been able to watch a lot more film then I ever did before. I've been able to have a lot of sit-downs with K.O. (head coach Kevin O'Neill), so I've learned a lot more off the court than I would've if I would've been playing. So at least I benefitted from it in one way.
In what ways did you benefit from those meetings and film sessions?
Fontan:
The game kind of slowed down for me. Just watching the game from the outside looking in, I got to understand a lot more about time and defensive strategy and how to guard certain guys. K.O. spent a lot of time with me watching NBA film, too. If I have the opportunity to get there, I'll know a little bit more about what I'm getting into. It was just a whole different experience from what I thought my year would be. I was tested every day, whether it was through rehab or through K.O. quizzing me about my knowledge of the game. It woke me up and reminded me of who I was as far as being a leader like I was back in high school. I want to bring back that same championship mentality.
How is your rehab going?
Fontan:
Overall, I'm doing good. I got to the seven-month mark and K.O. slowed me down a little bit. I was little ahead of where they expected me to be. K.O. wanted to slow the process down to make sure I came back 100 percent instead of trying to get through every step as fast as I could. I'm doing a lot more basketball-related stuff lately. I'm shooting lay-ups and getting involved in some drills. The next step for me will probably come in a couple of weeks, when I can get into some contact stuff.
There may not have been a more snake-bitten team in all of college basketball last season than USC. What was the mood like around the program?
Fontan:
We were just unlucky. I don't think I've ever been around a team that suffered so many injuries and went though so many things. It wasn't just injuries. We had scholarships that we couldn't even use because we had guys on scholarship who had to sit out because they'd transferred in. It was just a tough year for us overall. It was one of those years where, toward the end, we were just trying to stay afloat. It was tough to continue to be positive and continue to keep pushing when things weren't going well. For the most part I think our guys stayed upbeat. Everyone was kind of nervous about [K.O.'s job status] -- especially the guys coming in. Once we got the news he was coming back, everyone got really excited. It's made the summer a lot better for all of us.
You've been very vocal in your support of Kevin O'Neill. Why do you think he's the right man for the job?
Fontan:
The main thing I respect about him is how hard he works. He's the type that's in the office through all types of hours in the night. To me, K.O. is like a scientist. I've been around a lot of great coaches. But I've probably never been around a guy who watches as much film as K.O., a guy who can really break it down with all types of patterns and methods. I've never seen anyone study the game like that. I've always thought I've worked hard, but I didn't always understand the most important things I should be working on. K.O. gave me that direction. When you look at other college programs like Louisville and Kentucky, who have former pro coaches, you've got guys who really know how to manage personalities and egos. K.O. will have that opportunity this year. He'll get to show he can do that, because we've got a lot of guys on our roster now who really know how to play. His ability to manage egos and deal with guys and use them to their maximum potential will shine compared to the last two years, when we've been undermanned.
What excites you the most about next season's team?
Fontan:
If you don't follow us closely, you probably don't know much about what we've got. Our high school recruiting class may not seem all that great, but the guys we've got transferring in who couldn't play last year ... I think five of them were top 150 recruits, guys like J.T. Terrell and Ari Stewart and Renaldo Wooldridge and Eric Wise. We've got a lot of opportunity, a lot of potential. We can look around the court and see that we've got the potential to be better at every single position.
How will this squad stack up with the rest of the Pac-12 in 2012-13?
Fontan:
Our conference is developing, but to pick us outside of the top four or five would be a mistake. If you ask me if I'd rather have a guy out of high school who averages 18 points or a guy who has already played in college and averaged 16, I'll take the college guy. Coming off a 6-26 season, we'll understand [if people pick us low]. But if you know the game and you're really locked into what's happening, you'll understand why we're confident.
April, 23, 2012
4/23/12
3:00
PM ET
For more on Missouri's four incoming transfers,
click here
. In the meantime, a look at some other transfers set to begin play at their new schools in 2012-13.

Malcolm Armstead
, Wichita State (from Oregon)
: The point guard will be a huge boost to a Shocker backcourt that loses leading scorer
Joe Ragland
and
Toure' Murry
. Armstead, who played two seasons at Chipola College under Wichita assistants Greg Heiar and Dana Ford, will be a senior. He averaged 8.6 points and 4.4 assists in his last season with the Ducks (2010-11).

Khem Birch
and
Bryce Jones
, UNLV (from Pittsburgh and USC)
: Birch, the former McDonald's All-American, scorched a path from Pittsburgh to Las Vegas, lambasting his former team on the way out the door. Now he's got a more up-tempo style and a ready-made scoring partner in the form of
Mike Moser
. Jones, who left USC with similar ill will after reports of an altercation with a teammate followed him out of town, is already a proven scorer -- he averaged 11 points per game before his minutes dropped following the addition of
Jio Fontan
.

Rotnei Clarke
, Butler (from Arkansas)
: For a Bulldog team that struggled to score and shoot, Clarke is like a Christmas present. Arguably one of the best perimeter shooters in the game, he averaged 15 points and shot 44 percent from the arc before leaving Arkansas. Butler shot a woeful 28 percent from the 3-point line last season.

Will Clyburn
and
Korie Lucious
, Iowa State (from Utah and Michigan State)
: Fred Hoiberg's Ellis Island recruiting methods paid huge dividends this past season as the Cyclones' coach was able to meld a group of transfers into an NCAA tournament team. Now it's time for more tinkering with the additions of Clyburn and Lucious. Lucious, a true point guard, brings two Final Four berths and an early dismissal from Michigan State to Ames. Clyburn left Utah as the team's leading scorer (17.1 points) and rebounder (7.8).

Jamal Coombs-McDaniel
and
Taran Buie
, Hofstra (from UConn and Penn State)
: If the risks reap the rewards, then Mo Cassara could right Hofstra's downward blip quickly. The Pride won just three CAA games this past season, but with Coombs-McDaniel and Buie, he now has two high-caliber players and two terrific scorers on the bench. Both, however, need to embrace real change at Hofstra. Coombs-McDaniel left UConn in search of more playing time, but also after being arrested for marijuana possession. Buie, the most highly ranked recruit to land at Penn State, was suspended indefinitely in his final year there for a violation of team rules.

Larry Drew II, UCLA (from North Carolina)
: One of the most talked about transfers in recent memory, the Tar Heels' former piñata gets his do-over at Westwood. Certainly he has good timing. After a dismal and fractured season for UCLA, the Bruins landed top recruit
Shabazz Muhammad
, who, along with the Wear twins, give Drew plenty of options. Just how he handles them, and whether he can cut down on his turnovers, will be the biggest question mark -- one no doubt watched by folks in Los Angeles and Chapel Hill, with marked curiosity.

Luke Hancock, Louisville (from George Mason):
The Cardinals rode their defensive tenacity all the way to the Final Four this past season -- mostly because their offense couldn't take them out of Kentucky. Bringing in Hancock will help change that. He's not a bona fide superstar, but he's a solid and efficient scorer who most will remember for the 3-point dagger he dropped on Villanova two seasons ago in the NCAA tournament.

Ryan Harrow, Kentucky (from NC State):
Harrow's addition will go largely unnoticed amid the celebratory din with the arrival of
Nerlens Noel
, but Harrow could be the most critical part of the Wildcats' rebuilding. Kentucky went 4-for-4 in recruiting -- four players signed, four ESPNU Top 100 players -- but none of those guys are point guards. Harrow is. More important, he's a point guard with major minutes under his belt, having started 10 of his final 15 games at NC State.

Colton Iverson, Colorado State (from Minnesota):
You have to feel for a kid like Iverson, who opted for Colorado State a year ago in part because Tim Miles recruited him out of high school. Now Miles is gone, off to Nebraska, and Iverson, with one season of college basketball left, has a new coach to adjust to in Larry Eustachy. Eustachy should be thrilled, of course, to have Iverson, a solid big man who averaged 5.4 points and 5.0 boards despite sharing time with
Ralph Sampson III
in his final season at Minnesota.

Wally Judge, Rutgers (from Kansas State):
A former McDonald's All American who chafed under Frank Martin, Judge gets a second chance with Mike Rice. He's another feather in Rice's recruiting cap, but will need to play hard without the disciplinary issues that rendered him ineffective at Kansas State. The Scarlet Knights could use a big body with experience like Judge's in the Big East wars.

Aaric Murray
and
Juwan Staten
, West Virginia (from La Salle and Dayton
): Bob Huggins made no secret about his frustration with his young Mountaineer team this past season, bemoaning after they lost to Gonzaga in March about the team's lack of defensive pride and offensive ability. And that was before
Kevin Jones
and Truck Bryant left. Murray and Staten could change that. Murray, a highly touted prospect out of high school, averaged 15.2 points and 7.7 rebounds for La Salle. Staten, meantime, is a solid, tough-minded point guard who averaged 5.4 assists in his one season at Dayton.

D.J. Newbill, Penn State (from Southern Miss):
Here's why Newbill is huge for coach Patrick Chambers: He's from Philly. If Chambers is going to turn the Nittany Lions around, he has to make recruiting inroads in the state's biggest city. Newbill helps with that. The fact that he's also talented -- averaging 9.2 points and 6.2 rebounds in his one season with Eustachy -- is a huge bonus for a Penn State team in dire need of skill infusion.

J.J. O'Brien and Dwayne Polee, San Diego State (from Utah and St. John's):
O'Brien, who elected to leave Utah after Jim Boylen was fired, is a solid scorer who averaged 6.4 points despite missing nine games with a broken foot. Polee, a gifted athlete, started 27 games for Steve Lavin as a freshman, but he was on the wrong coast. Polee is from Los Angeles, and the pull to be closer to home, where his mother has an undisclosed illness, was too much to overcome. Now Steve Fisher, who already had an impressive would-be mulligan season, has even more talent to keep the Aztecs moving forward.

Stacey Poole, Georgia Tech (from Kentucky):
Poole, whose playing time headed south as the Wildcats brought in more talented freshmen, made the smart decision to head elsewhere where he will be needed. And Georgia Tech needs him. Poole, a top-50 player out of high school, will help Brian Gregory turn Tech in the right direction. An added plus: Poole's younger brother,
Solomon
, 25th in the ESPNU top 60, has the Yellow Jackets on his short list.

Eric Wise, USC (from UC Irvine):
Wise was looking to up his future stock, and Southern Cal, to up its future. Call this a match made in heaven. Wise averaged 16.3 points and 8.1 rebounds for the Anteaters, and will be a much welcomed shot in the arm for the Trojans, who averaged an offensive 53 points in winning one Pac 12 game all season.
October, 19, 2011
10/19/11
8:49
PM ET
By
Diamond Leung
| ESPN.com
USC coach Kevin O'Neill has told reporters he
expected the Trojans to be picked 10th in the Pac-12
and called the Trojans without injured point guard
Jio Fontan
a "
rudderless ship
."
According to
ESPN Los Angeles
, the backcourt without Fontan is still a work in progress as it is now expected that
Maurice Jones
will slide over to play point guard rather have freshman
Alexis Moore
be the primary ballhandler.
"Mo's going to play the point," O'Neill said Saturday. "I don't know what it's going to do, but he's going to play the point."
Part of that is Jones, who noticeably talks and acts much more like a leader than he did last season, as a true freshman some 2,000-plus miles away from home in Michigan. And part of that is Moore, who proved over the last two months to be a risky proposition as an immediate starter.

"I just feel like it's too much pressure for him to be the starting point guard," O'Neill said. "He's going to play some point, obviously. And we're running what is probably going to be a two-guard offense, but I just don't want the pressure to be on him.

"I don't think he's ready for that yet."
Moore certainly seems open to it in comments made to the team's website.
"Personally, I like to have the ball in my hands, but we have a great guy in Mo in terms of his playmaking ability, so I also like playing with him and playing off of him," he said. "Any way I can, in terms of whether that's catching a drive-and-kick from him or even setting him up for something like that, I'm happy to do it."
It's expected that Fontan will redshirt, and the Trojans appear to have added to their backcourt as well for next season when former Virginia Tech guard J.T. Terrell, a former top-100 recruit,
committed to transferring to USC
.
But for this season, the injuries will be something the Trojans will have to overcome. Fontan had surgery on a torn anterior cruciate ligament. Forward Curtis Washington is out for the season following surgery on a torn labrum. Another forward,
Dewayne Dedmon
, is working toward playing with a broken hand. And according to the
Daily Trojan
, there are more minor injuries to forward
Aaron Fuller
's dislocated finger and Jones' ankle.
"He has not said a word, and that is what I like about [Fuller]," O'Neill said. "You are not supposed to sit on the side with the sniffles."

Jones has been bothered by a minor ankle injury. He has not been sidelined, but O'Neill stated he might rest Jones at times because he is valuable to the team.

"The crippling injury would be to [Jones]," O'Neill said. "If [he] gets hurt, I am in front of a bus."
August, 18, 2011
8/18/11
9:53
PM ET
By
Diamond Leung
| ESPN.com
USC coach Kevin O'Neill had
nothing but effusive praise
for guard
Jio Fontan
last season before he had even appeared in a single game for the Trojans. The Fordham transfer was coming, and it was going to be awesome.
[+] Enlarge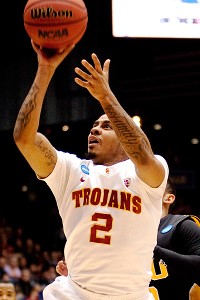 Greg Bartram/US PRESSWIREJio Fontan, who averaged 10.4 points for USC last season, will miss the upcoming season with an injury.
So you can imagine how O'Neill felt today upon learning that a magnetic resonance imaging exam had confirmed his biggest fear. Fontan, the team's returning leading scorer, had
torn an anterior cruciate ligament
during the team's preseason tour of Brazil and would need knee surgery that would cost him the entire 2011-12 season.
"I couldn't feel worse for any player I've coached in my career," O'Neill said in a statement from Brazil. "Jio is the heart and soul of our team and had become a high-level player. His loss is a huge blow to our team."
Fontan averaged 10.4 points points as a junior after becoming eligible in December and started in the backcourt on a team that captured an NCAA tournament bid. He had already showed signs this summer that his scoring would greatly increase. In the Trojans' first two games in Brazil, he scored 29 points and then poured in 28 the following day. But in the third game, Fontan took a hit while going to the basket and landed awkwardly.
The injury could have significant ramifications on the Pac-12 race. USC, like many teams in the league, lost a player to the NBA --
Nikola Vucevic
-- but the Trojans felt like they had a chance to be good. It's not as if there is a consensus preseason favorite in the conference, and USC could have made some noise.
Now O'Neill will have to expect big things at guard from
Maurice Jones
as well as untested freshman Alexis Moore. Earlier in the summer, O'Neill also
talked up 7-footer
Dewayne Dedmon as a big-time contributor even though he too had never played Division I basketball. The injury bug had already bitten the Trojans, as forward
Curtis Washington
is
out for the season
, so depth could be an issue.
But don't expect O'Neill to play up the woe-is-me act with his team. Since he took over as coach the Trojans have gone through a postseason ban and bounced back.
"We are determined to move forward and do what we've done the past two years, which is fight like Trojans and have a great season," O'Neill said. "We as a team are undaunted by this loss and we will play great basketball for our fans."
August, 18, 2011
8/18/11
9:15
AM ET
Lost in all the Miami-Missouri-Frank Haith mess from Tuesday and Wednesday was this rather discouraging bit of news out of USC: Senior point guard
Jio Fontan
, who was playing in Sao Paulo on his team's Brazilian exhibition trip this week,
left the team early to fly back to the United States after injuring his left knee
in an 81-70 loss to Mogi Das Cruzes Tuesday.
The extent of the injury is unknown. Right now, USC is calling it a sprain. But the Trojans' decision to fly Fontan stateside -- where he will undergo an MRI Thursday afternoon with a USC team doctor -- makes things sound a bit more serious than a sprain. Oh,
and then there's this
, from L.A. Times sports reporter Baxter Holmes:
Just asked USC Coach Kevin O'Neill how bad Jio Fontan's knee injury is on a scale of 1-10, with 10 being the worst. His answer: "Ten."
Yeah. Not good.
USC will be hoping the "sprain" designation isn't just wishful thinking. Fontan is unquestionably O'Neill's most important returning player. He was key in USC's recovery from last season's slow start, a recovery that eventually landed the Trojans in the first-ever First Four, where they eventually became a historical footnote in the back pages of VCU's miraculous Final Four story. His sturdy, experienced point guard play -- and his excellent perimeter defense -- would be just as crucial in 2011-12.
If Fontan is seriously injured, all hope is not lost; the Trojans have some decent backcourt talent, including 5-foot-7 sophomore guard
Maurice Jones
. Still, you can bet USC is hoping it doesn't come to that. Fingers crossed.
March, 16, 2011
3/16/11
12:30
PM ET
DAYTON, Ohio -- Random thought: How can the First Four have eight teams if the Final Four has only four?
We'll leave that for a mathematician or NCAA selection committee member to answer. What we know is that it means another first-round tournament doubleheader Wednesday night at University of Dayton Arena. And more basketball is always a good thing.


Texas-San Antonio (19-13) vs. Alabama State (17-17)
How they got here:
Alabama State was 6-16 at the end of January, but rallied to win 11 of its last 12 and captured the SWAC tournament title as a No. 4 seed. Texas-San Antonio finished seventh in the Southland Conference, but beat the league's top three teams in the conference tournament en route to its own improbable automatic bid.
Storyline:
One of these teams will leave Dayton with its first-ever NCAA tournament win. UTSA's previous three appearances came against a pair of No. 1 seeds (UConn in 1999, Stanford in 2004) and a No. 3 (Illinois in 1988). Alabama State lost the 2009 opening-round game in Dayton to Morehead State and also served as sacrificial lamb to Duke (2004) and Michigan State (2001). Wednesday's winner gets the privilege of playing No. 1 overall seed Ohio State on Friday in Cleveland.
Players to watch:
UTSA's
Devin Gibson
had his second triple-double of the season with 28 points, 10 rebounds and 10 assists in a Southland tournament game. Roadrunners freshman
Jeromie Hill
is a 6-foot-8, 230-pounder who leads the team in rebounds and can step out and hit 3-pointers. Alabama State had to wait nearly half the season for senior
Tramayne Moorer
to get an extra year of eligibility from the NCAA and then for him to recover from a knee injury. But the Hornets have been a different team since, and the SWAC tournament MVP has led them in scoring and rebounding over the past 15 games -- all of which he's begun on the bench.

What to look for:
Alabama State was one of the worst shooting and scoring teams in the country for most of the season and made only 55 percent of its free throws in the regular season. The Hornets suddenly turned that around in the SWAC tournament, but can they keep it up against a UTSA team that is holding opponents to under 42 percent from the field? The Roadrunners will certainly make Alabama State prove it can hit some 3s, something it rarely did all season.
If experience matters, Alabama State has three players who remember Dayton from that 2009 opening-round game. Meanwhile, UTSA has seven freshmen on its roster. But both teams have already showed major resiliency just to get here.


VCU (23-11) vs. USC (19-14)
How they got here:
Only the selection committee knows how VCU could finish fourth in the Colonial Athletic Association, lose 11 times, fail to win its conference tournament and yet still manage an at-large bid. USC, with those 14 losses (some of them on the horrific side), doesn't have that much stronger of an at-large case. But at least the Trojans did beat Texas, Arizona, Tennessee, UCLA and Washington this season while nearly upsetting Kansas in Lawrence back in December.
Storyline:
VCU will try to justify its controversial at-large bid, which UAB fell way short of Tuesday night. Then there's the return of USC coach Kevin O'Neill after his suspension for getting into a verbal altercation with a fan last week. "His approach to it was real sincere," guard
Jio Fontan
said. "You can tell that he really felt like he let us down. And he apologized for his actions." Will O'Neill's trouble bring the team together or serve as a distraction?

Players to watch:
The Trojans' attack revolves around 6-foot-10 forward
Nikola Vucevic
, who averages a double-double (17.3 points, 10.2 rebounds) and is a good passer out of the post. Guard
Marcus Simmons
was the Pac-10 Defensive Player of the Year. VCU is led by senior point guard
Joey Rodriguez
, the school's all-time leader in games played.
Jamie Skeen
is the Rams' top scorer, and at 6-foot-9 he led the team in 3-point shooting.
What to look for:
The best early-round tournament matchups offer severe contrasts in style, and this is one of them. VCU likes to press and play fast, using a deep bench and hoisting up a ton of 3s. USC basically has a six-man rotation and wins by slowing things down and applying the clamps on defense, where it led the Pac-10 in fewest points allowed.
"We're a team that has to play at our tempo to be successful," O'Neill said. It will be fascinating to see which style wins out, and whether the Rams can wear down a Trojans team that had to fly across the country on short notice.
But VCU is also one of the worst rebounding teams in the country. Vucevic -- whose name includes the letters v-c-u -- could spell serious trouble for the Rams on the boards and in the paint if he can stay out of foul trouble.
March, 12, 2011
3/12/11
3:43
AM ET
By
Diamond Leung
| ESPN.com
Forward
Nikola Vucevic
noted how different it was with fiery USC coach Kevin O'Neill suspended -- there was much less yelling coming from the sideline.
But after taking over for O'Neill on the bench, assistant coach Bob Cantu said as loud and clear as he could that the Trojans belonged in the NCAA tournament after the
their 67-62 loss
to top-seeded Arizona in the Pac-10 tournament semifinals
[+] Enlarge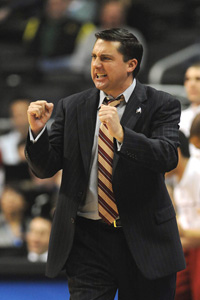 Jayne Kamin-Oncea/US PresswireAssistant coach Bob Cantu said the Trojans' "great wins" should outweigh their "bad losses."
"I think we had a good showing tonight, and anybody that was watching the game tonight would have to call this a good loss," Cantu said afterward. "If you were on the committee and we were on the border, you'd have to say, 'Well, this team played well without their head coach.' We feel they can compete in an NCAA tournament."
USC fell to 19-14 after the hard-fought loss, and twice Cantu mentioned that he thought the Trojans could compete with any team in the country. He listed off wins against Texas, Arizona, UCLA and Tennessee.
"My point is we have some great wins," Cantu said. "Everybody's saying we've got bad losses. I personally think great wins mean more than bad losses do when you look at the big picture."
Cantu's use of the bully pulpit came after O'Neill earlier in the week said it would be a "waste of time" pontificating about the team's at-large chances with the selection committee.
O'Neill actually spoke with Ramona Shelburne of ESPN Los Angeles during the game and said, "The people that make those decisions are smart people. They understand where this is at. I think they'll judge our team based on what we do on the court."
Off the court, O'Neill has apologized for his confrontation with an Arizona booster on Friday that led to his suspension for the tournament and the Trojans losing their strongest voice at a most critical time in the season.
Yes, Joe Lunardi as of right now has USC getting into the NCAA tournament as one of the "last four in." But USC ultimately got bounced from the tournament, and that has left them teetering.
Moving onto the championship game are two teams merely looking to further solidify their seeding in the NCAA tournament, though there is also plenty of motivation for preseason favorite Washington to prove itself against regular-season champion Arizona.
"They got us last time, and we want some revenge," Washington guard
Isaiah Thomas
said afterward. "They're a great team, and we'll be ready for them. It's going to be a fun game tomorrow."
But really, this tournament for the conference as a whole was about seeing which team could step forward and grab an at-large bid. Arizona coach Sean Miller took the opportunity after his team's win to talk up the Trojans, even mentioning that they were without transfer guard
Jio Fontan
until December.
"I told our guys in the locker room after the game I thought this was our best win of the season," Miller said. "The reason is we respect USC a great deal."
December, 15, 2010
12/15/10
1:29
PM ET
By
Diamond Leung
| ESPN.com
Remember Mike Gerrity? (The Pac-10 does because after all this time he's
still the featured player
on the background of their basketball web page.)
The USC point guard became eligible last December and
provided such a spark
as a redshirt senior that the Trojans had the look of possible NCAA tournament team before self-sanctions put that to rest.
Jio Fontan
-- this year's version of Gerrity -- becomes eligible on Saturday when USC plays at Kansas, and while the Fordham transfer's debut is being overshadowed by
Josh Selby
's, Trojans coach Kevin O'Neill is pretty fired up about it.
"He's our best player," O'Neill said. "He's our best leader. He's our best scorer. He's our best defender. He's our best passer. He's our best guard. He's our best player."
So... O'Neill likes his new point guard. Fontan certainly was good as a freshman at Fordham averaging 15.3 points and 4.7 assists before leaving after five games into his sophomore season and
deciding on USC
.
O'Neill said if Fontan had been eligible at the start of the season, the 6-4 Trojans who've lost to Rider, Bradley, Nebraska and TCU would probably be 9-1 or 8-2.
Fontan's abilities should prevent teams from doubling post players
Nikola Vucevic
and
Alex Stepheson
while providing relief for the freshman backcourt of
Bryce Jones
and
Maurice Jones
.
Fontan is said to have gotten himself into shape after the long layoff from playing and will now attempt to have a Gerrity-like effect on the Trojans.
And in a Pac-10 where teams are jostling for position behind Washington and Arizona and USC is once again eligible for postseason play, that might be all the Trojans need to make some noise.