College Basketball Nation:

Joe Burton
February, 7, 2013
2/07/13
12:32
PM ET
By
Ryan Feldman
| ESPN.com
Player of the Night -- Chaz Williams, Massachusetts
Williams had a season-high 27 points and eight assists in a win over Rhode Island. The UMass guard shot 9-of-14 from the field, 3-of-5 on 3-point attempts and a perfect 6-for-6 from the charity stripe. For the season, Williams is averaging 16.4 points, 7.0 assists and 4.4 rebounds per game. He's the only player in the country averaging at least 15 points, seven assists, four rebounds and two steals per game. In the last 15 seasons, only three players have had those averages: Ohio's
D.J. Cooper
(2010-11), Pittsburgh's Brandin Knight (2001-02) and Weber State's Eddie Gill (1999-2000).
Freshman of the Night -- Marcus Smart, Oklahoma State
Smart made an impact on both ends of the court, totaling 14 points, eight rebounds, seven assists and four steals in Oklahoma State's overtime win against Baylor. Smart hit a go-ahead jumper late in regulation and a game-tying 3-pointer early in overtime to help the Cowboys get the win. Smart is the only freshman this season with at least 14 points, eight rebounds, seven assists and four steals in a game. He's the first freshman on a current Power 6 team to post those numbers since Marquette's Dwyane Wade in November 2001 against Tennessee.
Scorer of the Night -- Marshall Henderson, Ole Miss
Henderson lit up Mississippi State for 31 points. He shot 8-of-18 from the field, 6-of-14 on 3-point attempts and 9-of-10 from the free-throw line. It was the fifth time this season that he scored at least 25 points and made at least six 3-pointers. The SEC's leading scorer has attempted at least 10 3-pointers in each of his last seven games and his 85 3-point attempts since January 15 is 21 more than any other player in the country.
Breakout Performer of the Night -- Greg Smith, Colorado State
Smith, a senior who had played in 108 career games entering Wednesday, set career highs in points (28), field goals (11) and field-goal attempts (17) in Colorado State's win at Nevada. Smith also grabbed 12 rebounds, the second-highest total of his career, and was 2-for-2 on 3-point attempts, matching a career high for 3-pointers made. It was Smith's third career double-double and first in nearly two years.
Stat Sheet Stuffer -- Joe Burton, Oregon State
Burton's 17 points and seven rebounds are nothing extraordinary, but the 6-foot-7, 295-pound center also dished out 10 assists. Burton is the first D-I center to reach those totals in a game since Northwestern's Evan Eschmeyer in January 1999 against Indiana. Burton now has two career double-digit assist games. In the last 15 seasons, no other D-I player listed within 40 pounds of Burton has had a game with at least 10 assists.
January, 13, 2012
1/13/12
5:00
AM ET
1. Pac-12 commissioner Larry Scott told ESPN.com late Thursday night that the league will review the overtime scuffle between Oregon State and Arizona. Don't be surprised if there are some suspensions since the Pac-12 tends to be aggressive. Arizona's
Kyryl Natyazhko
and Oregon State's
Joe Burton
were ejected. Natyazhko was out of line in his reaction. He had to be held back. Arizona's
Kyle Fogg
started the mess by woofing at OSU's
Jared Cunningham
after a dunk. But credit Arizona's Sean Miller here for trying to quickly restore order before it escalated too much. OSU's Craig Robinson also kept his players cool.
2. Minnesota coach Tubby Smith was criticized locally last week because of the Gophers' failure to excite or go deep in March. The Gophers turned around and had the best outing of their season with a road win at Indiana in vaunted Assembly Hall. The Big Ten record doesn't show it (1-4), but Smith had to reconstitute this team without
Trevor Mbakwe
(ACL). The Gophers have remained competitive. Indiana can't be faulted too much for a home loss. Remember, this is still a young team that is learning to play with high expectations.
3. It will be interesting to see how Tennessee coach Cuonzo Martin uses
Jarnell Stokes
against Kentucky on Saturday. The highly-touted incoming freshman was deemed eligible by the SEC this week. Martin has his Vols playing as hard as any team in the SEC, and Stokes hasn't been privy to Martin's coaching or the tough practice schedule. Stokes is a talent, but he'll have to buy in defensively and, of course, effort-wise going forward to make a major contribution. Martin is managing this transition quite well so far in Knoxville.
December, 16, 2011
12/16/11
8:53
PM ET
By
Diamond Leung
| ESPN.com
Oregon State guard
Jared Cunningham
jumps awfully high and soars for a highlight-reel dunk.
Nothing new there.
But what is also generating buzz in Corvallis is that this Beavers team under coach Craig Robinson could be a legitimate contender in the Pac-12 if things go right.
Oregon State improved its record to 8-2 on Thursday night with a home victory over Howard that showed off the Beavers' athleticism, with Cunningham taking center stage with his midair acrobatics.
That record also happens to be tied with for second-best among Pac-12 teams, with one-loss Stanford tops in non-conference action thus far.
Yes, the Beavers still have much to prove during the Pac-12 season. And it wasn't a good sign that they are still prone to bad losses — falling by 14 at home to Idaho, for example.
But as much as Robinson wanted to downplay it at the time, Oregon State felt an emotional weight that night, playing shortly after learning of the death of Beavers football player Fred Thompson. Robinson later told reporters that the tragic event naturally took an emotional toll.
Oregon State will certainly be tested in the Pac-12 opener at Washington on Dec. 29, but for now it's basking in Thursday's highlight reel — Cunningham scoring on a reverse dunk off the alley-oop pass from big man
Joe Burton
.
From
The Oregonian
:
"When I saw the replay on the screen, I was kind of amazed, too,'' Cunningham said. "I didn't see that the dude was right there when I jumped.''

...

"I've never seen anybody who can catch the ball and then decide how to dunk it,'' Robinson said.
November, 20, 2011
11/20/11
1:56
AM ET
EAST RUTHERFORD, N.J. -- November matters. It is relevant for teams and for players that have one or maybe two shots to make a difference before conference play.
Oregon State is in the Pac-12, but limited itself to two games against major-conference teams outside of league play. Lose to Texas on Saturday night and the Beavers would have to spend the rest of the nonconference plodding along in obscurity.
Take out Texas and do it behind another 30-plus point performance from wing
Jared Cunningham
and it provides enough fodder to pay attention to Oregon State for the time being.
And that's exactly what happened. OSU was down five points with 2:39 left in regulation in the semifinals of the Legends Classic at the IZOD Center on Saturday night.
"Last year, we wouldn't have come together,'' Oregon State's
Roberto Nelson
said.
Added teammate
Joe Burton
: "We didn't have the mental toughness to win. That's the difference. I love this team. I love the fight that we have for each other.''
[+] Enlarge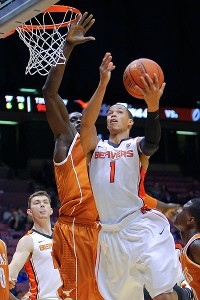 Jim O'Connor/US PresswireOregon State's Jared Cunningham scored 37 points in an overtime victory over Texas.
Oregon State found a way to win, creating plays in the final few minutes. The defense made stops, Cunningham got to the free-throw line and the Beavers were in position to tie the game down 81-79 with 17 seconds left. That's when Cunningham drew a foul and made two free throws. Oregon State's
Eric Moreland
then blocked
Myck Kabongo
's layup attempt at the buzzer.
The Beavers dominated the overtime and escaped with a
100-95 victory
over the Longhorns to move into Monday night's title game against Vanderbilt, which knocked off NC State earlier in the evening.
Cunningham finished with a career-high 37 points, a game after he scored 35 in a home win over Hofstra.
"We all have confidence now,'' Cunningham said. "We believe in each other.''
Cunningham's teammates were quick to praise him in the postgame locker room. He has quietly emerged as one of the top scorers in the country. Cunningham was a highlight reel a year ago with his ability to flush a jam with authority. Now he's scoring in a variety of ways and he's leading the Beavers, too.
"He can definitely keep it up,'' point guard
Ahmad Starks
said. "He can keep up his defense and he can slash to the basket. He can score like that.''
"Jared is amazing,'' Nelson said. "He can do everything for us. He's the leader on this team. He is showing us. He's carrying us on his back and it's great to have a player like that on our team. That's the difference.''
This is the same program that piled up some truly horrible nonconference losses the last few years. Oregon State was able to remain somewhat competitive in the Pac-10, but too often put itself in a nonconference hole under head coach Craig Robinson.
But the 4-0 Beavers seem to have shed their bad karma and genuinely look like a team that can be competitive in every game they play. Oregon State is actually beating the teams it should at home and now has taken down a team that it wasn't expected to knock off on a neutral court.
"They are absolutely right,'' Robinson said. "A year ago, we couldn't win a game like that. These guys believe in each other as a group. They think they can win these games. This was a character win. Our guys stuck together.''
Now if Oregon State could actually beat Vandy, the Beavers would have not just one but two quality wins for its book shelf heading into a wide-open conference.
"This is why you play in tournaments like this,'' Robinson said. "You get your team prepared to play and you never know. You could play a ranked team that could change your season. I'm so happy these guys are getting a taste of the big time. Vandy is going to be tougher than this. They have three pros [
John Jenkins
,
Jeffery Taylor
and
Festus Ezeli
] on their roster. ... But I'm excited about our chances.''
July, 29, 2011
7/29/11
11:54
AM ET
By
Diamond Leung
| ESPN.com
Oregon State guard Roberto Nelson
shattering a backboard
while dunking in Macedonia last month was a legendary moment that happened to be captured on video. We eventually got to watch the glass rain down on Nelson and see the bloody mess on YouTube. It was must-see stuff.
For Oregon State coach Craig Robinson, it was difficult to believe. In fact, he told The Oregonian's Paul Buker and Lindsay Schnell on KPAM 860 AM that he initially thought Nelson was pulling his leg.
"As soon as it happened, I get a Skype from Roberto, and he's got these bandages on," Robinson said. "I mean, he looked like the old Lon Chaney mummy back from the old movies. And I didn't believe him because Roberto is a prankster, and I was like, 'Get out of here. Nothing's wrong with you.'
"He had these bandages on his face, and he had them on his arm, and he was like, 'Coach, I broke a rim and shattered the glass that's in my face and I got 21 stitches.' I was like, 'Get out here. I don't believe you. You're the boy who cried wolf.' And then [teammates Joe Burton and Kevin McShane] got on and they were like, 'Seriously, this really happened.'"
From the
Daily Barometer
:
"He thought we'd just bandaged Roberto up; he thought it was all a joke," Burton said with a laugh. "He even thought we used makeup."
Whoops. Nelson was fine after getting stitches, but the incident shook him up. Robinson was also thankful that one of his top players didn't get hurt worse and came away instead with a story to tell and some scars.
"He was very lucky because they still have the old glass backboards over there, so those were shards of glass that were falling as opposed to the tempered glass they have over here that just shatters, but it doesn't break," Robinson told the station. "He said there was a piece of glass that just missed his foot that probably would have really done some damage had that hit his foot."
And that would have been no laughing matter.
July, 5, 2011
7/05/11
1:27
PM ET
By
Diamond Leung
| ESPN.com
Before Oregon State guard Roberto Nelson begins an important sophomore season, the former top-100 recruit went on a service trip to Macedonia with some teammates and decided to have some fun while they were out there during a pick-up game.
Who knew it would lead to a shattered backboard and a trip to the hospital that was all caught on film?
Nelson said he needed 20 stitches in what was a scary moment, and it's got to be awkward breaking something when you're a guest in a foreign country. But it was also an awesome moment.
After averaging 7.5 points in his first year, Nelson will look to have a big year while playing in his first full season. He was academically ineligible as a true freshman and didn't become eligible until last December. To have a highlight-reel dunk in the summer isn't the worst way to generate some excitement, even with the bloodied face and all.
When teammate Kevin McShane looks back on the trip to Europe, the shattered glass will be one of the best stories coming from an unforgettable trip as part of the Beavers Without Borders Program, which included helping a family add a second story to its home.
From
McShane's blog
:
"It was a vintage backboard from when the school was initially set up, and the other teams coach had warned us not to dunk but there Joe [Burton], Berto, and myself and a few of the other teams players had been dunking all game so we didn't think anything of it. But somehow he hit the right spot and the glass rained down.

"It was an incredible feat that every basketball player in the world dreams of doing, big ups to my man Berto! And a special shout out to Brendon Ziegler our strength and conditioning coach back in Corvallis!! All those weights and training are paying off B, we are breaking backboards and taking names out here in Macedonia!"
June, 21, 2011
6/21/11
1:53
PM ET
By
Diamond Leung
| ESPN.com
Oregon State teammates Joe Burton, Kevin McShane and Roberto Nelson are currently on a service trip in Skopje, Macedonia. Their assignment along, with the rest of the athletes there as part of the Beavers Without Borders program, is to help a family add a second story to its home.
It's a time for them to travel overseas, learn about another culture and have some fun -- especially every time they spot a basketball hoop.
McShane blogged
that they found one near a school and shot around with the local children.
Nelson, who McShane wrote had come up with the idea of adding a hoop to the home they're building, then had to show off and hit what they're calling "the best shot in Macedonian history."
March, 10, 2011
3/10/11
9:28
PM ET
By
Diamond Leung
| ESPN.com
Oregon State capped off its 11-20 season with a 78-69 loss to top-seeded Arizona that saw sophomore big man
Joe Burton
ejected in the Pac-10 tournament quarterfinal.
From
The Associated Press
:
Burton was assessed a flagrant foul and got ejected for elbowing [Kevin] Parrom in the face near the baseline with 10:25 remaining. Burton walked back to his bench claiming he got hit. Arizona fans chanted "Throw him out!" as the referees reviewed the play.

The Beavers trailed by nine when Burton left the court. Parrom scored six of the Wildcats' next nine points, with Williams adding his fifth 3-pointer to extend the lead to 70-56.
The play was the latest in a string of incidents that highlights how much coach Craig Robinson's team needs to mature before it can compete for the top of the Pac-10.
During the Beavers' loss in their regular-season finale to Arizona State, Robinson left himself with only six players after he suspended numerous members of his regular rotation for curfew violations, according to
The Oregonian
.
Freshman guard Roberto Nelson, one of the few who did make bed check Thursday, exploded for a career-high 34 points, evoking memories of his days with his Compton Magic AAU team.

Among the players who were disciplined were usual starting guards Jared Cunningham and Ahmad Starks, starting forward Devon Collier, and key reserves Calvin Haynes and Lathen Wallace.

Nelson quipped, "I'm a boring guy" when a reporter asked him why he wasn't out with everyone else.
According to
The Oregonian
, Burton was also suspended for the team's loss at UCLA last month for breaking a team rule. Burton couldn't play on a day when hundreds of Native American children were invited to see him play and hear him speak afterward.
Robinson has spoken extensively about changing the losing culture of the program. He has brought in talent that has surprised with some wins, but those same players have also racked up bad losses. That talent is still learning, and Robinson has
asked fans for patience
.
They continue to be reminded how long of a road this team will have to travel.
November, 17, 2010
11/17/10
6:37
PM ET
By
Diamond Leung
| ESPN.com
Oregon State for at least one game is going away from its traditional orange and black colors in order to make a bold statement.
The Beavers will wear Nike
turquoise uniforms
while playing Texas Southern in the Nike N7 game on Tuesday that serves to raise awareness during Native American Heritage Month for the need to bring sports to Native American and Aboriginal communities.
Turquoise is a color of friendship in Native American culture, and basketball is a popular sport among Native Americans.
Oregon State sophomore
Joe Burton
, believed to be the first Native American to earn a men's basketball scholarship in the Pac-10, served as one of the models in yesterday's unveiling of the uniform, which includes the numbers in orange.
"It is a little outside of the box for us, but it's for such a great and important initiative," Oregon State coach Craig Robinson said. "I came to this because I was looking for something to support."
Would Oregon State consider wearing turquoise for more than one game?
"If we win big, anything's possible," Robinson joked.
September, 13, 2010
9/13/10
4:10
PM ET
By
Diamond Leung
| ESPN.com
Oregon State coach Craig Robinson has managed to assemble a level of talent on the Beavers roster that the program hasn't seen for some time.
Exhibit A: This
YouTube highlight tape
of guard
Jared Cunningham
playing in a summer league in San Francisco. Yes, it's just summer league but Cunningham shows a great leaping ability that would translate on any court.
It's that kind of athleticism that has the Beavers excited about this season.
Cunningham, the team's second-leading returning scorer and steals leader as a freshman, is among those in a highly regarded sophomore class ready to take on more responsibility.
Among the others, 270-pound
Joe Burton
showed he could be a presence in the paint, and 6-foot-10
Angus Brandt
could see more time as well.
That same recruiting class includes two players who have yet to debut. Roberto Nelson, the gem of the class, was lost for the season because he is academically ineligible, and 6-foot-8 Rhys Murphy is recovering from an injury.
If this is the season where it all comes together for the Beavers, it'll be because the future has arrived.
The Cunningham video simply provides us with an early glimpse.
December, 29, 2009
12/29/09
8:12
PM ET
By
Diamond Leung
| ESPN.com
Oregon State coach Craig Robinson might have
some pull with the POTUS
, but it's been a slow go with the NCAA clearinghouse and the eligibility questions surrounding highly regarded freshman
Roberto Nelson
.
Nelson, a 6-foot-4 guard and the
jewel of Robinson's impressive recruiting class
, has been partially cleared to practice, but is now considering using his redshirt year so his first season won't be an incomplete one.
"Now we're getting to the point where he could get cleared to play and we have to make a decision whether or not it makes sense for him to play the Pac-10 season or wait till next season," Robinson told reporters today. "We'll cross that bridge when we come to it."
Fellow freshmen in guard
Jared Cunningham
along with post players
Joe Burton
and
Angus Brandt
have contributed, but the Beavers have also been without injured forward
Rhys Murphy
.
The Beavers will get thrown in the fire early, going up against defending conference champion Washington on the road to open Pac-10 play.
The Huskies are the Pac-10's only ranked team, but could be without a fully healthy
Isaiah Thomas
after the guard tweaked an ankle playing against San Francisco.