College Basketball Nation:

Joe Mihalich
April, 11, 2013
4/11/13
5:00
AM ET
1. Creighton's
Doug McDermott
is nowhere near close to making a decision on whether to declare for the NBA or return to the Bluejays, his father and coach Greg McDermott said. Greg McDermott said Doug will take this call down to the NBA's April 28 deadline -- the only one that really matters. Doug McDermott isn't feeling any pressure about the April 16 NCAA deadline -- and that's good, because that one means nothing. The NCAA doesn't put out a list on that date and neither does the NBA. The only deadline that produces an early-entry list is the April 28 deadline. A player could say he's returning to school next week and then declare 12 days later without any issue. Doug McDermott has one of the toughest decisions of any player, because if he decides to leave his dad will face a difficult season in the Bluejays' first season in the new Big East. If Doug stays, Creighton has a chance to contend for the new league's title.
2. New Hofstra coach Joe Mihalich said Wednesday that the timing was right and he just had a feeling that he needed to move after 15 years at Niagara. Mihalich is trading one set of problems for another. Niagara, north of Buffalo, N.Y., isn't exactly in fertile recruiting territory, but Mihalich has made it work and competed for league titles in the Metro Atlantic Athletic Conference. Hofstra, on Long Island, is in a fertile recruiting area but is in rebuilding mode. The MAAC and the Colonial Athletic Association are typically one-bid leagues at this juncture. Mihalich has had other opportunities to leave but chose to stay. He said every time he considers one, the same two questions come to mind: Who is the president and who is the athletic director? Mihalich felt comfortable with current AD Jeff Hathaway, who previously held the same position at Connecticut, and president Stuart Rabinovitz. Hathaway wanted a sitting head coach and stayed true to his goal in the search.
3. Cincinnati coach Mick Cronin praised the "mature decision" by junior
Sean Kilpatrick
to return for his senior season. Cronin is convinced Kilpatrick will work on his game enough to be a draft pick next year. Kilpatrick will have a new backcourt mate with
Cashmere Wright
gone; those in the running to replace Wright will include freshmen
Kevin Johnson
and
Troy Caupain
and junior
Ge'Lawn Guyn
.
February, 13, 2010
2/13/10
12:34
AM ET
Friday night usually only matters twice a year in college basketball:
1) The first weekend of the season, when schools are generally trying to avoid Saturday conflicts with football.
2) The postseason, when conference and NCAA tournament games are being played.
[+] Enlarge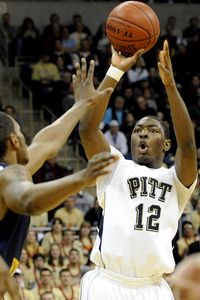 AP Photo/Don Wright Pitt's Ashton Gibbs scored 24 points in a triple-OT victory over No. 4 West Virginia on Friday.
Not so this year. We have just completed the freakiest February Friday ever, with notable upsets in triplicate. It demands some attention and analysis, and perhaps some smelling salts.
We had a Friday in which a 3-15 team (Penn)
laid a 15-point smackdown on a ranked 20-3 team
(Cornell) that was favored by 17 points. That's certainly the biggest league upset of the year nationwide. Might be the biggest upset, period.
We had a Friday in which a struggling team in the lower half of the Metro Atlantic Athletic Conference (Niagara)
rose up and took down the 14-0 big dog of the league
(Siena) by 13 points. That reverses an 18-point loss last month.
And to top it off, we had two ranked rivals from the Big East exchanging huge shots and huge mistakes through three dramatic overtimes (
Pittsburgh 98, West Virginia 95
).
Earlier this week,
I wrote about
the eight teams trying to get through conference play unbeaten. That number already is down to six after the losses by the Big Red and the Saints – teams I thought were among the most likely to run the league table.
The upsets derailed the considerable momentum of both Cornell (eight-game winning streak shot) and Siena (15-game winning streak, longest in the nation, done). It also cast doubt upon both the Big Red and the Saints as potential NCAA at-large teams. Neither team has a victory over an RPI top-50 opponent and now each has a fresh loss that will hurt their own RPI numbers.
Both can still earn automatic bids, of course – Siena by winning the MAAC tourney at home and Cornell by winning the Ivy regular season. But the Saints, who struggled to beat Fairfield at home earlier this week, might now seem mortal to their league brethren. And the Big Red now sits in second place in the Ivy behind 5-0 Princeton – though the two still meet twice.
But instead of solely examining the damage to the losers, we should take a moment to appreciate what the winners did.
Penn threw a 15-0 haymaker at Cornell to open the second half and pull away. Niagara put a 24-3 run on Siena during a five-minute stretch of the second half to do the same.
At Penn, school president Amy Gutmann went into the postgame locker room to congratulate the team. This might have been the victory that gives interim coach and former Quaker hero Jerome Allen a solid chance at the job on a full-time basis.
Allen was elevated from assistant when the school surprisingly fired Glen Miller after a 0-7 start. The record got to 0-10 before the Quakers finally got in the win column – but now they've won three of their last four, including this absolute stunner, rallying around a guy who had zero coaching experience before joining the staff in September.
Allen and his staff had a smart, slow-the-tempo plan that included doubling Cornell star center
Jeff Foote
every time he caught the ball.
"This was a 54-possession game," Penn assistant John Gallagher said. "For us to win any game, it's got to be played between 54 and 65 possessions. Anything over that, we will not win. We ended up controlling tempo."
They also ended up shooting the lights out. A team that entered the game shooting 39 percent from the field, 29 percent from 3-point range and 74 percent from the foul line went 56 percent, 52 percent and 82 percent, respectively.
Among the heroes for the Quakers was guard
Zack Rosen
, who had 22 points, five assists and three steals. The previous two games, Penn's leading scorer had two assists and 13 turnovers. This bounce-back performance illustrated the sophomore's character.
"He's a great leader," Allen said. "He wins every sprint. Whatever you ask him to do, he does it. I think every coach in America would love to have a guy like that on their team."
Problem is, there is literally no time to celebrate in the Ivy League. Teams play back-to-back games on Friday and Saturday, and the Quakers went quickly Friday night into a meeting to preview their game against Columbia.
"I told them, 'You guys got about 30 minutes to enjoy the victory,' " Allen said. "I really wanted them to stay in the moment, because it is a big deal. But my job doesn't allow that."
Niagara at least has a day between games to savor beating Siena. The two have had a lively rivalry in recent years as the premier programs in the MAAC, but the Purple Eagles have dipped below .500 in league play this season and were no match for the Saints on the road last month.
But Joe Mihalich's team rose to the occasion at home, in a game I targeted Tuesday as Siena's biggest threat to running the MAAC table.
For a long time, it looked as if the upsets in the Ivy and the MAAC were the dominant Friday storylines. Then Pitt and West Virginia played a game that conjured memories of the Syracuse-Connecticut six-OT game from last year's Big East tournament.
Neither team gave up – which was wise, because neither team would shut the door on the other.
Pitt was down seven points with 45 seconds left in regulation, but WVU all but quit playing and allowed the Panthers to hit enough shots to force overtime. Then Pitt gave
Truck Bryant
an open 3 in the final three seconds of the first overtime while up three. (Choosing not to foul in those situations never fails to amaze.) And the Panthers compounded that in the second OT by fouling
Da'Sean Butler
on a 3 while leading by three in the final 25 seconds.
That's how you get to triple OT. Once there, Pitt finally stopped the madness – though not before giving West Virginia another shot at a tying 3 in the final seconds. But the fatigued basketball gods spoke: "No, send that shot off the rim and let's save a little something for Saturday."
A day that has a hard act to follow.