College Basketball Nation:

Joe Ragland
April, 23, 2012
4/23/12
3:00
PM ET
For more on Missouri's four incoming transfers,
click here
. In the meantime, a look at some other transfers set to begin play at their new schools in 2012-13.

Malcolm Armstead
, Wichita State (from Oregon)
: The point guard will be a huge boost to a Shocker backcourt that loses leading scorer
Joe Ragland
and
Toure' Murry
. Armstead, who played two seasons at Chipola College under Wichita assistants Greg Heiar and Dana Ford, will be a senior. He averaged 8.6 points and 4.4 assists in his last season with the Ducks (2010-11).

Khem Birch
and
Bryce Jones
, UNLV (from Pittsburgh and USC)
: Birch, the former McDonald's All-American, scorched a path from Pittsburgh to Las Vegas, lambasting his former team on the way out the door. Now he's got a more up-tempo style and a ready-made scoring partner in the form of
Mike Moser
. Jones, who left USC with similar ill will after reports of an altercation with a teammate followed him out of town, is already a proven scorer -- he averaged 11 points per game before his minutes dropped following the addition of
Jio Fontan
.

Rotnei Clarke
, Butler (from Arkansas)
: For a Bulldog team that struggled to score and shoot, Clarke is like a Christmas present. Arguably one of the best perimeter shooters in the game, he averaged 15 points and shot 44 percent from the arc before leaving Arkansas. Butler shot a woeful 28 percent from the 3-point line last season.

Will Clyburn
and
Korie Lucious
, Iowa State (from Utah and Michigan State)
: Fred Hoiberg's Ellis Island recruiting methods paid huge dividends this past season as the Cyclones' coach was able to meld a group of transfers into an NCAA tournament team. Now it's time for more tinkering with the additions of Clyburn and Lucious. Lucious, a true point guard, brings two Final Four berths and an early dismissal from Michigan State to Ames. Clyburn left Utah as the team's leading scorer (17.1 points) and rebounder (7.8).

Jamal Coombs-McDaniel
and
Taran Buie
, Hofstra (from UConn and Penn State)
: If the risks reap the rewards, then Mo Cassara could right Hofstra's downward blip quickly. The Pride won just three CAA games this past season, but with Coombs-McDaniel and Buie, he now has two high-caliber players and two terrific scorers on the bench. Both, however, need to embrace real change at Hofstra. Coombs-McDaniel left UConn in search of more playing time, but also after being arrested for marijuana possession. Buie, the most highly ranked recruit to land at Penn State, was suspended indefinitely in his final year there for a violation of team rules.

Larry Drew II, UCLA (from North Carolina)
: One of the most talked about transfers in recent memory, the Tar Heels' former piñata gets his do-over at Westwood. Certainly he has good timing. After a dismal and fractured season for UCLA, the Bruins landed top recruit
Shabazz Muhammad
, who, along with the Wear twins, give Drew plenty of options. Just how he handles them, and whether he can cut down on his turnovers, will be the biggest question mark -- one no doubt watched by folks in Los Angeles and Chapel Hill, with marked curiosity.

Luke Hancock, Louisville (from George Mason):
The Cardinals rode their defensive tenacity all the way to the Final Four this past season -- mostly because their offense couldn't take them out of Kentucky. Bringing in Hancock will help change that. He's not a bona fide superstar, but he's a solid and efficient scorer who most will remember for the 3-point dagger he dropped on Villanova two seasons ago in the NCAA tournament.

Ryan Harrow, Kentucky (from NC State):
Harrow's addition will go largely unnoticed amid the celebratory din with the arrival of
Nerlens Noel
, but Harrow could be the most critical part of the Wildcats' rebuilding. Kentucky went 4-for-4 in recruiting -- four players signed, four ESPNU Top 100 players -- but none of those guys are point guards. Harrow is. More important, he's a point guard with major minutes under his belt, having started 10 of his final 15 games at NC State.

Colton Iverson, Colorado State (from Minnesota):
You have to feel for a kid like Iverson, who opted for Colorado State a year ago in part because Tim Miles recruited him out of high school. Now Miles is gone, off to Nebraska, and Iverson, with one season of college basketball left, has a new coach to adjust to in Larry Eustachy. Eustachy should be thrilled, of course, to have Iverson, a solid big man who averaged 5.4 points and 5.0 boards despite sharing time with
Ralph Sampson III
in his final season at Minnesota.

Wally Judge, Rutgers (from Kansas State):
A former McDonald's All American who chafed under Frank Martin, Judge gets a second chance with Mike Rice. He's another feather in Rice's recruiting cap, but will need to play hard without the disciplinary issues that rendered him ineffective at Kansas State. The Scarlet Knights could use a big body with experience like Judge's in the Big East wars.

Aaric Murray
and
Juwan Staten
, West Virginia (from La Salle and Dayton
): Bob Huggins made no secret about his frustration with his young Mountaineer team this past season, bemoaning after they lost to Gonzaga in March about the team's lack of defensive pride and offensive ability. And that was before
Kevin Jones
and Truck Bryant left. Murray and Staten could change that. Murray, a highly touted prospect out of high school, averaged 15.2 points and 7.7 rebounds for La Salle. Staten, meantime, is a solid, tough-minded point guard who averaged 5.4 assists in his one season at Dayton.

D.J. Newbill, Penn State (from Southern Miss):
Here's why Newbill is huge for coach Patrick Chambers: He's from Philly. If Chambers is going to turn the Nittany Lions around, he has to make recruiting inroads in the state's biggest city. Newbill helps with that. The fact that he's also talented -- averaging 9.2 points and 6.2 rebounds in his one season with Eustachy -- is a huge bonus for a Penn State team in dire need of skill infusion.

J.J. O'Brien and Dwayne Polee, San Diego State (from Utah and St. John's):
O'Brien, who elected to leave Utah after Jim Boylen was fired, is a solid scorer who averaged 6.4 points despite missing nine games with a broken foot. Polee, a gifted athlete, started 27 games for Steve Lavin as a freshman, but he was on the wrong coast. Polee is from Los Angeles, and the pull to be closer to home, where his mother has an undisclosed illness, was too much to overcome. Now Steve Fisher, who already had an impressive would-be mulligan season, has even more talent to keep the Aztecs moving forward.

Stacey Poole, Georgia Tech (from Kentucky):
Poole, whose playing time headed south as the Wildcats brought in more talented freshmen, made the smart decision to head elsewhere where he will be needed. And Georgia Tech needs him. Poole, a top-50 player out of high school, will help Brian Gregory turn Tech in the right direction. An added plus: Poole's younger brother,
Solomon
, 25th in the ESPNU top 60, has the Yellow Jackets on his short list.

Eric Wise, USC (from UC Irvine):
Wise was looking to up his future stock, and Southern Cal, to up its future. Call this a match made in heaven. Wise averaged 16.3 points and 8.1 rebounds for the Anteaters, and will be a much welcomed shot in the arm for the Trojans, who averaged an offensive 53 points in winning one Pac 12 game all season.
February, 21, 2012
2/21/12
10:30
AM ET
Wichita State is no longer living up to its nickname. The team that has lost just one game in 2012 isn't exactly shocking anyone anymore, not after spanking Missouri Valley leader Creighton in Omaha and then turning a BracketBuster game against Davidson into a laugher.
Now 24-4 and ranked 19th, the Shockers have the look of
that
team, the one everyone suddenly is loving as a potential NCAA tournament sleeper.
Which means only one thing: The bandwagon is parked outside.
Wichita State always has had a strong and steady fan base but now nouveau fans are asking to board.
We jumped on with two feet this week, along with various national radio shows that were calling for a few minutes of Gregg Marshall's time, to catch up with the Shockers' coach.
What has fueled your team this season?
Gregg Marshall:
Last season, they were really disappointed they didn't make the NCAA tournament. A couple of times, they had games slip through their fingers and this year, this group was determined not to let that happen.
These guys are tremendously focused and tough, physically and mentally tough. They have a lot of pride. They know how close they were to the NCAA tournament last year and I think they're a little chapped.
A lot of times teams who fail to make the NCAA tournament don't play well in the NIT. Why were the Shockers able to win it and use it as a launch pad for this season?
GM:
A few years ago, we were so upset when we lost in the Missouri Valley finals to Northern Iowa and did not get a bid, we went to the NIT and lost in the first round.
Last year, I went to the players and said, "Look, if we're not going to approach this like we want to win it, I'm not accepting the bid. You guys tell me." They had a closed-door meeting to decide and I honestly didn't know which way it would go. That group re-dedicated themselves and it carried over into this season.
But I will say, if we found ourselves in a situation where we had to go back to the NIT and try to win it again, that would be a huge disappointment. These guys want the NCAA tournament. This is our first recruiting class. They hitched their wagons to us and they haven't been to the tournament.
Now that the word is out, so to speak, how do you keep your guys focused?
GM:
We came back from that Creighton game and I told them to not only make sure they were on time for their classes on Monday, but to go early. I told them that everyone is going to be watching you, to see how you handle this, to see if you're letting it go to your head. They want to make sure it doesn't trip you up in terms of your character, but this is such a good group.
They're fine. I just need to stay out of their way and not mess them up.
Does your team have bigger ambitions than say, a traditional mid-major going into the NCAA tournament?
GM:
I'm not a mid-major/low-major guy. When I was at Winthrop, they said we were a mid-major. What was mid about us? We had to rub two nickels together to get a spark.
Here, we're a high-major. We average 10,000 fans a game. I make over a $1 million a year. We fly on private planes? What's mid-major about us?
We just don't have a BCS football team.
Our guys are high major.
Joe Ragland
could play anywhere in the country. Kentucky offered (leading scorer)
Garrett Stutz
when Billy Gillispie was the coach. We've got some guys that can play.
So that said, how badly would your guys like to turn some heads in the NCAA tournament and be that "Cinderella" team?
GM:
No doubt our guys have a chip on their shoulder. They'd love to get a piece of some of those quote-unqoute high-major programs. If you don't bar the door on us, you better be careful.
February, 18, 2012
2/18/12
3:31
PM ET
By
ESPN.com staff
| ESPN.com
Joe Ragland scored 30 points to lead Wichita State to a
91-74 victory
over Davidson.
February, 11, 2012
2/11/12
10:30
PM ET
OMAHA, Neb. -- Moments after his team humiliated No. 15 Creighton on its home court, Wichita State coach Gregg Marshall sat before a throng of reporters and smirked.
"Maybe now," he said, "we can get some press."
On some days, the comment might have seemed catty and whiny. But after what his squad did to the Bluejays on Saturday, it was easy to concede that Marshall had a point. A Missouri Valley Conference team has been getting loads of national attention this season.
Unfortunately, it's been the wrong one.
The Shockers -- and not Creighton -- appear to be in a different class than the rest of their competitors in one of the nation's most underrated leagues. Their
89-68 annihilation
of the Bluejays was eye-opening for a variety of reasons, the main one being that it came in front of the largest crowd ever to see a game at the CenturyLink Center.
Not that things ever got rowdy.
Instead, most of the 18,735 in attendance sat in disbelief as Wichita State connected on 58 percent of its shots, eight of its 16 3-point attempts and all 17 of its free throw attempts in its most dominating performance of the season. The loss was the worst for Creighton at home since 1995.
"Even if we had played our best tonight, I'm not sure it would've been good enough," Creighton coach Greg McDermott said. "We didn't have an answer for anything they did."
The loss was the third straight for the Bluejays. Wichita State, meanwhile, now has won 20 of its past 22 contests and has a two-game lead over Creighton in the quest for its first Missouri Valley Conference regular-season title since 2006.
Wichita State almost certainly will catapult into the top 25 for first time this season -- and rightfully so. The Shockers are easily one of the better teams in the country from a non-BCS league.
And they might be the best.
Seventh-ranked Murray State lost to Tennessee State this week and should drop dramatically in the polls. Harvard fell to Princeton, Saint Mary's was whipped at Gonzaga and San Diego State fell to No. 16 UNLV.
Should the Runnin' Rebels be ranked ahead of the Shockers?
Only if you pretend their 19-point loss to Wichita State on Dec. 4 never occurred.
[+] Enlarge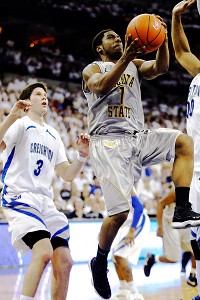 Matt Ryerson/US PresswireJoe Ragland's 24 points propelled Wichita State past No. 15 Creighton and star Doug McDermott, left, who managed just 13 points.
"We always say, '[People] have it out for Wichita State,'" Shockers guard
Joe Ragland
said. "We feel like we're a successful team and we perform well. We just don't get that recognition. I guess now they're going to start paying attention to us."
How could anyone not?
With four senior starters, the Shockers boast one of the most experienced lineups in the country. In
Garrett Stutz
, they've got an agile, versatile 7-footer who entered Saturday's game averaging 21 points in his previous five contests. Stutz played just 13 minutes because of foul trouble, and it didn't even matter.
With Stutz on the bench, Wichita State spread the floor and used its athleticism to beat Creighton to the lane. When they didn't finish with an easy basket in the paint, the Shockers dished the ball outside for an open 3. Ragland finished with a game-high 24 points while forward
Ben Smith
had 22.
"Our defense was atrocious," McDermott said. "It was an embarrassment. Wichita took advantage of a lot of our weaknesses."
And Creighton did nothing to counter on the other end.
The 6-foot-4 Smith held 6-7 Creighton forward
Doug McDermott
to 13 points on 5-of-14 shooting. McDermott (the coach's son) entered the game averaging 23.3 points, which ranked third in the nation.
"At practice, our teammates do a good job of playing like McDermott," Smith said. "We tried to go with the game plan and limit his touches and make it hard on him to catch the ball where he wants to catch it. You've got to hope for the best."
Added Marshall: "[Smith] won that battle against a guy that is probably going to be a first-team All-American."
More than anything, Marshall was proud of his team's poise in what could have turned into a difficult road environment. Creighton pulled within 33-28 late in the first half, but Wichita State responded by scoring on its next seven possessions to take a 49-36 lead at intermission.
Creighton still thought it had a chance trailing 70-55 with 8:19 remaining. But the Shockers scored on eight consecutive possessions to put the game out of reach.
At one point, Greg McDermott was so frustrated with his son's play that he berated him relentlessly on the sideline during a timeout. There appeared to be contact between the McDermotts, as Greg's face was centimeters away from Doug's as he yelled.
"Sometimes, to light a fire under your team, you need to light a fire under one of your best players," Greg McDermott said. "That was an attempt to do that. It obviously didn't pay many dividends.
"I don't do it with many of our guys very often. But we were getting our tail kicked, and they were scoring whenever they wanted. As a coach, you have to try everything. I know Doug can handle it. He's as big of a critic on himself as anybody else."
Indeed, Saturday's loss will be hard to stomach for the Bluejays. Less than two weeks ago, they were riding an 11-game winning streak and were full of confidence. Now their NCAA tournament hopes could be in jeopardy.
Road victories at San Diego State and Wichita State are the only quality wins on Creighton's résumé. Saturday's defeat was its third straight -- and more heartache could be coming next weekend when the Bluejays host Long Beach State. The 49ers have played at Kansas, North Carolina, Pittsburgh and Louisville this season. They won't be intimated by a sellout crowd in Omaha.
"Our effort has to be a lot better," Creighton guard
Grant Gibbs
said. "We have to stay together as a group. I could name a million things, but it starts with caring more and playing harder."
Those things aren't a problem for Wichita State, which can clinch the Missouri Valley Conference regular-season title outright with two more wins.
By then, the Shockers hope, people will have taken notice of what appears to be the best mid-major team in the country.
"We've gotten some [media attention]," Marshall said, "but we haven't gotten nearly the amount of it that the Creighton team has. The way they played early in the year, they deserved it. But maybe now these guys will get some."
The players hope so, too. As they walked off the court Saturday, a few of them extended their right arms and waved to the shell-shocked fans who lingered at CenturyLink Arena. Brash, perhaps, but also fitting.
Goodbye, Creighton.
Hello, Wichita State.
February, 11, 2012
2/11/12
7:24
PM ET
OMAHA, Neb. -- Observations from Wichita State's
89-68 victory
over Creighton Saturday at the CenturyLink Center:
Overview
: Wichita State took a major step toward winning its first regular-season Missouri Valley Conference title since 2006 by defeating Creighton 89-68 Saturday at CenturyLink Center in Omaha.
Joe Ragland
scored 24 points in the victory and
Ben Smith
added 22 for the Shockers, who avenged a Dec. 31 home loss to the Bluejays.


With a 13-2 league record, Greg Marshall's squad is two games ahead of Creighton (11-4) in the league standings. The No. 17 Bluejays have now lost three straight games and are in danger of falling out of the top 25 poll. Unranked Wichita State, meanwhile, appears more than deserving of catapulting into the rankings. The Shockers have won 12 of their past 13 games.
Wichita State shot 58 percent from the field. The Shockers made eight of their 16 shots from beyond the 3-point arc and connected on all 17 of their foul shots.
Notable
: The Shockers won despite a minimal contribution from leading scorer
Garrett Stutz
. A 7-foot senior, Stutz entered the game averaging 21.8 points in his previous five contests. But he scored just eight Saturday because of foul trouble. The Shockers may have actually been better with Stutz on the bench because they were able to increase the tempo and play faster.
Doug McDermott
, a first-team All-America candidate, finished with 13 points. Late in the first half McDermott was involved in a heated exchange with his father, Bluejays coach Greg McDermott, as he walked toward the Creighton bench during a timeout. There appeared to be contact between the father and son as Greg yelled at Doug.
What the win means for Wichita State
: This isn't the Shockers' first big win of the season. They pasted UNLV 89-70 less than two weeks after the Runnin' Rebels upset North Carolina. But for Wichita State to turn in this kind of performance in one of the conference's toughest road environments says a ton about its mental toughness and its focus. The fact that the Shockers start four seniors certainly helps -- and so does their depth. This is not a team you want to play in the NCAA tournament.
What the loss means for Creighton
: The Bluejays entered February with an 11-game win streak and all the confidence in the world. Now the Bluejays may not even make the NCAA tournament. Saturday was Creighton's third straight loss, and unless things change quickly, another defeat may come next weekend against red-hot Long Beach State. The 49ers have played at Pittsburgh, Kansas, Louisville and North Carolina. They certainly won't be intimidated by the atmosphere they'll face in Omaha. A victory in that game is a must for the Bluejays.
Up next
: Creighton plays at Southern Illinois Tuesday. Wichita State hosts Missouri State Wednesday.
December, 4, 2011
12/04/11
9:25
PM ET
WICHITA, Kan. -- The 10,269 fans who crammed into Wichita State's Koch Arena got a little something extra for the price of their tickets Sunday. Along with a great basketball game, they also witnessed a "welcome back" party.
The Shockers rebounded from two early-season losses and played nearly flawless basketball in an
89-70 rout
of 18th-ranked UNLV. And yes, it was the same UNLV squad that whipped then-No. 1 North Carolina just eight days ago in Las Vegas.
The previously unbeaten Runnin' Rebels hardly made a game of it against the Shockers, who got a career-high 31 points from senior guard
Joe Ragland
. As a team, Wichita State shot 59.3 percent from the field in improving to 5-2. UNLV is 7-1.
"I was wondering when that was going to happen," WSU coach Gregg Marshall said of his team coming together. "I was hoping it would happen. I knew it needed to happen. This was perfect timing."
Indeed, even though it took a bit longer than most expected, Wichita State appears to have regained the moxie and cohesion it exhibited at the end of last season, when it defeated Alabama for the NIT championship.
[+] Enlarge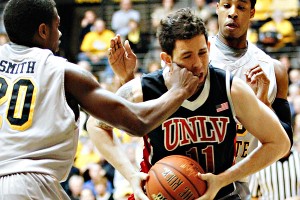 AP Photo/Jeff TuttleWichita State dominated 18th-ranked UNLV on Sunday afternoon at Koch Arena.
Bigger things will be in store for the Shockers this spring if Marshall's squad plays half as well as it did Sunday. Ragland made eight of his nine 3-point attempts, Toure Murry had a career-high eight assists and
Carl Hall
and
Garrett Stutz
were ferocious when fighting for looks down low.
The most telling statistic? How about Wichita State's 20 assists compared to just six turnovers against a UNLV squad that's known for its defensive pressure?
"Just a dynamite display of ball-handling and unselfish individuals on our team," Marshall said. "It was beautiful basketball."
If anything, Wichita's performance should generate a ton of interest in this season's Missouri Valley Conference race. The Shockers' missed opportunities last month -- they lost to Alabama and Temple in Puerto Rico -- made No. 22 Creighton seem like the heavy favorite. The Bluejays are 7-0 following Sunday's 10-point win over Nebraska.
But now things seem wide-open again thanks to the dominance Wichita State displayed Sunday against a quality opponent.
"We definitely didn't bring our 'A' game," UNLV forward
Mike Moser
said. "It was a real big game for them and they took advantage of it."
The victory could definitely work in Wichita State's favor come Selection Sunday. Out-of-conference wins against quality opponents go a long way toward determining selections and seeds. The Shockers could help themselves further by defeating Tulsa (on the road Wednesday) and Utah State (Saturday at home) before the start of league play.
"[UNLV is] a marquee team, a top-20 team," Ragland said. "We needed a win like this on our résumé that will help us in the long run. This is what we worked for. We worked hard every day for this moment. It was good to see it all [come together]. Everyone clicked on the biggest night of the year so far."
No Shocker turned in a better effort Sunday than Ragland, who made his first seven 3-point attempts before finally misfiring. Ragland entered the game averaging just 8.7 points.
"I didn't expect that type of game from him," Marshall said, "but I expect games similar, maybe 20 or 23 [points]. In practice he's hard to guard. He makes everything just like he did tonight."
Ragland scored 19 of his points in the decisive first half, when Wichita State used a 9-0 scoring run to break an 18-18 tie. Vegas never threatened after that. The Shockers made 17 of their 28 field goal attempts (60 percent) before intermission.
"Without question, they had more energy than us today," first-year UNLV coach Dave Rice said. "They got everything they wanted."
Marshall said Wichita State should gain a lot of confidence from beating such a quality opponent.
"They'll probably be a single-digit seed in the NCAA tournament," he said. "They've got the win against North Carolina that will look great on their résumé. This UNLV team had me scared."
After Sunday, most people probably feel the same way about the Shockers.
December, 4, 2011
12/04/11
6:20
PM ET
WICHITA, Kan. -- More later, but a few quick thoughts from Wichita State's
89-70 rout
of No. 18 UNLV.


Overview
: Early-season losses to Alabama and Temple seemed like a thing of the past for Wichita State following a commanding 89-70 victory over 18th-ranked UNLV at Koch Arena.
Joe Ragland
scored a career-high 31 points and
Carl Hall
added 17 for the Shockers, who completely annihilated a previously-unbeaten UNLV squad that defeated NCAA title contender North Carolina just eight days earlier.
This was the Wichita State team people had been expecting to see all along, the one that entered the season on the cusp of the top 25 and was tagged as the favorite to win the Missouri Valley Conference title. The Shockers proved Sunday that they'll definitely be in the hunt along with Creighton and Indiana State (and possibly Northern Iowa). They also picked up a much-needed out-of-conference win against a quality opponent that will look good on Selection Sunday.
Turning point
: Ragland's 3-pointer midway through the first half broke an 18-18 tie and ignited a 9-0 scoring run for the Shockers, who were never threatened after that. Ragland had 19 points at intermission and made all five of his shots from beyond on the arc in the opening 20 minutes. As hot it was offensively, Wichita State also did a nice job on the other end by holding UNLV standouts
Mike Moser
and
Chace Stanback
to a collective 10 points in the decisive first half.
Why Wichita State won
: The basket looked like a hula hoop to the Shockers, who made 59.3 percent of their shots. Whether it was Ragland pulling up from 3, Toure Murry connecting from midrange or
Garrett Stutz
or Hall muscling up for a short jumper inside, the Shockers seemingly couldn't miss.
Why UNLV lost
: It's tough to beat any team that was as hot as Wichita State was Sunday. But the Runnin' Rebels definitely could've stepped it up on defense, where they often appeared soft and overmatched. The other factor was the sellout crowd of 10,269 at Koch Arena, which is one of the toughest road environments in all of college basketball. UNLV was clearly rattled and Dave Rice's squad missed badly on a number of shots.
Star of the game
: Ragland, who had 19 of his career-high 31 points in the first half, is the easy choice here. The senior made eight his nine 3-point attempts to pace the Shockers. Ragland also went 5-of-6 from the foul stripe while notching three assists. Ragland entered the game averaging 8.7 points.
What's next
: Wichita State plays at Tulsa on Wednesday before hosting Utah State on Saturday. UNLV will regroup with what should be an easy win against Cal State-San Marcos Wednesday before traveling to Madison for a tilt with Wisconsin on Saturday.