College Basketball Nation:

Joe Scott
October, 14, 2013
10/14/13
9:00
AM ET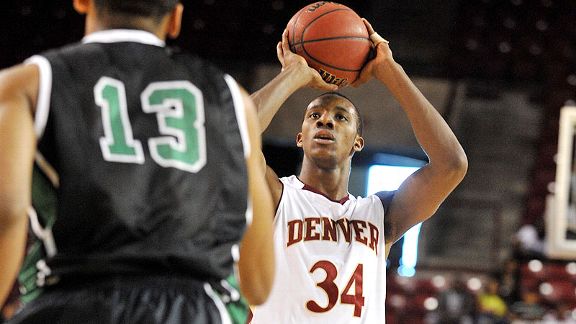 Andrew B. Fielding/USA TODAY SportsChris Udofia is a key reason why Denver has become one of the nation's top mid-major programs.
It's college basketball preview season, and you know what that means: tons of preseason info to get you primed for 2013-14. But what do you really need to know? Each day for the next month, we'll highlight the most important, interesting or just plain amusing thing each conference has to offer this season -- from great teams to thrilling players to wild fans and anything in between. Up next: Denver finds a home in the Summit.
If you've been keeping up with You Gotta See This or are particularly attuned to the business of college sports in general, you already know the story of the Western Athletic Conference -- a long-standing, proud mid-major league decimated by recent conference realignment. We spent most of our time these past two years chronicling the quixotic travails of high-major programs (and leagues) trying to keep their heads above the football-cash-clogged water. But no one got it worse than the WAC.
You can imagine the anxiety this caused in Denver. After all, it was just three years ago that the Pioneers eagerly accepted, and joyfully celebrated, their new Western Athletic Conference membership. Denver had wriggled free from its geographically senseless Sun Belt membership, and it was thrilled, trumpeting the storied old mid-major conference and its legacy of success in the Rockies.
Two years later, DU athletic director Peg Bradley-Doppes was telling local reporters, "it became an issue where we were fortunate the Summit wanted DU." What changed? Losing seven members and football will do that to a league.
Is the Summit a better fit for Denver? Maybe. Insofar as the Summit makes sense on a map -- it comprises two teams from Indiana, one from Illinois, one from Nebraska and three from the Dakotas -- it makes sense for Denver. From a long-term basketball perspective, where recruiting is so key, well, who knows? The only thing that seems clear right now is this: Denver is the immediate favorite to win the Summit in 2013-14, and that's a baseline expectation.
Because while the Pioneers' brass was frantically dealing with a disintegrating new conference, the players and coaches, led by top man Joe Scott, have been quietly building one of the best mid-majors in all of college hoops. Star wingman Chris Udofia & Co. finished ranked No. 44 in Ken Pomeroy's adjusted efficiency rankings last season; only two teams, Creighton and Belmont, shot the ball more accurately.
There are precisely two losses to deal with: Senior guard Chase Hallam graduated, while sophomore Royce O'Neale transferred to Baylor. But everyone else, including Udofia, is back. With Oral Roberts now gone, no team in the current Summit League configuration comes close to matching that kind of talent.
What does the future hold for Denver? More realignment could change things at any time. If the basketball program's success continues, it could receive any number of membership offers in the years to come. But whether 2013-14 is the start of a long, productive relationship with the Summit League or a mere layover before something else, the Pioneers on the court right now should more than command your attention.
July, 6, 2012
7/06/12
5:00
AM ET
1. Marshall's chances of wrestling the Conference USA title away from Memphis increased dramatically with the news that
Dennis Tinnon
will receive another year of eligibility. Tinnon averaged 10 points and 10 boards for the Thundering Herd. The 6-8 forward should be one of the top forwards in Conference USA. Coach Tom Herrion said the decision on Tinnon was a major development for Marshall and changes the complexion of this team. He said there was no Plan B for Tinnon or the Herd if this fell through. Marshall should have one of the top inside-out combos in the league with
DeAndre Kane
and Tinnon. Memphis coach Josh Pastner said Marshall is "loaded" and should be the favorite. But it's hard to look past Memphis' talent pool and put Marshall ahead of them, even with the departures of
Will Barton
and
Wesley Witherspoon
. Still, Marshall could legitimately push Memphis for the title and not having the tournament in Memphis (it's in Tulsa) takes away a major advantage in March.
2. Providence coach Ed Cooley said that the best-case scenario for highly-touted newcomer guard
Kris Dunn
is for him to be ready to play by December after right shoulder surgery. Meanwhile, Cooley said that Ricky Ledo isn't going to be in summer school because he's not eligible. But Cooley said he remains optimistic that Ledo will get through the NCAA Eligibility Center in time to play in the fall. Cooley does have one significant player to count on in his second season. He said
Vincent Council
"is the best guard in the Big East.'' He said watching him work out this week reassured him of this fact even more.
3. Denver officials weren't initially talking about the Pioneers becoming members of the WAC on Sunday. But men's basketball coach Joe Scott offered up a few statements Thursday about the move. "The league will be good for us,'' said Scott of the Pioneers' first-year in the WAC with fellow new members Seattle, UTA, Texas State and UTSA before the latter three jet off to the Sun Belt and C-USA, respectively. The league will also say goodbye in 2013 to Utah State and San Jose State (MWC) and Louisiana Tech (C-USA). "We've got to do well in the WAC this year. We've got four starters back from a 22-win team.'' Denver would love to be with other like teams and get an invite from the WCC. But that's not an option at this point. "We just have to do as well as we can in the WAC, win as many games as we can and hope things have a way of working out. Hopefully good things will happen. It's a fluid situation out there.''