College Basketball Nation:

Joe Trapani
March, 11, 2010
3/11/10
1:13
PM ET
GREENSBORO, N.C. -- I hadn't seen Tony Bennett coach in person for a couple of years, since he had it rolling at Washington State. I forgot how much I like watching him work and his teams play. Bennett is involved without being insane. He's more of a supporter than a screamer. He'll correct, but then he'll let mistakes go and move on to the next possession. Just wait until he's got enough good players in Charlottesville; they'll compete for league titles.
The Cavaliers are competing over their heads today. Lacking leading scorer Sylven Landesberg, suspended for academic reasons for the remainder of the season, they are running poised offense and getting timely shots from several players -- most notably guard Sammy Zeglinski, who came in averaging 8.8 points per game and has 16 at intermission. Wow. Virginia has made 6 of 11 3-point shots.
Boston College, meanwhile, has 17 combined points from Reggie Jackson and Rakim Sanders, and 10 from everyone else. Leading scorer Joe Trapani was 0-for-6.
There are a lot of empty green seats here, but the atmosphere isn't as crypt-like as I've seen at some matinee quarterfinal games in other leagues. ACC fans are more willing to turn out to watch teams they're not affiliated with than a lot of other conferences. Good fans.
That said, there are plenty of word-of-mouth stories about this being a surprisingly soft ticket. When the tourney is in Greensboro, tickets are legendarily hot items -- but the balky economy and miserable status of North Carolina and North Carolina State are being blamed for the downturn in interest this year.
Duke assistants Chris Collins and Steve Wojciechowski are scouting this one from the baseline, since the Blue Devils will play the winner tomorrow. They don't look overly concerned.
February, 6, 2010
2/06/10
6:00
PM ET
CHESTNUT HILL, Mass. -- If Duke is going to amount to a real threat later in March -- if the Blue Devils are going to be a team you can confidently advance on your bracket -- then they have to start to play smarter, poised and with even more energy away from Cameron Indoor Stadium.


That's why
beating
Boston College Saturday at Conte Forum, regardless of how it occurred, was a must for the Blue Devils.
Duke is something at home, clearly the top team this season in its own building (yes, Kansas has the win streak but the Jayhawks get pushed more at home than the Devils). The numbers back up the debate as Duke scores 89 points a game, makes 44.2 percent of its 3s, and shoots at a near 50 percent clip at home.
Save the win at Clemson, which was significant, the Blue Devils have sagged in true road games -- losing at Wisconsin, Georgia Tech, NC State and last week at Georgetown. Of course, three of those four teams are bound for the NCAA tournament and are hardly slouches. Still, the numbers back up the premise that this is a different team on the road, where the Blue Devils shoot 30.9 percent on 3s, score 20 points less a game, and make just 41 percent of their shots.
"We needed to win this game," said Duke coach Mike Krzyzewski. "This is a big, big win for our basketball team based on how things have gone for us."
Duke did win, 66-63, after
Brian Zoubek
and
Nolan Smith
did a terrific job of shutting down a potential game-tying, 3-point attempt on the final play of the game. The play started out with
Reggie Jackson
looking for his second consecutive trey, but Smith shadowed him and
Joe Trapani
missed the final shot with Zoubek jumping out.
Had Trapani's shot gone down, and the Eagles won in overtime, then Duke would have had yet another true road loss to ponder.
But the Blue Devils don't. They earned this one by making free throws late (
Jon Scheyer
,
Andre Dawkins
and
Ryan Kelly
for 1 of 2) and rebounded when needed (19 defensive rebounds). In late-shot clock situations, Smith made a deep 3 early in the game and then drove for a key hoop that was a dagger for the Eagles.
The win comes on the heels of Duke's dominant victory over Georgia Tech on Thursday. That's two wins in less than 48 hours after a disastrous trip last Saturday to Georgetown.
"We weren't emotionally ready,'' Krzyzewski said of the Georgetown loss. "We just weren't there and that leads to all the other things. We gave up 15 layups. They were really good. We were not very good.''
Krzyzewski put a wrinkle into the offense to create more motion. The plan was to ensure more players touched the ball on a possession. Not everyone was going to shoot it, but at least there was a feeling that they were a part of the play. The opportunities to score were there, even if they didn't always convert.
Still, there are warts to fix on the road with games to come Wednesday at North Carolina, at Miami (Feb. 17), at Virginia (Feb. 28) and a senior night at Maryland (March 3). Remember, the NCAA tournament is a neutral-court event without the comfort of Cameron.
Scheyer said the lack of that "killer instinct" is apparent. The "silly" errors keep occurring -- like fouling after successive rebounds to create more opportunities for the opponent (which happened to allow BC to stay in the game). That can negate Duke's size advantage.
"We haven't shot the ball as well on the road and that's because we haven't moved the ball as well,'' Scheyer said. "When we get our best 3s, we move the ball.''
Whatever Carolina's record is Wednesday it won't matter. Duke will have to be sharp to win.
"We've never had a problem winning on the road as long as I've been here," said Duke senior
Lance Thomas
of the issue this season. "It gets frustrating. We have to make sure everybody is right mentally on the road. We have a target on our back. Everybody wants to get us."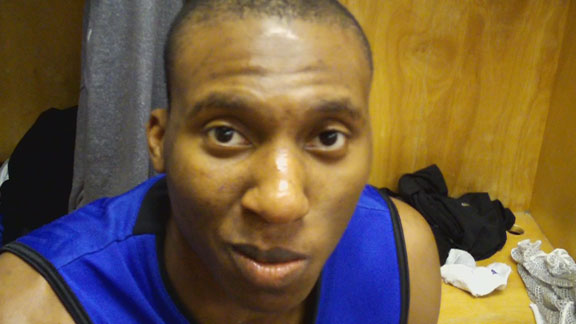 January, 20, 2010
1/20/10
11:31
AM ET
Five things to know from Tuesday's games:
1. How do you snap a three-game losing streak? Well, if you're Purdue, you call on a player who hadn't gotten off the bench since mid-December and wasn't even listed in the official scorebook at the beginning of the game. The Boilermakers were assessed a technical foul for using
John Hart
because of the accidental oversight, but the redshirt freshman made sure it was worth it. Hart entered Tuesday having only played 33 minutes all season, never in a true road game and not since Dec. 22. He'd only scored in one game in his career, when he dropped eight points against Buffalo over six weeks ago. So naturally when Purdue fell behind by eight points at Assembly Hall, coach Matt Painter turned to Hart. He responded with 14 points in 18 minutes while playing turnover-free basketball, as Purdue beat Illinois 84-78.
2.
Evan Turner
had double-doubles in six of his first seven games before getting hurt in early December. On Tuesday, he had his first double-double since coming back, finishing with 20 points, 13 rebounds and 8 assists as the Buckeyes made quick work of Northwestern. Just two assists shy of a triple-double, it's likely only a matter of time before Turner becomes just the 10th player with three in a season. With those 8 assists, Turner also made some school history. He joined Jim Jackson as the only Buckeyes with 1,000 points, 500 rebounds and 300 assists.
3. San Diego State beat Utah in Salt Lake City for just the third time in 33 trips there. A big part of the win was
Malcolm Thomas
, who netted a career-high 23 points to go with 13 boards. A transfer from Pepperdine, Thomas has been coming into his own of late. Over the last six games, he is averaging 15.5 ppg and 9.7 rpg, after averaging just 9.8 ppg over his first 13 games with the Aztecs. Thomas has been one of the most-efficient scorers in the nation over that span. Since Dec. 31, he has a 68.4 field goal percentage, second in the nation behind Portland's
Robin Smeulders
(70.2).
4. With its season seemingly spiraling out of control, Boston College picked up a big road win in Miami, coming back from 17 points down in the second half. The Eagles were just 4-6 in their last 10 games, a stretch that included home losses to Maine and Harvard. The key was
Joe Trapani
, who netted a career-high 31 points, the most for a BC player since Tyrese Rice scored 46 in 2008. Trapani was averaging just 8.8 ppg and shooting 29 percent from the field in BC's first four ACC games, while going 2-for-17 from long distance. Tuesday was a different story. He shot 11-for-20, including 5-for-10 from 3-point range.
5. How about that Vols defense? Tennessee held its third straight opponent to its worst shooting performance of the season as Alabama shot just 37.9 percent at home. Despite being shorthanded, the Vols have won seven straight, thanks to a defense that ranks 13th in the nation in field goal percentage defense. Tennessee has held six straight opponents under 40 percent from the floor. Over that span, opponents are shooting just 34.8 percent. In three SEC games, opponents are shooting just 34.3 percent, the lowest of any team in the nation in conference play.