College Basketball Nation:

John Adams
April, 10, 2014
Apr 10
2:00
PM ET
DALLAS -- It feels like a lifetime ago now, but back before the season started there was much fretting about new rules that many feared would lead to a game bogged down by whistles.
Turns out, the game survived and the new rules mostly did what they intended.
[+] Enlarge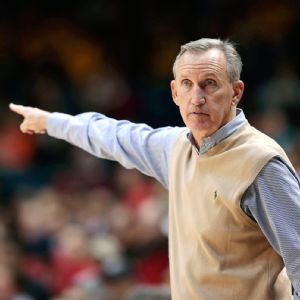 AP Photo/Mark HumphreyAs chairman of the rules committee, Rick Byrd has a few sticky rules proposals to navigate in the next year.
"I feel like we're on a path to a better game," said John Adams, the NCAA coordinator of officials. "There's a level of predictability when you step on the court."
Adams, along with Rick Byrd, chairman of the rules committee, and a handful of coaches and administrators met with members of the media on Monday at the Final Four to not only discuss the impact of the new rules but discuss what other changes need to be made.
It was a conversation more than a presentation, an open dialogue about the state of the game and ways it could be improved.
Plenty of ideas were discussed but the three everyone agreed needed to be addressed -- the freedom of movement for cutters without the ball, post play and the torturously long end of games.
"We're not done," said Art Hyland, basketball secretary rules editor said.
The question isn't really what needs to be done, but how to do it. Some of it is simple -- allowing cutters to roam without impediment and stop penalizing post players with a foul when a perimeter guy merely leans in to draw a call.
"You know you're going to get something if you jump into a guy," said Notre Dame coach Mike Brey, the previous rules committee chairman.
"It's very difficult to defend if you can't do it the right way," Byrd added.
But the end game problem, for example, is trickier.
This isn't a rules change year for the committee. Instead they'll use this time to discuss a laundry list of changes and see which, if any, they'd like to implement.
On the agenda for discussion:
Reducing the number of timeouts allotted to each team in a game; widening the lane; limiting a coach's ability to call a timeout in a live ball situation; allowing 10 seconds total in a backcourt situation rather than a new 10 seconds after an out of bounds play; reducing the shot clock; considering the NBA continuation; eliminating the de facto timeout that ensues after a player fouls out; and not allowing a player to score when a charge has been called.
No one expects consensus on any of the topics -- "Modern coaches want control over everything they can have control over," Byrd admitted -- but the committee said it was steadfast in making changes that it believes would help the game.
The most controversial -- like reducing the shot clock -- will no doubt be the hardest to sell, but Hyland remembered when coaches also were reluctant to add a 3-point line and any shot clock at all.
"I think it's time to really consider 30," Brey said. "If it went to 24, they'd burn the castle down."
Of course they wanted to burn the castle down at the beginning of this season when the freedom of movement rules came into effect, too.
Turns out, it wasn't so bad.
As the year wore on, the complaints decreased and the scoring did, in fact, go up -- 2.7 points per game per team in the NCAA tournament (or 4.2 percent). Field goal percentage also improved, from 42.3 percent to 44.3 percent.
"As the season went on, I felt like the officiating matched up with the coaches' expectations," Adams said. "The more games, the less time there was complaining about the rules."
May, 15, 2012
5/15/12
2:50
PM ET
The removal of slippery decals from basketball courts --
something we can all agree on
-- isn't the only recommendation the NCAA Men's and Women's Basketball Rules Committees (MWBRC?) made to the Playing Rules Oversight Panel (PROP -- now there's a handy acronym) Monday.
There are a handful of interesting potential rules changes or applications
in this release
, including an update on the block-charge rule, a topic we'll discuss in more detail later in the week. Also among the potential changes? A crackdown, for lack of a better term, on sideline antics in response to calls made by officials during the games.
Under the topic heading "Sportsmanship," the NCAA said both committees "recommended more stringent adherence to officiating guidelines regarding bench decorum by coaches and bench personnel next season." Among the behaviors the basketball rules committee believes "hurt the image of the game" and should be penalized with technical fouls are obvious -- things like continued comments to or about referees regarding foul disparities or "cheating" a team, profane comments referring to "race, religion, ethnicity, gender or sexual orientation," things like that. Those should probably be obvious technicals anyway. But the NCAA also included the following items:
Prolonged, negative responses to a call/no-call that are disrespectful or unprofessional and include waving or thrashing the arms in disgust, dramatizing contact by re-enacting the play, or running or jumping "in disbelief" over a call/non-call.
A negative response to a call/no-call that includes approaching/charging an official in a hostile, aggressive or otherwise threatening manner; emphatically removing one's coat in response to a call/no-call; or throwing equipment or clothing on to the floor.
Continual criticism during a game regarding the same incident after being warned by an official.
Those types of things are downright common in college basketball. Coaches have for many years been given relatively free license to throw temper tantrums on sidelines, and oftentimes their assistant aren't far behind. It's gotten to the point that if you watch a lot of college basketball (or the NBA game, for that matter), you're almost anesthetized to it. Coaches leave their boxes. They scream and flail and plead for calls. They make funny, faux-shocked expressions. It's so rampant it has long since stopped registering.
But such a push dovetails with what NCAA national officiating coordinator John Adams' wrote to his refs in a much-publicized January memo. Adams' was mostly concerned with instances of on-court taunting -- players hanging on the rim after dunks, staring each other down, and other similarly nefarious activities -- but he also included a point of emphasis for officials regarding the behavior of sideline personnel:
"Article 2 deals with the conduct of bench personnel," Adams wrote. "If a coach is out on the floor complaining about a call, it is not your job to walk him back. It is your job as an official to assess a technical foul for violating the provisions of 10-5-2, a,b,c, e or f. If a coach is gesturing and complaining across the floor at you to the point where he has ignored a warning to stop, DON'T go across the floor to have a 'baseball umpire confrontation' with him, just assess him a Technical foul."
If I had to rank the college game's on-court problems, I'd put coaches' behavior pretty low on the list. (Remember that block-charge tease? Exactly.) But it is a problem nonetheless. If the new emphasis is enforced properly, it will surely be a net positive, if only for the pace of the game. And, yes, it will be strangely satisfying to see coaches -- grown men and tantrum-throwers
extraordinaire
-- forced to close their mouths and put their arms at their sides and juts accept the call, disagree with it though they may.
At the very least, my hope is this: The NCAA's increased crackdown will trickle down, urging the nation's rec league referees to be less inclined to listen to failed high school basketball players pretending to be Rick Pitino for 40 minutes every Tuesday night. If my calculations are correct, this will spurn a 45 percent increase in my enjoyment of rec league basketball. Fingers crossed!
January, 30, 2012
1/30/12
12:59
PM ET
You know the scene: The whistle blows. A foul is called. The players involved go ballistic. They do their best Tim Duncan: Eyes wide, mouths agape, they incredulously stare at the official as he details the call to the scorer's table. The coach protests, too. He's out on the court in the referee's face, or far beyond his designated coach's box, and he's every bit as angry about the call as his 19- and 20-year-old players.
If you can see it now in your mind's eye, well, it's not because my description is Pynchonian. It's because you see this situation, or some version of it, almost every time you watch a college basketball game. Or maybe it just feels that way.
[+] Enlarge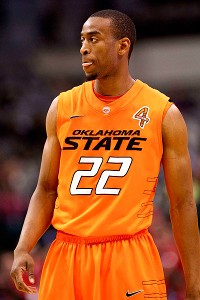 Kevin Jairaj/US PresswireOSU's Markel Brown was ejected from a recent game for taunting the opposition after a dunk.
Last week, John Adams decided he'd seen enough.
It was time for the NCAA national officiating coordinator's monthly memo to the nation's hoops officials, and Adams -- usually a mild-mannered, wonky sort -- was unambiguous and forceful in his message to referees:
Enforce sportsmanship, and enforce it now
.
"I just felt it was time to get the officiating community on board on this," Adams said by phone this weekend. "We need to do a much better job than we've been doing to enforce sportsmanship -- not only among players but among coaches on the sideline."
In the memo, Adams described his constant hoops travels -- when we spoke, he was futilely searching for his rental car in the Oakland airport parking lot, part of a west coast weekend swing that included stops at three different games -- and his dismay at witnessing officials fail to penalize players and coaches under the guise of Rule 10, Section 5 of the NCAA college hoops rulebook. Rule 10 "deals with Unsporting Technical Infractions committed by players, substitutes, and bench personnel, including head coaches." Article 1 is about players; Article 2 is about coaches.
Last week, Adams wrote that both are in need of more structured officiating:
"In games I have attended, I have noticed minor unsporting indiscretions between opposing players go unnoticed by officiating crews and invariably, these unnoticed acts later turn into much bigger problems," Adams wrote. "Pay attention to the interactions of opposing players. Use preventative officiating to head off bigger problems BUT also have very low tolerance for players who violate Article 1, especially when it comes to taunting, baiting, using profanity or threatening gestures towards opponents. You should have a very low tolerance for players who use profanity towards officials or who "wave you off" after a call etc."

"These types of actions call for Technical fouls," Adams continued. "Call them! Your coordinators and commissioners will support you."

"Article 2 deals with the conduct of bench personnel," Adams wrote. "If a coach is out on the floor complaining about a call, it is not your job to walk him back. It is your job as an official to assess a technical foul for violating the provisions of 10-5-2, a,b,c, e or f. If a coach is gesturing and complaining across the floor at you to the point where he has ignored a warning to stop, DON'T go across the floor to have a 'baseball umpire confrontation' with him, just assess him a Technical foul."
Adams told referees they had the support of their conference coordinators and commissioners, closing with an inspiritment: "Enough is enough! Let's be committed to doing a markedly better job in this area between now and the end of the season."
College coaches have been coming out of their designated area for years. Players have always -- and probably will always -- complain about calls and talk trash to opponents. Why the sudden emphasis?
"I first grew alarmed -- alarmed isn't the right word, maybe, more concerned -- when College GameDay did a report a few weeks ago on the deterioration of sportsmanship in the sport," Adams said. "A few days later, CBS College Sports followed up with a piece on the aberrant behavior of coaches on the sideline. It was just time."
In other words, Adams spoke now because the 2011-12 season has featured more high-profile sportsmanship issues than at any point in the recent past. The Dec. 10 brawl between Xavier and Cincinnati was blamed in part on officials' unwillingness to police both Musketeers and Bearcats players while each side barked at the other throughout an ugly second half. A Jan. 12 game between Arizona and Oregon State nearly erupted into a similar fracas. There have been scores of minor incidents along the way: Iowa coach Fran McCaffery chucked a chair in East Lansing. Marquette forward
Jae Crowder
issued throat slahes toward an opposing bench. Most recently, Oklahoma State guard
Markel Brown
was ejected from the Cowboys' recent win against Missouri for taunting the Tigers after an insane one-handed alley-oop slam, his second such post-dunk offense in that game.
The Brown scenario sparked debates on shows like "Pardon The Interruption," which wondered whether the NCAA was being too punitive -- too anti-fun -- in kicking a player off the floor after celebrating a dunk. For his part, Adams saw progress.
"People can debate that, but that was the exact right call," Adams said. "It's not even close to being debatable. You make a dunk, and you turn around and taunt your opponent for the second time in the game? If the message doesn't get across the first time, then you have to leave the game."
As always, situations like Brown's present challenges in their potential subjectivity. The slope, as always, can be slippery. Likewise, referees -- who are trained that the best officiating performance is one the fans never notice -- are understandably concerned with avoiding an impact on the outcome of the game. They're rightfully hesitant to assess coaches and players technical fouls, especially if those technicals result in ejections. Adams said he hopes the memo empowers officials, helps them realize the national office as well as provincial hoops authorities have their backs when the unpopular call becomes the only right one.
Likewise, Adams cited the difficulty of organizing and standardizing officials in all 31 Division I men's basketball conferences, asserting that it was the NCAA's hope that every official in the country could and would make the same call in the same game situation regardless of league or venue or the personnel involved -- especially with the NCAA tournament, the sport's grand showcase, just around the corner.
"Most coaches in the country behave with good sportsmanship," Adams said. "It's the few who don't that poison the well. Same goes for players. As referees we're empowered and asked to ensure that our games are conducted in good sportsmanship.
"The memo was reminding our officials that we have good rules that are very clear as to what our expectations are," Adams said. "Let's step it up a little bit."
November, 11, 2011
11/11/11
12:16
AM ET
Editor's Note: For Dana O'Neil's game preview, click here. Also, check out a historic photo gallery of basketball being played on aircraft carriers for decades, including a WWII-era shot of a future President.

SAN DIEGO -- A number of sailors, some on and some off duty, milled around the court atop the USS Carl Vinson on Thursday, giddy about getting to watch North Carolina-Michigan State in an unprecedented event Friday.
The sailors, like everyone else involved in this game -- from the president to the Secretary of the Navy to the captain of the ship to every member of the military on board -- will still actually get the chance, regardless of the weather. The threat of rain is diminishing for Friday night, which is a huge relief to those who fretted over what was a more foreboding forecast a couple days ago.
The conditions were so perfect Thursday evening that Michigan State coach Tom Izzo said during the team's shootaround, "We're playing here. It will be this nice. It's beautiful.''
The decision to play the game on the deck, as originally planned, was actually made Wednesday morning, according to the game's initial innovator, Michigan State athletic director Mark Hollis. Hollis said a half-set was put together in the hangar below deck. And it was a disaster.
[+] Enlarge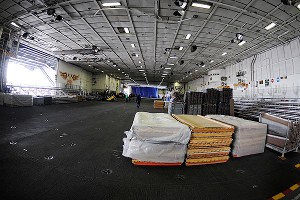 Christopher Hanewinckel/US PresswireCrews stopped construction on the court in the indoor hangar bay after the area was ruled out. The plan is to go forward above deck.
If the game had been moved below deck, it would have had a totally different feel. Seating was only good for 2,500, rather than 7,000. Hollis said the Navy would have had to set up viewing stations around the ship with televisions. It simply wouldn't have been the same.
"It was like a small junior high gymnasium down there,'' Hollis said. "No one wanted it to happen.''
Not the coaches. Not the players. Not the military personnel. No one.
"I had a few of the troops say that if this game isn't outside, they won't see it,'' North Carolina sophomore
Harrison Barnes
said.
Hollis said there is a rain contingency plan -- simply a rain delay. A number of servicemen from a nearby base volunteered throughout the week, setting up the court and the stands. They put a tarp, just like on a baseball diamond, over the court each of the past three days. A tarp was on the court Thursday night.
"We'll stop it if there is any kind of moisture,'' Hollis said. "The biggest concern is the safety of the student-athletes.''
Those student-athletes certainly don't seem concerned, though.
"This is so special to be the first outdoor college basketball game and anyone who doesn't play for Michigan State or North Carolina can't say they played in it,'' Michigan State senior forward
Draymond Green
said. "If we went underneath, we couldn't have said it either.
"You worry about the rain, but I grew up playing outside on the playground, and if there's wind just shoot it off the backboard.''
Hollis said a number of waivers had to be granted by the NCAA.
"There were a lot of operational logistics we were dealing with since we had the government, the Navy, the two institutions and the NCAA,'' Hollis said. "The approval of the uniforms, the long sleeves, the ability to come out a day earlier than normal. There were a lot of things that [Big East coordinator of officials] Art Hyland and [NCAA coordinator of officials]
John Adams
had to help us get through for all the waivers. We also had to get the endorsement of [NCAA president] Mark Emmert and [NCAA vice president] Greg Shaheen.''
The setup on the Vinson's flight deck, where normally 39 jets are stationed, ready to be deployed, is as picture-perfect as any venue in the history of the sport. The court sits on the middle of the deck, with the San Diego skyline across the water. The stands, which seat 7,000, are next to the court, with courtside seating for dignitaries that will include President Barack Obama and First Lady Michelle Obama.
[+] Enlarge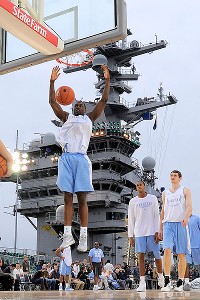 AP Photo/Mark J. Terrill It was quite an experience when the players took the court for the first time Thursday.
At one point Thursday, sailors took turns sitting in their seats in their blue-tinted fatigues. The image was akin to an Army-Navy game.
North Carolina coach Roy Williams said he was filled with pride in advance of the game. His first reaction to coming on board the ship Wednesday was: "Wow. Wow. Every player had their phones and cameras out," Williams said. "No one was talking to each other. Their eyes and mouths were wide open. This is going to be a celebration.
"From the tipoff to the final horn, we'll be working our tails off for the game. But we'll be thinking about the smiles on the faces of the people who serve our country. We're thrilled. It sends a cold chill for me just talking about it. It's the neatest thing I've ever been involved in.''
North Carolina's
Tyler Zeller
said the last time he played outside was in middle school. He said he was a bit worried about his hook shot and sizing up the distance with the potential for wind.
The elements were on everyone's mind, but not in a negative way.
"I like it out here,'' North Carolina junior forward
John Henson
said. "I think we should get the Dean Dome to open up. I'd hate to go down low and miss this experience.''
Barnes called the whole thing "unreal."
"There's no other way to say describe it," he said. "It's so nice with the sky and the cool weather. There will be such a special aura about this game. No matter how far we go in the tournament, we'll never see something like this. We're showing appreciation for the troops, see how they live and this game is put in perspective.''
Michigan State sophomore guard
Keith Appling
called this a once-in-a-lifetime experience.
"I'm only concerned that a couple of my shots get some wind and they could far right or far left,'' he said with a laugh. "It might be embarrassing with the president in the stands.''
Nevertheless, this game will be outside, whether there is wind or mist. That much we know.
"Weather is not going to be a factor,'' Green said. "It's going to be great.''