College Basketball Nation:

John Cooper
May, 3, 2012
5/03/12
11:00
AM ET
The coaching carousel hasn't come to a complete halt yet. But the bulk of the maneuvering has concluded. Some great moves. Some questionable hires. A few "Huh, really?" selections, too.
But these rankings are not just about the head coaches. They're about the equation. Which schools made the best moves considering their current situations? Let the debate continue.
[+] Enlarge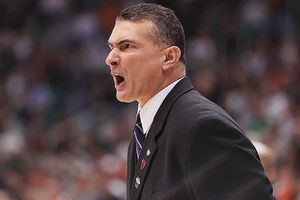 Jed Jacobsohn/Getty ImagesWill the fire of Frank Martin help turn South Carolina into a contender in the SEC?
1. Frank Martin, South Carolina:
So Martin needed a change of scenery. But his offseason options were limited. Enter South Carolina, a program that fired Darrin Horn following three consecutive losing seasons. If Martin builds this program into a contender, it will build a statue for him. He's certainly not intimidated by the odds. He has had to coach, recruit and compete against top programs/coaches in the Big 12 for the past five years. He has a brand that will attract recruits who may have previously dismissed the SEC squad. His personality will draw attention to his project and adding former Kansas State assistant Brad Underwood guarantees continuity. In all, a great move for the Gamecocks.
2. Dan Hurley, Rhode Island:
Rhode Island (7-24) made one of the best hires in the country when it signed Hurley. Under former coach Jim Baron, the Rams never made the NCAA tournament. But they've grabbed one of the top young coaches in America by hiring Hurley, who led Wagner to a 25-6 record this past season and beat Pitt on the road. Wagner had won just five games when he took over the program two years ago. Brother and former Duke star, Bobby Hurley, and former Rutgers assistant Jim Carr will join him, too. Looks like a winning combo for the Rams.
3. Bruce Weber, Kansas State:
I can understand the critics of the move. In recent years, Weber failed to meet expectations at Illinois. But he also won 210 games, third in that program's history. He led the Illini to the 2005 national title game and managed to land some talented recruits in the years that followed. Kansas State signed a coach with the name recognition and experience it needs to maintain a place in the top tier of the Big 12. New assistant Alvin Brooks III has strong ties to the South, a potential recruiting boost for the Wildcats. Former Southern Illinois coach and assistant Chris Lowery has head-coaching experience. Inserting Weber limits the potential drawbacks from Martin's departure.
4. Tim Miles, Nebraska:
Miles needs his own energy drink. He's full of vigor. And he's going to need it to make Nebraska relevant in Big Ten basketball. Doc Sadler couldn't do it. But Miles' mojo made him an attractive candidate for multiple jobs after he led Colorado State to a 20-win season last season and North Dakota State to the NCAA tournament before that. The Rams won seven games in his first season and NDSU had to transition to Division I. The Cornhuskers have a new practice facility and a new arena (under construction) that will become the team's home in 2013. Drawing kids to Lincoln won't be easy. But the facilities and Miles' personality will definitely help.
5. Pat Kelsey, Winthrop:
He was an assistant under former Wake Forest head coach Skip Prosser, whose death in 2007 was so devastating for Kelsey that he left coaching last year. Now that he's back, however, Winthrop has just signed one of the top young coaches in the country. He was known for both his recruiting prowess and player development during his time at Wake Forest and his most recent stint as associate head coach at Xavier. Winthrop went 25-37 over the past two seasons, but the Eagles previously enjoyed a stretch that included nine NCAA tourney berths in 12 years. The 36-year-old Kelsey has the pedigree to rebuild there.
6. Barry Hinson, Southern Illinois:
If you can't beat him, hire him. Former Missouri State coach Hinson had his way with Southern Illinois during his nine seasons with the Bears. Now, he'll try to restore his former adversary, which cracked the Sweet 16 five years ago. Former head coach Chris Lowery had stretches of success but couldn't sustain them. Hinson was dismissed at Missouri State for similar challenges. But he's spent the past two years as Kansas' director of basketball operations. He knows the Missouri Valley Conference and he's a coaching vet. That's the kind of guy that SIU needs to climb to the top of the league and make noise in the postseason again.
[+] Enlarge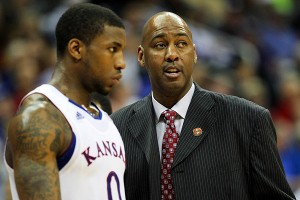 Jamie Squire/Getty ImagesWhile at Kansas, Danny Manning helped Thomas Robinson become one of the nation's elite players.
7. Danny Manning, Tulsa:
Thomas Robinson
was just a physical player with potential when he arrived. He left Kansas as a potential NBA lottery pick and national player of the year candidate.
Jeff Withey
was viewed as a "soft" prospect who'd never make a major impact in the Big 12 when he transferred to the Jayhawks. He set the NCAA tournament record for blocks last month and will enter next season as one of the nation's top big men. Manning helped those players -- and other former KU stars -- reach their potential. Does that mean he'll be a great coach? Not necessarily. But Tulsa needs someone who can take midlevel recruits and turn them into high-level college players. Manning is built for the task. He has developed some of the top players in the country.
8. Larry Eustachy, Colorado State:
CSU found a great replacement for Miles when it hired Eustachy. He rebuilt his career and life during his time with Southern Miss. He left Iowa State following alcoholism and other off-court issues in 2003, but he restored his name with his work at Southern Miss, a program he led to the NCAA tournament last season. He has led three teams to the NCAA tournament. Colorado State could have faced far more challenges in its search for Miles' successor. But Eustachy gives the Rams immediate credibility and a proven winner. Solid move for CSU.
9. John Cooper, Miami (Ohio):
After multiple assistant coaching stints, Cooper took over at Tennessee State three years ago. The program didn't have a great track record. But last season, he led the Tigers to a 20-win season and an upset over top-10 Murray State. It was the program's first winning season since the 1995-96 campaign. The RedHawks went 9-21 last season, but Cooper is familiar with rebuilding projects. And more importantly, he knows that region. He has the coaching prowess to change Miami the same way he changed Tennessee State's fortunes in just three seasons.
10. Larry Brown, SMU:
Can't think of the last time folks cared about SMU basketball on a national level. But there are still many questions. Yes, the school hired Brown, who hasn't coached at the collegiate level since the late 1980s. But former Kansas assistant and Illinois State head coach Tim Jankovich has been named "coach in waiting," whatever that means. New assistants Jerrance Howard and Ulric Maligi are very respected in recruiting circles. And while it's not always about "winning the news conference," Brown gives the Mustangs the national attention they will need to make progress on the recruiting trail. But this could be an "Isiah Thomas hire." No guarantee that this assembly finds success at SMU, but it's an intriguing package for a school that wanted to make a splash on its way into the Big East.
March, 3, 2012
3/03/12
7:23
PM ET
By
Bob McClellan
| ESPN.com
NASHVILLE, Tenn. -- Murray State was going to the NCAA tournament whether or not it won the Ohio Valley Conference tournament.
But the damage it would have done to its reputation this season, and more importantly its seeding in the field of 68, ensured the Racers were in it to win it Saturday.
Murray rallied from a 38-31 deficit with 14:47 to play, slipping past No. 2 seed Tennessee State
54-52
in the waning seconds on a driving layup by senior
Jewuan Long
. The victory gave the Racers (30-1, 15-1 OVC) the OVC's automatic bid and their 15th overall NCAA trip, including five in the past 10 years.
It also in all likelihood saved them from a matchup in which they would have been the lower-seeded team. Now, who knows?
If anyone asks first-year Murray coach Steve Prohm for his team's résumé, he's only too happy to rattle it off.
"If you look at our body of work, you can make an argument for a 2," Prohm said. "If you really factor in the numbers … our nonconference RPI is a 2. We haven't lost a road game all season, they factor that in. We haven't lost a neutral-site game all season. We have three top-35 RPI wins. We have like five or six top-100 wins or top-125 wins. When you factor all that into the equation then look at the fact we're 30-1, you have to sit back and say, 'Wow.'
"We're not just 30-1 by mistake. Now do I think we're going to get a 2-seed? Probably not. But 4, 5 or 6 if I'm a betting man. The tournament is about matchups. I just want proximity -- Nashville, Louisville, somewhere where our fans can come and support our guys."
[+] Enlarge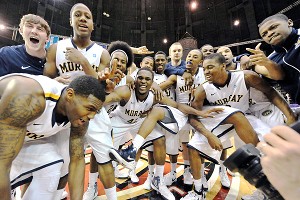 Jim Brown/US PresswireMurray State players celebrate clinching the OVC's automatic NCAA bid by beating Tennessee State.
Nashville, a second- and third-round NCAA site, has been kind to the Racers. Not only did they win the OVC tournament here at Municipal Auditorium this weekend, but they also won at Tennessee State, 80-62 on Feb. 23, to avenge their only loss. The Tigers (20-12, 11-5) stunned the Racers in Murray on Feb. 9, winning 72-68.
"People were giving us all type of heck for losing to them," Prohm said. "They won 20 games. They're a top-125 RPI team."
TSU was seeking just the third NCAA bid in school history and first since 1994, and it looked like it just might get it.
"They came out ready to play," Long said. "They wanted to beat us just as badly as we wanted to beat them.
"We just kept fighting. We want to do it on the defensive end. They say defense wins championships, and we just thrive on that."
Murray held TSU to just two points in the final 5:31.
If only Prohm had heard TSU coach John Cooper tout what his team has done this season. He no doubt would have been happy to sing the praises of the only team to hang a loss on his record.
"I told them in the locker room, 'It's the first time you've won 20 games since 1979,'" Cooper said. "It's the first team to beat an SEC opponent [64-63 at South Carolina on Nov. 20]. First team to beat a team ranked in the top 10 in our history [Murray was No. 7 when TSU won]."
Cooper said he expects Murray to be seeded anywhere from fifth to seventh.
"Maybe they didn't play their best game of the year today, but they made plays down the stretch," Cooper said. "That's what good teams do. Hats off to them. I'm happy that they're representing our conference because they're a very good team. I think they'll show what OVC basketball is all about. I have nothing but respect for their program, their fans, their support. How they do it is top, top, top-notch."
Prohm said he would allow his players to spend a couple hours in the Music City with their families before they boarded the bus to drive back to Murray, a little more than two hours away.
"I'll give them Sunday and Monday off," Prohm said. "Let them get away from it totally. Then I'll figure it out [what Murray will do with its time off until it plays again]. I don't have any idea, to be honest. I'll call a couple of people and talk to them about how they've handled it."
So far Prohm and his senior-laden team have handled just about everything well this season. Next up will be how to handle being the first OVC team to play its first-round NCAA tournament game as the higher-seeded team.
February, 10, 2012
2/10/12
12:37
AM ET
Murray State will drop from No. 7 to out of the top 10 next week after losing to Tennessee State on Thursday night, but coach Steve Prohm doesn't see how a team that's first loss came Feb. 9 should fade from the NCAA tournament field of 68.
"We've got wins over Southern Miss, Memphis and Dayton, and we won 23 games to start the regular season and we were ranked seventh in the coaches' poll,'' Prohm said by phone after the Racers fell
72-68
to the Tigers to fall to 23-1. "People understand how difficult it is to do that.''
[+] Enlarge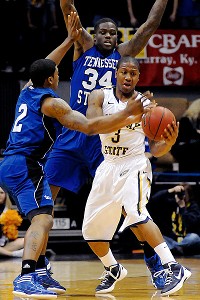 AP Photo/John WrightIsaiah Canaan and Murray State did not escape their game with Tennessee State with an unbeaten record intact.
But Prohm isn't shying away from the reality: Murray State needs to first win the Ohio Valley Conference regular-season title, and that means beating rival Austin Peay this weekend and then Southeast Missouri State on the road before 13th-ranked Saint Mary's comes to Murray for BracketBusters on Feb. 18.
"The Saint Mary's game is big,'' Prohm said. "We have another opportunity to get a top-50 win.''
Tennessee State coach John Cooper said the Racers were carrying a lot of weight in trying to run the table.
"That's [a] heavy, heavy burden this late in the season,'' Cooper said by phone after his Tigers notched the school's first win over a top-25 team. "Teams have been close to them, and that can wear you down. We wanted to be solid and defend.''
Cooper took over a downtrodden program in 2009 and now has TSU on the upswing. The Tigers are alone in second place in the Ohio Valley at 9-4 (16-10 overall).
"People thought I was crazy for taking this job,'' Cooper said. "But this confirms to everyone what we were doing. You always need something to show them.''
Cooper said there now is an opportunity for the Tigers in the OVC tournament, which is played in the school's hometown of Nashville. He said it bodes well for TSU's program to get some buzz around town in advance of the tournament.
As for the Racers, they now are aware they can't be complacent. Not after blowing a 13-point lead in the second half Thursday.
"We have to put a stronghold on the league,'' Prohm said. "This is definitely an NCAA tournament team.''
It might be, but Prohm also acknowledged the weight of an undefeated run and the pressure of getting surprisingly pushed by SEMO and Tennessee-Martin might have gotten to the Racers.
"You don't know, but it had been stressful that every single night, everyone expects you to win at Tennessee-Martin by 30,'' Prohm said. "When Kentucky goes to Auburn, they're not winning by 30. There are tough wins in these leagues. I don't want to say a loss is good. We still have an opportunity to win a conference championship.''
Prohm said the Racers have been giving up too many rebounds, and they were indeed outrebounded Thursday. And in the end, star guard
Isaiah Canaan
penetrated too deep late in the game, turned the ball over and then committed a foul as the Racers were trying to tie the Tigers in the final seconds. Still, it's hard to fault Canaan for much of anything on a night when he scored 31 points and was 7-of-10 from beyond the arc (10-of-13 overall).
For Canaan and the rest of his teammates, the pressure of an undefeated regular season is now lifted, but the pressure of ensuring a conference title and an NCAA tourney berth lingers.
"We've done a good job of keeping everything in focus,'' Prohm said. "Our goal is to win a conference championship. We never talked about the undefeated stuff with our guys.''