College Basketball Nation:

John Flowers
March, 19, 2011
3/19/11
2:39
AM ET
TAMPA, Fla. -- A look at today's games in Tampa:
No. 5 seed West Virginia (21-11) vs. No. 4 seed Kentucky (26-8), 12:15 p.m. ET (CBS)


Kentucky player to watch:
Junior
Darius Miller
doesn't get as much attention as freshmen
Brandon Knight
and
Terrence Jones
, but he might have been UK's most important player down the stretch. In the past 10 games, Miller is averaging 15.6 points. He had 17 points on 6-for-11 shooting in the Wildcats' 59-57 victory over No. 13 seed Princeton in the second round on Thursday, after a solid performance in three games in the SEC tournament. At 6-foot-7, Miller is a tough defensive matchup for opponents. He can shoot from the perimeter, score off the dribble and post up in the paint. WVU coach Bob Huggins might assign
John Flowers
, his best defender, to guard Miller because he's a three-way threat.
West Virginia player to watch:
Senior guard
Casey Mitchell
is West Virginia's leading scorer with 13.7 points per game, but he's been noticeably quiet over the past few weeks. Mitchell scored only nine points on 2-for-8 shooting in a 67-61 loss to Marquette in the Big East tournament, and then had only four points on 2-for-6 shooting in an 84-76 win over Clemson in an NCAA second-round game on Thursday. Mitchell makes 37.8 percent of his 3-pointers, but he isn't playing with much confidence right now.
Stat that matters:
1-8: Kentucky coach John Calipari's record versus West Virginia coach Bob Huggins.
Three things to watch:
1. West Virginia's defense:
The Mountaineers upset the Wildcats 73-66 in the Elite Eight last season, earning their first trip to the Final Four since 1959. West Virginia struggled to guard UK with a man-to-man defense early in the game, so Huggins switched to a 1-3-1 zone. UK never solved the zone, missing its first 20 3-point attempts before finishing 4-for-32 from behind the 3-point line. Of course, West Virginia had longer wing players like Da'Sean Butler and Devin Ebanks to defend the perimeter a year ago.
"[Last year], a lot of their shots were contested, under duress from the 1-3-1," Mountaineers guard
Joe Mazzulla
said. "We got them off of the 3-point line and probably a few steps back. That's just what we've got to do tomorrow. We can't let them get standstill shots and we can't let them set their feet. If we can make them rush their 3-pointers, and if we can get a hand in their face, then hopefully it'll be the same result."
2. Kentucky freshman Brandon Knight:
The UK point guard was one of the country's best freshmen, leading the team with 17.5 points and 4.2 assists per game. But Knight has struggled from the floor over the past couple of weeks, shooting only 32.4 percent in his past six games. Knight hit the winning shot with two seconds left in the victory over Princeton, but missed his first seven shots in the game and never looked comfortable.
"At the beginning of the game [Thursday], guys around me were knocking down shots," Knight said. "A lot of guys were finishing. Darius was on a roll. So at that point in the game, I didn't really have to shoot the ball a lot. We were doing just fine."
3. Kentucky's bench:
The Wildcats really use only six players, with five players averaging 30 minutes or more and senior
Josh Harrellson
playing about 28 minutes per game. Reserves
Eloy Vargas
and
Jon Hood
rarely leave the bench. West Virginia's bench is about four players deep, as nine Mountaineers average 8.5 minutes or more. WVU's reserves -- guards Mitchell,
Jonnie West
and
Dalton Pepper
and forward
Deniz Kilicli
-- combined for 28 points in the victory over Clemson.
No. 7 seed UCLA (23-10) vs. No. 2 seed Florida (27-7), approx. 2:45 ET (CBS)


Florida player to watch:
Senior forward
Chandler Parsons
was named SEC Player of the Year without even leading the Gators in scoring. He was third on the team with 11.5 points per game, but led UF with 7.8 rebounds and 3.7 assists per game. During the Gators' 79-51 rout of No. 15 seed UC Santa Barbara in the second round, Parsons finished three rebounds short of recording a triple-double. In 27 minutes, he had 10 points, seven rebounds and 10 assists.
UCLA player to watch:
It's impossible to miss freshman center
Josh Smith
, who is 6-10 and 323 pounds. The Washington native lost 40 pounds during the offseason and is averaging about 21 minutes per game. After playing off the bench during the past 10 weeks, Smith started against Michigan State on Thursday and had 14 points, three rebounds and two steals in the Bruins' 78-76 victory.
"I think when you see somebody that big physically and that strong, the feeling is maybe they don't move quite as well or they can't jump as well," UF coach Billy Donovan said. "But he really does a terrific job moving his feet for a guy that size. I also think the other thing that makes him a special player is he's got great hands. I think when balls are up on the glass, he's going to grab it."
Florida's big men --
Vernon Macklin
,
Erik Murphy
,
Alex Tyus
and
Patric Young
-- will have their hands full trying to handle Smith.
Stat that matters:
0 -- Points scored in NCAA tournament games by UCLA's players before Thursday night's victory over Michigan State.
Three things to watch:
1. Malcolm Lee's defense:
The UCLA junior is one of the country's best defenders and will gladly accept the challenge of slowing down Florida guards
Kenny Boynton
and
Erving Walker
. In the Bruins' narrow victory over Michigan State, Lee harassed Spartans senior
Kalin Lucas
throughout the game. Lucas missed his first 10 shots and had four turnovers. He finished with 11 points on 4-for-14 shooting in his final college game. Lee is playing with a slight cartilage tear in his knee and even needed staples to close a wound on his scalp on Thursday night.
"I've said before I think Malcolm is the best defender at his position in the country," UCLA coach Ben Howland said.
2. UCLA's foul shots:
The Bruins shot foul shots well at the end of the regular season, but their work at the foul line nearly cost them a victory over the Spartans on Thursday night. The Bruins made only 30 of 47 free ones against MSU, missing 13-of-28 in the second half. In the final 5 minutes, 19 seconds, UCLA went 12-for-22 from the foul line, which helped allow the Spartans to nearly come back from a 23-point deficit. The Bruins are shooting 68.1 percent from the charity stripe as a team, and forward
Reeves Nelson
and Smith are both shooting about 61 percent.
3. Florida's experience:
The Gators start three seniors, although they hadn't won an NCAA tournament game until routing the Gauchos on Thursday night. The Bruins, who have been forced to rebuild after losing a boatload of players who helped them reach three straight Final Fours from 2006 to '08, don't have a senior on their roster. The Bruins sometimes make mistakes typical of young teams, like turning the ball over and missing foul shots. Can Florida's veterans take advantage of UCLA's youth?
January, 25, 2011
1/25/11
12:52
PM ET
West Virginia coach Bob Huggins was watching tape of Louisville late Monday night and didn't seem too fazed by the latest depletion of his roster.
"We'll be fine," Huggins said by phone from Morgantown. "But the truth of the matter is that they don't give us enough scholarships. The women get 15. We get 13. You get a couple of guys hurt or somebody's sick or don't do what they're supposed to do and now all of a sudden you don't have enough to practice."
The reason the Mountaineers, who were in the Final Four last April, are in such a predicament is that they're down to eight scholarship players.
[+] Enlarge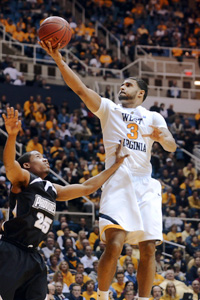 AP Photo/Jeff GentnerCasey Mitchell, WVU's leading scorer, has been suspended indefinitely for a violation of team rules.
The latest issue occurred when Huggins suspended leading scorer
Casey Mitchell
indefinitely for a violation of team rules. Huggins said he couldn't expand on the suspension. But Huggins said the previous issues he's had with Mitchell -- mostly about his inability to be coached and desire to defend -- had nothing to do with this incident.
"He's been practicing hard," Huggins said. "He has some things he has to do [to get off suspension]."
Mitchell had his first double-double of the season in a win over South Florida on Sunday with 13 points and 14 rebounds. The senior has had some breakout games for Huggins this season with 31 points in a win over Vanderbilt in Puerto Rico in November and 28 in a stunning win at Georgetown earlier this month.
The most bizarre exit from the team was from seldom-used sophomore Dan Jennings, who left the bench and the team -- literally -- during the South Florida game Sunday. He got up and just exited the floor. Huggins said Jennings wrote a message on the white board about his goodbye. Huggins said assistant coach Larry Harrison spent time with Jennings on Sunday night discussing the matter but Jennings is no longer on the team.
The reason the Mountaineers have such a short bench is that key members of the freshmen class aren't playing:
Kevin Noreen
had season-ending knee surgery on Jan. 12;
Noah Cottrill
withdrew from classes for the spring semester; Darrious Curry was not medically cleared to play and David Nyarsuk didn't meet NCAA eligibility requirements.
The Mountaineers already lost key members off the Final Four team in then senior Da'Sean Butler and sophomore Devin Ebanks, who left early for the NBA draft.
This leaves West Virginia with a core group of players --
Kevin Jones
,
Joe Mazzulla
,
Darryl Bryant
,
Dalton Pepper
,
John Flowers
,
Jonnie West
,
Cam Thoroughman
and
Deniz Kilicli
-- to try to win enough games to get an NCAA bid.
"We beat Purdue," Huggins said of a recent key win. "We'll be fine."
Huggins said he expects to turn Mazzulla loose on the 3-point line.
"Teams won't see it coming," Huggins said with a hint of sarcasm.
Mazzulla is 1-of-13 on 3s this season.
"We didn't get our freshmen class in here. I had to get Jonnie back [who originally decided not to play this season). Danny decides to walk off the bench and leave the team and now we're down more [with Mitchell]," Huggins said. "But we'll do what we do to win. It's a marathon, not a sprint."
The Mountaineers head to Louisville on Wednesday before going to Cincinnati on Saturday. A home game against Seton Hall is wedged in between another road game at Villanova and then a home game against rival Pitt. The Mountaineers (13-5, 4-2 in Big East) should know soon if they're headed for the bubble or worse over the next month.
November, 22, 2010
11/22/10
12:55
AM ET
SAN JUAN, Puerto Rico -- West Virginia's
Casey Mitchell
did just about everything he could to help the Mountaineers try to beat Minnesota in Sunday night's Puerto Rico Tip-Off final.
Foul problems plagued a number of other players and even seldom-used bench players like freshman
Kevin Noreen
had to step in to provide some hustle and production.
[+] Enlarge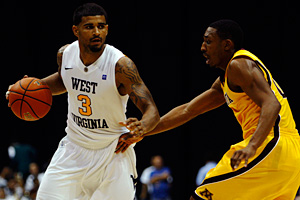 AP Photo/Ricardo ArduengoCasey Mitchell scored 27 points in West Virginia's loss to Minnesota.
It wasn't an ideal scenario -- and no one from WVU felt worse about the
74-70 loss
than point guard
Darryl Bryant
.
In Friday's semifinal win over Vanderbilt, Bryant scored 11 points on 2-of-11 shooting with six assists and one turnover. But against Minnesota, he wasn't just off. He admittedly disappeared. And it cost the Mountaineers dearly as Minnesota lead guard
Al Nolen
scored 17 points, got to the line 12 times (converting 11), and backcourt teammate
Blake Hoffarber
connected on four 3s.
Bryant played just 10 minutes, took (and missed) one shot and finished with more turnovers (3) than points (0) and assists (1).
"I let my team down,'' Bryant said. "We're going to be good regardless of losing this game. But honestly, I didn't show up to play. I let my team down. I was a no-show. We'll get better. This is a long season and it's just the third or fourth game of the season. We're a talented bunch. We just have to pick it up. We will and we'll win.''
The Eers discovered they have a shooter and go-to scorer on the trip in Mitchell. He followed up his 31-point, game-winning-3 performance against Vandy with a 27-point showing against the Gophers. Mitchell, a senior, is no longer waging verbal warfare with West Virginia coach Bob Huggins.
"I'm a senior and I've got nothing to lose, so I'm focused every night,'' Mitchell said. "If my shot doesn't fall, I've got to help my team somewhere else and make the pass to an open man.''
The Mountaineers didn't get special play out of
Kevin Jones
or
John Flowers
on the wing.
Deniz Kilicli
is still a work in progress. Bryant and
Joe Mazzulla
were either erratic or not as productive. The role players --
Cam Thoroughman
,
Dan Jennings
,
Dalton Pepper
and Noreen -- all had their moments of contribution.
But the reality is, West Virginia can only be a Big East contender if Mitchell makes shots, Bryant is locked in, Jones becomes a special talent and the rest of the players hit the boards.
It didn't help on Sunday that the Mountaineers weren't the more physical team and didn't draw fouls. The Gophers went to the line 35 times compared to WVU's 23.
West Virginia wasn't exactly the most physical team here.
"We haven't been this year,'' Huggins said. "Generally we are. As a rule, we haven't been this year.''
And that needs to change for the Mountaineers to reach their potential.
March, 28, 2010
3/28/10
2:15
AM ET
By
Diamond Leung
| ESPN.com
From start to finish in the game that got West Virginia to the Final Four, the Mountaineers never quite broke character in staying loose and ultimately had their fun against Kentucky.
It began as soon as they took the floor for the biggest game of their lives, with that simple act being turned into a prank, according to the
Charleston Daily Mail
:
The pep band played their song. The fans sprang suddenly to their feet and cheered. Jonnie West was first to squeak his sneakers across the floor. Then came Cam Payne.

And that was it.

"Once we saw Jonnie and Cam go out there, we stopped to see how far they'd go before they noticed," said point guard Joe Mazzulla, who with teammate Cam Thoroughman orchestrated this Elite Eight prank.

West and Payne eventually realized it and Mazzulla and Thoroughman led the rest of the laughing Mountaineers toward tipoff against Kentucky.
And after the win, it was atop the scorer's table where West Virginia's
John Flowers
did a famous flex, according to
Jerry Brewer of the Seattle Times
:
Flowers did the "John Wall Dance," moves that gained national popularity during the Kentucky guard's dynamic freshman season. Soon after, several of his Mountaineers teammates joined him in celebration and ridicule. West Virginia, full of hardened, underrated athletes, couldn't resist making sure the world understood what it had done.