College Basketball Nation:

John Giannini
August, 6, 2013
8/06/13
8:26
AM ET
1. Rodney Hood had to pull out of the World University Games trials in late June due to an Achilles injury. The fear was that the Mississippi State transfer could have some sort of lasting injury. But the removal from the trials was just precautionary and Hood has been fine all summer at Duke. "He is completely recovered," said Duke associate coach Steve Wojciechowski. "He has participated in summer workouts." Hood could end up being the most important transfer at any major Division I school. He has the chance to be an all-ACC guard and a first-round draft pick. He should thrive playing at Duke. The most notable newcomer for the Blue Devils is Jabari Parker, but Hood may outshine him at times with his play on the perimeter. Meanwhile, Parker has been all Duke has asked for so far this summer. While Hood is being termed as being very versatile, Wojciechowski describes Parker as "an extremely talented player who has fit in very well." Duke will be the favorite in the ACC, likely a bit over new league member Syracuse.
2. La Salle coach John Giannini wasn't thrilled that the Explorers will play Saint Joseph's twice this upcoming season, watering down the Big Five rivalry and making it more of a traditional A-10 game. "We used to play Saint Joe's once at the Palestra and it was special," said Giannini. "Now, we may just move it to home sites and it will become just like every other (league) game." This is not out of the norm for Big Five/conference games. Temple and Saint Joe's would play twice when both were members of the A-10. Now Temple is off to the AAC, making a Saint Joe's-Temple and a Temple-La Salle game more unique, much like the single Philadelphia Big Five games against Villanova for all three of those teams and of course the same for Ivy League member Penn. (Even though I'm not a native of Philadelphia, I would like to see the Big Five expand to include Drexel).
3. Kansas State transfer guard
Angel Rodriguez
hasn't applied for his waiver to play immediately for Miami yet, according to a Hurricanes' spokesperson. Rodriguez is expected to do so after football season starts when the NCAA waiver office can focus on the winter sports. The NCAA traditionally gets backlogged at this time of year in clearing players for the fall sports. The Hurricanes desperately need some experience after losing the majority of last season's contributing players and the early entry of point guard
Shane Larkin
. Rodriguez wanted to transfer back to Miami to be closer to his family in Puerto Rico.
March, 28, 2013
3/28/13
1:15
AM ET
LOS ANGELES --
Wichita State
took the difficult route to the Staples Center.
The Shockers' Sweet 16 run has been littered with drama. First, they lost their top five scorers from last season. Then they suffered a variety of injuries throughout 2012-13.
Carl Hall
missed time with a thumb injury.
Ron Baker
was affected by a stress fracture in his foot.
Evan Wessel
's season ended following surgery on a broken finger.
Ehimen Orukpe
dealt with a sprained ankle.
Plus, Wichita State lost six games in Missouri Valley Conference play alone. Even a few weeks ago, who would have projected this?
It's only fitting that the obstacles give the Shockers' tale that Hollywood feel.
"You've got to have your team clicking at the right time of the year, and it just so happens we got all our guys back, and we're kind of playing good defense and getting stops," Hall said.
[+] Enlarge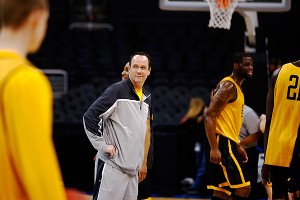 AP Photo/Jae C. HongWichita State's Sweet 16 run has only made Gregg Marshall a hotter coaching commodity.
The drawbacks of Wichita State's success are that it magnifies speculation that coach Gregg Marshall will not remain at the school. Right now, USC, UCLA and Minnesota are all searching for coaches. The openings, once filled, will spark another rotation of the coaching carousel.
Marshall has been floated as a potential candidate for high-major jobs in the past. But he's even hotter this year. With one or two wins at the Staples Center this week, he could easily move to the top of the list -- if he's not already a front-runner -- for top vacancies throughout the country.
Like any reasonable coach, however, Marshall dismissed the rumors on Wednesday and repeated his desire to remain in Wichita.
"I really don't deal with it. I do my job," Marshall said. "Doing my job is always, for me, been the No. 1 goal. We live well in Wichita. We love Wichita. Everything is in place for us to be there for a long time. ... My focus is on
La Salle
and trying to get to Saturday for an Elite Eight game."
But Marshall can't control the coaching conjecture.
And that places him in a difficult position. He wants to enjoy the moment. He wants players (current and future) to know that he plans to stay. He wants to focus on Thursday's game.
The reality, however, is that Marshall's name will continue to float. It's a byproduct of victory for a coach in his position. His players said they've tried to ignore the chatter.
"You kind of have to because you understand the position he's in and the position we're in, and we've got to understand that we've got to live for today and continue to play through that,"
Cleanthony Early
said.
Marshall, however, won't be the only coach on the floor who's dealing with the issue. La Salle coach John Giannini could be a viable candidate for multiple programs as a result of his team's NCAA tournament run.
"It's like anything else we've talked about. It's what matters and it's what's real," Giannini said. "No one has called me. No one is talking to me. ... If a school's not talking to you, it doesn't matter."
WHOM TO WATCH
La Salle's Ramon Galloway:
The senior is a phenomenal athlete, but his game goes beyond his dunking ability. Galloway is a complete player. He's averaging 17.4 points per game. He's shooting 41.4 percent from beyond the arc and 83.2 percent from the charity stripe. He also averages 1.9 steals.
"[My teammates] don't just push me and say, 'Ramon, go score.' They tell me to help us win, do it all," Galloway said. "So I'm just glad that I'm blessed that I got this opportunity, and I'm blessed that I'm a well-rounded player."
Wichita State's Early:
The Shockers' junior star has been a matchup nightmare for teams all season. Early (13.9 PPG, 5.2 RPG), a 6-foot-8 forward, can affect the game inside or outside. "I think he's got a chance to play at a really high level someday," Marshall said.
WHAT TO WATCH
3-point shooting:
Wichita State hit 50 percent of its 3-point attempts in its upset of No. 1 seed Gonzaga last weekend -- an impressive performance. But La Salle led the Atlantic 10 in 3-point field-goal percentage defense. The Explorers held A-10 opponents to a 28.4 percent clip from beyond the arc.
March, 26, 2013
3/26/13
5:00
AM ET
1. Wichita State's Gregg Marshall doesn't have to move since he has a stable, lucrative deal. He now heads the dominant team in the Missouri Valley Conference, and if he wants to leave, he can stay until the right, plumb job comes along. But La Salle's John Giannini and Andy Enfield of Florida Gulf Coast are in a different situation. La Salle is a very difficult program to sustain, as evidenced by how long it took it to get back in the tournament. The A-10 is certainly changing with Xavier, Butler, and possibly more teams, leaving. If Giannini could get a Big Ten gig then he'd have to go. Enfield will never be hotter than he is right now, regardless of what happens this weekend. If he's content to stay put then that's fine. But he's a viable candidate in the Big Ten (Northwestern and Minnesota) where both ADs are looking for the next big thing. Both Northwestern and Minnesota have favorites in Chris Collins of Duke and Shaka Smart of VCU but Enfield and Giannini could end up being dark horses in these two searches or others. Lehigh's Brett Reed could have moved a year ago after upsetting Duke. He stayed put. His star player C.J.McCollum got hurt and the Mountain Hawks didn't make the field. That shouldn't change Reed's candidacy but you don't hear his name this month.

2. Smart has now become the most-coveted coach. If he wanted to push he could likely have the pick of the Minnesota, UCLA or USC jobs. Or he could stay put at VCU. I wouldn't be at all surprised by the latter. Smart could have had the Illinois job, but stayed at VCU. He coached the Rams to the third round of the NCAA tournament. His "Havoc" style of play is a major hit. It puts people in the seats because it is entertaining to watch to see the Rams win. The Shaka watch at all locales will be on high alert over the next week. This shouldn't last long. He'll either stay put, like Pitt's Jamie Dixon did, or he'll be on the fast-track to a higher league. If that were to happen then that would be a major blow to the A-10.

3. The A-10 had to act swiftly in adding George Mason to replace Butler or Xavier. The A-10 made a play a year ago for Mason but decided to go with VCU and Butler instead. Those turned out to be sound moves. A-10 commissioner Bernadette McGlade said there was nothing wrong with a 13-team league citing the odd-number Big Ten (11) and ACC (9) for years. Mason fits the A-10 profile and had to get out of a CAA, which is being poached like a carcass by various conferences. The A-10 continues to look for basketball-centric schools for its long-term survival. Meanwhile, the CAA missed out on luring Davidson along with the College of Charleston. The CAA could really use Davidson now and it might be worth trying to make another play. What these latest moves prove yet again is that every conference is out for itself. Please spare us any further commentary from a conference commissioner about being pilfered by other leagues. They all do it to the league below them. They are all guilty of trying to steal from one league to strengthen their own.

March, 23, 2013
3/23/13
7:59
PM ET
KANSAS CITY, Mo. -- At their shoot-around on Thursday and again during Friday's win over Villanova, the
North Carolina Tar Heels
received rousing ovations from an unlikely group of supporters.
Kansas fans.
For nearly a decade almost anyone who called themselves a Jayhawk held resentment toward former coach Roy Williams for leaving KU in 2003 and returning to North Carolina, his alma mater. But if this week is any indication, Kansas fans have moved on and come to appreciate Williams for what he accomplished during his 15 seasons in Lawrence.
"Time heals all wounds," Williams said Saturday. "The people have been really nice. There have been people driving by on the streets when we're out walking in the morning that have been yelling and saying nice things.
"I've only had one person yell something that wasn't quite as nice, but that's part of it."
[+] Enlarge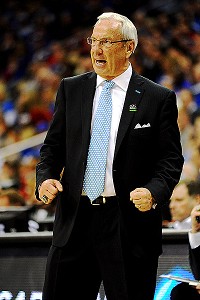 Denny Medley/USA TODAY SportsUNC coach Roy Williams hasn't had any success against Kansas, the school he once led. Will that change on Sunday?
Williams' Tar Heels -- the No. 8 seed in the South Region -- will take on top-seeded Kansas at the Sprint Center on Sunday for a chance to go to the Sweet 16. The Tar Heels are 0-2 against the Jayhawks since Williams became their coach. KU beat UNC in the national semifinals in 2008 and again in the Elite Eight last season.
A lot of the attention leading into each of those games centered on the ill will that some Kansas fans held toward Williams for leaving in 2003, just two years after vowing he'd retire at Kansas. "Benedict Roy" shirts were a hot seller in Lawrence. One barbershop owner went so far as to hang Williams' picture above his toilet.
This season, though, most of the buzz during Saturday's news conference centered around the actual game. That had to have been refreshing to both Williams and KU coach Bill Self, who coached for three seasons at Illinois before taking over for Williams.
"Nobody can ever take away that he did a fabulous job and ran a first-class program [at Kansas]," Self said. "Anybody that doesn't feel that way isn't real, because that's the reality of it.
"Since we've had a chance to play a couple of times in the tournament, I think there were some story lines [before] that probably aren't as good of a story line now."
Self has certainly made it easy for KU fans to move on. By beating No. 16 seed Western Kentucky Friday, Self became the first coach in history to guide his team to four consecutive 30-win seasons. (It should be noted that John Calipari accomplished the feat from 2006-09, but the Tigers' wins from the 2007-08 season were vacated.)
Kansas has also won nine straight Big 12 titles under Self and one national championship. Self is 299-58 (.838) during his tenure at KU, while Williams is 282-78 with six ACC championships and two NCAA titles at North Carolina.
As much as he hopes to win Saturday's game, Williams has made it clear that he doesn't enjoy playing Kansas.
"It's not immoral to love two schools," Williams said. "Someone asked me the other day if I would ever consider coming and playing a home-and-home against Kansas. I said no. My athletic director would understand and the Pope will understand, because I will never walk out of that far tunnel. That will never happen.
"I said this before I left Kansas: 'The day I ever walk into Allen Fieldhouse and don't get cold chills, I'll know it's time to stop.' I feel the same way about the Smith Center. If I walk out on game night and don't have cold chills, I'll quit."
Kansas City news and notes:
North Carolina's switch to a smaller lineup earlier this season could make things difficult for KU center Jeff Withey, who will likely have to guard players such as James Michael McAdoo outside of the paint from time to time. Withey said the shortage of true centers in the Big 12 has forced him to become a better perimeter defender. "I've definitely gotten used to it," Withey said. "I've had to learn to guard and move my feet."

Kansas leading scorer Ben McLemore is averaging just seven points in his past three games -- more than nine points below his average of 16.2. He had just 11 points in 32 minutes against Western Kentucky on Friday, when he only attempted five shots. "He's young," Self said of McLemore, a redshirt freshman. "Obviously this is his first time on a big stage. He's capable of doing it all. When he's aggressive, we're better. We've just got to get him to be more aggressive."

Ole Miss guard Marshall Henderson celebrated Friday's victory over Wisconsin by hanging out with some of his friends at a bar across the street from the arena. Photos of Henderson (who was holding a clear cup containing a red drink) ended up on Twitter, which prompted Rebels AD Ross Bjork to summon Henderson back to the team hotel. "It wasn't like he was guzzling a beer," Bjork said. Ole Miss coach Andy Kennedy was asked if he approved of Henderson hanging out in bars in between NCAA tournament games. "He's 22 years old," Kennedy said of Henderson. "I didn't give him an alcohol sobriety test. We didn't make him recite his ABCs backward, but I know this. I know we had a pretty intense 10 o'clock meeting and he was involved in it, as they all were."

LaSalle coach John Giannini said playing in the "First Four" has been beneficial to his team. The No. 13 seed Explorers upset No. 4-seeded Kansas State on Friday. "You're certainly in a better rhythm," Giannini said. "If you look at yesterday's game, it perfectly demonstrated the advantages and disadvantages. One team was really in a rhythm in the first half. There is an advantage to having played, working out some nerves and being comfortable on the court."
March, 22, 2013
3/22/13
8:25
PM ET
KANSAS CITY, Mo. -- La Salle coach John Giannini refused to let his players hang their heads.
His team had just followed up a loss to Saint Louis in the regular-season finale with a setback against Butler in the Atlantic 10 tournament. Instead of chastising the Explorers, Giannini smiled and delivered a simple message.
"I told them not to feel bad," Giannini said, now in his ninth year as head of the Explorers. "I told them, 'You're far better prepared for the [NCAA] tournament than you realize. You just lost to two Final Four teams.
"You're not going to play against anyone in this tournament that's tougher than Saint Louis or Butler."
Or VCU or Temple, for that matter.
It might not be a part of the "power six" conferences, but the Atlantic 10 has proved over the past 48 hours that it's as tough as any league in the nation. The A-10 is 6-0 in tournament games so far, and no win was as head-turning as La Salle's
63-61 victory
over Kansas State on Friday at the Sprint Center.
[+] Enlarge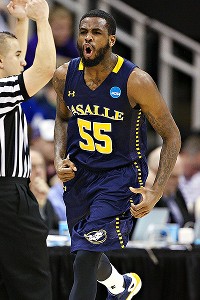 Ed Zurga/Getty ImagesRamon Galloway had 19 points to go along with four rebounds and four assists in La Salle's upset win over Kansas State.
The victory was the second in three days for the No. 13 seed Explorers, who defeated Boise State in a First Four match Wednesday in Dayton, Ohio. It's La Salle's first NCAA tournament since 1992, and it now faces No. 12 seed Ole Miss on Sunday at the Sprint Center.
"Part of the reason you see these scores is because everyone takes basketball seriously," Giannini said. "People have made great commitments. Whether it's salaries, budgets, facilities ... people want to be where we are right now, and people [are] willing to invest to make that happen."
Indeed, Friday's victory over the Big 12 co-champion Wildcats hardly seemed like an upset. A day before the game, someone joked with K-State coach Bruce Weber that "No. 13 seeds aren't what they used to be."
"No kidding," Weber said. "Did you watch them play Boise State? Wow."
Talent-wise, there wasn't much of a difference between the two teams. At some positions, La Salle was simply better. La Salle led by as many as 19 points in the first half and was ahead 44-26 at intermission.
Even more impressive about La Salle's performance is that it came in front of approximately 18,000 purple-clad K-State fans in Kansas City. Make no mistake: This was a road game for La Salle -- and a tough one at that.
"It was by far the best arena I've ever played in," La Salle guard
Ramon Galloway
said. "The crowd was great. They were quiet in the first half because we had a lead. But when the game got tough, when [the Wildcats] were making their run, they made sure we heard them."
Kansas State went on a 31-12 march in the second half and took a 61-60 lead on a free throw by
Jordan Henriquez
with 2:25 remaining. The score remained the same until the waning seconds, when
Rodney McGruder
missed a 3-pointer with 31 seconds remaining.
Jerrell Wright
snared the rebound and was fouled by Henriquez. Wright swished both free throws to put La Salle ahead 62-61.
A 60 percent foul shooter, Wright had gone 1-for-5 in Wednesday's win over Boise State.
"There were no butterflies," Wright said. "Coach just told me every time I shoot a free throw to have the same form and to keep my focus."
Henriquez missed a short hook shot on K-State's next possession, and again, Wright grabbed the rebound and was fouled. He made his first free throw and missed the second, giving KSU a chance to either tie or win with 9 seconds remaining and with La Salle leading 63-61.
Point guard
Angel Rodriguez
, however, failed to put up a quality shot -- he ended up taking a baseline jumper in traffic -- as time expired. Weber was screaming for a timeout but he either was ignored or wasn't heard.
"I yelled it as loud as I could," Weber said, "but we couldn't get the call. La Salle ... that was a hard No. 13 to play, to be honest. Somewhere along the line they probably had some inconsistency that led them to be [a No. 13 seed].
"We can't complain. We had the advantage of an extra day off and of playing in Kansas City. Sometimes things just aren't meant to be."
And sometimes they are.
That was certainly the vibe in La Salle's locker room following Friday's "upset" victory. The Explorers watched two years ago as VCU went from the First Four to the Final Four.
They don't see any reason they couldn't do something similar.
"Why not?" guard
Sam Mills
said. "Why not?"
March, 21, 2013
3/21/13
1:39
AM ET
DAYTON, Ohio -- True story: The
La Salle Explorers
used to be a basketball power.
You probably weren't born yet, and even if you were you might not be able to remember it, but in 1954 -- the same year Edward Murrow began investigating Joe McCarthy and Bill Haley & His Comets recorded "Rock Around The Clock," and one year before the Philadelphia Big 5 series, the sport's most unique old-school city competition, staged its first meeting -- the Explorers won the national title.
With that most cherished of college hoops qualities -- tradition -- established, La Salle maintained an off-but-mostly-on relationship with basketball success throughout the next four decades. It participated in NCAA tournaments in the 1960s, 70s and 80s, and in 1989-90, went 30-2 thanks in large part to national player of the year Lionel Simmons -- the third-leading scorer in NCAA history.
Simmons and Michael Brooks, the 1980 player of the year, are both among the top 30 scorers of all time, and La Salle is one of only two programs (along with Houston) to boast such a circumstance. Duke and Ohio State are the only schools to field more national players of the year in college hoops history. Joe "Jellybean" Bryant, NBA Hall of Famer Tom Gola, Tim Legler, Rasual Butler and Gary Neal are alumni.
[+] Enlarge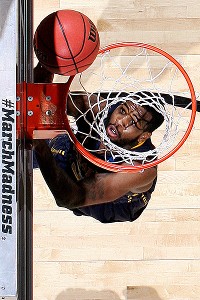 Brian Spurlock/USA TODAY SportsRamon Galloway's 21 points against Boise State helped 13 seed La Salle earn a shot at No. 4 Kansas State.
This knowledge is likely news to most college hoops fans, casual or otherwise, not to mention pretty much anyone born after 1980. And it is useful in understanding why La Salle's players talk -- as they did after Wednesday night's
80-71
First Four victory over Boise State -- about their first NCAA tournament berth in 21 years as not as the consummation of their efforts, but the start of something bigger.
"We're actually making a statement," senior guard
Ramon Galloway
, who finished with 21 points, 4 rebounds and 4 assists on 8-of-13 shooting. "We didn't just get selected. We want to make a run. We want to show everybody La Salle can play with the best teams in the country."
They'll have the chance Friday. Wednesday night's win put La Salle in the bracket proper and headlong into a matchup with No. 4 seed Kansas State, which enters the tournament 27-7 with a Big 12 title share to its name.
And yet, there are reasons to expect the Explorers can make a push. La Salle's strength -- its four-guard lineup, its floor spacing, its penetration and deep shooting -- are what helped it finish 31-for-49 in a commanding offensive performance against Boise State, and it is not unreasonable to think Galloway and company could at least approximate that effort against a Wildcats defense that allowed a lenient 1.02 points per trip in conference play, fifth among Big 12 teams. Nor will the Wildcats have an obvious height advantage over a team whose "center," forward
Jerrell Wright
, is just 6-foot-8. K-State coach Bruce Weber has height on his bench, but has given the most minutes to
Rodney McGruder
,
Angel Rodriguez
,
Will Spradling
,
Martavious Irving
and
Shane Southwell
. The tallest, Southwell, is 6-foot-6.
Win or lose Friday -- and as much as they might deny it -- the mere appearance (and through at-large bid at that) in the NCAA tournament marks a return to some form of past relevance La Salle and its fans have been desperate to reclaim for decades.
On Wednesday night (the 59th anniversary of the school's national title victory by the way), La Salle coach John Giannini told reporters he had received texts from Legler, Butler, and former star Doug Overton. And the legendary Simmons watched the win in person. There will be much more attention if the No. 13 seed knocks off the No. 4 Friday. But for now, it's a start.
"People have tended to forget what a basketball power La Salle was for over four decades," Giannini said. "It's a big deal to re-establish that. It's a big deal for people who attended La Salle and love La Salle, who had great basketball, and certainly they've longed for that. So it's big."
February, 2, 2012
2/02/12
5:00
AM ET
1. Good to see the variety on the Bob Cousy point guard of the year finalists list. Five of the 11 finalists are from conferences outside the power six and all are deserving with a legit chance to win the award. The 11 finalists are:
Scott Machado
(Iona),
Phil Pressey
(Missouri),
Kendall Marshall
(North Carolina),
Jordan Taylor
(Wisconsin),
Pierre Jackson
(Baylor),
Casper Ware
(Long Beach State),
Aaron Craft
(Ohio State),
Damian Lillard
(Weber State),
Scoop Jardine
(Syracuse),
Matthew Dellavedova
(Saint Mary's) and
Isaiah Canaan
(Murray State). But overall this may be the weakest NBA-ready point guard year we've seen in some time.
2. Two of the most prophetic coaches in the preseason were Southern Miss' Larry Eustachy and La Salle's John Giannini. Both coaches told me they had teams that could make a run, and possibly their best teams. Yet, both lost key players. The more believable was Southern Miss. Still, the Golden Eagles had to go out and prove it. They have. USM gave Murray State its toughest game of the season in the Great Alaska Shootout and after snapping an 18-game losing streak to Memphis on Wednesday, they are alone atop CUSA at 7-1. Meanwhile, La Salle beat Charlotte to stay a half-game ahead of Temple in the A-10 title chase at 6-2.
3. Once
Fab Melo
is back with Syracuse (
per Syracuse Post-Standard
) for Saturday's game at St. John's, the top four contenders for the national title will be set. A Big 12 champ will have a strong argument to make, but heading into February it looks like Kentucky, Syracuse, Ohio State and North Carolina are the favorites for the national title. That doesn't mean all will be in New Orleans or No. 1 seeds (although I find it hard to believe that Kentucky, Syracuse and OSU won't be No. 1 seeds). And no team probably, outside of UNC, could still be a national title contender after losing two preseason perimeter rotation players to injuries (
Dexter Strickland
and
Leslie McDonald
).