College Basketball Nation:

John Marinatto
May, 8, 2012
5/08/12
1:15
PM ET
May, 7, 2012
5/07/12
3:02
PM ET
By
ESPN.com staff
| ESPN.com
It is worth nothing that, on the November 2008 day that the Big East presidents and chancellors named John Marinatto as their new commissioner, it was a unanimous decision.
This was not a coup or hostile takeover. He was chosen for the job, awarded like loyal foot soldiers often are. Or at least were back in the day when there were such things as loyal foot soldiers.
And that was the Big East's crucial mistake.
The presidents made a rear-view window hire when the league desperately needed someone who could look into a crystal ball.
Now a once proud conference is in shambles because of it.
Click here
for the rest of Dana O'Neil's column.
May, 7, 2012
5/07/12
10:59
AM ET
The big college sports-related story of Monday morning is here: Big East commissioner John Marinatto has resigned from his post, according to an announcement by the league, a league that is now leaderless as it "works to find its footing amid a rapidly shifting landscape,"
as Andrea Adelson and Andy Katz wrote this morning
:
"Our recent expansion efforts have stabilized the conference for the long term, and we are likewise well positioned for our very important upcoming television negotiations," Marinatto said in the news release. "As a result, I felt this was the right time to step aside and to let someone else lead us through the next chapter of our evolution."
On Sunday night, CBSSports.com reported that Marinatto was asked to resign. According to Adelson and Katz, the exit had been building for weeks, led by basketball members "upset that they had no say in the expansion process."
The Big East also lost Pittsburgh, Syracuse and West Virginia -- three founding members, all three of which were especially important to the conference's stature as the nation's premier basketball league -- on Marinatto's watch. Perhaps this move was only a matter of time.
In any case, there you have it. Much more reaction from a variety of angles, including what it means for college basketball (if anything?), to come. Stay tuned.
March, 11, 2012
3/11/12
1:28
AM ET
NEW YORK – Rick Pitino grew up on the East Side -- 26
th
Street, to be exact -- and like all boys who grew up with basketball visions dancing in their heads, Madison Square Garden was the Holy Land, the hallowed hardwoods for the gods.
He watched games there as a boy, even signed his scholarship papers to the University of Massachusetts on the Garden court.
When he coached there for the first time, as head coach at Providence, Pitino cried, overcome with emotion at what he had achieved.
And when he became the court's primary caretaker as the head coach of the New York Knicks, those were pinch-yourself days.
Pitino is 59 now. He's logged more of his professional career in the Commonwealth of Kentucky than the streets of Manhattan, but in his gut he remains the little kid who stared adoringly at the Garden.
This place still means something to him, and in an age of fraying conference loyalties and the death of collegiality, somehow it seemed fitting that at the last Big East tournament as we know it, the Garden King stood victorious.
Pitino and Louisville, a team even the hometown crowd had written off after a 33-point loss to Providence in January, topped Cincinnati
50-44
to win the Big East tournament title.
"I've had a lot of good memories in this place,'' Pitino said amid the celebration on the court, "and this is one of them.''
In recent years, plenty of people have argued the merits of conference tournaments. Outside of the one-bid-league fray, some say they are little more than annoying stopgaps to survive en route to the NCAA tournament.
After Syracuse was ousted by Cincinnati in the semifinals, the Orange said as much.
"As much as we want to win this tournament, the only one that matters is the one that starts next week,'' coach Jim Boeheim said.
"Everyone says that,'' Cincinnati coach Mick Cronin countered, "after they lose.''
No one will question whether it matters to Pitino. Through a tumultuous year in the Big East, Pitino has emerged as the league's primary politician and loudest cheerleader. He stumped for Memphis and Temple, practically begging his longtime friend and league commissioner John Marinatto to extend an invitation to the basketball-friendly schools.
And when Marinatto did, no one crowed more about what a fantastic job Marinatto had done, insisting that though the Big East will be different it will remain every bit as good, than Pitino.
Cynics might say he's merely protecting his own brand. Louisville is here and no one left in the Big East wants anyone to think the conference is anything less than the power it always has been.
But to Pitino, it's more than that. He holds the conference close to his heart, and while he accepts the changes he remains a traditionalist at heart, one who deeply believes in honoring the vision of league founder Dave Gavitt.
So to take home the crown, his second since Louisville joined in 2005, and the last in the league's most powerful alignment, matters.
"This is the last time the Big East will be together like it was,'' Cardinals guard
Chris Smith
said. "To win it, it means a lot to us. I know it means a lot to Coach P.''
Pitino won the 10th conference title in his career (five SEC, two Big East, two Conference USA, and one North Atlantic) in vintage fashion, rebuilding another Humpty Dumpty of a team.
Along with massaging
Gorgui Dieng
into productivity, educating the enigmatic
Russ Smith
on the fine line of shot selection and riding the roller-coaster tendencies of point guard
Peyton Siva
, only three players have participated in all of the Cardinals' games this year. The rest have helped construct an injury report that would make an NFL team blush:
[+] Enlarge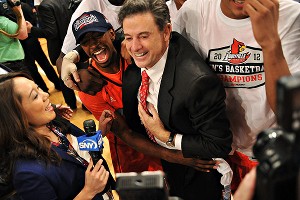 Tony Spinelli/ESPN.comWinning another Big East title at Madison Square Garden after a tough season for Louisville was all the sweeter for New Yorker Rick Pitino.
Mike Marra, torn ACL, out all year; Rakeem Buckles, torn ACL, out since January;
Stephan Van Treese
, patellar injury, out all year;
Wayne Blackshear
, shoulder surgery, out 25 games; Siva, sprained ankle and concussion, missed three games;
Kyle Kuric
, sprained ankle, missed three games;
Jared Swopshire
, recovering from groin injury, missed two games.
It forced Pitino completely out of his comfort zone. He had to put the brakes on the fast-tempo style he's always loved and felt this team was best suited for, and turned the Cardinals into a wildly unpredictable outfit.
"It was really hard,'' Pitino's son and assistant coach Richard said. "In a lot of ways, this team overachieved, but then again he's done that his whole career.''
There is no secret to Pitino's methods other than consistency.
Cronin spent two seasons working under Pitino at Louisville, taking a lifetime of learning in that short span.
"The most important thing he taught me is that you have to coach like you coach,'' Cronin said. "You can't let outside people define who you are. You can't let the kids splinter. You have to make sure they keep in mind who they are as people and who they are as a team.''
It was a valuable lesson for Cronin this year as he shepherded Cincinnati from the black eye of the December brawl with Xavier to the brink of its first Big East crown -- and an equally crucial tool for the Cardinals.
The ante has been upped in Kentucky these days. Down the road in Lexington, John Calipari is busy collecting talent like a hoarder. His Wildcats will be announced as the overall No. 1 seed on Sunday evening and will head into the NCAA tournament as the favorite to win the title.
Louisville, in the meantime, has swung and missed on some recruits and entered the season on the heels of an NCAA tournament upset at the hands of Morehead State in the same year that Kentucky went to the Final Four.
"I know a lot of people back home doubted us,'' Chris Smith said. "That's OK. They'll love us now.''
Louisville did not win style points in this victory against Cincinnati. It was hard to watch, a slugfest where points were at a premium and the scoreboard had trouble nudging itself forward.
The Cards won because of their defense. Pitino challenged them to guard the arc like soldiers against the league's leader in 3-pointers made per game -- "I told them I don't care if they go by you; you have to guard them from the NBA line,'' Pitino said.
It made all the difference. The same Cincinnati team that had 10 3-pointers by the half against Syracuse's zone finished the game 3-of-14 against the Cardinals.
When the buzzer sounded, the players erupted, a mosh pit of infra-red jerseys celebrating in front of the court. Pitino, all business, walked to shake Cronin's hand before finally breaking in to a wide grin as he hugged his assistants, wife and son, celebrating once more time on his own personal home court.
When he was walking in to work on Saturday night, a construction worker spied Pitino and yelled out, "Hey coach, you shoulda never left the Knicks!''
"I looked up. He couldn't have been more than 26 or 27,'' Pitino said. "I yelled back, 'You were in diapers.'''
Perhaps, but New Yorkers never forget. Not when it comes to the Garden.
January, 24, 2012
1/24/12
5:00
AM ET
1. ESPNU will unveil the BracketBuster matchups that are being set up by the conferences and in association with ESPN programming (this type of match making goes on for non-conference games for other events, Jimmy V, other tournaments). The games (on Feb. 17, 18 or 19) that make the most sense are Saint Mary's at Creighton and Nevada at Murray State. Forget about distance between these schools. These are the four best teams and the most likely of the participating teams to earn bids, regardless of whether they win a conference tournament.
2. It would be a real shame if Iona point guard
Scott Machado
and the Gaels don't win the MAAC and get to the NCAA tournament. But the Gaels' loss at Siena Monday night will make it even tougher for Iona to get an at-large berth, barring a massive run in the rest of the MAAC season. The Gaels (15-5 overall, 7-2 in the MAAC) play at Fairfield Friday and continue a brutal schedule. The MAAC didn't do a league favorite any favors by scheduling Iona on the road for five of six games, including going to the two teams the Gaels are tied with in the league Loyola (Md.) and Manhattan.
3. Big East commissioner John Marinatto said in the fall that future football-only members San Diego State and Boise State will get four non-conference games against Big East basketball members. Which two teams will head West is still unknown. With Navy now reportedly to join the Big East in football by 2015 the question remains will the Big East force two teams to go to Navy in hoops as well? It should. Navy should get the same treatment as Boise and SDSU. Having an elite team go to Navy would be a solid gesture.
January, 13, 2012
1/13/12
5:00
AM ET
1. Pac-12 commissioner Larry Scott told ESPN.com late Thursday night that the league will review the overtime scuffle between Oregon State and Arizona. Don't be surprised if there are some suspensions since the Pac-12 tends to be aggressive. Arizona's
Kyryl Natyazhko
and Oregon State's
Joe Burton
were ejected. Natyazhko was out of line in his reaction. He had to be held back. Arizona's
Kyle Fogg
started the mess by woofing at OSU's
Jared Cunningham
after a dunk. But credit Arizona's Sean Miller here for trying to quickly restore order before it escalated too much. OSU's Craig Robinson also kept his players cool.
2. Minnesota coach Tubby Smith was criticized locally last week because of the Gophers' failure to excite or go deep in March. The Gophers turned around and had the best outing of their season with a road win at Indiana in vaunted Assembly Hall. The Big Ten record doesn't show it (1-4), but Smith had to reconstitute this team without
Trevor Mbakwe
(ACL). The Gophers have remained competitive. Indiana can't be faulted too much for a home loss. Remember, this is still a young team that is learning to play with high expectations.
3. It will be interesting to see how Tennessee coach Cuonzo Martin uses
Jarnell Stokes
against Kentucky on Saturday. The highly-touted incoming freshman was deemed eligible by the SEC this week. Martin has his Vols playing as hard as any team in the SEC, and Stokes hasn't been privy to Martin's coaching or the tough practice schedule. Stokes is a talent, but he'll have to buy in defensively and, of course, effort-wise going forward to make a major contribution. Martin is managing this transition quite well so far in Knoxville.
October, 3, 2011
10/03/11
7:53
PM ET
By
Diamond Leung
| ESPN.com
While the Big East presidents and chancellors have authorized commissioner John Marinatto to pursue new members and expand,
Connecticut is in a holding pattern
regarding its interest to join the ACC.
That bit of news should make Louisville coach Rick Pitino smile after he questioned UConn's thinking process regarding following Pittsburgh and Syracuse to the ACC. Pitino told
SNY.tv
last week it was "
the dumbest thing I've ever heard of
."
During speaking engagement Monday, UConn coach Jim Calhoun responded to Pitino's comment, according to the
Hartford Courant
.
"We are going to play in a conference, but we're going to be in a place that's best for us," he said. "We've worked too hard to get where we are, we've worked too hard to let anyone stop us."

And as for Rick Pitino's comment that UConn moving to out of the Big East was "the dumbest thing he'd ever heard," Calhoun responded, "The coach who said that has been talking to every conference in America." But later, he said he was joking.

...

"… If we play in the Big East, I don't think anyone would be angry with that. Rick [Pitino] was thinking of Louisville's interests and we have to do what's in our best interests, as, by the way, Syracuse and Pitt did."
No matter what the coaches say, it does appear UConn's preference is to leave for the ACC. Consider that Connecticut
Gov. Dannel Malloy has called
the Big East a fallback option. Calhoun himself has said he
wants the program to be in the best basketball conference in the nation
, which in the future could very well be the ACC.
There's little Pitino can say or do to change that.
August, 16, 2011
8/16/11
9:59
AM ET
I'm not sure whether this is encouraging or not. At the very least, it's good to know that the NCAA isn't planning on merely sitting around in Indianapolis and letting Texas A&M's move to the SEC spring another six months of conference realignment madness. Sure, that may happen. But at the very least, NCAA president Mark Emmert seems to want a role in the discussion. Even more encouraging is the news that some conference commissioners
want Emmert to want a role in the discussion.
From the New York Times's Pete Thamel
:
Mark Emmert, the president of the N.C.A.A., reached out to several top college officials Monday, suggesting a meeting to discuss a less cannibalistic and more collegial way to approach conference expansion.

"I think people have asked him to make some phone calls," Pacific-12 Commissioner Larry Scott said. "He's doing exactly what he should be doing." [...] "Those conversations start and stop with that there's no N.C.A.A. authority on these topics," Scott said.
Emmert has the support of Scott, ACC commissioner John Swofford, Big East commissioner John Marinatto, and Big 12 commissioner Dan Beebe, the latter of whom shared a heated phone call with SEC commissioner Mike Slive about A&M's potential move last week, according to the Times. In other words, these commissioners are seeing what's happening and getting visions of Armageddon; there's a lot of "Desolation Row" on these guys' iPods. Rather than stand by and watch the SEC tear the Big 12 apart -- and then react by scraping and clawing for the leftovers -- they'd like Emmert to step in and try to prevent that from happening.
Emmert is in a difficult position. He can try to influence the realignment debate and use his clout, as it were, to bring those rapacious capitalists in the conference commissioner seats to a mutually beneficial conversation. What he can't do, as far as we know, is anything to actually stop realignment from happening. He might be able to organize the process. He could raise the level of decorum involved in the debate. But realignment is really the conferences' business, and if massive changes are going to come --
if Texas A&M really wants to SECede
(see what they did there?) -- it's not clear Emmert can do anything to stop them.