College Basketball Nation:

Johnny Jones
November, 11, 2013
Nov 11
12:00
PM ET
The ESPN College Hoops Tip-Off Marathon is here, and with all due respect to Oregon's far-flung win over Georgetown in South Korea on Friday (and UConn's nervy victory over Maryland in less-far-flung Brooklyn), the marathon always feels like the official start of the season.
Things are a little different this time around: The festivities begin at 7 p.m. ET Monday night and don't end until the 9:30 p.m. Champions Classic finale wraps late Tuesday. Check my math, but that's well over the allotted 24 hours of hoops. By the time we're done, it could be more like 30. Are you excited? You should be. Did you buy enough NoDoz to incapacitate a small farm animal? You should probably do that, too.
Before you run that errand, though, let's run through some of the things you need to know -- or should plan to watch for -- in this 2013-14 edition of the college hoops obsessive's nirvana. (
Click here for the schedule
. You might need that.)
Sneakiest good game
:
LSU at UMass, 11 a.m. ET, ESPN2.
And not just because LSU coach Johnny Jones has one of the best freshmen in the country (power forward Jarrell Martin, the 11th-ranked player in the loaded 2013 class) making his debut. No, this UMass team -- which averaged a speedy 70.8 possessions per game last season -- is a lot of fun, and kicking off a crucial season for coach Derek Kellogg.
[+] Enlarge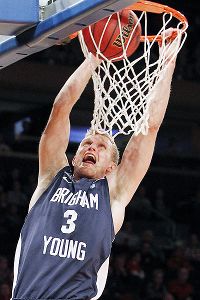 Jason Szenes/Getty ImagesWatching BYU guard Tyler Haws in action is a good excuse to burn the midnight oil.
Worth staying up for
:
BYU at Stanford, 11 p.m. ET, ESPN2
. With all due respect to the overnight games, I can't really recommend you ruin your entire week for any portion of the overnight slate unless (A) you're like me, and don't really sleep anyway, or (B) you're just insane. Recommending BYU-Stanford instead feels a bit like cheating, but oh well: Dave Rose has his most complete team of the post-Jimmer era, and wing
Tyler Haws
is well worth the price of admission, especially up against a good Stanford defense.
Under-the-whatever* player you should see: T.J. Warren, NC State
. Last season, Warren was a hyper-efficient tweener freshman on an overstuffed NC State offense. This season he's the main attraction, and his first game Friday night -- 29 points on 13-of-20 shooting, with six rebounds, three steals and a block against Appalachian State -- provided a glimpse of what could be a monster offensive season. Warren and the Wolfpack go to Cincinnati at 5 p.m. ET on Tuesday night.
(*Note: It's only Nov. 11 and I'm already sick of "under the radar." I'm using this until further notice. Replacement suggestions welcome!)
Team that might be really good, but we just don't know
:
Baylor Bears (vs. South Carolina, 3 p.m. ET, ESPN)
. Super-talented? Check. Kept a would-be one-and-done (
Isaiah Austin
) on campus for his sophomore season? Check. Could be awesome? Sure! Could be thoroughly mediocre? Right.
Best 2013 NCAA tournament Cinderella
:
Florida Gulf Coast (vs. Hartford, 7 a.m. ET, ESPN2).
Second-best 2013 NCAA tournament Cinderella
:
La Salle (vs. Quinnipiac, 9 a.m. ET, ESPN2)
Best game
: This one's a tie, which doesn't make it any less obvious: It's
No. 1 Kentucky vs. No. 2 Michigan State, and No. 4 Duke vs. No. 5 Kansas
, Tuesday at United Center. You're up to speed on this, right? You don't need me to elaborate, do you? No? Good.
Best non-Champions Classic game
:
No. 14 Virginia Commonwealth at No. 24 Virginia
. Now
this
is an interesting question. As I see it, there are two viable options, both of which air on
the Ocho
ESPN2 opposite the Champions Classic. The first is the above, at 7 p.m. ET, followed by No. 10 Florida at No. 20 Wisconsin at 9 p.m. ET. At first glance, you might be inclined to take Florida-Wisconsin; those are the bigger "brand" names and probably more talented squads from top to bottom. But with Florida hobbled by injuries and suspensions, it seems less likely we'll get as good a game from the Gators and Badgers as we will at 7 p.m.
VCU at Virginia is a fascinating fixture. Not only are both programs pegged for big seasons, and not only could we witness the start of a nascent in-state rivalry, but the styles on display couldn't be more dichotomous. Virginia loves to slow the pace, take care of the ball, settle into Tony Bennett's pack-line defense, and generally play as cautiously and intelligently as possible. VCU loves to unleash havoc, press opponents, pounce on turnovers, get easy transition buckets and generally play as furiously and frustratingly as possible. Something will have to give.
Best thing about all of this
: You can turn on your TV at any time between 7 p.m. Monday and midnight or so Tuesday and find basketball on the Worldwide Leader and its family of networks! Rejoice, rejoice. College basketball is finally here.
December, 14, 2012
12/14/12
9:30
AM ET
Finally, some movement in the SEC power rankings. Tennessee secured a nice win over a mid-major power Thursday. Ole Miss, however, lost to a non-power-six standout over the weekend. Feels good to finally make a few changes.
1. Florida:
If the No. 5 Gators score a convincing win at No. 8 Arizona on Saturday, they could enter next week as a top-three team. They've been as dominant as any squad in the country. But the Wildcats will be the toughest team that they've faced to date. Arizona is deep enough inside to limit
Patric Young
's production, a rare trait for the teams the Gators have played thus far.

2. Missouri:
Frank Haith's squad has one blemish, an 84-61 loss against Louisville on Nov. 23. But the Tigers have yet to play another nationally ranked squad (224th nonconference strength of schedule per ESPN.com's InsideRPI). That will change Dec. 22 when they face undefeated Illinois.
3. Kentucky:
Its most recent wins over Samford and Portland may have helped it recover from the back-to-back losses to Notre Dame and Baylor that cost the team its spot in the Associated Press' Top 25. But they're just appetizers for the Dec. 29 matchup against rival Louisville, the nation's most efficient defense. Kentucky's point-guard problems will be scrutinized in the buildup to that game.
4. Texas A&M:
This is where the league's makeup gets murkier. Yes,
Elston Turner
(16.3 points per game) has led the Aggies to four consecutive wins. But a one-point neutral-site triumph over Washington State is their best victory. Three of the Aggies' first four SEC games will include roads trips to Kentucky and Alabama, plus a home matchup against Florida. So this streak could end soon.
5. Tennessee:
Cuonzo Martin needed Thursday's night's 69-60 win over previously undefeated No. 23 Wichita State, and forced 17 turnovers to hand the Shockers their first loss of the season. The Vols have been one of the top defensive teams in the country all season. But they've averaged just 39.7 points in their three losses. So putting up 69 and avoiding a third consecutive loss must have been a refreshing moment for Vols fans.
6. Alabama:
I think the Crimson Tide (30th in defensive efficiency) will climb these ratings soon. But Alabama has to prove that it belongs in the SEC's top tier. And a loss at the buzzer against Cincinnati and a follow-up loss to Dayton at home -- 11-for-36 from the 3-point line in the two games -- didn't help Anthony Grant's cause. And now that center
Carl Engstrom
is out for the season
, Alabama has one legit center on its roster,
Moussa Gueye
. But the program can get back on track with a win at Virginia Commonwealth on Saturday.
7. LSU:
Friday is a significant day for Johnny Jones' squad. The undefeated Tigers have registered a 6-0 mark against a weak slate so far. Seton Hall (No. 80) is the only opponent they've faced that's ranked higher than 190th in Ken Pomeroy's ratings. And they haven't left Baton Rouge. So Friday's matchup at Boise State will be a better barometer for LSU's progress, especially for a Tigers squad that has somehow gotten away with an average of 18 turnovers per game.
8. Ole Miss:
The Rebels were off to a furious start until they ran into Middle Tennessee State last weekend. They had recorded 90 or more points in four of their first six games, all wins against mediocre opposition. But they scored just 62 points (5-of-21 from beyond the arc, 17 turnovers) against the Blue Raiders. Beware of inflated statistics in November and December.
9. Arkansas:
If the Razorbacks' porous defense (205th in efficiency) matched their offense (80.3 ppg, 19th in the nation), they'd be a contender for the SEC title. But the two aren't equal. So they continue to prove that they score (82 points in loss to Syracuse, 81 in a victory over Oklahoma) but they really can't stop anyone.
10. Vanderbilt:
A year after contending for the SEC title with the help of a veteran rotation, Kevin Stallings must rely on a multitude of underclassmen this season. And it shows. The Commodores are near the bottom of every meaningful statistical category in the conference. But last week's 66-64 win at Xavier might mean that the young squad is growing up fast.
11. South Carolina:
Frank Martin's team is 6-3. And with matchups against Appalachian State, Manhattan, Presbyterian and South Carolina State preceding its SEC opener Jan. 9 at Mississippi State, it will probably be 10-3 soon. But the Gamecocks (228th SOS according to ESPN.com's BPI) could come down to earth once league play begins, especially if they continue to average 19 turnovers per game.
12. Auburn:
So, the Tigers have lost five of their past seven games. Not all bad losses. A double-overtime loss against 2-7 Rhode Island and a 49-point effort in a loss to Boston College, however, were. It might be a really tough year for
Frankie Sullivan
(18.5 ppg) & Co.
13. Mississippi State:
Rick Ray is essentially relying on six guys with
Jalen Steele
sidelined by a wrist injury. So the Bulldogs' struggles have continued. This is how most rebuilding jobs start. It's probably going to be a rough season. But Ray has been a successful coach at other stops. He can certainly pull the Bulldogs out of this basement in the coming seasons. The program's supporters need foresight so that he's given the proper time and resources to do it.
14. Georgia:
When I talked to Mark Fox at the Final Four, he was excited about this team. But it's hard to have an optimistic outlook on the Bulldogs' 2012-13 campaign based on how they've started. They've lost six of their past seven (a streak that includes defeats to Youngstown State, South Florida and Southern Miss) and their only two victories have come against East Tennessee State and Jacksonville.
December, 7, 2012
12/07/12
9:30
AM ET
So, the Gators are even better than I thought, an assessment I made after their lopsided victory over Florida State on Wednesday night. The rest of the SEC, however, is quite confusing. Most of the league's programs still have a lot of work to do. Good thing it's still early.
1. Florida.
The Gators are definitely the best team in the SEC right now. The annihilation of Florida State was another showcase of their dominance thus far. They've defeated Wisconsin, Marquette and Florida State by an average of 25.3 points.

2. Missouri.
The Tigers slipped early against Southeast Missouri State -- they were down by 10 at halftime of Tuesday's 81-65 victory -- but eventually recovered. But it was another effort that exposed their backcourt limits (Frank Haith's three starting guards were 5-for-22), an issue they'll have to address without the services of former standout Michael Dixon Jr.
3. Kentucky.
With so many potential pros on the roster and John Calipari on the sideline, I'm confident the Wildcats can fix their kinks in the coming months. But their losses to Notre Dame and Baylor illustrated their ballhandling woes (28 turnovers in the two games).
4. Ole Miss.
Its strength of schedule (324) is clearly a factor in its 6-0 start. The Rebels have averaged 87.0 points per game in that stretch (No. 2 in the country) and they've also been relentless on defense (17th in defensive efficiency, per Ken Pomeroy). But their nonconference schedule is so light that we really won't know what they're made of until SEC play begins, although Saturday's matchup at Middle Tennessee won't be an easy test to pass.
5. Texas A&M.
The Aggies' 62-54 win over Stephen F. Austin on Wednesday was their fourth consecutive victory. They're ranked 68th in adjusted offensive efficiency and they've compiled a nonconference slate that's rated 20th nationally in strength of schedule, according to ESPN.com. They're 2-0 against squads in the top 25 of the RPI.
6. Alabama.
I think they'll end up much higher by the end of the season. But the Crimson Tide lost 58-56 to Cincinnati on
Cashmere Wright
's buzzer-beater Saturday and against Dayton, 81-76, Wednesday. The first week of December has been a rough one.
7. Tennessee.
The Vols played two of the top defensive teams in the country in their past two games. But they were still very disappointing in Friday's 37-36 loss at Georgetown and Wednesday's 46-38 defeat at Virginia. They're better than this, but might not really prove it until
Jeronne Maymon
returns from injury.
8. LSU.
Johnny Jones' new program is off to a 5-0 start against a pedestrian slate (328th SOS). But without any signature victories, it's tough to peg the Tigers. Their best nonconference opportunity to validate the unblemished record will come Dec. 22 when they face Marquette in Milwaukee.
9. Arkansas.
BJ Young
(19.5 points per game) is a special talent. But the Razorbacks can't rely on him alone. The supporting cast has been inconsistent in a rough stretch that's featured three losses in four games, although they're coming off an 81-78 victory over Oklahoma on Tuesday.
10. Vanderbilt.
The young Commodores earned a crucial road win over Xavier, 66-64 in overtime, Thursday night. It was just their second win in their last six games, but it's a noteworthy divider in a conference that's tough to sort at the bottom.
11. Mississippi State.
At this point, Rick Ray's depleted squad just needs wins. And with Tuesday's 53-42 victory over UTSA, the Bulldogs secured their second in three games.
12. South Carolina.
The Gamecocks had won five of their first six matchups to open the 2012-13 season. But they've lost back-to-back games to St. John's (89-65 on the road) and Clemson (64-55).
13. Auburn.
Frankie Sullivan
is one of the top offensive performers in the country (19.7 ppg). But that hasn't been enough to pull Auburn out of the SEC's basement -- the Tigers have lost four games in a row.
14. Georgia.
The Bulldogs have lost six of their past seven games. Mark Fox has been unable to find any momentum in the first month of the 2012-13 season.
November, 30, 2012
11/30/12
9:30
AM ET
By now, many assumed that Kentucky would own the No. 1 post in the SEC. As I compile the first edition of ESPN.com's power rankings for the conference, however, I'm not even sure they're No. 2. The Wildcats have faced some tough teams but they've been inconsistent. It's early, so these rankings will change. But the Gators are on top. It might be tough for the rest of the league to knock them off their perch, too.

1. Florida.
The Gators destroyed Wisconsin and crushed Marquette in the SEC/Big East Challenge.
Kenny Boynton
is one of four players averaging double figures for the 6-0 squad. Plus, Florida has been one of the nation's most efficient offensive and defensive units in November.
2. Missouri.
Michael Dixon Jr. leaving the program
is certainly a blow for the Tigers, but they're still one of the league's best teams.
Phil Pressey
(15.0 points, 6.2 assists per game) and
Laurence Bowers
(14.2 ppg, 6.3 rebounds per game) have led Frank Haith's squad to victories over Stanford and Virginia Commonwealth in recent weeks.
3. Kentucky.
John Calipari's young squad has been battered by some of the nation's top teams, suffering losses to Duke and Notre Dame (on the road). The 14-point loss against the Fighting Irish on Thursday was a blow to its ego but the Wildcats could shake it off Saturday if they get a win over Baylor.
4. Alabama.
I'm not sure whether I believe Alabama's 6-0 start but I believe in
Trevor Releford
(18.6 ppg) and the leadership he's provided for Anthony Grant's squad. The Crimson Tide have been tough on defense. And they can prove that this start hasn't been a fluke when they visit No. 17 Cincinnati on Saturday in the SEC/Big East Challenge.
5. Tennessee.
The Vols were overmatched against Oklahoma State in Puerto Rico but they bounced back with a victory over UMass and then crushed Oakland, a Summit League contender, by 27 points. A win at No. 20 Georgetown on Friday would certainly elevate Tennessee nationally.
6. Ole Miss.
The Rebels haven't played a high-major opponent this season, but they've crushed the non-BCS opponents on their schedule by an average of 29.2 ppg. Andy Kennedy's 5-0 squad has looked good thus far, but this start won't mean much until it starts SEC play in January.
7. Arkansas.
The Razorbacks lost to Wisconsin and Arizona State during the Las Vegas Invitational. But I still think this Arkansas team, led by
BJ Young
(20.5 ppg) and
Marshawn Powell
(12.2 ppg), is better than most of the teams in the SEC. Friday's home matchup against No. 6 Syracuse will be an opportunity to show it.
8. Texas A&M.
Elston Turner
(15.7 ppg) is one of three players averaging double figures, and freshman
J'Mychal Reese
(7.3 ppg) has been a young standout for a 5-1 Aggies squad that's beaten teams it's supposed to defeat. The Aggies did give up 70 points (and only recorded 49) against a Saint Louis squad that's rarely recognized for its offense.
9. LSU.
Johnny Jones' tenure has started off with five wins and zero losses, including Thursday's 72-67 victory over Seton Hall. And with a small sample size, the Tigers are top-100 in defensive efficiency. Could be worse for a program that's struggled in recent years.
10. Georgia.
The Bulldogs need to stop the bleeding after losing four of their past five games, although two of those losses came against Indiana and UCLA. They'll play at South Florida on Friday in the SEC/Big East Challenge. Few SEC squads need a win as badly as Mark Fox's.
11. South Carolina.
Frank Martin's team is in a bad spot. The Gamecocks lost to Elon last week and suffered a 24-point defeat to St. John's on Thursday.
Bruce Ellington's return
, until the football team begins prep for its bowl game, is a plus for the squad.
12. Auburn.
The Tigers have lost close games to Boston College (50-49) and Rhode Island (double overtime).
Frankie Sullivan
(18.3 ppg) shoulders the bulk of the offensive burden and that's one of the 2-4 team's problems: It lacks balance.
13. Vanderbilt.
The Commodores, who lost every significant player from last season's rotation, get a pass for losses at Oregon and to Davidson (at a neutral site). Scoring 33 points against Marist? Ugh.
14. Mississippi State.
Rick Ray walked into a messy situation when he accepted the head-coaching job last spring. These Bulldogs have struggled on both ends of the floor. It's worth noting, however, that Marquette, Texas and North Carolina were responsible for three of their four losses.
November, 2, 2012
11/02/12
5:00
AM ET
1. LSU's success in basketball has almost always revolved around mining the top talent in Louisiana. When the Tigers land an elite in-state product, it usually translates into a successful run in the SEC and in the NCAA tournament (see 2006 Final Four). I talked with new Tigers coach Johnny Jones about this last week in Hoover, Ala., at SEC media day. A week later, he landed Baton Rouge's
Jarrell Martin
. For teams in the deep South in the SEC like LSU, Ole Miss, Mississippi State, Alabama and Auburn, getting the top talent in their respective states has proven to be a must to compete against the conference's upper echelon. If Martin lives up to his high school hype, the Tigers should climb back toward relevance again.
2. Michigan coach John Beilein suspended
Trey Burke
for one game. But the symbolism of the suspension will haunt Burke and the Wolverines. Burke was named first-team AP All-America prior to being disciplined. Now, the point guard will start the season with a stigma attached to him. The Wolverines lost leadership in Zach Novak, Stu Douglass and Evan Smotrycz.
Tim Hardaway Jr.
, can lead this team but he needs to be able to trust Burke as his wingmate. Burke let his teammates and the Wolverines staff down with actions that led to his suspension. He needs to be a model citizen from this point forward, not just for the Wolverines' success, but also if he wants to convince others he is worthy of national honors.
3. The Pac-12 media picked Colorado sixth in the preseason poll. I'm all in with the Buffaloes -- I don't see it. If there is one team out West that will surprise preseason prognosticators, it is Colorado. The Buffs were no fluke last season in winning the Pac-12 tournament and then beating UNLV in the NCAA tournament. The backcourt of
Askia Booker
and
Spencer Dinwiddie
can hold its own with any in the conference.
Andre Roberson
will anchor the frontcourt. And two freshmen --
Josh Scott
and
Xavier Johnson
-- will have a major impact. Tad Boyle has Boulder believing in basketball again, making playing at altitude a significant advantage for the Buffs. Arizona is a sure thing at the top of the league. But there are questions after the Wildcats with the teams ahead of CU in UCLA, Cal, Stanford and Washington -- enough that I'm not buying Colorado in sixth place and out of the NCAA discussion.
June, 6, 2012
6/06/12
11:20
AM ET
By
ESPN.com staff
| ESPN.com
It's Coaches Week on ESPN.com and today we're going conference by conference to rank the best and worst coaching jobs, as voted on by 14 of our writers and television analysts.
A few important notes: This is not an attempt to rank the programs or their histories. A school's tradition was taken into account of course, but more emphasis was given to recent years and how hard or easy it is for a new coach to win there. Current recruits don't remember much beyond, what, 2008?
When voting, our 14 panelists were asked to take into consideration facilities, expectation level, athletic budget, wins and losses, recruiting base, fan support/pressure and all of the other factors that go into determining the "best" jobs in the ever-crazy profession of college basketball coaching.
In short: If you were an agent and every single job was open in a particular conference, where would you direct your client? Where would you tell him to avoid if there are better options?
There's no right or wrong answer of course. These rankings are very much up for debate and we're sure you'll do so in the comments section. But at the very least, this polling of 14 people clued into the inner workings of college basketball offers a glimpse into how the coaching position at your favorite school is perceived on the national scene.
Full breakdowns of the rest of the Big Six conferences can be found here:
ACC
,
Big East
,
Big Ten
,
Big 12
and
Pac-12
.
(Editor's Note: Realignment makes the college landscape a confusing one these days, but for the purposes of this poll, panelists were asked to vote based on what each conference would look like for the 2012-13 season.)

1. Kentucky:
No school in the country has as loyal and passionate a fan base -- the Big Blue fans will camp out for practice. Kentucky's job pays as much if not more than any other job in the country. Local talent in the state isn't an issue since UK recruits nationally. There have been blips in recruiting, but that was on the coach, not on the school. If the right coach is in place, Kentucky can and should be in contention for any player it wants, regardless of locale. Rupp Arena could use some more frills (and will get plenty in the near future), but it has history and is as loud as any arena. The Joe Craft Center is a top-notch practice facility. And the Wildcats are coveted by tournaments and television executives looking for a ratings winner.

2. Florida:
Billy Donovan has made UF the second-best job in the SEC. Florida has always been a solid destination for recruits. There is talent in the region, but the Gators can and do recruit nationally. The school is a big-time draw with its football program a national name. The fan base gets up for big games and the O-Dome can get rocking for special opponents. Athletic director Jeremy Foley is easily one of the most respected administrators in the country. He takes care of his own and rewarded Donovan with one of the richest contracts in the country after his two national titles. The Gators have their own practice facility that is more than enough for their needs. Expect Florida, coming off back-to-back Elite Eight appearances, to remain a national program.

3. Missouri:
The Tigers immediately leap into the top three in the SEC. The fan base is passionate and Mizzou Arena will be one of the toughest places to play in the SEC. The salary structure at Missouri can be an issue due to the budget constraints at the school. You're not going to see Mizzou outbid other schools for a coach. The Tigers will never be able to compete with Kentucky and Florida in salaries, but the facilities can match the two schools. Mizzou is also in a hot recruiting territory with the ability to draw from St. Louis to Chicago to the Southeast, as well as Texas.

4. Tennessee:
The Vols have traditionally been able to recruit, but talent-rich Memphis is six hours away from Knoxville and the Tigers are an institution there, so that can be a tough nut to crack. Thompson-Boling Arena was remodeled a few years ago and has the look of an NBA facility -- and the surge in fan interest that began under Bruce Pearl has continued as the Vols were again among the nation's leaders in attendance during Cuonzo Martin's first season. The athletic programs at Tennessee are usually high end, but it's been a rough go lately. Still, the commitment to winning in men's basketball is much more apparent at UT than it was before this past decade. This has become a solid job.

5. Arkansas:
The Razorbacks have a rich talent area that it can draw from in the region. Arkansas also has as rich a basketball tradition of any program in the SEC outside of Kentucky. The fan base, when there is a worthy product on the floor, can be as passionate as any in the country -- their traveling party in the 90s was truly a sight to see. Bud Walton Arena gives Arkansas one of the toughest homecourts in the country, let alone in the SEC. Arkansas has also been willing to pay its coaches well. This should always be a top-five job in this conference.

6. Vanderbilt:
Vandy is one of the few schools in the conference where basketball is a high priority. The high academic standards does mean recruiting is a little trickier, but it also ensures the Commodores remains unique. Getting talent to Vanderbilt, which recruits nationally, hasn't ever really been an issue. Memorial Gym may be quirky, but it also can be a nuisance to opposing teams. The fan base has been superb in creating a chaotic atmosphere. Salaries are competitive, but never going to be elite in the SEC.

7. Georgia:
The talent in the region has been there for years, but the competition for it has always been intense. Getting players to stay in Georgia is a tough sell with so many options. Basketball has had its moments in Athens, but it's never going to be No. 1. The facilities aren't top-notch in comparison to the rest of the league, either. Salaries are competitive, but never going to be in the upper echelon. UGA will have its moments of success, but expecting the Bulldogs to be an NCAA tournament team on a regular basis is unrealistic.

8. LSU:
Getting players in the area to come to Baton Rouge hasn't been much of a problem. Louisiana has plenty of players for LSU and others (see: the 2006 Final Four team). But basketball is always going to be playing a deep second in the athletic department. LSU had its run under Dale Brown and had a few runs of success since. Alum Johnny Jones will attempt to rekindle that era, but he's going to be at a program where modest success should be celebrated not scorned.

9. Texas A&M:
The Aggies were brutal as a basketball destination until Billy Gillispie helped revitalize the program with Mark Turgeon continuing to make the Aggies relevant as an NCAA team. Now Billy Kennedy has to do the same in the SEC. The arena upgrade was a must and if the fans continue to support this program at a high level then this job has a chance to climb a lot higher than No. 9 in this league. The fan base is more committed to the program than some of the others mentioned above. Texas is a feeder ground for plenty of programs and the Aggies should be able to get their share. If you're looking for a program and job that could become more coveted in the future in the SEC, this could be this one.

10. Alabama:
The Crimson Tide have the program of record in the SEC -- in football. The basketball program has been dwarfed for years by its big brother in pads, and rightfully so. Alabama fans tend to pay attention to the sport in the time wedge between the last bowl game and spring football. That puts even more pressure on Alabama to be relevant during those months. Getting talent to Tuscaloosa hasn't been an issue. Salaries have improved, but aren't going to be at the top in the SEC. The facility has never been a home run, but it has improved over the years.

11. Mississippi State:
MSU is one of the few schools in the bottom part of this list where basketball is very much relevant. Football has had its time in the spotlight but the basketball program has been successful enough, and certainly newsworthy, to generate interest. The Bulldogs haven't had any problems securing NBA-level talent. And the Hump can be one of the loudest arenas in the league. The problem is the salaries are never going to be too high in Starkville and the perception of one of the smallest and more remote college towns can push this job down a few notches. Mississippi State had trouble replacing Rick Stansbury with a comparable head coach. The Bulldogs went for an assistant in Rick Ray. He may turn out to be a huge hit, but he was an obscure choice for what had become a consistent winner in the SEC.

12. South Carolina:
The Gamecocks have gone through a revolving door of sorts, trying to settle on a longtime head coach to ensure the program matters nationally, let alone in the SEC. South Carolina is football-first. The facilities are improving and so are the salaries. There is a renewed commitment. Frank Martin wouldn't have left Kansas State if he couldn't make more money the way he did this spring. But luring talent to Columbia has never been an easy chore. The Gamecocks, who haven't won an NCAA tournament game since 1973 (how crazy is that?), have a way to go to become one of the best jobs in the league.

13. Auburn:
The Tigers have had a few moments of relevance since their run of success in the mid-80s -- with an emphasis on the word few. Building a new arena was a major commitment upgrade and likely prevented Auburn from finishing last in voting. But the fans haven't been flocking so far. They need a winner. Tony Barbee is recruiting well, but he has his work cut out for him to pack the arena and ensure that Auburn becomes one of the better jobs in the SEC.

14. Ole Miss:
The Rebels play in what has never been a beloved arena. The Tad Pad is basically a dump. The state of Mississippi produces plenty of talent, but keeping and luring elite, NBA-level talent has always been an issue. Salaries for the coaches aren't close to the top of this league. And as a result winning has been extremely difficult on a consistent basis. Ole Miss hasn't been dancing since 2002, the longest drought in the conference.
-- Team blurbs written by Andy Katz
May, 11, 2012
5/11/12
5:00
AM ET
1. The National Association of Basketball Coaches board of directors met with NCAA president Mark Emmert on Thursday in Indianapolis and, according to at least one source in the room, there is support to close up a few transfer loopholes. The coaches and Emmert discussed making any player who wants to transfer sit out a year, even if he or she has graduated and is seeking a waiver to play immediately at a school that has a graduate program that isn't available at the current school. The discussion also turned to the waiver that allows a player to play immediately if a relative is ill. That, too, could be closed. The consensus among the coaches is that if anyone transfers, he should sit out a year, even if that means a sixth year in college. The coaches also wanted some sort of universal language on transfer restrictions, maybe even an NCAA rule that forbids transferring within a league. Conferences and schools create their own policies on restricting transfers. According to the NCAA spokesperson, Emmert is going to put together a process to review and make recommendations that includes coaches' input.
2. North Texas athletic director Rick Villarreal said Thursday night that he has a policy that he doesn't release players who have signed with North Texas or leave the program during their career. Conversely, he won't allow his coaches, even new ones like men's basketball coach Tony Benford, to cut a player based on ability. He said the only way a player will be released is if there is an academic or behavior issue. This is relevant because signee
John Odoh
may want to follow former coach Johnny Jones to LSU. Villarreal said Odoh hasn't asked for a release yet. If he does, don't expect a release -- or at least not one to LSU. Villarreal was adamant that Odoh was recruited by Jones with Mean Green funds. Players may leave, but without a release, meaning they would then have to pay their own scholarships.
3. Incoming NCAA tournament selection committee chair Mike Bobinski said that 2013 East Regional sites were discussed Thursday in Indianapolis, and that a decision is due in two weeks. Syracuse and Brooklyn, N.Y., appear to be the favorites. The initial four candidates also included New York City (Madison Square Garden) and Newark, N.J. MSG is booked. Newark hasn't been eliminated yet.
April, 19, 2012
4/19/12
2:10
PM ET
College coaching searches are typically held on some strict deadlines. For example: Last month,
when Illinois sought a replacement for former coach Bruce Weber
, athletic director Mike Thomas openly stated that he wanted to end his search before he left for the Final Four in New Orleans. This kind of arbitrary deadline happens for a couple of reasons, far as I can tell:

1. There is a real chance schools can lose current players and recruits if the situation feels uncertain. And who knows what those players are hearing from opposing coaches gently (or not so gently) nudging them toward a transfer.
2. The perception is such that if you can't find a coach within a few days, well,
clearly
there is something wrong with your program. What's wrong with your program, dude?
Still, the deadlines can be counterproductive, and they were for Illinois. When Shaka Smart turned the job down, Thomas had to scramble to find a second and third and fourth option, and when those possibilities fell through he found himself rushing to sign a deal with Ohio coach John Groce -- a good, well-respected coach, but also one that went 34-30 in the MAC in four seasons -- before the deadline Thomas himself created. It was a bit of a mess for a variety of reasons. The rushing around was one of them.
Which is why it's somewhat interesting to see North Texas athletic director Rick Villareal be so laissez-faire about the idea of hurrying to find a new men's basketball coach. Villareal is charged with finding a replacement for Johnny Jones, who left for the vacant LSU job last week, and while Villareal doesn't want the search to take all summer -- he wants to finish up in the next 10 days --
he told the Denton Record-Chronicle that he isn't hurrying just to hurry
, either:
"I know there is some angst and concern, but what I would tell people is that we hired Johnny Jones," Villarreal said. "We had the foresight and I had the intuition to do that. We hired Karen Aston a year ago, and she did a great job. We hired Dan McCarney, who has increased our program tremendously.We are going to get that kind of person."

"I'm not going to try to do it in two days, because we don't have to," Villarreal said. "We have got some time. I'm going to be diligent and see just who is interested, and at the end of the day make sure that we have the best pool to pull from."
At this point in the calendar, with much of the high-level coaching intrigue finished for now, this seems like the appropriate approach. Jones made the North Texas job a surprisingly desirable one; Villareal will have a solid pool of candidates to work through. If fans are willing to trust the process, why rush it?
April, 9, 2012
4/09/12
5:00
AM ET
1. It will be interesting to hear how Trent Johnson explains why he's leaving LSU for TCU. Comparing these two basketball jobs isn't close. LSU has a rich history in the sport. TCU does not. LSU plays in the SEC where there is constant stability, access to a wider talent pool, and plenty of money. TCU joins the Big 12 in the fall where the Horned Frogs should feel more at home, but still aren't close to the top of the pecking order in the state. Johnson was coaching at a high level when he was at Stanford. He took a gamble by leaving his native West for the Southeast but he left too soon. The money was more at LSU and reportedly even more so at TCU. But the best job he had for him was at Stanford.
2. Now LSU athletic director Joe Alleva needs to make the right hire to replace Johnson. North Texas coach Johnny Jones has strong ties to LSU and to the region. Jones tried to get the job before Johnson but to no avail. He has done wonders at North Texas, a school that is consistently in the Sun Belt chase. Alleva went out of region in luring Johnson from Stanford. This time, he should go with someone familiar with the area and especially the SEC. This is a critical time in the league: the addition of Missouri and Texas A&M, Frank Martin now coaching at South Carolina, and an increase to 18 conference games. Not to mention, of course, the dominant teams already at the top of the league led by Kentucky, Florida and Vanderbilt.
3.
Thomas Robinson
is a great example of a player who maxed out his career in college over a three-year period and is now ready to play in the NBA. He wasn't a year ago. He had an exemplary season, led Kansas to the national title game, and now enters the NBA as a player who can contribute, not just be a high draft pick.