College Basketball Nation:

Johnny O'Bryant
March, 14, 2014
Mar 14
11:17
PM ET
ATLANTA -- The start certainly wasn't what Kentucky or its fans wanted, but after about seven minutes of watching LSU out-muscle and out-work the Wildcats, Friday's SEC tournament quarterfinal turned into a Big Blue highlight reel.
There were dazzling dunks, slippery steals and bodacious blocks that brought the Georgia Dome, disguised as a little Rupp Arena, to its feet, as the
Wildcats thumped LSU 85-67
.
"There for a while, I didn't even realize we were up by 10," said sophomore forward
Willie Cauley-Stein
, who had six blocks. "We were just playing with so much fun and energy that I didn't even look at the clock. The game just kinda took care of itself.
[+] Enlarge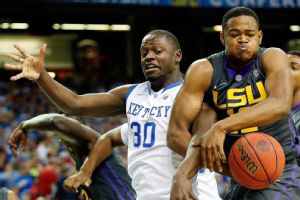 AP Photo/John BazemoreThe Wildcats offense might get headlines, but Julius Randle said it was Kentucky's defense that keyed the win over LSU.
"First fun game in a while."
A team that entered the SEC tournament as losers of three of their last four and as former Top 25 members, the Wildcats (23-9, 12-6 SEC) met a tenacious, upset-minded LSU team searching for a way to creep into the NCAA tournament. While this certainly isn't the Kentucky team that John Calipari or Big Blue Nation expected to see at this point, it's one that gained a little more confidence as it looks to navigate its way to an SEC tournament title before dancing into the NCAA tournament.
But what changed for a team headed by five freshmen that had a knack for playing alone, rather than as a unit?
Something about a "tweak" that Calipari has mentioned but wouldn't dive into. It was implemented during the Wildcats' practice Sunday, but the mystery behind it remains just that.
Maybe it was to get guards, starting with point man
Andrew Harrison
, to penetrate more inside and kick the ball out, which became a staple Kentucky's offense against the Tigers.
The emphasis on spreading the ball around and finding different ways to score opened the floor up for the Cats, as four of Kentucky's five starters ended the night in double figures, including Harrison, who had 11 points and eight assists.
The Cats finished the game with 15 assists to nine turnovers.
Maybe it was collapsing on LSU forward
Johnny O'Bryant
on defense to frustrate him and destroy his rhythm, which the Cats did. They hounded him even more by going right at him offensively, eventually getting him in foul trouble midway through the second half before he fouled out late.
Maybe it was to communicate more and use
each other
as opposed to going at it alone in a game that this team needed in order to rejuvenate a program that has had a baffling number of personalities all year.
"Regardless of whatever you think the tweak was, it started on the defensive end and that's what led to us getting easier baskets and us getting a big lead," said freshman forward
Julius Randle
, who scored 17.
Whatever the tweak was, it worked for Kentucky and it served as a confidence booster for a team looking to make a couple of postseason runs.
What might be the most impressive aspect of Kentucky's win was the fact that it had to grind this one out a bit during both halves. The Tigers (19-13, 9-9) opened things up with a 6-0 lead that quickly mounted 22-14 with 12:59 remaining in the first half, until Kentucky rolled off an inspiring 23-3 run to make it 37-25 at the 3:54 mark.
"We knew they were going to make a run," Randle said. "But, like coach says, when the raindrops hit your shoulders, how are you going to react? I think we reacted pretty good. We were able to bust it back open and ended up winning by 18."
The Wildcats spread the wealth, as five players scored during their hellacious run, and put a stranglehold on LSU's once-hot offense, helping them miss 10 of 11 shots during that span and forcing five turnovers.
"It just felt like new season for us," said freshman guard
James Young
, who had a game-high 21 points, including 17 in the first half. "We put everything behind us. It started off 0-0, that's what we feel like."
There are two things to gain from Kentucky's dominating win: There's still work to be done, but this team looked a lot hungrier than the one that sluggishly closed the regular season.
And think of all the missed opportunities in this blowout. Kentucky missed 15 free throws and had a trouble hitting easy shots near the rim at times.
Despite the talent and athleticism the Tigers possess, LSU isn't a tournament team, so the verdict is still out on how good Kentucky will look when it faces a team that will be playing later this month. But the selfishness and lack of identity that plagued this team all season vanished under the Georgia Dome lights for just one night.
The Cats must keep from reverting to their old, unsatisfying ways, but players say they've regained their focus.
This team is far from perfect and it's probably going to need to play at this level from here on out to end things in a special way, but this team is maturing. It's staying the course, regardless of its ups and downs.
"The biggest thing is we can't be happy with it," Randle said. "We gotta keep going and make a run."
June, 5, 2012
6/05/12
2:50
PM ET
Every year, when we wave farewell to NBA-bound players and begin to analyze the coming season's rosters, we cast our flailing glares at recruiting class rankings. You can't really blame us: Every year, there are at least a handful of truly elite freshmen, players who change their teams' seasons and their programs' trajectories in real and often lasting ways. There were few better examples of this than 2012, when John Calipari's loaded freshmen-led team put together one of the most dominant seasons in the history of the modern game.
[+] Enlarge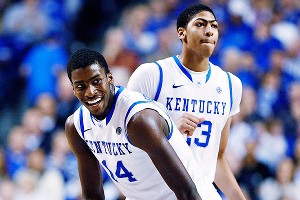 Mark Zerof/US PrresswireMichael Kidd-Gilchrist and Anthony Davis certainly lived up to their hype last season as star freshmen.
But there is a big, big difference between that handful of elite freshmen and the rest of the top-100 recruiting rankings. Despite the attention we pay to the number of top-100 prospects in each recruiting class, and the high hopes every fan base has for every player with little "100" icons next to his likeness on recruiting sites, it seems we are at least slightly overrating -- and sometimes drastically -- overrating the latter.
Drew Cannon, Basketball Prospectus' resident data-driven recruiting expert, proved as much Monday,
when he released his look back at the performances of his list of top 100 recruits in the class of 2011
. The list isn't shocking, I suppose, but by the time you finish it, you walk away with a deeper appreciation for just how few players in the 2011 class truly made major, immediate impacts.
The vast majority of last year's freshmen -- all but the 22 players listed under "Effective Starters" and the five listed under "Elite" -- either barely cracked their team's rotation (and had varying success doing so) or languished on the bench for much of the season. As Cannon writes:
It's interesting to think about this list like so: A player ranked, say, No. 46 in high school, should perform at about the level of No. 46 on this list. (It actually works pretty well.) I think you'd find that, except for the fact that few people expect Nerlens Noel to be Anthony Davis, there are unreasonably high expectations for every single member of the Class of 2012 top 100. Fine, only please don't do that with No. 1. That just wouldn't be fair.
The No. 46 player in Cannon's list in the class of 2011 was LSU's
Johnny O'Bryant
, who had a nice season but ranked just No. 45 in Cannon's final appraisal. In 2012, the No. 46-ranked player in the ESPNU top 100 is Villanova commit
Ryan Arcidiacono
, the No. 6-ranked point guard in the class. The way
Arcidiacono's strengths are discussed by scouts
("ultra skilled and super competitive with an exemplary feel for the game and unwavering confidence," "incredible passer who sees absolutely everything," "master of misdirection") might make you think he's a lock for Big East Freshman of the Year. More likely, he will have a season in the range of his ranking; more likely, he'll be a nice player in relatively marginal minutes as a freshman, with a bright future awaiting him in subsequent seasons.
There is always room for pleasant surprises in recruiting, just as there is always room for major disappointment. (Maybe Arcidiacono will be an immediate star, and I will have to learn how to spell his name without copy-paste by mid-December. It could happen!) But odds are, if your recruiting class doesn't contain one of the best 10 or (
maybe
) 20 players in the country, your team is focused not on the sexy one-year turnaround but rather on the far less sexy, but no less important, long-term improvement.
In short:
College basketball is hard
. Because a handful of elite freshmen have made it look so easy for so long, we -- and yes, I'm including myself here -- tend to forget that. But just because the game is easy for Anthony Davis and
Michael Kidd-Gilchrist
doesn't mean it will be easy for players ranked well below them on the annual recruiting lists. Last season, as ever, was proof enough of that.
March, 9, 2012
3/09/12
5:00
PM ET
NEW ORLEANS -- For all the pomp and circumstance, for all the aura and the backing of the Big Blue Nation, despite the parade of blowout wins,
Michael Kidd-Gilchrist
said he had butterflies.
Kentucky's freshman guard led all scorers in the No. 1 Wildcats'
60-51 quarterfinal win against LSU
. But as routine as another Kentucky win might have looked, Kidd-Gilchrist said it was new territory for the Wildcats' young roster.
"It was our first tournament game," he said. "I was really nervous coming into the game, but I found myself."
That statement could describe Kentucky's entire team in a performance that started sloppy, but finished strong to boost the Wildcats into the SEC tournament semifinals. Kentucky turned the ball over nine times and shot 32 percent from the field in the first half against the Tigers. Against an LSU team playing to preserve its season, the Wildcats found themselves trailing for much of the first half.
"They were playing out of desperation, and our players are so young, they didn't understand," said Kentucky coach John Calipari. "That's what's going to happen from here on out. Every game we play, someone's in desperation."
[+] Enlarge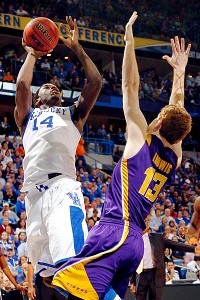 Chris Graythen/Getty Images"It was our first tournament game," Michael Kidd-Gilchrist says. "I was really nervous coming into the game, but I found myself."
The Wildcats certainly didn't look like they understood. Super-freshman
Anthony Davis
picked up two early fouls and went into halftime with six rebounds and just one point. If not for the efforts of Kidd-Gilchrist, who got to the free throw line eight times in the first half, the Wildcats could have been in a much worse position than a 25-24 lead at the break.
"In the first half, it was Michael by himself," Calipari said. "It was Michael Gilchrist, or we would have been down 10 at half."
Kidd-Gilchrist (19 points, 9 rebounds) routinely cut through a physical LSU defense. He shot 5-of-8 on the day, and his constant driving buried Tigers forwards
Johnny O'Bryant
and
Storm Warren
in foul trouble.
"I had a mismatch down low, and I like being in the post. So that's what I did," he said.
Maybe it was watching the Tigers go on an 11-5 run to start the second half that sent the message. Maybe it was the realization that an upset was brewing, or the increasing frustration of a capacity partisan crowd. But with 16 minutes to play, the Wildcats bounced back. Led by a 9-0 spurt from
Terrence Jones
, Kentucky tore off a 17-5 run of play. The Wildcats' defense mangled LSU's
Justin Hamilton
in the low post, and their shots started falling.
"In the second half, we went in and said 'We need to take over and start getting the ball in the post, making open shots and always be ready to shoot,'" Davis said. "And that's what we did in the second half."
To their credit, the Tigers never went away. This same LSU team dropped a home game to the Wildcats by 24 points in January, but would not cave on the bigger stage.
Anthony Hickey
, who finished with 10 points, 4 assists and 5 steals, was a constant pain against Kentucky's larger defenders. Kentucky held the Tigers to a horrific 29 percent shooting, which made the game feel worse than it was. But the fact of the matter is, the final margin of nine was Kentucky's largest lead of the game.
"They did some good stuff," Calipari said of the Tigers. "They were ready to do some things. And I'll go back and watch the tape and see what adjustments, because people will be watching the tape saying 'This is how you need to play them.'"
If this was the first test of the postseason for the young Wildcats, they passed it. But in March, the next challenge is never far away.
"Good win," Calipari said. "Now we'll figure out who we're playing, get a good night's rest and get up at seven o'clock in the morning and start all over."