College Basketball Nation:

Jordan McRae
March, 15, 2014
Mar 15
5:25
PM ET
ATLANTA -- If you ask Tennessee forward
Jarnell Stokes
how he feels about his team's chances to secure a bid to this year's NCAA tournament, he keeps it real and confident.
"I feel like the statement already was made before coming into this game," said Stokes, who had 13 points and seven rebounds Saturday in the Vols'
56-49 SEC tournament semifinal loss
to Florida.
To Stokes, it's an emphatic statement of, "Yes, Tennessee deserves to be in the field of 68 with our highlighter orange sneakers glistening on the dance floor."
The 21-win Vols certainly would have all but locked up a spot with an upset of No. 1 Florida, but that didn't happen after a furious defensive assault by the Gators in the second half. The Vols were 5-of-20 from the field in the final 20 minutes, scoring just 14 points and turning the ball over 11 times after leading by seven at halftime.
Florida totally threw Tennessee out of its rhythm in the second half as the defense clamped down, but losing forward
Jeronne Maymon
to an absurd technical foul and foul-out with less than five minutes remaining was a major killer.
[+] Enlarge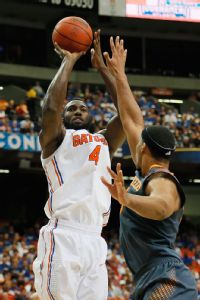 Kevin C. Cox/Getty ImagesFlorida and Patric Young received a good test from Tennessee in the SEC tournament semifinals.
But it shouldn't be a dagger in the back of the Vols' 2014 season, as Tennessee is playing its best basketball of the season. Entering Saturday's semifinal, the Vols had won five straight games -- four by double figures – and had a solid RPI (No. 40) that shouldn't change too much despite the loss.
Their strength of schedule (No. 25) is a plus, and they have big nonconference wins over fellow bubble team Xavier (neutral site) and No. 6 Virginia (87-52), a team that will play for the ACC tournament championship Sunday.
"There aren't too many teams playing as well as us," said Tennessee guard
Jordan McRae
, who scored a team-high 15 points against the Gators. "We fought Florida hard, probably gave Florida one of their closest games all year.
"We're playing great right now."
Being on the bubble and on the outside of tournament control has to be excruciatingly nerve-wracking for the Vols, but watching them dominate teams in March should show everyone just how tough this team is. The defense is one of the SEC's best this year, and the Vols rank in the top 20 nationally in scoring defense. Stokes and Maymon are forces in the middle, and McRae can be lethal when driving and shooting.
"They have two of the best offensive rebounders in our league – two
huge
bodies up front," Florida guard Michael Frazier said of Tennessee. "Definitely, they're a tournament team. They're a great coached team. We might see them in the tournament again -- you never know."
Frazier's coach agrees.
"Certainly, I believe they're an NCAA tournament team," Billy Donovan said. "They are going to be, I think ... a very difficult team in the NCAA tournament, from what I've been able to see this year, playing them three times."
As for the Gators, they again overcame a slow first half to slip by another opponent fighting for an NCAA berth. Florida got its offense going in its second-half rout of Missouri on Friday, but the Gators relied on their suffocating defense Saturday to record their 25th consecutive victory.
When Florida's offense became careless and lackadaisical and got pushed around Saturday, the defense clamped down, limiting the Vols to one-shot possessions. The Gators' hands were more active, disrupting passes and preventing the easy buckets that fueled Tennessee in the first half.
After giving up 35 points before halftime and yielding their largest deficit in SEC play (10 points) -- the biggest since their 59-53 loss to Wisconsin back in November -- the Gators (31-2) limited the Vols to 1-of-11 shooting with five turnovers in the final seven minutes.
"We wanted them to work for whatever they were going to get," said Frazier, who had four steals and seven points. "The best thing we did in the second half was get our hands on a lot of balls -- a lot of deflections, steals -- and we were able to turn those into points."
"We were the more hungry team, and it showed."
The mystery for this Florida team is why the first half has been so difficult. Saturday marked the eighth time this season that Florida trailed at halftime. Two of those games resulted in losses.
But the Gators bailed themselves out with their defense to secure a spot in their second straight SEC championship game.
"That was the only way we had to get it done," forward
Will Yeguete
said. "Only way we were going to get the win was getting done by defense."
March, 2, 2014
Mar 2
9:25
AM ET
By
ESPN.com staff
| ESPN.com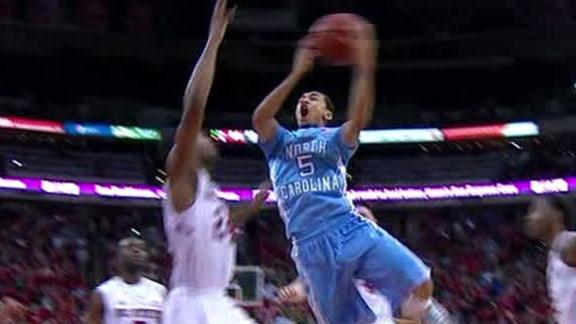 The nominees for the Capital One Cup Impact Performance of the Week include North Carolina's Marcus Paige, Tennessee's Jordan McRae, Michigan's Glenn Robinson III and Indiana's Will Sheehey.
March, 8, 2013
3/08/13
9:30
AM ET
Another attempt, my final attempt to rank the SEC. … It's been real.

Florida. The Gators are still the kings of the SEC. Yes, they've fallen a few times this season. But they've been the most dominant team in the conference. They've suffered three SEC losses, all on the road, against Tennessee, Arkansas and Missouri. But they've also achieved the league's top scoring margin (plus-18.8 points per game). The Gators already have won the SEC crown, but a win at Kentucky on Saturday would truly stamp their supremacy within the league.
Missouri. I can't tell you whether Mizzou will make a run in the NCAA tournament. The Tigers are just too inconsistent. But they're 4-1 in their past five games. And Tuesday's 93-63 win against Arkansas -- in Columbia, of course -- allowed the Tigers to display their potential. Phil Pressey has become a more efficient distributor. He has finished with eight or more assists in Mizzou's past four games. He also has recorded 14 turnovers combined in the same stretch. Saturday's road game at Tennessee is a serious test for a Missouri squad that has been shaky off campus. But its ceiling is high, especially if Pressey continues to play maestro and limits his mishaps.
Tennessee. Cuonzo Martin's team faces Missouri on Saturday in a critical game. A loss to the Tigers won't destroy its NCAA tourney hopes. But a win might seal an at-large bid. The Vols lost to Georgia this past weekend, but that didn't nullify the momentum they have amassed in the past month. They have won seven of their past eight entering the weekend. Jarnell Stokes, Jordan McRae and Trae Golden anchor a team that has outplayed most of America's bubble teams in recent weeks.
LSU. The SEC tournament is wide open. Any team could reach the final, it seems. And in a league with so many bubble squads vying for an at-large bid, the tournament's action should reflect the stakes. Johnny Jones' program is not one of the SEC's bubble teams. But it's certainly a sleeper to make a run and spoil the postseason plans of its conference colleagues. The Tigers have won three of their past four and are 8-3 since Jan. 30. With Johnny O'Bryant III (13.7 PPG, 8.7 RPG) inside and its ability to defend the perimeter (SEC squads are shooting just 28.9 percent from the perimeter against LSU, second in the conference), LSU could shock the field in Nashville next week.
Kentucky. Still talented. Still a mess. Still on the bubble. Somehow. After Thursday night's 72-62 loss at Georgia, John Calipari blamed himself for the loss. "I've done a crap job with this team," he said. Well, it's not completely Cal's fault, but it's refreshing to hear a coach accept blame. The Wildcats are young. The Wildcats lack veteran leadership. The Wildcats lost their best player during the most important stretch of the year. But they've had so many chances to play their way off the bubble and they've stumbled. Taking that L at Georgia hurt their NCAA tournament hopes and might have guaranteed an NIT berth. But a win against Florida on Saturday could lead Kentucky to the Big Dance.
Alabama. Let me say this. Trevor Releford (15.5 PPG, 2.1 SPG) could carry Bama to the SEC championship. At this point, I'm convinced any team could win that thing. But Anthony Grant's program also could lose its first game and go home with nothing more than an NIT berth. There's just nothing about the Crimson Tide that makes me a believer. They have lost three of their past four matchups (all road games). This lukewarm stretch sums up Alabama's entire season. So-so. Defense has helped Bama stay alive all year (59.8 PPG allowed in SEC play, No. 2 in the conference). But the team is so inconsistent everywhere else that it has reached the end of the season with minimal mojo.
Georgia. So … Mark Fox's team is 8-4 since Jan. 26. The Bulldogs have knocked off Kentucky and Tennessee in their past two games. Fox's young squad has matured in recent weeks. Kentavious Caldwell-Pope (18.2 PPG, 7.0 RPG, 2.1 SPG) is a star. But without an offensively astute crew around him, the Bulldogs have focused on defense (56th in adjusted defensive efficiency, per Ken Pomeroy). Georgia hasn't even cracked the RPI's top 100. This is not a bubble team. But it's certainly a dream killer right now.
Ole Miss. Last week, a few Ole Miss fans told me they didn't like my placement of the Rebels in the most recent rankings. They were justified in their frustration. Ole Miss should have been lower. This is an average team (at best). We were all blinded by the Marshall Henderson Show earlier this season. For once, Ole Miss was fascinating. Then Andy Kennedy's program caught an allergy to defense (71.2 PPG allowed in SEC play, 12th in the league). Sure, the Rebels are a bubble team. But they're not playing like a tournament team (see Saturday's inexplicable 73-67 road loss to rival Mississippi State).
Arkansas. The Razorbacks aren't that different from the rest of the conference. They're a dazzling spectacle at home. Just bad whenever they're on the road. That's the story of the entire conference -- the nation, really. But Saturday's 30-point loss at Missouri was enough to send any bandwagon into a ditch. Arkansas has lost three of its past four. Not exactly the kind of convincing conclusion to the regular season that the selection committee would like to see from a bubble squad. But … this is Arkansas. A lot of teams have lost on the road this season. Few, however, have matched the extremes of Arkansas' Dr. Jekyll/Mr. Hyde routine.
Texas A&M. I wanted to trust the Aggies. Really, I did. That January road win against Kentucky and an early February victory against Missouri convinced me that Elston Turner (17.7 PPG) & Co. would end the season on a high note. Didn't happen. Things fell apart for this program.
Vanderbilt. The bad news is that Kevin Stallings' program sits at the bottom of the SEC. The good news is that his top five scorers should return next season. And incoming four-star recruit Damian Jones should help in his first season with the squad.
South Carolina. Can Frank Martin build something special with the Gamecocks? We'll see. His first year was a rough one.
Auburn. Bottom line is that Auburn's administration will soon decide whether it's going to give Tony Barbee more time to rebuild after another tough season.
Mississippi State. Last night, Rick Ray sent me a text message that simply said, "Can't make this up. Jalen Steele tore his ACL last night. That's FOUR season ending knee injuries." I know you think your favorite team has endured tough times in 2012-13. But I don't think any team in the country has matched Mississippi State's situation. Still, MSU's fan base will feast on last weekend's win against Ole Miss for months.
March, 1, 2013
3/01/13
9:30
AM ET
My latest attempt to rank the SEC ...
1. Florida.
Still No. 1 to me. I'm not going to drop the Gators for a loss to a hungry Tennessee team this week. Billy Donovan's squad was short-handed. But
Will Yeguete
and
Michael Frazier II
will be available for Saturday's matchup against Alabama. The Gators have followed the trend within the SEC and nationally by struggling on the road. Every squad on this list, however, has encountered the same off-campus struggles. But no team in this conference possesses Florida's talent, skills and résumé.

2. Missouri.
Frank Haith's program has improved. The Tigers are finally fulfilling their potential. Perhaps it took three, four months for this group to achieve the chemistry necessary to make it happen. Injuries to
Keion Bell
and
Laurence Bowers
did not help. But they're jelling now. Sure, it's just a win over South Carolina but the Tigers topped 80 points in their second consecutive road game with that 90-68 victory Thursday night. Also,
Phil Pressey
did not attempt a field goal in the game, but he finished with nine assists. His recent performances prove he realizes Mizzou needs him to be a better distributor.
3. Tennessee.
Cuonzo Martin is cooking something in Knoxville. The Vols are sitting on the NCAA tournament bubble after six consecutive wins, a streak that includes victories over Kentucky and Florida. Tuesday night's win over the Gators was crucial for Martin's squad. The Vols have certainly dealt with a variety of obstacles this year. Jeronne Maymon has been sidelined all year with a knee injury. The Vols lost four of their first five SEC games. But they're playing great basketball right now.
Jarnell Stokes
is more assertive now.
Trae Golden
is leading.
Jordan McRae
is balling. This could be a very dangerous squad if it cracks the field in the NCAA tournament.
4. Kentucky.
Kudos to John Calipari's team. It's not easy for a veteran squad to move forward after losing its best player. This crew is making a push with freshmen. The Wildcats have won three of four without star
Nerlens Noel
. The 30-point loss they suffered at Tennessee in their first full game without the freshman standout projected trouble for the young crew. But the Wildcats are fighting for an at-large bid.
Alex Poythress
is a matchup problem for any team in America when he wants to be. And his recent efforts prove he recognizes his significance to this team's postseason, especially with Noel sidelined. He scored 16 points in Wednesday's 85-55 victory at Mississippi State, and he dropped 21 points in Saturday's 90-83 overtime win against Missouri.
5. Alabama.
Bama has won four of its past five games. But the Crimson Tide didn't achieve that success against the league's best -- and the Tide suffered a triple-overtime road loss to LSU over the weekend. Their next two matchups, road games against Florida and Ole Miss, however, will give Anthony Grant's team a chance to prove it's a top-tier team in this league and one that should be feared in the conference tournament.
Trevor Releford
can lead Bama in this final stretch, but he'll need other scorers to step up consistently to avoid a late collapse (61.7 PPG in SEC play, ninth in the league).
6. LSU.
Johnny Jones' squad has won four of five. The Tigers are not in the NCAA tournament conversation. But if you're looking for a team that could rally in the SEC tournament, check out the Tigers. They play fast (41st in adjusted tempo per Ken Pomeroy). They defend the 3-point line (SEC squads are shooting just 28.9 percent from the arc against the Tigers). And sophomore
Johnny O'Bryant III
(13.6 PPG, 8.7 RPG) is a young star.
7. Arkansas.
It's the same story with the Razorbacks. They can contend with America's best when they're home. The road is a completely different tale for this squad. They've secured double-digit home wins against Tennessee and Florida. They have a win over Missouri, too. They've lost to South Carolina and Vandy on the road. The Razorbacks would be in the mix for the conference title if they had avoided those road losses to subpar SEC squads.
8. Ole Miss.
It's getting hot for Andy Kennedy and his program. The Rebels have tumbled in the standings after losing five of their past nine games. The good news? They've actually won three of four and they can win the last three SEC games on their slate. The bad news? Their at-large hopes have been jeopardized by their recent fall. They're the league's best offensive team (75.9 PPG) and one of its worst defensive squads (70.3 PPG allowed). That's a formula for chaos.
9. and 10. Texas A&M/Vandy.
Both are 6-9 in the SEC, and that's surprising for different reasons. Texas A&M has wins over Kentucky and Missouri but the Aggies have had far more lows than highs. Kevin Stallings' young squad has won four of its past six games. That's a finish that his program can build on for next season.
11. Georgia.
Mark Fox's program had amassed momentum during a five-game winning streak. Since then? The Bulldogs have lost four of their past five.
12.-14. South Carolina/Mississippi State/Auburn.
It's difficult to separate these three teams. The good news for all three? It's March. This will end soon.
February, 27, 2013
2/27/13
11:18
AM ET
Player of the Night - Trevor Mbakwe, Minnesota
Among the oldest players in college basketball, Mbakwe was 2 days old when the Gophers last beat a No. 1 team in 1989. On Tuesday, he made it happen again with a season-high 21 points to go with 12 rebounds in a 77-73 win over Indiana. He's the first Big Ten player with a 20-10 game in a win over No. 1 since Indiana's Jared Jeffries in 2002. Meanwhile, star Hoosiers center
Cody Zeller
was held to just nine points before fouling out.
Scorer of the Night - Jordan McRae, Tennessee
McRae went for a game-high 27 points in the Volunteers' 64-58 win over Florida. That's the most points for a Tennessee player against Florida since Chris Lofton in 2006. McRae is now averaging 28.0 PPG in his past three games. Tennessee has won six straight and now finds itself squarely on the NCAA tournament bubble.
Stat Sheet Stuffer - Jerrelle Benimon, Towson
Towson has gone from 1-28 last season to 17-13 this season, and Benimon is a key reason. On Tuesday, he had 31 points, seven rebounds, four assists and two blocks in an 85-81 overtime win over George Mason. That snapped a 20-game losing streak against the Patriots. Benimon and Bucknell's
Mike Muscala
are the only players averaging at least 17 PPG and 11 RPG this season.
Bench Player of the Night - Kamryn Williams, Air Force
Williams came into Tuesday averaging 2.7 PPG, but there must have been something in the thin air. He scored a career-high 25 points to go with 10 rebounds in Air Force's 72-66 win over Wyoming. It's the most points for a Falcon off the bench since
Michael Lyons
also had 25 in 2009.
Freshman of the Night – Semaj Christon, Xavier
Coming off a 10-turnover performance against VCU, Christon's ball-handling skills were understandably under scrutiny on Tuesday. But he only turned the ball over once in Xavier's 64-62 win over Memphis. Christon finished with 13 points, five rebounds and five assists.
February, 24, 2013
2/24/13
1:10
AM ET
A few observations from another intriguing Saturday night of college basketball…


Kentucky stepped up in the most important game of its season.
Prior to Saturday's Missouri-Kentucky matchup, the SEC had already completed multiple exciting games earlier in the day. LSU beat Alabama in triple overtime. Georgia defeated South Carolina in overtime. And Tennessee outplayed Texas A&M in quadruple overtime. But Kentucky and Missouri delivered in the conference's most significant matchup. After losing
Nerlens Noel
to a season-ending knee injury, the Wildcats lost to Tennessee by 30 points. Season over, right? I mean, that team competed like a team that just wanted the season to end. Kentucky didn't do anything that a squad should do when it's trying to convince the selection committee that it's worthy of an NCAA tournament bid. I had no faith in this group. The Wildcats, however, silenced some of their critics with their overtime win against Missouri at Rupp Arena on Saturday. The
90-83 victory
might help UK get into the field of 68 -- and the Cats might have changed the trajectory of their entire season with the gutsy win.
Julius Mays
led the Wildcats (four reached double figures) with 24 points. By the end of the game, he could barely walk. Kentucky had earned that exhaustion. Missouri, meanwhile, earned criticism. More criticism. Once again, the Tigers collapsed on the road. They were up by 13 points in the first half, and then they unraveled. They always do outside Columbia, it seems.
Phil Pressey
's costly turnover with 48 seconds remaining in overtime summed up Mizzou's entire season: talent marred by mistakes and chemistry issues. In the end, a Tigers team comprised of veterans lost to a group of raw youngsters which graduated from high school a year ago. Give Kentucky credit. Doubt the Tigers.


Health will be Florida's top concern in March.
The Gators proved that they're still a high-powered team when they bullied Arkansas
71-54
on Saturday. Florida's loss to Missouri -- and an earlier loss at Arkansas -- sparked questions about Billy Donovan's program, but the Gators have been one of the nation's most dominant teams all season. And their successes outweigh their stumbles. In March, they're not going to run into many teams that can handle their backcourt and
Patric Young
(14 points, 7 rebounds and a block on Saturday). What about their health?
Michael Frazier II
suffered a concussion in the victory over the Razorbacks.
Erik Murphy
tweaked an ankle this week.
Will Yeguete
is out with a knee injury. Donovan's program hasn't been 100 percent in a long time. That's a concern now and as March Madness approaches. A healthy Gators team can contend with any program in the country. There will be less certainty, however, if Florida enters the NCAA tournament at anything less than 100 percent.
[+] Enlarge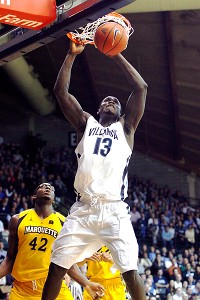 P Photo/H. Rumph JrMouphtaou Yarou throws down a pair of his 10 points in Nova's upset of Marquette.
I don't understand Villanova, but I like its style.
Check Villanova's résumé. Confused? You should be. The Wildcats have been swept by Providence. They have a nonconference loss to Columbia. Alabama beat them by 22 points in the first half of the season. But the Wildcats also have recent victories over Louisville and Syracuse. They're 7-9 against the RPI top 100 but 3-1 against its top 25. Still, the Wildcats had zero guarantees entering Saturday's matchup with a Marquette team that was locked in a three-way tie for first place in the Big East, and they played like a team that recognized its predicament. And I dig that. I mean, don't expect a bid. Take one. And that's what Villanova may have done with Saturday's victory.
Mouphtaou Yarou
finished with 10 points, 7 rebounds, 2 steals and an assist in his final game at The Pavilion. Yarou and his teammates (
Darrun Hilliard
led all scorers with 22 points) fought. Marquette (19 turnovers) made a late push, but it couldn't overcome the Wildcats' lead. Villanova's résumé is not perfect, but you can't tell me that the Wildcats aren't playing like a tourney team right now.


Saint Mary's is doing what it can.
The Gaels entered their home game against Creighton in a bubble situation. Their one problem all year? Gonzaga. The Zags are five steps beyond the rest of the league, and the West Coast Conference doesn't offer any other true quality opponents (BYU is OK, I guess). So Saturday's home game against a Creighton team that looked like a lock for the tourney was crucial for the Gaels. Saint Mary's toyed with the Bluejays in a
74-66 win
. That's what a team in SMC's situation should do. The Gaels can't enhance the WCC in the coming weeks, but they can win convincingly in their toughest remaining matchups. Saturday was a good start. It also proves that the Missouri Valley Conference is not as good as many expected it to be. A few weeks ago, Wichita State's Gregg Marshall told me that the Valley was like a "mini-Big Ten," and I agreed with him. At the time, Indiana State, Creighton, and Wichita State were all tourney teams. Not today. Creighton has struggled on the road in MVC play. The Bluejays could lose to Bradley next week and then stumble in the conference tourney. And now a mid-major conference that appeared to possess three bids could enter Selection Sunday with one lock (Wichita State) and a Creighton team sitting on the bubble.
I believe in Trae Golden and Jarnell Stokes. The duo has fueled Tennessee's five-game winning streak. On Saturday, Golden (32 points) and Stokes (20 points, 16 rebounds) -- along with Jordan McRae (23 points) -- led the Vols to a 93-85 four-overtime road win over Texas A&M. The SEC is a very lukewarm league. Most teams have suffered surprising road losses. Few have compiled impressive runs. But Tennessee is playing its best basketball right now. There are no guarantees in the SEC tourney. The Vols aren't in the dance right now, but they could be in a few weeks.

What a week for Cal. The Bears held off Oregon State for a 60-59 win on Saturday. On Thursday, Justin Cobbs hit a shot in the final seconds to seal his team's two-point victory over Oregon. Cal has won five in row. With three games left, the Bears still in the mix for the Pac-12 title.
February, 20, 2013
2/20/13
11:00
AM ET
By
Jeremy Lundblad, ESPN Stats & Information
| ESPN.com
Player of the Night -- Victor Oladipo, Indiana
Oladipo scored the Hoosiers' final six points as part of a 9-1 run to end a 72-68 win against Michigan State. He bolstered his Wooden Award candidacy with 19 points, nine rebounds and five steals. In two games against the Spartans, Oladipo is averaging 20.0 PPG, 8.0 RPG and 5.5 SPG as Indiana snapped a 17-game losing streak at the Breslin Center.
Scorer of the Night -- Jordan McRae, Tennessee
McRae scored a career-high 34 in Tennessee's 82-72 win against LSU. That's the most points for a Volunteer in an SEC game since Isiah Victor had 34 against Auburn in 2001. McRae is also the first Tennessee player to go 6-for-6 from 3-point range since JaJuan Smith in 2008.
Freshman of the Night -- T.J. Warren, NC State
Warren posted career highs with 31 points and 13 rebounds as NC State beat Florida State 84-66. That's tied for the third-most points in a game for a Wolfpack freshman. Only J.J. Hickson (33 in 2007) and Ernie Myers (35 in 1983) have scored more. North Carolina's Tyler Hansbrough was the last ACC freshman to go for 30 and 10 in a conference game.
Bench Player of the Night -- Eddie Odio, Boston College
Three days after beating Duke, Maryland came up short against Boston College. Odio dominated the paint with eight points, 11 rebounds and six blocks. The past two ACC players to do that off the bench were Alade Aminu (2009) and Alvin Jones (1999), both for Georgia Tech.
Stat Sheet Stuffer -- Tristan Carey, Longwood
Carey poured in a D-I school record 40 points to go with 12 rebounds as Longwood edged Liberty 102-101. He joins UC Davis'
Corey Hawkins
as the only players with 40 and 12 in a game this season.
November, 30, 2012
11/30/12
9:55
PM ET


Overview
: No. 20 Georgetown's
37-36 victory
over visiting Tennessee was one of the sloppiest games of the season to date. At one point in the first half, Tennessee was shooting below 19 percent from the field against Georgetown's frustrating 2-3 zone. But the Vols climbed back into the low-scoring matchup because their opponent failed to register a field goal in the last 10 minutes of the first half.
Trae Golden
's floater beat the buzzer to give Tennessee a -- wait for it -- 18-16 lead at halftime. It was the worst half for the Vols in nearly a decade. The offensive production was mediocre in the second half, too. But Georgetown started with a 13-5 run. Tennessee answered with a 13-6 run. There were six lead changes in the final 8 minutes, 19 seconds of the game. But neither team scored in the final 4:08 of regulation as the Hoyas preserved the one-point lead. According to ESPN Stats & Information, it was the first time that Georgetown had won by scoring 37 points or fewer since beating Catholic during the 1945-46 season. Wow.
Turning point
: Tennessee made two crucial surges. It responded to Georgetown's early eight-point lead in the first half, then it fired back when it rallied early in the second. But the game was ultimately decided in the final seconds. With his team up 37-36,
Greg Whittington
fumbled a pass, resulting in a turnover that gave the Vols possession with 22 seconds left. But the home team pressured the 3-point line all night, which was evident when
Skylar McBee
and
Jordan McRae
missed contested 3-pointers in the final seconds.
[+] Enlarge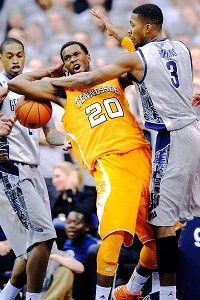 AP Photo/Nick WassGeorgetown's Mikeal Hopkins (3) and Greg Whittington, who combined for 16 points, surround Tennessee's Kenny Hall.
Why Georgetown won
: Well,
Markel Starks
scored the winning basket with 4:08 to play. But the Hoyas really won because of their defensive pressure. No player on either team scored in double figures. It was one of those gritty November matchups. Defense really was the difference because shots weren't falling. John Thompson III's squad forced 12 turnovers and held Tennessee to a 3-for-16 clip from the 3-point line.
Why Tennessee lost
: The Vols spent the night digging out of ditches. They were down in the first half but bounced back. They were down in the second but bounced back. Those early holes, however, affected them down the stretch. They missed so many easy shots, shots that have fallen in other games this season. And they expended a lot of energy trying to make up for it. Credit Georgetown's defense for its role in creating that offensive chaos. But Tennessee did have a chance in the waning seconds. Not sure why the best plays were a couple of 3-pointers -- shots that hadn't gone in most of the evening -- when the Vols were down by a point. Paging
Jeronne Maymon
(12.7 points, 8.1 rebounds per game in 2011-12). He's still recovering from knee surgery. Tennessee could have used him Friday night.
Star(s) of the game
: Hard to identify a star in a game that featured so many droughts, right?
Otto Porter
had eight points, seven rebounds and three steals. Whittington had the same stat line. They were both 4-for-11. JTIII is obviously cloning 6-foot-8 forwards.
What it means for Georgetown
: It means the Hoyas need to become a better offensive team to beat top-tier squads in the Big East. They certainly have the defense to do it. And it seems Porter and Whittington are stars. But the offensive gaps will crush them against tougher teams.
What it means for Tennessee
: The Vols need Maymon. Yes, they have to take smarter shots, but they also need Maymon. I think he changes the program's prospects. And they're just not tough enough defensively to afford the offensive lapses that plagued them against the Hoyas.
What's next
: Tennessee will face Virginia on the road Wednesday. Georgetown will take on Texas on Tuesday at Madison Square Garden in the Jimmy V Classic.