College Basketball Nation:

Jordan Sibert
March, 26, 2014
Mar 26
5:00
PM ET
A look around the South Region ...


FLORIDA vs. UCLA
What to watch:
An offense-defense matchup for the ages. The Gators are one of the nation's two or three best defenses. They enter Thursday's game ranked No. 2 in adjusted defensive efficiency (and sixth in pure points allowed per possession). UCLA is one of the nation's best, most efficient, most finesse offenses. The Bruins don't rebound their own misses or draw fouls, but they shoot so well that they usually don't need to.
Who to watch:
UCLA guards
Jordan Adams
and
Kyle Anderson
are two of the nation's best players, and they may be the two most talented players on the court in Thursday's game. But the Gators have some talent of their own and are one of the few teams capable of throwing multiple matchups and looks (
Scottie Wilbekin
,
Casey Prather
,
Will Yeguete
, even
Patric Young
) at Adams and Anderson for 40 minutes.
Why watch:
Can anyone stop Florida's march to the Final Four? With Kansas at No. 2 and Syracuse No. 3, the Gators' regional could have been as daunting as any other team's. Now it's up to the Bruins to halt Florida's machinelike run -- or leave it up to Dayton or Stanford on Saturday night.


STANFORD vs. DAYTON
What to watch:
Statistically speaking, the two least likely Sweet 16 participants are also the most well-matched: Each team's offensive and defensive adjusted efficiency ranks overlap with the other. But that tells only part of the story. Dayton is a physical and athletic but largely perimeter-oriented team, while Stanford uses its size to hunker down and prevent easy baskets on the defensive end. Can the Flyers shoot over the top?
Who to watch:
Dayton's guards and wings have earned the lion's share of praise in the lead-up to this game, and rightfully so --
Vee Sanford
,
Jordan Sibert
,
Dyshawn Pierre
and
Devin Oliver
make the Flyers go. Which is why it will be so crucial that Stanford gets a good game out of point guard
Chasson Randle
on both ends of the floor.
Why watch:
Neither of these teams is a true mid-major, and neither is exactly an underdog, either. Dayton is a basketball-obsessed town with a dedicated fan base, and Stanford is, well, Stanford. But basketball-wise, these are still the two teams making the most surprising runs of the tournament to date, and now at least one of them will reach the Elite Eight. That's March at its best, right?
March, 22, 2014
Mar 22
11:57
PM ET
BUFFALO -- The fourth loss in a row came on a banked 3-pointer with 1.8 seconds left, which would be about the time most teams look around and cry uncle.
Sometimes, after all, it's just not your year.
Instead of heading to the showers, gathering their stuff and shuffling outside, the Dayton players sat at their lockers and talked.
The consensus they arrived at?
"We got this,'' said
Matt Kavanaugh
.
Which makes absolutely no sense and all sorts of sense when it comes to these Flyers.
Dayton is an odds-defying miracle of a basketball team, a group that looked as good as dead back in January, that instead won 12 of its next 14; a squad that, in one marvel of an NCAA tournament weekend, survived a buzzer-beater attempt from one of the game's most reliable seniors in
Aaron Craft
, and another from one of the game's most reliable freshmen in
Tyler Ennis
.
And most important, an 11 seed that not only
upset Syracuse 55-53,
but also sent a heavily partisan Orange-clad crowd onto the New York Thruway rather than into the Buffalo watering holes to celebrate.
"Nah, I'm not surprised at all,'' coach Archie Miller said. "They are the most oblivious group I've ever been around. That's partly a curse and partly what makes them so special. They don't know you're not supposed to do what they did. They've got no baggage, no worries about the NBA or who's going to score what. They just play.''
When the Flyers beat Ohio State on Thursday afternoon, they made the requisite celebratory March pile-up to swarm
Vee Sanford
, who hit the game-winner.
[+] Enlarge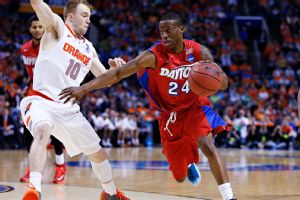 Kevin Hoffman/USA TODAY SportsDayton's Jordan Sibert drives past Syracuse's Trevor Cooney.
Two days later when Ennis' open 3 clanked off the back of the rim, they chest bumped a little, ran over to jump in front of their fans and then abruptly turned to get in line and shake hands.
"We just thought, 'Why not us?''
Devon Scott
said. "I mean, why not us?''
It's a valid question, especially in this topsy-turvy, up is down NCAA tournament but one you wouldn't expect the Flyers necessarily to ask.
Why not Dayton? Well, besides that January swoon, there is the fact that the Flyers aren't terribly experienced --
Devin Oliver
is a senior, Sanford and Kavanaugh redshirt seniors, the bulk of the roster made up of sophomores and freshmen.
And they aren't really experienced in this postseason thing. They played one game in the NIT two years ago and sat out every postseason tourney last year.
Heck, forget these players, the last time Dayton was in the NCAA tournament was 2009; the last Sweet 16 was 1984.
Archie Miller was 5.
So that's the why not them.
But here's the why.
Call it oblivious, as Miller did, or use the players' preferred adjective of resilient. Either way what you've got is a team that has a serious sense of self. They sat in that locker room after Saint Joseph's guard
Langston Galloway
banked in the 3 to beat them and decided they would do something about it.
And they did. Not with fanfare or excitement, just methodically.
"That just shows the character of this team,'' Oliver said. "We didn't start the conference season the way we wanted to but just told each other, that's OK. We'll win them all. And we almost did.''
Syracuse was almost heading the opposite direction heading to Buffalo. The Orange, winners of 25 in a row to start the season, stumbled into the NCAA tournament, losing five of their last seven.
Still, when Syracuse dismantled Western Michigan in the second round, it was hard not to believe that the Orange had solved what ailed them.
Turns out that was just fool's gold. The same team that struggled offensively down the stretch was woeful against Dayton. The Orange failed to connect on a single 3-pointer, Ennis' last-second miss sealing Syracuse's fate at 0-for-10.
A team that looked ripe for another Final Four run maybe a month ago instead takes the early bus back home.
"Overall it's hard to win making layups,'' Jim Boeheim said. "At some point in time you need to knock something down from the perimeter, and we didn't. It was just not a good offensive game for us.''
It wasn't exactly a thing of beauty for Dayton. Following the pattern of the early Saturday game rock fights, the Flyers shot 34.8 percent to the Orange's 30 for a 20-18, needles-in-the-eye first half.
Yet Dayton, with no experience, never got rattled. The Flyers all but squandered a six-point lead midway through the second half. Ennis started to drive to the basket almost at whim, pushing the Orange to within three with 40.5 left.
And then Oliver clanked the front end of a one-and-one off the rim and Ennis followed up by getting a foul and sinking his two chances to make it 52-51, Dayton with 24.8 seconds left.
Dyshawn Pierre
was fouled on the inbounds. He's a 67 percent free-throw shooter.
"At first I was thinking, 'I have to make these free throws,''' he said. "But then I just didn't think about it. I just wanted to do it for my team. That's all that mattered.''
Naturally he sank both.
Still Ennis with the ball, pushing up the court, well that's a vision that people have seen before. The freshman made the exact same play against Pittsburgh earlier this year
"My heart was in the bottom of my stomach,'' Oliver said. "I remember that Pitt game.''
But that would have been the sensible finish.
Dayton doesn't do the sensible or the obvious.
The Flyers have their own way of doing things, a blissfully oblivious, illogical logical path that now is headed for Memphis.
April, 19, 2012
4/19/12
4:28
PM ET
The Big Ten altered its transfer rule within the conference for the 2011-12 season and beyond -- and long before this week's Bo Ryan-Jarrod Uthoff controversy.
The league is allowing players to receive grant-in-aid, but it is also putting a harsher eligibility penalty in place that takes away a year of play from the transfer.
Chad Hawley, the Big Ten's associate commissioner of compliance, said Thursday that the rule change was created to prevent penalizing players from receiving scholarship money. But the conference wanted to add a penalty if the player transferred within the conference.
[+] Enlarge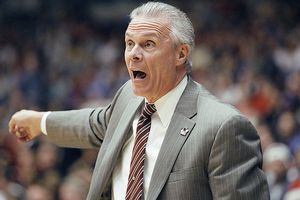 AP Photo/Chris CarlsonThe list of schools Wisconsin coach Bo Ryan banned Jarrod Uthoff from transferring to includes the ACC, Iowa State, Florida and Marquette.
The old rule stated that once a player signed a grant-in-aid agreement at one Big Ten school, he could transfer to a second Big Ten school but would not be allowed to receive any financial aid.
The new rule, adopted for this current academic year, allows a player to receive the aid, but he would have to sit out the NCAA-required one-year in residence and lose a season of eligibility.
So in the case of Wisconsin's Jarrod Uthoff, he would be allowed under Big Ten rules -- if Wisconsin didn't block him -- to transfer to the University of Iowa (his home state school). However, he'd have only three seasons of eligibility left, not four. And Uthoff would have to sit again after redshirting this past season. Uthoff hasn't publicly expressed an interest of going to Iowa or another Big Ten school.
The Big Ten does allow for an exception if there is a complete release by the original institution that signed the player.
Hawley said the Big Ten has had only one in-conference request this past year, and it was for the sport of wrestling.
Michigan coach John Beilein has a long-standing policy in which he doesn't allow transfers to go to a conference-member school or to a school that's on the team's schedule over a two-year period.
Evan Smotrycz
transferred to Maryland, an ACC member, without any issues since the Terps were where he wanted to go and wasn't on Beilein's banned list, according to a school spokesperson.
Ohio State only blocked sophomores
J.D. Weatherspoon
and
Jordan Sibert
from transferring within the Big Ten, according to a school spokesperson.
Uthoff's case drew national attention because Badgers coach Bo Ryan's banned list included the ACC (due to the ACC-Big Ten Challenge), Iowa State, Florida and Marquette, the latter two because both schools are on Wisconsin's schedule.
"It's fairly common practice to have conference to conference transfer policies,'' Hawley said. "We wanted to get away from the financial aid penalty but keep something in place, and this is the model we settled on.
"In a sport like basketball, you have to sit a year and what our rule does is charge a season of competition, too,'' Hawley said.
Here is the specific Big Ten intraconference transfer rules from the conference:
Intraconference Transfer Rules.
1. Pre-Matriculation. A prospective student-athlete who has signed a tender from a Conference institution and has not yet triggered transfer status per NCAA Bylaw 14.5.2 (conditions affecting transfer status), is subject to the following intraconference transfer requirements:
a. Signed National Letter of Intent. A prospective student-athlete who signs a valid National Letter of Intent (NLI) with a Conference institution but subsequently enrolls at an alternate Big Ten institution shall be required to complete one (1) full year of residence at the alternate (i.e., certifying) Big Ten institution and shall be charged with the loss of one (1) season of eligibility in all sports. These penalties shall be applied regardless of any decision made by the NLI Steering Committee on behalf of the prospective student-athlete.
1. Exception - Complete Release by Signing Institution. If the Big Ten institution at which the prospective student-athlete originally signed the NLI grants a "Complete Release" from the NLI, the prospect shall be permitted to enroll at any other Conference institution without penalty.
2. Exception - NLI Declared Null and Void. Should the NLI become null and void prior to the prospective student-athlete's matriculation, the prospective student-athlete shall be free to enroll at any other Conference institution without penalty.
b. Signed Tender without National Letter of Intent. A prospective student-athlete that signs a valid tender with a Conference institution but subsequently enrolls at an alternate Big Ten institution shall be required to complete one (1) full academic year of residence at the alternate (i.e.,
certifying) Big Ten institution and shall be charged with the loss of one
(1) season of eligibility in all sports. Upon mutual agreement of the two involved Conference institutions, this penalty shall be waived by the Chair of the Academics and Eligibility Subcommittee.
80
2. Post Matriculation. A student-athlete that has signed a tender from a Conference institution and has triggered transfer status per NCAA Bylaw 14.5.2 (conditions affecting transfer status), may not represent an alternate Big Ten institution in intercollegiate athletics competition until the individual has completed one (1) full academic year of residence at the alternate (i.e.,
certifying) Big Ten institution and shall be charged with the loss of one (1) season of eligibility in all sports.
3. Pre- and Post-Matriculation Exceptions
a. Cancellation of Tender Due to Inadmissibility. When a prospective student-athlete is inadmissible to the institution for which a tender has been accepted, the tender shall be considered null and void and the intraconference transfer penalty does not apply.
b. Dropped Sport. When a Conference institution drops the student-athlete's sport in which the student-athlete has participated, the intraconference penalty does not apply.