College Basketball Nation:

Jordan Swing
December, 1, 2012
12/01/12
10:39
PM ET
CHAPEL HILL, N.C. -- North Carolina senior
Dexter Strickland
has witnessed coach Roy Williams' jacket-shedding, clipboard-spiking, marker-obliterating sideline meltdowns before. But, he said, he just didn't know it was going to happen this time.
With 13 minutes, 16 seconds left Saturday at the Smith Center, Williams got livid when the combo guard -- making his first start at point guard for injured freshman
Marcus Paige
-- failed to pick up UAB ball handler
Terence Jones
and the Tar Heels' defense failed once again, allowing Jones to bury a 3-pointer to cut UNC's lead to seven points.
Strickland and his teammates responded well, using the fire lit under them to attack the basket, swish 3-pointers and shoot a sizzling 71.9 percent in the second half en route to a
102-84 victory
.
But it was another sign that the 14th-ranked Tar Heels, which will likely fall out of the polls Monday after being blown out by No. 1 Indiana earlier this week, are still a work in progress.
"If I say pick up the other team's point guard at the 10-second line, that's what I mean," Williams said. "It's an easy deal. If I tell my 3-year-old grandson to pick that cup up, my guess is he'll probably pick it up. And that's all the crap it is -- do what I tell you to do. And besides, I was really hot."
He was joking about the temperature. But he was rather heated in other ways.
This wasn't supposed to be a tough test for a team whose intestinal fortitude was questioned after falling behind by as many as 29 points during a loss to Butler a week ago then getting smashed by the Hoosiers on Tuesday night. But the Tar Heels made it one.
It didn't help that Paige jammed his left shoulder in practice Friday, limiting him to sitting on the bench in his uniform, or that UAB was so familiar with UNC's offense, because first-year coach Jerod Haase spent the previous nine seasons as a Tar Heels assistant.
But it didn't excuse the fact that UNC was so discombobulated early, allowing the Blazers to come back seemingly every time the Tar Heels got a bit of a cushion. UNC took a 35-21 lead with 2:01 left in the first half, for instance, only watch UAB whittle it down with an 8-0 run end the half and a 4-0 run to open the second half, cutting the advantage to 35-33.
[+] Enlarge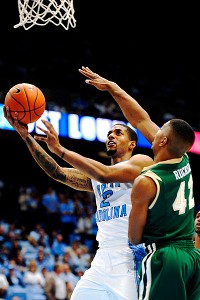 Curtis Wilson/US PresswireLeslie McDonald, who had a career-high 24 points, felt he "couldn't miss" during UNC's victory.
"I can't make any excuses," Strickland said. "We just have to do better and work as a team. All five guys have to get back and play good team basketball."
The Tar Heels made up for their defensive lapses with offensive cohesion in the second half. Forward
James Michael McAdoo
(15 points, 12 rebounds) started working the lane; Strickland (11 points, career-high nine assists) -- particularly after Williams' jacket toss -- started attacking the basket; guard
P.J. Hairston
(16 points), who was 0-for-5 in the first half, started connecting.
But most impressive was junior
Leslie McDonald
, who scored 18 of his career-high 24 points after the break.
"In my head, honestly, I couldn't miss," said McDonald, who finished 7-for-11 overall and 5-for-8 from 3-point land. "Every shot I thought was going in."
Forward
Jordan Swing
led UAB with 21 points as his team shot 47.7 percent in the second half. The Tar Heels countered with a 23-for-32 second half that marked their highest shooting percentage in a half since making 73.5 percent of their shots versus Arkansas in the second round of the NCAA tournament in 2008.
In many ways, and despite his "wacko" moment, Williams said he was pleased with the way his team responded to its 24-point loss to Indiana.
"Except for the defensive end of the floor," he said. "The fans are even wondering why they're getting six shots, that kind of stuff. We've got to get better."
Or else Strickland & Co. may just see that jacket fly a bit more.
"I did not see it coming," Strickland said about his coach's meltdown, "but I've seen it before. I definitely saw it my freshman year when we had that horrible season.
"We definitely have to do better as a team as far as -- he gets mad at the little mistakes we go over in practice, and when he has to repeat himself, that's when he's at his [angriest]. We've just got to get better as a team, get back on defense, just do a better job overall."
December, 1, 2012
12/01/12
8:15
PM ET
CHAPEL HILL, N.C. -- With all due respect to UAB, this isn't usually the type of game during which North Carolina coach Roy Williams has to strip off his jacket, yell at his team in the huddle and spike a clipboard. But it was that type of game Saturday at the Smith Center.
The 14
th
-ranked Tar Heels, who will probably fall out of the polls Monday after last Tuesday's blowout loss at top-ranked Indiana, beat the Blazers
102-84
. But Williams' meltdown with 13:16 left, after his team failed to get back on defense, was indicative of a frustrating outing, at least early-on, for the Tar Heels.


UNC starting point guard
Marcus Paige
was sidelined for this game after jamming his left shoulder in Friday's practice. Junior guard
Leslie McDonald
and freshman big man
Joel James
made their first official starts, and usual starting shooting guard
Dexter Strickland
made his first start at point guard
Turning point:
After UAB closed the first half with an 8-0 run, then opened the second half with two straight buckets to cut its deficit to 35-33, UNC forward
James Michael McAdoo
scored three of the Tar Heels' next four buckets to give his team a 43-36 lead. The Tar Heels still had their problems in the second half -- thus, the jacket toss and clipboard spike -- but the Blazers never really threatened again. UNC pulled away for good in the final 10 minutes.
Key player
s: McDonald led the Tar Heels with a career-high 24 points, all but six coming in the second half. Strickland finished with a career-high nine assists. ...
Jordan Swing
led the Blazers with 21 points.
Key stat
: UNC shot a sizzling 71.9 percent in the second half -- including 7-for-11 from 3-point land. The Tar Heels scored 67 points after halftime.
Etc.:
First-year UAB coach Jerod Haase and his director of basketball operations, Bobby Frasor, received a nice "welcome back" ovation from the Smith Center crowd after their team's starting lineup was announced. Haase played for Roy Williams at Kansas, then served as an assistant there before moving with Williams to UNC in 2003. Frasor is a former UNC point guard. This was the first game in a three-year series with UAB. … UNC junior wing
Reggie Bullock
, who was questionable to play after bruising two fingers during Tuesday loss at Indiana, started.
P.J. Hairston
, who missed the Indiana game with a mildly sprained left knee, came off the bench.
What's next:
UNC plays East Tennessee State at 7:30 p.m. next Saturday. UAB plays at Middle Tennessee State on Wednesday at 7 p.m.