College Basketball Nation:

Jordan Theodore
February, 22, 2012
2/22/12
11:09
AM ET
By
Jeremy Lundblad, ESPN Stats & Info
| ESPN.com
Player of the Night: Jordan Theodore

The
Seton Hall Pirates
needed a win on Tuesday and Theodore delivered. The senior scored a career-high 29 points as the Pirates knocked off Georgetown, 73-55. The win puts Seton Hall in a far safer NCAA Tournament position. Often teams struggle when their point guards become the primary scoring option, but not Seton Hall. The Pirates are 9-1 when Theodore scores at least 18 points and 10-8 when he doesn't.
Scoring Star: Colt Ryan
Ryan poured in a career-high 43 points, but the
Evansville Aces
came up short in a 93-92 overtime loss to Creighton. It's the most points in a loss since Marshon Brooks had 52 points against Notre Dame last season. Ryan's 43 also is the second-most points in a road game this season, behind Creighton's
Doug McDermott
, who had 44 at Bradley.
Stat Sheet Stuffer: Kendall Marshall
Marshall added scoring to his repertoire in North Carolina's 86-74 win against NC State. To go with his usual 13 assists, Marshall had a career-high 22 points, just the ninth time this season that he's had more points than assists. Marshall joins Connecticut's
Shabazz Napier
as the only players with at least 22 points and 13 assists in a game this season.
Streak Stopper: Binghamton

The Bearcats snapped a 27-game losing streak with a 57-53 win against Vermont. With that, there are no more winless teams in Division I. The nation's longest losing streak now belongs to Navy, which has lost 19 in a row.
Ugly Stat Line of the Night: Georgia Tech
On Jan. 19, Georgia Tech had its worst scoring output in 30 years in a 70-38 loss to Virginia. On Tuesday, the Yellow Jackets did that one worse, losing to Clemson, 56-37. It's the fewest points scored by Georgia Tech since a 58-36 loss at Wake Forest in February of 1982. To make matters worse, both the Clemson and Virginia losses came at home.
February, 1, 2012
2/01/12
2:10
PM ET
Every week, your humble college basketball hoops blogger (er, me) will respond to your questions, comments and nonsensical rants in this here Hoopsbag. To submit a query, visit this page by clicking the link under my name in the upper right-hand corner of the blog. You can also email me or send me your entries via Twitter. (Honestly, the best way to get me is Twitter.)
Thanks to a recent move, my video capabilities are still in a box in my new apartment somewhere. The video portion of the 'Bag will resume next week.
John in Champaign, Ill., writes
: I'm an Illinois homer, and I'm happy we got a big résumé over a really good team ... but I can't be proud of that win. I'm asking seriously: Was this the ugliest game you've ever seen?
Eamonn Brennan
: On Tuesday night, Illinois beat Michigan State, 42-41, in one of the ugliest games these eyes have ever seen. The Spartans' effective field goal percentage: 26.7. Illinois'? A robust 35.9. MSU turned the ball over on 28.6 percent of its possessions; at 21.4 percent, Illinois wasn't much better. Michigan State scored .73 points per trip; Illinois scored .75. At least two emailers asked the question: Was this the ugliest game of all time? The answer: no. I'll take last year's national championship game, particularly Butler's performance, as the ugliest game I've ever witnessed -- not only because it was incredibly ugly in and of itself, but also because it came on the sport's highest stage. But superlatives aside, I think we can all agree that last night's game was horrendous.
In fact, this game was so bad, that when I auto-tweeted
last night's highlights post
-- titled "Highlights: Illinois 42, Michigan State 41" -- a miniature Twitter roast ensued. Some of the best comments:
@sahadevsharna: assuming link leads to video of cartoon monkey playing organ grinder

@hickeybuns33: Surprised this video isn't 5 seconds long #slopfest

@johnschlenner: #OxymoronicTweets

@BK_BK_BK: just got back from the bar, where is the second half update? ... oh

@JPCIV: Highlights? None. #itsnotthe30sguys

@tuffyr: 42-41? "Highlights" seems optimistic.
And my personal favorite:
@Patrick16121: page not found
So, yeah. Ugly game, but hey, the Big Ten will do that sometimes. At the end of the day, Illinois recorded a win, and as far as the Big Ten standings and the NCAA tournament selection committee are concerned, the outcome is a thousand times more important than the process. But man, the process was bad, wasn't it?
---
@Chris_Mackinder writes
: If MSU
Draymond Green
is done for the year, how do you think the committee will view MSU in terms of seeding?
Brennan
: And then there's this. First of all, let's hope Draymond
isn't
out for the season. It
appears he's going to be OK
, so good news there. (There is no rooting interest here, but it would have been a shame for Green to lose the rest of his final season as a Spartan -- on a team that could very well go to a Final Four -- thanks to injury.) But to answer the question generally: It depends on how well Michigan State would have played the rest of the season without Green. If it showed few noticeable signs of decline, the committee would have to seed it the same way it would have had Green been in the lineup. But if Michigan State fell apart in the final few weeks with Green on the sideline, the committee would have to take into account the fact that the team it would be seeding in March would not be the same one that won all those games in November, December and January. Much like Purdue after
Robbie Hummel
's late-season injury in 2010, the Spartans' seed would be affected accordingly.
---
Dustin in D.C. writes
: Hey Eamonn. We all know that when a team has a star player or solid glue guy get injured for a chunk of the year, the committee takes that into consideration when seeding and determining the teams in the tournament. But what about when a player is out because of different issues -- like academic or legal issues? For example,
Fab Melo
has been out of Syracuse's lineup for the past few games, and the team has look pretty unimpressive, although they have gone 2-1. If and Kentucky were to end the season in similar fashion, would the committee view Melo's absence in the same light as they would if he was injured? Would they say: "Oh, well with Melo, Syracuse is an undefeated team, while Kentucky can't really claim that same thing" or will they view his absence as something that was avoidable and therefore not view it in the same light? Verbose, but hopefully I got my question across here. This has always been something I've wondered about.
Brennan
: At the end of the day, my guess -- or maybe my hope -- is that the committee treats each of these omission situations the same way whether it's an injury, an academic suspension, a legal issue, whatever.
Of course, each situation is different. For example, it would have been interesting to see (and perhaps it still will be) how the committee will view Xavier's bad home loss to Oral Roberts just days after the Dec. 10 brawl with Cincinnati. Xavier was playing without
Mark Lyons
,
Tu Holloway
and Dez Wells, but they were doing so for (incredibly regrettable) reasons of their own making. How does the committee view that loss? I'm not sure, exactly. But at the end of the day, the best the committee can do is to look at each team's situation relative to its performance and gauge it accordingly. If Melo isn't available by March, the committee will have to look at the team Syracuse is then, not the team it was with Melo. Of course, you don't just toss half the season out the window. It's a balance. But the calculus shouldn't change much.
---
JP in Stockton, Calif., writes
: Why does the Pac-12 get their own weekly breakdown feature, and not more deserving conferences like the Mountain West, A-10, WCC, etc? It's absurd that having football dictates basketball coverage.
Brennan
: I don't disagree! At least not this year. Here's the thing, though: Most seasons, the Pac-12 isn't anywhere near this bad. It's been bad lately, of course, but not nearly as bad as this. This is an outlier. And even so, there is still large fan support for many of these teams, which are all large, major universities with massive athletics budgets and resources most mid-majors can't touch. The league will be back in years to come.
Really, though, the power-conference power rankings aren't a matter of ranking leagues. There's no superiority or inferiority stated or implied. It's just ... kind of the way it is. If we ranked every league but the Pac-12, everyone would accuse us of East Coast bias, or something similar, and the complaints would hail down from all sides. Hopefully, we give you enough good A-10, MWC, WCC and MVC coverage throughout the week to balance it out. Either way, I empathize. Believe that. (As the guy charged with actually ranking that mess of a league every week, boy, do I ever empathize.)
---
@JamesGurland writes
: Will the
Seton Hall Pirates
ever win a game? And if so, will they dance?
Brennan
: The wheels appear to be coming off the Seton Hall bandwagon. It was a great story early in the year, and it'd be nice to see the Pirates -- with
Herb Pope
and
Jordan Theodore
, two guys with great and almost even inspiring stories -- get to the tournament in 2012. But it's not looking good. Seton Hall's nonconference schedule was very weak, and it lost the only game it played against even decent nonconference competition (Northwestern). The wins over West Virginia and Connecticut are nice, but with UConn struggling like it is, they don't look nearly as good as they once did. What's worse, the Pirates have now lost five in a row, with two more games on the road coming up; there's a legitimate possibility this team will lose seven in a row. If it does so, it will have to recover down the stretch in Big East play to keep their tournament bid alive.
In short: If Seton Hall was a stock, it'd be plummeting.
---
@kerrancejames writes
: How in the world does Colorado State have the No. 3-ranked strength of schedule? The 5th-best team they've played is either Denver or Stanford.
Brennan
: As yours truly plunged into the first edition of the Bubble Watch this week, I quickly realized that Colorado State might be the biggest RPI outlier in the system. No. 17? Really? It's strange.
Don't get me wrong: The Rams played a solid nonconference schedule. But it wasn't a Long Beach State-level buzzsaw. My guess: The Rams' SOS is helped in huge ways by its game at Duke, and Southern Miss -- which CSU played at home -- has a better-than-you'd-think RPI of 11, which certainly doesn't hurt. Plus, games at Stanford and Northern Iowa are solid road tests. But really, Colorado State's strength of schedule may have as much to do with what it doesn't have as what it does. Namely, lots of cupcake wins. The Rams played (and won) just seven games against foes ranked in below the RPI top 150 threshold, and the decent-to-great RPIs their conference foes (Air Force is the only Mountain West team ranked below the top 150, and the Rams play them twice down the stretch) have helped keep quote-unquote "bad" wins from weighing down an otherwise decent if unspectacular nonconference performance.
Every year, we get three or four good anecdotal reasons to hate the RPI. Or, rather, to hate its continued overuse by the NCAA. This, it would appear, is one of them.
---
Eduardo in Indianapolis writes
: Read your blog entry on
Damian Lillard
, definitely enjoyed it. If for some reason he falls to a second-round draft prospect, do you think he'd consider the graduate transfer route, to a bigger program? He's a redshirt junior, so if he graduates this year, it's a possibility. What do you think?
Brennan
: I don't know, and neither does Lillard, probably, but I'd be surprised if he fell out of the first round in this year's NBA draft. The class is hardly stocked with guard prospects, and teams that need a scoring point guard type will look to Lillard before nearly every other prospect on the board. Given that, it will be difficult for him to fall too far. Besides, he's having an amazing season. Concerns over his level of competition are already being brushed aside, and they should subside even further if/when Lillard plays well in pre-draft workouts the minute I'm not sure a transfer to a large, unfamiliar program -- where his talents could get lost in the fray -- would put Lillard in any better position that he is in right now. Maybe? But I tend to doubt it.
---
@T_Dwyer writes
: What does Iowa State have to do the rest of the way to be a tourney team?
Brennan
: In the immortal words of that one fish from "Finding Nemo," the Cyclones merely need to just keep swimming. Right now, given the soft bubble and the large number of bids that will likely be available to teams from demonstrably
good
power-six conferences -- the Big 12, Big Ten, Big East and SEC come specifically to mind -- Iowa State is in excellent position going forward.
But that doesn't mean that position is unimpeachable. The Cyclones still have to play Baylor twice, once in Waco. They still have Missouri on the road. In the next week, they'll play at Oklahoma and Oklahoma State in consecutive games; it'd be good to at least split those contests. If so, Iowa State would be 17-7 and 7-4 in conference facing the following conference stretch run: Texas A&M, @Baylor, Oklahoma, Texas Tech, @Kansas State, @Missouri, Baylor. Let's be less than generous and say Iowa State beats A&M, Oklahoma and Texas Tech and loses to the three away games and the final home game to Baylor. That would make them 20-11 overall, 10-8 in the Big 12, with wins over Kansas and Kansas State, a presumably good RPI, and no losses outside the RPI top 100 to speak of. That's a solid NCAA tournament resume, in my opinion, but as you can see, it's not all that far away from the bubble.
Of course, anything can happen. Iowa State could lose both upcoming road games; A&M is playing better; Oklahoma is a decent road team; things could get ugly at Missouri or Baylor, and so on and so forth. There are plenty of possibilities here. But this team is good.
Royce White
is a beast. The Cyclones will make the tournament provided they don't suffer a drastic collapse, and with White playing the way he is, that possibility seems far less likely than any of the other, more middle-of-the-road scenarios.
I don't know where Hilton Magic fits into all this, but Iowa State doesn't need magic now. Mere solidity should do the trick.
January, 19, 2012
1/19/12
11:49
AM ET
Player of the Night - Rodney McGruder

After a 1-3 start in the Big 12,
Kansas State
badly needed a win Wednesday against
Texas
. Rodney McGruder made sure of it with a career-high 33 points, as the
Wildcats held on to win, 84-80
. McGruder kept the Wildcats above water early, scoring 13 of their first 26 points. He's really stepping up at home. In three conference games in Manhattan, McGruder is averaging 27.7 PPG with a 62.5 field goal percentage.
Filling Up The Stat Sheet – Colt Ryan

Two weeks ago,
Doug McDermott
torched
Bradley
for 44 points. On Wednesday, it was Colt Ryan's turn. The
Evansville
junior scored a career-high 39 points in a
90-67 win
over the Braves. Ryan was just one point shy of being the first Evansville player to score 40 in a game since Parrish Casebier in Dec. 1992. Ryan finished 8-for-14 from 3-point range. He's joins
Villanova's
Maalik Wayns
as the only players with at least 39 points, nine rebounds and three assists in a game this season.
Breakout Game – Reginald Buckner

Arnett Moultrie
has been the talk of the SEC, but he was overshadowed Wednesday, as Reginald Buckner scored a career-high 19 points to go with 15 rebounds as
Ole Miss
topped
Mississippi State
,
75-68
. Buckner entered the game averaging just 5.9 PPG.
Bench Stars – Jorge Brian Diaz and Dylan Talley

Jorge Brian Diaz knocked down a pair of free throws with 11 seconds remaining give
Nebraska
a
70-69 upset win
over
Indiana
. It's the Cornhuskers' first win over Indiana since 1920. Diaz and Dylan Talley, both bench players, combined for 17 points in the second half, as the Cornhuskers erased a seven-point halftime deficit.
Ugly Stat Line of the Night - Jordan Theodore

Jordan Theodore entered Wednesday on track to be the first Big East player to average 16 points and seven assists per game since Sherman Douglas in the late 1980s. But in
Seton Hall's
84-76 loss
to
Villanova
, Theodore couldn't find the bottom of the net. He went 2-for-16 from the field, including 0-for-8 from two-point range.
January, 10, 2012
1/10/12
11:20
AM ET
He was part of a wholesale Big East changeover in and around the New York/New Jersey area, brought in with Steve Lavin at St. John's and Mike Rice at Rutgers to ail some flailing programs.
Kevin Willard's job wasn't the easiest or the toughest but renovating Seton Hall certainly wasn't for the faint of heart. The Pirates hadn't been good in a while — their last NCAA tournament berth came in 2006 — and instead had fallen into that horrific abyss of irrelevance.
[+] Enlarge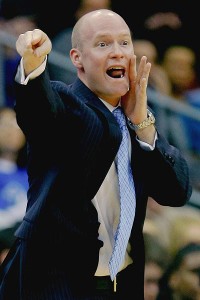 Jim O'Connor/US PresswireKevin Willard, in his second year as Seton Hall head coach, is turning around the program for the better.
Throw in off-court black eyes brought on from former players and the turmoil-plagued tenure of Bobby Gonzalez and let's just say Willard had his work cut out for him.
In his second season, the coach already is reaping some rewards. Seton Hall ranks among the biggest surprises in the Big East. The Pirates, who have won 11 of their last 12, already have won more games this season (14) than they did all of last season, and with eye-popping wins against Connecticut and West Virginia, are a serious threat in the conference.
This week, Seton Hall debuted in the Associated Press Top 25
at No. 24
, ranked for the first time in 11 years as it prepares for tonight's game against DePaul.
While Willard was prepping for the Blue Demons, he took a few minutes to visit the Coach's Corner.
O'Neil
: What's different between your team this year and last?
Willard
: Maturity. Even though we're still a young team, we have two great seniors (
Herb Pope
and
Jordan Theodore
) who have been great for us. You need big-time players who can lead a team and play with an edge and we have that now.
O'Neil
: Since Seton Hall lost to Syracuse (75-49), your team has won its last three in convincing fashion. Were you worried that they'd bounce back?
Willard
: Not at all. We were embarrassed in that game. We had been playing well and then we go up there and just get embarrassed. In a way maybe it was good for us. It allowed us to refocus on what was important to us. Right after it, we had good practices and good film sessions, especially good film sessions. We watched that tape and saw all of the mistakes we made and the guys came out of there ready. I could tell we'd be alright.
O'Neil
: What's it like to watch Herb Pope, who has had
his share of problems
, have such a big senior season (17.9 ppg, 10.7 rpg)?
Willard
: I've been through so much with Herb over the last two years, I'm just glad people are getting to know what he's really like. He's a great kid and he's been through so much and he deserves a year like this. I couldn't be happier for him. This summer I could see that he was really focused. He came back in great shape.
O'Neil
: What's going on in the Big East?
Willard
: I think the league is extremely good but it's extremely young. A lot of coaches lost a lot of very good players and even though they have good players back, they have young players. Look at Villanova, West Virginia, Rutgers, even Connecticut. I think that's why you're seeing so many of these good wins followed by bad losses. This is a very difficult league this year.
O'Neil
: The million-dollar question. Does your team deserve to be ranked? (The Hall is No. 24 in AP, but still just 28th in the most recent ESPN/USA Today coaches' poll.)
Willard
: Honestly, I don't care. I do know that we have the No. 2 RPI and we've played the fifth-best schedule in the country. But rankings don't mean anything to me. It's great for the fans. It gives them something to be excited about. It allows them to better understand what we're trying to build here and to see the results a little more clearly. So it means something for them, but not to me.
December, 28, 2011
12/28/11
6:00
PM ET
Seton's Hall turnaround from a team known for off-court drama to a squad that's off to an 11-1 start this season can be attributed to multiple factors.
Players have bought into Kevin Willard's system in his second year with the program.
Jordan Theodore
has matured into one of the Big East's most talented point guards. And the Pirates, who play at No. 1 Syracuse tonight, have more confidence after winning their past eight games.
[+] Enlarge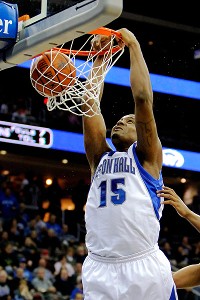 Jim O'Connor/US PRESSWIREHerb Pope is averaging 20.3 points and 11.4 rebounds per game for Seton Hall.
But 6-8 forward
Herb Pope
is arguably the most important element of Seton Hall's surge. He's averaging 20.3 points and 11.4 rebounds per game. The senior partially attributes his improvement to practice sessions with a large transfer who's playing the role of Pope's sparring partner while he sits out the season.
Gene Teague was a respectable contributor for Southern Illinois last season. The 6-9, 290-pound big man could make noise in the Big East once he's eligible next season. For now, however, he's helping Pope get better by pushing him around in practice.
At his size, Pope rarely finds opposition with similar proportions,
which makes Teague's presence even more important for the senior and the Pirates, according to Brendan Prunty of the Star Ledger:
The big kid is Gene Teague, the sparring partner who has helped Pope transform into one of the most dominant big men in the Big East this season.

"He doesn't back down," Teague said before practice began. "Usually I'm the biggest guy on the court, but he doesn't back down. He keeps coming. I've never had a guy that's never backed down from me, but he's as strong as they come."

One look at Teague, a Vineland native, and it's easy to see why Pope has benefitted from their practice battles. The transfer from Southern Illinois — who must sit out this season due to NCAA regulations — is a classic big man. He eats up space around the basket, but is deft enough to force other players around him to take him seriously on offense. And on defense, he's nearly an immovable object. Which is why Pope has been able to hone his low-post game so well this season.

Pope has been able to go up against a true big man in practice for an entire season for the first time. So when he sees many of the more athletic centers that opposing teams trot out, Pope has the upper hand already.

"He's made me have to work on my moves," Pope said. "I couldn't just try and sit there on the perimeter. I had to develop a better skill set and be able to maneuver and get past him, because I can't go through him
It's hard to imagine a player that much larger than Pope. But it's easy to see how competing against a player with that kind of size has helped him improve.
Pope will see a lot of length against the Orange and throughout Big East play. Teague's efforts could prove to be beneficial throughout the season.
December, 14, 2011
12/14/11
2:46
PM ET
Carol Theodore couldn't risk the possibility.
The streets had already swallowed another son. But Jordan Theodore's mother refused to let her youngest misstep and fall into its cracks, too.
So the single parent sent the Seton Hall senior from Englewood, N.J., to Paterson Catholic high school in Paterson, N.J., where he blossomed during the final two years of his prep career. The move, Theodore said, boosted his basketball prospects.
[+] Enlarge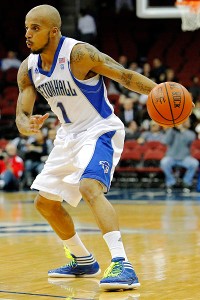 Jim O'Connor/US PresswireSeton Hall guard Jordan Theodore has had to overcome numerous obstacles throughout his life and his basketball career.
And it may have saved his life.
"I had to discipline myself to stay away from the negative stuff. And at times, I got caught up in some of the negative stuff. Getting in trouble in school and just wildin' out with my friends," Theodore told ESPN.com. "But my mother changed my life when she sent me to Paterson Catholic, just to get away from all my friends in Englewood and just to go to Catholic school and just to learn to be disciplined, to stay humble and just to work hard from the classroom and on the court."
Taking an opportunity and rolling with it. That's still the theme of Theodore's life.
He left Paterson Catholic as a Top-100 recruit and all-state selection with scholarship offers from Pitt, Rutgers, Illinois and Seton Hall.
He's gradually overcome a variety of challenges with the Pirates. Former coach Bobby Gonzalez, who recruited Theodore, was fired following the 2009-10 season. And last year, new Seton Hall coach Kevin Willard dismissed veterans Keon Lawrence and Jamel Jackson.
Meanwhile, Theodore struggled to lead the Pirates as the starting point guard in a new system.
"It was tough last year, trying to learn Coach Willard's system and just being the first year and trying to lead and do it all at the same time. It was tough because I would call out a play and Coach would change it," Theodore said. "I didn't know what he wanted. I knew what Coach Gonzalez wanted."
After acquiescing to Willard's expectations, however, Theodore has become one of Big East's and the nation's top pure point guards. And Seton Hall has an 8-1 record just weeks away from conference play.
Theodore's surge was necessary for a team that lost former star Jeremy Hazell, whose 2,148 points rank third on the school's all-time charts.
His averages of 14.8 points and 7.2 assists per game (No. 6 in the country) are beyond noble, especially considering last season's averages of 11.0 points and 4.4 assists per contest. But his newfound grasp of his leadership role is equally impressive.
Theodore said a series of "heart to heart" conversations with Willard in the offseason strengthened their relationship.
"I think now, I'm him. On the court, me and him are the same because I know what he's thinking, he knows what I'm thinking," Theodore said. "And I know exactly what he wants me to do when I'm on the court."
Theodore credits the team's coaches, young players and fellow veteran
Herb Pope
for Seton Hall's early success. The tumultuous past — dismissed players, coaching changes and a 13-18 (7-11 Big East) finish last season — seems distant given the way the Pirates have started.
There is, however, one blemish that's still difficult for Theodore to overcome. In March, he was accused of confronting Lawrence in a dorm room while brandishing a handgun. But the Essex County prosecutor's office decided against pressing charges due to insufficient evidence. Seton Hall also cleared Theodore after a separate investigation.
Still, Theodore believes the situation briefly stained his career.
"Just for that to even come out, it was bad for me," he said. "To this day, if you type my name on Google, the first thing that pops up is
Jordan Theodore
being accused of assault with a deadly weapon. I don't want that up there, but I can't change it."
Theodore misspoke. It's actually the second item that appears during a Google search of his name.
The first is Theodore's stat sheet on ESPN.com. The one that showcases the talent and promise birthed from his mother's determination.