College Basketball Nation:

Joseph Young
March, 23, 2014
3/23/14
1:11
AM ET
MILWAUKEE -- The machine is consistent, reliable and unflappable. Bo Ryan's Wisconsin team operates on autopilot, humming along, a monotone of winning.
But basketball games, particularly those in the NCAA tournament, require teams to respond to emotional beats. When the season is at stake, it's going to get emotional. When you're down 12 points at halftime in a building 80 miles away from your campus, it's going to get very emotional.
The Wisconsin basketball machine is decidedly unemotional. But there the Badgers were in the closing minutes Saturday night, flapping their arms to incite Kohl Center East, the arena formerly known as the Bradley Center, which roared in approval. There were chest-bumps and fist-pumps and hugs and primal screams. After
defeating Oregon 85-77
to advance in the West regional, Wisconsin players waited for Ryan to finish his television interview and then encircled him in a hybrid mosh pit/dance party near center court.
[+] Enlarge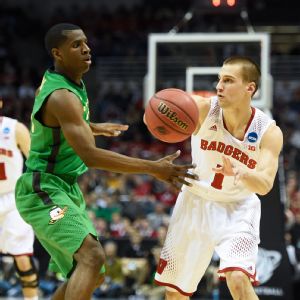 Benny Sieu/USA TODAY SportsBen Brust, who came up big for the Badgers with a late 3, moved the ball against Oregon's Damyean Dotson.
There will be more significant games in this tournament than Wisconsin-Oregon. There might be better ones, although Saturday's will be hard to eclipse in dramatic swings. There won't be a more emotional atmosphere.
"It was literally like a home game," Badgers guard
Josh Gasser
said. "At this time of the year, that's not what you're expecting as a player. That doesn't happen. For us to be playing in Milwaukee and have all our fans there, supporting us and acting like the Kohl Center, I'm speechless about that."
Emotion characterized the game throughout, but it worked against the Badgers in the first half. So did Oregon, which delivered an offensive performance -- 49 points, 55.6 percent shooting, 14 of 15 from the foul line, 19 fast-break points -- to break the machine.
Joseph Young
had 17 and
Jason Calliste
had 14, not missing from either the field (3-for-3) or the foul line (7-for-7).
The officiating also rankled Wisconsin players, coaches and fans. The final 117 seconds were miserable, as a 5-point deficit swelled to 12, thanks in part to a technical foul on Ryan.
"I probably wasn't behaving," Ryan said. "So we had to pay."
At halftime, Ryan asked players how they wanted to feel on the bus ride back to Madison. Hard work, especially with transition defense, could result in a happy bus. Anything less, and the hourlong ride would feel like days.
Ryan had one final question before excusing the players for second-half warm-ups:
Who is the best defensive player in the room?
"I'm the best defensive player in the room," he told the team. "I got a technical. They made their 14th straight free throw or 13th and then they missed the second one. I'm the only guy that got them to miss. I think some of the guys looked at me like, 'Did he just say that?'
[+] Enlarge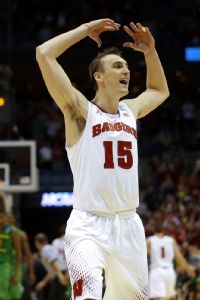 AP Photo/Morry GashSam Dekker showed some emotion in Wisconsin's win.
"I said that to loosen them up. Maybe it did."
No maybe about it.
The machine isn't programmed to allow 49 points in a half. It's also not programmed to erase a 12-point deficit in 6 minutes, 34 seconds.
Wisconsin reclaimed the lead before the second media timeout and hit 12 of its first 16 shots, including four 3-pointers. Like Young and Calliste in the first half, Badgers standouts
Frank Kaminsky
,
Ben Brust
and Gasser couldn't miss.
"We used the energy of the crowd, the energy that each other gave, and we harnessed it into the right energy," Brust said.
The shots eventually stopped falling but Wisconsin's signature defense returned. Oregon scored just 28 points in the second half, none on fast breaks.
But thanks to Young, Oregon still led 75-74 when Wisconsin, the Big Ten's second-worst offensive rebounding team, grabbed three offensive boards on one possession. The second allowed Ryan to call timeout and sub in Brust, who had been out with four fouls.
"Those were more spirited efforts to the glass than you'd seen," assistant coach Lamont Paris said. "We have times where we're talking about making a first and second move to the glass. We had four or five guys make three different moves to the offensive glass.
"They channeled the emotion, and they put it into action in a positive way."
After
Sam Dekker
corralled a Kaminsky miss,
Traevon Jackson
found Brust on the right elbow for a 3-pointer.
"Ben's gonna hit that," Dekker said. "He hits the big shots. He loves the big moment."
Brust's 228th career 3-pointer gave him the team record. It also gave Wisconsin the lead for good.
"It was a special moment," Brust said. "I'm just happy we got the win. I want to keep going. I don't want this to end."
The Badgers earned the chance to keep going to the Sweet 16 for the third time in five years. They'll face Creighton or Baylor for the chance to reach the Elite Eight for the first time since 2005.
Is Thursday's game more important? No doubt. Will the atmosphere match Saturday's? Not a chance.
"You have to be in their shoes to know that feeling, and know I was feeling it," Ryan said. "I was pretty pumped up, too. That's a lot of emotion for our guys to show."
The machine bared its soul Saturday night. It left the court humming a different tune: On Wisconsin.
January, 31, 2014
1/31/14
1:39
AM ET
January is always tough, but this January was brutal — the
coldest month of the century
they say, an unrelenting onslaught of
polar vortices
and
transport disasters
and
Los Angeles news anchors shivering in the 60-degree chill
.
Let's all come together, then, and celebrate the end of January 2014. The
Oregon Ducks
can be our college hoops guests of honor. Because it's settled now, after Thursday's 70-68 home loss to UCLA: No team in the sport has had a more miserable month.
It seems crazy now, but it really did happen. The Ducks entered the New Year unbeaten. They began the 2013-14 season with a solid victory over a surprisingly game Georgetown at the Armed Forces Tip-Off in Seoul, South Korea, throttled a series of overmatched home opponents, and from there they just kept on winning: at Ole Miss, versus Illinois in Portland, in overtime versus BYU. Led by Houston transfer
Joseph Young
and UNLV transfer
Mike Moser
, Oregon was playing hyper-efficient, stylish, up-tempo offense -- it exceeded 100 points on four separate occasions.
On Jan. 2, Oregon traveled to Utah and opened Pac-12 play with a win. Save No. 1-ranked Arizona, no team in the West looked as good as Dana Altman's. Plus, much of that stretch had been accomplished without suspended players
Dominic Artis
and
Ben Carter
. As both returned, and the Ducks stretched their unbeaten start to 14-0, Altman's team had the look of a conference title contender.
Since then, Oregon is 1-6. Its first three losses -- a road defeat to Colorado and home losses to Stanford and Cal -- were forgivable. Following them with losses to Oregon State and Washington? Not so much. The Ducks lost five in a row in total before Sunday's pounding of lowly Washington State. Even worse? Those wins that looked so promising in November and December all came against teams that have fallen apart themselves to various degrees in January. The Ducks' month was so bad it's infecting everything it touches.
[+] Enlarge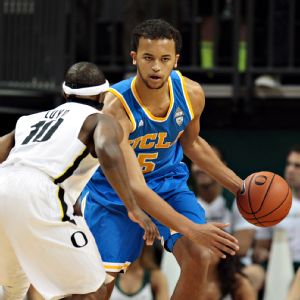 Scott Olmos/USA TODAY SportsKyle Anderson and UCLA not only extended Oregon's misery Thursday, but also established themselves as No. 2 in the Pac-12.
Thursday night's loss to UCLA was disappointing on multiple fronts for Oregon. For starters, there was the sheer fact of the loss itself, which capped off Altman's monthus horriblus. But there were also the letdowns contained therein: how the Ducks, so lackluster for so much of the game, rediscovered their shooting late in the second half and came storming back from a double-digit deficit with a late 12-0 run. With 1:12 left to play,
Richard Amardi
made a free throw that put Oregon up 68-65. The Ducks would then go on to yield the final five points of the game. Their final shot, a hopeful
Johnathan Loyd
effort, was stopped short of the rim by
Kyle Anderson
's Stretch Armstrong arms.
In their eight Pac-12 games, the Ducks are now allowing more points per possession (1.074) than they are scoring (1.07). They haven't played well, and they didn't play well for much of Thursday night. That they still had a chance to salvage that win was lucky, all things considered.
Focusing too much on Oregon could cause one to overlook UCLA, and that would be a mistake. After Thursday's win -- based not only on their talent but on résumé and efficiency, too -- it now seems safe to call the Bruins the second-best team in the Pac-12. Arizona State might be in that mix, same with Cal and Stanford. But the Bruins have beaten all of those teams (albeit at home) in January, and Anderson and
Jordan Adams
form a one-two scoring punch most of those teams don't have.
Is the Pac-12 finally taking shape? Arizona is far and away its best team, obviously. But pulling UCLA out of the rest of a muddled middle feels fair. The Bruins are 16-4 with no bad losses on their résumé (road games at Mizzou and Utah, neutral court to Duke, home to Arizona), the most efficient offense (1.11 PPP) in Pac-12 play and, most surprising of all, the second-ranked per-possession defense (.96). They play faster and smarter and more well-executed basketball than they did a year ago under Ben Howland, and they're not sacrificing defensive strength in doing so. They don't belong in the same group as Cal, Stanford, Arizona State, etc., at least not right now.
Whatever your sense is of the hierarchy at work in the Pac-12 this season, UCLA certainly doesn't belong in the same group as Oregon. The Ducks are flailing. Where they go from here is a matter of better defense, sure, but also a rediscovery of the offensive skill that made them such a thrilling proposition in November and December.
We're crossing our fingers and hoping for a slightly warmer February to salvage this winter. Altman's team will have to do far more than that.
September, 17, 2013
9/17/13
5:00
AM ET
1. Rutgers coach Eddie Jordan said Iowa State transfer Kerwin Okoro will be the Scarlet Knights' fourth guard. Okoro, who received his waiver to play immediately due to his personal hardship, can also play small forward. "Our three guards are all under six-feet tall,'' said Jordan. "We need Kerwin to defend bigger guards.'' Rutgers is still waiting on Pitt transfer
J.J. Moore
's waiver appeal to play immediately. Jordan said the Scarlet Knights are hoping to hear something this week. Rutgers got good news last week to help clean up a depth issue when
Junior Etou
was deemed a qualifier. Meanwhile, Illinois coach John Groce said Oregon State transfer
Ahmad Starks
is still waiting to hear on his waiver to play immediately. The same is true at Oregon where the Ducks are awaiting news on whether Houston's
Joseph Young
will be allowed to play immediately without sitting out a year.
2. Ole Miss got two injured players back but lost another. Ole Miss coach Andy Kennedy said sophomore
Terry Brutus
is done for the season with a torn ACL, suffered last week in practice. But the Rebels do have forward
Aaron Jones
back from his ACL injury, which occurred against Kentucky on Jan. 29. Forward
Demarco Cox
is also back after missing all but seven games last season with a stress fracture in his foot. The depth can still be there for the Rebels up front, despite the loss of Brutus. But the Rebels will go as far as
Marshall Henderson
can carry them. He is currently suspended but the SEC's top scorer is expected to be back in the good graces by the heart of the season, giving Ole Miss a potent offensive option.
3. The NIT Season Tip-Off is supposed to release its long-awaited bracket Tuesday. This is what we know for sure: the four hosts are Arizona, Duke, Rutgers and Alabama. And you can lock in Arizona and Duke will be on opposite sides of the bracket so they can meet in a potential final at Madison Square Garden the day after Thanksgiving on Nov. 29. If that occurs then you'll get a treat of seeing two of the top freshmen in the country in Arizona's
Aaron Gordon
and Duke's
Jabari Parker
. Both of these teams should be considered Final Four contenders. The NIT bracket has been "the best secret in college sports,'' according to Arizona coach Sean Miller. That's called sarcasm and he's right. The bracket has taken way too long to be revealed.
August, 19, 2013
8/19/13
8:51
AM ET
1. As the NCAA continues to get hammered for its archaic legislation, remember the NCAA is a membership. And over the years, the membership, as in the conferences and its commissioners, athletic directors and faculty reps, have continued to push for legislation that is selfish and self-serving. Four years ago, the then-Pac-10 had a piece of legislation to
forbid foreign trips
. The rationale was because it gave some schools an advantage going into the season. That's true, and it should be rewarded. The good news then and now is that the person who was leading the charge -- Pac-10 commissioner Tom Hansen -- retired. His replacement, Pac-12 commissioner Larry Scott, is pushing for more foreign travel and looking for yearly trips to Asia for his teams. UCLA went to China in 2012, while Arizona State made that journey this summer. These trips occur every four years, and if a school can fund the excursion, it will go from Syracuse to Towson and every school in between. The foreign trip is a huge benefit to new coaches and players seeking more time on the court. It gives them a great chance to bond. There is absolutely nothing bad about going on a foreign trip, practicing for 10 days prior and actually enjoying the experience of being together.
2. Injuries can and do occur on these trips. USC's season was altered two years ago when Jio Fontan suffered a season-ending ACL injury on a trip to Brazil.
Roosevelt Jones
tore his wrist ligaments on Butler's trip to Australia last week. Butler at least has plenty of time to adjust to the absence of Jones. The Bulldogs are going through a transition period with its move to the new Big East and a new regime led by Brandon Miller. It's not a one-year deal like the A-10. This is its new home, and Butler has time to become a player in the league. Expect the new Big East to have teams take their turn atop the conference -- maybe more so -- than any other league. No one should be shocked if each season a different team is tabbed as a favorite. The balance should be strong from 1-8 to start and eventually to 10 if DePaul and Seton Hall can carry its own.
3. The NCAA still hasn't reviewed the case for whether or not Oregon's Joseph Young, a transfer from Houston, should be granted immediate eligibility. This is yet another example of how overloaded the home office is when it comes to waivers. There should be divisions that just deal with certain sports. But winter sports get backed up behind the fall sports. So, a team that is expecting a huge addition from a new player may not know for a while, while a volleyball or soccer player is getting his or her eligibility reviewed. Oregon has options with
Damyean Dotson
playing the wing instead of Young. But if Young is eligible, the Ducks can play both together and have one of the top producing backcourts in the West.
July, 31, 2013
7/31/13
5:00
AM ET
1. The NCAA men's basketball selection committee will make a formal announcement Thursday about the tweaking it did to the bracketing principles for the 2014 tournament during its meeting earlier this month in Park City, Utah. The committee is expected to produce a document that protects the "true seed" -- where a team stands according to the committee's 1-through-68 ranking -- and that doesn't jeopardize that seeding in order to avoid conference or non-conference repeat matchups. Seeding the tournament is probably more important than the final few bids that get the most attention on Selection Sunday, and the committee doesn't want to mess with the true seed. Meanwhile, there were a few other issues addressed. The new number of at-large berths is down to 36 with the split of the Big East and the American Athletic Conference, meaning that there are now 32 automatic qualifiers. But the committee was informed that, technically, the Big East's automatic bid went with the Big East, and the American must get its AQ bid formally approved by the Division I sports-management cabinet, according to a source. But that shouldn't be an issue. The committee also looked at maintaining the same standard for the Final Four of a minimum of 60,000 fans, due to the current demand for tickets (meaning only domes for the Final Four). But it continues to remain highly likely that regional final sites from 2016 and beyond will be basketball arenas only, save the one dome site that will host the Final Four the ensuing year. The committee also had an informal discussion on what it would look like if basketball were a one-semester sport. The calendar was so compressed that to make the season work and to finish in early April was impossible. The change would have been too dramatic. So the committee at least looked at the possibility. There was no movement to change March Madness or the pre-Masters dates of the Final Four.
2. Oregon is waiting for Houston transfer
Joseph Young
to file a waiver to play immediately for the Ducks. Oregon is somewhat confident Young would be approved -- which could give the Ducks a top-tier top seven, with UNLV transfer
Mike Moser
, returning guards
Dominic Artis
,
Johnathan Loyd
,
Damyean Dotson
, forward
Ben Carter
and junior college transfer
Elgin Cook
. Young averaged 18 points a game for Houston. So Oregon could have a much different look if Young can play immediately.
3. NC State continues to respect its past as much as any other program. The Wolfpack went with alum Sidney Lowe after Herb Sendek, but Lowe wasn't able to a build a consistent winner, despite recruiting well. Third-year coach Mark Gottfried isn't afraid to reach back into NC State's past to help forge a future by bringing Wolfpack legend Dereck Whittenburg onto the staff. Whittenburg had been head coach at Fordham and Wagner and, most recently, an ESPN analyst and producer of a documentary, "Survive and Advance," in ESPN's "30 For 30" series. Whittenburg, who has the most famous shot/pass in NC State history, will bring energy to the Wolfpack staff as well as a direct link to the past that current players should and likely will appreciate.
June, 4, 2013
6/04/13
9:00
AM ET
On its face, the story of a father who is the director of a program's basketball operations not receiving a contract extension and leaving the program with his skilled sophomore son in tow would have all the tell-tale signs of an unseemly recruiting gambit gone wrong. Before the NCAA took steps in recent years to halt the practice, college hoops recruiting went through a phrase in which a job for a family member or high school coach was often the price a college had to pay for that recruit's services.
When you hear that a spurned director of basketball operations -- which is not a particularly important position anyway, at least relatively speaking -- decided to take his son and go home, the initial assumption is that somewhere along the line, a promise went unfulfilled.
[+] Enlarge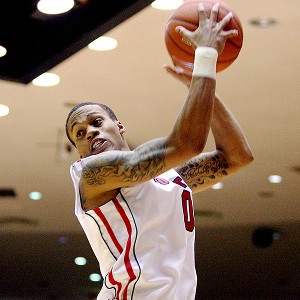 Troy Taormina/USA TODAY SportsJoseph Young averaged 18 points, 3.5 rebounds and 2.5 assists last season.
That is not the case here. First of all, that sort of under-the-table quid pro quo is no longer allowed. But even if it were, Michael Young isn't some random family member or hanger-on; he's a former member of Houston's greatest-ever team, Phi Slama Jama, and he's spent the past 16 years serving Houston in various capacities, including the past seven as the director of basketball operations.
But Young, a program legend and tenured staff member,
is
leaving Houston. His son, sophomore
Joseph Young
, is coming with him. So what happened?
The Houston Chronicle explains
: Young's contract as director of basketball operations expired Friday. When he was offered a different, more ceremonial position -- a "community service role within the UH athletic department," as the Chron phrases it -- Young decided he didn't much feel like sticking around where he wasn't wanted:
"James Dickey doesn't want me to be part of his coaching staff anymore," Young said. "He wanted to go in another direction. I was offered an alternative position. I refused it, and I've moved on from the University of Houston."

[...] "I will always be a Cougar, but I'm disappointed," Young said.
Houston coach James Dickey released a statement to the Chronicle saying Young "was offered, accepted and signed a new contract earlier this week at the same compensation beginning June 1 with new responsibilities inside the athletics department." Apparently there is some disagreement over this point. I'm not exactly sure how that happens, but it did, and the upshot is that the elder Young will be leaving with his son in tow:
"Joseph is dealing with it fine," Young said to the Chronicle. "He made his decision, and I guess he loves his dad more than he loves the University of Houston. He made a statement to me that he can't play for a coach that doesn't want his dad to be a part of the staff."
Oy.
The loss will be felt immediately on the court. Rising junior Joseph Young was one of the true bright spots of Houston's otherwise forgettable 2012-13 season. He averaged 18.0 points, 3.5 rebounds and 2.5 assists per game, and he was extremely efficient to boot, shooting 42 percent from 3 and 87.5 percent from the free throw line. He finished with a 124.0 offensive rating on 22.7 percent usage,
one of the best 30 marks at that usage tier in the country
. He was
really
good. And now, after
a not-small ordeal to get Young to Houston in the first place
, he is moving on.
The good news for Houston is that Danrad "Chicken" Knowles, who was academically ineligible last season, will be entering the lineup as a redshirt freshman. Knowles was a top-50-ish player in the class of 2012 and, along with
Danuel House
(who had a solid freshman campaign in 2012-13), the lynchpins of an impressive recruiting haul designed to put Houston on the map in time for its move to the
Big East
American Athletic Conference this fall. With Knowles and House and effective forward
TaShawn Thomas
, Dickey will have a really interesting group of forwards to throw at opposing AAC defenses.
But none are a replacement for the efficient perimeter scoring Young brought to the team. Losing him hurts. Losing him over the fifth-most important job on a given coach's staff must be an especially hard pill for UH fans to swallow. Why risk it, you know?
May, 17, 2011
5/17/11
9:36
PM ET
By
Diamond Leung
| ESPN.com
Houston announced Tuesday that it has signed Pittsburgh transfer
J.J. Richardson
, a 6-foot-7 sophomore forward who was looking to
move back home
and find more playing time.
Richardson averaged about a point and a rebound in 23 games for the Panthers. He represents a building block that second-year coach James Dickey will try to use more prominently than Pittsburgh did.
"This is exciting for our basketball program and the university," Dickey said in a statement. "To have a player of his size and ability is a great addition to our program. He is a strong, physical and skilled player that will really fill the power forward position on our team. J.J. is a quality student-athlete, and we look forward to his continued development during his redshirt season."
Houston's roster will look different now that Dickey has signed seven new players to a team that went 12-18 last season. There are high school recruits, junior college transfers, and now a Division I transfer in the group. Richardson is Dickey's third spring signee. The Cougars are also getting redshirt freshman guard Joseph Young, who was
forced to sit out the year
after Providence refused to release him from a letter of intent.
Dickey loses his top three scorers from this past season, but the loss gives the newcomers an opportunity. Rebuilding in Conference USA won't be easy with Dickey entering only his second season, but the Cougars have to start somewhere.
Richardson isn't expected to be their savior, but he's another piece to the puzzle that could pay dividends down the road.
August, 24, 2010
8/24/10
12:54
PM ET
In the end, Joseph Young seems pretty upbeat. I guess that's a good thing.
The
former Providence recruit who asked for a release from his national letter of intent this summer
-- and was denied by both Providence coach Keno Davis and the NLI advisory, which oversees such appeals -- was adamant that he wouldn't be playing for Davis or the Friars after the release scuffle. The denied appeal will force Young to sit out a year before he can play at another school. Or, you know, play at Providence. Which, after
Young's father Michael openly insulted Davis to the media
, was probably not going to happen.
Young chose to wait a year and stay home. He will play at Houston, where his father, Michael, was recently named director of basketball operations. This is not a surprise; most expected Young to enroll at Houston if he was awarded his release. Nor is it a surprise that Young decided to spurn Providence even at the cost of a year of eligibility. But it is slightly surprising that he seems so pumped about it.
From the Houston Chronicle
:
"I'm planning on just sitting out this year, getting stronger, quicker, better," said Joseph Young, who helped Yates win consecutive Class 4A state championships. "I think of this as a blessing from God to sit out this year. He pushed me the right way to sit out a year so I can get all my skills together, my potential."
The original reason for Young's release request was the failing health of an aunt, who is awaiting a heart transplant. Young says his aunt told him she wanted to come see his games and, on top of that, that he "wasn't ready" to leave his mother and father behind.
Instead, Young will get plenty of face time at his father's new program, and this whole sordid recruiting mess can go away. After Davis' stubborn, counterproductive refusal and
Michael Young
's media outbursts, only Joseph Young, the one non-adult involved, ends up looking good. Funny how that works out.
August, 18, 2010
8/18/10
12:32
PM ET
First, a quick recap.
Joseph Young, one of Keno Davis' 2010 recruits at Providence, no longer wants to be one of Keno Davis' 2010 recruits at Providence.
Young asked the Friars for a release from his NLI
, citing his desire to remain at home with his family in Houston, where his aunt is awaiting a heart transplant. Davis denied Young's request, saying he expected Young to "honor that commitment." Michael Young, Joseph's father, is also the newly appointed director of basketball operations at Houston (many expected Young to play at Houston upon his release). Since it wasn't given,
Young appealed with the national letter of intent office
.
Got all that? Good. Because today, the story moved forward again:
Young's appeal to the NLI authority was denied
. That means he has to either show up to Providence and play -- not an option, according to his father -- or sit out a year and look elsewhere in 2011. Which means Young is going to sit out and look elsewhere.
Needless to say, Michael Young is none too pleased with his son's would-be coach. Nor is he particularly happy with the NLI committee.
From MyFoxHouston
:
"I'm really disappointed and so is Joseph," Michael Young said. "The NLI system is crap. I think the whole process is unfair."

"There's no chance in hell that Joseph would ever go to Providence," Michael Young said. "Joseph is going to sit out a year. I guess he doesn't have a choice."
And as for Davis?
"He's a bad guy," Michael Young said. "Anytime you deny a kid from something he has worked so hard for all of these years and kids are very emotional about situations like this. Keno Davis and Providence had no sympathy for this situation. Keno said he doesn't care who is ill.

"When you have guys like that who are vultures that lie to kids, because when they have family problems they don't back them."
I'm not sure that last part is a complete sentence, but you get the point. Michael Young is
angry
. But is he right?
Yes, he is. Frequent readers will be familiar with this blogger's feelings about the NLI system. It creates an imbalance of power between players and coaches. Coaches are free to leave jobs -- jobs they're paid handsomely for, remember -- whenever the next contract comes along. Players, on the other hand, sign a letter of intent that binds them to the school and makes it almost impossible to depart if the NLI advisory fails to see "extenuating circumstances" in the recruit's decision to appeal for his release. In the meantime, coaches can discontinue a player's NLI after each season. And if a player wants to transfer, it (usually) takes a year of waiting to do so.
That's the system we have right now. And while every case is different, and in some instances you can understand a coach's desire to keep his recruits from leaving -- if other schools appear to be tampering, for example -- the system is built on inequality. It's obviously unfair.
Most cases don't come to this; most programs allow their players to transfer, though some impose conditions on the player's possible destinations. Usually, things don't get this bad.
There's a reason for that, and it's a reason Davis doesn't seem to understand: It's bad for business. Why seem like an imposing, inflexible dictator to potential recruits? Why make a recruiting standoff the dominant story of your offseason? (Unless you're Davis, and
your offseason couldn't possibly get worse
.) Why try to keep a player who clearly doesn't want to come to your program? How is that good for your team? How is the benefit greater than the cost?
It's baffling, really. And until the system is revised, or recruits stop signing NLIs altogether, coaches and athletic directors have to do the prudent thing.
In other words, they should do everything Keno Davis did with Joseph Young. Only, you know, the exact opposite of that.
July, 20, 2010
7/20/10
11:08
AM ET
This is the summer of our NLI discontent.
Cases involving players wanting out of their national letters of intent -- and the schools intent on keeping them, or restricting their movements to other schools -- have abounded. There was
Walter Pitchford and DePaul
.
Alabama and Justin Knox
.
Ole Miss and Murphy Holloway
. The
Providence vs. Joseph Young standoff
continues to worsen. Taken in total, it's enough to make you question whether the national letter of intent is
even a good idea anymore
.
One story we didn't get to when it originally broke has a slightly different look, but relates to the inequality inherent in the NLI system all the same. That's the story of former Marquette recruit D.J. Newbill,
whose scholarship offer was rescinded
by Buzz Williams and his staff on July 1. The 6-foot-4 combo guard signed a letter of intent with Marquette April. Then, 6-foot-7 Oregon forward Jamil Wilson decided to transfer to the Golden Eagles. For the crime of being not quite as talented as Wilson, Newbill's offer was soon rescinded. (
Williams told the Milwaukee Journal Sentinel
that Newbill's release was based on "a culmination of things." Which is basically true, I guess.)
Good news, though: Newbill has landed on his feet. He'll
be playing his college hoops for Southern Mississippi this fall
, and he'll be doing so alongside former Strawberry Mansion High School teammate Dwayne Davis. (It's at this point that I'd just like to say that I wish I went to a high school named "Strawberry Mansion High." It sounds like a Sgt. Pepper's-era Beatles b-side, and it is
awesome
.)
Stan Laws, Newbill's former high school coach, told the Philadelphia Inquirer that Newbill and his family remain hurt by their Marquette experience, but that Newbill had plenty of offers once he re-opened his recruitment, so he's not merely making a fallback choice. Good for him. Marquette pulled the rug out from under Newbill's feet. College basketball coaches' power to release and run-off less talented scholarship players remains ironic, given that schools also have the power to force those players to stay in their NLIs when seeking a release. It is laughably unfair.
But until that inequality is balanced, this is just how the cookie crumbles. Hopefully Newbill's new school is as excited to have him as Newbill is to attend.
(Hat tip: BIAH)
July, 15, 2010
7/15/10
3:30
PM ET
DePaul's battle with recruit Walter Pitchford, Jr. ended earlier this week
when the school granted Pitchford a release from his National Letter of Intent
. Pitchford originally signed with former coach Jerry Wainwright, and blamed the coaching transition for his decision to leave; DePaul delayed the decision over concerns that Pitchford had been tampered with by other schools after his commitment. According to a DePaul spokesman, one school went so far as to call DePaul's compliance office about Pitchford's eligibility.
So, yes, DePaul had its reasons to try to hold on to Pitchford. By the end of the saga, though, the school made the right decision. Pitchford didn't want DePaul. Tampering concerns or no, Pitchford needed to go. Unsavory but simple. It was the only way.
The Blue Demons aren't the only rebuilding Big East program dealing with an NLI standoff, though. In early June,
Providence recruit Joseph Young asked for a release from his letter of intent
, citing his desire to stay home in Houston and tend to his aunt, who is awaiting a heart transplant. Friars coach Keno Davis denied that request, saying he and his staff "expect [Young] will honor that commitment." This displeased the Young family, and understandably so.
In the six weeks since, things have gotten worse. Michael Young, Joseph's father,
told the Providence Journal's Kevin McNamara that his son isn't planning to enroll at Providence at all
. The family has filed an appeal to the school, and could file an appeal to the NLI committee next:
"Right now, Joe doesn't even want to discuss school. My sister is what's important to him. The kid is in shambles," Michael Young said. [...] "Coach Keno is a bright guy and I understand how the coaching game works, but with what Joe is going through I would never hold a kid back," Michael Young said. "The way the kid trusted him and believed in him, and now he doesn't even want to talk about school."
According to McNamara, Davis isn't budging from his earlier comments. The reason? The situation is a bit more complicated than a sick family member:
One school of thought has Young pledging to PC last summer when the Friars were the best offer on the table. At the time, it was clear that then-Houston coach Tom Penders was considering retirement and would not be around for Joseph's college career. Sure enough, Penders did retire after leading the Cougars to an NCAA Tournament berth. He was replaced by James Dickey, who quickly chose to rehire Michael Young as the program's director of operations and performance enhancement. Dickey's hiring certainly makes staying home and playing in Houston a better option for local prospects such as Joseph Young.
In other words, Davis is concerned -- much as DePaul was -- that his recruit's reasons for leaving are less than transparent. His father is newly hired at a hometown school. No one around the Young family would ever say so, but the concern is valid. No coach wants to lose a recruit; signing players is a long slog that requires countless hours and resources, and losing one after the barn door is already shut has to feel like a kick in the stomach. That goes double for programs like DePaul and Providence, which need every recruit they can get.
In the end, though, Providence almost has to make the same decision as DePaul. The reasons don't matter. Young doesn't want to play for Providence. He doesn't plan to enroll. Forcing him to do so -- or forcing him to incur the wrath of his NLI, which means a loss of one season of competition -- seems overly harsh, even if the prospect has been openly tampered with.
The Dagger's Jeff Eisenberg hits the nail on the head
:
If Young wants to be closer to his ailing aunt, Providence should release him. If Young is concerned about the direction of the program under Davis, Providence should release him. And if Young simply wants to play for Dickey and his father at Houston, Providence has made its point about the potential tampering and it should still release him. It's a complicated story, but the solution is simple.
Exactly. Providence has made its point. There's nothing to be gained from continuing the standoff. Young is already unlikely to enroll at Providence. But there is something greater at stake here: Davis' reputation among prospects. No coach or program wants to be seen as a punitive, unfriendly leader. That doesn't help anybody, and even if you're in the most dire, talent-related straights, the opportunity cost of that perception is much greater than losing a player like Joseph Young.
The Friars' hands are tied. They have to release Young. They may not like it, but it's the only way this saga can end.
June, 4, 2010
6/04/10
11:35
AM ET
Yesterday, yours truly got all high and mighty about
DePaul's decision to block recruit Walter Pitchford's appeal
to be released from the national letter of intent he signed with the school last fall. Pitchford signed with the school when former coach Jerry Wainwright was still in the building; now Wainwright is gone and Pitchford wants out. DePaul, struggling to keep pace in the Big East and faced with a rebuilding project under new coach Oliver Purnell, basically just told Pitchford no. Which is pretty ridiculous, when you really think about it.
Here we are, a mere day later, and the story remains the same. This time we turn our attentions to fellow Big East cellar-dweller Providence, where recruit Joseph Young, a 6-foot-2 shooting guard from Houston, Tex.,
has asked Providence coach Keno Davis for a release from his letter of intent
. Davis' response sounds a lot like DePaul's: No, you're going to stay.
"Joe Young signed a National Letter of Intent... and we expect that he will honor that commitment," Providence coach Keno Davis said.
Naturally, the Young family isn't too happy about this. Michael Young, the player's father, insists the request is thanks to his sister's recent series of open-heart surgeries:
"We're concerned about my sister," Michael Young said. "Sports and basketball, it is what it is. If that can work out and he's able to stay close to home and play this year, fine. Right now, we're done to talking to Providence. We have nothing else to talk about. Providence as we can see is not family. We put family first."
I'm not sure this means Providence isn't "family first." I just think it means the program is desperate.
The truth is that the motive for the player's release request shouldn't matter. If a recruit decides he doesn't want to come to your school, then you should let him go. If you're Keno Davis, that's a hard calculus to figure; you probably spent the better part of the last two years recruiting Joseph Young, and now you want to see the fruits of that labor pay off.
But if a recruit is no longer enthusiastic about being your player, somewhere along the line, you lost him. You have to let him go. It's that simple. It's especially bad when a school refuses to do so in the midst of a coaching change -- looking at you again, DePaul -- but it's always bad.