College Basketball Nation:

Josh Bartelstein
August, 22, 2013
8/22/13
1:30
PM ET
It was easy to be cynical about the Fab Five at the Final Four.
[+] Enlarge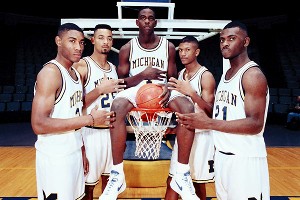 AP PhotoMichigan players were cynical about the presence of The Fab Five in the locker room at the Final Four in April, but what Juwan Howard said helped change their perspective.
From the outside, former Wolverines star (and ESPN analyst) Jalen Rose's public pressure on Chris Webber to attend the 2013 national title game, and all the fanfare that accompanied it -- a close-up of Webber arriving at the arena, constant shots of the Fab Five in the crowd -- seemed to be calculated, a way to reflect some of the overwhelming national attention being paid to the Wolverines' rebirth back onto a group that, save Webber, has never been shy about touting its complicated legacy. With John Beilein's career 30 years in the making, and
Trey Burke
's player of the year bona fides up against the best defense in the country, the visibility allocated to a team that played in the early 90s felt at best like a bunch of old guys working out their demons and at worst like a public relations stunt. Maybe both.
That might not have been the motive at all. But that's how it
looked
, at least from outside the Michigan locker room -- especially when the Fab Five crammed into said locker room after a devastating title game loss. There is never a more sensitive time to be with a team, and it was easy to picture Michigan's players' puffy eyes staring blankly ahead, if only to keep them from rolling.
Turns out, some of Michigan's players might have been just as unconvinced of the Fab Five's motivations as I was.
UM Hoops asked former reserve
Josh Bartelstein
-- one of the best, and most honest, quotes in the sport last season -- about the whole Fab Five
thing
, and his response was both polite and illuminating. There were raised eyebrows, maybe a dash of resentment. And then Juwan Howard spoke.
"At first, it was a little like, 'What are these guys doing here, they haven't been a part of this team or a part of this program for a really long time.' But then, once all the media cleared out they spoke. And I thought Juwan [Howard] really had a great message: They were here for us. They were here to link Michigan past and the present and the future together. And he said one of the greatest accomplishments this team will have is bringing Michigan basketball back. They weren't there to talk to the media, they weren't there for themselves. They were there to support us and Michigan basketball. They came around and gave everyone a hug, and they said that if any of us ever need anything from them they'll be here, whether it's advice about basketball or life; they're here for us. I think after initially feeling like they were here for the media circus of it, they were here because they loved what we stood for and loved how we played. I think that meant a lot to us. Juwan did a great job with it."
For one, that pretty much lines up with everything NBA people say about Howard, who at 40 years old remained worth a roster spot in Miami the past two seasons
even as a quasi-assistant coach/part-time motivational speaker
. If you have the cachet to scream at the best player in the world during the Eastern Conference finals, you have officially mastered the art of locker room chemistry.
But the larger points are that A) even Michigan's players were skeptical, and understandably so; and B) Howard, and presumably the rest of his old-school cohort, got it. For whatever other baggage was bound to come along for the "Fab Five Takes Atlanta" routine, they were ultimately there for support, as fans and former players, as people who desperately want Michigan basketball to be elite again. They might even have been grateful: It took a long time for the Wolverines to recover from the Ed Martin scandal, but after a few years of rebuilding, Beilein and a bunch of kids too young to remember the glory days finally got it done.
For the first time in 15 years, the future of Wolverines basketball seems as bright as it did in the halcyon days of the early 90s. The through line has been drawn. The outside noise was deafening, sure, but maybe the Fab Five needed to be in that locker room after all.
March, 3, 2013
3/03/13
9:13
PM ET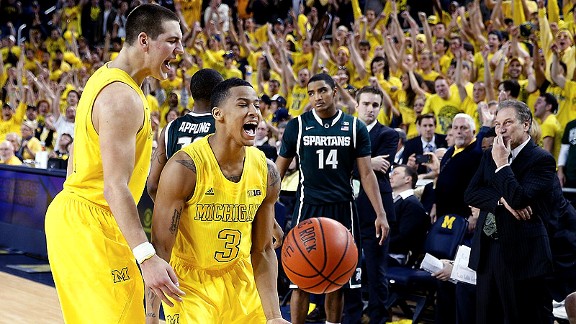 Gregory Shamus/Getty ImagesTrey Burke's play in the final moments sealed the game for the Wolverines.
ANN ARBOR, Mich. --
Keith Appling
couldn't see it coming. He was looking toward the Michigan State bench, trying to receive one last instruction on whether to call a timeout, and he had a split-second lapse. It was all the time Michigan guard
Trey Burke
needed.
Burke had waited for that moment all game because Appling had protected the ball well until the final 30 seconds. The opening Burke relished appeared, and instinct and experience took over.
Appling started to turn and Burke made his move, a quick flick of his wrist knocking the ball away into Burke's hands. He led a breakaway dunk and gave Michigan the final points it would score in a
58-57 win
over rival Michigan State.
"I knew it at that time, once he got all the way to the side," Burke said. "Once I got the steal, the crowd was still kind of quiet. I don't think the crowd knew I had the ball.
"Once I took the first dribble, everyone is like, 'Ahhhh.' I'm like, 'OK, I got this.'"
It was a play he has made repeatedly, one he was conditioned to make as a kid growing up in Columbus, Ohio. Appling may have not known it at the time, but he fell right into Burke's signature move, a high-risk swipe his father, Benji, taught him when he was a fifth-grader.
At first, Burke wasn't good at the move, which has no fancy name other than "a steal." Burke kept shooting the gap only to end up out of the play. As he grew, he started to understand the mechanics of the move and how it could enhance his defense. It turned into a staple, one opposing guards can't see coming.
"I was very shocked," Appling said. "I didn't expect for that to happen. But it did. And now I can't dwell on it."
Having lost four of their past seven games -- including a stunner to league bottom-dweller Penn State on Wednesday -- that singular play may have salvaged Michigan's season and pushed Burke back into the national player of the year race.
The root of the play -- and how Michigan played Sunday -- started a few days earlier in Pizza House, a local restaurant where Michigan coach John Beilein's radio show is broadcast each week. Burke and seniors
Corey Person
and
Josh Bartelstein
had enough of the losing. They were sick of meetings with coaches.
They called one last chat, a players-only discussion lasting 90 minutes at Pizza House. Person laid out each player's contributions to the team. Burke brought up intensity and passion, things he felt Michigan needed. Unlike a season ago, when Michigan had obvious leaders in Zack Novak and Stuart Douglass, this year none existed. Until lately, when Burke started to realize it had to be him.
"It's allowing the team to be able to grow in different areas," Burke said. "I see our flaws and see what we need to work on, and once I let Glenn [Robinson III] know what he needs to work on or what he's doing out there, it gets through to him.
"That means a lot, because we're a young team."
The catalyst of Michigan's offense and the focal point of every team's defense, Burke had to somehow do more.
For 39 minutes, he waited for the moment. He placed Michigan in the position to win anyway, scoring 21 points, dishing out 8 assists, grabbing 4 rebounds and making 5 steals -- the last two coming in the last half-minute of the game.
It was what he wanted. The game on the line. The pressure on him to make a play. The play. All things he had done before and things Michigan had seen before.
"The steal he does on the spin, he always does it," freshman guard
Caris LeVert
said. "That's Trey's signature move. When he spun, I knew Trey was going to get him.
"When you kind of look, whenever an opposing guard spins like that, Trey is going to get his hand on the ball and get a breakaway."
He did and as Burke drove, Michigan forward
Mitch McGary
hoped Burke would remember not to hang on the rim and to get back on defense.
They had seen all of this before -- Burke did something similar the past two seasons against Ohio State in this building -- but this time Burke understood the gravity of everything.
After he dunked it, he felt relieved. Michigan wasn't done yet, both in this game and for the season. Of all those plays he made, this one ranked above them all.
"That's No. 1," Burke said. "I've had a lot of those types of steals but our team needed that the most at that time. Who knows what would have happened if I hadn't got that steal. Maybe we'd be crushed here if they hit a game-winning shot.
"It was my job to make a play for this team."
It has been all season. In its most critical juncture, he did.
November, 23, 2012
11/23/12
7:12
PM ET
NEW YORK -- Quick thoughts from No. 4 Michigan's
71-57 victory
over Kansas State in Friday's championship game of the NIT Season Tip-Off at Madison Square Garden.


Overview:
With its second-half crushing of Kansas State, Michigan won its first in-season championship since the 2006 John Thompson Classic and its first neutral-site tournament since the 1997 Puerto Rico Holiday Classic.
Tim Hardaway Jr.
carried the Wolverines with a 23-point, seven-rebound performance, even more important because Michigan (5-0) didn't receive much help from sophomore guard
Trey Burke
, who sat for seven minutes of the first half in foul trouble and scored his first basket 21 minutes into the game.
Kansas State (5-1) struggled with Michigan's pace and athleticism. The Wildcats, who used a methodical, plodding style to knock off Delaware in the semifinals, could not approximate that type of defense against Michigan. The Wolverines were able to run the break well and play strong in the post, even with starting forward
Jordan Morgan
in foul trouble the entire night.
Turning point:
Hardaway threw down a nasty crossover on Kansas State's
Will Spradling
before hitting a 15-foot jumper, and Burke followed with a layup on the next possession, giving Michigan a 35-24 lead less than two minutes into the second half and opening up the game for the Wolverines.
Key player:
Hardaway looked like every bit a guy who could play in the Garden on the next level as well. He had multiple pro-caliber moves, including a floating layup between three Kansas State defenders and the aforementioned crossover.
Key stat:
Forty rebounds. Under coach John Beilein, Michigan has never been a good rebounding team, usually sacrificing wins on the boards for 3-point shots and transition defense. Not this team. The Wolverines outrebounded a strong front line for the second consecutive game, outrebounding Kansas State 40-28 after outrebounding Pittsburgh, 31-21, on Wednesday.
Miscellaneous:
Michigan captain (and walk-on)
Josh Bartelstein
missed his second straight game with an ankle injury. … Michigan also went deep into its bench early, playing little-used reserves
Eso Akunne
and
Max Bielfeldt
in the first half. …
Rodney McGruder
had 16 points and seven rebounds for the Wildcats. … Hardaway left the game with 3:37 remaining with an injury and did not return. He was taken inside the tunnel before returning to the bench in the final minute. … The NIT Season Tip-Off All-Tournament team comprised Delaware guard
Devon Saddler
, Pittsburgh forward
Talib Zanna
, Kansas State guard
Angel Rodriguez
, Burke and the tournament's most outstanding player, Hardaway.
Next game:
Michigan heads home to face another BCS-conference team, No. 16 NC State, in an Big Ten/ACC Challenge game on Tuesday night. Kansas State is off until it faces South Carolina Upstate on Dec. 2.