College Basketball Nation:

Josh Bone
March, 10, 2011
3/10/11
10:12
PM ET
ATLANTA -- Tennessee nearly blew a 16-point lead in the final seven minutes of its SEC tourney opening-round game against Arkansas, but survived with a
74-68 victory
at the Georgia Dome.


The Razorbacks trailed 68-52 with 7:05 to play, but then went on a 16-0 run to tie the score at 68 with 2:08 remaining. After starting the second half 14-of-18 from the field, the Volunteers went 0-for-11 from the floor and had two turnovers during their nearly five-minute drought.
Arkansas had a chance to take a lead in the final two minutes, but forward
Delvon Johnson
turned the ball over while trying to spin around UT freshman
Tobias Harris
with 1:10 left.
On Tennessee's next possession, Harris found senior
Brian Williams
inside for an easy layup to make it 70-68 with 55 seconds to go. After the Hogs called timeout, UT guard
Melvin Goins
stripped the ball from guard
Julysses Nobles
, and Harris was fouled with 33.8 seconds to play. Harris made two foul shots to seal the victory.
Turning point:
After the Volunteers took a 16-point lead in the second half, Arkansas got back-to-back 3-pointers from
Rotnei Clarke
and Nobles to make it 68-64 with 3:41 to play. Williams, the Vols' best inside presence, was poked in the eye and had to leave the floor. The Hogs tied the score at 68 with Williams sitting on the bench. He returned to make the winning basket.
Key player:
Harris, a freshman from Dix Hills, N.Y., is considered a potential one-and-done player and it doesn't take very long to see why he might enter the NBA draft after only one college season. The 6-foot-8 forward scored 20 points on 7-for-13 shooting and grabbed three rebounds.
Key stat:
The Volunteers held on to win despite shooting only 2-for-15 on 3-pointers. It was the fewest number of 3-pointers UT made in a game this season, tying season-lows in losses to Kentucky and Charlotte.
Miscellaneous:
Junior guard
Scotty Hopson
, the Vols' leading scorer with 17.7 points per game, scored only eight points on 4-for-9 shooting. He didn't start the second half because of a "coach's decision" and was replaced on the floor by senior
Josh Bone
.
What's next:
The Volunteers will play SEC regular-season champion Florida in Friday night's quarterfinals. Both of UT's games against UF this season were extremely close, with the Gators winning 81-75 in overtime in Knoxville on Jan. 11 and 61-60 in Gainesville on Feb. 12. Arkansas finished the season with an 18-12 record, and coach John Pelphrey's future at the school seems to be tenuous at best with a 69-59 record in four seasons.
February, 9, 2011
2/09/11
1:19
AM ET
LEXINGTON, Ky. -- Bruce Pearl returned to the SEC sidelines on Tuesday night. Unfortunately, not all of his players came with him.
Tennessee could have had Bruce Wayne or Minnie Pearl coaching it against No. 18 Kentucky, and the Volunteers still wouldn't have had much of a chance the way they let themselves get pushed around in a
73-61 loss
at Rupp Arena.
[+] Enlarge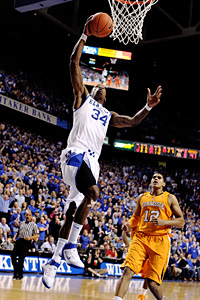 Andy Lyons/Getty ImagesKentucky's DeAndre Liggins finished with 19 points, five steals, five rebounds and three assists.
"Just too many no-show performances," Pearl said.
The story of the night was the re-emergence of the Wildcats' veterans, not Pearl. Normally so reliant on its freshmen, John Calipari's team got an unexpected boost from the upperclassmen.
Junior
DeAndre Liggins
, a defensive standout who's usually an offensive afterthought, matched his career high with 19 points. Senior center
Josh Harrellson
scored in double figures for the first time in over a month with 16 points; he apparently loves rivalry games, since Tuesday was his best scoring effort since a 23-point performance against Louisville. Inconsistent junior
Darius Miller
struggled with his shot but chipped in six rebounds and generally solid play.
Calipari's favorite comeback, though, was the resurfacing of a toughness missing from his team's back-to-back road losses at Ole Miss and Florida. On the plane home from Saturday's loss in Gainesville, he berated his players' individual shortcomings. Each had to stand up before his teammates this week and verbally commit to improving an aspect of their game. To drive the point home, Calipari put boxing gloves on each player and had them work the heavy bag for about a minute.
"It was like jab, jab, jab, body shot," Liggins said. "It was more of a mindset, a toughness thing."
Kentucky didn't do any literal punching but outfought Tennessee in just about every aspect. The Wildcats outrebounded the Volunteers 38-28, got to the free throw line 27 times to Tennessee's 12, hustled for every loose ball and scored 21 points off turnovers.
"Looking at the stat sheet, there was no possible way we could have won that game," Tennessee center
Brian Williams
said.
It was almost a must-win game for both teams in the crowded SEC East. Kentucky (17-6, 5-4) was in danger of falling under .500 in league play. Instead, it moved into a second-place logjam with Tennessee and Georgia, with South Carolina and Vanderbilt also tied in the loss column. The Wildcats still are in the race but have to figure out how to win on the road, where they're 1-4 in league play with a tricky trip to Vandy coming up.
"We've got a short roster and are not playing that many guys, so we've got to be tough," Liggins said. "That showed big tonight, but the main thing is doing it on the road, not just at home."
[+] Enlarge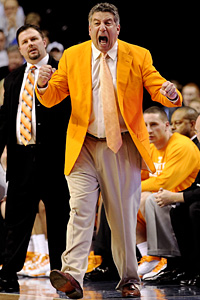 Andy Lyons/Getty ImagesBruce Pearl returned from an eight-game SEC suspension against Kentucky.
The Vols (15-9, 5-4) are on the NCAA bubble and face an all-important game at division front-runner Florida on Saturday. But at least they'll have Pearl back in the huddle. They managed to go 5-3 as he served an eight-game league suspension for lying to NCAA investigators last summer.
"It meant a lot to us to get him back," guard
Josh Bone
said. "We didn't get the win, and that hurt. But hopefully having him on the sideline will spark us in our next game."
Pearl joked Monday that his suspension was actually harsher than eight games since he had to make his return at Rupp Arena. He wore his trademark orange blazer for this one, but the garish coat couldn't help him avoid a five-game losing streak in the building.
A Kentucky fan yelled "Welcome back" as Pearl headed to the locker room following warm-ups. But not all proved as welcoming. A small group of blue-clad fans directly behind the Tennessee bench shouted things like "cheater," "liar" and other unprintable words at Pearl (which, given Kentucky's own spotty NCAA history, seemed a little ironic). At halftime, Pearl asked arena security to do something about the fans.
"It was just the language; my family is back there," Pearl said. "They can say whatever they want."
Pearl has bigger issues. Leading scorer
Scotty Hopson
came back from an ankle injury that kept him out of the past two games, but he clearly wasn't 100 percent. Star freshman
Tobias Harris
, whom Pearl said still isn't fully recovered from his own ankle problem, had one of his worst games of the season with 10 points and only two rebounds. Harris didn't get to the free throw line until the final minute, but at least he was the only Volunteers frontcourt player who did make it to the charity stripe.
"It's a toughness issue," Bone said. "You can control your toughness and control being punked by somebody. We lacked that tonight."
Unless that changes, it won't matter where Bruce Pearl spends his game days.