College Basketball Nation:

Josh Harrelson
August, 15, 2011
8/15/11
12:04
PM ET
Technically, this is an NBA story, because Josh Harrellson is (improbably and awesomely) now technically a member of the New York Knicks. But the NBA lockout continues to drag on, and we college hoops fans have a special appreciation for the man they call "Jorts," and it's a harrowing story, so I'm blogging it. Cool? Cool.
The story goes like this: Harrellson and some friends were leaving a local Lexington, Ky. establishment Saturday --
the Tin Roof bar
-- when they noticed an apparently drunk man getting into his truck and starting his car. Harrellson and his buddies were standing by his truck when the drunk man took off and -- veering and swerving across the bar parking lot -- took off right at Harrellson and company.
Jorts pushed his friends out of the way in the nick of time, and the driver smashed into Harrellson's truck. He then hit another car, then Harrellson's again, and that's when the 6-foot-10, 275-pound power forward sprang -- in so far as a man that size can "spring" -- into action. From
WKYT in Lexington
:
"About four or five of us guys jumped on the truck and reached in there and turned the keys off and just tried to make sure he wasn't going anywhere," he said. He says it was a harrowing experience, but when he discovered there were young children in the backseat, he knew it was worth it.

"We were just worried because he could have put it in drive at any time and maybe ran somebody over, or while our arms were in the car, just kept going and we could have been drug or something. I'm the type of guy that, I want to make sure everybody else is alright. I saw it, I moved out of the way, I'm fine. My truck got hit, that's replaceable. I was just thankful nobody got hurt and the kids were fine," said Harrellson.
Harrellson's car got dinged up -- you can see video of the rear driver's side dent on WKYT's site; it's a doozy -- but luckily, that was the only thing hurt. Most importantly, the driver wasn't allowed to get on the road in his state. Not only could he have killed other drivers, but he could have killed himself and the kids that were sitting in the back of his cab. He almost went that far in the parking lot.
In other words: This weekend, Josh Harrellson saved lives. If there was any justice in the world, that drunk would have to buy Jorts an entire brand new extended cab 4x4 pickup truck,
preferably one that has a WiFi hotspot in the cab
. (Do you know how much blogging you could do from that thing?)
For now, Harrellson will have to settle for our collective praise. And "well-deserved" doesn't begin to describe it.
(Hat tip: BIAH)
May, 2, 2011
5/02/11
12:00
PM ET
Brandon Knight -- alongside teammates Terrence Jones and DeAndre Liggins -- has the next six days to make one of the most important decisions of his life. In six days, Knight, Jones and Liggins will decide whether to leave for the NBA or return to Kentucky for another season of college basketball.
So, where does Knight stand? Is he feeling the pull of the league, the pull of Big Blue Nation or both? Can a group of small-town Kentucky schoolchildren charm him into saying "yes" to a return for his sophomore season? According to
Kentucky's Winchester Sun, those children gave it their best shot late last week
:
The students chanted "one more year" as Knight was introduced and took part in a question and answer session with Conkwright principal Travis Earlywine. Knight smiled at the chant and indicated that he's still undecided on whether or not he will return next season for his sophomore campaign.

"I'm still 50-50," he said. "I haven't really made a decision yet."

As for coming back to Kentucky, Knight said he "wouldn't mind it" and would embrace another opportunity to play for the Wildcats for one more season. "Kentucky is a great place and I've enjoyed being here," he said. "That wouldn't be a bad decision at all."
Knight might be being just a tad bit generous to the eager kids; at this point, it would count as a major shock to see him return to college hoops for his sophomore season. The same goes for Jones. Both are slated as lottery picks or near to it at this point. Knight is likely to be the second or third point guard prospect chosen after Kyrie Irving and Kemba Walker; Terrence Jones' draft stock got a major boost with the confirmed returns of forwards Perry Jones, Jared Sullinger and Harrison Barnes earlier this month. Both are near-locks to receive guaranteed contracts, and both would be returning to crowded playing situations with hugely talented players at both of their collegiate positions.
Fortunately, both have a few more days to decide. They also have the benefit of what Kentucky coach John Calipari is calling the Kentucky combine. Yes, Calipari invited every NBA team to attend and view Knight, Jones, Liggins and senior Josh Harrelson in individual and group workouts in Kentucky's practice arena today and Tuesday. (Presumably, Harrelson
will be working out in jorts
.)
But hey: These are the kinds of positive, career-oriented things players and coaches can organize when they have more than a few days to withdraw their names from the NBA draft. Right, NCAA? What's that? You
don't want to even get me started
about
the new entry deadline rule
? Fair enough, then.
December, 31, 2010
12/31/10
3:05
PM ET
Throughout November and December, even as their young team was making impressive strides in a difficult nonconference schedule, Kentucky fans had a singular refrain: "Free Enes."
After Friday's resounding 78-63 win at Louisville, perhaps Big Blue Nation should adopt a new slogan for their arena signs, T-shirts and message board signatures: "Enes Who?"
[+] Enlarge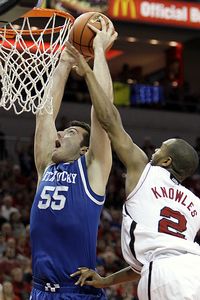 AP Photo/Ed ReinkeJosh Harrellson had the game of his life on Friday, contributing 23 points and 14 boards.
As Kentucky waited for word in the inexorably NCAA eligibility case of highly rated Turkish prospect Enes Kanter,
Josh Harrellson
-- Kentucky's occasionally maligned would-be backup center -- proved that maybe the Wildcats don't need Enes after all.
Harrellson went 10-of-12 from the field, scored 23 points, grabbed 14 rebounds, and led Kentucky to an easy victory at the KFC Yum! Center. Thanks in large part to his effort -- which even saw the big man drain a 3-pointer, Harrellson's second make (and third attempt) of the season -- Kentucky rolled over an offensively impotent Louisville team hurting from the loss of forward
Rakeem Buckles
to injury.
Rivalry implications aside, the win solidifies Kentucky's progress before the start of SEC play. The Cats didn't need a quality nonconference victory, but after losses to Connecticut in Maui and North Carolina in Chapel HIll, it was clear UK's freshman-oriented lineup as currently constructed (read: without Kanter) still had plenty of improvements to make if it planned to put together a deep tournament run in March.
The Wildcats have made many of those improvements. After an uneven start,
Brandon Knight
showed why he was such a cherished prospect. His ability to run Calipari's show while stretching the defense with outside shooting (Knight scored 25 points on 7-of-13 from the field, including 4-of-6 from 3) is a rare luxury few teams in college basketball have. If Knight is this good, Kentucky doesn't need fellow stud freshman
Terrence Jones
to carry nearly as much of the scoring load. Jones (12 points, eight rebounds, 5-of-11 from the field) is perfectly capable of that, of course, but Calipari's dribble-drive motion offense works better when it has balance. Kentucky found that balance Friday.
Facing that daunting defensive task, Louisville couldn't keep up. The Cardinals have been a vastly improved defensive team this season, thanks in large part to Pitino's tactics, which have seen the classic run-and-gun coach ramp up his pace and create gobs of turnovers in the full-court press. Kentucky kept the turnovers to a minimum and made enough shots, but the real problem for Louisville came on offense.
The Cardinals suffered a six-minute, halftime-straddling drought that left them stuck at 24 points until the 18:30 mark of the second half. After
Preston Knowles
broke that streak with a breakaway dunk, Louisville scored only four points over the next four minutes. Kentucky built its lead to 44-28 and never looked back, leaving Louisville and its rabid fans in the proverbial dust.
It's a big win for NCAA tournament seeding purposes, of course; any true nonconference road win over a top-20 team qualifies as big. But far more important is what the win means to the rivalry in the Commonwealth.
In nearly every facet of college hoops -- on-court success, recruiting, national profile, media attention -- Kentucky has overtaken Louisville in the two years since John Calipari's arrival in Lexington. Pitino has weathered this storm with varying degrees of success; last year's extortion circus was a black mark, to be sure, but Pitino managed to land a top recruiting class for 2011 despite his travails. This season, he revamped the Cardinals' style and saw them streak to unexpected early-season success, an imprint of his ability to affect the game with X's and O's.
All of these things were positive signs for Louisville fans, indicators that Pitino wasn't about to let his personal and professional rival take over the Commonwealth that easily. All the Cards needed was a win. Instead, Calipari's supreme young talent -- with an assist from an obscure-until-now senior like Harrelson -- took over.
As of today, Kentucky still owns the Commonwealth. And it didn't need Enes Kanter to do so.