College Basketball Nation:

Josh Scott
January, 24, 2014
1/24/14
12:06
AM ET
It seems like every team had to make some sort of adjustment in conference play.
No. 17
Ohio State
and
Illinois
were in need of major overhauls after both entered Thursday's meeting on four-game losing streaks.
No. 1
Arizona
and No. 6
Florida
had the luxury of needing only a few tweaks.
And then there were teams such as No. 15
Cincinnati
and
Colorado
, which have had to adjust to the loss of injured players.
None breathed a sigh of relief quite like the Buckeyes did, though. Ohio State topped the Fighting Illini 62-55 and can, at least temporarily, change its season's narrative. Its 15-0 start flipped to "What's wrong in Columbus?" very quickly as losses piled up and offensive weaknesses were exposed.
There was nothing more symbolic of the Buckeyes' struggle through four games as one sequence early in the second half Thursday.
Amir Williams
had a clear path to the rim and a sure dunk that he bounced off the back of the rim. Ohio State controlled the ball and Williams again found himself making his way to the basket when he got his shot altered and the Illini headed the other way.
The Buckeyes didn't let their losing streak, nor their 29 percent shooting in the first half, create unnecessary pressure. Buckeyes coach Thad Matta figured out ways to get his two leading scorers open shots. Some of them came off Illinois' 15 turnovers, but many others came in half-court sets.
[+] Enlarge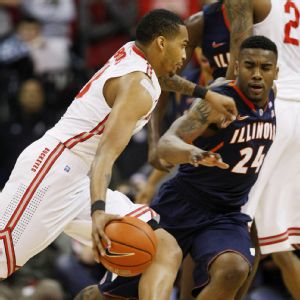 AP Photo/Paul VernonLaQuinton Ross and Ohio State were able to find some offensive cohesion in the second half against Illinois, breaking a four-game losing streak.
Leading scorer
LaQuinton Ross
, who had only four points in the first half, pumped out 14 for the Buckeyes in the second.
Lenzelle Smith Jr.
, who entered the game shooting 16 percent from 3-point range in Big Ten play, went 4-of-8 from behind the arc and scored 10 of his 14 points in the second half.
Smith hit a huge 3-pointer with 1:25 left that gave Ohio State a 58-50 lead, and the Illini never got within one basket the rest of the way.
Just as the Buckeyes got a temporary reprieve from their struggles, it seems like trouble for Illinois is about to hit unfair levels. The Illini still have three games remaining in a five-game stretch that features four ranked opponents.
They left Columbus with many questions on how they can adjust, especially after leading scorer
Rayvonte Rice
, who averaged 17.4 points per game, was held scoreless on 0-for-8 shooting against Ohio State.
Arizona isn't searching for much of anything after winning its 19th straight game. Wildcats coach Sean Miller is keeping his rotation tight, using only eight players against the Buffaloes. But eight was obviously enough for Arizona, which never trailed, as
Nick Johnson
led the Wildcats with 18 points.
The way Arizona is playing, it's hard to imagine a healthy
Spencer Dinwiddie
would have made much of a difference.
Dinwiddie was Colorado's leading scorer before suffering a season-ending knee injury on Jan. 12 in a loss at
Washington
. Wing
Tre'Shaun Fletcher
was hurt in the same game, but he's expected to return. Since then, the Buffaloes have been trying to find a viable third scoring threat to help replace Dinwiddie's 14.7 points per game.
It's unfair to expect too much from freshman
Jaron Hopkins
, who replaced Dinwiddie in the lineup. He finished with two points on 1-of-5 shooting.
Both
Josh Scott
and
Askia Booker
have been consistent double-figure scorers, and they contributed 13 and 11 points, respectively, against the Wildcats. But it was sophomore forward
Xavier Johnson
who had the kind of breakout performance that could signal readiness for a bigger role.
Johnson scored a game-high 21 points -- just one shy of his career high -- included 4-of-5 shooting from 3-point range. It was the only game this season in which he logged more than 10 field goal attempts.
No. 15 Cincinnati has had its share of attrition this season with freshman center
Jamaree Strickland
being declared ineligible, guard Jeremiah Davis III transferring to Ball State and forward
Jermaine Lawrence
suffering from turf toe that has kept him sidelined the past three games.
But the Bearcats continue to move forward and lead the American Athletic Conference after their 69-51 win over
UCF
.
Sean Kilpatrick
led the way with 19 points, but it is their defense -- one that held UCF to just 26 percent from 3-point range -- that keys their victories.
Arguably no ranked team has had to make as many adjustments as Florida this season, with injuries and suspensions forcing coach Billy Donovan to juggle his lineups. The Gators have proven to be a resilient group, as
Alabama
can attest.
On a night when the Gators shot only 37 percent, they still made 10 3-pointers.
Michael Frazier II
made five of his attempts beyond the arc for a game-high 18 points as Florida beat the Crimson Tide 68-62 for their third SEC road win.
March, 22, 2013
3/22/13
8:25
PM ET
AUSTIN, Texas -- Somewhere lost in all the pomp, circumstance, inspirational montages and endless car commercials of the NCAA tournament is the little secret someone forgot to mention to Colorado and Illinois -- in order to win, you must put the ball in the basket with at least a modicum of regularity.
That's not to say the seventh-seeded Illini and No. 10 seed Buffaloes missed all their shots. But each did miss enough -- 11 straight for CU to end the first half; 14 in a row, including 11 3-pointers, for the Illini at the start of the second half -- to build unnecessary and frustrating drama into a game that could have been void of both. (Apparently it is in the contract of both teams that, since this is March, they must provide some madness. And boy, were the coaches plenty red in the face.)
But, finally, the drama came to a close, along with Colorado's season, as Illinois' 16-point lead -- built during CU's horrid shooting stretch -- was enough to withstand a 23-2 Buffaloes run -- made possible by the Illini's putrid shooting stretch -- to eke out a
57-49 win
in the second round on Friday.
"It's easy to come back. It is hard to come back and win,'' CU coach Tad Boyle said. "Our scoring droughts are tough to deal with. We played well enough to win today. We just didn't play well enough down the stretch to win.''
It's hard to say Illinois (23-12) played well enough to win, either. The Illini shot 13 percent in the second half. But they pulled it out at the end.
[+] Enlarge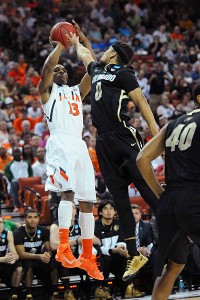 Brendan Maloney/USA TODAY SportsTracy Abrams scored 13 for Illinois on 4-of-10 shooting, and added 6 assists and 4 rebounds.
"It was only fitting that the game was maybe as strange a game -- as far as the ebb and flow of it -- that I have been associated with this group,'' said Illinois coach John Groce. "We have done it the hard way with this group a lot.''
"We just find ways,'' said Illinois guard
Tracy Abrams
.
Now it is time for Illinois to try to find a way to win against Miami, which appears to be about as intimidating as Tony Montana. The Illini get the No. 2 seeded Hurricanes here in Austin on Sunday. So they get to deal with size -- three players of 6-foot-10 or better in the rotation; speed --
Shane Larkin
moves like mercury on marble; and an experienced coach -- Jim Larranaga has been there, done that, with much less talent, just a few years ago at George Mason. It appears to be a daunting task for an Illinois program that slogged through the first nine games of its Big Ten schedule at 2-7. Miami started ACC play 13-0, by the way. Oh, and the Hurricanes had a 27-point win over then-No. 1 Duke.
"I know that they have got great size and they are going to play very hard,'' Groce said.
Illinois had its win over a No. 1, too, beating Indiana 74-72 on Feb. 7. So the Fighting Illini are capable. But they also need to be held culpable for their errors. It was those errors -- all 14 of them in a row -- plus a couple of turnovers, that might leave some wondering just how big a mismatch Sunday will be. (Did anyone mention Miami won
78-49
and had nine guys score in the first half against Pacific on Friday? Well, it did.)
OK, there are a few glimmers of hope. Illini guard
Brandon Paul
didn't improve his shooting percentage -- he is a 40 percent guy -- but did make 9 of 10 free throws, five of which helped seal the game. In fact, for as bad as the Illini were from the field (30.8 percent), they were solid from the line (70.8 percent).
"
D.J. [Richardson]
was in my ear, telling me to just keeping fighting,'' Paul said.
Then there was the defense and the rebounding. Illinois has now held two tournament teams under 50 points in its past three games -- Minnesota in the Big Ten tournament and Colorado (21-12) on Friday. The Illini, despite giving up 14 rebounds to
Josh Scott
, were able to win the battle of the boards 37-36. And that was crucial in a game where misses were rampant -- and will be crucial again against the taller, thicker Hurricanes.
Illinois proved it could close. After failing so miserably from the field and falling behind, the Illini finished on an 18-5 run. One might say that they looked into the abyss and didn't blink. Miami looms large; if they can look at the Ibis and do the same, they just might be OK.
January, 8, 2013
1/08/13
5:00
AM ET
1. Colorado coach Tad Boyle did follow up with Ed Rush, the Pac-12 coordinator of basketball officials, after last Thursday's controversial overtime victory for Arizona. Rush publicly defended the officials' call on overturning
Sabatino Chen
's 3-pointer at the buzzer. Rush did the same thing privately to Boyle. But Boyle said Rush admitted the officials didn't get a substitution call correct with under two minutes to go in the game. Arizona was allowed to sub in but Colorado wasn't, according to Boyle. That allowed a mismatch with
Josh Scott
on
Solomon Hill
, who ended up making a 3-pointer to cut CU's lead to five with 1 minute, 41 seconds remaining in regulation. Boyle said there was no hangover for the Buffs when they lost two days later at Arizona State. But he said this week's homestand should provide a great atmosphere, with USC and UCLA coming to Boulder. CU needs these wins to be a contender.
2. Lehigh coach Dr. Brett Reed said during our ESPNU podcast Monday morning that a decision still needs to be made about whether to surgically place a pin in
C.J. McCollum
's broken foot. He said every precaution is being taken since no one wants to mess with the senior guard's possible NBA career. I didn't get the sense that Reed is fully expecting McCollum to return anytime soon; to project that he might not come back this season wouldn't be a reach. Meanwhile, McCollum said the Mountain Hawks cannot panic. You can tell Reed is up for the challenge of trying to beat Bucknell in the Patriot League without McCollum.
3. Minnesota's Tubby Smith also joined us on the Monday podcast and said his team is ready for the gauntlet of at Illinois, at Indiana and home to Michigan. He said the squad finally being healthy is a major reason why the Gophers have turned around their program. Smith also has a scoring lead guard in
Andre Hollins
,
Trevor Mbakwe
is fully engaged in the team concept and
Rodney Williams
is playing his natural power-forward position.
November, 30, 2012
11/30/12
10:30
AM ET
Ranking the Pac-12 is far from the unenviable task it was last season, when the league was filled with mediocre teams that drew minimal interest both locally and nationally. It might be too early to label the current Pac-12 as "strong," but almost every team has made marked improvements, which should make for an entertaining season -- and definitely one worth following. Here's how the conference looks after three weeks.

1. Arizona.
Even without an attention-grabbing victory, putting the Wildcats in the top slot was an easy decision -- mainly because UCLA is floundering.
Mark Lyons
and
Solomon Hill
each average 14 points, and freshmen forwards
Kaleb Tarczewski
and
Brandon Ashley
are grabbing a collective 13.8 rebounds.
2. Cal.
The Golden Bears are 6-0, but we'll find out a lot more about Mike Montgomery's squad in the coming weeks. Cal plays at Wisconsin on Sunday before hosting UNLV (Dec. 9) and Creighton (Dec. 15).
Allen Crabbe
(22 ppg) and
Justin Cobbs
(20) have been huge on the offensive end.
3. Colorado.
The undefeated Buffaloes may have been a notch higher if they didn't need double overtime to defeat Texas Southern on Tuesday. Forwards
Andre Roberson
and
Josh Scott
generate the most headlines, but guards
Askia Booker
(16.8 ppg) and
Spencer Dinwiddie
(14.8) lead the team in scoring.
4. Oregon.
The Ducks' win over then-No. 18 UNLV was one of the top two victories for the Pac-12 this season, with Colorado's upset of Baylor being the other. Rice transfer
Arsalan Kazemi
got on track in Thursday's win over Texas-San Antonio. His line: 20 points, 6 rebounds, 4 assists, 3 blocks, 5 steals.
5. Stanford.
Last season's NIT champion went 1-2 at the Battle 4 Atlantis, but there were still plenty of reasons to be encouraged. Setbacks against Missouri and Minnesota -- both of whom are ranked -- came by single digits. Guard
Chasson Randle
averages a team-high 15.4 points but shoots just 35.6 percent from the field.
6. UCLA.
Two Bruins players (Tyler Lamb and
Josh Smith
) left the team during the past week. The departures may actually help the chemistry on a squad that lost to Cal Poly on Sunday before bouncing back with a convincing win over Cal State Northridge on Wednesday. Freshmen
Shabazz Muhammad
and
Kyle Anderson
combined for 29 points.
7. Arizona State.
Sun Devils coach Herb Sendek is known for his slow-paced, low-scoring offenses. But this season Arizona State is pushing the ball thanks to the addition of freshman point guard
Jahii Carson
, who leads the team in scoring (19 ppg) and assists (5.5). As a team, the Sun Devils are averaging 77.2 points and own a nice win over Arkansas.
8. Oregon State.
Could this be the year the Beavers make the NCAA tournament? Craig Robinson's squad boasts quality wins over Purdue and New Mexico State, and it came within three points of Alabama.
Ahmad Starks
is averaging 14.6 points -- but only 7.3 in his past three games. Oregon State has a huge opportunity to prove itself Friday, when it plays Kansas in Kansas City.
9. USC.
The Trojans' roster is filled with transfers, so it's understandable that the cohesion just isn't there yet. Still, USC's two most recent losses (to Marquette and San Diego State) came by an average of seven points, so it's not as if Kevin O'Neill's squad isn't competitive. This could look like a completely different team in a month.
10. Washington.
Last season's regular-season champion was decimated when two players (Tony Wroten and Terrence Ross) left school early for the NBA draft and showed it in a home loss to Albany. Forward
Aziz N'Diaye
is averaging a double-double with 11.3 points and 10.5 rebounds. The fact Washington, coming off a quality win over Saint Louis, is No. 10 in these rankings speaks to the competitiveness of the Pac-12.
11. Washington State.
The Cougars' season was basically over the day Ken Bone kicked point guard Reggie Moore off the team. Washington State didn't have a replacement. Kansas transfer
Royce Woolridge
is trying his hardest, but he's averaging just 6.9 points while shooting 35 percent from the field. He should be a role player, not a starter. Bone, though, doesn't have any choice.
12. Utah.
The Utes are better than last season, but they're still considered the worst team in the league along with Washington State. Utah lost to Larry Brown's SMU squad 62-55 in Dallas on Wednesday.
Dallin Bachynski
, a 7-footer from Calgary, averages 11.5 points (second on the team) and 9.0 rebounds (first).
November, 2, 2012
11/02/12
5:00
AM ET
1. LSU's success in basketball has almost always revolved around mining the top talent in Louisiana. When the Tigers land an elite in-state product, it usually translates into a successful run in the SEC and in the NCAA tournament (see 2006 Final Four). I talked with new Tigers coach Johnny Jones about this last week in Hoover, Ala., at SEC media day. A week later, he landed Baton Rouge's
Jarrell Martin
. For teams in the deep South in the SEC like LSU, Ole Miss, Mississippi State, Alabama and Auburn, getting the top talent in their respective states has proven to be a must to compete against the conference's upper echelon. If Martin lives up to his high school hype, the Tigers should climb back toward relevance again.
2. Michigan coach John Beilein suspended
Trey Burke
for one game. But the symbolism of the suspension will haunt Burke and the Wolverines. Burke was named first-team AP All-America prior to being disciplined. Now, the point guard will start the season with a stigma attached to him. The Wolverines lost leadership in Zach Novak, Stu Douglass and Evan Smotrycz.
Tim Hardaway Jr.
, can lead this team but he needs to be able to trust Burke as his wingmate. Burke let his teammates and the Wolverines staff down with actions that led to his suspension. He needs to be a model citizen from this point forward, not just for the Wolverines' success, but also if he wants to convince others he is worthy of national honors.
3. The Pac-12 media picked Colorado sixth in the preseason poll. I'm all in with the Buffaloes -- I don't see it. If there is one team out West that will surprise preseason prognosticators, it is Colorado. The Buffs were no fluke last season in winning the Pac-12 tournament and then beating UNLV in the NCAA tournament. The backcourt of
Askia Booker
and
Spencer Dinwiddie
can hold its own with any in the conference.
Andre Roberson
will anchor the frontcourt. And two freshmen --
Josh Scott
and
Xavier Johnson
-- will have a major impact. Tad Boyle has Boulder believing in basketball again, making playing at altitude a significant advantage for the Buffs. Arizona is a sure thing at the top of the league. But there are questions after the Wildcats with the teams ahead of CU in UCLA, Cal, Stanford and Washington -- enough that I'm not buying Colorado in sixth place and out of the NCAA discussion.
July, 26, 2012
7/26/12
12:00
PM ET
Tournament bracket
for the 2012 Charleston Classic presented by Foster Grant
When and where:
Nov. 15-16, 18 at TD Arena in Charleston, S.C.
Initial thoughts:
This could turn out to be one of the better nonconference tournaments. ... Baylor advanced to the Elite Eight last season, Murray State went 31-2 and returns the bulk of its team and Colorado beat UNLV in the NCAA tourney and has plenty of momentum under Tad Boyle. ... Some of the country's top freshmen post players will be in action. Baylor's
Isaiah Austin
is projected as a top-five pick in next summer's NBA draft. His teammate,
Ricardo Gathers
, was a top-40 recruit along with Colorado's
Josh Scott
. ... It will be good to see St. John's coach Steve Lavin back on the sideline. Lavin missed almost all of last season while recovering from prostate cancer. ... Archie Miller won 20 games in his first season as Dayton's head coach in 2011-12. Will be interesting to see how the Flyers follow up. ... It also will be interesting to see what kind of improvements -- if any -- have been made at Auburn, which is regarded as one of the worst programs in the SEC but has recruited well lately. ... After the retirement of Bobby Cremins, College of Charleston has a new coach in Doug Wojcik, who spent the past seven seasons at Tulsa.
Matchup I can't wait to see:
Dayton vs. Colorado. Of the four first-round games, this is probably the only one where both teams have the potential to earn NCAA tournament at-large berths. Colorado touts a potential lottery pick in forward
Andre Roberson
, who ranked fourth in the country in rebounding last season with 11.1 boards per game. Dayton returns three of its top five scorers, including Josh Benson, who missed the second half of last season with a knee injury.
[+] Enlarge
Nelson Chenault/US PresswireBaylor's Pierre Jackson, one of the nation's quickest point guards, has some sizeable help down low.
Potential matchup I'd like to see:
Baylor vs. Murray State. Event organizers -- and college basketball fans -- would certainly be pleased with a championship game featuring two of the top five point guards in the nation.
Pierre Jackson
(Baylor) and
Isaiah Canaan
(Murray State), both Cousy Award finalists a year ago, would put on a hell of a show. The game, however, would likely be decided in the frontcourt. Murray's
Ed Daniel
is poised for a breakthrough season, but the Racers might have trouble matching Baylor's overall size and depth down low.
Five players to watch
Isaiah Austin, Baylor:
The 7-foot freshman has a unique skill set. On offense, Austin is hardly limited to the paint. He has a nice touch from mid-range and can also handle the ball on the perimeter and swish 3-pointers. Austin is also expected to be one of the nation's top shot-blockers.
Isaiah Canaan, Murray State:
There may not be a better all-around point guard in the nation. Canaan shoots from long range, slashes to the basket with ferocity and generally makes good decisions. He averaged 19.0 points last season for a squad that went 31-2.
D'Angelo Harrison, St. John's:
As painful as it was to lose Maurice Harkless to the NBA draft, the Red Storm couldn't be more excited about the return of Harrison, a shooting guard who averaged a team-high 16.8 points last season. Harrison, though, shot just 37 percent from the field, a number that will have to improve in 2012-13.
Pierre Jackson, Baylor:
The 5-foot-10 junior-college transfer changed the culture of Baylor's entire program last season by bringing swagger to a squad that was often criticized for being soft. Jackson averaged a team-high 13.8 points and 5.9 assists. There might not be a quicker point guard in America.
Andre Roberson, Colorado:
The 6-7 Roberson may be a bit undersized in the paint, but that hardly showed last season when he averaged 11.6 points, 11.1 rebounds and 1.9 blocks for a team that won the Pac-12 tournament before upsetting UNLV for its first NCAA victory in 15 years. Roberson will likely be a first-round pick in next summer's NBA draft.
Title-game prediction
Baylor over Murray State: Isaiah Austin, Ricardo Gathers,
Cory Jefferson
and J'Mison Morgan will be too much for the Racers down low.
Whom others are picking:
Eamonn Brennan:
Baylor over St. John's
Andy Katz:
Baylor over Murray State
Myron Medcalf:
Baylor over Murray State
Dana O'Neil:
Murray State over Colorado