College Basketball Nation:

Josiah Turner
May, 14, 2012
5/14/12
11:49
AM ET
Editor's note: It's the offseason edition of The Watercooler. Eamonn Brennan and Myron Medcalf discuss "The Avengers," UNLV's loaded frontcourt, Larry Brown, Arizona buzz and more.
Eamonn Brennan
: Good morning, Myron. Two weeks after our last Watercooler and I'm finding a dearth of topics for us to discuss. Instead, I'm pining for the season, when we had no shortage of fun topics. This offseason is killing me. Thank goodness for the NBA playoffs and "The Avengers," which I found to be almost exactly what I expected when I went and saw it Sunday night. How are you holding up?
Myron Medcalf
: I'm surviving, Eamonn. I'm with you. I'm searching for ways to get through it. The NBA playoffs have been interesting, but they're not enough. C'mon, Indiana and Kentucky, stage an offseason exhibition since we'll never see the real thing. Just saw "The Avengers" too. First, it's as good as advertised. "Dark Knight Rises" should watch its back. Great movie. Although that part at the end … I won't spoil it. Since we're talking superhero movies, which players would earn a spot on your "Avengers" squad for the 2012-13 season? I'll go with
Nerlens Noel
,
Cody Zeller
,
Doug McDermott
,
Peyton Siva
and
Trey Burke
. You?
[+] Enlarge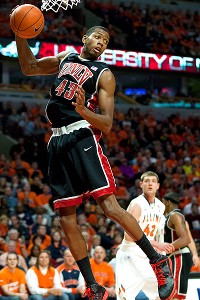 Damen Jackson/Icon SMIUNLV's Mike Moser is part of what should be one of the country's best frontcourts next season.
EB
: It's awfully hard to argue with that list. Fearsome stuff. Here's my pivoting question: Does UNLV have the best frontcourt in the country?
Anthony Bennett
's commitment over the weekend puts him alongside
Mike Moser
to start the season, and former Pitt transfer (and 2011 No. 1-ranked center)
Khem Birch
will be eligible in December.
MM
: Yes. Simple answer. That frontcourt had firepower without Bennett. Adding a phenomenal athlete such as the Canadian standout enhances that potency. Moser should be a Wooden Award candidate. Birch and Bennett too. Wow. … Hold on a minute, Eamonn, while I check this report. … Virginia Tech loses
another
player? Kind of shatters the whole continuity mission, right?
EB
: Yeah. With the exception of continued expansion around the smaller leagues, I thought that was the story of last week. The
Dorian Finney-Smith
transfer was reportedly in the works for months, but the
Montrezl Harrell
NLI release was bad news too. New coach James Johnson will have eight scholarship players for next season, and you have to wonder whether Tech wouldn't have been better off taking another crack at this thing with Seth Greenberg in charge. It's a bit of a mess.
MM
: Hard to feel sorry for Va. Tech. When you fire an established coach, albeit one who couldn't quite crack the success bubble, in late April, you
must
have a plan. It was just a sloppy process. You get a Greenberg staffer, you keep the recruits and returning players, right? Wrong. Johnson is going into a tough first season. Larry Brown, however, is grabbing transfers like … can't think of a good metaphor, but he's signed
Josiah Turner
and
Crandall Head
. Can Brown win at SMU?
EB
: I'm assuming SMU is willing to take this coming season with a grain of salt, choosing to wait for the transfers to come online in Year 2 of the Larry Brown project. I think Turner will turn it around there. I'm not sure how good Head is in the first place. I (sort of) wrote this last week: I really don't know how the Brown thing is going to go. How long will he stick around, anyway? If they aren't winning by the end of his second season, is he gone? How much talent can his name brand (plus his good assistant corps) land him in that time? SMU woke up one day and realized it should care about basketball, and this is the result. I have no idea if it works or not.
MM
: I agree. He definitely has a talented staff, but it's hard to know how long it will take SMU to make a dent in the Big East. It might never happen. … Arizona has made some offseason moves that will position Sean Miller to win now.
Mark Lyons
and that top-three recruiting class. Nice. I think Arizona deserves more offseason buzz.
EB
: I have my lingering doubts about Lyons as a teammate -- he comes with a lot of baggage from his days under Chris Mack at Xavier. But maybe a fresh start is just what he needs? Arizona's recruiting class has it back on the map, and UCLA has made itself a likely top-five team heading into the season. The rest of the conference might still be stuck in 2011-12 mode, but at least the two dominant Pac-12 programs will be back on the map in 2012-13. I don't recall a head-to-head matchup in the league this good in quite some time. Desperately needed.
MM
: You're right about Lyons. Definitely a wait-and-see situation in Tucson. But this is his last shot. Maybe he needs a change of scenery, but his attitude will influence those youngsters. So Miller needs Lyons to get his mind right. Arizona could reach the Final Four or it could implode again if the chemistry is jacked up. I think the Wildcats will find success next season. And yes, the Pac-12 needs UCLA-Arizona. We need it. … My parting shot for this edition of our Watercooler chat is that Kenneth Faried's success at the next level should change the way college coaches view "undersized" forwards.
EB
: Energy and effort go a long way. It helps to be freakishly athletic too. He is going to be a solid pro for a lot of years. One example of why staying in college for four years, or even three, can be a massive benefit to certain guys. Faried is one of them.
Anyway, we'll be keeping an eye on the various college hoops stories bound to bubble up these next two weeks. Until the next alternate Monday, Myron?
MM
: Yep. Until next time. … On a side note, chances are that "Avengers" references will seep into our future Watercooler posts. Our readers should definitely see the film. Now.
EB
: You've been warned, people. No excuses.
April, 10, 2012
4/10/12
3:45
PM ET
Arizona freshman point guard
Josiah Turner
arrived at the school under a heap of hype. He was the No. 15-ranked player in the country, and the No. 3-ranked point guard (behind only Kentucky's
Marquis Teague
and Texas'
Myck Kabongo
), and he and fellow touted recruit
Nick Johnson
were supposed to fill the void -- in so far as the void was fillable -- left behind when forward Derrick Williams took his immense talents to the NBA. At the very least, Turner was the Wildcats' point guard, and likely star, of the future. That much seemed certain.
[+] Enlarge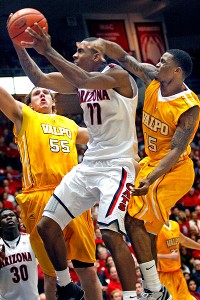 AP Photo/Wily LowWill PG Josiah Turner be able to effectively lead a talent-rich Arizona squad next season?
A year later, very little about Turner seems certain. Turner was largely unproductive in his freshman campaign, and that's when he was on the court; just as often, Arizona coach Sean Miller was benching or suspending Turner for one team rules violation or another. Turner started 16 of the Wildcats' final 17 regular-season games -- a sign of progress -- before Miller suspended him again, this time indefinitely,
leaving Turner behind despite the Wildcats' need to win the Pac-12 tournament for an automatic NCAA tourney bid
. Turner stayed home, Arizona didn't make the NCAA tournament -- there is some degree of causation in there -- and the freshman's once-promising Arizona career now appears fully in doubt.
Which is why Arizona's news of the day is resoundingly good. On Tuesday, former Duquesne point guard
T.J. McConnell
announced he would transfer to Tucson for the remaining two years of his career, which will begin in 2013-14 after the customary one-year transfer purgatory,
the Pittsburgh Post-Gazette reported Tuesday
.
Why is this such good news? Because
Turner's future is just about the only uncertain part of Arizona's next two seasons
. Miller has landed a talent-packed 2012 class, featuring four ESPNU top 100 players, three of which -- center
Kaleb Tarczewski
and power forwards
Grant Jerrett
and
Brandon Ashley
-- are five-star talents ranked among the top three players at their respective positions. Combined with Johnson, the Wildcats will have one of the most talented teams in the country in 2012-13 and (depending on NBA defections or unforeseen circumstances) in 2013-14. The only thing missing is a quality point guard, at least right now. Which is where McConnell -- who averaged 11.4 points, 5.5 assists and 4.4 rebounds per game, with efficient shooting numbers, comes in.
McConnell won't be available right away, of course, and Arizona may still be better off seeing if it can get Turner to (ahem) turn his career around. But it's clear Miller is less concerned about a one-off growth year than he is a long-term shot at a national title -- which is exactly what he's rather rapidly built in Tucson.
Turner or no Turner, if the young Wildcats make a run in 2012-13, great. Wee! Fun! But 2013-14 is the season it all comes together. That's the plan, anyway.
January, 29, 2012
1/29/12
12:45
AM ET
Editor's Note: For Myron's recap of Saturday's afternoon action, click here.
More Saturday games. More drama. A weekend slate that wasn't supposed to offer much ultimately produced an impressive collection of games. Saturday night only added to the excitement.
Washington 69, Arizona 67


This game might have been a preview of the vibe we'll see in the Pac-12 tournament. Not one team in this league can feel secure about its NCAA tournament hopes, but the conference's collective downfall does make for plenty of must-win drama.
Consider this: Between the 14:16 and 2:28 marks of the second half, Arizona recorded exactly one field goal. And yet, with two minutes to play, this was just a six-point game.
Solomon Hill
's 3-pointer with 9 seconds to play tied the game at 67. He was awesome, scoring 28 points and grabbing 11 rebounds. But while he made nine of his 10 shots, the rest of team went 12-of-40 (30 percent) from the field.
And after Hill's big bucket,
Josiah Turner
committed a huge foul on
C.J. Wilcox
, who hit a pair of free throws before freshman
Tony Wroten
blocked Turner's layup at the buzzer. The Pac-12 is certainly down. But it's also a very scrappy league right now because of the uncertainty. Arizona was bad for a chunk of this game, but the Wildcats kept coming -- because, well, it's UA-UW and these matchups are always dramatic.
The Huskies, who lead the Pac-12 at 7-2, scored a crucial road win, while Zona's at-large hopes took another major blow with its third home loss of the season. Fun game.
No. 21 Virginia 61, North Carolina State 60


The Cavaliers led 55-45 with 6:37 on the clock, but barely held on here. The Wolfpack was sloppy for the bulk of this game and finished just 2-of-15 from beyond the arc. Near the five-minute mark,
Alex Johnson
missed three shots on one possession. He botched a layup on a fast break, then missed a contested follow-up and a 3-pointer. It was that kind of evening for the Pack.
But they bounced back and chipped away at Virginia's lead. They outscored UVa 15-5 in the final six minutes of the game and
Scott Wood
hit a late 3 to close the gap to 1. The Cavs missed a jumper in the final seconds so NC State had a chance to tie on the last possession, but Virginia's defense clamped down on
Lorenzo Brown
, whose 3-point attempt at the buzzer was way off.
The Cavs continue to find ways to win and force teams to play their grind-it-out style of basketball.
Mike Scott
(18 points) certainly helped, but Virginia was outrebounded 42-25 -- it gave up more offensive boards (18) than it had defensive boards (17)! -- and still pulled out the win. The Cavaliers' 17th victory gives them one more than all of last season.
That's certainly something to be proud of, but I'm not sold on the Cavs as a team that will do damage in the NCAA tournament. Not with struggles against Towson, a bad home loss against Virginia Tech and other so-so efforts this season. Their finish against NC State on Saturday showcased some of this team's flaws.
No. 20 Saint Mary's 80, BYU 66


Wait, wasn't this supposed to be the weekend that the Gaels fell in West Coast Conference play? As impressive as SMC's 8-0 start in the WCC was, there was a palpable buzz that suggested the Gaels' success was directly linked to the fact that they played five of their first eight conference games at home, including routs of BYU and Gonzaga.
A rematch with Brigham Young on the road -- the Marriott Center is one of the most challenging venues in the country -- spelled doom. Right? But Saint Mary's truly separated itself from the rest of the league with a 14-point victory that really wasn't even that close, despite SMC's heavy turnover total (24). It was a scrappy game both on the floor and off it -- fans threw things onto the court at one point as the Cougars lost back-to-back home games for the first time ever under Dave Rose. Four Gaels recorded double-figure point totals, led by
Brad Waldow
(19 points, 8 rebounds). I already can't wait for that Saint Mary's-Gonzaga game in Spokane.
Some more observations from Saturday night ...
December, 19, 2011
12/19/11
9:05
AM ET
Based on results and not preseason expectations, here's my attempt at ranking the Pac-12:
1. Stanford:
The Cardinal were No. 1 in the first edition of these rankings, and nothing in the week since has invalidated that idea. Johnny Dawkins' team is far from perfect, of course: Stanford is still turning the ball over on 21.4 percent of its possessions, a trait that has held back this offense for much of the season. But this team really defends.
Josh Owens
and Co. possess the seventh-stingiest defense in the country per Ken Pomeroy's adjusted efficiency rankings. If that trend continues, the Cardinal won't
need
to be great on offense. They'll be very tough to beat all the same.

2. California:
The Bears have blitzed opponents in the past two weeks, beating San Jose State and Jackson State by a combined score of 154-82 before easily handling a good Weber State team -- and the nation's leading scorer,
Damian Lillard
-- 77-57 on Friday. In the preseason, Cal's backcourt duo of
Jorge Gutierrez
and
Allen Crabbe
was touted as its unique strength, and both players, alongside impressive transfer
Justin Cobbs
, have delivered efficient, intelligent performances with rare exceptions.
3. Arizona:
This is where the Pac-12 starts to get tricky. (It seems safe to assume the middle of these rankings will be as volatile as any conference in the country the rest of this season -- or at least the next few weeks.) I'll stick the Wildcats at No. 3, because while their record (7-4) isn't exactly pretty, this team's last two losses (at Florida in overtime, vs. Gonzaga in Seattle) are hardly reasons to abandon ship. Its other two losses? To Mississippi State and San Diego State. Given how well both opponents have played thus far, Sean Miller's team hasn't yet suffered a truly bad loss. When you factor in this team's youth, the Wildcats' stock should only improve as the season moves forward.
4. Oregon State:
Thanks to a rather light nonconference schedule, the Beavers are a bit of an enigma. Craig Robinson's team didn't do much to change that perception in the past week, easily handling cupcake opponents Illinois-Chicago and Howard. The Beavers beat Texas in overtime and lost by just two to Vanderbilt, both on a neutral court, but they also lost by 14 to Idaho at home. Flawed and confusing though they are, the Beavers
are
forcing the sixth-most turnovers per possession in the country, and they are very good at getting to the foul line. In what appears to be another down season for the conference in general, that might just be enough to keep Robinson's team in the mix.
5. Oregon:
Sunday's home game against Virginia was a nice opportunity for the Ducks, who had yet to distinguish themselves with five expected home wins and two forgivable away losses (to Vanderbilt and BYU). With a nice home win over Virginia, Dana Altman's team would have at least inspired a little "Hey, look out for the Ducks, that Virginia win was solid" talk. Alas, the Ducks yielded a series of second-half runs to the Cavaliers, eventually losing 67-54. When you consider UO's somewhat ugly efficiency stats -- barely among the 100 or so best teams in the country per Pomeroy's metrics -- the end result is that I have no idea how good this team is. Right now, I'm leaning toward "meh." But we'll see.
6. Washington:
Look, Sunday's loss was ugly. A team as talented as Washington shouldn't give up 92 points to anyone, let alone South Dakota State, let alone at home. But a couple of things are worth remembering here. For one, South Dakota State is a pretty good team. (The mighty Jackrabbits are 10-4 and feature one of the nation's best mid-major guards in
Nate Wolters
, who averages 20.5 points, 5.9 assists and 5.1 rebounds per game.) Two, this is the same team that went toe-to-toe with Marquette and Duke on neutral courts just last week. Three, the rest of the Pac-12 is hardly better. Yes, this team's record is frustratingly ugly, given its solid efficiency indicators. (Gee, that sounds like ... well, pretty much every Washington team ever.) But I still think the Huskies are much better than the "5-5" next to their name.
7. Washington State:
The Cougars moved to 7-4 with Sunday's relatively painless home win over Western Oregon. That's good news, I suppose. To its credit, Wazzu is winning the games it should win. (That's more than we can say for some of the other teams in this league. Yes, Huskies, I'm talking about you.) But Ken Bone's team still hasn't gotten anything resembling a quality win, so it's hard to give the Cougars too much of that aforementioned credit. Their only remaining nonconference game is Thursday's home date with a bad Pepperdine team, so the fact is we won't know exactly where this team stands until the Pac-12 starts to sort itself out in conference play. Until then, this spot -- hardly a league contender but hardly a doormat, either -- seems fair.
8. UCLA:
I can practically see your reaction through your computer screen. (Just practically, not actually. That would be creepier than Chat Roulette.) "Wait," you're saying, "how did UCLA jump two spots in a week? All it did was beat Penn, Eastern Washington and UC Davis. Big deal!" Astute observation, Mr. or Mrs. Pac-12 Conference Power Rankings Reader. Thing is, when you get this low in this league, simply beating bad opponents is actually something of an accomplishment. That the Bruins managed to avoid another ugly home loss is more than we can say for some. Whether or not this team will turn a corner in the wake of Ben Howland's decision to (finally) dismiss Reeves Nelson is yet to be seen. But for now, simply "not losing" is enough to move the dial in a positive direction.
9. USC:
Believe it or not, at 4-7 the Trojans are the only Pac-12 team with more than six losses. So why aren't they ranked lower? See: Arizona State or Colorado. Sure, the Trojans' two losses since Saturday -- home defeats against New Mexico and Georgia -- aren't exactly confidence-inspiring results. And Kevin O'Neill's team is still atrocious offensively. (The Trojans scored just 41 points in 61 possessions against the Lobos. They rank No. 256 in the country in adjusted offensive efficiency. It's bad.) But just as we said in the first version of these rankings, this team does defend, and I'm willing to grant some measure of credit for a) that defense, b) the losses not coming to obviously bad teams, and c) the combined margin of defeat of seven points. It's something, at least.
10. Colorado:
Wyoming is far from horrible -- the Cowboys are ranked No. 95 in Pomeroy's rankings, and they've played fantastic defense in their impressive 11-1 start. But when you combine Wyoming's 65-54 win in Boulder with Colorado's other struggles to date, including some revealingly bad efficiency metrics like that No. 217-ranked defense (and a ranking of No. 328 in opponents turnover percentage; the Buffaloes simply do not pressure the ball well), it's clear Tad Boyle's team has much to improve upon.
11. Arizona State:
The good news for Arizona State? Utah is now a member of the Pac-12. It's that fact, and that fact alone, that is keeping this 4-6 team -- which just lost at home to Northern Arizona (national Pomeroy rank: No. 286!) -- out of the power rankings cellar. All together, the Sun Devils' six losses are hardly complimentary. They've come at home (to Pepperdine, New Mexico, Nevada and Northern Arizona) and on neutral courts (Fairfield and DePaul). The best win actually came in the team's only road game (at Tulsa). But you get the idea. Herb Sendek's team appears to be undermanned and overwhelmed, and ASU fans who recall the James Harden years fondly must be confused at this program's sudden and precipitous dive.
12. Utah:
And then, of course, there is Utah. If there was an alternate title to this little power rankings feature, it would be "Conference Power Rankings: Pac-12, Based on the Novel 'Push' By Sapphire." If there was an alternate to the alternate title, it would be "Eamonn's Weekly Search For New Ways to Politely but Forcefully Assert Just How Bad Utah Is." Then again, let's give the Utes some credit. After all, they did get a win this week. Sure, it was merely a home win over D-I bottom-dweller Idaho State, but a win is a win. If Utah can put a few more of those together, it may be able to avoid the historical depths it has flirted with throughout its 2-8 start this season. At this point, that appears to be Larry Krystkowiak's most realistic short-term goal.
December, 9, 2011
12/09/11
9:45
AM ET
Based on results and not preseason expectations, here's my attempt at ranking the Pac-12 teams one month into the season:
1. Stanford
: After four largely mediocre seasons, it appears Johnny Dawkins has his best team yet. The Cardinal have just one loss, a 69-63 defeat to No. 3 Syracuse in Madison Square Garden. Other than that, they've handled their business and looked solid doing so, playing some of the best defense in the country -- as of this writing, Dawkins' team ranks No. 9 in the country in adjusted defensive efficiency.

2. Arizona
: The Wildcats have struggled at times this season, and the inability of freshman point guard
Josiah Turner
to adjust to the college game (and stay out of coach Sean Miller's doghouse) has definitely hampered them in the early going. Still, the Wildcats don't have a bad loss on their docket and just took Florida to overtime in Gainesville. This team could fluctuate wildly in these power rankings this season, but for now, they deserve a spot near the top.
3. California
: The Bears were many analysts' pick to win this league, and they haven't provided much reason to move them any lower than this. Then again, they haven't exactly wowed either. A one-point loss at San Diego State is a write-off, but that 92-53 trucking they received from Mizzou and the lack of quality wins still raises doubts about just how much this team -- which, let's not forget, lost 15 games last season -- has improved since.
4. Washington
: The Huskies have oodles of talent and tons of potential -- potential they've yet to reach. But this week's thrilling last-second loss to unbeaten Marquette portends positive things to come. From a sheer talent standpoint, Lorenzo Romar's appears to be the best team in the league.
5. Oregon State
: Craig Robinson desperately needed a solid season to keep the hot seat talk at bay. Thus far, he's getting it. The Beavers are 6-1 with a 100-95 (yes, 100-95) win against Texas on a neutral floor, and their only loss to date is a 64-62 neutral-court defeat to Vanderbilt. At this point, given what we've seen from the rest of this league, that makes OSU a top-half Pac-12 team.
6. Oregon
: I'm not sure what a win at Nebraska means exactly, because Wake Forest accomplished the same feat during the Big Ten/ACC Challenge. But Oregon was able to go on the road and get a victory against the Huskers, and their two losses (at Vanderbilt, vs. BYU in Salt Lake) are perfectly respectable. We'll get a bit better idea when Virginia comes to Matthew Knight Arena on Dec. 18.
7. Colorado
: The Buffaloes have played woeful defense to date; they're ranked No. 216 in the nation in adjusted defensive efficiency. But they have shown an ability to put some points on the board, and their losses -- neutral-court drops to Wichita State and Maryland, and a one-point road loss to rival Colorado State -- are relatively forgivable. This team will have to defend better, though.
8. Washington State
: Ken Bone's team played well at Gonzaga but went 0-for-3 in the 76 Classic, ending with a 64-63 loss to UC Riverside in the consolation bracket. Its wins have come against Sacramento State, Portland, Grambling, Eastern Washington and Idaho. That is not very good. But from an efficiency standpoint, the Cougars are still better than the handful of teams that follow here.
9. Arizona State
: Keep an eye on the Sun Devils. It seems unlikely this team is going to undergo a sudden surge at any point this season, but if it does, it will be because the NCAA rules touted freshman
Jahii Carson
eligible in the coming days. If Carson is ineligible for good, an already ugly season could get worse. Let's wait and see.
10. UCLA
: The Bruins get the nod over USC here if only because they clearly have some talent. You can see it. It's there. But there are plenty of good reasons to rank them this low. There are the double-digit losses to Loyola Marymount and Middle Tennessee State. The ongoing
Reeves Nelson
mess. The poor conditioning of Josh Smith. The 2-5 record. The inability to play any of its decent opponents close for more than a few minutes at a time. This team should be better eventually. It almost has to be, right? Either way, it's awfully bad now.
11. USC
: USC does play defense! It's ranked No. 44 in the country in adjusted defensive efficiency. Unfortunately, it does not play offense: The Trojans are ranked No. 240 in adjusted offensive efficiency. Yeah. It's ugly. (How does a 42-36 loss to Cal Poly sit with you?) Kevin O'Neill's team might develop into a tough out for many of its conference foes because of that defense, but if it can't put points on the board it's going to struggle.
12. Utah
: This was the easiest pick of the lot, and it will almost certainly remain that way for the rest of the season. The Utes are nearing historically bad territory: They're 1-7, ranked No. 305 in the KenPom rankings, and their two most recent results are an 82-52 loss to Fresno State and an 81-50 home loss -- home loss! -- to Cal-State Fullerton. First-year coach Larry Krystkowiak might get the Utes back to relevance eventually, but it isn't happening this season. Yikes.
December, 7, 2011
12/07/11
5:00
AM ET
1. Florida coach Billy Donovan said junior forward
Erik Murphy
will play Wednesday against Arizona after missing the Syracuse game with a bone bruise that was originally thought to be a meniscus tear. The Gators desperately need another forward to produce, especially one that can stretch the floor with his shooting. Forward
Patric Young
is simply not an offensive-minded player. Florida desperately missed another offensive threat against Syracuse last Friday night. Murphy is shooting 57.1 percent on 3s and averaging 10 points a game. He hasn't played in the previous three games. While Florida gets healthy, Arizona loses a player to a suspension as coach Sean Miller will enter the game without
Josiah Turner
.
2. Former Donovan assistant Larry Shyatt is back for his second stint at Wyoming as head coach. And he's once again made sure the Cowboys are defensive pests. Wyoming, which is off to a surprising 8-1 start even though the schedule is soft, is quick to promote some impressive stats: third in the nation in scoring defense (49.4 points per game), fourth in 3-point percentage defense (22.2 percent) and 12th in field-goal percentage defense (35.4 percent). Wyoming is 16th in scoring margin (18.9 ppg) and senior point guard
JayDee Luster
is No. 1 in the nation in assist-to-turnover ratio (7.4).
3. The Hall of Fame made the smart move of going from Springfield, Mass., to Connecticut's Mohegan Sun for its non-conference tournament. The casino can be more of a destination for fans and the arena is a significant upgrade from when the tip-off event was held at the MassMutual Center. The event had a huge lift with Kentucky as its marquee school last month. But the Hall of Fame is now getting a field worth circling going forward. The four main teams in 2012 will be Ohio State, Washington, Seton Hall and Rhode Island. The 2013 field is even better, with North Carolina, Louisville, Richmond and Fairfield as the four marquee schools.
November, 18, 2011
11/18/11
1:59
AM ET
NEW YORK -- Arizona coach Sean Miller walked out for an interview during the first game Thursday night and heard a few fans yell down to him.
He said that on the West Coast he can step outside his locker room, in clear view of everyone in the stands, and not be pestered or heckled. Well, nothing about Madison Square Garden screams West Coast.
He knew then he had returned to the East Coast, and he loved it.
"I remember that feeling,'' Miller said. "I love coming back here.''
The Pittsburgh native and former Pitt player made a name for himself grinding his way through the Northeast. He took over at Xavier and continued to make the Musketeers a national program. And then he did something out of character -- he got out of his comfort zone and went West.
He could have come back East last spring when the Maryland job opened. He talked to Terrapins athletic director Kevin Anderson and knew shortly thereafter that his heart was now in Tucson.
It's a good thing because his run of success in the desert is just beginning.
Arizona went to the Elite Eight last March and then lost the No. 2 pick in the draft in Derrick Williams and saw
Lamont Jones
transfer to Iona to be closer to home.
It didn't matter. Four games into this season, the 4-0 Wildcats have the look of a team that will be a good watch throughout the season, a legit contender for a Pac-12 title and a threat to go deep into March.
No need to even bring up the nation's top recruiting class for 2012, an almost absurd collection of talent on its way to Tucson. Who needs to spin forward? This squad has plenty to show off this season.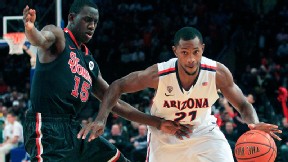 AP Photo/Frank Franklin IIKyle Fogg scored 13 points for Arizona against St. John's, including making three 3-pointers.
On Thursday night at MSG, the Wildcats overcame an 8-point second-half deficit and pulled away late on host St. John's, ending the game on a 23-6 run en route to a
81-72
victory. On Friday night (7 ET, ESPN), the Wildcats will face off with Mississippi State in the final of the 2K Sports Classic benefiting Coaches vs. Cancer.
Zona had an inspiring evening from New York native
Kevin Parrom
, back in his hometown after going through a horrific few months. He lost his grandmother and then his mother tragically to cancer and when he returned home in late September to visit his ailing mother, he was shot in the leg and hand by a gunman who broke into his father's home.
Against the Red Storm, Parrom connected on a pair of 3s and was no doubt an inspiration to the Wildcats and to the sizable number of fans in the Garden crowd cheering for him and the Cats.
"He's finding his way back,'' Miller said. "He's a veteran player and he knows how to play and how we have to play this season. He's so versatile. We don't have a 6-10 guy, but Kevin (6-foot-6) can rebound, steal the ball and push it in transition. He gives us the dynamics to help us be more versatile.''
The Wildcats are young in a number of spots and had a hard time keeping St. John's
Nurideen Lindsey
away from the basket, especially off the dribble. But Arizona had plenty of options on the offensive end, making 14 3s, including three from
Nick Johnson
and three from
Kyle Fogg
. The Cats got production from nine players, with five in double figures.
"We're like a hockey team right now, subbing in and out,'' Miller said. "In three or four weeks, we'll have more solid roles. This was only our second game with Kevin back. So we have to figure out how to bring him in.''
Miller wasn't ready to anoint this team as something other than what it is. The Wildcats are clearly a work in progress. But there is such a good vibe with this group. They have terrific bounce from players like
Angelo Chol
, and have oodles of potential if
Josiah Turner
settles into his role as a change-of-speed point guard with
Jordin Mayes
able to knock down key shots, too.
Solomon Hill
and
Jesse Perry
had their moments against the Johnnies.
The Wildcats won a game that will prove to be a significant one come March. They came East and showed that Miller has moved on and established his identity in Tucson.
Arizona was in turmoil four years ago with Lute Olson's illness, two consecutive seasons of interim coaches and the potential for the roster to be gutted. But the implosion of USC's recruiting class was a benefit for Arizona. Miller has recruited at an astronomical level since, beating out national power after national power across the country.
While rival UCLA plunges into turmoil, the Wildcats are rising up and proving that Arizona is nothing less than an elite program. There was reason to doubt the team's standing in the wake of Lute Olson's departure, but then the school went out and hired the right person at the right time.
Sean Miller is happy to be back on the East Coast this week. But he calls the West home now.
And there are thousands of Wildcat faithful who sure are thankful for that.
November, 10, 2011
11/10/11
12:26
PM ET
By
Diamond Leung
| ESPN.com
Josiah Turner
, Arizona's top freshman, was removed from the starting lineup after showing up late to a shoot-around. He played 21 minutes without scoring a point and committed three turnovers.
In his place, sophomore
Jordin Mayes
had the best game of his young career, stepping out of the shadows to score 19 points and help the Wildcats hold off Duquesne on Wednesday. He hit four momentum-shifting 3-pointers and gave coach Sean Miller some savvy at the point guard position. After Turner was declared the starter, it is Mayes who is leading the team in scoring after two games, averaging 13.5 points.
"I had a lot of confidence," Mayes told reporters. Coach stays in my ear, hyping me up and telling me to stay confident. I'm going to play my game the way he wants me to play and help the team the best way possible."
The emergence of Mayes is an important development for the Wildcats, as they search for options in the post-
Derrick Williams
era. If Turner indeed returns to the starting lineup and lives up to expectations, Mayes provides them with dependable depth at guard. There is also the real possibility that Mayes holds onto the starting job.
That would be quite an achievement after it was discovered after Arizona's run to the Elite Eight that Mayes had a stress fracture in his foot. He was left in a walking boot and tried to avoid surgery, but then ended up needing it after resuming workouts and actually breaking the foot in July.
While the heralded Turner was the trumpeted as the heir to the point guard job vacated by
Lamont Jones
, there are questions as to whether he can take on that responsibility immediately. His high school career in Sacramento ended with his dismissal from the team. He turned down an invitation to try out for USA Basketball's Under-19 world championship team.
Meanwhile, Mayes quietly bulked up to 196 pounds and waited for his chance after Turner started two exhibitions and the season opener.
"It starts in practice," Mayes told the
Arizona Daily Star
. "Me and Josiah are going to compete regardless of who's starting. He came in with a big name, but there are a lot of great players in college basketball. He's going to get better, and I'm just trying to help him the best way I can."
October, 31, 2011
10/31/11
8:21
PM ET
By
Diamond Leung
| ESPN.com
At a swanky club called the Conga Room in downtown Los Angeles, Arizona coach Sean Miller did a delicate dance at the site of Pac-12 media day on Friday.
The messages he wanted to get across focused along the lines of "We don't have Derrick Williams," "We just lost to Seattle Pacific," and "We're young and not that good right now." That's for the short term, of course.

To understand the long view of the Arizona program and its quest to become a national championship contender once again, feel free to wait until signing day. That's when Miller can officially comment on his monster recruiting class that was already ranked No. 1 in the nation by ESPNU before today. When the ranking originally came out, the Wildcats' rallying cry became "one more" because there was a missing piece still left on the board.
Today, the Wildcats added to their top-ranked class by snapping up that big, big piece and
securing the verbal commitment
of 7-footer
Kaleb Tarczewski
, whose surname could very well become a household name if he lives up to the hype. Tarczewski is the nation's second-ranked center for the class of 2012 and gives the Wildcats their third top-10 recruit in a class that already includes power forwards
Brandon Ashley
and
Grant Jerrett
. Guard
Gabe York
gives Miller a fourth top-50 recruit.
This class set to sign in November would come on the heels of Arizona adding the nation's seventh-ranked class this season that features four top-100 players including point guard
Josiah Turner
. Top prospects are turning their attention to Tucson even if their other choices are Lawrence, Lexington and Chapel Hill.
To get the fan perspective on all this, we turn not to the Wildcats faithful, but to Montlake Madness, a Washington basketball fan site. In reaction to the Tarczewski commitment and the good vibes surrounding Arizona, the
person running the site's Twitter account posted
, "If I read one more tweet praising Sean Miller's recruiting prowess I'm going to gouge my eyes out. #recruiting frustrations."
There is a growing realization from Pac-12 observers that in the near future, the league will be dominated by Arizona and UCLA. The Bruins' 2012 class is currently ranked fifth after Ben Howland received commitments from
Kyle Anderson
and
Jordan Adams
. If they can add top overall recruit Shabazz Muhammad, UCLA would get into the title picture as well.
The one-upmanship between Arizona and UCLA is good for the Pac-12's profile but threatens even at this early date to shift the balance of power to the league's two most traditional powers.
That's the future Arizona is facing, and Miller has to smile at that. There's courtships with recruits and a dance-off with UCLA to be won, and right now, he's got all the moves.
October, 26, 2011
10/26/11
2:47
PM ET
By
Diamond Leung
| ESPN.com
Arizona won a Pac-10 championship and made an Elite Eight appearance last season under Sean Miller, and the respect level for what the coach has accomplished has many believing the Wildcats will be back on top this season despite losing
Derrick Williams
to the NBA draft. His fellow coaches seem to think so, as they ranked Arizona ahead of UCLA and Cal in the preseason poll.
But Miller wouldn't pick his own team as the favorite so far, according to the
Arizona Daily Star
.
"It would be split between Cal and UCLA, because of Cal's experience and UCLA's strength inside," Miller said of his hypothetical pick. "I wouldn't think that we would be the favorite. Hopefully we can compete for the championship, but UCLA's size and Cal's experience, to me, trumps what we have right now."

Miller said UCLA's "physical size is scary" and the Bruins have to be one of the bigger teams in college basketball. Cal has a strong returning core in guard Jorge Gutierrez, wing Allen Crabbe and forward Harper Kamp, Miller added.

"Those two stand out, Washington is always very good," Miller said, "and there's always going to be those one or two teams that surprise you."
Arizona is without its top two scorers from last season and is being cautious about forward
Kevin Parrom
's status after the junior was shot during a visit to New York in September. It does have
Kyle Fogg
expected to take a step forward and one of the top incoming freshmen classes in the nation. Until the Wildcats begin playing games, it's not easy to tell how this team will stack up against UCLA's talented frontcourt and Cal's returning players.
But note that in Miller's statement, he does use the words "right now" when saying the Bruins and Bears are further ahead at this stage. Give him time to get freshman point guard
Josiah Turner
acclimated to the offense and line up big men
Angelo Chol
and
Sidiki Johnson
alongside
Jesse Perry
, and then we'll see who finishes where in the end.
Preseason predictions, after all, are just guesswork.
October, 25, 2011
10/25/11
5:00
PM ET
By
Diamond Leung
| ESPN.com
Arizona freshman Josiah Turner is ESPNU's third-ranked point guard in the nation for the incoming class and is set to take the reins of a team that went to the Elite Eight last season. Much is expected from the 6-foot-3 Turner, who will have an opportunity to step right in and impress.
But right now Wildcats coach Sean Miller wants to slow things down a bit because he doesn't believe it's the right time for people to already be talking about Turner as a future NBA draft pick before the kid has played a single minute in college.
"The expectations on Josiah right now are almost ridiculous," Miller told reporters. "People are talking about his future before he's scored his first basket. One of the worst messages to give to a player in a college program is that college is a sentence (that you have to serve). Right now, our four freshmen know four plays, and haven't even practiced into the double digits. Before any of their futures can be evaluated, our guys need to play their first game."
Pac-12 followers only have to go back as far Abdul Gaddy at Washington a couple years ago for a reminder that expectations and rankings do not necessarily lead to one-and-done status. Gaddy was the nation's second-ranked point guard in the 2009 class behind John Wall and has steadily grown as a player before going down with a knee injury last season.
At Saturday's intrasquad game, Turner had four points, four rebounds and three assists in 22 minutes. According to the
Arizona Daily Star
, Turner certainly has heard all the early NBA talk leading up to his debut in a Wildcats uniform.
"I just let it fly by me," Turner said of the early NBA talk. "I'm not there till I make it there."

At Arizona's preseason media day last week, Turner spoke softly but confidently about the attention he faces as an NBA prospect and the pressure of being a highly touted player at the school's marquee position.

"It is exciting," Turner said. "It puts a lot of pressure on me, a little bit, but I just want to deal with it. That was one of the reasons I came here."
September, 2, 2011
9/02/11
5:09
PM ET
By
Diamond Leung
| ESPN.com
If you're an Arizona fan, you'll love the video from Yay Area's Finest, a compilation of top recruit
Brandon Ashley
's greatest hits.
If you root for any other team in the Pac-12, the thought of having to face the No. 4-ranked recruit in the 2012 class in the near future has to be frightening after the 6-foot-8
Ashley committed to Arizona
this week, joining top-50 recruits
Grant Jerrett
and
Gabe York
as future Wildcats.
Arizona vaulted itself into
ESPNU's top spot in the team recruiting rankings
after Ashley verbally agreed to coach Sean Miller, and that's not all. When I spoke with ESPN.com senior recruiting analyst Dave Telep, he was talking about a future national championship for the Wildcats based upon this latest class.
"They certainly are assembling the pieces," Telep said. "Every single recruiting class under Sean has gotten better than the previous one. The natural progression is Final Four and national championship. Those are reasonable expectations.
"The gauntlet's been thrown down by Arizona already. What they're doing from a recruiting perspective is putting distance between them and the rest of the league."
The Wildcats have awakened since Miller arrived. His first recruiting class resulted in Derrick Williams, who went on to lead the team to an Elite Eight and become the No. 2 overall pick in the NBA draft. This year's
incoming freshman class is ranked No. 7
and includes top point guard
Josiah Turner
.
"In life, we make the assumption that everyone's great at their jobs, but there are guys that are a lot better than other guys," Telep said. "Sean Miller is in the upper crust of college basketball coaches.
"A guy like Miller who's willing to toe the line with [Lorenzo] Romar and [Ben] Howland is good for the conference."
That's because while it's undeniable that the Pac-10 has been down in recent years, Arizona's successes have raised the bar going forward. UCLA might have lost out on Ashley to its rival, but Howland continues to have his sights set on top overall recruit
Shabazz Muhammad
while already having compiled the
nation's No. 13 class in 2012
with top-100 recruits
Jordan Adams
and
Dominic Artis
. Romar is consistently in the mix for top recruits on the West Coast. And Pac-12 newcomers Colorado and Utah have top-100 commitments from
Josh Scott
and
Jordan Loveridge
, respectively.
The league appears to be on its way back up, and it's Sean Miller and Arizona that lead the way.
August, 16, 2011
8/16/11
1:54
PM ET
Our friends at The Mag are previewing one high-profile school per day for their Summer Buzz series.

For the sake of all that is synergistic, yours truly will be attempting the same, complementing each comprehensive preview with some analytic fun. Today's subject: Arizona.
Derrick Williams
finally got his due.
Williams was arguably the best player in the country during the 2010-11 season. He was, with the exception of Hofstra's
Charles Jenkins
, the
most efficient star in all of college hoops
. Nobody but Jenkins took as many shots while simultaneously maintaining Williams' otherworldly efficiency. His effective field goal percentage (65.0) and true shooting percentage (69.0) ranked him sixth and fourth in the country, respectively.
[+] Enlarge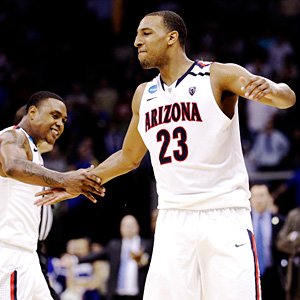 AP Photo/Charlie RiedelArizona will have to make up for the loss of Lamont Jones (left) and Derrick Williams.
And Williams didn't just score. He also rebounded on both ends of the floor, drew fouls on opponents at one of the highest rates in the nation, and contributed length and athleticism on the defensive end.
For a variety of reasons -- a lack of national profile heading into the season, the whole West Coast/Pac-10 TV thing, and so on -- casual college hoops fans (and NBA scouts, for that matter) spent much of the season sleeping on Williams. It took a torrid run through the postseason (including a pretty much flawless 32-point, 13-rebound performance in a dominating win over No. 1-seed Duke in the Sweet 16) and a spate of talented forwards deciding to stay in school, for Williams to finally rocket up draft boards.
Fortunately for Williams, the final appraisal was the best one. The dude was a monster. He was drafted accordingly. The end.
Unfortunately for Arizona, the Wildcats now face the prospect of replacing their hyperefficient scoring and rebounding machine, and they have to do so in one fell swoop. Traditional stat lines can be deceiving -- you can't control for tempo in a box score, duh -- but
this one is not
. Go ahead, click on it. It's Arizona's 2011 statistics, and if you take even a cursory glance, you'll notice that no single Wildcat averaged even
half
the points per game Williams did. The closest was Lamont "MoMo" Jones. If you double Jones' points per game (9.7), you get one tenth of a percentage point less (19.4) than Williams's (19.5). This is not the most scientific piece of data ever unearthed, but you get the point.
Making this worse, of course, is Jones' decision to transfer to Iona this offseason. He said
he wanted to transfer home to New York to be closer to family
, and he couldn't go to St. John's because of an NCAA rule prohibiting players from playing for their old AAU coaches. But his transfer likely had something to do with Arizona's incoming backcourt and the star power Sean Miller is hoping two freshmen can immediately bring.
The first is Josiah Turner
, the No. 3-ranked point guard in the class of 2011.
The second is Nick Johnson
, the No. 5-ranked shooting guard. Landing either one of these two would have been a boon to Arizona's long-term project (which, after an Elite Eight appearance, can hardly be qualified as "rebuilding"). Landing both of them gives the Cats what should be the best freshman guard tandem in the country. Having Jones around would have helped -- veteran presence is always nice, right? -- but it's not clear he's better than either of Miller's incoming talents.
The rest of the team won't be quite so young, but youth is still the defining characteristic. The rest of Arizona's seventh-ranked recruiting class includes two intriguing power forwards, Angelo Chol and Sidiki Johnson, both of whom are power forwards, and both of whom are ESPNU top 100 prospects. Neither is likely to have the same immediate impact as Turner or Johnson, but both should compete for minutes early in their careers and, at the very least, provide some depth to an obviously depleted frontcourt.
The rest of that frontcourt comprises returning role players who played off Williams last season. The most likely breakout candidate is 6-foot-6 forward
Solomon Hill
, whose athleticism allows him to overcome size disadvantages in the low block. Hill could feasibly transition to a more traditional small forward role; he isn't a great shooter, but he's capable -- he made 17 of his 48 3-point attempts last season -- and his potential defensive versatility is an asset against bigger guards and/or smaller forwards.
There are other returners here.
Kyle Fogg
is solid at the 2. Seven-foot center
Kyryl Natyazhko
and 6-11 forward
Alex Jacobson
both bring valuable size (which could come in handy against, say, UCLA's bruising front line). Junior small forward
Kevin Parrom
is the best shooter on the team; he posted an offensive rating of 122.5 in 2011. Guard
Jordin Mayes
and big man
Jesse Perry
are also back for their second seasons in Tucson.
Miller can choose between these, and a handful of other minor contributors last season, as he begins to fill out the 2011-12 Arizona lineup. Whatever configuration of players he chooses -- some mix of old and new, experience and talent, and so on -- two things are certain:
One: Derrick Williams isn't walking through that door. Arizona's offense may be very good again. But if it is, it will look entirely different from the 2011 version. It is likely to be more perimeter-oriented, more varied, and less interior-oriented.
And two: Arizona will either be good or great this season. But even if "good" is the end result, the future -- with this top-notch 2011 class and another brilliant one on the way in 2012 -- is looking very bright.
Williams is gone, and he'll be impossible to replace. But Arizona basketball is in very good shape. On that point, there seems to be little debate.