College Basketball Nation:

Jud Heathcote
June, 5, 2013
6/05/13
10:30
AM ET
In the weeks leading up to the June 27 NBA draft, we'll be taking a look at the 20 schools that have produced the best pros in the modern draft era (since 1989, when the draft went from seven to two rounds). Click here to read Eamonn Brennan's explanation of the series, which will be featured in the Nation blog each morning as we count down the programs from 20 to 1.
Top Five NBA Draftees Since 1989
Sixth man
:
Shannon Brown
(2006)
The rest
:
Alan Anderson
,
Charlie Bell
,
Draymond Green
, Goran Suton,
Maurice Ager
,
Paul Davis
, Marcus Taylor, Andre Hutson,
Mateen Cleaves
,
Jamie Feick
,
Shawn Respert
,
Anthony Miller
,
Mike Peplowski
, Matt Steigenga
Why they're ranked where they are
: Since 1995, Tom Izzo has commanded a Michigan State program that has reached the Final Four six times. Prior to Izzo's stint as head coach, his mentor, Jud Heathcote, was in charge. Both implemented a grueling, physical style that has kept the Spartans in the Big Ten's top tier for years.
When you face MSU, bring bandages. That ruggedness is the stitch that ties the players on this list together. The group might not include any future Hall of Fame performers, but it features multiple players who've managed to compete at a high level over the course of lengthy careers. Longevity and consistency were both crucial in our decision to push Michigan State ahead of Syracuse, Ohio State, LSU and Alabama. The Spartans' potent starting five (since 1989) also helped.
Steve Smith won a gold medal in the Sydney Olympics, earned an NBA title with the San Antonio Spurs in 2003 and made an All-Star Game appearance in 1998. He averaged 14.3 points per game and hit 35.8 percent of his 3-pointers during a 14-year career that featured 90 playoff games. Smith is also a member of the NBA's all-time "it's so hard to dislike these guys" team, which includes
Grant Hill
,
Tim Duncan
,
Robert Horry
and various members (past and present) of the Golden State Warriors organization.
[+] Enlarge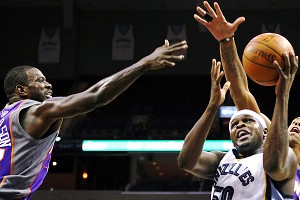 AP Photo/Jim WeberJason Richardson, left, and Zach Randolph have both been in the NBA since they were drafted in 2001.
Jason Richardson is underrated on so many levels. First, his efforts in the 2002 and 2003 dunk contests rivaled
Vince Carter
's performance in 2000. Find the clips on YouTube. He doesn't get enough credit. And has any player ever averaged 17.3 points, 5.0 rebounds and 1.2 steals over a 12-year period more subtly than Richardson? He entered the league as a big, athletic wing, but he has lasted this long because his game has evolved.
Zach "Z-Bo" Randolph just carried the Memphis Grizzlies into the Western Conference finals. Here's an athlete who left Michigan State after one season. He struggled his first few years in the NBA but everything changed in 2003-04 (20.1 PPG, 10.5 RPG for the
Portland Trail Blazers
). His off-court issues -- such as the time he ended up at a strip club the night after he'd sought permission from the Trail Blazers to attend a funeral out of town -- have certainly affected perceptions about him. But he found himself in Memphis and has been a model citizen, leading a revival of that city's NBA franchise. And you just won't find many players who've averaged at least 18.0 PPG and 8.0 RPG seven times. He's also a two-time NBA All-Star.
Morris Peterson (10.7 career PPG) gave the
Toronto Raptors
his most fruitful years. He never made an All-Star squad but he played for 11 seasons. His 37.3 percent mark from the 3-point line elevated his value. Eric Snow competed in the NBA Finals with three different teams. His years with the
Philadelphia 76ers
were impressive.
Kobe Bryant
called him the toughest defender he'd ever faced following the 76ers' loss to the
Los Angeles Lakers
in the 2001 Finals. Shannon Brown, a 2006 NBA draft pick, had the best seasons of his career with the
Phoenix Suns
in 2011-12 (11.0 PPG) and 2012-13 (10.5 PPG).
Even Alan Anderson and Charlie Bell, two undrafted players, have played a combined 11 seasons in the NBA. Draymond Green, a second-round pick by Golden State last summer, was impressive in the 2013 playoffs.
That's a rich offering for any list that attempts to rate a school's history of producing NBA talent based on quality and not simply quantity. That's why Michigan State is No. 16 in our "Path to the Draft" rankings.
Why they could be ranked higher
: If longevity is granted more weight than overall talent and depth, then the Spartans might have a case for a higher slot. Richardson, Z-Bo, Smith and Mo Pete aren't superstars -- the Spartans haven't produced a perennial All-Star since Magic Johnson retired in the early 1990s. But many players Michigan State has sent to the next level since 1989 have stayed there.
Michigan State isn't the only school that can make that claim. But the program boasts a diverse group of players (lottery picks, second-round selections and undrafted athletes) who've latched onto rosters and made a lot of money at the next level. The Spartans would probably warrant a bump due to their expectations-to-"years in the league" ratio.
Why they could be ranked lower
: The disappointments could pull Michigan State down a few spots. Maurice Ager, Mateen Cleaves and Shawn Respert were all first-round picks who were expected to do big things in the NBA. They all struggled in brief, underwhelming pro stints.
Plus, Smith, Richardson and Randolph fall into the "very good" category, but they've never earned or maintained "elite" status. Some of that stuff is political. I think all three were probably harmed by the fact that they competed in smaller markets for chunks of their respective careers. But this list is missing the juggernaut that other teams in these rankings possess.
What's ahead
: Well, Green could blossom into a dependable contributor for Golden State in the coming years. Randolph and Richardson might have a few solid seasons left, too.
And Brown has found a rhythm over the past four seasons. If his 3-point shooting continues to improve (last season saw his first year-to-year decrease from beyond the arc since 2008-09), he'll continue to be a key piece in Phoenix's -- or another franchise's -- rotation. But he has played for five teams since he was drafted in 2006. Perhaps he'll earn a long-term deal once his two-year agreement with Phoenix expires after next season.
Plus,
Adreian Payne
,
Gary Harris
,
Keith Appling
and
Branden Dawson
will likely enter the draft following the 2013-14 season. Payne and Harris certainly have high ceilings. Appling and Dawson are gritty enough to find homes in the league, too. We'll need four or five years, however, to assess their full impact on Michigan State's NBA legacy.
Final thoughts
: It's easy to dismiss Michigan State because the Spartans haven't produced a bunch of NBA All-Stars. Definitely multiple high-level athletes, though. But few stars.
Still, Izzo's program has developed talented players who stick. That's not easy to do in the pros, where the average NBA career is just 4.8 years. But Michigan State has sent many players to the league who've surpassed that.
Many were doubted once they left college. Some fell short of expectations. But the bulk of the program's NBA reps are notable, especially based on tenure and consistency.
Overall, Michigan State has a solid resume of NBA talent and more on the way.
May, 15, 2013
5/15/13
5:00
AM ET
1. Texas lost 18 games last season. The Longhorns won seven in the Big 12 and were shut out of the NCAA tournament for the first time since head coach Rick Barnes arrived in 1998.
Sheldon McClellan
and
Julien Lewis
were third and fourth, respectively, on the team last season in turnovers with a combined 112 and are both transferring. Jaylen Bond, who battled a foot problem for most of the season, also left. According to a source, the decisions weren't solely the players'. Should Texas be worried that these three, as well as NBA-draft-bound guard
Myck Kabongo
(23-game amateurism suspension), are out of the program? If last season's freshmen class is on board with the way Barnes wants to play, the answer is no.
Ioannis Papapetrou
,
Javan Felix
,
Connor Lammert
,
Demarcus Holland
,
Prince Ibeh
and
Jonathan Holmes
will be the core of next season's team. Holland clearly likes the idea of what remains in Austin. He
tweeted
after a workout on April 30: "Honestly never loved a team like I do now. Feels great when you can get it in, say family on three, and really feel like brothers. #Horns.'' At the time, Bond, McClellan and Kabongo were all gone. Barnes told his staff that he wants to get back to the teams he has had in the past, with players who will play with toughness and display the passion for winning. According to someone close to the program, despite the defections, the staff has looked at this spring as one of its best in terms of player development. The Longhorns also brought in four newcomers for next season. Texas will be picked in the lower half of the league, below Kansas, Oklahoma State, Baylor, Iowa State and Kansas State. The onus is on this crew, led by someone like Holland, to propel Texas back to its rightful place in the Big 12, in competition behind Kansas. If these departures are addition by subtraction, Barnes will know early on. If not, next season could seem like a dog year.
2. Michigan State athletic director Mark Hollis said there were logistical issues that could not be worked out for the proposed Dec. 7 game against Gonzaga in Spokane, Wash., to honor former Spartans coach and Spokane resident Jud Heathcote. So the game is off -- along with the proposed undercard of Washington State versus Montana. Wazzu coach Ken Bone said Idaho had been willing to move a date for the Cougars, but now that is unnecessary. Meanwhile, an SEC official said the league didn't have criteria for not including Georgia, LSU, Arkansas and Tennessee in the inaugural SEC/Big 12 Challenge. Scheduling conflicts and the need to balance the series were why those four schools were omitted in a challenge between a 14-team SEC and a 10-team Big 12. Still, organizers probably could have tried to get star-laden Oklahoma State a higher-profile game than hosting rebuilding South Carolina.
3. Gonzaga coach Mark Few said being away from his family was the reason he is stepping aside from coaching the U.S. under-19 team with Florida's Billy Donovan and Virginia Commonwealth's Shaka Smart in the world championships June 27-July 7 in Prague. Along with the practice sessions, it becomes nearly a month's commitment. The three coaches won gold a year ago in Brazil with the under-18 squad. Virginia coach Tony Bennett will take Few's spot on the staff. In an event taking place July 6-17 in Kazan, Russia, Davidson's Bob McKillop, Michigan's John Beilein and South Carolina's Frank Martin will coach the U.S. team at the World University Games. Meanwhile, Iowa State's
Melvin Ejim
is diversifying his international basketball career. Cyclones coach Fred Hoiberg said Ejim will play for Canada this summer after playing for Nigeria a year ago. Hoiberg said Ejim has dual citizenship from the two nations.
May, 10, 2013
5/10/13
5:00
AM ET
1. Syracuse wasn't the only newcomer the ACC took care of in scheduling. Notre Dame has a tremendous first-year schedule in the league with home games against North Carolina and Duke. Three Big Ten nonconference games are also on Mike Brey's daunting overall schedule, two of which were out of his control. It was Notre Dame's turn to play Indiana in the Crossroads Classic in Indianapolis, and the Big Ten-ACC Challenge gave the Irish a road game at Iowa. Notre Dame had already scheduled the Gotham Classic in Madison Square Garden against Ohio State. "We've got three Big Ten teams on the schedule but I don't want our fans to think we've joined the Big Ten,'' said Brey. The Irish will also play three potential postseason teams in Delaware, Bryant and North Dakota State in the Gotham Classic in leading up to the Ohio State game Dec. 21 in NYC. Santa Clara and Indiana State, two other teams with postseason ability, come to South Bend. "Our fans are going to be spoiled by getting Carolina and Duke coming to South Bend,'' said Brey. "We've got BC, Georgia Tech as our repeat games and Virginia and UNC too. Having Duke and Carolina coming here in the first year in the ACC is knocking it out of the park. We're fortunate.'' Brey considered playing a road game against Baylor in Dallas to start the season but then decided against it and wanted to get a home game for new point guard
Demetrius Jackson
. "He's a key guy for us so I want to him to play 20-something minutes at home,'' said Brey. "With the schedule we have, we've got enough games on the road and neutral.''
2. Washington State coach Ken Bone said Idaho coach Ron Verlin agreed to move a game against the Cougars on Dec. 7 so Wazzu could participate in the Jud Heathcote event -- an event celebrating Heathcote's legacy at the four schools where he has either coached or -- in the case of Gonzaga -- has a passion for. Washington State will play Montana in the undercard while Gonzaga will host Michigan State at Spokane Arena on Dec. 7. Heathcote lives in Spokane where he coached high school basketball at West Valley High. He's a regular at Gonzaga games. He also coached at Montana and Washington State before winning a national title with Magic Johnson at Michigan State in 1979. Michigan State coach Tom Izzo served under Heathcote before replacing him. Gonzaga coach Mark Few has become extremely close with Heathcote, as well.
3.
Seth Curry
,
Ryan Kelly
,
Alex Len
,
Nerlens Noel
and
Anthony Bennett
all will be unable to participate in next week's NBA draft combine in Chicago on Thursday and Friday (live coverage on ESPNU 10 a.m. to 2 p.m./ 2-3 p.m. ESPN2 each day). That means there will be ample opportunity for even more players to shine in what has become a wide-open draft. At each of the five listed positions, there is at least one player who could really benefit from the lower numbers. Murray State's
Isaiah Canaan
, who is being discussed as a first-round lock, has a real shot to move up among the point guards. This will be a critical few days for those watching Kentucky's
Archie Goodwin
among the shooting guards. The same is true of Ohio State's
Deshaun Thomas
with the small forwards, BYU's
Brandon Davies
with the power forwards and Kansas'
Jeff Withey
with the centers.