College Basketball Nation:

Julian Gamble
March, 28, 2013
3/28/13
8:45
AM ET
WASHINGTON --
Reggie Johnson
is replaceable.
But his gregarious personality may be hard to duplicate.
Johnson suffered through the losing seasons at Miami, and has been there during this season's sudden surge. And then, after Sunday's victory over Illinois -- a game that had propelled the second-seeded Hurricanes (29-6) to the Sweet 16 and on the path toward a potential first Final Four -- the school announced that Johnson was out again due to a knee injury.
Johnson's role had been diminished a bit of late; he was held scoreless with five boards in 18 minutes against the Illini.
Still, his absence is significant.
His knee injury is severe enough that Johnson was told he couldn't play this week, so the decision was made for him to undergo surgery, with the chance that he could return, maybe, for the Final Four.
[+] Enlarge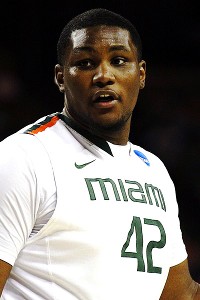 Ray Carlin/Icon SMIReggie Johnson -- at 6-foot-10, 292 pounds a massive force inside -- couldn't even travel with Miami to the Sweet 16.
But Johnson couldn't travel -- and his absence was felt in the Hurricanes' locker room Wednesday at the Verizon Center.
"It affects us on and off the court," said Miami point guard
Shane Larkin
. "He is a huge part of our team. He's been supporting us. He talks to us and tells us to stay calm. He's that type of player that would do anything for the team. Even though he's not here, he can help us fight through adversity. He's had the experience."
Johnson missed December's Diamond Head Classic with a thumb injury. So the Canes have experience playing without him, and while they lost to Indiana State and Arizona in Hawaii without their big man, they might be able to move a bit better offensively.
Still, against a physical team like No. 3 seed Marquette (25-8), the Canes could use an immovable force inside such as Johnson, especially if the game gets into the half court.
"We know this is going to be physical and Coach told us to prepare for a street fight," Miami senior
Kenny Kadji
said. "There are no rules for a street fight. We can be a physical team. Me and
Julian [Gamble]
and
Tonye [Jekiri]
are pretty big. We've seen a game like this before against Michigan State and did a great job of controlling the paint."
Still, Kadji concedes Johnson will be missed.
"People think twice before coming in the paint [with Johnson]," he said. "It will be different. Our guards will have to rebound. You can't replace a guy like Reggie."
Kadji said Johnson was there to do the little things, and to push people out of the way and not allow drives to the basket.
"He could take charges and do all the little things," Kadji said. "It's very sad, very sad for him. He's been here five years and seen the highs and lows at Miami. It's unbelievable that he can't even travel. It's hard. It's motivation for us to get two wins to get to the Final Four."
Marquette's
Davante Gardner
, who will now need to chase Kadji more on the perimeter than hunker down in the post, said he was unaware that Johnson would be out, but it still wasn't his main focus.
The Golden Eagles simply need to concentrate on getting over the Sweet 16 hump, something they haven't been able to do the past two seasons.
That's Marquette's quest. Miami is on a path of its own, to continue a magical season the Canes are hoping won't end because Johnson isn't available.
"It's definitely tough not having him here," Miami senior
Durand Scott
said. "Him not being here will motivate us. It's hard not to see him out on the court. He's a leader for us. But we'll go out there and play as hard as we can to win."
March, 17, 2013
3/17/13
5:39
PM ET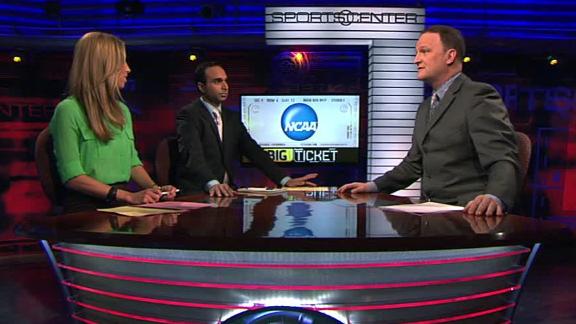 GREENSBORO, N.C. -- Miami point guard
Shane Larkin
said he plans to sleep with his piece of the ACC Tournament net for at least two weeks.
The Hurricanes' frenetic, fantastic, down-to-the-final-minutes championship win over North Carolina on Sunday was worth savoring -- in more ways than one.
Not only did the
87-77 victory
secure UM's first ACC tournament title, another accomplishment on an ever-growing list this season, it quieted any doubts that this team should be one to be reckoned with in the NCAA tournament.
"A lot of people were saying we peaked earlier in the year, when we won 14 in a row, and then we lost three of our last five," said Larkin, named the tournament MVP after his career-high 28-point performance. "A lot of people said ... we weren't going to have any chance in the NCAA tournament. But we just stayed together as a group; we stayed together and believed in ourselves and got three wins in a row against three very good teams."
Indeed, this didn't look like a team that was petering out. Just the opposite, in fact.
[+] Enlarge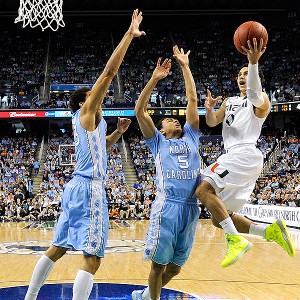 John David Mercer/USA TODAY SportsShane Larkin scored 28 points and had seven assists in Miami's win over North Carolina.
Pushed by a much-improved Tar Heels squad that also had plenty of doubters not too long ago, both teams put together a first half that was "as high a level of basketball as I've seen all year long,'' Canes coach Jim Larranaga said. They combined for 15 3-pointers, only eight turnovers, 13 lead changes and six ties. And that was just in the first 20 minutes.
In one blink-and-you'll-miss-it flurry, UNC sophomore
P.J. Hairston
(28 points) buried three 3-pointers in a row -- interlaced with 3s from Larkin and teammate
Trey McKinney Jones
(career-high 20 points). It was a stretch of entertaining one-upsmanship, and although Miami led 44-41 at halftime, you knew -- you hoped -- there would be more.
And there was.
"It was anyone's ballgame with five minutes to go," said Tar Heels coach Roy Williams, emotional about the loss and about how far his guard-led team has come since it lost to the Hurricanes by 26 points in early February.
Actually, UNC led Sunday 67-64 with 7:44 to go, until Hurricanes big man
Julian Gamble
scored five points in an 8-0 run. The Tar Heels, as they had all game, tried to shoot back, and point guard
Marcus Paige
cut it to a 74-71 with 3:37 to go.
But then Larkin drove by Strickland for a layup, and McKinney Jones (career-high 20 points) hit yet another 3 to make it 79-71 with 1:36 left.
It was the Hurricanes' largest lead to that point in the game, and finally the cushion was enough.
"Congratulations to Miami, it will continue to be a phenomenal year for them," said Williams, whose team is now 8-3 since it last lost to Miami. "They won the regular season, and then validated it by winning a conference tournament as well and it's just a great, great year. ... They're really a big-time basketball team."
As the horn sounded and a multi-colored blizzard of confetti poured out of the rafters, Miami guard
Durand Scott
leapt into Gamble's arms, then embraced big man
Reggie Johnson
. It was an emotional moment for three seniors who had seen Tobacco Road teams dominate the ACC -- until Florida State won the tournament last season.
And until now.
"My first meeting at George Mason in 1997, I asked our players, 'Who are the best programs in the country, and who should be our role model?' and they mentioned Duke and Carolina," said Larranaga, who took the Patriots to the Final Four in 2006. "And when I got to Miami, I asked, 'Who are the best teams and programs in the league?' and they said Duke and North Carolina. So what we've tried to do is use them as a shining example of what can be done."
And Saturday's net-cutting was another step.
McKinney Jones said he would likely give his sliver of the twine to his mom. Larranaga said his would be on display in his office. Scott said he would add his cutting to an ever-growing collection of memorabilia.
Meanwhile, expect Larkin to leave some room under his pillow for another piece of net. That's the goal entering the NCAA tournament.
"This was a big weekend for us,'' Larkin said. "This gives us a lot of momentum going forward."
January, 11, 2013
1/11/13
7:30
AM ET
Can we just call places 3 through 6 a tie? After the first week of ACC play, it's harder than ever to judge the middle of the league pack. But here are this week's ACC Power Rankings, based on myriad factors, including how teams have performed lately and the foes they've faced:

1. Duke.
Still undefeated, still No. 1 after victories over Wake Forest and Clemson. But the Blue Devils will be tested Saturday not only by an NC State team that has won nine in a row, but by playing without senior forward
Ryan Kelly
, who is out indefinitely with an injured right foot.
2. NC State.
The Wolfpack was picked to win the ACC during the preseason by both media and coaches, and Saturday's home game against the Blue Devils will show if it has what it takes to make that push.
Lorenzo Brown
, with 21 points against Georgia Tech, was the latest to lead his team in scoring. Who's next?
3. Miami.
The Hurricanes have never started 2-0 in the ACC -- until now. Senior forward
Kenny Kadji
had 18 points to help break his team's 10-game losing streak to UNC on Thursday night, and sixth-year senior
Julian Gamble
(14 points against the Tar Heels) has been filling in admirably for the injured
Reggie Johnson
.
4. Maryland.
Dez Wells
had a bad shooting night,
Alex Len
at times got pushed around, and the Terps saw their 13-game winning streak snapped via a 12-point comeback by Florida State. Whether they bounce back at Miami this weekend could be a good indication of whether they're a top-tier ACC team.
5. Florida State.
Junior forward
Okaro White
has come up big during the Seminoles' 2-0 ACC start, averaging 17.5 points and 8 rebounds. And so has his team. "We sat down, the juniors and seniors, with the young guys and told them we have to stop talking, and we have to show them how hard you have to play,'' White told Tallahassee.com.
6. Virginia.
Beat North Carolina, only to lose to Wake Forest? It might be that sort of topsy-turvy season for the Cavs, who should get more and more of a boost as senior guard
Jontel Evans
, who returned from injury last weekend, gets more and more back in sync with the offense.
7. North Carolina.
Coach Roy Williams said his team was stressed in the locker room after losing to Miami on Thursday night. And for good reason: This marks only the fourth time UNC has ever started 0-2 in the ACC, and things won't get any easier at Florida State on Saturday.
8. Boston College.
The Eagles have now won six of their past seven games, and gave NC State a scare in their only loss since Dec. 4. Sophomore
Lonnie Jackson
has posted double digit points for three consecutive games, including a season-high 22 at Virginia Tech.
9. Georgia Tech.
The Yellow Jackets had a six-game winning streak broken by the start of ACC play. Tech is shooting just 35.2 percent during its 0-2 conference start.
10. Wake Forest.
Despite shooting just 26 percent after halftime and failing to score a field goal for the final 10 minutes, the Deacs survived Virginia's comeback attempt. "We stayed with it," Wake Forest forward
Travis McKie
told The Times-News. "I think early in the season we would've put our head down and had a pity party. But we stayed with it and continued to fight hard." Wake has now won five of seven games.
11. Clemson.
The Tigers scored only 10 points, on just 12 percent shooting, in the first half at Duke on Wednesday. Yikes.
Devin Booker
has posted two double-doubles in Clemson's 0-2 ACC start.
12. Virginia Tech.
Already-undermanned Tech was down to six scholarship players during its midweek loss to BC, thanks to illness and injury.
Erick Green
continues to lead the nation in scoring, but the Hokies have now lost four in a row, and are 0-2 in ACC play.
January, 10, 2013
1/10/13
11:43
PM ET
CHAPEL HILL, N.C. -- There were times, early in Miami forward
Julian Gamble
's left-knee rehab, when he wondered if he'd ever be able to even hop without pain -- much less battle for back-to-back offensive rebounds and score on a putback to jump-start a game-winning run at North Carolina.
Breaking the Tar Heels' 10-game winning streak over the Hurricanes?
Starting 2-0 in the ACC for the first time since his team joined the league?
Winning at the Smith Center, just a short drive from his Durham, N.C., hometown,
68-59
?
Yes, Gamble said Thursday night, returning for a sixth year was certainly worth it.
"Of course this is what you hope for," Gamble said after notching 14 points, 6 rebounds and 3 blocks en route to pushing UNC to 0-2 in the ACC. "But not just for me -- for my team."
Indeed, the victory marked the road-tested Hurricanes' third consecutive victory -- perhaps extra impressive, considering all have been without center(piece)
Reggie Johnson
.
When the 6-foot-10, 292-pound center fractured his thumb last month before the Hurricanes' trip to the Diamond Head Classic, there was worry about how the guard-heavy team would adapt without his defensive presence in the lane and double-double (12.6 points, 10.1 rebounds) average per game.
Going 1-2 in the Diamond Head Classic didn't exactly help curb that concern.
But Gamble's play of late just might.
[+] Enlarge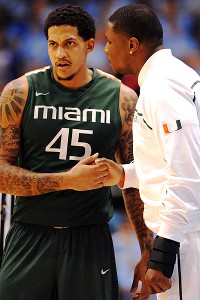 Cal Sport Media via AP ImagesWith center Reggie Johnson, right, out, Julian Gamble has stepped up of late, averaging 9 points and 7 boards his past three games.
In wins against La Salle and at Georgia Tech, he averaged 6.5 points and 7.5 rebounds.
And making his sixth straight start in place of Johnson on Thursday, the 6-10, 250-pounder was even more aggressive from the outset. With Miami trailing 32-30 at the break, the team went to him early and often in the second half, wanting to establish an offensive presence in the lane to help open things up for its outside shooters. And he delivered, scoring six of Miami's first seven points to make it 37-all.
"I feel like we're a bigger, stronger, more physical, more experienced team than them [the Tar Heels] at this point, so we just had to take advantage of it," said Gamble, who got plenty of advice and words of encouragement from Johnson on the bench.
His biggest advantage-taking moment came with 4 minutes, 31 seconds left.
After UNC reserve
P.J. Hairston
buried a 3-pointer to cut Miami's lead to 56-55, Gamble grabbed teammate
Durand Scott
's missed 3-pointer. Playing with four fouls but backing off not one bit, he missed the putback, but grabbed another rebound in traffic and made that one to put his team up by three points -- and jump-start an 8-0 run.
"I was just thinking 'Be relentless, outwork them,'" Gamble said. "That's what one of our coaches always tells us: No matter what happens, no matter what adversity happens, just keep working."
It was that mentality, too, Gamble said, that helped get him through the frustrations of rehabilitation after tearing the anterior cruciate ligament in his left knee during a workout in August 2011. There were days, he remembered, when medication barely numbed the pain. He didn't know until February whether the NCAA would allow him to play for a rare sixth year (he redshirted his freshman season, in 2007-08). And he actually had to undergo a second knee surgery, he said, when a lesion was found on the back of his ACL graft.
"It was another blow to my mindset, and my confidence: Was I ever going to play like I could before?" he said.
But he is.
Maybe, at times, even better.
"Reggie Johnson is a tremendous inside presence, he's a low-post player, back to the basket, and he helps us a lot of different ways," Miami coach Jim Larranaga said. "But Julian has done an admirable job, stepping up and defending, rebounding and scoring. Tonight, he had double figures, 7-for-10 from the field, 14 points and 6 rebounds. That's an outstanding performance, especially in a game like this where every possession counts."
Senior
Kenny Kadji
led the Canes with 18 points and 9 rebounds Thursday.
James Michael McAdoo
led UNC with 14 points and 6 rebounds, although Miami held the Tar Heels to just one field goal (that Hairston 3-pointer) during a crucial 7-minute span in the second half.
"[This win] gives us great confidence, but at the same time, we know we have 16 more games left," Gamble said. "It's the beginning of the conference season, and we don't have a lot of time to dwell on this victory."
Although after all that rehab, Gamble -- who had more than a dozen friends and family members in the crowd -- admits he does appreciate each "W" a bit more.
"To be playing basketball at the highest level, and to be playing at places like Duke and Carolina, and just having the opportunity to play in front of family and friends, it's just a great feeling," he said.
November, 5, 2012
11/05/12
5:00
AM ET
1. Should Miami be worried after losing an exhibition to Saint Leo Friday night? Not at all. Even teams that have been projected to go to the NCAA tournament will lose exhibitions. The loss will help Jim Larranaga get the team's attention. "I believe our guys learned that we have a heck of a lot of work ahead of us before we become the kind of team we're capable of becoming," said Larranaga Sunday.
Trey McKinney Jones
led the 'Canes with 19 points in the two-point loss. The game was the first for
Julian Gamble
in a year after tearing his ACL. Senior forward
Reggie Johnson
, who didn't play in the scrimmage against South Florida the previous weekend, played 13 minutes and scored seven points. Larranaga said he's fine. The 'Canes have plenty of time to get their act together before hosting Michigan State in Coral Gables Nov. 28 and going to UMass on Dec. 1.
2. Maryland has a chance to make its mark on Day One by playing the youthful and inexperienced Kentucky at the Barclays Center in Brooklyn Friday night. The Terps have plenty of work to do this week in preparation, according to coach Mark Turgeon. "We've got to practice better, get physically tougher, screen better and share the ball," said Turgeon Sunday. "We're shooting too quick. We've got to get better halfcourt defense."
3. Iowa State's guard
Bubu Palo
remains suspended indefinitely because of a sexual assault charge. On the heels of that suspension, the Cyclones have another player not playing. Senior guard
Chris Babb
will sit the first three games of the season for violating team rules. The Cyclones are off to a rocky start and the tough games haven't even started yet (against Cincinnati Nov. 23 in Las Vegas, BYU Dec. 1 and at Iowa Dec. 7).
October, 20, 2011
10/20/11
5:00
AM ET
1. Duke and USA Olympic team coach Mike Krzyzewski said the current NBA lockout could have a dramatic effect on preparations for London 2012. USA basketball met two weeks ago in Las Vegas to go over a number of logistical issues. Krzyzewski said at issue is if the lockout ends and the season is extended it could cut into training. Team USA is scheduled to meet July 5 with the gold medal game Aug. 12. Krzyzewski said he's also concerned about the conditioning the players if the season is lost. "And if there is no season, I'm sure the players would want to play, but who funds their injury insurance. The main thing is I want to see the best basketball in the world, and I'm bummed out a bit that they haven't found a resolution. I worry about injuries, too, when they come back because you can't crash condition for a season. That's a welcome mat for injuries.''
2. Miami coach Jim Larranaga said Wednesday that junior center
Reggie Johnson
still probably won't be back on the court until January at the earliest, despite showing strong signs of progress from an offseason knee injury. Larranaga said Johnson has been working in the pool, boxing and is able to shoot but can't jump or run -- obviously two important facets of playing the game. The Hurricanes, who still fancy themselves an NCAA tourney team, are banking on Florida transfer
Kenny Kadji
or Nigerian big man
Raphael Akpejiori
to fill the Johnson void.
Julian Gamble
would have replaced him but he tore his ACL.
3. First-year NC State coach Mark Gottfried hasn't given up on jumping out of an airplane for the thrill, the bucket list or drawing attention to his program. Gottfried was supposed to jump out of a plane and land at midfield for the Sept. 17 football game against South Alabama on Military Appreciation Day, but high winds scrapped the jump. Gottfried said Wednesday there is a chance he could make the jump for the Wolfpack's rivalry game against North Carolina on Nov. 5.
August, 24, 2011
8/24/11
9:07
AM ET
If you didn't think that was possible, think again. It's hard to fathom, I know, because when your entire revenue-producing athletics program is
implicated in a massive scandal
by a former booster and convicted felon who, in the midst of spelling out countless sordid allegations,
says he gave $10,000 to then-recruit
DeQuan Jones
in an arrangement Frank Haith and his assistant were aware of -- well, that
should be
as far as a fan base and its new basketball coach can sink.
[+] Enlarge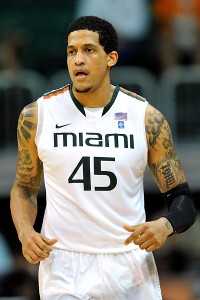 Steve Mitchell/US PresswireThe Canes were planning to lean on Julian Gamble while Reggie Johnson recovered from surgery.
And yet somehow, Tuesday night, Miami's offseason got even worse. Hurricanes center
Julian Gamble
suffered a torn ACL and
will likely miss the entire season
.
At first glance, it doesn't seem like a big deal: Gamble started only 13 games and averaged a mere 3.8 points and 4.0 rebounds in 2011. But
his emergence as a fifth-year senior was going to be crucial
to Jim Larranaga's first season at Miami because starting junior center
Reggie Johnson
is expected to miss all of November and December as he recovers from a June 30 surgery to repair a torn meniscus in his right knee.
Larranaga expressed his sadness in a statement
, saying the school would do everything it could to support Gamble during his injury and that he knew Gamble "will also be there supporting his teammates, because that is just the kind of person he is."
For his part, Gamble seems to be handling the injury extremely well. On Tuesday, in a series of tweets,
he wrote
:
We are never given more than we can handle, so i never ask "Why me?" just "Why not?" because i will come out on top! Thank you everyone for your wishes, love, and support... i promise i will come back better and always keep my head up in hard times. But for now all i can do is pray and give myself whole-heartedly to my team and doing anything possible to make us successful!
Miami needs that kind of attitude right now. Gamble's injury will leave the Hurricanes' frontcourt drastically thin until Johnson is able to return, and there's no telling how long Johnson will take to get to 100 percent game speed even after he's arrived back on the court. Fortunately, Larranaga does have an option in former Florida transfer Kenny Kadji, but the redshirt sophomore has yet to prove he's a legitimate college contributor, let alone the kind of frontcourt player who can keep the Hurricanes afloat without Johnson and departed 2011 starter
Adrian Thomas
.
You feel for Gamble, but you also feel for Larranaga. The former George Mason coach turned down many an offer after his miraculous 2006 Final Four appearance with GMU, but this spring, he decided to take a late-career trip to Miami in what was sure to be his final job as a college coach. Now, not only is the team he inherited debilitated by injury, but one of its players (Jones) has been accused of taking (and later returning) $10,000 cash in exchange for his commitment in 2008. That puts Jones' short-term services at risk. In the long term, if NCAA investigators can find any truth to that allegation, Miami's program will be punished and will suffer for years to come.
What a sad few months for Larranaga and his new program. It's just one thing after another.